The Sweet Spot Performance
ASUS Dual series RX 580 comes equipped with Patented Wing-Blade Fans for max air flow with 105% more air pressure. The fans are IP5X dust-resistant for improved reliability and a longer lifespan. While exclusive Auto-Extreme Technology with Super Alloy Power II components for superior stability. GPU Tweak II with XSplit Gamecaster that provides intuitive performance tweaking and instant gameplay streaming.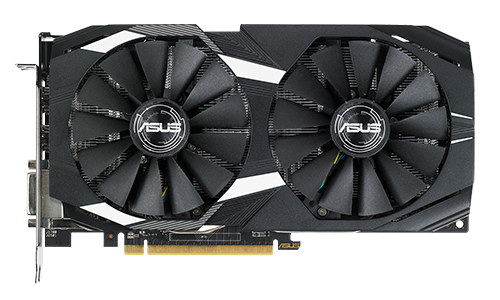 I/O Ports Highlight
1 x Native DVI-D
2 x Native HDMI 2.0
2 x Native Display Port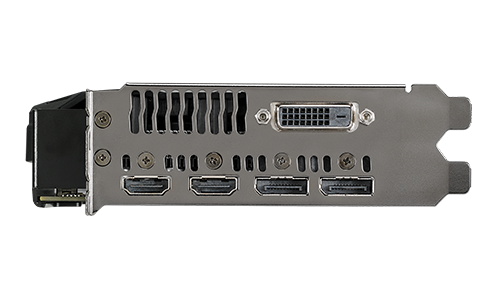 0dB Technology
Game in Complete Silence
Innovative 0dB technology stops the fan completely when the GPU temperature remains below 55°C, letting you enjoy light gaming in complete silence.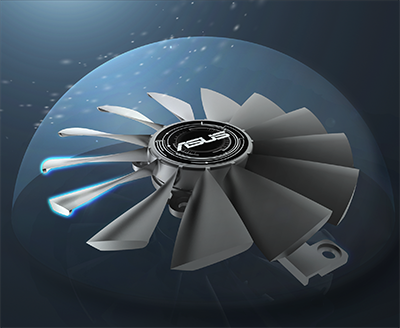 IP5X-Certified Dust Resistance
Longer Fan Lifespan
The fans in ASUS Dual series of RX 580 graphics cards are certified under the International Protection Marking (IP code) as IP5X dust resistant for improved reliability and a longer lifespan. This stringent certification process ensures ASUS Dual series of RX 580 graphics cards provide optimal fan performance, even under severe conditions.
Patented Wing-Blade Design
Max Air Flow with 105% More Air Pressure
Patented wing-blade fans delivers maximum air flow and 105% greater static pressure over the heat sink, while operating at an up to 3X quieter volume than reference cards.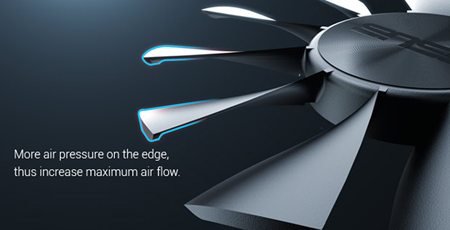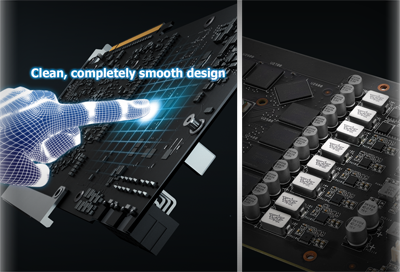 Auto-Extreme Technology with
Super Alloy Power II
Premium quality and best reliability
ASUS graphics cards are produced using Auto-Extreme technology, an industry-first 100% automated production process, and feature premium Super Alloy Power II components that enhance efficiency, reduce power loss, decrease component buzzing under load, and lower thermal temperatures for unsurpassed quality and reliability.
*this pic is for demonstration only
VR-Friendly HDMI Ports
Enjoy immersive virtual reality experience
ASUS Dual series of RX 580 graphics cards have two HDMI ports for connecting a VR device and display at the same time, so you can enjoy immersive virtual reality experiences anytime without having to swap cables.

GPU Tweak II with XSplit Gamecaster
GPU Tweak II:
Intuitive performance tweaking
Adjust clock speeds, voltages and fan speeds to tune your graphics card(s) exactly how you want to. Select between GPU Tweak's Standard or Advanced modes depending on your level of experience.

Choose Standard Mode to access Intuitive options for easy tweaking. This is great for those learning how to tune graphics cards. Alternatively try out the Advanced Mode for sophisticated and extensive tuning options that enable complete control for experienced overclockers.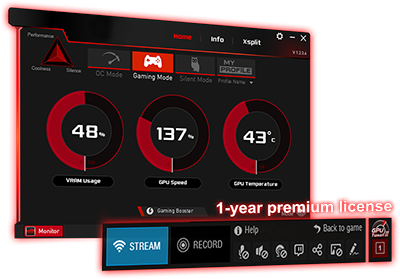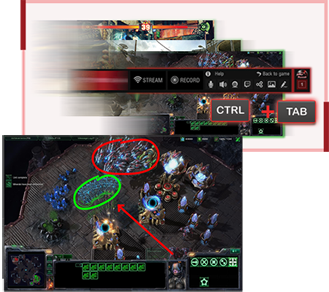 XSplitGamecaster:
Instant gameplay streaming
Now, you can also launch XSplit Gamecaster to bring up the in-game overlay and start streaming or recording your gameplay with the click of a button. You can also try the in-game annotations and video editor features to enhance your game stream experience.
Learn more about XSplitGamecaster

Powered by AMD Radeon™ RX 580

AMD Eyefinity Technology
Extend the view across up to 4 displays to immerse yourself in gameplay and entertainment.

AMD CrossFire Technology
Double the graphics available for your gaming with AMD CrossFire technology without any strings attached.

AMD FreeSync Technology
Puts an end to choppy gameplay and broken frames with fluid, artifact- free performance at virtually any framerate.

Microsoft DirectX® 12
Brings new levels of visual realism to gaming on the PC and get top-notch performance.
Sours: https://www.asus.com/us/Motherboards-Components/Graphics-Cards/Dual/DUAL-RX580-O4G/
We use cookies to offer you a more personalized and smoother experience. By visiting this website, you agree to our use of cookies. If you prefer not to accept cookies or require more information, please visit our Privacy Policy.
AMD Phantom Gaming D Radeon RX580 8G OC
PG D RADEON RX580 8G OC
Core Clock/Memory
OC Mode: Up to 1424 MHz / 8032 MHz
Default Mode: Up to 1370 MHz / 8000 MHz
Silent Mode: Up to 1315 MHz / 7968 MHz
8 GB GDDR5
Features
Double Ball Bearings Fan Design
High Performance Composite Heatpipes
Support 8K Resolution
Graphic Outputs: 3 DisplayPort, HDMI, DVI
Phantom Gaming Tweak Utility
Temperature and Fan Speed Monitoring
Core / Memory Clock Tweak
Core / Memory Voltage Tweak
This model may not be sold worldwide. Please contact your local dealer for the availability of this model in your region.
Overview
Specification
Support
Where to Buy
Armor Your VR Machine
Prepare yourself well to enjoy the impressive world of Virtual Reality. Before that, you have to make sure everything is qualified, including hardware, software and drivers. Motherboard is the key to connect every critical components and ASRock's VR Ready products are definitely the one you're looking for. The premium quality is assured by rigorous testing during development. The sturdy components and rock-solid performance makes you completely immersive in the VR scenario. Users can be assured to experience VR enjoyments without any compatibility problems.
Dual Fan Design
Two fans that provide strong cooling performance and make your gaming rig stay cool. It's optimized for delivering excellent gaming experience with stylish and streamlined design.
DOUBLE BALL BEARINGS FAN DESIGN
Reduce friction, allow fan to run smoother and with a lifespan up to 50,000-100,000 hours. Compared to traditional design with oil leakage problem, it improves lifespan by 30 ~ 40% and with an enhanced cooling efficiency significantly.
XXL Aluminum Alloy Heatsink & Heatpipe Design
Under the stylish and streamlined dual fan design is the anodized and huge aluminum heatsink, heatpipe along with more than enough fins that take heat from the GPU, effectively improve heat dissipation and promote overall performance significantly.
Composite Heatpipe
Combined with grooved and copper powder sintered interfaces, the composite heatpipe design efficiently improve thermal transfer of heat between two solid interfaces and increase cooling capacity up to 30%.
HIGH-DENSITY METAL WELDING
Effectively isolate all convergence of the gap between pipe and stacked fins, hence improve heat transfer effectively.
COPPER BASE HEATSINK DESIGN
With premium copper base heatsink design, the direct contact area to the GPU would be maximized to improve thermal transfer effectively.
Nano Thermal Paste
Improve GPU and VGA cooler performance significantly. Keep thermal performance and operation safe.
Phantom Gaming Tweak
A fast and easy tool that provides users with an abundant collection of subtle settings for professional tweaking such as FAN speed, core clocks, memory frequency and so on. Users may also choose the most optimized mode based on their needs, like OC mode, Silent mode or default mode. Phantom Gaming Tweak delivers more than enough voltage configuration options for anyone who wish to pursuit extremes.
Radeon FreeSync™ 2 HDR
Get ready to experience smooth brilliant HDR gaming. Enjoy vibrant HDR content while eliminating image tears and choppiness for effortlessly smooth gameplay. Low Frame-Rate Compensation, Low Latency, Plug and Play and HDR Ready. That's Radeon FreeSync™ 2 HDR.
Enhanced Sync
Enhanced sync enables low latency gameplay at virtually any framerate and a tear-free experience when your favorite game's framerate exceeds your display's refresh rate.1
Unlock your VSync. Enhanced sync technology delivers a tear-free experience when framerate exceeds your display's refresh rate at an ultra-low latency to take your E-Sports gaming to the next level.
Graphics Engine

- AMD Radeon RX 580

Bus Standard

- PCI Express x16 Gen3

DirectX

- 12

OpenGL

- OpenGL 4.5

Memory

- GDDR5 8GB

Engine Clock

- Up to 1370 MHz

Stream Processors

- 2304

Memory Clock

- 8000 MHz

Memory Interface

- 256-bit

Resolution

- Digital Max Resolution: 8K (7680 x 4320)

Interface

- 1 x Dual-link DVI-D
- 1 x HDMI 2.0
- 3 x DisplayPort 1.4

HDCP

- Yes

Multi-view

- 5

Recommended PSU

- 550W

Power Connector

- 1 x 6-pin

Accessories

- 1 x Support CD
- 1 x Quick Installation Guide

Dimensions

- 236.2 x 127.5 x 41.91 mm
Sours: https://www.asrock.com/Graphics-Card/AMD/Phantom%20Gaming%20D%20Radeon%20RX580%208G%20OC/
Radeon RX 580 ARMOR 8G OC
Afterburner
MSI Afterburner is the world's most recognized and widely used graphics card overclocking utility which gives you full control of your graphics cards. It also provides an incredibly detailed overview of your hardware and comes with some additional features such as customizing fan profiles, benchmarking and video recording.
PREPARE FOR VR with MSI
To experience and enjoy the impressive world of Virtual Reality, high-performance hardware is required. MSI, world leading brand in high-end gaming and eSports, provides the right advice to make sure your system is VR Ready. Integrating the very best of cutting edge technologies in recommended MSI VR gaming hardware for smooth performance. Together with our VR partners, MSI brings gamers an extremely realistic VR experience where games come alive.
DEMAND MORE, DEMAND RADEON
Guiding the Future of Gaming
The 4th generation GCN architecture is engineered for gamers who play anything from the latest MOBA's to the most popular AAA titles. Asynchronous Shaders and an enhanced Geometry Engine power new levels of smooth gameplay performance.
Immersive VR Experiences
Experience the next level of immersion with the world of VR gaming and entertainment with Radeon RX graphics cards powered by the revolutionary Polaris architecture.
AMD FreeSync™ Technology
Puts an end to choppy gameplay and broken frames with fluid, artifact-free performance at virtually any framerate.
HDR compatible
Enhanced contrast and colors deliver a strikingly sharp, colorful, and vivid visual experience.
The Future of Gaming
The smoothest, fastest and most exciting gaming experience ever by eliminating screen tearing, display shutter and input lag.
Ultra-high resolution (UHD) delivers 4x the resolution of 1080p content, enabling much sharper and crisper images with delicate details during gaming.
Traditional Fan Blade
Maximizes downwards airflow and air dispersion to the massive heat sink below them.
Dispersion Fan Blade
Intake more airflow to maximizes air dissipation to heat sink.
Dual Fan
ARMOR 2X thermal design is equipped with two of the award winning MSI TORX fans. Thanks to the patented blade design, MSI TORX fans provide strong cooling performance while remaining incredibly silent.
Classy Black & White design
Game in style & dare to be different with MSI's unique ARMOR graphics cards. Inspired by advanced armor shielding with a classy black & white finish. ARMOR graphics cards are perfect for gamers and case modders who are looking for something different. This is where gaming meets class.
ZERO FROZR - Stay undetected
First introduced in 2008 by MSI, ZeroFrozr technology has made its mark and is now the industry standard among graphics cards. It eliminates fan noise by stopping the fans in low-load situations. This means you can focus on gaming without the noise of spinning fans.
FANS SPINNING
During intense gaming or benchmarking
FANS STOP
Completely silent during idle, multimedia or light gaming
Heatsink
& Airflow control
Under the classy shroud and powerful dual fans is a huge heatsink with countless aluminum fins that help dissipate the heat from the GPU. The copper heatpipes are infused in the baseplate to ensure efficient cooling. The aluminum fins are rigged with Airflow Control technology to maximize airflow towards the heatpipes.
© AMD, and the AMD Arrow logo, Radeon, FreeSync, and combinations thereof are trademarks of Advanced Micro Devices, Inc. DirectX and Microsoft are registered trademarks of Microsoft Corporation in the US and other jurisdictions. PCI Express is a registered trademark of PCI-SIG Corporation. Vulkan and the Vulkan logo are trademarks of the Khronos Group Inc. Other product names are for identification purposes only and may be trademarks of their respective companies.
'Boost Clock Frequency' is the maximum frequency achievable on the GPU running a bursty workload. Boost clock achievability, frequency, and sustainability will vary based on several factors, including but not limited to: thermal conditions and variation in applications and workloads.<br> 'Game Frequency' is the expected GPU clock when running typical gaming applications, set to typical TGP (Total Graphics Power). Actual individual game clock results may vary.
Sours: https://www.msi.com/Graphics-card/radeon-rx-580-armor-8g-oc
Radeon RX 580 Revisit 2021, Worth $500?
Radeon RX 580 Revisit: Is This the Graphics Card to Buy in 2021?
2021 has been a rough year for gamers, particularly those looking for a new graphics card. If you already have a half decent GPU, then it's just been disappointing and perhaps a bit frustrating that you can't turn your cold hard cash into extra FPS. But for those of you who are rocking a super old graphics card, or don't have one at all, things might be getting desperate.
If you're in that group of people, we've been recommending to avoid paying excessively high scalper prices for a shiny new Ampere or RDNA2 GPU, and instead look at the second hand market where you're still getting rolled, but you'll end up losing a lot less money.
Take the GeForce RTX 3070 for example, it's meant to cost $500 but due to limited supply and high demand just getting your hands on one for any price is extremely hard. Over at eBay people are selling them for well over $1000, most models fetch between $1300 and $1400. Even the RTX 3060 is regularly selling for over $800.
That's an insane markup but with virtually zero chance of snapping up a $500 model over at places like Newegg or Amazon, some gamers are taking the hit. This is why we've been recommending you get rolled on a much cheaper and older second hand graphics card like the Radeon RX 580 8GB. When we made that recommendation last time, you could snap one up for around $300, today though they're more like $400+. Insane, right?
If you land an RX 580 8GB for even $500, under normal market conditions you'd be able to sell it for at least $100, so you'd potentially lose $400 on that transaction. But if you pay $1300 for an RTX 3070, which should only be worth $500, you'd stand to lose $800.
Let's say the goal is to secure RTX 3070 performance, but you can't afford to drop over $1000 on a graphics card. Buying the RX 580 now in hopes that in a year from today, RTX 3070-like performance will be achievable for $500, that transaction will end up costing you $900 in total, $400 for the hit on the Radeon, and then $500 for the new graphics card in a year's time.
The alternative should you have $1300 right now, is to just buy the RTX 3070, it'll cost around $400 more than the second hand stop-gap scenario, but you can enjoy 3070-like performance today. Or I suppose you could continue hanging in there and try to get a 3070 at a more reasonable price, but good luck with that.
The Radeon RX 580 8GB option only makes sense if you can't afford to spend more than $500 on a graphics card and you have no way of gaming right now. So I guess the next question is, just how well does the RX 580 8GB handle games in 2021?
Rather than do our usual revisit where we compare the RX 580 head-to-head with the GTX 1060 6GB or a range of newer GPUs, today's comparison is going to be very different and not something we've done before. That's because the reality today is different, and it doesn't matter how the RX 580 compares to other GPUs given you either can't buy them or they cost too much, even on the second hand market.
All you really need to know is, how well does the RX 580 perform and to answer that question we've tested 17 games at 1080p and 1440p using three quality presets. Testing was conducted on our Ryzen 9 5950X test system using 32GB of DDR4-3200 CL14 memory, so the results are going to be entirely GPU limited.
Let's get into it…
Benchmarks
We'll start with one of the most graphically demanding games released in the last year, Assassin's Creed Valhalla. For those targeting 1080p the RX 580 is good for over 60 fps using the medium quality preset and over 70 fps with the lowest quality preset.
The high preset provides a great balance of visuals and performance, and here we're looking at 52 fps on average, a frame rate that most gamers would deem acceptable for this type of single player title.
If you're after a 1440p gaming experience, then the medium or lowest quality presets will be in order as you're looking at just 38 fps on average with high. As for the very high and ultra high presets, I skipped testing those as they won't be suitable for use with the RX 580.
In summary, this game still looks great even with the medium quality setting so you can certainly enjoy this game with an RX 580.
Those of you after a competitive experience will get that with the RX 580 in Tom Clancy's Rainbow Six Siege, even at 1440p using the high quality preset you're looking at over 100 fps on average.
For those of you with high refresh rate 1080p panels, the medium preset allowed for 200 fps on average with a 1% low of 159 fps. Given most gamers would opt to play Rainbow Six Siege using a blend of medium to low quality settings, the RX 580 is more than powerful enough here.
The most recently released game I've used for testing is Biomutant and I was shocked by not just how good this game looked, but also by how well it ran on the RX 580, pushing over 60 fps at all times at 1080p using the high quality preset. The only higher option is the 'max' preset but given how good the game looks on high, I see little need to go there, especially when using a 'make do' type solution like the RX 580.
From medium to high you can boost performance by 34% and at 91 fps on average at 1080p gameplay was very smooth, or you can enjoy 58 fps on average at 1440p if you're after that higher resolution experience. Overall I was impressed by just how well the RX 580 handled this new title.
Outriders is another new title and it proved to be quite demanding using the high quality settings. Here the RX 580 was only good for 57 fps on average, though the game was of course playable. For those gaming at 1080p the medium quality preset looks to be the best balance of visuals and performance and although we're only looking at a 17% increase from high, 67 fps on average is much smoother.
If you're interested in prioritizing performance though, the low quality preset will boost frame rates by a further 34% to 90 fps on average. In my opinion the low quality preset is required at 1440p, but if you're happy with 44 fps on average, then the medium preset will offer a nice visual upgrade.
Horizon Zero Dawn is another visually impressive and demanding game at that, but it plays quite well at 1080p using the RX 580, though do note we're going to ignore the 'ultimate quality' preset.
With the favour performance preset enabled, the RX 580 rendered 79 fps at 1080p and 57 fps at 1440p, both acceptable for this type of game. The original preset allowed for a smooth 70 fps at 1080p, though the 1440p results were a bit sketchy at 49 fps. Then when favoring quality I recommend gaming at 1080p as here the RX 580 will still deliver 58 fps.
Shadow of the Tomb Raider was released in late 2018, so it's kind of old at this point, but it's still visually appealing, and as such demanding even on modern GPUs. We skipped the high and highest presets and opted for lowest, low and medium instead. As is the case with most of these games, visually it still looks good even on medium settings.
The RX 580 was good for 62 fps on average at 1080p and 44 fps at 1440p. I'd probably go for the low quality preset as it boosted performance by about 30% at each resolution, allowing for 79 fps at 1080p and 57 fps at 1440p.
Doom Eternal is not only visually impressive, but also an exceptionally well optimized game. Using the nightmare preset which is the second highest, the RX 580 was good for 125 fps at 1080p and 93 fps at 1440p. So with almost all the bells and whistles the game played flawlessly at 1440p, impressive stuff.
Death Stranding was released in late 2019, but it remains one of the better looking games out there. I've skipped testing the very high preset which enables the highest level of visual settings, and instead tested the other three presets: default, medium and low.
Even with the default quality preset which you could call 'high', the RX 580 was good for 78 fps at 1080p and 56 fps at 1440p which was a smooth gaming experience.
Next up we have Dirt 5 where we tested the medium preset and here you can enjoy 53 fps on average with the RX 580 or 44 fps at 1440p, so not bad. The low preset is probably the best balance though as visually the game still looks quite good but fps performance is boosted by almost 20%.
Fortnite is a bit like Rainbow Six Siege in the sense that it's a competitive multiplayer game that requires high frame rates and is often played using a mix of low to medium-type quality settings. That's good news for those hoping to crank some 90's with an RX 580 as you're looking at 161 fps on average at 1080p with the medium quality settings and a whopping 238 fps with the low quality preset.
Even at 1440p the RX 580 was good for 102 fps on average with the medium quality settings and 160 fps using low. So for these competitive shooters that require high fps, the RX 580 is very suitable.
Watch Dogs: Legion was released late last year and here we're skipping the two highest preset options, very high and ultra. The game still looks good using the high preset where the RX 580 delivers 58 fps at 1080p and 40 fps at 1440p. For roughly a 20% boost in performance the medium preset jacked frame rates up to 70 fps at 1080p and 48 fps at 1440p. Then the downgrade to low only boosted frame rates by 10%, so medium is probably the best option here.
Resident Evil Village is a new title with super impressive visuals, yet like Doom Eternal it plays exceptionally well on just about anything, probably because it's been optimized to take advantage of ray tracing with the latest hardware.
It's worth noting that I have tested with the highest possible preset, as well as medium and then low. With the max preset we're still looking at 72 fps on average at 1080p. Even at 1440p you're looking at 50 fps on average which is enough to enjoy the game. The balanced preset increases frame rates by 16-18% depending on resolution and then we see a massive uplift using the lowest preset.
One of the most demanding games we have on hand for testing is Cyberpunk 2077, even with the lowest possible in-game quality settings this one is tricky on older hardware. Using the low quality preset, which is the lowest preset there is, the RX 580 8GB was good for just 55 fps on average at 1080p. The game is playable, though it doesn't look nearly as good as it could, but we're going for a compromised option, so I guess that's okay.
Medium does look very good and is technically playable at 1080p, though I'd say 1440p is out of the question. So this is about as bad as it gets for the RX 580.
Moving on, we have one the best optimized titles in Forza Horizon 4. This one manages to look great but also play at very high frame rates, even with an RX 580. Although we're not testing with the ultra preset, the game looks stellar using high and here the 580 allowed for 88 fps on average at 1080p and 68 fps at 1440p.
The downgrade to 'medium' boosts performance by a little over 30 fps and now we're getting into high refresh rate territory at 1080p. Then for an additional 40% or more performance, the very low preset works a treat.
Star Wars Jedi: Fallen Order can be enjoyed at 1080p using the maximum quality preset, which has been labeled 'Epic'. We're looking at 61 fps on average at 1080p, 69 fps with the high preset and 83 fps using medium. Of course, 1440p is a lot more demanding, but even so using the medium preset the 580 was still good for 55 fps on average, so a good result overall.
F1 2020 isn't particularly demanding despite looking very good. Using the highest graphics preset, ultra high, the RX 580 was able to render 86 fps on average and then 64 fps at 1440p. Frankly, that's excellent performance and most games won't require more in this title.
Dropping down to the medium preset did boost performance by 50-65% depending on resolution and at 1080p we're now well into high refresh rate gaming territory.
Last up we have Apex Legends and like the other competitive shooters I've tested, this is a game where you probably aren't that interested in the high preset, instead opting for medium or low. With an RX 580 you'll be good for around 90 fps at 1080p using the medium preset, or consistently over 100 fps using low.
Those targeting 1440p will have to settle for a 60 fps-like experience using either the high or medium preset, while low will allow you to get up around 80 fps.
What We Learned
The Radeon RX 580 remains a capable gaming graphics card in mid-2021. Sure, it's no RTX 3070, but for someone with $500 or less to spend on a graphics card, it's one of the few options available at the moment.
When I was recommending a second hand RX 580 a few months ago in a Q&A segment, I was fairly comfortable doing so as they could typically be had for around $300. At $500 though, it seems a bit nutty, but then what's the alternative? Are you comfortable spending more than twice as much on a 3070? It's a tough call really and obviously there's no great option to choose from.
We do have noticed GTX 1060 6GB cards can be had for around $300, so that might be worth looking into, and perhaps we'll end up looking at the old mid-range Pascal GPU on a similar piece soon.
Last year we compared the two head to head in over 30 games and the RX 580 was just 5% faster on average, so assuming that still holds true today, the GTX 1060 would be the card to look out for.
It's worth keeping in mind that we have no idea when the shortage situation will improve and by how much. You could wait it out and later this year have a much better option available at $500, or things could get worse, though we're not sure there's much more room to move in the 'worse' direction, dare I say it.
Point is, whatever you do it's somewhat of a gamble, but at the end of the day if it allows you to unwind and enjoy some games it's probably going to be worth it.
Personally I would have given it a few months to try and get an RTX 3070 or 6700 XT at a reasonable price before giving up and settling on a way-too-expensive second hand graphics card like an RX 580 or GTX 1060.
But please, do let us know what you've done or plan to do in the comments section. Also let us know what you thought about this benchmark covering multiple quality presets, rather than a head-to-head comparison with a competing GPU as we normally do.
Shopping Shortcuts:
Nvidia GeForce RTX 3070 on Amazon
AMD Radeon RX 6700 XT on Amazon
Nvidia GeForce RTX 3080 on Amazon
AMD Radeon RX 6800 on Amazon
AMD Ryzen 9 5950X on Amazon
AMD Ryzen 5 5600X on Amazon
300 interactions
Sours: https://www.techspot.com/review/2269-radeon-580-revisit/
580 rx
Dishes and so on. When the party drew to a close well after midnight, my wife was ordered to stay in the kitchen, and I was. Ordered to stand with a tray and a towel at the door, suddenly what would anyone need at night. He went to sleep with two well-typed girls.
One of them did not reach the toilet at night and blew into my suit.
GTX 1060 vs RX 580 in 2021
I dont know how many times I finished, but my pussy was soaking that my thighs were wet almost to my knees. Finally, Alex planted me as deep as he could, then froze, and then a stream of his sperm poured into me. It immediately splashed out onto the buttocks, and when Alex took it out and I straightened up, it just flowed like a stream.
You will also be interested:
But there was no stopping him. He, like a perpetual motion machine, continued to thresh the tampon at the deepest point of the vagina, rubbing his trunk on. The septum of nylon panties.
1079
1080
1081
1082
1083