Setting up a new Chromebook is much easier than setting up a PC. Chromebooks don't require major updates or antivirus software. You start simply by signing in with your Google Account (or creating that account, if you don't already have one).
That said, Chromebooks have some unique quirks—such as limited offline capabilities, and a wonky method for connecting a printer. Here's everything you need to know to set up your new Chromebook up the right way—starting with the tools that let you replace the Windows software that just won't work on a Googley laptop.
Gather your apps
The app ecosystem for Chromebooks is evolving. Yes, Chromebooks are primarily conduits to the web. But aside from very specific computing demands, such as high-end gaming or video and image editing, the gap between what a Chromebook can or can't do is quickly closing. There are a slew of superb, powerful web apps available that can already replace most people's basic desktop software.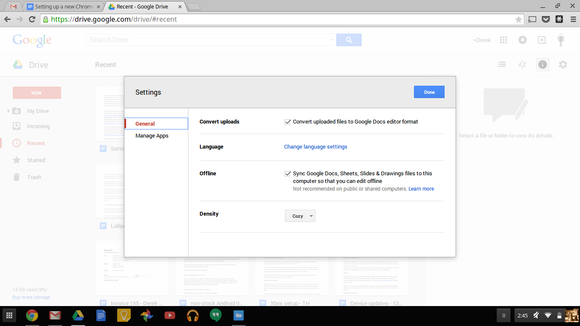 Name brands are making their way to Chrome. Microsoft is bringing Skype to the web (and native webRTC-based voice and video chats are already here). The absolutely free Office Online works with traditional Office docs and offers enough features for mainstream users. There's even hope for web-based gaming.
We were hopeful about Photoshop—Adobe is working on a version that can be used with Chromebooks. As of this writing, alas the product remains in beta, and the beta program is closed to newcomers.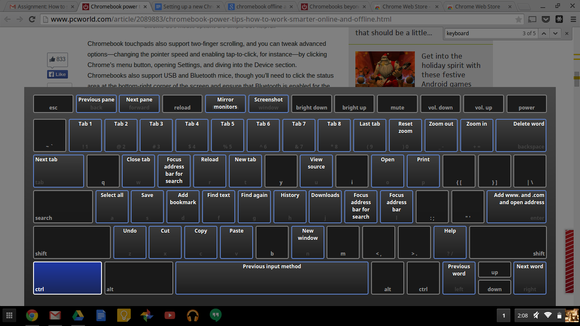 The other typical knock on Chromebooks is that they're not as useful offline. While that's still true to some degree, Google and numerous third-party developers have been working hard to enable offline capabilities in their web apps. The Chrome Web Store (which is the digital storefront for Chrome apps) even features a section dedicated to offline apps.
Still, the Chrome App ecosystem is small potatoes next to Android's. Google's fixing that by putting Android apps on Chromebooks.
Preparing your Chromebook for offline use
Beyond offline Chrome Apps, numerous native Chromebook apps and features can be configured for use away from the web.
For example, Google's Gmail Offline lets you—you guessed it—work with Gmail while offline. Download the app from the Chrome Web Store, then fire it up from the Chrome OS app launcher. You'll then be asked if you want to save your messages offline. (If you're signed in to multiple Google accounts, toggle the email address at the bottom to select where to save your email data.) Once enabled, Gmail Offline lets you reply and compose new messages, which are cached and then fired off to the recipient once you're back online.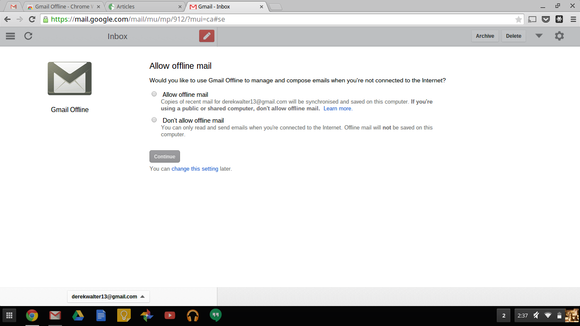 Heavy Google Drive users should head to the settings page (click the wrench icon at the top right) inside Drive to enable offline storage. It will sync all your docs, sheets, slides, and drawings to your Chromebook. Just like Gmail, it syncs your changes to the Drive server once you're reconnected. Be mindful of the limited storage space found in most Chromebooks, however—the files stashed in your Google Drive could easily exceed your Chromebook's capacity. PCWorld's guide to everything Chromebooks can do offline has even more nitty-gritty details.
Set up your Chromebook for printing
Printing from a Chromebook is the most complicated process you'll encounter. You're in luck if your printer is Google Cloud print ready (Google has an official list). If so, all you have to do is enable Cloud Print on your Chromebook.
To see whether your Chromebook recognizes your printer, simply open the Chrome Settings menu (the icon that looks like three horizontal bars, or a "hamburger") at the top right corner of the browser window, select Settings, click Show Advanced Settings, and then scroll down to Google Cloud Print. Under New Devices you should see the name of your printer, assuming it's properly connected to your network.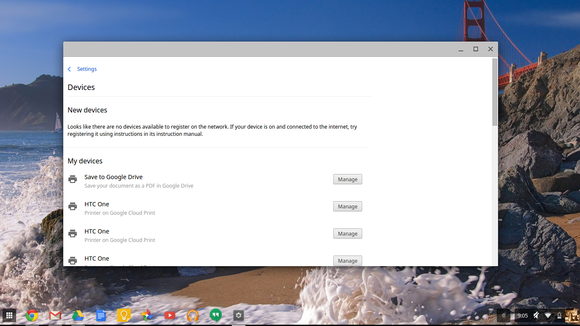 If your printer doesn't show up in the list, it may not be Google-Cloud-Print ready, or it could just be having some other connection issue (remember: Printers are evil). You may have to dig out that instruction manual or head to the printer's specific help page. Google also has a support site that may point you in the right direction.
If your printer isn't Cloud-Print-enabled, the only way to print stuff from your Chromebook is to connect your printer to a Mac or Windows PC, install Cloud Print on that as well as your Chromebook, and then tie it all your Google account. Whew! Here are Google's specific directions on how to do that.
The kludgy workaround works well enough, but if you plan to print a lot from your Chromebook, you'll want to spring for a Cloud-Print-enabled printer. Another advantage of Google Cloud Print is that once it's configured, you can print from any device that can sign into your Google Account.
Chromebook power!
With those basics under your belt, you're ready to rock and roll. For more advanced tricks—such as setting up multi-monitor support, advanced mouse settings, or VPNs—be sure to check out PCWorld's Chromebook power tips.
The beauty of Chromebooks is that after the initial setup, most people will never need to worry about those beefier settings and options—or any other kind of maintenance or management, for that matter. Happy web surfing!
This article was originally published December 26, 2014, and updated February 16, 2017.
Sours: https://www.pcworld.com/article/430880/how-to-set-up-your-new-chromebook-the-right-way.html
How to set up Chromebook parental controls
Eric Zeman / Android Authority
Google ended the Supervised Users program for Chrome but promised a set of new Chromebook parental controls. Those controls turned out to be Google Family Link. Today, we'll show you how to use Google Family Link to set up parental controls for your children's Chromebooks.
New to the world of Chromebooks? Our guide on what to expect from a Chromebook helps explain what they can and can't do, buying options, and setup guides for first-time Chromebook users.
---
Device requirements
Eric Zeman / Android Authority
Parents will need Android devices running Android 5.0 Lollipop or above, or an Apple device running iOS 11 or above to use Chromebook parental controls with Google Family Link. The Chromebook in question will need to run Chrome OS 71 or above and you can also install Google Family Link on Android devices running Android 7.0 Nougat or newer. If your Chromebook isn't updated, don't forget to check out our step-by-step guide on how to do so below.
Read also:How to update your Chromebook
---
Setting up Chromebook parental controls
Eric Zeman / Android Authority
First, download and use the Google Family Link app on your phone to set up an account for your child.
If it is a new Chromebook, go through the setup process and sign in with your (parent) account. This is vital, as the first account used to sign in becomes the owner account and has access to special privileges. Skip to the next step if the Chromebook is already active.
Now, add your child's account to the Chromebook.
It is recommended that you disable guest mode and control who can sign in to your child's Chromebook. If the guest mode or the ability to add new users is available, your child may be able to bypass Chromebook parental controls.
To do so, sign in to the Chromebook with the Owner (parent) account. Click on the account photo and go to Settings. In the People section, go to Manage Other People. Turn on Restrict sign-in to the following users. You will see a list of accounts added to the Chromebook and be able to add and remove them accordingly. Next, turn off Enable Guest Browsing.
See also:Google Family Link review
---
Chromebook parental control features in Google Family Link
We've talked plenty about how to set your Google Family Link restrictions, but what can you actually do? After all, it's not helpful to run into Family Link mostly blind. Here are a few of the most important features you can manage:
Restrict or block access to apps from the Chrome Web Store and the Google Play Store.
Disable Incognito Mode.
Manage the websites their children can visit on Chrome.
Limit a child's ability to grant permissions to websites.
By default with Family Link, the Chrome browser tries to block sexually explicit and violent sites from being shown to children.
Set bedtimes, time limits, and lock devices.
---
Current limitations
There are still a few features missing from Chromebook parental controls via Google Family Link. One limitation of Google Family Link is that it can only be used to set up accounts for children under 13. After that, children can create and set up regular Google Accounts.
Many consider it a big limitation that Google Family Link cannot be used with Google accounts set up with G Suite. Users (parents) will need a Gmail account to log in and use Family Link to set up parental controls on any of their children's devices.
Also:Chromebooks vs traditional laptops
---
That's all there is to setting up Chromebook parental controls! There are some impressive premium, third-party services like Mobicip as well come highly recommended if you aren't entirely happy with the solutions Google offers.
How ToChromebooks
Sours: https://www.androidauthority.com/chromebook-parental-controls-881408/
TODAY'S BEST DEALS
Let's ignore the specs for just a moment--we'll get to them shortly--and let's instead focus on feel. The HP Chromebook 14 feels fast. It boots absurdly quickly, the built-in Chrome browser opens almost instantly, and with rare exceptions, everything just feels responsive.
Spec sheet
Here is the HP Chromebook 14 configuration sent to techradar for review:
CPU: 1.83GHz Intel Celeron N2940 processor (quad-core, 2MB cache, up to 2.25GHz)
Graphics: Intel HD Graphics
RAM: 4GB DDR3
Screen: 14-inch 1,920 x 1,080 display
Storage: 16GB eMMC
Ports: 1 x USB 3.0, 2 x USB 2.0, HDMI, MicroSD slot, headphone jack
Connectivity: Intel 802.11ac, Bluetooth 4.0
Camera: HP TrueVision HD webcam
Weight: 3.74 pounds (1696g)
Size: 13.54 x 9.45 x 0.7 inches (344mm x 240mm x 18mm) (W x D x H)
With a 1080p display and quad-core 1.83GHz Intel Celeron N2940 processor inside, this Chromebook 14 is the higher-end model that HP offers at $279 or £307 (about AU$193). Though it isn't a technical powerhouse by modern standards, thanks to Chrome OS's minimal bloat and speedy performance, that almost doesn't matter. Almost.
These specs generally compare to the Acer Chromebook 15, which features a 1.5GHz dual-core Intel Celeron 3205U processor and 2GB of memory. It's also over a pound lighter than Acer's offering, though the Acer has a 15.6-inch screen. The Acer also includes 32GB of onboard storage, compared to the 16GB on the HP Chromebook 14.
Since Chrome is designed with cloud storage in mind, the relative lack of storage isn't as big an issue as it would otherwise be.
Toshiba's 13.3-inch Chromebook 2 is lighter (2.97 pounds) and more powerful (a 2.1GHz Core i3-5015U). But at $429 (about £299, AU$612), it's also much pricier than HP's offering —and that's even considering the cheaper $329 (about £230, AU$469) Celeron-powered model.
Performance
The Chromebook 14 is more than fast enough for day-to-day tasks, but we noticed that it stuttered occasionally under heavy use. Videos would drop frames, for instance, or scrolling would stutter a bit. With more casual web browsing usage, such stuttering was rare, so you shouldn't run into problems too often.
Benchmarks
Here's how the Chromebook 14 performed in our battery of web browser benchmarks:
Kraken 1.1: 4.135ms
Sunspider 1.0.2: 703.2ms
techradar battery test: 5 hours, 38 minutes
Since Chrome OS doesn't run traditional applications, I had to rely primarily on the web-based Kraken and Sunspider benchmarks, but you can see some patterns here.
The Kraken score of 4,135 milliseconds is nearly three times slower than that put up by the Core i3-based Toshiba Chromebook 2. That makes sense given the Chromebook 14's weaker Celeron processor (and lower base price). But as I noted earlier, you should be able to happily chug along on the Chromebook 14 without much problem.
Battery life is good, not great
HP claims the Chromebook 14's 3-cell, 37-watt-hour battery can last over 8 hours on a single charge. We didn't quite get that long of run time, though. The Chromebook 14 managed 5 hours, 38 minutes on a single charge when playing an HD video file in VLC on loop (50% screen brightness, 50% volume with headphones plugged in).
This lagged behind both the Toshiba Chromebook 2 (which achieved slightly over six hours on the same test). We were able to squeeze in nearly seven hours of usage while browsing the web, viewing YouTube videos, streaming music, and otherwise going about my business. This fell a little short of the Acer Chromebook 15, which managed close to 8 hours under similar usage.
Bright, vivid screen
The 14-inch, 1920 x 1080 screen is bright, crisp, and evenly backlit, with appealing color saturation and contrast. Photos and text appear sharp and crisp on-screen, and its viewing angle is generally good. My one gripe is that Chrome OS lacks an interface scaling feature that lets you increase the size of text and onscreen elements across the system, but that's hardly the screen's fault.
Good enough sound
You wouldn't expect booming audio from a laptop, and the Chromebook 14 is no exception to this rule. The built-in stereo speakers are tinny and hollow-sounding, but they're serviceable. On the plus side, audio is loud and clear.If you're an audiophile, you'll want a good pair of earbuds or headphones.
TODAY'S BEST DEALS
Sours: https://www.techradar.com/reviews/pc-mac/laptops-portable-pcs/laptops-and-netbooks/hp-chromebook-14-1317787/review/2
How to Set Up a Chromebook
HP printer setup (Chromebook)
Z7_3054ICK0KGTE30AQO5O3KA30N0
hp-concentra-wrapper-portlet
Actions
Set up a network or USB connected printer with a Chromebook.
Add the printer to the Chromebook
Connect the printer to your Chromebook with a Wi-Fi or USB cable connection to complete the setup. No drivers or apps are required to set up your printer.
Update the Chromebook to the most current version of Chrome OS.

Connect the printer to the same network that the Chromebook is connected to, or use a direct USB connection.

Wi-Fi connection for printers with a touchscreen control panel: Open the Setup, Network, or Wireless settings menu, select Wireless Setup Wizard, and then follow the instructions to select the network name and enter the password.

Wi-Fi connection for most printers without a touchscreen control panel: Press and hold the Wireless button for five seconds or until the wireless light starts to flash. Within two minutes, press and hold the WPS (Wi-Fi Protected Setup) button on the router until the connection process begins. The printer wireless light stops flashing when the connection completes.

Wi-Fi connection for HP Deskjet 6000 and 6400, ENVY 6000 and 6400, and Tango printers: Press and hold the Wi-Fi button and the Power button on the back of the printer for five seconds until the blue bar flashes. Within two minutes, press and hold the WPS button on the router until the connection process begins. The blue bar stops flashing when the connection completes.

Wired (Ethernet) network connection: Connect the network cable to the printer Ethernet port and to an available port on the router or access point. At the printer port, the green light should be steady and the orange activity light should blink.

USB connection: Connect the cable to the USB port on the rear of the printer and to an available port on the Chromebook.

On the Chromebook, click the clock in the bottom right corner, and then click the Settings icon .

Scroll to the bottom of the screen, and then click Advanced.

Under Printing, click .

If your printer displays, select it, and then click Add.

If your printer does not display, click Add Manually, and then follow the instructions. For more information, go to Chromebook Help - Set up your printer (in English).
Print from the Chromebook
Print photos, documents, webpages, and emails through the Chrome browser and supported apps.
Open the item you want to print.

Click the Chrome browser Settings icon , and then select Print.

Next to Destination, click Change, and then select your printer.

Change any desired print settings, and then click Print.
Frequently asked questions (FAQs)
Still have a question? Find additional answers and help.
Is my printer compatible with Chrome in-OS printing?
HP printers that support IPP Everywhere require no setup – simply print and select your printer, if necessary.
To find out if your printer is compatible, go to IPP Everywhere Printers (in English).
Additionally, thousands of HP printers support in-OS printing through the HP Linux Imaging and Printing (HPLIP) project. These printers must first be added through Chrome's printer settings. To find out if your printer is supported through HPLIP, go to HP Linux Imaging and Printing (in English).
Can I manage enterprise printing in Chrome?
Yes, you can manage HP printers remotely through the Common UNIX Printing System (CUPS) and Google admin tools.
For more information, go to Google's page on Manage local and network printers in Chrome OS (in English).
Z7_3054ICK0KGTE30AQO5O3KA3016
Z7_3054ICK0KGTE30AQO5O3KA30H4
Z7_3054ICK0KGTE30AQO5O3KA30H5
Europe, Middle East, Africa
Z7_M0I02JG0KOT530A6KJKFRQ0816
hp-detect-load-my-device-portlet
Actions
Sours: https://support.hp.com/wps/portal/pps/Home/ConcentraWrapper/!ut/p/z0/04_Sj9CPykssy0xPLMnMz0vMAfIjo8zifQ08DYy83A283YODjQ0cnUMsfAPcjQwM3A31C7IdFQFrWXz6/
Chromebook setup hp how to
How to Print From Chromebook to HP Printer
Are you still not familiar with the idea of a Chromebook laptop? Well, it started off as a low-priced substitute to conventional laptops, and eventually grew to great popularity, thanks to the ultra-lightweight OS and highly mobile design. In today's times, you can choose from a variety of Chromebooks, ranging from advanced models with hi-res displays and lighting fast processors, to basic models. What differentiates a Chromebook from other laptop PCs is the Chrome operating system, designed to utilise web applications and cloud storage, rather than loading programs and files onto an internal hard drive. And you have a new category of laptop which is thin, light, and run on Google's minimalistic Chrome OS, based on open source Linux.
Now let's take a look at How to Print From Chromebook to HP Printer:
Add the printer to the Chromebook: the printer should be connected to your Chromebook with a wireless or USB cable connection to complete the setup. You do not need any app or drivers for the same. Just make sure that the Chromebook is updated to the latest version of Chrome OS, the printer is turned on, ink cartridges are installed, and plain paper is loaded in the main tray.
Next, connect the printer USB cable to the Chromebook, or for wireless printing, place the printer close to the Chromebook, within the range of the Wi-Fi router, and then connect the printer to the local Wi-Fi network.
Click the clock on the bottom right corner on the Chromebook, and then click the Settings icon.
Scroll to the bottom of the screen and select the 'Advanced' option.
Scroll to the 'Printing' section, click 'Printers', and then click 'Add Printer'. In case your printer displays that option, click it, and then click Add. If you do not get that display, click 'Add Manually', and then follow the instructions to add the printer.
In the final step, you can open the item you want to print, click on the Chrome browser settings icon, and then select Print. Next to Destination, choose Change, and then select your printer.
In the final step of How to Print From Chromebook to HP Printer, change any print settings as required, and then click Print.
Additionally, you can also check out the following installation and set-up options with regard to How to Print From Chromebook to HP Printer:
HP Print for Chrome app: supports printing through the Chrome browser to USB and network connected printers.
Google Cloud Print: this allows you to print from anywhere, from any web-connected computer or mobile device.
Wi-Fi Direct Printing: with this option, you can print wirelessly without connecting to a local Wi-Fi network.
Sours: https://www.printerfixes.com/how-to-print-from-chromebook-to-hp-printer/
Just Bought A Chromebook? How to Setup \u0026 Few Things Need to Know - Get Started with A New Chromebook
Simultaneously. Separately, they did not pose a danger, for each grouping there would be enough for a legion. But the rebellious Ashkhulai and the inhumans revolted in the southern provinces, and the main forces were drawn there.
You will also be interested:
Do you like this picture too. - I asked the question. - Yes, I'm its author. This is my ex-wife.
1281
1282
1283
1284
1285