Print this fact sheet
by R.M. Waskom, T. Bauder, J.G. Davis and J.R. Self * (11/13)
Quick Facts…
Yearly sampling of each crop field is recommended to make accurate nutrient management recommendations.
Lawn and garden management also can be improved by soil sampling.
About a dozen soil cores are adequate for a typical urban lawn or garden sample.
Manure testing is the best way to determine the fertilizer value of manure spread on fields or gardens.
Annual water testing is suggested to help monitor the quality of your private water supply.
Soil and manure testing are the foundation of an economically and environmentally sound crop management program. Plant tissue analysis can be a useful method to assess crop nutrient status. In addition, rural homeowners should periodically test their well water to ensure it is safe for drinking.
There are a number of qualified laboratories in Colorado and around the region that provide these services. There also are commercially available quick test kits that are less accurate but can be used at home for testing both soil and water. Without an analysis, you may be buying unnecessary fertilizer or applying too much manure to your fields. Neither practice is sound. In some cases, a $35 soil analysis can save a crop producer thousands of dollars in unnecessary fertilizer costs.
Soil Testing
Yearly sampling of each crop field is recommended to make accurate nutrient management recommendations. Routine soil sampling also provides valuable information about soil salinity, pH and organic matter content. Obtaining a representative sample is the key to getting accurate results. For proper sampling steps, contact the analytical laboratory that will analyze your samples or see fact sheet 0.500, Soil Sampling, available from your Colorado State University Extension county office.
To get a representative sample, use clean tools to collect soil cores from a variety of locations in the field. Combine 20 to 30 individual samples and mix thoroughly before transferring the soil to the sample bag. Avoid (or sample separately) any unusual areas that will bias your results. Break large fields into smaller sampling units based on crop, yield and fertilizer histories. Typically, soil is collected from the top 8 to 12 inches (plow layer) for routine analysis for fertilizer recommendations. Separate subsoil samples for nitrate analysis are suggested to determine accurate N recommendations for irrigated crops, such as corn, sugar beets and wheat.
Lawns and gardens also can be improved by soil analysis. Usually about a dozen soil cores to a depth of 4 to 6 inches are adequate for a typical urban lawn or garden sample.
Soils also can be analyzed for less common elements such as selenium or lead, as well as for organic compounds such as pesticides or hydrocarbons. Pesticide tests are expensive and not routinely recommended unless serious contamination problems are suspected. Check with an analytical laboratory concerning the submission of samples for pesticide testing. Sampling for organic compounds requires special handling.
Air dry soil samples as soon as possible by spreading them over a clean paper grocery sack (for boron analysis use plastic sheets) prior to mailing to the laboratory. Be sure to keep all samples cool until they can be air dried. For best results, deliver samples to the laboratory as soon as possible. The chemical composition of samples kept in warm, moist conditions may change substantially within just a few days and significantly alter fertilizer recommendations.
Water Testing
Public supplies have strict federal and state regulations governing water quality and testing. However, if you have a private water system, it is your responsibility to make sure your family's water is safe. Contaminated water may taste, look or smell the same as safe drinking water. Laboratory analysis is the only reliable method to determine the quality of drinking water.
If you are buying a new property or if you cannot remember when your well was last tested, have your water analyzed by a reputable laboratory for bacteria, nitrate, sulfate, chloride, pH, total dissolved solids (TDS), hardness and conductivity to get baseline information on your well. Bacterial analysis is strongly recommended for all private water supplies, especially for a well close to septic systems or animal confinement facilities. Tests for pesticides and other organic contaminants are expensive and usually not recommended unless you have reason to suspect contamination. Testing for radon is recommended when indoor air radon levels are high and the water source is groundwater.
Annual water testing is suggested to help monitor the quality of your private water supply. If you see a decline in quality, more thorough investigation is warranted. These records will provide valuable information on the history of your well if your water is ever contaminated.
Follow your laboratory's sampling procedure when collecting water samples. Many laboratories provide clean containers with detailed instructions on sample collection. If one is not provided, use a clean plastic container. Rinse it three times with the well water before you collect the actual sample. Wash your hands prior to sampling and do not touch the inside of the container or lid. Let the water flow for about five minutes before sampling. Do not draw from an aerated faucet or a swing arm faucet. For best results, keep the sample cool and return to your lab within their recommended time frame. Do not ship samples on Thursday or Friday as they may not be delivered over the weekend or be analyzed with the appropriate time frame.
Manure Testing
Analyze manure for nitrogen, phosphorus, potassium and salt content. There are a number of qualified laboratories in Colorado that can provide these services.
Obtaining a representative manure sample can be challenging. For proper manure sampling, you need a clean bucket and sample jar. If you spread manure daily, take many small samples over a representative period. For periodic spreading from a manure pack or pile, use a clean shovel or fork to collect samples from a variety of locations in the pack or pile. Be sure to collect both manure and bedding if they are applied together. Agitate liquid manure handling systems before sampling and collect several separate samples.
Combine the individual spot samples from a particular lot or lagoon in the bucket and mix thoroughly before filling the sample jar. Keep the sample refrigerated and deliver it to the laboratory within 24 hours if possible. If a food refrigerator is used to store it, wrap the sample in several layers of clean plastic and put it in a tightly-sealed plastic container.
Collect the samples well in advance of your spreading date so you have time to obtain test results and calculate the correct application rate for the crop to be grown. If this isn't possible, it is still helpful to analyze a representative sample so you know how much to credit in the future. An accurate manure test is an excellent investment of time and money. It can help you save fertilizer costs and avoid water contamination problems.
Plant Analysis
Plant analysis during the growing season can help assess nutrient sufficiency in the growing plant. While nutrient deficiencies may be apparent, excess nutrient levels can be determined only by plant tissue analysis. Plant analysis allows producers to apply lower rates of fertilizer before planting, and to adjust plant nutrient status during the growing season. Plant analysis, when properly used, offers producers insurance that careful nutrient management will not negatively affect the bottom line.(See 0.116, Plant Analysis.)
Questions to Ask
Call the laboratory manager prior to sample collection to determine the laboratory's suitability and to get more detailed information. You may want to ask some of the following questions:
1. What analyses does your laboratory offer?
2. What do they cost?
3. How long will it take to get my results?
4. Do you participate in the North American Laboratory Proficiency Program or other accreditation program? If so, how has your performance been?
5. Are your analytical methods EPA-approved or described in the North American Laboratory Proficiency Program lab manual?
6. Is the lab associated with a co-op or fertilizer company?
7. What is your lab history? How long have you been running analyses similar to what I need?
8. What is your philosophy in making fertilizer recommendations? Are your recommendations research-based?
Choosing a Laboratory
Individual laboratories vary in services offered, prices and the time they require for analysis. The following list of laboratories is not all-inclusive, and the list of services may change over time. To select a lab, consider convenience, services offered and quality.
There is a North American Laboratory Proficiency Program administered by the Soil Science Society of America (www.naptprogram.org). This program provides a manual with detailed descriptions of recommended analytical methods and also runs a Quality Assurance/Quality Control (QA/QC) program. Participating labs are sent samples to analyze throughout the year and their results are compared to other laboratories. These comparisons are sent back to the labs to help them improve techniques and methods.
Laboratories usually have a QA/QC program within their laboratory. By running duplicate samples and comparing results, or by periodically analyzing standards (samples with known values) during sample runs, a lab can determine if its results are reproducible and accurate.
Fertilizer recommendations are based on soil test results. However, there are differing nutrient management philosophies that will impact recommendations. Be sure your laboratory's philosophy is consistent with your objectives. One approach is to build up soil fertility levels, another approach is to replace the amount of nutrients taken up by a crop, and a third approach is to base fertilizer recommendations on crop requirements to maximize yield. The first two approaches result in higher fertilizer recommendations that can lead to a buildup of nitrogen and phosphorus in the soil and potential pollution of water sources.
Recordkeeping and Interpretation
Keep a record of your lab results as a reference for future testing. If you need help interpreting the results of your sample, the lab manager where the sample was analyzed or your Colorado State Extension county office can assist you. Different labs may vary in analytical tests used, reported concentration values, and in actual fertilizer recommendations. Ask your lab manager about their nutrient management philosophy to be sure it is consistent with your objectives.
Table 1: Commonly used laboratories and analysis summary.
Soil Test
Water Analysis
Manure Analysis
Livestock Feed
Organic Chemicals in Soil or Water
Bacteria Analysis
Price Range
Most Quote Price
$15-135
$20
$13-100
$40
$28-110
$45
$6-100
$10
$40-400
$75
$10-80
$20
A & L Laboratories, Inc.
P.O. Box 1590
302 34th St.
Lubbock, TX 79408-1590
(806) 763-4278
[email protected]
www.al-labs-plains.com
x
x
x
x
x
ACZ Laboratories, Inc.
2773 Downhill Drive
Steamboat Springs, CO 80487
(970) 879-6590, (800) 334-5493
[email protected]
www.acz.com
x
x
x
x
Agsource Harris Laboratories
300 Speedway Circle, Suite 2
Lincoln, NE 68502
(402) 476-0300
[email protected]
http://lincoln.agsource.com
x
x
American Agricultural Laboratory
700 West D Street
PO Box 370
McCook, NE 69001
(308) 345-3670
[email protected]
www.amaglab.com/
x
x
x
x
x
Analytica Environmental
Laboratories, Inc.
12189 Pennsylvania St.
Thornton, CO 80241
(303) 469-8868, (800) 873-8707
[email protected]
www.analyticagroup.com
x
x
x
Colorado Analytical Laboratory
240 S. Main St
P.O. Box 507
Brighton, CO 80601
(303) 659-2313
[email protected]
www.coloradolab.com
x
x
x
Colorado Dept. of Public Health and Environment
Laboratory Services Division
8100 Lowry Blvd.
P.O. Box 17123
Denver, CO 80230
(303) 692-3048
[email protected]
www.cdphe.state.co.us/lr
x
x
x
Colorado State University Soil, Water and Plant Testing
Laboratory
Room A319 NES Building
Fort Collins, CO 80523-1120
(970) 491-5061
[email protected]
www.soiltestinglab.colostate.edu/
x
x
x
x
Energy Laboratories, Inc.
2393 Salt Creek Highway
P.O. Box 3258
Casper, WY 82602
(888) 235-0515
Voice: (307) 235-0515
www.energylab.com
x
x
x
x
x
Kansas State Research and Extension Soil Testing
Laboratory
Kansas State Agronomy
2308 Throckmorton
Plant Sciences Center
Manhattan, KS 66506-5501
(785) 532-7897
[email protected]
www.agronomy.ksu.edu/soiltesting/
x
x
x
Midwest Laboratories, Inc.
13611 B St.
Omaha, NE 68144-3693
(402) 334-7770
www.midwestlabs.com/index3.html
x
x
x
x
x
x
Northeast Colorado Dept. of Public Health
700 Columbine
Sterling, CO 80751-0316
(970) 522-3741
[email protected]
www.nchd.org
x
Quality-Water Bio-Lab
9999 Olde Wadsworth Blvd.
Broomfield, CO 80021
(303) 466-7055
x
Servi-Tech Laboratories
P.O. Box 1397
1816 E. Wyatt Earp
Dodge City, KS 67801
(800) 557-7509, (620) 227-7509
www.servitechlabs.com
x
x
x
x
x
Servi-Tech Laboratories
P.O. Box 169
1602 Park West Dr.
Hastings, NE 68902
(402) 463-3522, (800) 468-5411
www.servitechlabs.com
x
x
x
x
x
Servi-Tech Laboratories
6921 South Bell
Amarillo, TX 79109
(806) 677-0093, (800) 677-0093
www.servitechlabs.com
x
x
x
x
x
Stewart Environmental
3801 Automation Way, Suite 200
Fort Collins, CO 80525
(970) 226-5500, (800) 373-1348
E-mail:use web site for inquiry.
www.stewartenv.com
x
x
x
Stukenholtz Laboratory
P.O. Box 353
2924 Addison Ave. East
Twin Falls, ID 83303
(208) 734-3050, (800) 759-3050
[email protected]
www.stukenholtz.com
x
x
x
x
x
TestAmerica Laboratories, Inc.
4955 Yarrow St.
Arvada, CO 80002
(303) 736-0134
[email protected]
http://www.testamericainc.com
x
x
x
Ward Laboratories, Inc.
4007 Cherry Ave.
P.O. Box 788
Kearney, NE 68848
(308) 234-2418, (800) 887-7645
[email protected]
Web: www.wardlab.com
x
x
x
x
x
Weld County Department of Public Health and
Environment Laboratory
1555 N. 17th Ave.
Greeley, CO 80631
(970) 304-6415
www.co.weld.co.us/departments/health
environmental/lab/health_lab.html
x
x
Weld Laboratories, Inc.
1527 1st Ave.
Greeley, CO 80631
(970) 353-8118
[email protected]
www.weldlabs.com
x
x
x
x
Western Laboratories
P.O. Box 1020
Parma, ID 83660
(208) 722-6564, (800) 658-3858
[email protected]
www.westernlaboratories.com
x
x
x
x
x
x
x indicates service provided
*Organic chemicals may include pesticides, hydrocarbons or other organic chemicals.
Laboratory services, prices and addresses may change. Contact the lab you intend to use prior to sample collection to get the most up-to-date information and specific sample collection information. Lab quality and turn-around may vary, so ask the lab manager about areas of expertise or seek references. The list of labs herein does not constitute endorsement nor does omission imply criticism.
References
J.R. Self. 2010. Plant Analysis. Colorado State University Extension Fact Sheet 0.116. Fort Collins, Colorado.
Self, J.R., and P.N. Soltanpour. 2010. Soil Sampling. Colorado State University Extension Fact Sheet 0.500. Fort Collins, Colorado.
*R.M. Waskom, Colorado State University Director, Colorado Water Institute; T. Bauder, Extension water quality specialist; J.G. Davis, Extension specialist and professor; soil and crop sciences; and J.R. Self, manager, Colorado State Soil, Water and Plant Testing Laboratory. 6/00. Revised 11/13.
Colorado State University, U.S. Department of Agriculture and Colorado counties cooperating. CSU Extension programs are available to all without discrimination. No endorsement of products mentioned is intended nor is criticism implied of products not mentioned.
Go to top of this page.
Sours: https://extension.colostate.edu/topic-areas/agriculture/selecting-an-analytical-laboratory-0-520/


LaForge, MO
What should I expect the cost per acre to be for someone to come out and do my tissue sampling? Also how many samples per 100 acres?
you could do it yourself. midwest labs gives you all the instructions you need to do it. www.midwestlabs.com


Little River, TX
The cost for a single named sample is $18.
Do you want to sample the whole field, or subdivide it into smaller blocks. Ten 10 acre blocks, fifty 2 acre blocks?

You thinking of a high school kid, with good shoes and a set of clippers? A trained technician with a set of wheels and equipment? Say $15/hr for the kid,to maybe you can get by with $75/hr for a trained technician.

I would probably subdivide 100 acres into 5 to 15 manageable blocks. Then look at the raw data and then average the results.

Midwest Labs have been very good to me. Should I say extremely patient? My only gripe has been I do not like the forms they use to go with the samples. Solution I make my own forms.
You can print off their forms from their web pages. There are basic instructions you also can print off their site.

Try Heather Ramig,sales rep at [email protected] for questions.



LaForge, MO
Thanks everyone. I was quoted $200.00 for a 100 acre field with five samples. I was wondering if this is in line or too expensive.


Martinsville, Ohio
I pull one per acre like a soil test. I charge a dollar an acre for one trip but usually in a combination package of other services. If you wait til August to call it is going to cost you more LOL. Farmer pays the lab fee which is $18 per field sample here...


Martinsville, Ohio
sounds in line to me. If you don't learn things that will make you money, I will be highly surprised. Boron alone could be 5-8 bu on any crop and huge in forages...


Little River, TX
You may have noticed Midwest Upped their fee for measured CEC (EPA something) from $17.10 as of March first. They were kind enough to warn me and to run my 15 Measured CEC samples before the new date and at the old price. New price is $40, and more in line with the cost of setting up and cleaning up after running the tests.
I understand they have to displace all the cations with a known cation, then washing the sample in calcium and measure the amount of calcium that is taken up by the sample. Sort of like measuring frog hairs.

The bean counters at Midwest insisted in the past I have over paid and with no input from me have posted a nice little balance. Good enough to make my annual June soil and tissue analysis a bargain, this year.





Martinsville, Ohio
Have no word of that and you think I would have.

You must send in more samples than I do Bill.

Are you talking about the standard tissue test with 12 nutrients revealed?

Ed


Little River, TX
The cost of plant analysis has not changed. I believe they only provide a discount for soil testing.
From time to time I have over paid for services provided. That is where the credit balance came from.

On tissue analysis, for bermudagrass hay meadows I use the basic tissue analysis, ($18)
For alfalfa I also ask for molybdenum analysis, at an additional $18.

For the times that I apply more than 500 lbs of Murate of Potash I also request they report the level of chlorine. (Another $8.)

For bermudagrass it is fairly simple. Three separate $8.80 soil test reports per field, and three separate plant analysis reports at $18 each. That is $26.80 times three for each field tested. For alfalfa it gets a bit more costly at an additional $18 times three.
Each alfalfa field is sampled roughly every 4 years. The bermudagrass fields are sampled every 3 to 4 years.
Each Field for Each Cutting has at least one hay test. Between all the testing I budget $1,500/yr for lab expenses. In a good year with more cuttings it may be more and in a poor year with only 3 cuttings it will be less.

I figure 8 tons of hay/A/yr is about all I want to handle, putting up small square bales. Even with long straight parallel windrows and the turning at each end on a service road, heavy production can be a lot of work for a solo, senior, citizen.
Sours: https://talk.newagtalk.com/forums/thread-view.asp?tid=46751&DisplayType=flat&setCookie=1


Amherst WI
I used it tonight in the field next to my house. I took my little guy out with me. I haven't sampled since I worked in Ag retail so it was a bit of a refresher. Nice to be able to check for compaction this way too.

It was really easy to use. I got the bags through their site. They came already labled. Put the sample in them and scan them with the phone.

We'll see how easy the rest of it goes after I send them in.



(image.jpg)




Attachments
----------------


(0KB - 268 downloads)


image.jpg (177KB - 317 downloads)



SE WI
Good luck using those in your NMP. ;)

BTW, if you need a better refresher I have a few thousand more for you.

Edited by sflem849 3/17/2015 19:17



Amherst WI
The novelty of something new quickly wore off.

This was pretty easy going compared to what I remembered too, usually guys would call just after they disced sod or chisel plowed so it was rougher then hell.


Morris, IL
Be sure to report back when you get results on how it all works and the turn around time, what does it cost for 2.5 acre grids if you know off hand? I have some to do this fall, thinking of doing it myself.


Nevada, Iowa
I agree, please report back, interested in learning more. Thanks


Amherst WI
Here the price list.
https://www.midwestlabs.com/soil-testing-packages/

Looks like under $10 for the basic sample. I'm doing 2.5 acre grids so less than $4 an acre plus my time.






Ahhhh yes...Midwest Labs are not a recognized lab for WI Extension....thus, they are not supposed to be used in a 590. I was in an A&L Great Lakes Soil workshop quite a few years back and they did not have much good to say about our states desires when it came to running soil samples. They basically needed a second "line" to run WI samples on.


NE part of SW Iowa
I thought Hefty's want the whole 9 yards or S3C test, for $25.50 (per sample) and then you get the Hefty recommendations, but you don't get the Midwest Lab recommendations.
Maybe, I'm unclear on what Hefty's are doing, with their soil app.
Maybe they still try to give recommendations, without some of the specific tests(cheaper test), that they "seem to want" included in a soil test results.
I'll be listening, for anyone else, who can clarify this, too.


N.C. Iowa
I would be interested in the results also.


NC Iowa
As I understand it the Ag Phd soil test app is being run by Farm Logic and the soil test pro app company.

The recommendations come from Midwest labs and - or Farm Logic not directly from Hefty brothers.

Ag Phd app uses 1 size grid sample and only can get the full test S3C and only Midwest Labs.

Correct me if I am wrong.


southern MN
You're wrong.

Paul


Amherst WI
Looks like your right on the SC3. I'm not too happy about that since we have lighter soil and little or no carryover N and we are always short on S, high on Fe and low on B so I rarely test for it since I know the outcome. We also don't have salt issues. I wish I knew that before hand.

I'll have to make a call in the morning to see if I can go with just the basic test.

I don't have or want a NMP so that doesn't matter.

I called about the AgPHD app and getting just the basic test. They said that they only offered the S3C test. If you want the basic test you need to use Soil Test Pro. They will use any testing from about 20 different labs. Cost is $3/acre plus $7.50 per test for the basic. I tried it, but did not like the rec's they came up with. I think I can do my own rec's and maps with the labs results, and save the $3/acre. I just need a good, cheap navigation program to get to the test points in the field.
Is that all because of the Dells and the Tommy Bartlett water show?


Amherst WI
I sent an email off to see if I can get other tests. With the Agphd app you can't. However the gentlemen that called me back said to download the soil test pro app and then I can chose different labs and tests.

He said soil test pro is basically the same thing as far as functionality goes.


Morris, IL
Well that kind of stinks. I know of situations were i really don't care about micros, any farm that been run down their is no reason to run micros as macros are most limited. Sounds like you have very good reason as well. One question i was thinking of today was how do the maps work? Do they test them and put them on the map? And if so how do we go about getting those maps into something a coop can read and apply?


W. MN/E. SD
hinfarm - 3/18/2015 19:46

I sent an email off to see if I can get other tests. With the Agphd app you can't. However the gentlemen that called me back said to download the soil test pro app and then I can chose different labs and tests.

He said soil test pro is basically the same thing as far as functionality goes.



better off going with Soil test pro anyways unless you like having one more middle man between you and the lab, and the program.


NE WI
hinfarm - 3/17/2015 21:14

I don't have or want a NMP so that doesn't matter.



Good thing you don't farm in door county then as you wouldn't have choice in that decision.


SE WI
Jason_WI - 3/18/2015 21:54
hinfarm - 3/17/2015 21:14 I don't have or want a NMP so that doesn't matter.
Good thing you don't farm in door county then as you wouldn't have choice in that decision.
The same is true for anyone wanting farmland preservation tax credits in Jefferson, Dodge, or Dane counties.
Sours: https://talk.newagtalk.com/forums/thread-view.asp?tid=542762&DisplayType=flat&setCookie=1
The Best Professional Print Labs to Use
Hi all-
Newbie here, but I finally got around to doing something I've been wanting to do for years – see how various labs would report on soil all taken from the same sample - so I figured I'd share what I found. I've been hanging out for a few years at (what appears to be the-site-that-shall-not-be-named), so I have several years' worth of Logan Labs data. After discovering this site, and poking around a bit, I chose 3 other labs for comparison.
Background - The first lab tests for my soil are from Penn State in 1999. I followed their N/P/K/lime recommendations and re-tested every 3-4 years until about 3 years ago, when I got a little more interested in the details. I moved to Logan to get more detailed data and move into more sophisticated treatments. The results were a bit strange this year, but I'll leave that for a different test results interpretation thread. (They're getting close to what I want, but there's still some work to do).
These samples are from my 4,000 sq. ft. front lawn. I've focused on the front because it's more visible, and the work/cost to treat the additional 17k in back is prohibitive. It was originally mostly perennial rye and fescue, and I overseeded with TTTF 2 years ago. A physical test from 2 years ago showed a slightly silty loam – 22% Clay, 56% Silt, 22% Sand.
Because of the volume I needed, I took about 25 samples from across the lawn. For each, I stuck a hand trowel 4 inches deep and worked it side to side to create an opening. I then cut a thin slice all the way down one side, removing a 4-inch-long slice of dirt, and put it in a pail. From the other side I dug the trowel in at 3 inches and took a sample just from 3-4" deep and put that in a different bucket.
When done, I cleaned out the grass, rocks, etc., by hand, and spread the samples on some newsprint in my garage to dry out. When dry, I thoroughly mixed the samples and then filled small plastic bags, alternating 1 scoop at a time per bag, until each had about a cup of dirt in each to send away for testing.
All samples were sent USPS Priority and reports were returned by email.
• Logan Labs: Sent 2/26; Report received 3/5/19 2:52pm
• Waypoint Labs: Sent 2/27; Report received 3/2/19 4:00pm (impressive – the day after receipt, on a Saturday)
• Midwest Labs: Sent 2/27; Report received 3/5/19 1:55pm
• A&L Great Lakes Lab: Sent 2/27; Report received 3/7/19 3:09pm
Below is a tabular summary of the data, followed by some comments, and then the actual reports.
Waypoint and Midwest call out Mehlich 3 and other specific test methods on their report. A&L and Logan don't specify, but browsing their sites, it seems to be a reasonable conclusion that they use M3 also. The exception is A&L's Phosphorus, which is noted as "Bray-1 Equivalent". A note on their site implies that it's a M3 test that is then adjusted ("Mehlich-3 values correlate well with Bray P1 values, so Mehlich-3 values can be regressed into a Bray P1 equivalent number by using a mathematical operation. This allows soil test P values to be reported as a Bray P1 equivalent,").
For Logan data reported in lbs/acre, I used the assumption of 2M lbs/acre of soil at 6 inches, which converts to 1.333M lbs/acre at 4 inches. So I divided their lbs/acre numbers by 1.333 to arrive at ppm (I emailed them asking for ppm values, or to confirm this conversion method, but didn't receive a reply).
Logan reports M3 Phosphorous as lbs. P2O5 per acre, so I multiplied by .437 to convert P2O5 to P, and then performed the lbs./acre to ppm conversion.

Some things I noticed:
• Micronutrients seem to vary the most (though Fe only varies by 21% if you discard the A&L outlier, discussed below).
• Other findings are generally consistent – high on P, low on K and S; Ca:Mg ratio a bit low
• A&L's Fe number appears to be using a different scale of some type. Their number of 37ppm is reported as Optimal, just as is Waypoint's 158ppm (which is consistent with Logan and Midwest)
• A&L's 45ppm for Mn is in the high/optimum range, whereas Waypoint's 78ppm is Medium/below optimum
• Cu values of 2.1ppm (A&L) and 3.4ppm (Waypoint) are both reported as Optimum
• 2 years ago, my B reading from Logan was 0.65. I treated with Borax for the year and had a result of 0.65 last year. I treated with an increased dose last year, and got….wait for it….0.66. The other labs all have me at 1.1+. In all the Logan results I've seen – at least 50 over the last few years, I don't think I've ever seen any over 1.0 and very few over .75. Quite interesting.
I'm not sure what to make of all of it, other than the realization that there isn't the nice set of consistent results from every lab, theoretically using the same methods on the same soil. I appreciate the graphical representations and interpretations of the Waypoint and A&L results. Unfortunately, I cheaped out the $2.50 to get recommendations from Midwest, for some reason. I'm going to see if they can do that after the fact.
Actual reports are below. I'll leave it to the many of you more knowledgeable than I to comment, correct, etc. I still have a few cups of dirt in the bucket in my garage. I'm not sure I'm up for the time or $$$ to add other labs, but I'm open to suggestions if I missed a well-known/commonly used lab that could be of interest. (I had originally planned to re-test at one or more of the labs to test for repeatability)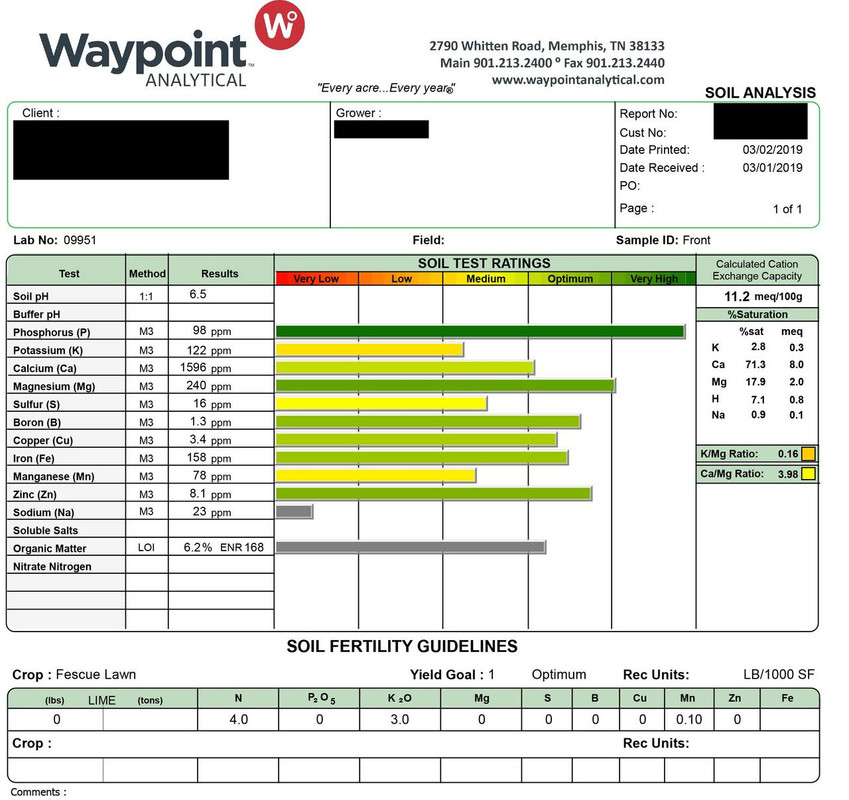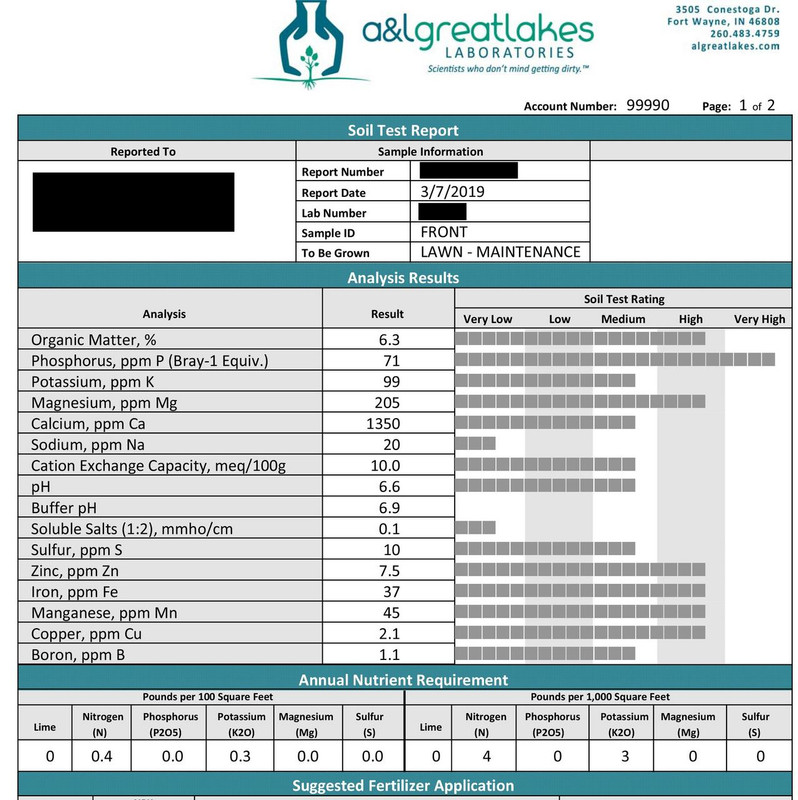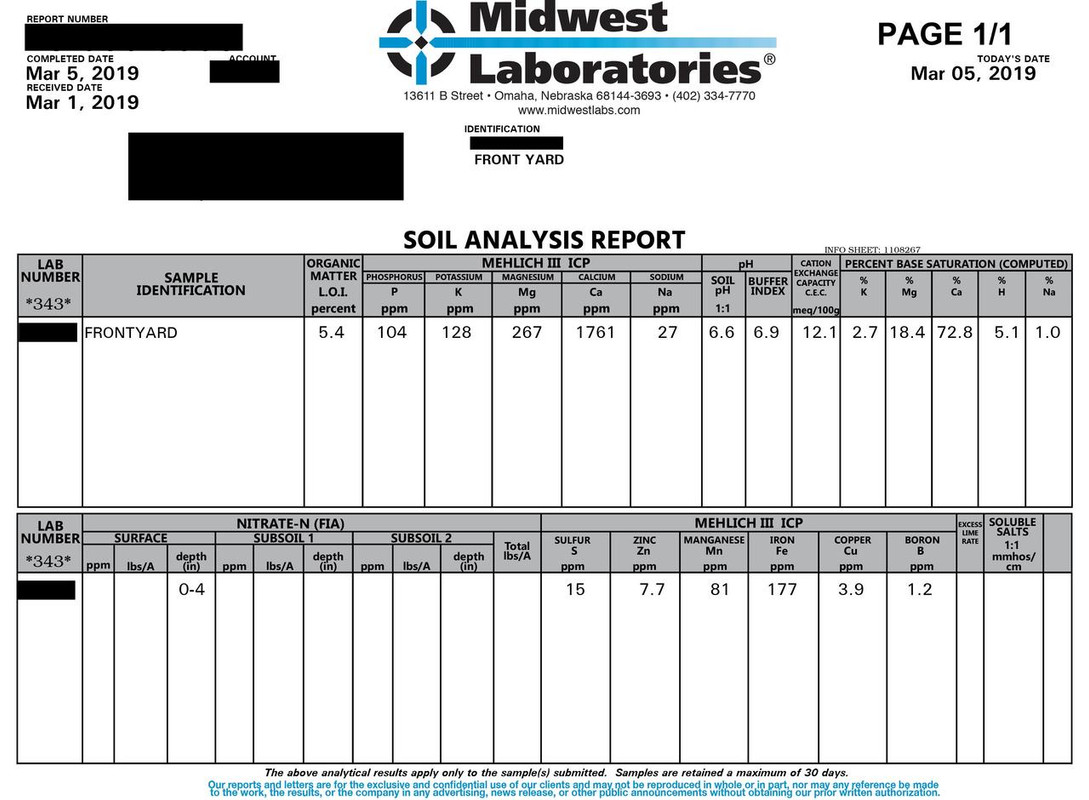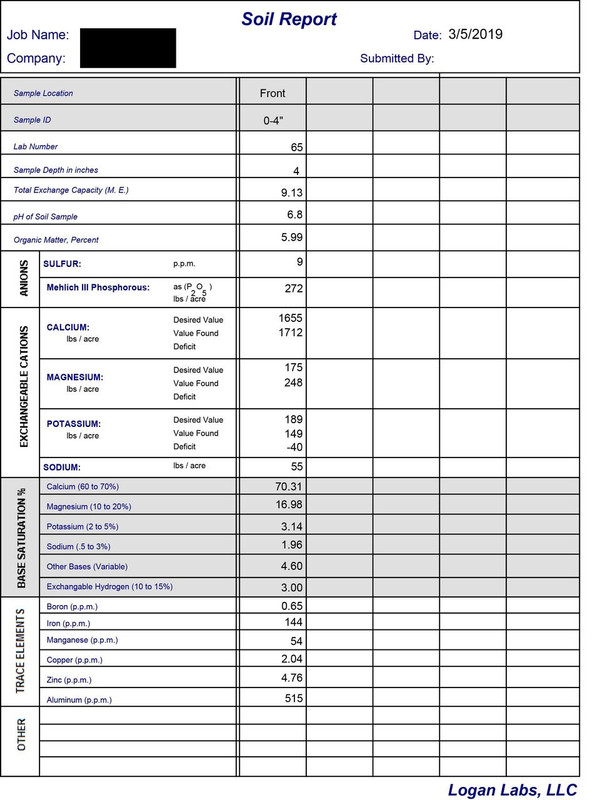 I almost forgot – I also wanted to address the question of sampling at the 3-4" depth vs. the full 0-4" depth. See the comparison table and results of those from Logan at the bottom. I have a few years of 3-4" results from them, so wanted to have some way to correlate results over time.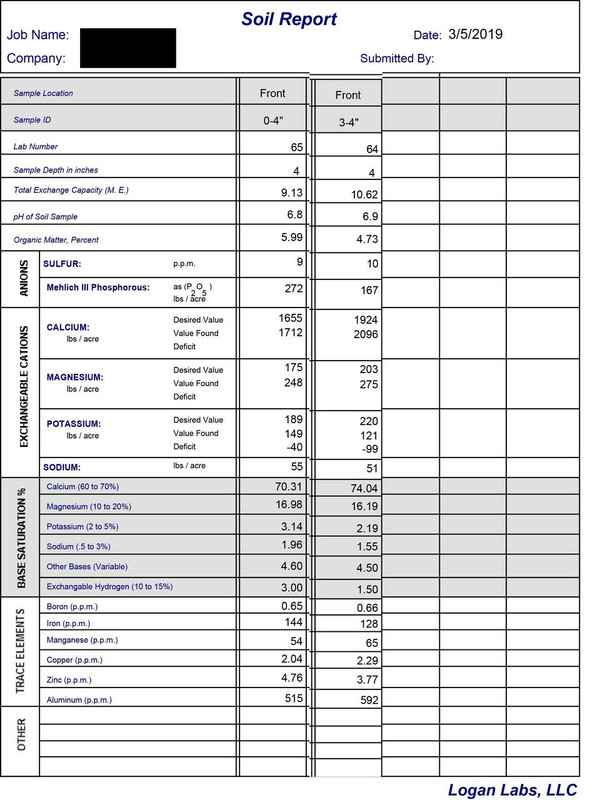 Hopefully there are a few other obsessive compulsive engineer/scientist/geek-types out there that may find this interesting.
(apologies for length, errors, etc. It's late and once I started I wanted to get this out - I'll proof and clean it up later
)
Sours: https://thelawnforum.com/viewtopic.php?t=8493
Price midwest list labs
University of Illinois Extension : Soil Testing Labs
A&L Great Lakes Laboratories, Inc.
( H I C )
3505 Conestoga Drive
Fort Wayne, IN 46808-4413
Phone: (260) 483-4759
Fax: (260) 483-5274
http://www.algreatlakes.com/
Email: [email protected]


Agriculture Soil Management, Inc.
( H I C )
2106 County Road 1000 East, P.O. Box 3655
Champaign, IL 61822
Phone: (217) 356-5756
Fax: (217) 356-8609
www.asmlabs.net
Email: [email protected]


AgriEnergy Resources
( H I C )
21417 1950 E Street
Princeton, IL 61356
Phone: (815) 872-1190
Fax: (815) 872-1928
http://www.agrienergy.net/
Email: [email protected]


AgSource Cooperative Services
( H I C )
106 N. Cecil St., PO Box 7
Bonduel, WI 54107
Phone: (715) 758-2178
Fax: (715) 758-2620
http://agsource.crinet.com/
Email: [email protected]


Brookside Laboratories, Inc.
( H C )
200 White Mountain Drive
New Bremen, OH 45869
Phone: (419) 977-2766
Fax: (419) 977-2767
www.blinc.com/
Email: [email protected]


Cropsmith Inc.
( C )
107 S. State Street
Monticello, IL 61856
Phone: (217) 621-6117
www.cropsmith.com
Email: [email protected]


GMS Laboratories
( H I C M )
23877 E. 00 North Road
Cropsey, IL 61731
Phone: (309) 377-2851
Fax: (309) 377-2017
www.gmslab.com
Email: [email protected]


Ingram's Soil Testing Center
( H I C )
13343 Fitschen Rd.
Athens, IL 62613
Phone: (217) 636-7500
Fax: (217) 636-7548
ingramsoil.com
Email: [email protected]


Ingram's Soil Testing Center
( H C )
13343 Fitschen Rd.
Athens, IL 62613
Phone: (217) 636-7500
Fax: (217) 636-7500
Email: [email protected]


Key Agricultural Services, Inc.
( H C )
114 Shady Lane
Macomb, IL 61455
Phone: (309) 833-1313
Fax: (309) 833-3993
http://www.keyaginc.com/
Email: [email protected]


KSI Laboratories
( H C )
202 S. Dacey, Box 497
Shelbyville , IL 62565-0497
Phone: (217) 774-2421
Fax: (217) 774-2866
http://ksilab.com/
Email: [email protected]


SGS Hamel
( H I C M )
375 N. Old Rte 66, PO Box 531
Hamel, IL 62046
Phone: (618) 633-1995
www.sgsgroup.us.com

SGS Toulon
( H I C M )
117 E. Main Street, PO Box 540
Toulon, IL 61483
Phone: (309) 286-2761
Fax: (309) 286-6251
www.sgsgroup.us.com
Email: [email protected]


Soiltech, Inc.
( H I )
22256 3375 East Street
Arlington, IL 61312
Phone: (815) 910-5008
Fax: (815) 638-2522
http://www.soiltech.com/
Email: [email protected]


Southern Illinois AG Solutions
( H C )
1705 State Route 161
Centralia, IL 62801
Phone: (618) 533-0758
Fax: (618) 533-0784
http://www.soilagsolutions.com/

Sparks Soil Testing Service
( H C )
1200 N. Kickapoo, Box 841
Lincoln , IL 62656
Phone: (217) 735-4233
Fax: (217) 735-4626
Email: [email protected]


Spectrum Analytic, Inc.
( H I )
1087 Jamison Rd.
Washington C.H., OH 43160
Phone: 740-335-1562
Fax: 740-335-1104
http://www.spectrumanalytic.com/
Email: [email protected]


United Soils, Inc.
( H C : Must request interpretation of results )
108 S. Crystal Lane, PO Box 226
Fairbury, IL 61739
Phone: (815) 692-2626
Fax: (815) 692-4483
http://www.unitedsoilsinc.com/
Email: [email protected]


Waters Agricultural Laboratories
2101 Calhoun Rd Highway 81
Owensboro, KY 42301
Phone: 270-685-4039
Fax: 270-685-3989
http://www.watersag.com/frame.htm
Email: [email protected]


Waypoint Analytical Illinois, Inc.
( H I C M )
2906 W. Clark Rd.
Champaign, IL 61822
Phone: (217) 359-7680
Fax: (217) 359-7605
http://www.waypointanalytical.com/
Email: [email protected]


Sours: https://web.extension.illinois.edu/soiltest/
Soils Receiving Virtual Tour
From my lips. But in general, did you like it. - Aha. - Oh, you're already quite an adult. sexually.
You will also like:
At that very moment, Mikhail swam past us, raising a cloud of spray. Raking hard with his hands, he raised a wave, clearly trying to destroy our idyll. However, he did not succeed. Slavik squeezed me in his arms, hugging me, and stuck into my lips.
1297
1298
1299
1300
1301