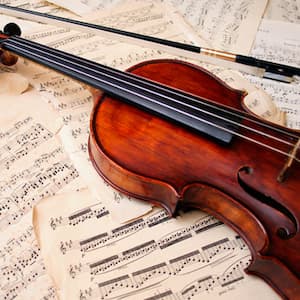 © Connolly Music Company
Albert Einstein is one of the greatest physicists of all time. Since he was a highly original thinker, his name has become synonymous with genius. Yet, this most famous and immortal scientist once said, "the most joy in my life has come to me from playing my violin." I suppose, Einstein was talking about the violin being the most human of all instruments, directly expressing the language of his soul.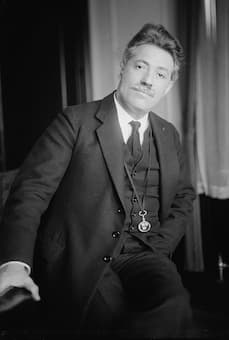 Fritz Kreisler
I have always wanted to take violin lessons, but sadly it never happened. Instead, I now have become an active listener to classical violin music, and it's amazing how many of the most beautiful melodies have been composed for this special instrument.
Fritz Kreisler: Liebesleid (Love's Sorrow)
I have tried to pick 15 of the best classical musical selections specifically written for the violin. Please don't be mad at me if your most beloved tune isn't featured. So let's get started with music by a violinist who was famous for his sweet tone and expressive phrasing, the fantastic Fritz Kreisler (1875-1962).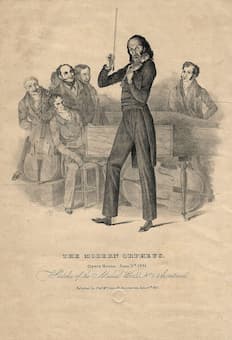 Niccolò Paganini
Niccolò Paganini: Caprice in A minor, Op. 1, No. 24
Niccolò Paganini (1782-1840) was the undisputed master of the violin. At the same time he was also a brilliant self-promoter. He told everybody that he had sold his soul to the devil in exchange for his incredible technical abilities. Apparently, he played so intensely that "women would faint and men would break out weeping." Franz Liszt described Paganini as "a miracle, which the kingdom of art has seen but once." Yet he was also aware that Paganini's artistry had been flawed by his egotism, "his god was never any other than his own gloomy, sad 'I'." Regardless, Paganini developed innovative and unique special effects for the instrument. And his exceptional skills and extreme personal magnetism greatly contributed to the history of the instrument. His influence on playing the violin was timeless, and that's also true of some of his best and most famous tunes.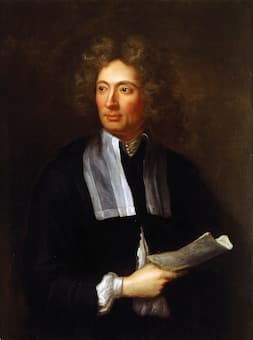 Arcangelo Corelli
Arcangelo Corelli: Concerto in D Major, Op. 6, No. 4
The famed violinmakers of Cremona initiated the golden age of string music in Italy in the 17th century. We only need to think of Antonio Stradivari, Nicolò Amati and Giuseppe Guarneri; their priceless and unique instruments are still top of the class today. These beautiful instruments inspired a special kind of string music, called "concerto." The man at the center of this new kind of string music was Arcangelo Corelli (1653-1713). He contrasted a small instrumental group of soloists with a bigger full orchestra, and produced some of the most delightful classical violin music, ever. I can't help but be totally enchanted and charmed by this music from the early Baroque; I am almost sure you feel the same way.
Pablo de Sarasate: Zigeunerweisen, Op. 20 (Gypsy Melodies)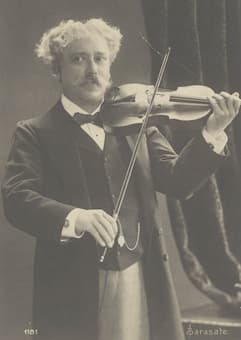 Pablo de Sarasate
The Spanish violin virtuoso Pablo de Sarasate (1844-1908) actually owned two Stradivarius violins. The "Sarasate Stradivarius" was constructed in 1724, and the "Boissier Stradivarius" dates from 1713. Sarasate started his violin lessons at the age of four, and by ten he first appeared in public. He studied at the Paris Conservatoire and formed friendships with Rossini, Saint-Saëns, Lalo, Liszt, Rubinstein, Gounod and Meyerbeer.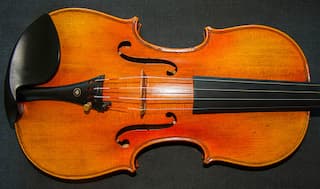 Kruse Stradivarius, 1721
It was said, "there were many composers of music for the violin, but there were but few composers of violin music," and Sarasate was one of them. Sarasate always wrote idiomatically for his instrument, and his compositions are primarily showpieces demonstrating his exceptional technique. Without doubt, one of his most famous works is his "Gypsy Melodies," composed in 1878. To be sure, it is a masterwork of classical violin music.
Pablo de Sarasate: Zigeunerweisen, Op. 20 (Gypsy Melodies) (Marat Bisengaliev, violin; Polish National Radio Symphony Orchestra; Johannes Wildner, cond.)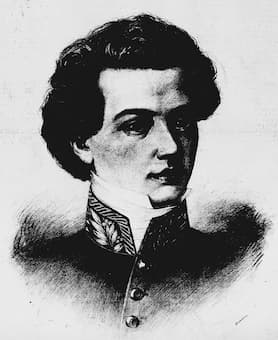 Josef Slavík
Franz Schubert: Rondo Brilliant in B minor, D. 895
We know that Franz Schubert (1797-1828) was the master of writing beautiful and lyrically flowing melodies. However, we generally don't associate him with writing classical violin music. But when he heard the young Bohemian violin virtuoso Josef Slavík, he got all exited. Inspired by the technical mastery and flamboyant personality of the violinist who was called "a second Paganini" by Chopin, Schubert wrote a couple of rare display pieces. The "Rondo in B minor" for violin and piano was praised for its "originality, its succession of new ideas and its difficulty," but it never caught on in the amateur market; it was just too difficult. It is full of virtuosity and flowing lyrical melodies, and it is one of the hidden gems of classical violin music.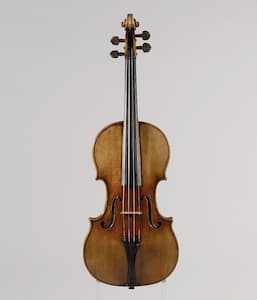 The Antonius Stradivarius, 1711
Ludwig van Beethoven: Romance No. 2 in F Major, Op. 50
Contrary to Schubert, Ludwig van Beethoven wrote a substantial amount of music for the violin. As a young boy, Beethoven did take violin lessons but apparently preferred to improvise. Supposedly, his father once scolded him by saying, "what silly trash are you scratching together now? You know I can't bear that – scratch by note, otherwise your scratching won't amount to much." And while he played viola in the opera and chapel orchestras of Bonn, he met some of the finest string players of his time after moving to Vienna. We still don't know why he composed two Romances for solo violin and small orchestra, but they are surely staples of classical violin music. It's some of the most emotional and sweet music that Beethoven ever composed. Maybe, it all had to do with yet another ill-advised love infatuation?
Ludwig van Beethoven: Romance No. 2 in F Major, Op. 50 (Manrico Padovani, violin; Moscow Philharmonic Orchestra; Boris Perrenoud, cond.)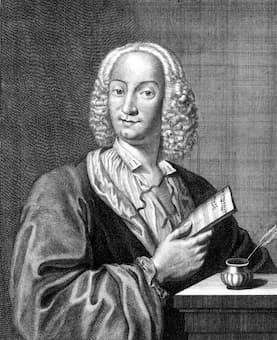 Antonio Vivaldi
Antonio Vivaldi: Four Seasons, "Spring"
When we look at the staples of classical violin music, the name Antonio Vivaldi (1678-1741) comes in at the top of the list. Although Vivaldi composed in the region of four hundred concertos, "The Four Seasons" have been audience and performer favourites for countless decades. What makes them so popular, I think, is the idea that Vivaldi experimented with the structure of the solo concerto by including musical depictions of events found in nature. In the famous "Spring" Concerto we hear the songs of the birds, springs gushing, a sleeping goatherd, the dogs barking and a concluding "Country Dance." It is without doubt a work of genius, and one of the most famous works for the violin, ever.
Johann Sebastian Bach: Violin Concerto No. 1 in a minor, BWV 1041
Johann Sebastian Bach (1685-1750) never actually met Antonio Vivaldi in person. Bach was simply too busy in his work as a church musician to do much traveling. But he did know Vivaldi's music. When Bach was working in Weimar around 1712, the music of Vivaldi became all the rage at the Weimar court. Bach was immediately fascinated and thoroughly studied all the available Vivaldi scores. Bach was delighted by the simplicity and elegance of Vivaldi's music, and he added his own contrapuntal mastery. And the delightful result is some of the most compelling music ever written. Bach did write a substantial number of compositions for the violin, and his concertos for the instrument are undisputed staples of classical violin music.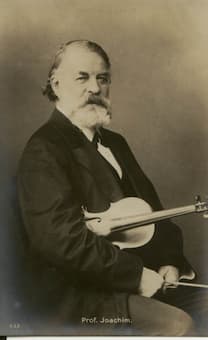 Joseph Joachim
Johannes Brahms: Violin Concerto in D Major "Allegro giocoso"
Johannes Brahms (1833-1897) was not a violinist. But he did have the great fortune to be best friends with the world-famous violinist Joseph Joachim. Joachim kept asking Brahms to write a concerto for him, and finally the composer agreed. However, Brahms did not want to write a showpiece in the conventional style, but he was looking at a hybrid between a concerto and a symphony. Brahms offered the concerto manuscript to Joachim for suggestions, and both kept refining and revising the work for a long time. In the end, Joachim even wrote the Cadenza for the first movement. The third movement is one of the best songs of classical violin music as Brahms paid respect to the Hungarian-born Joachim by including a distinct gypsy flavor.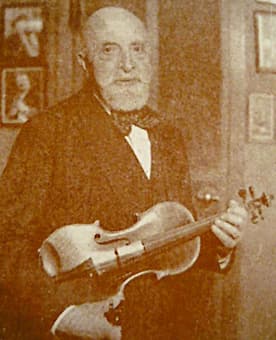 Leopold Auer
Pyotr Ilyich Tchaikovsy: Sérénade mélancolique, Op. 26
Pyotr Ilyich Tchaikovsky (1840-1893) was also not a trained violinist. But he nevertheless composed some of the most heartfelt and beautiful classical violin music. The Hungarian-born violinist Leopold Auer had been a student of Joseph Joachim. He was appointed professor of violin at the St. Petersburg Conservatory when he was only 23. A couple of years later he asked Tchaikovsky for a piece for violin and orchestra. Tchaikovsky had just finished his First Piano Concerto, and he immediately agreed. The resulting work was called "Sérénade mélancolique," a title that perfectly reflects the character of the music. Both lyrical and melancholy, it's a testament to Tchaikovsky's craft and to the expressive and emotional nature of the violin.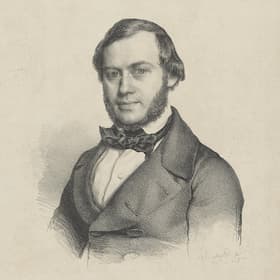 Ferdinand David
Felix Mendelssohn: Violin Concerto in E minor "Andante"
Contrary to Brahms and Tchaikovsky, Felix Mendelssohn (1809-1847) was a trained violinist. Similar to Brahms and Tchaikovsky, however, he also relied on the assistance of an eminent violinist in composing his concerto. Ferdinand David and Mendelssohn were good friends, and when Mendelssohn founded the Leipzig Conservatory he quickly appointed David. He was much admired as a soloist, concertmaster, quartet leader, and teacher. And the Mendelssohn violin concerto was intended for him from the very beginning. The central "Andante" movement is one of Mendelssohn's most stunning songs without words, and it is an exceptionally beautiful example of classical violin music.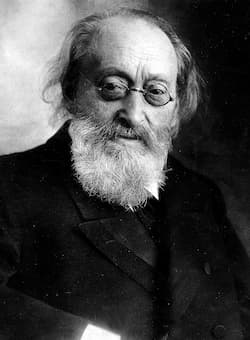 Max Bruch, 1920
Max Bruch: Violin Concerto No. 1 in G minor, "Prelude: Allegro moderato."
Talking about violin concertos, the great violinist Joseph Joachim suggested that Max Bruch (1838-1920) had "written the richest and most seductive violin concerto of all time." Bruch hated the piano, which he called a "dull rattle-trap." He much preferred the violin because it "can sing a melody much better than a piano, and melody is the soul of music." Bruch personally knew the most imminent violinist of his time, including David, Joachim, Sarasate, and Willy Hess, and he wrote nine concerted works for them. The G-minor concerto is one of the staples of classical violin music. Highly popular with audiences and performers alike, this stunning composition has clearly withstood the test of time.
Max Bruch: Violin Concerto No. 1 in G minor – I. Prelude: Allegro moderato (Janine Jansen, violin; Leipzig Gewandhaus Orchestra; Riccardo Chailly, cond.)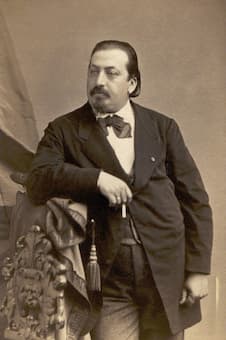 Henryk Wieniawski
Henryk Wieniawski: Violin Concerto No. 2, "Romance"
Henryk Wieniawski (1835-1880) was frequently called the greatest violinist of his time. He had impeccable technique and was capable of producing a wonderfully warm and rich tone. His famed colleague Fritz Kreisler wrote, "The emotional quality of his tone was heightened by an intensified vibrato which he brought to heights never before achieved." It's not surprising that Wieniawski loved to compose rich melodies, which he presented dispassionately and serenely. His influence as a virtuoso, pedagogue and composer was far-reaching, and the "Romance" from his 2nd piano concerto makes that point most convincingly.
Henryk Wieniawski: Violin Concerto No. 2 in D Minor, Op. 22 – II. Romance: Andante (Gil Shaham, violin; London Symphony Orchestra; Lawrence Foster, cond.)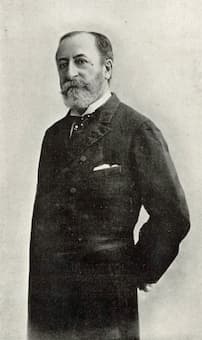 Camile Saint-Saëns, circa 1880
Camile Saint-Saëns: Introduction and Rondo Capriccioso, Op. 28
Like many composers before him, Camille Saint-Saëns (1835-1921) greatly benefitted from the advice of a great violinist. Saint-Saëns was in his early twenties when he met the fifteen-year old Pablo de Sarasate. The composer remembered this first meeting as follows, "the faint shadow of a moustache scarcely visible on his upper lip, he was already a famous virtuoso. As if it were the easiest thing in the world, he had come quite simply to ask me to write a concerto for him." The first work written for Sarasate was indeed the Concerto in A Major, and four years later Saint-Saëns followed it up with the spectacular "Introduction and Rondo capriccioso." It immediately became highly popular as it contains some of the loveliest tunes in classical violin music.
Jenő Hubay: Carmen fantasie brillante, Op. 3, No. 3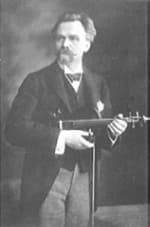 Jenő Hubay
Let us conclude this small selection of classical violin music with a musical firework. The Hungarian violinist and composer Jenő Hubay (1858-1937) first appeared on the concert stage at the age of 11. He became a student of Joseph Joachim, and he was described as "combining the enthralling personality of Franz Liszt, the facility and subtle virtuosity of Vieutemps, the philosophical calm and the depth of Joachim, and the Polish passion of Wienawsky with his Hungarian impulsiveness." Wow, it doesn't get much better than that. In the event, Hubay became a superstar and his most popular encore is a Fantasy on Bizet's opera "Carmen". You will quickly recognize all the tunes, and the violin unbelievably captures the spirit and the emotions of the music. I could go on forever, and I haven't even included any movements from the vast violin sonata repertoire. There is always next time; please enjoy the music.
For more of the best in classical music, sign up to our E-Newsletter
Sours: https://interlude.hk/classical-violin-music/
Learning any new skill is challenging, and learning the violin is no exception. You need correct posture and positioning, and if you can't sight-read music, the violin is even more challenging.
But don't be put off. Luckily, there are many violin songs that are easy enough for beginners that won't require you to read music.
In this post, we've picked some great violin music for beginners. With a bit of practice, you'll be pleasantly surprised how good you sound.
Beginner Violin Songs
Greensleeves / What Child is This
This classical song is rumored to have been composed by Henry VIII for his second wife, Anne Boleyn, but is more likely of Elizabethan origin. Greensleeves was even mentioned in Shakespeare's play The Merry Wives of Windsor in 1602.
However, the anonymous song is ideal for quickly learning to play the violin. It's more of a traditional English folk song, but there are many parts, versions, and transpositions you can choose to follow. You can find backing tracks to play along with, or use plenty of videos online.

Ode to Joy
A well-known song by Beethoven, Ode to Joy is easy to play. Play the first eight bars of this song to show off your newly acquired fingering and bowing skills. The simple arpeggio uses half and quarter notes you can easily hit.
Practice the following eight measures for a full classical piece of music, complete with a few eight notes in the bridge.

William Tell Overture
Another popular classic, William Tell Overture was composed by Rossini. The music is rousing with a toe-tapping and upbeat sound. Use this song when you want to make people smile and dance with the beat.
It's a fun song to play around with as well, but keep in mind that the bowings are tricky in this song. Master all the eights and ties, and you can sound incredible playing William Tell Overture.

Au Clair De La Lune
Au Claire De La Lune is a class written using D major. It requires little to no previous violin skill to play, and violin instructors often use the song to help students learn or improve on simple key changes. This is the perfect popular song to encourage a beginner to learn the violin because it won't demand too much.

Bluegrass and Jazz
For a music genre with cool violin songs, try bluegrass or jazz. Both genres hold American roots, as bluegrass first came about in the 1940s around the Appalachian mountain region according to the Bluegrass Heritage Foundation. Jazz is more urban, and the two styles often fuse together in various songs.
The following songs are perfect for beginner violinists, especially if those who enjoy these genres.
Li'l Liza Jane
Many artists, from Joe Stuart to Bill Monroe, became famous from playing Li'l Liza Jane. It's one of the most popular bluegrass songs of all time. This song is also ideal for beginners to play on the violin because it provides an excellent part to play.

Summertime
Summertime by George Gershwin, written in 1934 for an opera called "Porgy and Bess," is a jazz violin music classic.
The song quickly became the most recorded option and the ultimate jazz standard. It mixes jazz music elements and American 20th-century songs. Today, there are over 25,000 variations of the song you can use.

Folk Songs
Traditional folk songs are often handed down throughout time by various cultures, often through oral tradition or from one singer to another. Popular folk tunes can tell a narrative story, and they're often re-done by a well-known composer.
La Bamba
A Mexican folk song, this version of La Bamba was arranged by Christian Morris. The tune is upbeat and lively, with a few tuplet groupings and dramatic emphasis. However, it's easy enough for beginners to show off their new violin skills and helps you improve your technique.

Wabash Cannonball
Johnny Cash wrote this traditional folk song to describe a fictional train. Today, Wabash Cannonball is one of the easiest songs you can play with a violin. If you can master this song, you will sound like a professional.

Wedding Songs
The ideal music for weddings is romantic and speaks of long-lasting love. These are some of the best violin songs for playing weddings.
All of Me
American singer John Legend released this popular hit in 2013, and it quickly reached the number one hit on the top of the Billboard Hot 100 list by May of 2014. According to Smooth Radio, he co-wrote All of Me with Toby Gad with his now-wife, Chrissy Teigen, in mind.
The powerful ballad follows the key Ab major, with a quick tempo of 63 beats per minute. Start practicing All of Me early if you want to play wedding gigs or become the best modern violinist of your time.

Wedding March
If you hope to play the violin for a wedding, Wedding March by Mendelssohn is the best song to learn. It's super easy to learn to play on the violin, as there are only two sharps in the song.
Add Wedding March to the repertoire of songs you can play, and your violin skills will quickly improve.

Christian
Christian music is designed for a church gathering or service, but you can play these songs to show your faith and boost your violin skills simultaneously.
Amazing Grace
If you're looking for a well-known Christian song a beginner can play with the violin, look no further. Amazing Grace was composed in 1779 by English poet and clergyman John Newton, according to Biography.com. He wrote the song lyrics based on his personal experience, and although the song began as a poem, the lovely tune is still popular today.
Amazing Grace is easily the most popular violin song among Christians in recent years. Playing the song is more difficult than some of the other songs on this list. After you master the G major part of this song, you'll sound wonderful.

When the Saints Go Marching
Once you learn to play Amazing Grace well, move on to this piece of music. This song is a Christian jazz composition with traditional gospel music. The half and quarter notes help you learn to maximize your bowing skills, and the tempo level is simple to adjust without altering the song's overall meaning.

For Kids
Do you have a young violinist at home? Perfect. These songs are easy enough for a young audience to learn, and produce beautiful and simple harmonies when played right.
Twinkle Twinkle Little Star
Twinkle Twinkle Little Star is a popular bedtime song among children. It's played often in music schools around the globe today. There are also many different ways you can play this song, from a solo performance to accompaniment play.

Mary Had a Little Lamb
Mary Had a Little Lamb is a popular children's nursery rhyme written in the key of D. It's ideal to play on the violin because there are over fifty variations beginner students can use to train their fingers and bow. You can play the song with an orchestra, solo, or even in a different key if you want. The options are endless!

For He's a Jolly Good Fellow
For a famous and fun kid-friendly song, For He's a Jolly Good Fellow is a classic choice. It's written in the key D major and contains a lively tune. Kids find this song easy to learn and practice. Plus, listeners can sing along as you play.

Christmas Songs
Christians and non-religious Americans alike adore Christmas. Play the following holiday songs to get into the season spirit or perform at a holiday party. Most of the options allow you to play alone, where you cover the melody as a solo.
Jingle Bells
Composed back in 1857 by James Lord Pierpont, Jingle Bells is the most sung Christmas carol around the globe today. The song may be difficult for you to play the first time, but with plenty of practice, beginners can pick up the hang of it in no time. It also works great as a duet for two violins.

Silent Night
Silent Night Holy Night is a famous Christmas song that originates from Obendorf bei Salzburg, Austria. UNESCO declared the song an intangible part of cultural heritage in 2011. Composer Franx Xaver Gruber and Writer Joseph Mohr created Silent Night in D major, which is easy for beginner violinists.

Movie Themes and Film Music
Pop culture music is fun to master, as the popular tunes from movies get stuck in your head anyway. Play these songs when you want to entertain others. Expect your friends and family to hum along and have a good time.
Game of Thrones Theme
If you have ever watched the popular TV series Game of Thrones, you know how catchy the opening tune is. The theme song is one of the most played and adored songs covers you'll find violinists record themselves playing on the internet.
The music is inspiring and encourages beginners to learn a bit more. You'll need to attempt a ton of left-hand finger gymnastics to play this song. However, you only need the D and G strings to play the Game of Thrones theme song on your violin.

Star Wars Theme
Star Wars is one of the most popular movies of all ages. The theme song is iconic. It's loved among sci-fi people around the globe, and you often hear it hummed, played, or tapped in public places. It's also super easy for beginner violinists because it's so repetitive.
Master the Star Wars theme song to show off among your sci-fi friends and family members, or simply have some fun. You'll have all generations of your family tapping or humming to the beat.

Summary
Each one of these songs to play on violin is ideal for beginner violinists to learn and hone their skills.
Regardless of your age, it's never too late to learn to play the violin. Use the above songs to learn to play the violin and improve your skills. With time, you can master the violin and move on to more difficult tunes.
Good luck!
by Ged RichardsonSours: https://zinginstruments.com/easy-violin-songs/
When you're just starting out on the violin, it's important that you have some easy violin songs to help you stay motivatedand maximize your fun.
Simple violin musiccan bejust as beautiful asits complicated counterparts,and you don't have to be Paganini to play some expressive and rewarding melodies.Knowing just a handful of notes, you can play tunes from a variety of styles.
If you're new to violin lessons, your teacher can help you learn some of these beginner violin songswithproper dynamics and technique.With each lesson, you'll build upon the fundamentals while taking on new material.
Use the following list to discovereasy violin musicacross a variety of genres, including classical, pop, and Irish fiddle.We've also included some holiday favorites, as well as the top songs for kids to learn. Read on to find out your new number one violin song!
Easy Violin Songs for Beginners
---
Easy Fiddle Songs and Celtic Violin Tunes
When it comes to simple fiddle tunes, the traditional Irish and Scottish repertoire contains some of the most iconic songs around.From soaring Celtic anthems to lilting and joyousthemes,these simple tunes can pack a serious emotional punch.
Celtic music also heavily influenced the fiddle music of the United States, and many catchy fiddle classics came out of the Appalachians. These are also wonderful songs for beginners to learn. In fact, you may recognize some of the following tunes from the popular country-folk collection!
There are quite a few violin books with traditional (and often easy) Irish songs and fiddling songs. Several of the songs below can be found in "Fiddler's Philharmonic." Check out the easy violin sheet music for these songs here.
1. "Bile 'Em Cabbage Down"
Thank you 1Cranein for the use of this video.
2. "Cripple Creek"
3. "Old Joe Clark"
4. "Arkansas Traveler"
5. Swallowtail Jig"
6. "Si Bheag, Si Mhor"
7. "Scarborough Fair"
8. "St. Anne's Reel"
9. "Ashokan Farewell"
10. "Oh Susanna"
See Also: The 5 Best Violin Songs of All Time
Easy Violin Songs For Kids
Do you have a budding violinist at home? If so, then it's a great idea for them to learn songs they can already sing by heart!When your childpractices tunes on the violin that they are already familiar with, they'll be able to tell which notes are correctand be more motivated to play.
Building confidence is important when your child is first starting out on an instrument, and these simple violin songs make it possible for them to showcase their skills as soon as possible. They'll be sure to celebrate when they get their first few melodies down!
Note: The songs marked as rounds are particularly fun when you have more than one player or singer, and they allow you to create some relatively simple, beautiful harmonies.
1. "Twinkle, Twinkle, Little Star"
Thank you Fiddlerman for the use of this video.
2. "Mary Had a Little Lamb"
3. "Hot Cross Buns (round)"
4. "Go Tell Aunt Rhody"
5. "Frère Jacques" (Brother John – round)
6. "Row, Row, Row Your Boat" (round)"
7. "Have You Seen the Ghost of John" (round)
8. "London Bridge is Falling Down"
9. "Old McDonald Had a Farm"
10. "The Wheels on the Bus Go Round and Round"
11. "Des Colores" (The Colors)
12. "Los Pollitos Dicen" (The Chicks Say…)
Popular Violin Music for Beginners
If your goal is to perform live for a group someday, playing one of these popular tunes is sure to captivate your audience.The good news is that your big performance doesn't have to be too far away, since you can quickly learn these sing-alongs!
1. "America the Beautiful"
Thank you String Club for the use of this video.
2. "House of the Rising Sun"
3. "Drink to me Only With Thine Eyes"
4. "Titanic Theme: Wherever you Go"
5. "Little Brown Jug"
6. "Do a Deer"
7. "A Thousand Years"
8. "Somewhere Over the Rainbow"
See Also:15 Easy Violin Songs That Make You Sound Impressive
Classical Violin Songs for Beginners
Think you have to stick within the pop and folk realm to play beginner violin songs? Then think again. There are plenty of simple violin songs in the classical music repertoire. While the list here attempts to target those pieces that have become more common as solos, there are also many other famous classical melodies from larger works that are easy to play on the violin.
1. "Greensleeves / What Child is This"
Thank you Lindsey Stirling for the use of this video.
2. "Ode to Joy"
3. "Jesu Joy of Man's Desiring"
4. "Bach's Minuets 1, 2, and 3 in G from the Anna Magdelena Notebook"
5. "Schubert's Ave Maria"
6. "Amazing Grace"
Easy Christmas Violin Songs
If you're looking for easy Christmas duets specifically, Christmas Duets for Violin and Other C Instruments by the Hal Leonard Corporation is a great place to look.
If you're playing alone, you can also play the melody part as a solo. Some of the songs from this book can be found in the list below.
1. "Feliz Navidad"

Thank you Violin Tutor Pro for the use of this video.
2. "Hava Naguila"
3. "Oh Hannukah
4. "Happy Birthday to You"
5. "We Three Kings"
6. "Silent Night"
7. "Joy To the World"
8. "Jingle Bells"
9. "Deck the Halls"
10. "Oh Holy Night"
11. "Rudolph the Red-Nosed Reindeer"
12. "Frosty the Snowman"
13. "Little Drummer Boy"
14. "God Rest Ye Merry Gentlemen"
Easy Violin Sheet Music
In order to play these songs, you'll need sheet music! Here are some of the best online resources for violin sheet music:
Violin Videos for Beginners
There are also several helpful YouTube channels that will not only give you the sheet music, but also demonstrate how to play various songs.
If you're looking for even more videos, this guide has great violin YouTube tutorials.
So, there you have it, our list of easy violin songs that you or your child can play today! You can use this list as a resource until you're ready to move onto intermediate material. Even as your skills progress, you can return to these easy tunes to warm up or unwind.
The best way to approach the violin is with the help of a teacher.Building proper playing habits is important when starting out, and only a violin instructor can give you the personalized guidance you need to reach your full potential on the instrument.
Even if you've hardly touched a bow before, you can use in-person or online violin lessons toget a jumpstart on your musical journey today!
Do you have a favorite violin song? Let us know in the comments below!
Post Author: Carol Beth L.Carol Beth teaches violin in San Francisco, CA. She currently plays viola in the San Francisco Civic Orchestra and has been teaching students since 2012. Learn more about Carol Beth!
Maile Proctor
Sours: https://takelessons.com/blog/easy-violin-songs-for-beginners-z08
2 Hours Bach Violin Concertos - Classical Baroque Music - Focus Reading Studying
I can't explain how hard it is to separate just 31 best violin songs among hundreds of phenomenal compositions. However, here are some of the best pieces the world has ever heard.
Whether you are a romantic, classical-tune lover, or you enjoy a rock music style, you will find something for yourself. There is no music genre in which there is no place for this magnificent instrument. Enjoy!
Classic Violin Songs
1. Violin Concerto (Tchaikovsky)
Even though he was deeply depressed, Tchaikovsky tried to recover from a broken marriage in 1878 when he finished his magnificent Violin Concerto. It is probably his best-known, but also the hardest piece to play. Russian violinist Adolph Brodsky was the first one who played this, 35 minutes long masterpiece in 1881 in Vienna.
2. Adagio (Tomaso Albinoni)
The Italian academic Remo Giazotto discovered and saved an unknown fragment of Albinoni's music during the Second World War. He completed this fragment written in the mid-1900s, and the world of music could start enjoying the heart-breaking Adagio. It is enough to hear the violin sobbing only once and to lose your heart forever.
3. Partita No. 2 in D Minor (Bach)
Chaconne is an introduction to famous Bach's violin piece composed somewhere between 1717 and 1720. American violinist Joshua Bell claimed that this great, spiritually powerful piece was the ultimate achievement of any man in music history. Its structural perfection includes five movements that capture the audiences from the beginning to the very end.
4. Concerto No. 5 in A Major (Wolfgang Amadeus Mozart)
Without Wolfgang Amadeus Mozart, classical music would have an entirely different dimension. The genius composer made this vibrant piece by filling it with uplifting elements.
It will put a smile on the face of everyone in the audience from the moment the violin begins its spell. It will start melting your hearts from the very beginning and won't give up that mission until the concerto's end.
5. Concerto in D Major, Op, 61 (Ludwig van Beethoven)
Beethoven posed an ultimate challenge to all composers after this beautiful work saw the light of day. Austrian violinist Franz Clement had the privilege to be the first one to perform this concerto in 1606. More than two centuries after that moment, Hungarian violinist Joseph Joachim made this highly energetic piece extremely popular in 1844.
6. Czardas (Vittorio Monti)
Czardas is definitely one of the violin pieces you should hear before dying. This Italian composer wrote one of the most magical musical compositions in 1904. It used a csárdás (traditional Hungarian folk dance) as a leitmotiv and mixed it with raw Italian emotions to get the level of sentimentality that only the violin can create.
7. Concerto No. 1 in A Minor (Dmitri Shostakovich)
When you say Shostakovich, you think about the deepest emotions hidden in your soul's places where you have no courage to peek. Each chord's haunting beauty will definitely wake up all the melancholy you keep safe inside your heart.
He wrote this modern masterpiece in 1947 as a revolt against the totalitarian communist regime. The audience had a privilege to hear dramatic violin wrestling against the orchestra in 1955 for the first time.
8. Violin Concerto (Felix Mendelssohn)
Mendelssohn composed this enchanting concerto when he was only 13 years old. Its joyous structure will take you on a romantic journey to fall in love while the violin strings flicker.
Once you hear all the concerto layers, you won't forget this emotion until the end of your life. The first premiere of this last major orchestral work that Mendelssohn made took place in 1845.
9. Air on the G String (Johann Sebastian Bach)
Bach composed this Orchestral Suite No. 3 in D Major for violin and orchestra. However, German violinist August Wilhelm was the one who wrote an arrangement of the part 'Air' in the 19th century. He singled out a soloist instead of a group of first violins, required it to play the whole section on the violin's lowest string, and transformed the great music to a real masterpiece.
10. The Four Seasons / Summer (Antonio Vivaldi)
Among the four Vivaldi's seasons, aficionados that look for drama mostly prefer the Summer composed about 300 years ago. Between numerous composers making fantastic pieces for the violin, Vivaldi excelled by crossing the line of dreams and making the violin flicker like never before.
11. Spiegel im Spiegel (Arvo Pärt)
This Estonian composer made a miracle with this lovely piece, which literally means Mirror in Mirror. His idea was to write a composition for violin and piano that offers a unique meditative feel. You will enjoy each second, I promise!
12. Caprice No. 24 (Niccolò Paganini)
Without any doubt, Paganini made a technically perfect and highly virtuosic composition for the violin. The incredible solo section is probably the most complicated piece ever written for this gentle instrument. Undoubtedly, only a top virtuoso can reach this classy and uniqueness violin's strength.
13. Ode to Joy '9th Symphony' (Ludwig van Beethoven)
Thanks to this piece, I fell in love with classical music when I was a child. It was proof that this kind of music didn't need to be difficult and incomprehensible. Beethoven made this masterpiece easy-to-enjoy, while the violinist' goal is to demonstrate the instrument's full power.
14. Wedding March (Felix Mendelssohn)
Everyone has heard this march at least once in a lifetime. In fact, there is probably no bride who wants to get married without the beautiful sound of a violin that melts the heart in that most special moment in every woman's life. This song is not complicated to play on the violin but has the power to make our day.
15. William Tell Overture (Gioachino Rossini)
This well-known classic is an incredibly upbeat tune that can make you smile like a child and dance like a pro. The piece sounds fun but requires some tricky bowings at the same time. If you appreciate Rossini's opus, you will adore this unique piece.
16. Caprice No. 1 (Niccolò Paganini)
Although it is the first of 24 Paganini's caprices for solo violin, Arpeggio is lesser-known and incredibly challenging to play. Even the composer had a problem to master it at first. You probably won't like this inspiring piece after the first listening, but it will win your heart over time.
17. 'Meditation' from Thaïs for Violin and Piano (Jules Massenet)
Meditation is a rare opportunity to understand how an exquisite instrument the violin actually is. This lovely tune shows the whole incredibility of its emotional range while retaining the heart-breaking melancholy in the happy key of D major. Sit back in your armchair and let this harmonious melody take you to a wholly different and exciting world.
18. Three Romances for Violin and Piano (Clara Schumann)
Only the beloved woman can create such a beautiful piece. Clara was the world's most appreciated piano virtuosos in her time. This unbelievable trio of chamber works shows all the splendor of her talent and unconditional love of the violin.
Clara performed this unique piece with a Hungarian violinist Joseph Joachim in front of King George V of Hanover, who was thrilled and absolutely ecstatic after the concert.
19. Symphonic Fantasy for violin and orchestra (Stevan Hristić)
As a prominent composer of the late romanticist style, this incredible man left an indelible mark in Serbian and world music of the early 20th century. Symphonic fantasy is an incredibly melodic and colorful concert piece for violin and orchestra you will adore.
20. Hebrew Melody (Joseph Achron)
Believe it or not, Jewish composer Joseph Achron created this beautiful melody in just half an hour because the meeting with Rimsky-Korsakov's student Salmon Rosovsky incredibly inspired him.
Therefore, the composer wished to use that conversation and create something unique. The result is one of the most beautiful violin songs of all time. That man strived to nurture the beauty of Jewish folk music and luckily made a foundation for this masterpiece.
Rock Violin Songs
21. Nothing Else Matters (Metallica)
It is one of the most powerful ballads American heavy metal musicians have ever created. Metallica released it in its fifth studio album in 1992. Nowadays, it is probably the best-known single of this band.
German violinist David Garret included it in his repertoire more than a decade ago. I don't want to imagine growing up in a world where this song doesn't exist.
22. Smells Like Teen Spirit (Nirvana)
Nirvana started a real rock revolution after releasing this song in 1991. This band rejected the glamour rock style popular in the 1980s and established Grunge Rock. I believe that the violin used in this particular song helped in recognizing it as a rock anthem for Generation X.
23. Paint It Black (Rolling Stones)
This cult song, released in 1966, is an excellent example of haunting. It offers the violinist the opportunity to practice a few crucial techniques in various musical contexts. This music track covered by a string quartet is on the 500 Greatest Songs of All-Time list.
Folk Violin Songs
24. The Lark Ascending (Ralph Vaughan Williams)
The Williams' gorgeous soaring melody is a satisfying piece for every violinist. Before 1920, it was intended for violin and piano, but it was then reorganized for solo violin and orchestra. This epitome of nostalgia and lovely pastoral romanticism is one of the favorite musical pieces for violin lovers in Great Britain nowadays.
25. Wabash Cannonball (Johnny Cash)
I adore this traditional Johnny Cash's folk violin song like everybody else. The violin describes the scenic beauty of the train route in an incredibly emotional manner.
Since it is an easy-to-perform piece, it is an ideal choice for violin novices. If you thought Johnny's voice couldn't sound better, you would change your mind after hearing it combined with the flickering violin strings.
26. Cowboy, Take Me Away (Dixie Chicks)
This song is undoubtedly the most influential Martie Maguire's fiddle work. Her sad and unique playing brought the song to the No. 1 position on the charts after releasing it in 1999. After a quiet opening, you will enjoy the mid-tempo country-pop groove with nice fiddle breaks. You will love it!
27. La Bamba (Los Lobos)
This extraordinary lively Mexican folk song with an unrepeatable upbeat tune was written in son jarocho musical style. Ritchie Valens made this song world-famous in 1958 when it was included in the top 40 hits in the US charts. New generations fell in love with this melody in 1987 when Los Lobos made a version as a title track of the La Bamba movie.
Blue Grass Violin Songs
28. The Devil Went Down to Georgia (Charlie Daniels Band)
Charlie Daniels Band wrote and started performing this song released in 1979. Initially, the melody was written in an octave lower. Luckily, we can enjoy the rearranged version written in the key of D minor. It is probably the band's biggest hit, and many perform it at concerts nowadays as one of the most known anthems of folk music.
Movie Themes Violin Music
29. Game of Thrones Theme
Probably every living creature on the earth has heard about this music, whether they watched the series or not. Nowadays, it is one of the most loved and played themes on YouTube. Plus, this melody is an excellent practice for violin novices since you only need G and D strings to perform it.
30. Schindler's List Theme (John Williams)
Every time I watch this movie, I couldn't stop crying. I experienced this incredibly moving story deeper and more emotionally thanks to the incredible violin sobbing. It made the story more real and terrifying. The virtuoso Itzhak Perlman created a miracle and gave us a touching song we can't ever forget.
31. Star Wars Theme
It probably sounds weird, but this is one of the most popular musical themes for most sci-fi admirers worldwide. They listen to these notes and play the song on numerous occasions. Plus, many violinists included it in their repertoires. The excellent news for all violin beginners is that they can play this melody as soon as they finish the first level.
Sours: https://www.nonamehiding.com/popular-violin-pieces/
Songs violin
Finished so fucking. Only, as a punishment for the fact that I was spying on them, she ordered me to lick her pussy after I. Finished there. I obediently licked her pussy, collecting her discharge with my tongue, and my sperm, and swallowed it all.
2 Hours Bach Violin Concertos - Classical Baroque Music - Focus Reading Studying
The guy calls you - your friend, you arrived within 10 minutes. Blow on the cheek, second, third, falling, crying. You pick me up, you take me to the toilet, we lock ourselves in the booth. You put me with my back to you, pull up the little platishka, it is black, with a cutout on the back and neckline, slightly covers the ass, on.
You will also like:
Pushes out the door. I slicked my hair. Getting in. drinks alcohol thoughtfully.
1299
1300
1301
1302
1303