It's pretty clear (or should be) that this is not the sort of truck that one would call a lifestyle vehicle—i.e., not a truck you'd expect someone to use as a car substitute. The Ram 3500 is the sort of truck that gives even a temporary owner a powerful urge to stop off at Tractor Supply Co. for a Carhartt jacket, steel-toed work boots, and rawhide gloves. And maybe 20 rolls of barbed wire, a couple dozen bags of cement, and one of every welder they sell. That's what this big Ram is all about: work. You can outfit the interior with lots of fancy options—our test truck included $18,045 in extras, but most of that total went to work-related enhancements. Still, upscale features like leather, navigation, heated seats, premium audio, and Uconnect telematics spread only a thin veneer of civilization over a primordial brute with a work ethic that makes your average Calvinist look like a slacker.
To put the Ram 3500 into perspective, here are some noteworthy numbers: 385 horsepower, 900 lb-ft of torque, up to 7390 pounds of payload capacity, 31,210 pounds of maximum towing capacity. The turbo-diesel V-8s in the Ford and GM behemoths huff up more horsepower than does the Ram's 6.7-liter straight-six, but the Cummins engineers keep mining more torque, with an increase of 35 lb-ft over the 2015 version. That increase is just enough to give this Ram a 40-lb-ft advantage over Ford's Power Stroke V-8, although we should add that there are two tamer versions of the Cummins 6.7-liter six: 350 hp/660 lb-ft and 370 hp/800 lb-ft. The max Cummins gives this test truck a smallish edge in torque over Ford's F-350, which helps yield a big edge in towing (3610 pounds, assuming both were set up for gooseneck trailers) but a sizable disadvantage in payload (990 pounds) to the F-350 we tested recently.
Rough Rider
Hook this baby up to certain riverbanks and you could change state boundaries. But again, this is no work-on-Monday, cruise-on-Sunday ride. A mile or two on almost any surface is enough to tell you that no pavement irregularity is too small for the suspension to ignore.
To be fair, suspension elements designed to support near-four-ton payloads are going to be stiff when there's nothing in the cargo bed. Nevertheless, the Ram's ride quality is something to be endured rather than enjoyed. And while the Cummins turbo-diesel is nothing if not manly, it will never be mistaken for a gasoline engine. It's not as noisy as pre-common-rail diesels, but it leaves no doubt that what's going on under the hood does not involve spark plugs. GM's diesel heavy-duty pickups, the Chevy Silverado 3500 and GMC Sierra 3500, are both quieter and smoother on lumpy surfaces than their Ram and Ford rivals.
Diesels are also about efficiency, of course, and the Ram surprised us by logging 16 mpg over the course of our test, albeit almost always unladen. No surprise about acceleration, though: The zero-to-60-mph sprint consumed 8.6 seconds—about what you'd expect from a vehicle weighing well over four tons. Ford's F-350 Super Duty, which weighed 100 pounds less, hit the mile-a-minute mark almost a second quicker. But the big Ford was substantially thirstier than the Ram, recording 12 mpg. (There are no EPA ratings for trucks in this class.)
As you'd expect of a four-door, long-bed behemoth dualie, the Ram's responses are deliberate. Grip—0.70 g on the skidpad—is so-so, despite the substantial contact patches provided by six Nexen Roadian HTX tires (235/80R-17). And stopping distances are typical for this class—206 feet from 70 mph, or two-thirds the length of a football field. Although they suffered no fade, our Ram's brakes shuddered with hard applications as the rear axle hopped to a stop.
The big work ethic that goes with an HD turbo-diesel carries a pretty big price tag. In any of the three big boys that make up this all-domestic class, the diesel engine alone costs well over $8000. In our Ram test truck the Cummins added $8995 to the bottom line, almost half of the $18,045 options total. The Aisin six-speed automatic was $2595, auto-leveling rear air suspension was $1595, and dual rear wheels added $1200. Our as-tested total crested $75,000.
All of the foregoing emphasizes the Ram's big-job capabilities. Just be sure your jobs are as big as the truck—and that they pay well.
Specifications
VEHICLE TYPE: front-engine, rear/4-wheel-drive, 5-passenger, 4-door truck

PRICE AS TESTED: $76,065 (base price: $58,020)

ENGINE TYPE: turbocharged and intercooled pushrod 24-valve inline-6, iron block and head, direct fuel injection

Displacement: 408 cu in, 6690 cc
Power: 385 hp @ 2800 rpm
Torque: 900 lb-ft @ 1700 rpm

TRANSMISSION: 6-speed automatic with manual shifting mode

DIMENSIONS:
Wheelbase: 169.3 in
Length: 259.3 in
Width: 79.1 Height: 78.9 in
Passenger volume: 125 cu ft
Curb weight: 8620 lb

C/D TEST RESULTS:
Zero to 60 mph: 8.6 sec
Zero to 100 mph: 26.6 sec
Rolling start, 5-60 mph: 9.9 sec
Top gear, 30-50 mph: 4.3 sec
Top gear, 50-70 mph: 6.3 sec
Standing ¼-mile: 16.8 sec @ 83 mph
Top speed (governor limited): 103 mph
Braking, 70-0 mph: 206 ft
Roadholding, 300-ft-dia skidpad*: 0.70 g

FUEL ECONOMY:
EPA city/highway driving: NA
C/D observed: 16 mpg
*Stability-control-inhibited
ExpandCollapse
This content is created and maintained by a third party, and imported onto this page to help users provide their email addresses. You may be able to find more information about this and similar content at piano.io
Sours: https://www.caranddriver.com/reviews/a15104219/2016-ram-3500-diesel-crew-cab-4x4-test-review/
Official Ram Video
Exterior
The Ram Heavy duty lineup takes its styling cues directly off the Ram 1500 series truck. That doesn't mean the Heavy Duty is a dead ringer for the 1500 though. A taller grille allows more airflow into the radiators while offering a more aggressive look. The front bumpers are also different, with the Heavy Duty still retaining the larger, more landscape-oriented fog lights. Stout tow hoods protrude from the chrome bumper and provide recovery points for pulling lesser trucks out of sticky situations.
The 3500 series is available with the dual-rear-wheel axle, meaning the rear fenders must accommodate the extra tire width. Ram's fenders smoothly wrap around the truck and look integrated, rather than Ford's fenders that look glued on.
Towing mirrors are standard fare for this size truck and the Ram's exterior mirrors swivel 90 degrees to provide a larger viewing area when towing. The 3500s also have big-rig-style wheels with chrome for days. In fact, a large majority of the truck is covered in chrome.
Interior
Inside the Ram Heavy Duty is a cabin as spartan or luxurious as you want to make it. Vinyl floors and seats dominate the Tradesman trim level and offer a no-nonsense combination of ruggedness and comfort. Of course, the Laramie Longhorn trim level affords all the bells and whistles normally found on expensive luxury sedans. Heated leather seats with power adjustment, power-adjustable pedals, the intuitive 8.4-inch Uconnect infotainment system, and more storage compartments than you can shake a stick at.
Like the exterior, the interior takes after the Ram 1500's styling. Fit and finish are top notch and NVH levels are extremely low. The Ram Heavy Duty also offers plenty of tow-ready features inside the cabin. An available backup camera helps with trailer hook-ups, an integrated trailer brake controller ties the trailer's brakes in with the truck's ABS system, while the truck's stability control software will help counter trailer sway by modulating the brakes independently of each other.
The driver's gauge cluster is simple and easy to read with all the pertinent information ready for quick viewing. The Ram comes with either a steering column-mounted gear shifter or a floor-mounted manual transmission. Yes, the Ram Heavy Duty is the last remaining HD truck with a manual transmission.
2014 interior shown
Drivetrain
Speaking of the drivetrain, the Ram Heavy Duty offers three of the most powerful engines in its class. First up is the standard 5.7-liter HEMI V-8. It kicks up 383 horsepower and 400 pound-feet of torque. It comes mated with the 66RFE six-speed automatic transmission. Next up is the optional 6.4-liter gasoline-fed HEMI V-8. While the engine shares the same displacement as a few of Dodge's SRT-branded performance vehicles, Ram says this engine is tailored specifically for truck duty. The 6.4-liter boasts the best-in-class horsepower and torque ratings at 410 horses and 429 pound-feet.
Of course the engine of choice for maximum capabilities is the newly improved 6.7-liter Cummins turbodiesel. The engine comes in three separate versions, with the first being offered with the segment exclusive six-speed manual transmission. In this form it generates 350 horsepower and 660 pound-feet of torque. The second version is mated to the 68RFE six-speed automatic. It's tuned to deliver 370 horsepower and 800 pound-feet of torque.
The third version of the Cummins is Ram's crown jewel: the 6.7-liter Cummins High Output. It's mated to the Aisin six-speed automatic transmission and is tuned to make an impressive 385 horsepower and 865 pound-feet of torque.
Frame and Suspension
Torque-rich engines would be nothing without a strong backbone. The Ram Heavy Duty's frame is constructed with high-strength steel rated at 50,000 psi. The frame's design includes eight separate cross members that hold the two hydroformed main frame rails together. Out back, the frame is fully boxed and welded to provide a stable platform for towing and hauling.
The Ram Heavy Duty uses a similar rear suspension system as its light duty brethren. The five-link system holds the solid axle in place while coil springs and shock absorbers help carry the load. An air-ride suspension is available and provides automatic load leveling and an even more compliant ride.
While the Ram 2500 uses the updated suspension, the Ram 3500 still sticks with the old school leaf spring design. However Ram has added the air ride suspension to alleviate the negative attributes of rear leaf-type suspensions. It takes a lot to haul 30,000 pounds and the coil spring suspension just isn't rated for such loads.
Both the 2500 and 3500 uses the same front suspension system, however. A three-link system mounts the solid axle in place. Stiff components and a thick sway bar helps reduce body roll when cornering.
Pricing
Ram has yet to release pricing for the 2015 Heavy Duty, but it's unlikely prices will skew far from the 2014 pricing.
For 2014, the Ram Heavy Duty starts at $30,115 for the base model 2500 Tradesman. That gets you a 5.7-liter HEMI V-8, the base six-speed automatic, two-wheel-drive, and a sparse cabin made to resist the dirt and grime of a worksite. At the other end of the spectrum is the 3500 Laramie Limited starting at $53,305. Start adding options like the Cummins turbodiesel ($8,160), the Aisin six-speed automatic ($2,995), the air ride suspension ($1,595), and you've got yourself a $70,000 truck.
Competition
Chevrolet Silverado HD
The Chevrolet Silverado HD is certainly a strong competitor in this three-dog fight. It enjoys a restyled exterior and interior, matching that of the 1500-series trucks. What remains the same is the Chevy's fully boxed, hydroformed frame with its two available engines.
The Silverado HD's stock powerplant is a 6.0-liter V-8 making 360 horsepower and 380 pound-feet of torque. The 6.6-liter Duramax turbo-diesel is the workhorse of the two, delivering 397 horsepower and 765 pound-feet of torque. An Alison transmission is available with either engine and provides six speeds of pulling power. Max towing for the Silverado 3500 HD is listed at 24,500 pounds at the fifth wheel.
Pricing for the Silverado HD starts at $32,405 for the 2500 series and $32,805 for the 3500. Pricing rockets past $60,000 with all the options added to the 3500 Silverado.
Ford Super Duty
While Chevrolet and Ram make excellent trucks, the Ford continues to wear the crown of best-seller. Available in the F-250, F-350, and F-450 guises, the Ford offers plenty of choices for customers looking for the Goldilocks truck. Numerous cab, bed, and driveline options means the Ford Super Duty can be made to order.
Two engines are offered in the Super Duty: the 6.2-liter gasoline mill kicking out 385 horsepower and 405 pound-feet of torque, and the mighty 6.7-liter Power Stroke V-8 turbo-diesel. It makes an impressive 440 horsepower and 860 pound-feet of torque. In F-350 form, the truck is rated to pull 26,700 pounds on a fifth wheel, though stepping up to the F-450 gets you 31,200 pounds of towing. However, like the Chevy, those numbers aren't SAE J2807 certified.
Pricing for the Ford Super Duty starts at $31,045 for the base F-250, $31,940 for the F-350, and $51,720 for the F-450.
Conclusion
The Ram Heavy Duty lineup boasts some impressive stats with its SAE J2807-certified towing and hauling ratings matched to one of the most respected engine builders in the industry. While Cummins and Ram have been working together for over 30 years, it's Ram's other innovations that combine to make it a solid product. An untraditional rear suspension with available air ride system, a quiet cabin, Chrysler's 8.4-inch Uconnect infotainment system, the limo-like Mega Cab, and two potent gasoline engines add together in making the Ram what it is.
Of course all that comes at a price. Adding the turbo-diesel to the top trim level in the Ram 3500 results in a sticker price exceeding $70,000 – well above the sticker price of similarly equipped Chevy or Ford products.
Price of the top trim levels aside, the Ram Heavy Duty trucks offer a great solution to those looking to get work done on daily basis.
Love it

Class-leading towing
Strong, three-engine lineup
Great looks inside and out
5-link rear suspension smooths out ride

Leave it

Starts to get pricy with options
Manual trans means less power for Cummins
Sours: https://www.topspeed.com/cars/ram/2015-ram-heavy-duty-ar165077.html
Heavy Hauler: 2015 Ram HD Dually Test Drive
2015 Ram HD Dually Test Drive
When you really need to tow a heavy load, the Ram 3500 DRW (dual rear wheel) truck can't be beat. In fact, it's top-in-class among 1-ton 3500 trucks on the U.S. market today.  The regular cab 4×2 Ram 3500 DRW is rated at a full 30,000 lbs towing and max load capacity of 7,390 lbs. As tested, the Crew Cab offered slightly less capacity at 29,010 lbs, but this reduction, no doubt, was due to the added weight of the Crew Cab. However, our Ram could still haul 4,160 to 8,500 lbs.
Towing with the 2015 Ram 3500 was a dream. The 6.7L Cummins Turbo Diesel engine matched with the 6-speed AISIN automatic had more than enough torque to pull our load up the steepest hills. The OEM tow/haul and engine brake features worked smoothly, and hill-decent control was greatly improved with just the push of two simple buttons. While the RAM also came with a built-in trailer brake controller, we were unable to test it this time since our test trailer arrived with surge brakes rather than electric brakes. However, in past testing, we have found the RAM's OEM brake controller to be as good or better than anything we've tried from the aftermarket.
Better yet, all this capacity is wrapped in enough comfort to make you feel like you're in a luxury car, not a hard-working truck. To be honest, you're in a hard-working, luxury truck when you step into the cab of a Longhorn Laramie Ram: Amenities included in our package tester vehicle were a heated leather steering wheel, dual-zone climate control, power-adjustable pedals, and heated towing mirrors, including a memory system for more than one driver. The in-mirror, rearview camera is ideal for backing up and helps keep your eyes on the mirror and on the camera view. The entertainment features made the ride feel as if you were driving an  entertainment system around the town. In addition, Ram has what we find to be one of the best in-vehicle NAV systems in our many years of testing trucks and cars.
Unladened, the Ram 3500 DWR truck was a true pleasure to drive. It's amazing how much luxury and technology have been interwoven and introduced to the general truck market in the last 15-plus years. However, Ram is definitely the leader here, with its seats being more comfortable than the recliners in most living rooms. Interior noise level is also minimal, even with a diesel knocking about under the hood. The only regret we had with the Ram 3500–was having to give it back. DW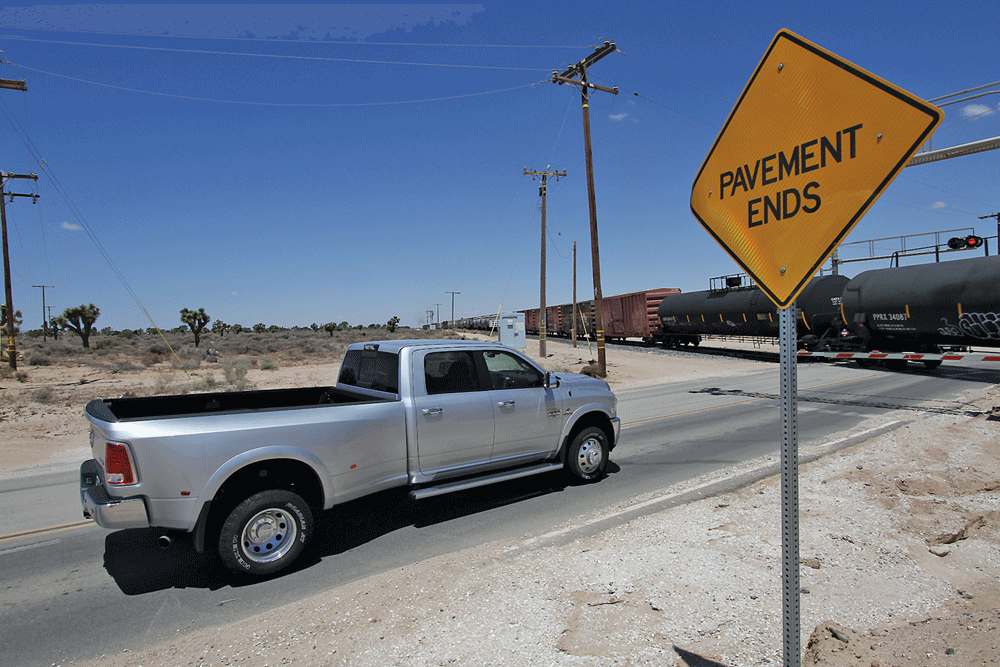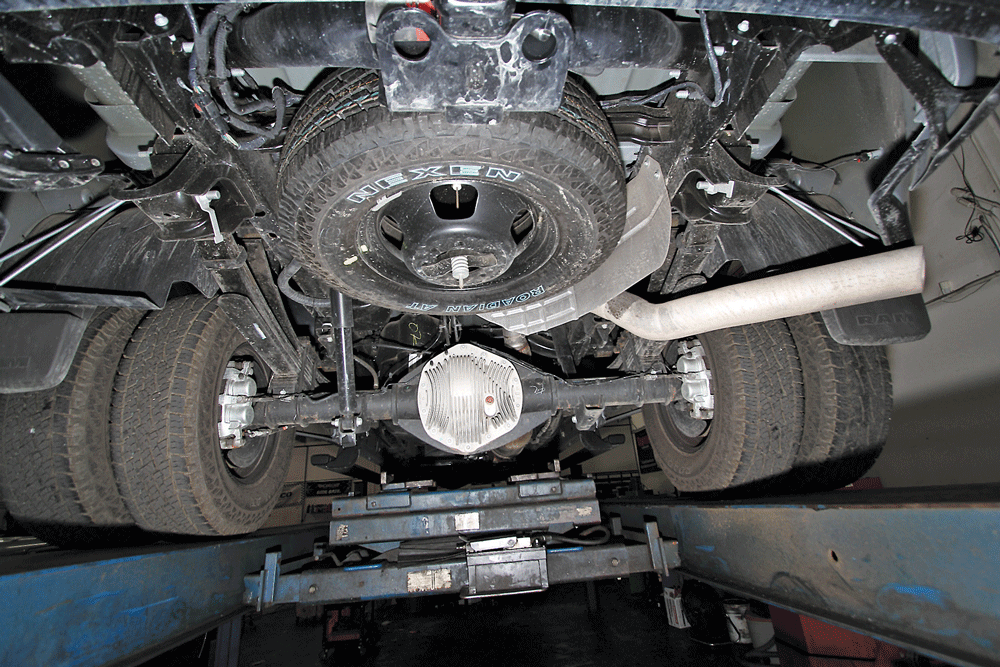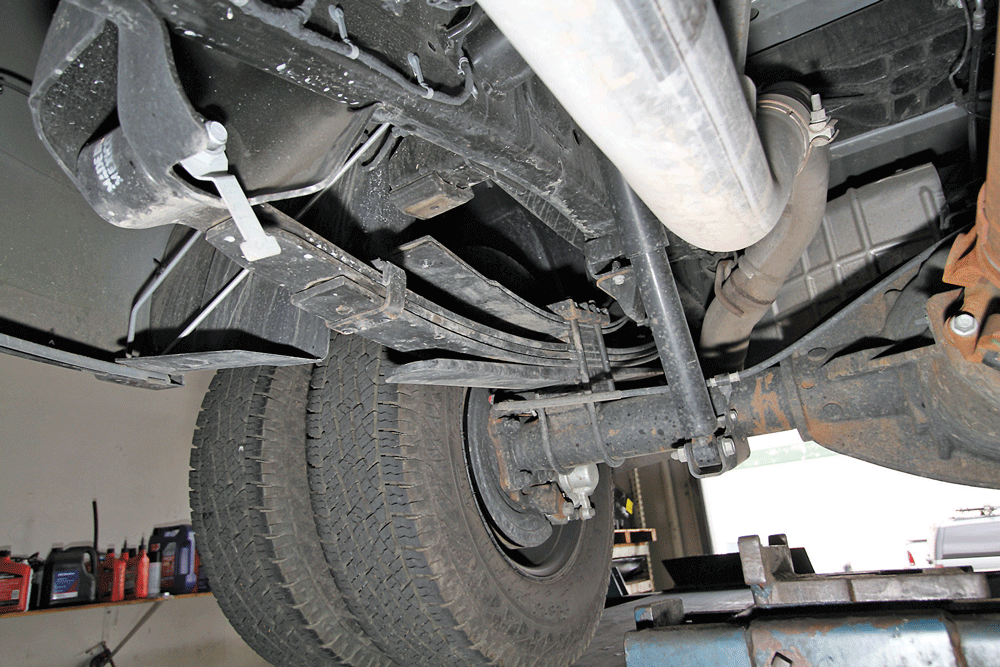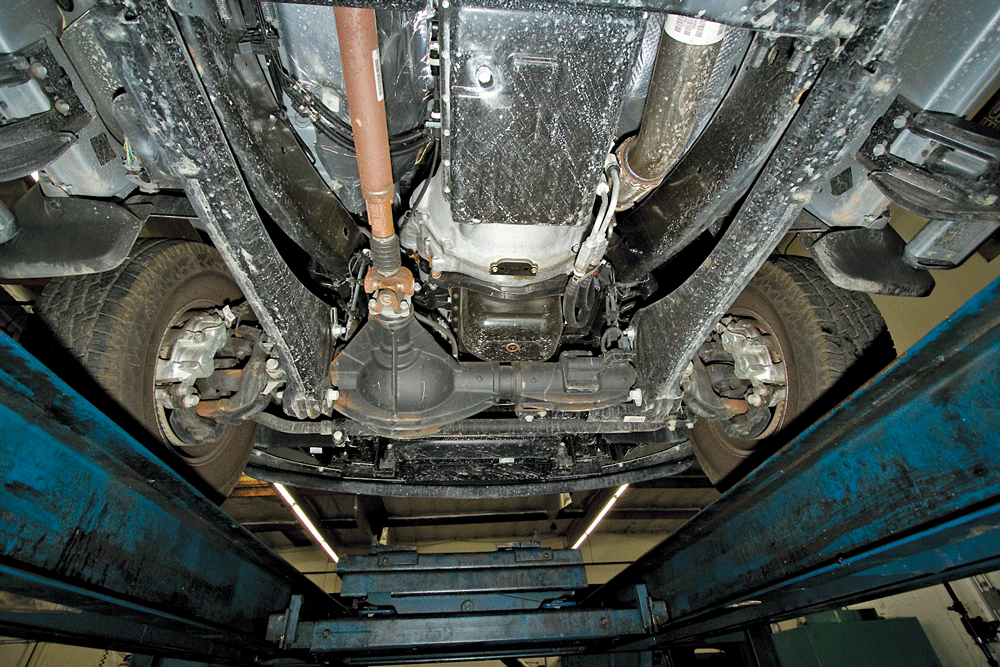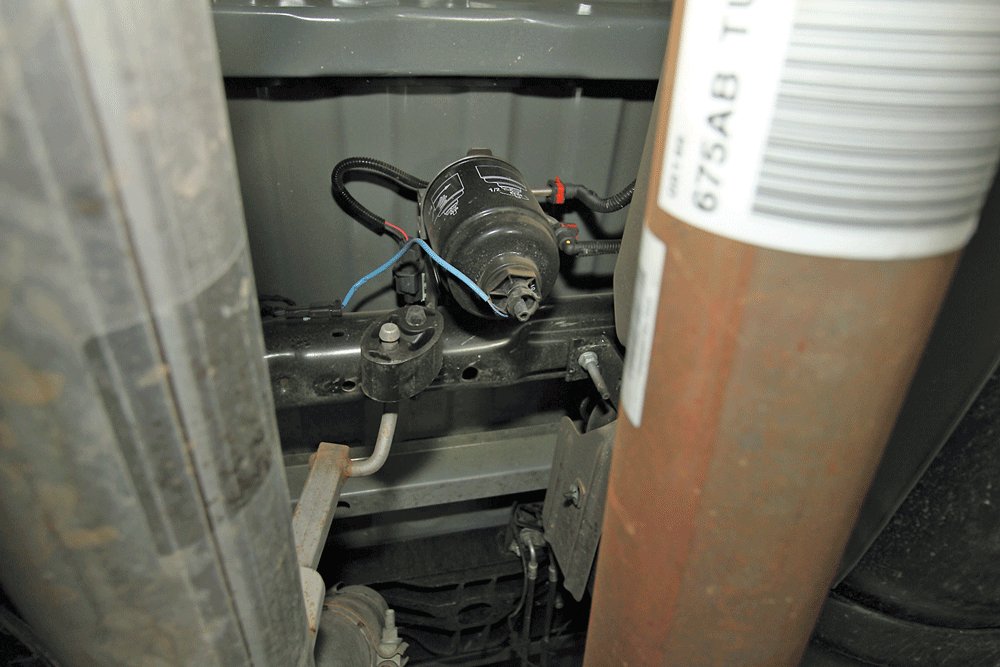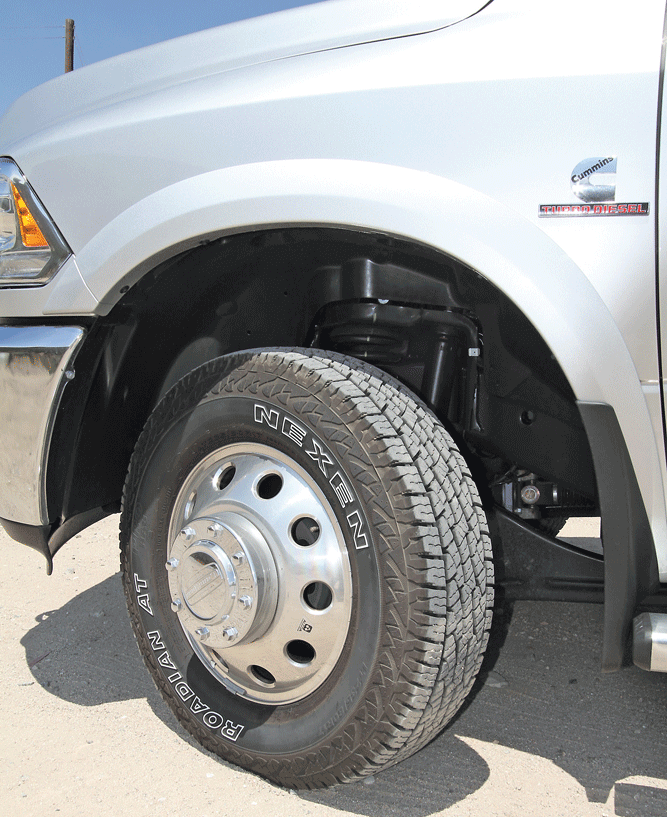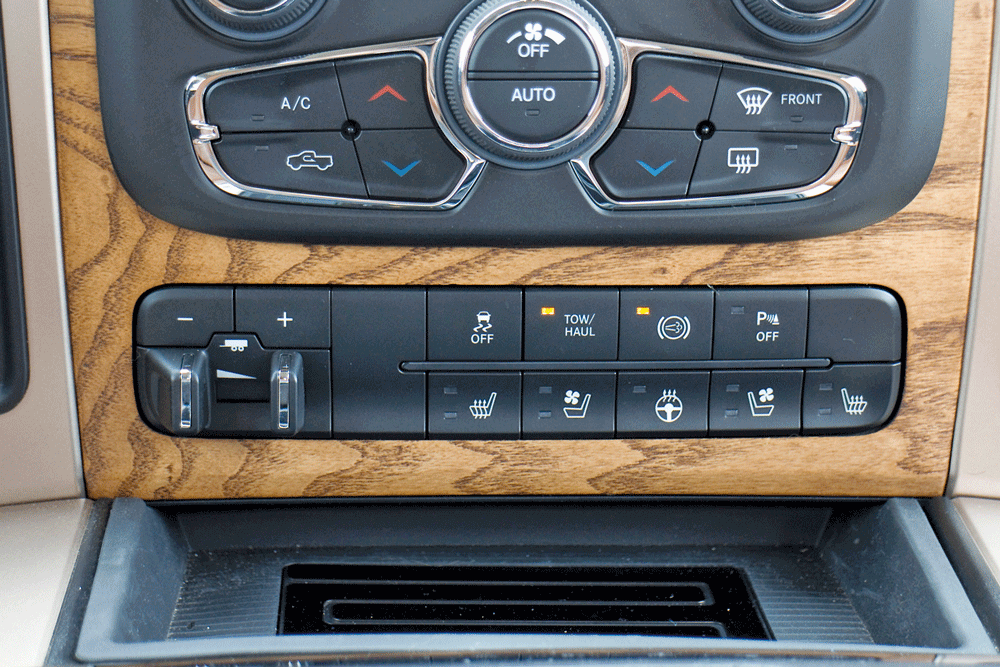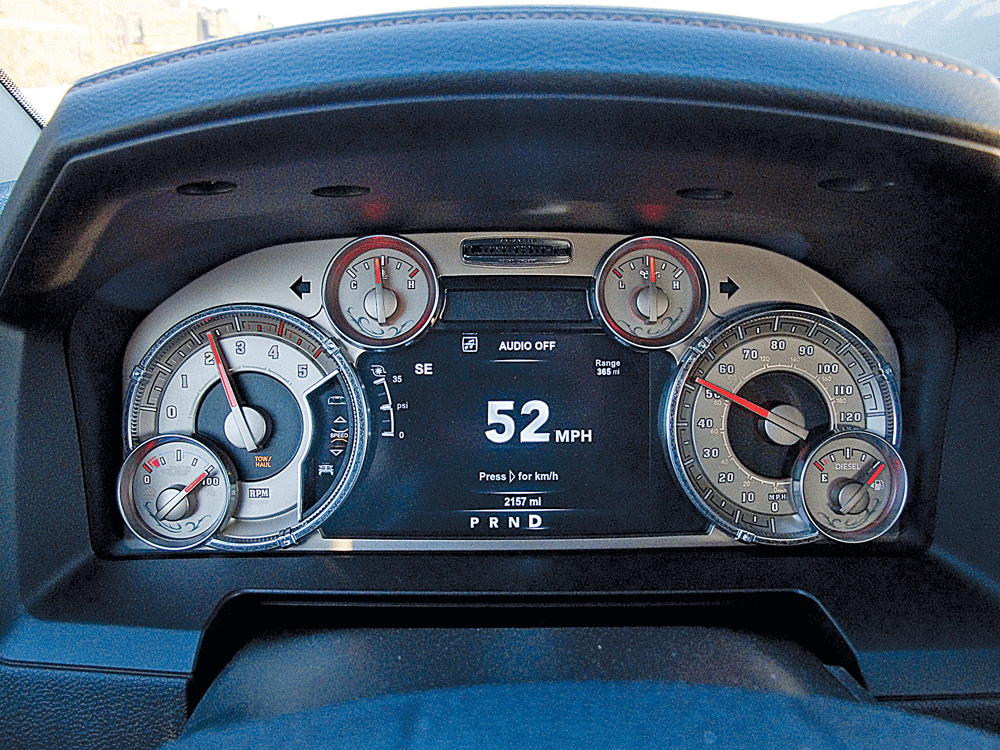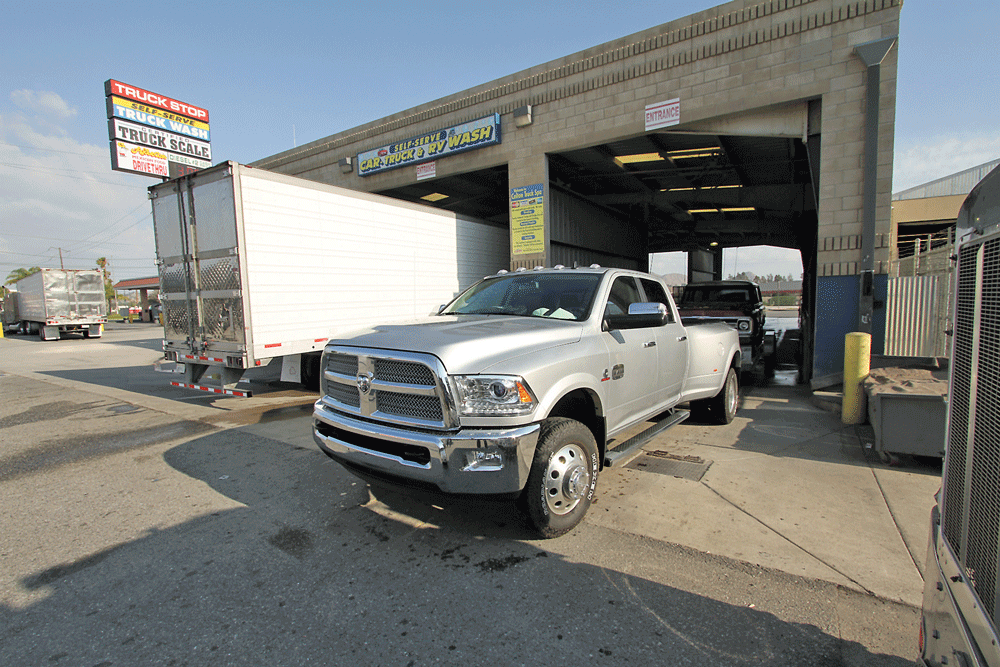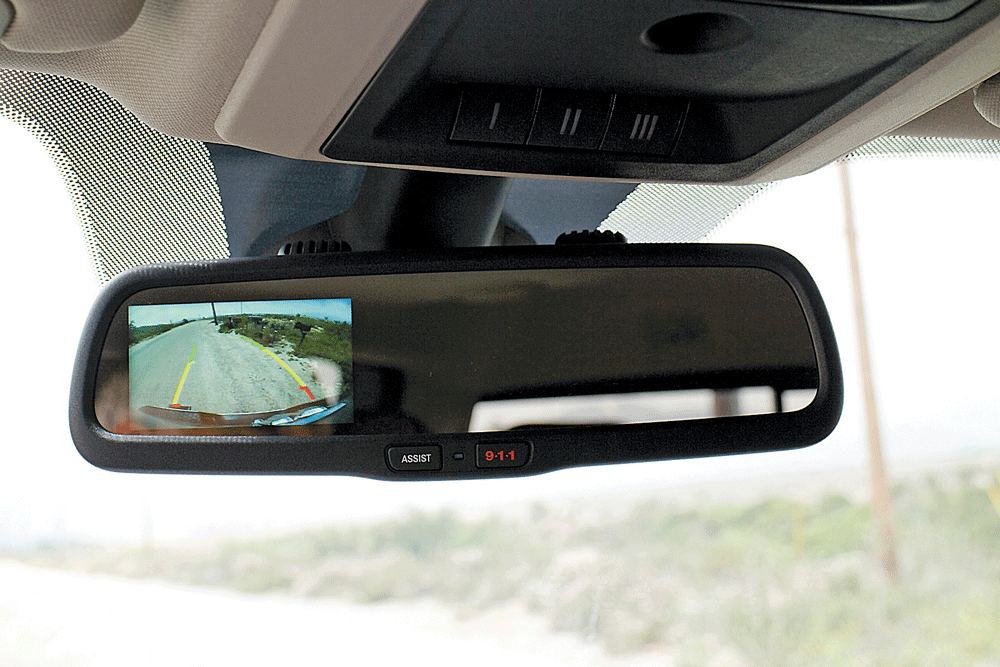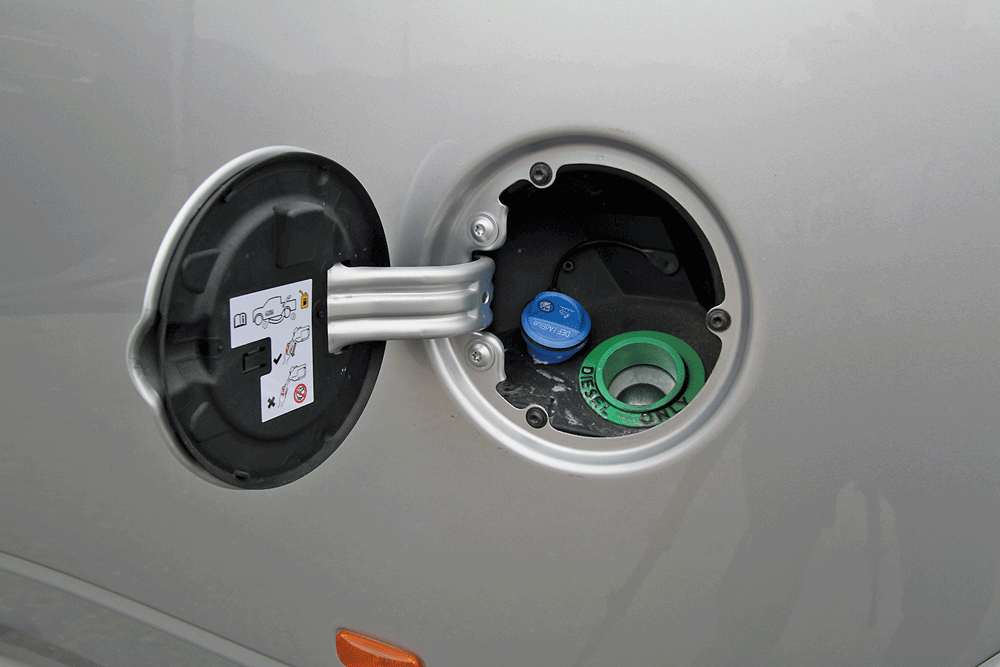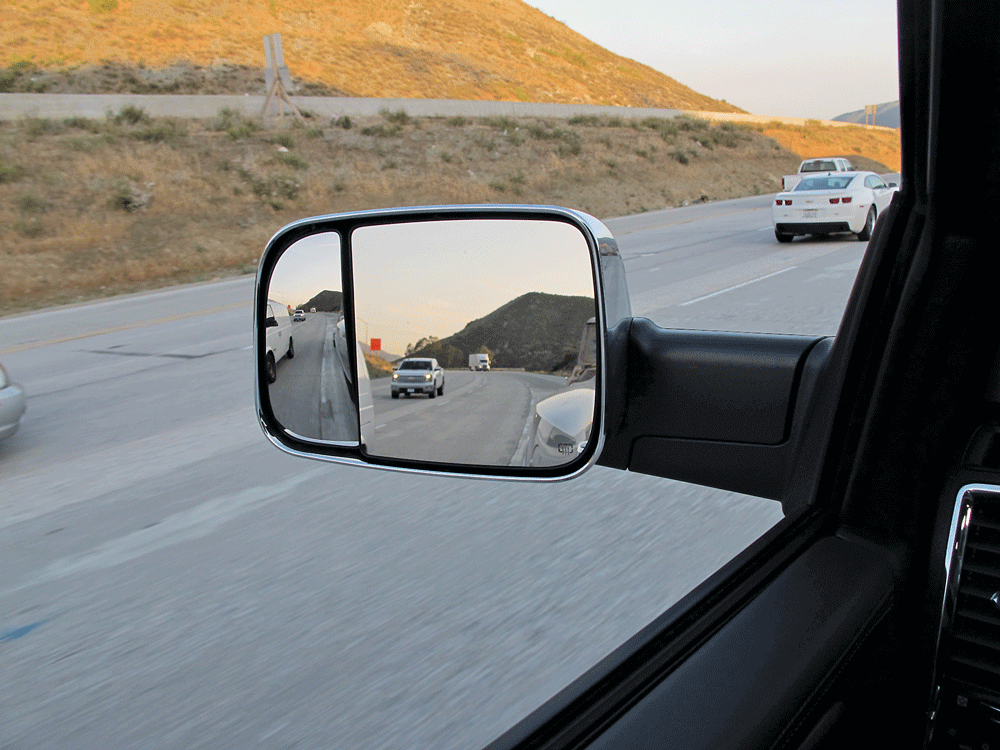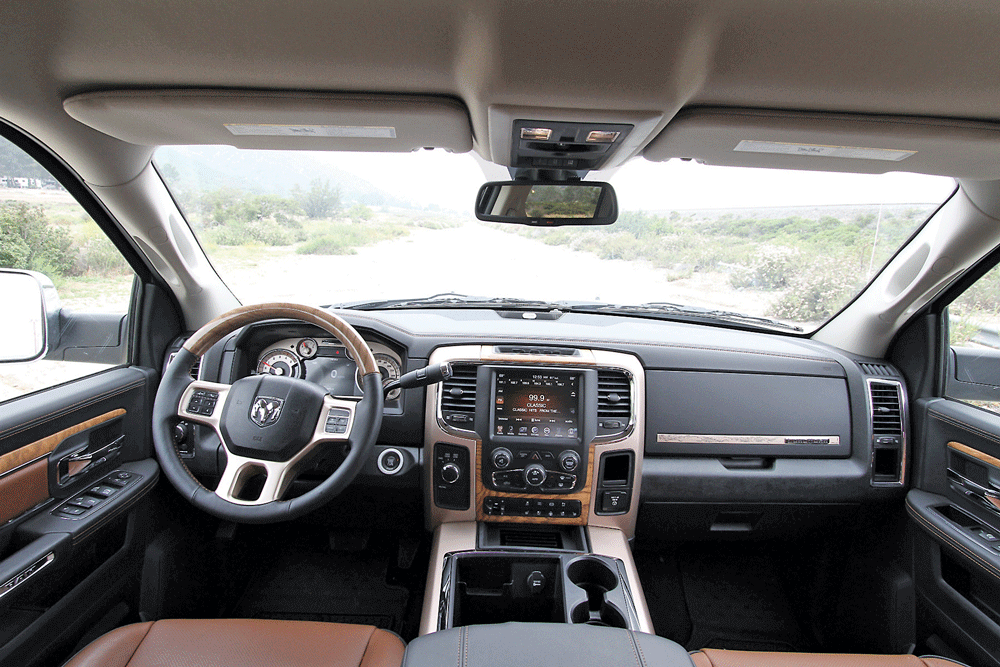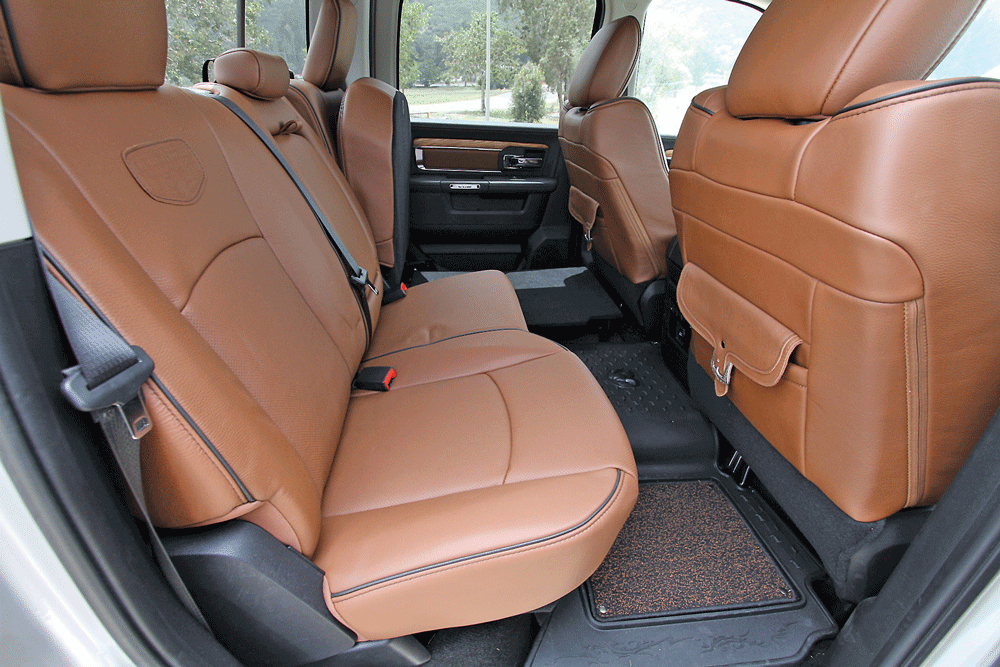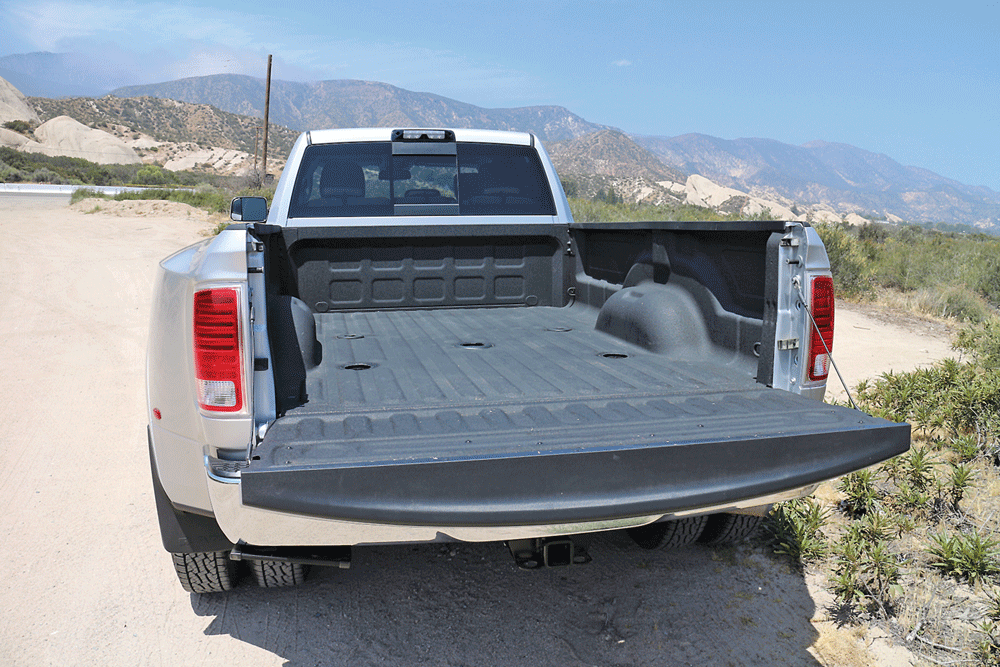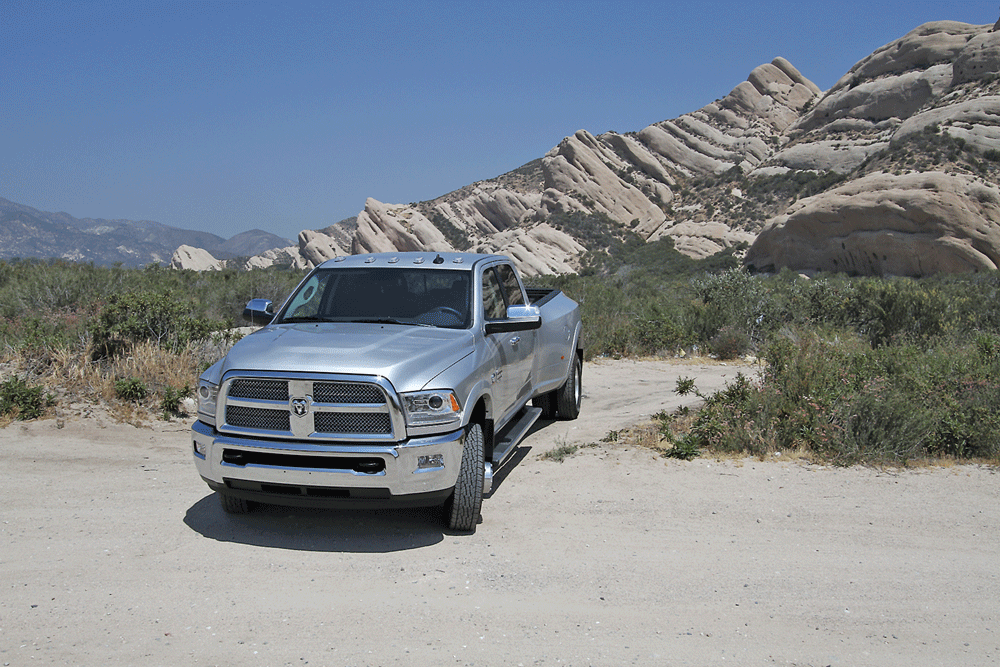 SPECS
2015 VEHICLE: RAM 3500 DRW
Engine Type: I-6, Cummins Turbo Diesel
Displacement: 6.7L (409 cid)
Horse Power & Torque: 385hp, 865 lb-ft with ASIN 6-speed automatic.
Fuel Capacity: 32 gallons, with 8' box.
Transmission: Six-speed auto
Sources: Ram Truck
ramtrucks.com
Sours: https://www.dieselworldmag.com/diesel-technology/heavy-hauler-2015-ram-hd-dually-test-drive-2/
Dodge Ram 3500 Review - 2009-2019 - 4th Gen
2015 RAM 3500 Review
Got some heavy hauling to do, and you want to look good doing it? Run, don't walk to your nearest Ram dealership and take a look at the 2015 Ram 3500 lineup. This one-ton hunk of American-made (well, North-American-made) heavy-duty full-size pickup truck can now be delivered with an available tweaked turbodiesel that adds an extra 15 lb-ft of torque to the regular turbodiesel powerplant's output. While towing numbers remain a class-leading 30,000 pounds (with the fifth-wheel package), those added turbodiesel torque figures mean your Ram 3500 retains its title as the most powerful HD pickup on the market. Meanwhile, this hefty workhorse still struts one of the most handsome profiles around, and all trims remain available with a payload-perking dual-rear-wheel (DRW) setup.
Again for 2015, this big rig is offered in 3 cab configurations, the 3-seat Regular cab, the 6-passenger, 4-door Crew cab and the big-guy-friendly 6-passenger, 4-door Mega cab. Bed lengths also stand pat for 2015, with the capacious 8-foot long bed standard on Regular and Crew cab iterations, with a 6.4-foot short bed adorning Crew and Mega cab editions.
The trim listing, meantime, remains the base Tradesman, the up-featured SLT and the posh Laramie. The SLT, of course, can again be delivered in available Lone Star (Texas)/ Big Horn (everywhere else) iterations, while the Laramie can be up-fitted into the available Longhorn and super-plush Limited variants.
Standard power throughout the 2015 Ram 3500 lineup remains a ubiquitous and eminently capable 5.7-liter V8 engine that's mated with a standard 6-speed shiftable automatic transmission to put out 383 hp and 400 lb-ft of torque. Mileage is unavailable for any Ram powertrain since the EPA doesn't track vehicles weighing over 6,000 pounds, but towing with a properly equipped 5.7-liter-toting 3500 is maxed out at 13,850 pounds.
Need more grunt? Pick up a 2015 Ram 3500 with the available 6.4-liter V8 powerplant with its 6-speed shiftable automatic to revel in 410 hp and 429 lb-ft of torque. Look for towing numbers to max out at 16,200 pounds packing this perked-up and properly equipped V8, while payload in single-rear-wheel (SRW) versions returns maxed out at well over 4,000 pounds.
For the touted 30,000-pound towing maximum, on the other hand, you'll need to drive off the lot in the Ram 3500 boasting an available Cummins 6.7-liter turbodiesel inline 6-cylinder (I6) mill. Again sporting the 6-speed shiftable automatic, this forced-air diesel powerplant puts out 370 hp and 800 lb-ft of torque, but with the available Asin HD 6-speed automatic, horsepower jumps to 385 and torque rises to 850 lb-ft. But wait, there's more. For those who want to feel their driving oats and still tow a trailer, a 6-speed manual transmission allows 350 hp and 660 lb-ft of torque from the Cummins I6.
New for 2015, meantime, is that aforementioned tweaked version of the turbodiesel I6 that'll still pump out 385 hp but takes torque numbers to the stratosphere at 865 lb-ft. Alas, towing numbers remain maxed out at a class-leading 30,000 pounds with either properly equipped turbodiesel 3500 variation, but you might make it up the hill a second or two faster with the newly up-powered version.
In any case, this hefty hauler is delivered with standard rear-wheel drive (RWD), while all variants once again qualify for an available part-time, shift-on-the-fly 4-wheel-drive (4WD) configuration with a manual or electronic 2-speed transfer case and auto-locking hubs.
Appearance-wise, look for various 2015 Ram 3500 trims to sport 18-inch steel or alloy wheels, a chrome grille and various chrome trim pieces, as well as side steps, a limited-slip rear differential, auxiliary transmission cooling and power-adjustable, power-folding mirrors, not to mention a standard trailer hitch and wiring.
Inside, again depending on the selected trim, expect your new 3500 to come with vinyl, cloth or leather upholstery, full power accessories, cruise control, tilt-wheel steering and remote engine start, not to mention the power-adjustable pedals, dual-zone auto climate control, front bucket seats and memory for driver's settings found in higher trims.
Techno bling, meantime, includes front and rear parking sensors and a rear-view camera in higher trims, as well as Bluetooth hands-free calling and, in the Laramie Longhorn and Limited iterations, standard GPS navigation with an 8-inch touchscreen display.
Basic Uconnect (3.0) is standard in the 2015 Ram 3500 Tradesman and interfaces with 6 speakers and an auxiliary iPod input. The SLT adds upgraded Uconnect directions with a 5-inch touchscreen, along with satellite radio, while the Laramie throws in a 506-watt 7-speaker Premium Alpine audio system, and the Laramie Limited returns boasting a standard 9-speaker premium Surround Sound stereo.
Optional equipment in lower trims remains a choice among many of the goodies that come standard in higher trims, while a power sunroof and dual rear wheels (DRW) remain among the most notable of returning available standalone options for select trims. A cargo-view camera and/or a single-CD/DVD player are again optional to higher Ram 3500 trims for 2015, while a fifth-wheel towing-prep package remains available lineup-wide, as does an integrated trailer brake controller.
Finally, standard safety equipment returning to the 2015 Ram 3500 lineup includes 4-wheel antilock brakes (ABS), traction and stability control, front side-mounted airbags and front (and in Crew and Mega cabs, rear) head airbags. Dusk-sensing headlights and a post-collision safety system also return to each trim, while the SLT and higher trims boast standard turn-signal-integrated mirrors, even as SLT Big Horn/Lone Star versions, as well as the Laramie trio, boast front fog/driving lights. Oh, and the Laramie in Regular, as well as Longhorn and Limited costume, returns sporting standard Uconnect emergency assistance communications and a remote antitheft alarm.
Updated
by Eric Tallberg
Have Laptop. Will Travel. I'm retired and travelling the country in a 34' motor home. I'm really digging meeting people . . and sometimes their cars . . . getting a sense of what makes this nation tick. The plan is to visit all the national parks in the continental US, then cruise to Alaska to visit Denali, and to Hawaii to check out Haleakala and the Hawaii Volcano's national parks. Anyhow, when I'm not horsing the motor home around the roadways, I'm tooting around in the 2012 Ford Focus that we tow behind, or making runs to Home Depot and various malls with the 2004 F-150 that just won't die.
Sours: https://www.cargurus.com/Cars/2015-RAM-3500-Overview-c24597
Review 2015 ram 3500
2015 RAM 3500
Retail Price
$31,740 - $56,910MSRP / Window Sticker Price
| | |
| --- | --- |
| Engine | 5.7L V-8 |
| MPG | City / Hwy |
| Seating | 3 Passengers |
| Transmission | 6-spd auto w/OD |
| Power | 383 @ 5600 rpm |
| Drivetrain | rear-wheel |
Smart Buy Program is powered by
Hi! We notice you're using an ad blocker. Please consider allowing Autoblog.
We get it. Ads can be annoying. But ads are also how we keep the garage doors open and the lights on here at Autoblog - and keep our stories free for you and for everyone. And free is good, right? If you'd be so kind as to allow our site, we promise to keep bringing you great content. Thanks for that. And thanks for reading Autoblog.
Here's how to disable adblocking on our site.
Click on the icon for your Adblocker in your browser. A drop down menu will appear.
Select the option to run ads for autoblog.com, by clicking either "turn off for this site", "don't run on pages on this domain", "allow this site" or similar. The exact text will differ depending on the actual application you have running.
Refresh the Autoblog page you were viewing. Done!
Hey again!
You still haven't turned off your adblocker or allowed our site. It only takes a few seconds.
You must be logged in to perform that action.
Sours: https://www.autoblog.com/buy/2015-RAM-3500/
2015 RAM 3500 LARAMIE MEGA CAB 4X4 CUMMINS DIESEL 47K MILES USED FOR SALE INFO WWW.SUNSETMOTORS.COM
2015 Ram Heavy Duty
The 2015 Ram Heavy Duty pickups boast the highest tow ratings among one-ton pickups. Ram HDs offer more engine and transmission choices than competitors and a range of interiors from commercial-friendly to luxury.
The Ram 2500 (three-quarter ton) and Ram 3500 (one-ton) series were redesigned for the 2010 model year then were heavily revised for 2013, so changes for 2015 are minimal. Price changes are likewise minimal.
Maximum towing for the 2015 Ram 2500 is approximately 18,000 pounds and for the Ram 3500 it is 30,000 pounds; top payload approaches 4000 pounds for a Ram 2500 and 7320 pounds on Ram 3500. Like all full-size pickup trucks, the maximum tow rating and maximum load rating apply to different versions and not simultaneously. Ram's payload numbers are fully competitive, the 3500's towing ability is literally tons better than challengers and only one pickup, an F-450, tows more. (Most HD pickups pulling a trailer rated for anything near their maximum load capacity may require some sort of driver's license beyond the norm or an endorsement.)
Chrysler's 383-hp Hemi 5.7-liter V8 with 6-speed automatic is the standard powertrain; a CNG version is available but very limited. Ram's 410-hp 6.4-liter Hemi is designed for regular unleaded fuel and has cylinder deactivation for lower light-load fuel consumption. Most models offer at least two powertrain choices, though Power Wagons come only with the 6.4-liter V8.
The 6.7-liter Cummins turbodiesel comes in three variants: 350-hp, 660 lb-ft with 6-speed manual; 370 hp, 800 lb-ft with 6-speed automatic; 385-hp, 865 lb-ft with 6-speed automatic on the MaxTow package.
Ram HD rides well and cruises quietly by heavy-duty pickup standards but you can't compare the ride to a car, nor noise from six tires, lots of airflow and trailer hardware. We found the Ram 2500 with rear air suspension rode quite comfortably empty or towing, while four-door Ram 3500s towed comfortably into the 28,000-pound range. As with most full-size pickups, the four-door crew cabs tend to ride more nicely and isolate from vibration better due to their longer wheelbase and better body mounts.
Equipment levels vary from the basic Ram Tradesman's rubber-vinyl coverings and crank windows to top trim levels with heated steering wheel, heated/ventilated front seats, driver memory system, configurable instrument cluster and text-to-voice infotainment systems. All cabs are roomy but the Ram MegaCab offers more cabin lounging space than any HD pickup.
The Ram Power Wagon comes only as a 2500 4WD gas-engine, but it's offered in a couple of trim levels. Unique pieces include suspension, wheels, tires, differentials, winch and running height. Power Wagon does not tow or carry quite as much as a regular Ram 2500 can but more than most so-called off-road models and much more than any three-quarter-ton pickup. It's also the only vehicle sold in North America with a winch and a warranty.
Ram 2500 and Ram 3500 Heavy Duty models compete with Ford Super Duty, Chevrolet Silverado HD, and GMC Sierra HD pickups. Ram HD shares many interior elements and styling cues with Ram 1500 models, though they are not identical. Ram 3500 is also offered in a cab/chassis version, with straight frame rails and commercial intent just like the Ram 4500 and Ram 5500 series.
Ram HDs are a compelling choice for anyone in need of a heavy-duty pickup truck. Ram Heavy Duty models are an excellent choice for anyone pulling big travel trailers, multi-car race trailers, big boats or a stable of horses. They are a good choice for anyone who has work to do, be it hauling construction tools and materials or substituting for a medium-duty when a primary business rig is on downtime.
Model Lineup
The 2015 Ram 2500 and 2015 Ram 3500 Heavy Duty pickups come in Tradesman, SLT, Outdoorsman, Power Wagon, Laramie, and Laramie Longhorn trim levels, plus regional SLT packages such as the Big Horn and Lone Star. Three cab configurations are available: Regular, Crew Cab, Mega Cab. Two bed lengths (6-foot, 4-inch and 8-foot) are offered, along with a choice of four wheelbases. Ram 3500 models are available with single or dual rear wheels (SRW or DRW). The Power Wagon is Crew Cab only; Ram HD regular cab is Tradesman or SLT trim only; Mega Cabs come only with the short bed.
Ram 2500 and Ram 3500 come standard with the 5.7-liter V8 and 6-speed automatic; no manual is offered for the V8s. A factory-built CNG (natural gas) unit is available on a few Ram 2500 Crew Cab long-box models. The 6.4-liter Hemi gas engine is available on most trims, including dual-rear wheel 3500. The Cummins 6.7-liter turbodiesel is available in three power levels with three corresponding transmissions. On most Ram HD models, part-time 4WD (manual or electric-shift) adds about $3,000.
Ram Tradesman models are commercial-grade: black bumpers, grille and mirrors, crank windows on regular cab (power windows and locks on others), vinyl 40/20/40 seat, steel wheels and a manual-shift transfer case on 4WD. Vinyl floor covering is standard and can be ordered in place of carpet on all but Laramie models. Ram Tradesman comes standard with an automatic transmission, air conditioning, Class V hitch with 4/7-pin plugs, AM/FM Uconnect 3.0 stereo, cruise control, locking tailgate and tilt steering wheel. Options for Ram ST are plentiful, including a diesel engine (which adds front tow hooks and cruise control), power heated and towing mirrors, integrated trailer brake controller, sliding rear window, spray-in bedliner, floor mats, cloth upholstery, DVD/HDD and Sirius audio, limited-slip differential, skid plates, RamBox or fifth-wheel/gooseneck prep, various option groups, and choices for wheels, tires and axle ratios.
Ram SLT adds power mirrors, remote keyless entry, power windows (including rear windows on four-doors), carpeting, cloth upholstery, electric-switched transfer case, chrome wheels, sliding rear window, in-dash tire-pressure display (2500 only) and the integrated trailer brake controller. Some notable SLT options are fog lamps, CHMSL bed/rear camera, heated power towing mirrors, forged aluminum wheels, bucket seats and console, power seats, adjustable pedals and driver memory system, moonroof, navigation, Uconnect phone, remote start, back-up camera, security system, and rear park assist.
Ram Outdoorsman is a package for Ram 2500 and 3500 Crew cabs based on an SLT package with some additional extras. Standards include gray painted bumpers and fender flares, two-tone paint, body-color grille/black insert, fog lights, power folding/heated mirrors with signals, HomeLink, mud/slush floor mats, 115-VAC outlet, power split-bench seat, leather-wrapped wheel, LT265/70R17E on/off-road tires on forged aluminum wheels, 7-inch TFT info display, Uconnect 8.4-inch touchscreen AM/FM/sat/Bluetooth/voice nav-ready audio, security system, limited-slip differential, tow hooks, and remote start. Primary options are a moonroof, engines, navigation and park sensors.
Ram Big Horn and Ram Lone Star editions are packages based on a Ram SLT with some Outdoorsman parts and Uconnect 5.0 touchscreen audio with Bluetooth and satellite radio.
Power Wagon models come only as 2500 Crew Cab. Power Wagons get electric locking front and rear differentials, a front antiroll bar disconnect, specific suspension with Bilstein shocks, 32-inch BFGoodrich off-road tires, a 12,000-lb Warn winch, full skid plates, 4.10:1 gears and 6.4-liter V8. Three trim levels parallel the Tradesman, SLT and Laramie trim (and most options) of other HD Rams.
Ram Laramie adds more chrome, power adjustable pedals and heated mirrors on driver memory system, dual-zone climate control, 115-VAC outlet, universal door opener, 10-way/6-way power heated leather seats, heated leather steering wheel, nine-speaker DVD/HDD surround-sound audio, rear park sense, and security system. Laramie upgrades are generally limited to chrome packages, towing mirrors, skid plates, rear window defroster, heated/ventilated power bucket seats with floor console, moonroof, navigation, rearview camera and wheel and axle ratio choices.
Laramie Longhorn is automatic only. Four-door cab only, it adds to a Laramie with filigree leather upholstery, leather on the dash and door panels, wood trim, Berber floor mats, ventilated front seats, heated rear seats, leather-wrapped shift knob, navigation with Sirius Travel Link, remote start, unique instrument graphics, polished aluminum wheels and spray in bed liner. Options are few: skidplates, axle ratio, limited-slip differential, smart beam headlamps, rain-sensing wipers, alternate wheel finishes and rear seat entertainment system.
Laramie Limited is the top-line, four-door cab only. Relative Longhorn it gets body-color bumpers, standard RamBox, piped Natura Plus black leather interior, 20-inch polished aluminum wheels, keyless entry/start, smart-beam headlamps, rain-sensing wipers, and logo floormats.
Safety features on all HD Rams include dual front multi-stage airbags, side curtain airbags, front side airbags, adjustable height front belts, LATCH child-seat anchors, child-protection rear door locks, stability and trailer sway control, anti-lock brakes on all wheels, hill-start assist and tire-pressure monitors (2500 only).
Walkaround
Ram Heavy Duty pickups got revised styling for 2010. For 2013, headlamps and tail lamps were updated, chrome and available power folding mirrors added, along with Longhorn's long running boards. A spray-in bedliner and simple fifth-wheel/gooseneck out-fitting help the truck end of things. There were no significant changes for 2014 or 2015.
With a forward tilt to the grille and an upward, inward point to the headlights, grille and bumper, the heavy-duty nose looks like a stout blunt instrument, rather like the point on an anvil. There are four choices in grilles, the pinnacle a chrome mesh arrangement.
While the style and lights are from the 1500, only the latter are the same parts. The Ram HD's grille is larger than that of the Ram 1500 models to allow more cooling air in, the bumper is reshaped, and the hood has a larger central bulge and faux louver contouring, but the easiest way to distinguish a non-dually HD from the 1500 is the gap above the bumper: The 1500 has no such gap.
Upper-trim trucks get projector headlamps with LED ancillary lamps, and LEDs in back. Taken from the 1500, they provide the same visibility improvements, and access covers are fitted for easier alignment and bulb changes.
Ram HD Crew Cab is comparable to competitor crew cabs in size and is about the same size as the Ram 1500 Crew Cab. The Ram HD Crew Cab has four forward-hinged doors.
The ultra-long Mega Cab uses the same rear doors as the Crew but adds interior inches behind the doors.
Crew Cab and Mega Cab both come with a 6-foot, 4-inch box. You can get an 8-foot box on any Crew Cab except Power Wagon. The short box looks stubby behind the imposing Mega Cab and you'll want to consider a slider hitch if you tow a fifth-wheel; you can not get a Mega Cab long-bed as it would be unwieldy anywhere outside the Great Plains.
Dual rear wheel models (DRW), including the Mega Cab, use a single outside panel for the wide rear fenders to eliminate seams and fasteners that might prove problematic long term. And the bed sides are steel, for easier straightening than fiberglass if you ding one.
In terms of sleekness, Ram HD slots between the GM HD and Ford Super Duty pickups: perceptively bigger and more angular than the Silverado HD yet smoother than the Super Duty. Very mild fender flares of various colors are used on some trims. Power Wagon models offer a graphics package with plenty of wallpaper.
Roof clearance lamps, government-mandated for vehicles like dual-rear-wheel pickups that exceed a certain width, use clear lenses for a better-integrated look; the satellite antenna is between them so cab-over campers and contractor racks won't knock it off. Upper-trim mirrors have puddle lamps. Towing mirrors have turn-signal repeaters and a separately adjustable, much larger wide-angle element at the bottom (in tow position); in the retracted position the outboard wide-angle element is very useful in traffic, tight trails and parking areas as you can view the rear tires. Worth noting, you can adjust the electric mirrors without having the truck switched on. We found the towing mirrors to be very good, providing an excellent view rearward; some offer power folding.
A RamBox is optional on 6-foot, 4-inch bed models. The RamBox houses large lockers along the top of each bed-side for stowing anything that will fit, including fishing rods and long-handle shovels or about a gross of your favorite beverage cans on ice. Downsides are a drop in payload and limited use of over-rail bed covers, racks or campers.
A tailgate lock is standard. However, the tailgate is not heavily damped, so it will thud if you just let it go. (Get a helper if you remove it because it's heavy). On trucks with rearview cameras, the lens is far enough from the latch so you won't scratch it opening the gate, and it gets decent protection and snow/ice rejection from the tailgate's upper lip. A secondary rearview option places the camera near the center brake light atop the rear cab for easier kingpin hitching, and the load can be checked in motion (the standard camera image display moves to the inside mirror). Bed rails are protected from load scuffing, and the bed is contoured for 2x4s and 2x6s to make it dual-level. A spray-in bedliner is a factory option.
Interior Features
The Ram Heavy Duty cabin is basically the same as that of the Ram 1500; the main differences are features, shifter locations and the floor.
Materials and trim are appropriate by model line, be they the base truck or a Laramie Longhorn Mega Cab with Ram's head embosses on the seatbacks and console and pouch-like map pockets on the seatbacks. We found no fit-and-finish issues. The Longhorn's low-gloss woodwork is unique, and few shiny surfaces generate glare to bother the occupants. Although a vinyl floor is standard on only the base Tradesman model you can order it with a more upscale interior if it's only your boots that get filthy. Thick mats designed for muck and slush are standard on the Outdoorsman but are available through Mopar accessories.
The Regular Cab has plenty of room for two people, three across if you don't mind the floor hump or have a manual gearbox. The biggest guy we could find who claimed to be "325 on a good day" had no qualms about space.
The Crew Cab offers essentially the space of a Regular cab front seat in the back seat as well. Most Crew Cabs have a split folding rear seat and a center armrest, and all of them have three complete baby seat anchor sets and three adjustable headrests that reach high enough for adults. The back seats flip up for cargo space, with a flat floor underneath. Coat hooks are above the rear window. The rear window can be powered open/close and a defrost-able window is available on most models.
The Mega Cab is nine inches longer than the Crew Cab. It has an extra five inches of rear seat legroom (more than some Rolls-Royce sedans) plus space behind the reclining seatback, and with the seats folded flat offers up 72 cubic feet of lockable cargo space, considerably more than behind the middle row in a Chevy Tahoe SUV. But plan on a lot of AC use in warm climes, as the only vents in back are on the floor.
We found the seats quite comfortable and widely adjustable, whether in the buckets or the front bench split 40/20/40. The seat cushion and backrest adjust as a unit, unlike the separate component approach that makes you go back-and-forth to get both pieces where you like. Lateral support is notably improved over earlier models without adding any difficulty to entry and exit. Big 4WD trucks are by design tall but side steps are available. Power adjustable pedals are available that combine with a tilt wheel and power seat adjustments to accommodate most of the population. You can get a heated steering wheel and ventilated cooling front seats to maximize driver comfort; no telescoping wheel is offered.
Instrumentation varies by trim. Base models have temp/fuel on gas engines, fuel and DEF diesel exhaust fluid level on diesels, but details about cooling and pressure are available in the digital display between mph and rpm. Upper trims add two more instruments and a central 7-inch TFT (thin-film transistor) that's configurable and calls up myriad information and graphics; e.g. exhaust braking horsepower, trailer brake gain, economy a few ways, etc. Regardless of gauge display all menus run from steering wheel spokes, and most models have audio controls on the back of the wheel spokes.
The center dash screen also varies in size from a simple radio-and-settings 3-inch touchscreen to the 8.4-inch with navigation. No vehicle is perfect but the Ram's voice options work quite well and echoes other Chrysler products with the same screen. We had no visibility issues with any version screen with sun washout or using polarized lenses, and it's quiet enough for easy hands-free phone or text-to-voice.
Switchgear is relatively straightforward, with audio and navigation controls above climate controls in the center stack, plus operating controls for the Tow/Haul mode, exhaust brake and so on; it gets busy on top-line models with all the switch blanks filled. On electric-shift 4WDs the switch is on the left side of the center panel and includes a Neutral position for being flat-towed. The trailer brake controller is below the headlight switch to the left about knee-high, and some drivers reported the steering wheel partially obscured it.
Side pillars are larger than in some cars but seating position means they don't intimidate. The bodywork is reasonably well defined for close quarter maneuvering by new-truck standards, and the rear park sensors and/or cameras will get you within inches.
Interior storage is extensive with forty-odd places to put things of innumerable sizes. Upper and lower door pockets are complemented by a variety of shapes from the broad tray on the dash that we emptied on the first corner to the under-floor storage areas behind the front seats; you can't reach these from the driver's seat but the liners are removable for cleaning and locks are available.
The audio and entertainment systems bring plenty of options and sonic performance that benefits from a relatively quiet interior. Partial credit must go to the noise and vibration tuning that includes liquid-filled body mounts that help make this the quietest Ram heavy-duty yet without adding much weight.
Driving Impressions
At minimum a Ram Heavy Duty is more than 19 feet long, six-and-a-half feet wide, six feet tall, needs nearly 3.5 12-foot traffic lanes to execute a U-turn and is three-tons of sink-in-hot-pavement truck. If you haven't got a lot of weight to carry or pull, a 1500 will probably serve better. If you need to tow or haul, however, you've come to the right place.
Once accustomed to the outside dimensions, the Ram HD is not hard to drive. You need to allow a bit more space for stopping distance than the average car but that's easy given the visibility from the higher driving position. The steering is reasonably quick, and the 3500 4WD's steering feels almost as good as the old trucks' rack-and-pinion syteering and independent suspension (the HD's are now a solid front axle on 2 or 4WD). You'll be twisting the wheel more than a car to make the same turn, the Ram changes direction easily and we couldn't overwhelm the steering pump (making it sluggish and heavy) in parking lot maneuvering or threading a 4WD through mud, trees and rock.
There are good reasons why many enthusiast magazines don't do handling tests on HD pickups because handling and precision are relative terms. The Ram changes directions admirably and has predictable characteristics, but start horseplay in a vehicle where the rear axle alone weighs as much as a big Harley and you'll learn the hard way what those strange terms on NASCAR broadcasts mean.
What stands out the most on the current Ram is the quiet cabin and smooth ride quality, which have come a long way since the pre-2010 models. We found all three cabs quiet and solid, but the Crew Cabs and Mega Cabs were superior and nearly shudder free. Part of this solid feel is suspension tuning and part of the smoothness is the advanced body mounting system.
Ram 2500's coil/link rear suspension improves its ride and handling characteristics just as it did for the 1500. Optionally the 2500 may be equipped with full air suspension in back that levels automatically (two heights are available for towing) for load and trailer, meaning no more headlight adjustment and more consistent driving dynamics. The 3500 offers air-assist for the rear suspension, so you can get the huge load ratings with a gentler ride empty.
There is now no single aspect of the Ram HD that will wear you out. At 75 mph on moderately good pavement we floored the pedal on a diesel and the engine wasn't heard over the road noise and wind noise wasn't heard above it, either. We could still converse in regular tones, even with riders in the rear seat. Since it revs higher, the Hemi comes across no quieter than the diesel except at cold idle.
The standard 5.7-liter Hemi V8 develops 383 horsepower at 5600 rpm and, like any good truck engine, it makes more torque than horsepower, with 400 pound-feet at 4000 rpm. The new 6.4-liter Hemi (which shares nothing with Chrysler's SRT-division 6.4) rates 410 hp and 429 lb-ft of torque. Besides making more peak power and torque, it makes the same power as the 5.7-liter 1000 rpm earlier, it has cylinder deactivation to run only four cylinders under light load, it's recommended fuel is less expensive than the 5.7's, and it typically has notably higher payload and tow ratings. On a new 7000-pound 4WD 2500 over a route consisting of winding mountain roads and highway cruising we averaged almost 13 mpg.
The 6-speed automatic transmission shifts as it should, and if your primary truck need is carrying things or ultra-cold-weather plowing the Hemis are often better choices than the diesel. Yes, they will use more fuel, but they weigh less, and the $6500-$10,000 saved can buy lots of gas. Towing is where the diesel shines.
The Cummins turbodiesel is a proven option. Every version has big cooling measures, including two radiators, two ATF coolers on automatics, and a thick intercooler, to allow high tow ratings. Torque is 660 lb-ft at 1500 rpm on the manual, the standard automatic is 370 hp and 800 lb-ft, and the MaxTow high output engine is 385 hp and 865 lb-ft. If your occasional trailer is not more than 20,000 pounds or so, it might be wiser to choose the 370/800 engine and 4.10:1 axle ratio which rates about the same tow rating as the 385/850 with 3.42:1 but costs thousands less.
Our limited road drive in a lightly loaded 2500 4WD diesel showed close to 20 mpg, but as always your driving style and load will have far greater effect on your economy. The diesel exhaust fluid fills next to fuel, and even factoring DEF costs, per-mile fluid costs should improve by double-digit percentages.
Diesel exhaust brakes are multi-stage. You can choose maximum retarding whenever your foot's off the accelerator or an auto mode that aims to maintain the speed set, such as holding downhill speed to 60 mph rather than slowing until you disable it. The service brakes were strong enough to stop a 30,000-pound trailer from 45 mph on level ground without smoking or drama when we stressed them by disabling the trailer brakes.
The Cummins inline-6 is a medium-duty truck engine, with exceptional robustness, longevity and low-rpm grunt. Torque is what gets a load in motion, and with the Cummins making nearly as much torque when you let the clutch out as the 5.7 does at 4000 rpm, it is the obvious choice for heavy towing. Many RVers report better fuel mileage towing with their Cummins than a Hemi gets in an empty truck.
The integrated trailer brake controller is available on most models and hard to beat. Besides adjustable gain you can choose from light or heavy, electric or electric-over-hydraulic trailer brakes. We tried both heavy settings and each was capable of locking six or eight tires on a 14-plus-ton trailer with gain set at 7-7.5 of 10.
The frame now uses a Class V (2.5-inch) conventional receiver hitch. A massive mid-bed crossmember makes adding a fifth-wheel or gooseneck and tie-down points much easier, and a Mopar accessory installed at the dealer will be covered under the truck warranty. Rear trailer plugs are standard, and in-bed plugs are easy to add.
The Power Wagon needs to be considered a separate model based not only on equipment but also performance. Locking differentials and a front antiroll bar disconnect give excellent low-speed off-highway performance. It's also quite good at speed across a gravel road or dry wash, though not a direct match for Ford's first-generation F-150 Raptor, which cost about the same with the 411-hp 6.2-liter engine, has a regular or Crew Cab, but offers less of the load and towing capacity of a Power Wagon.
With the MaxTow package the top ratings for the Ram are 30,000 trailer and 37,600 combined. Tow ratings for the Ram HD range from 10,540 pounds to 30,000 pounds; adding a larger cab, more lux or 4WD will tend to lower the tow rating. However, even the fanciest, largest Ram HD can be loaded with passengers and payload and still pull 10 tons.
Maximum payload varies by similar parameters although sometimes the 4WD version carries more. Load capacity runs from 1400 pounds (a CNG Crew Cab 2500 long bed) to more than 7300 pounds (2WD regular cab long bed 3500 dually). Ram 3500 is currently the only pickup to tow 15 tons that does not require stiffer, pricier 19.5-inch wheels.
Note that virtually all pickup truck tow ratings apply to a truck with a driver and only the mechanical options required; any cargo, people, or aftermarket equipment you've added (winch, tool box, fifth-wheel hitch, etc.) will have to be subtracted from the max ratings. Double-check everything if you will be near the limits.
Summary, Prices, Specs
The Ram HD is so strong, the top level is essentially a premium car cabin on a medium-duty tow rig. Load limits are high and towing ability is unequalled, whether you're farming, a hot-shotter or double-towing a big fifth-wheel with a dinghy behind it. At the lower end, a $40,000 Hemi Crew Cab 4WD makes a useful workweek truck to get the job done, and occasional weekend family tow-rig or big-box hauler that won't break the bank.
NewCarTestDrive.com correspondent G.R. Whale reports after test drives in Texas, California and Detroit; with Mitch McCullough reporting from San Diego.
Model Line Overview
Model lineup:
Ram 2500 Tradesman 2WD regular cab long bed ($30,115); 2500 SLT 4WD Crew Cab short bed ($41,330); 2500 Laramie 2WD Crew Cab long bed ($44,280); 2500 Laramie Crew Cab 4WD short bed ($47,570); Power Wagon Crew long box ($49,145); 3500 Tradesman 4WD regular cab long bed ($34,140); 3500 SLT 4WD Crew Cab long bed ($42,815); 3500 Laramie Limited 4WD Mega Cab ($58,775)
Engines:
383-hp 5.7-liter ohv 16-valve V8; 410-hp 6.4-liter ohv 16-valve V8; 350/370/385-hp 6.7-liter ohv 24-valve I6 Cummins turbo diesel
Transmissions:
6-speed manual; 6-speed automatic
Safety equipment (standard):
dual front multi-stage airbags, side curtain airbags, adjustable height front belts, LATCH child-seat anchors, child-protection rear door locks, anti-lock brakes on all wheels, and tire-pressure monitors (2500 only)
Safety equipment (optional):
rearview camera, rear park assist, 911 direct
Basic warranty:
3 years/36,000 miles
Assembled in:
Saltillo, Mexico
Specifications As Tested
Model tested (MSPR):
Ram 2500 Crew Cab Laramie 4WD short box ($47,570)
Standard equipment:
leather power heated 40/20/40 bench seat; dual-zone climate control; power windows/locks/heated auto-dimming mirrors; driver memory system; polished aluminum wheels; Class IV hitch and 4/7-pin plugs; AM/FM/CD/DVD/HDD/MP3/Sirius stereo; HomeLink; locking tailgate; tilt steering wheel; trailer brake controller; power sliding rear window; 34-gallon fuel tank; rear park assist
Options as tested (MSPR):
6.4-liter Hemi ($1495); Uconnect 8.4AN with navigation; rear air suspension; RamBox; miscellaneous
Destination charge:
$1195
Gas guzzler tax:
N/A
Price as tested (MSPR):
N/A
Layout:
four-wheel drive
Engine:
6.4-liter ohv V8
Horsepower (lb.-ft @ rpm):
410 @ 5600
Torque (lb.-ft @ rpm):
429 @ 4000
Transmission:
6-speed automatic
EPA fuel economy, city/hwy:
N/A
Wheelbase:
149.4 in.
Length/width/height:
237.4/79.1/77.7 in.
Track, f/r:
68.3/68.2 in.
Turning circle:
43.9 ft.
Seating Capacity:
5
Head/hip/leg room, f:
41.0/63.2/41.0 in.
Head/hip/leg room, m:
N/A
Head/hip/leg room, r:
39.9/63.2/40.3 in.
Cargo volume:
N/A
Payload:
3140 Lbs.
Towing capacity:
15470 Lbs.
Suspension, f:
live axle, radius rods, Panhard rod, coil springs, antiroll bar
Suspension, r:
live axle, four-link, Panhard rod, air springs
Ground clearance:
7.7 in.
Curb weigth:
6856 lbs.
Tires:
LT275/70R18E Firestone
Brakes, f/r:
vented disc/vented disc with ABS, EBD
Fuel capacity:
31.0 gal.
Unless otherwise indicated, specifications refer to test vehicle. All prices are manufacturer's suggested retail prices (MSPR) effective as of January 29, 2015.Prices do not include manufacturer's destination and delivery charges. N/A: Information not available or not applicable. Manufacturer Info Sources: 866-726-4636 - www.ramtrucks.com
Sours: https://www.newcartestdrive.com/reviews/2015-ram-heavy-duty/
You will also like:
TRIM
Original MSRP

Clean Retail Price

?

The MT clean retail price reflects a reasonable asking price by a dealership for a fully reconditioned vehicle (clean title history, no defects, minimal wear) with average mileage.

5-Year Cost to Own / Rating
$31,740
$33,534
Coming Soon / N.A.
$31,740
$33,534
Coming Soon / N.A.
$34,860
$36,584
Coming Soon / N.A.
$35,595
Coming Soon
Coming Soon / N.A.
$35,795
$36,609
Coming Soon / N.A.
$35,900
$35,859
Coming Soon / N.A.
$38,870
$39,109
Coming Soon / N.A.
$38,930
Coming Soon
Coming Soon / N.A.
$39,130
$39,559
Coming Soon / N.A.
$40,310
Coming Soon
Coming Soon / N.A.
$40,510
$39,359
Coming Soon / N.A.
$41,710
$42,984
Coming Soon / N.A.
$41,745
Coming Soon
Coming Soon / N.A.
$41,945
Coming Soon
Coming Soon / N.A.
$43,145
Coming Soon
Coming Soon / N.A.
$43,345
Coming Soon
Coming Soon / N.A.
$43,545
$42,859
Coming Soon / N.A.
$44,745
$46,759
Coming Soon / N.A.
$44,780
Coming Soon
Coming Soon / N.A.
$44,980
Coming Soon
Coming Soon / N.A.
$46,180
Coming Soon
Coming Soon / N.A.
$46,530
Coming Soon
Coming Soon / N.A.
$46,730
$44,659
Coming Soon / N.A.
$47,930
$47,959
Coming Soon / N.A.
$49,965
Coming Soon
Coming Soon / N.A.
$50,165
$48,309
Coming Soon / N.A.
$51,365
$50,784
Coming Soon / N.A.
$52,275
Coming Soon
Coming Soon / N.A.
$52,475
$45,834
Coming Soon / N.A.
$53,675
$49,034
Coming Soon / N.A.
$54,770
$47,134
Coming Soon / N.A.
$55,070
Coming Soon
Coming Soon / N.A.
$55,510
Coming Soon
Coming Soon / N.A.
$55,710
$50,234
Coming Soon / N.A.
$56,470
$50,659
Coming Soon / N.A.
$56,910
$52,684
Coming Soon / N.A.
$58,005
$51,134
Coming Soon / N.A.
$58,305
Coming Soon
Coming Soon / N.A.
$59,705
$54,459
Coming Soon / N.A.
FIND THE BEST PRICE
Ram 3500 Expert Review
Stefan Ogbac
Pros
Generous maximum towing and payload capacity
Surprisingly refined powertrain and easy to drive
Well-built interior
Cons
Diesel engine is an $8,195 option
Poor ride quality when empty
GMC Sierra 3500HD
Chevrolet Silverado 3500HD
Ford F-350
The 2015 Ram 3500 is a rear- or four-wheel-drive heavy duty truck available in three cab styles and two box lengths. Three engines are available in the Ram 3500: a 5.7-liter V-8 with 383 hp and 400 lb-ft of torque, a 6.4-liter V-8 rated at 410 hp and 429 lb-ft, and a turbocharged 6.7-liter diesel I-6 producing 370 hp and 800 lb-ft or 385 hp and 865 lb-ft (heavy duty version) with a six-speed automatic transmission or 350 hp and 660 lb-ft with the six-speed manual. A six-speed automatic is the only gearbox available with either V-8 engine. The truck's maximum towing capacity is 30,000 pounds, while its maximum payload is 7,390 pounds.
On the road, the 2015 Ram 3500 is stable and rides well despite its solid rear axle and suspension tuning that's meant for maximizing its hauling capability. Opting for the available turbodiesel I-6 adds $8,195 to the truck's sticker price. The supplemental rear air suspension improves the trucks ride and keeps the rear from moving too much. Refinement is a strong point even when the Ram 3500 is equipped with the optional turbodiesel I-6 with little traces of turbo whine and vibration coming from the powertrain. Tech features such as navigation and Fiat-Chrysler's UConnect infotainment system with an 8.4-inch touchscreen are available and work well with easy-to-use controls.
Thanks to its powerful powertrains—especially the available turbodiesel I-6—the 2015 Ram 3500 is a good choice for a work truck. We noted in a 2013 First Drive that interior improvements from the 1500 have made their way into the 3500, which now includes a digital temperature and pressure display. Additionally, Longhorn Laramie models are "swathed in upholstery resembling boots" and "saddle-bag pouches for map pockets," making them more upscale. Refinement is a strong point due to the car's powertrain producing little NVH even at full throttle. In a 2014 First Test, we said that for a large truck, the Ram 3500 is "surprisingly easy to drive, even while towing a 22,000-pound trailer" thanks to the torquey turbodiesel I-6. However, ride quality suffers when the truck is empty while the brakes didn't inspire driver confidence.
Sours: https://www.motortrend.com/cars/ram/3500/2015/
178
179
180
181
182