Y DNA Matches: How Are You Related?
How are you related to your Y DNA matches at Family Tree DNA? YDNA tests don't give shared cM clues about how closely you're related. Take this video tour of your Y DNA match list to start figuring out your relationships to your Y DNA matches.
Y DNA can help you investigate ANY genetic male on your family tree—as long as you test the right person, of course. But you can't calculate your relationships to your YDNA matches at Family Tree DNA* in the same way you do with your autosomal matches at AncestryDNA, MyHeritage, 23andMe, Family Tree DNA or Living DNA.
Good news, though! Some of the same principles—like genetic distance—DO apply to your Y DNA matching experience. So if you've done any work organizing and identifying your autosomal DNA matches, you're a step ahead.
The following short video tutorial (and the summary below it) will help you start using the information on your Y DNA match list to answer questions about your paternal lineage.
Your Y DNA Match Page: What You Need to Know
Your DNA matches can often help you with so many different family history questions. They can help you distinguish between different paternal lines with the same surname. They can help you link different surnames together (such as when the birth father's name wasn't attached to his descendants). Sometimes they can help you sort out specific family relationships, too.
A Y DNA profile is essentially a list of numbers and their locations along the Y chromosome. Your Y DNA match list at Family Tree DNA helps you spot others who have similar series of numbers and locations as you. Given enough time, many people will find at least one Y DNA match.
3 top features of your YDNA match list
Your match page contains a lot of information, as shown in the video tutorial above. Here's a summary of the most important things to do with your Y DNA matches:
Focus on the genetic distance column. The closer the genetic distance (preferably zero!) the better.

Use the TiP calculator. It shows you the likelihood that you and this match share an ancestor within 6 generations. (If you and that person have both taken a Family Finder autosomal test at Family Tree DNA, you can also explore that relationship.)

If you have important matches who have tested at a higher level, consider upgrading your test to 67 or 11 markers (or even to Big Y).
What Next?
Not sure where to go from here? You can get started by taking a Family Tree YDNA test* (or having a male family member take one). Or check out our Y DNA Quick Guide to learn everything you need to know, and nothing more, about Y DNA testing.
For a more in-depth experience, Your DNA Guide—the Academy has launched an all-new, exclusive Y DNA for Genealogy course! This unique course takes you through Y DNA haplogroups; deeper into Y DNA matching; meaningful participation in surname DNA projects; and even into the big world of Big Y. Register for the YDNA course now!

Working with DNA matchesDiahan SouthardYDNA, YDNA matches, YDNA match list, Family Tree DNA, FTDNA, TiP calculator, genetic distance, DNA video, genetic genealogy video4 Comments
Sours: https://www.yourdnaguide.com/ydgblog/ydna-matches-how-related
Y-DNA Test | Which Y DNA Test is Best? | Y Haplogroup
Y DNA tests can be taken by genetic males to learn more about their paternal roots. Y-DNA testing works because YDNA is directly paternally inherited. Living men have the same (or very similar) YDNA as their father, grandfather, great grandfather, and so on. If you match with someone on a Y DNA test, then you likely share a ancestor with that person along your paternal line.
Which Y DNA test should you take?
Genealogically valuable Y DNA tests are only available from Family Tree DNA.* They offer three testing levels: 37 markers, markers and Big Y.
In general, you can start with the 37 marker test as it is usually enough to tell you if you are (or are not) related to someone. FTDNA used to sell a marker test; that has been discontinued.

The marker test can then help to further refine your relationship. You can always upgrade later without resubmitting a sample (you'll just pay them more money).

Got big questions? Here's when to consider the Big Y test.
Learn more about YDNA testing in this short video tutorial with Your DNA Guide Diahan Southard:
YDNA Testing—What about the Women?
If you're not a genetic male, but you want to use YDNA to explore a specific part of your lineage, you'll have to use your powers of persuasion to get the right man on your family tree to take this test.
Y Haplogroup and Matches
Haplogroup
Your haplogroup is your deep ancestral group. And when we say deep, we mean deep. Your haplogroup tells you where your ancestor was up to 10, years ago! It is named with alternating letters and numbers, and most often just identifies a very broad geographic area of origin. Read about haplogroups.
DNA Matches
Matches are other people who have tested their YDNA and have values that are the same or very similar to yours. It is possible that these people share a common paternal ancestor with you. If you were to look at your father's father's father father (etc.) and your match's father's father's father father (etc), you would eventually find the same guy.
Get Help With YDNA
You can DO the DNA—and we can help! Our new YDNA for Genealogy Course is a unique, in-depth, interactive learning experience on all things related to YDNA testing for family history. One crucial thing you'll learn: how to navigate your Y DNA matches, which work differently than your autosomal matches.
Not ready yet for the YDNA Course? Start with our inexpensive YDNA quick reference guide.
Sours: https://www.yourdnaguide.com/ydna
Just as there are surnames that are very common (such as Smith and Jones) and surnames that are uncommon, there are Haplotypes (a set of results that characterize you on the Y-chromosome) with a high frequency of occurrence (aka common) and Haplotypes with a low frequency of occurrence (aka uncommon). The 12 Marker result from the Y-chromosome test is called a Haplotype and can help determine if your DNA sample is common or uncommon.
When you compare a 12 Marker result to another 12 marker result of someone with the same surname and the results match 12/12, there is a 99% probability that you two are related within the time frame included in the MRCA tables.
If the match is 11/12, theres still a high probability that you are related if the 11/12 match is within the same surname.
If you compare a 25 Marker result to another 25 marker result for the same surname and the results match 25/25, then there is also a 99% confidence that the two individuals are related and at a much closer time interval than with the 12 marker test.
If you compare the 12 marker result to someone else who does not have the same surname, but the scores match, you are most likely NOT recently related. When we use the term recently related, we are talking about a time frame within the last years or 40 generations, a period that includes the earliest known use of surnames.
According to current theories, we are all related and descend from one single person. The degree of relatedness depends on the time frame or the number of generations between the participants and the common ancestor.
Since we all descend from one person and then from a few families, and as times goes by those families keep branching out up to the point where we get to our own family nest, it would be natural that when we compare our DNA, the fewer markers we compare, the less unique they are, and the more markers we test, the more unique the whole string of markers is. In other words, to go to extremes, if we tested only one marker, we would most certainly match with millions of individuals that shared that marker for thousands of years. But if on the other hand when we test many markers, we will match very few people that share those same markers. Those would be the ones that are closely related to us.
This is valid when comparing our matches on 12, 25 or 37 markers. The likelihood that we will match other individuals with 12 markers is far greater than matching on 25 or Especially if our family descends from a populational group that came from one or a few prolific families thousands of years ago (which is the case for Western Europe). Dr. Luigi Lucca Cavalli-Sforza, Professor Emeritus, Stanford University, in his fascinating book: The Great Human Diasporas: The History of Diversity and Evolutions says that the total population of Europe was 60, people at the end of the last Ice Age, about 10, years ago. Now Europe has a population of million people. This increase is almost entirely due to a natural increase in population rather than immigration from other continents. Keeping this in mind it is reasonable that many people alive today in Europe will match with other Europeans from BEFORE the time that our ancestors began the adoption of surnames, and when you match someone who has a different surname your first thought should be that the 'connection' is distant rather than recent.
Our bodies work as copy machines when it comes to Y-DNA. You can have a copy machine doing 1, copies without a problem, and then, the 1, copy may have an o that looks more like an e. And when we use this copy to make additional ones, all the new ones will now have an e instead of an o. This is a simple way to explain how mutations occur in our Y-DNA when its transferred (copied) from father to son. Mutations dont happen frequently, on the contrary, very seldom, but they can happen randomly in time, which means that I could be one mutation off of my father. That is why all those matches or close matches on 12 markers will in most of the cases go away when they happen between different surnames, and we increased the numbered of markers that are compared: more mutations showing up, which means way back in time when the common ancestor lived.
The only exceptions to this are if an unannounced adoption or false paternity has taken place, but that is difficult to prove, although certainly not impossible.
If two 12 marker results match for two participants with the same surname and the genealogy research shows a common ancestor in , the DNA test has validated the research and proven that the two descendants are related. In this example, you have two items of evidence to support that the individuals tested are related…a documented paper trail and the DNA results. In addition, the research provided a precise time frame for the common ancestor.
Without the genealogy research, and where 2 participants with the same surname match on the 12 marker test, then the scientific answer to the degree of relatedness is that 50% of the time the common ancestor would have occurred within 7 generations, or within approximately years. The range of generations for the common ancestor extends to generations or almost years for those cases where there is not a surname in common. Therefore the importance of a surname link is paramount to provide a comfortable conclusion of relatedness. Most of the time random matches with people with different surnames do not stand the test for extended DNA testing.
Sours: https://learn.familytreedna.com/ftdna/understanding-y-dna-matches/
What is Y-DNA? Genetic Genealogy Tests Explained
Recently, I received a question about exactly how and why we can use Y DNA to identify or connect with a patrilineal ancestor.
"I do not quite understand how the profiles can be identified specifically to an ancestor since that person is not among us to provide DNA material for testing and comparison."
That's a great question.
Let's look at the answer in steps.
Males Inherit the Y Chromosome from Dad
First and foremost, and the most important part of using the Y chromosome for genetic genealogy is understanding that the Y chromosome is passed from father to son without any DNA being incorporated from the mother. So, in essence, the Y chromosome is passed intact.
In most western cultures, the surname is passed utilizing the same inheritance path, so the Y DNA and the surname are passed along together – hence Y DNA projects are often called surname projects. If the Y DNA is passed from father to son, without any unexpected nonpaternal events or adoptions in the mix, then the surname and the Y DNA will match since the advent of surnames in the culture where the original ancestor that adopted that surname was born.
Let's look at England for example. Often people there adopted surnames after the Norman invasion () and by the s, most people had surnames.  Of course, there weren't a lot of records for normal working-class people at that time, but by the time church and parish records started to be more reliably kept, in the s, give or take, surnames were well established and everyone had one.  John who lived on the green was now John Green and John who lived by the brook was now John Brook.  Their sons took their surnames upon birth in a traditional marital relationship.
Therefore, the Y chromosome is passed from male to male, father to son, forever, illustrated by the blue squares in the pedigree chart above…with the Y DNA almost entirely intact.
Mutations Happen Whenever
Did you catch that word, "almost?"
Yea, it's a "gotcha" word, but it's also why genetic genealogy works. If it weren't for occasional mutations, all of the Y DNA would be exactly the same, and not at all useful for genealogy.  Thankfully, that's not the case.
From time to time, a mutation occurs as the DNA is passed from father to son.  We see the results of this inheritance and mutation pattern in the DNA markers we test for genetic genealogy.
The markers we typically use for genetic genealogy are called STR, Short Tandem Repeat, markers. They are the 12 marker, 25, 37, 67 and marker panels tested by Family Tree DNA.
These types of markers mutate more rapidly than the other type of Y DNA markers typically used to determine haplogroups, known as SNPs, Single Nucleotide Polymorphisms.
STRs and SNPs
There are two primary differences between STRs and SNPS relative to genealogy.
The first difference is that STR mutations are what I call stutter or repeat mutations. Think of a copy machine that got stuck.  Let's say your DNA at a location, meaning at a specific marker, looks like this: "TAGA."  However, when the copying of that DNA for the next generation was done, 20 or 30 or 40 generations ago, long ago in a faraway place, the copy mechanism got stuck and now you have 5 "TAGA"s in a row, so "TAGATAGATAGATAGATAGA."  Now you have a value of 5 instead of a value of 1 in that marker location.
SNP mutations, on the other hand, occur at one location and are defined by one of the nucleotides, T, A, C or G that live in that location getting swapped for a different nucleotide. So, now, at that particular address, T becomes C.  That's a single nucleotide polymorphism and those changes are how haplogroups and their branches are formed.  If you are interested, you can read more about haplogroups and how they are born here.
In addition to switches between nucleotides, you can also have insertions of DNA and deletions of all DNA where the value becomes 0, but for now, let's leave it at STRs and SNPs. I wrote a detailed article about SNPs and STRs here.
Oh yes, and as one final bad joke, the mutations, occasionally, revert back – that's called a back mutation. I know, it's a really bad joke, meant, I'm sure to confound genetic genealogists.  And the only way you're ever going to discover a back mutation is through known genealogy when you see it occur in a line.  Just remember, mutations can happen anytime they want to – on any marker – in either direction – and sometimes in increments of more than 1.  So, a marker value can go from 10 to 12 in one event, for example.
Some STR markers are more prone to mutations than others, and those are known as slow or fast moving markers.
The project pages color code each marker in the column header as to its known characteristics relative to mutation speed.
The legend above, from the Family Tree DNA Learning Center provides the color coding for the column header values.  Fast in any group = red.
The second difference between STRs and SNPs is that STR mutations happen more frequently than SNP mutations, making them useful in a genealogically relevant timeframe, where SNPs happen much less frequently, and are therefore utilized to determine and identify haplogroups and haplogroup branches, meaning deeper genealogy, generally before the adoption of surnames.
Having just said that, the timeframe of SNPs and STRs is beginning to overlap, but STRs are still the gold standard of genealogy testing to compare men born within the past few hundred years, especially with a common surname.
In genealogy testing, you always start with STR testing and then progress to SNP testing, if you wish.
Marker Comparisons
So, let's take a look at how STR marker comparisons work in a hypothetical example.
Let's say, for example, that we have 6 sons of Abraham Estes who died in Descendants of those sons have tested their Y DNA and sure enough, they have some mutation differences between them.  This would be expected in the generations between when Abraham lived and the current generation testing.
Let's say that all 6 of Abraham's sons matched his STR markers exactly back then, but in the generations between Abraham and the present day testers, one mutation has occurred in each of 4 lines on a different marker. Two of his son's lines have not had any mutations at all.
Of course, we don't know this before we evaluate the DNA. It's the marker values themselves that will inform us about Abraham's DNA.
In our example, Abraham's six sons' lines tested, as shown above. All of their markers match each other, except one marker in each of 4 mens tests, highlighted in yellow above.
How do we know those are mutations? Because the majority of the results from the other sons lines are all the same.  Therefore, we can utilize the DNA of the 6 different son's lines to determine the DNA of Abraham at each one of those different marker locations.  So, let's reconstruct Abraham's values for these markers.  Isn't this fun!!!
The green row at the bottom is reconstructed Abraham. We know the value of each marker based on the common values of his sons lines.  The only place the sons and their descendants could have gotten that DNA was from Abraham, the common ancestor of all of these 6 men.
So, with marker , all 6 sons lines have a value of 13, so Abraham had to have a value of 13 as well.
On marker 19 (), all the different sons lines, except one, Elisha, had a value of 14, so Abraham's value was 14 and Elisha's line in a generation someplace between Abraham and the current tester has developed the mutated value of
Line Marker Mutations
It's possible that some of these markers are known as or can function as "line marker" mutations – identifying specific son's lines. Let's say, for example, that a mutation occurred between Abraham and Moses at location such that Moses has a value of   That means that every one of Moses's sons would have had a value of 11 at , as opposed to the value of 12 present in Abraham's other sons at that marker.  Therefore, if someone tests who doesn't know which of Abraham's son they descend from, and they have a value of 11 at , I'd start by looking at Moses.  That isn't to say that same mutation couldn't have happened in another line too, but Moses is still a good place to begin since we know his line has 11 at
Of course the only way to learn that information about Moses, positively, is to find men who descend from each of his sons and recreate Moses in the same way we recreated Abraham.
What About False Paternity?
Let's say that an Estes male who had an undocumented adoption occur 3 or 4 generations upstream in his Estes line tests – and he is entirely unaware that an adoption happened. I define an undocumented adoption in this context, also known as a nonpaternal event (NPE) or false paternity, as any event that causes the surname of record to be different than the biological surname.  The biological surname is that of the man who contributed the Y DNA.  These events, although often thought of negatively are sometimes very positive and loving – such as adoption.  Of course, some are less positive, but one can't assume in either direction without evidence.  In my experience the most common historical reasons for a mismatch between surname and biology is that a child took his step-fathers surname or that the child was born out of wedlock and took their mothers surname.
Reasons for a mismatch between surname and biological paternal lineage can be:
Adoption (contemporary or historical)
Sperm donor
Stepson taking step-father's surname
Mother pregnant outside wedlock and child takes mother's surname
Name change
Accepted multiple intimate partners (think wife-swapping or polygamy)
Culturally ignored multiple intimate partners (think slavery)
Infidelity
Rape
Let's say in our example that our tester's ancestor was born to an Estes female out of wedlock.  The illegitimate child took the mother's Estes surname – but carries the Y chromosome of his father whose surname is not Estes. Today, several generations later, the tester carries the Estes surname handed down to him through several generations of Estes males, so his presumption, of course, is that he also carries the ancestral Estes Y DNA.  But he, ahem, doesn't.
His test results come back and the first clue is, of course, that he doesn't match any Estes men on his results page. He reaches out to me as the Estes project administrator, and I compare his results with Abraham to see how distant his results really are.  And the answer is….drum roll…pretty darned distant.  His results are shown in the row below green Abraham.
As you can see, when compared to reconstructed Abraham, it's quite obvious that the new Estes tester is biologically not an Estes on his Y DNA. In fact, he has a genetic distance of 7 out of 12 markers, so very clearly not a match.
How Many Mutations Is Too Many?
Family Tree DNA has set up Y DNA matching thresholds at levels that include relevant matches and exclude non-genealogically relevant matches.  For someone to be listed as your match, they need to have no more than the following total number of mutations difference from your results on any given panel.
Depending on where your mutations fall, in which panels, you can have too many mutations to match at 25 markers, for example, but match at 37 or 67 because more mutations are allowed, and your mutations just happened to fall in the first panel or two.
The number of mutations allowed is the same as genetic distance.
What is Genetic Distance?
You'll notice on the Y DNA matches page that the first column says "Genetic Distance."
Many people mistakenly assume that this is the number of generations to a common ancestor, but that is NOT AT ALL what genetic distance means.
Genetic distance is how many mutations difference the participant (you) has with that particular match. In other words, how many mismatches in your DNA compared with that persons DNA.  Looking at the example above, if this is your personal page, then you mismatch with Howard once, and Sam twice, etc.
Counting Genetic Distance
Genetic distance, however, can be counted in different ways, and Family Tree DNA utilizes a combination of two scientific methods to provide the most accurate results. Let's look at an example.
In the methodology known as the Step-Wise Mutation Model, each difference is counted as 1 step, because the mutation that caused the difference happened in one mutation event.
So, if marker has mutated from 12 to 13, the difference is 1, so there is one difference and if that is the only mutation between these two men, the total genetic distance would be 1.
However, if marker mutated from 24 to 26, the difference is 2, because those mutations most likely occurred in two different steps – in other words marker had a mutation two different times, perhaps once in each man's line.  Therefore, the total genetic distance for these two men, combining both markers and with all of their other markers matching, would be 3.
Easy right?  You know this is too easy!
Some markers don't play nice and tend to mutate more than one step at a time, sometimes creating additional marker locations as well.  Theyre kind of like a copy machine on steroids. These are known as multi-copy (or palindromic) markers and have more than one value listed for each marker.  In fact, marker typically has 4 different values shown, but can have several more.
The multiple mutations shown for those types of multi-copy markers tend to occur in one step, so they are counted as one event for that marker as a whole, no matter how much math difference is found between the values. This calculation method is called the Infinite Alleles Mutation Model.
Because marker is calculated using the infinite alleles model, even though there are two differences, the calculation only notes that there IS a difference, and counts that difference as having occurred in one step, counting only as 1 in genetic distance.
However, if one man also has one or more extra copies of the marker, shown below as e and f, that is counted as one additional genetic distance step, regardless of the number of additional copies of the marker, and regardless of the values of those copies.
With markers e and f, which person 2 carries and person 1 does not, the difference is 17 and the generational difference is 1, for each marker, but since the copy event likely happened at one time, it's considered a mutational difference or genetic distance of only 1, not 34 or 2. Therefore, in our example, the total genetic distance for these men is now 5, not 8 or
In our last example, a deletion has occurred, which sometimes happens at marker location When a deletion occurs, all of the DNA at that location is permanently deleted, or omitted, between father and son, and the value is 0.  Once gone, that DNA has no avenue to ever return, so forever more, the descendants of that man show a value of zero at marker
In this deletion example, even though the mathematical difference is 12, the event happened at once, so the genetic distance for a deletion is counted as 1. The total genetic distance for these two men now is 6.
In essence, the Total Genetic Distance is a mathematical calculation of how many times mutations happened between the lines of these two men since their common ancestor, whether that common ancestor is known or not. In fact, we use genetic distance as part of our calculations to attempt to discern when that common ancestor lived, if we don't know who he was.
One of the reasons that mutational difference (genetic distance) is important is because the TIP calculations utilize the number of mutation events, and the estimated time between mutation events, to determine the range of dates and confidence levels for the time to the most recent common ancestor (MRCA) calculations between any two matching men.
Please note that on July 26,  Family Tree DNA introduced changes in how the genetic distance is calculated for some markers to be less restrictive.  You can read about the changes here.
How Often Do Mutations Happen?
A very common question about STR mutations is "how often do mutations happen?"
A mutation can happen any time. I have seen 2 mutations between a confirmed father and son, and I have seen 8 generations elapse with no mutations.  So, in essence, mutations happen whenever they darned well feel like it.  In reality, the time between mutations varies widely, but we can calculate the average and utilize that number.
Family Tree DNA provides us with an estimation tool, called the TIP calculator. You can see the orange "TIP" icon listed with each match below.
You use the calculator to compare the results of any two men who match each other to estimate the probability of when they shared a common ancestor.
The TIP calculator estimates number of generations at various confidence levels between any 2 matching men. However, please keep in mind that the TIP calculator has to use statistical averages, which is equivalent to "one size fits all."  In truth, one size doesn't fit anyone particularly well, and some people not at all,  but it's the best we can do.
In this case, these two men being compared are 3 mutations different at markers, and they are proven genealogically to be generations apart, counting the parent as generation 1, and counting Abraham Estes as generation 8 for one man and 9 for the other.
So, you can see, at the 50th percentile, where statistically you are as likely to be incorrect in one direction as the other, the estimate is about generations.
The TIP calculator is sometimes very accurate, and sometimes not so much. It's a tool, not a crystal ball.  Don't we wish we had that crystal ball…oh yes…and a time machine too!!!
In Summary
Utilizing Y DNA to compare your family's Y DNA to others is a wonderful genealogical tool. DNA testing is becoming an expected part of the Genealogical Proof Standard, an integral part of a "reasonably exhaustive search."
You can prove, or disprove, your lineage. You can find your biologically accurate line.  You can combine the results of several descendants to recreate your ancestor, and then identify line marker mutations that will help other testers in the future identify their lineage.  You can test even further, if you want, and explore all of the possibilities of deep ancestry.
Furthermore, having reconstructed your ancestor, when you do finally hit that "Holy Grail" and a male who lives in the small village overseas where your ancestor originated tests his DNA – and matches your ancestral DNA values – you'll know that the match is genuine – and you can claim them as "yours."
Even though Y DNA testing can only be performed on males, because only males carry the Y chromosome, females can most certainly participate by recruiting appropriate males and sponsoring tests on their ancestral lines. Lack of a Y chromosome doesn't stop anyone, just maybe slows you down for just a tad!
Have fun, enjoy, test your Y DNA lines, contact your matches and make your ancestor come alive once again through the legacy of what your ancestor left to you…their, now your, DNA.
______________________________________________________________
Disclosure
I receive a small contribution when you click on some of the links to vendors in my articles. This does NOT increase the price you pay but helps me to keep the lights on and this informational blog free for everyone. Please click on the links in the articles or to the vendors below if you are purchasing products or DNA testing.
Thank you so much.
DNA Purchases and Free Transfers
Genealogy Services
Genealogy Research
This entry was posted in Y DNA and tagged Basic Education, Concepts by Roberta Estes. Bookmark the permalink. Sours: https://dna-explained.com//04/14/concepts-y-dna-matching-and-connecting-with-your-paternal-ancestor/
Dna matches y
Y chromosome DNA tests
A Y chromosome DNA test (Y-DNA test) is a genealogical DNA test which is used to explore a man's patrilineal or direct father's-line ancestry. The Y chromosome, like the patrilineal surname, passes down virtually unchanged from father to son. Every now and then occasional mistakes in the copying process occur, and these mutations can be used to estimate the time frame in which the two individuals share a most recent common ancestor or MRCA. If their test results are a perfect or nearly perfect match, they are related within a genealogical time frame. Each person can then look at the other's father-line information, typically the names of each patrilineal ancestor and his spouse, together with the dates and places of their marriage and of both spouses' births and deaths. The two matched persons may find a common ancestor or MRCA, as well as whatever information the other already has about their joint patriline or father's line prior to the MRCA. Y-DNA tests are typically co-ordinated in a surname DNA project. And each receives the other's contact information if the other chose to allow this.
Women who wish to determine their direct paternal DNA ancestry can ask their father, brother, paternal uncle, paternal grandfather, or a cousin who shares the same surname lineage (the same Y-DNA) to take a test for them.
What gets tested
Y-DNA testing involves looking at Y-STR segments of DNA on the Y chromosome. The STR segments which are examined are referred to as genetic markers and occur in what is considered non-coding DNA or "junk" DNA.
STR markers
See main article: Y-STR
A chromosome contains sequences of repeating nucleotides known as short tandem repeats (STRs). The number of repetitions varies from one person to another and a particular number of repetitions is known as an allele of the marker. An STR on the Y chromosome is designated by a DYS number (DNA Y-chromosome Segment number). The example below shows the allele of Skywalker's DYS marker is 12, also called the marker's "value". The value 12 means the DYS sequence of nucleotides is repeated 12 times—with a DNA sequence of (AGAT)12.
SNP markers
See main article: SNP testing
A single-nucleotide polymorphism (SNP) is a change to a single nucleotide in a DNA sequence. The relative mutation rate for an SNP is extremely low. This makes them ideal for marking the history of the human genetic tree. SNPs are named with a letter code and a number. The letter indicates the lab or research team that discovered the SNP. The number indicates the order in which it was discovered. For example M is the rd SNP documented by the Human Population Genetics Laboratory at Stanford University, which uses the letter M.
Understanding test results
Y-DNA tests generally examine STR markers on the Y chromosome, but hundreds of markers are available. STR test results provide the personal haplotype. SNP results indicate the haplogroup.
Haplotype
A Y-DNA haplotype is the numbered results of a genealogical Y-DNA test. Each allele value has a distinctive frequency within a population. For example, at DYS, the results will show 8, 9, 10, 11 or 12 repeats, with 11 being most common. For high marker tests the allele frequencies provide a signature for a surname lineage.
Kit
Surname
Haplo
3
9
3


3
9
0


1
9



3
9
1


3
8
5
a


3
8
5
b


4
2
6


3
8
8


4
3
9


3
8
9
-
1
3
9
2


3
8
9
-
2
4
5
8


4
5
9
a


4
5
9
b


4
5
5


4
5
4


4
4
7


4
3
7


4
4
8


4
4
9


4
6
4
a


4
6
4
b


4
6
4
c


4
6
4
d


Skywalker
Q
12
23
13
10
16
17
12
12
13
14
14
31
18
8
9
11
11
27
13
19
28
14
14
15
15
The test results are then compared to another project member's results to determine the time frame in which the two people shared a most recent common ancestor (MRCA). If the two tests match perfectly on 37 markers, there is a 50% probability that the MRCA was fewer than 2 to 3 generations ago, a 90% probability that the MRCA was fewer than 5 generations ago, and a 95% probability that the MRCA was fewer than 7 generations ago.
Kit
Surname
Haplo
3
9
3


3
9
0


1
9



3
9
1


3
8
5
a


3
8
5
b


4
2
6


3
8
8


4
3
9


3
8
9
-
1
3
9
2


3
8
9
-
2
4
5
8


4
5
9
a


4
5
9
b


4
5
5


4
5
4


4
4
7


4
3
7


4
4
8


4
4
9


4
6
4
a


4
6
4
b


4
6
4
c


4
6
4
d


Skywalker
Q
12
23
13
10
16
17
12
12
13
14
14
31
18
8
9
11
11
27
13
19
28
14
14
15
15
Skywalker
Q
12
23
13
10
16
17
12
12
13
14
14
31
18
8
9
11
11
27
13
19
28
14
14
15
15
STRs results may also indicate a probable haplogroup, though this can only be confirmed by specifically testing for that haplogroup's single-nucleotide polymorphisms (SNPs).
Articles
Exploring the Y Part 1 by Kelly Wheaton. Wheaton Surname Resources website.
Exploring the Y Part 2 by Kelly Wheaton. Wheaton Surname Resources website.
More with the Y by Kelly Wheaton. Wheaton Surname Resources website.
The future of Y-DNA testing is here by Kelly Wheaton. Wheaton Surname Resources website.
Y-DNA testing for genealogy by Rebekah Canada, Haplogroup blog
What will a Y-DNA test tell you? by Debbie Kennett, Who Do You Think You Are? Magazine,
Demystifying DNA 2: Y-DNA tests by Karen Cummings. Genealogical Ponderings 1 July
Using Y-DNA for genealogy by Debbie Parker Wayne. US National Genealogical Society NGS Magazine 40 (January-March ):
Should I upgrade my Y-DNA test to 67 or markers by Maurice Gleeson, DNA and Family Tree Research blog, 21 June
Getting the most out of your Y-DNA test by Maurice Gleeson, DNA and Family Tree Research blog, 1 April
DNA Y chromosome testing by John Blair, Blair Genealogy website, 12 July (last updated on 17 January ).
Understanding Y-DNA genealogical DNA testing by Steve Handy, DNA Genealogical Experiences and Tutorials blog, 3 November
DNA testing for genealogy - Getting started, Part One: Y-DNA testing by CeCe Moore, Geni.com blog post, 18 July
Understanding your Y-DNA matches at Family Tree DNA. World Families tutorial, 28 May
Is the answer in your genes? by Debbie Kennett, an expanded version of an article first published in the Berkshire Family Historian, September (Volume 33), pp
Whose Y to use? Paternal ancestry for ladies 23andMe blog, 7 May
Why Y? The Y chromosome in the study of human evolution, migration and prehistory by Neil Bradman and Mark Thomas. Science Spectra , Number
Signature marker values - what they are and how to use them by Diana Gale Matthiesen
The role of inbetweeners in the analysis of Y-DNA test results by Diana Gale Matthiesen
FTDNA resources
Y-DNA resources
Examples
Specific examples of the application of Y-DNA testing using the case of Thomas Jefferson and results from the the Spearin Surname Project can be seen in this video presentation by Maurice Gleeson:
See also
Licence
This article is licensed under the GNU Free Documentation Licence. It incorporates material from the Wikipedia article "Genealogical DNA test".
Sours: https://isogg.org/wiki/Y_chromosome_DNA_tests
Y DNA for Genealogists - Paul Dunn
Match
In genetic genealogy a match is considered to exist when a comparison of the DNA test results of two persons suggests there is a high probability of them sharing a common genetic ancestor within a relevant period of time. The testing companies each set their own criteria to determine what constitutes a match, and the criteria vary depending on the type of test taken (Y chromosome DNA test, mitochondrial DNA test or autosomal DNA test).
Match notifications
At Family Tree DNA matching preferences can be adjusted on the My Privacy and Sharing Page.
Notifications about new matches can be set on the My Notifications Preference Page.
Y-STR matches
On the personal page of each testee Family Tree DNA list the Y chromosome DNA matches of that individual with other individuals in their database. The settings can be adjusted to show matches within the entire database or matches within the various projects that the individual has joined.
The minimum matching threshold at each testing level is as follows:
12/12 (0 steps) (testees are also notified of 11/12 matches within their projects)
23/25 (2 steps)
33/37 (4 steps)
60/67 (7 steps)
/ (10 steps)[1][2]
Only those people who have signed the FTDNA release form will appear in the match lists. The number of people who have not signed the release form is not known but is likely to be only a very small percentage of the database.
ISOGG surname project administrators have reported the minimum and maximum number of matches of individuals with other individuals in FTDNA's entire database as of October as follows:
| Number of markers | Minimum number of matches | Maximum number of matches |
| --- | --- | --- |
| 12 | 0 | |
| 25 | 0 | |
| 37 | 0 | |
| 67 | 0 | |
| | 0 | 99 |
The number of matches an individual may have depends on two factors:

1. The number of individuals tested. Many more testees have tested to 12 markers than to ; the number of testees in FTDNA's entire Y-DNA database is very much more than than is found in any one of the nearly 8, surname projects that FTDNA host. (By June , there were over half a million Y-DNA test results in the FTDNA database.) In addition, the number of testees in each project, and in the entire database, and hence the number of matches, are all growing continually.
2. The populations in the FTDNA database. The FTDNA database predominantly consists of testees of European origin, with Americans forming the largest grouping. Testees from under-represented populations (eg, Asians and Africans) are more likely to have fewer matches.
3. The rarity of the individual's haplotype. Some testees with particularly rare haplotypes will have no matches at all at any resolution level. It is estimated that less than 5% of those who have tested at FTDNA are in this situation. At the other extreme people can sometimes have thousands of matches. This usually happens when a person matches the the Irish Modal Haplotype (the signature which generates a "Niall of the Nine Hostages" badge) or the Western Atlantic Modal Haplotype.[3][4] Most people will have a much more manageable number of matches.
Ralph Taylor has written a detailed article Measuring haplotype rarity in which he attempts to quantify the commonness and rarity of Y-STR haplotypes.
FTDNA Learning Center articles
Further reading
Scientific papers
Autosomal DNA matches
See main article: Autosomal DNA match thresholds
Each company sets their own autosomal DNA match thresholds. These criteria must be met before the company will report that two individuals very likely inherited their half-identical matching segments from a recent common ancestor.
mtDNA matches
See also
References
Sours: https://isogg.org/wiki/Match
Now discussing:
Test your Y-DNA and explore
your paternal lineage.
Connect with your Y-DNA relatives and
trace your paternal line's ancestry.
A test for biological males, Y-DNA is used to help answer questions about relatedness on the paternal male line.
Y
ONLY$USD
Examines 37 short tandem repeats (STRs) on
the Y chromosome
Add to cart
Y
ONLY$USD
Examines short tandem repeats (STRs) on
the Y chromosome
Add to cart
Big Y*
ONLY$USD
Examines short tandem repeats and over K SNPs on the Y chromosome
Add to cart
Compare Y-DNA tests
WHY Y-DNA?
Y-DNA is passed down from father to son
Biological males can have their Y-DNA tested. Y-DNA testing can help you discover and verify your direct paternal ancestry by connecting you with other individuals who are descendants of a shared common patrilineal ancestor.
CONNECT WITH Y-DNA RELATIVES
Join the world's largest database of Y-DNA testers
Your Y-DNA matches will share a common ancestor with you on your direct paternal line. That common ancestor can be recent (meaning within a generation or two) or more distant (living up to around 1, years ago). The tools and data gained through a Y-DNA test can help you learn more about your patrilineal family history.
Connect with matches to discover your shared patrilineal ancestry.

View and explore your Y-DNA matches' Family Trees.

Discover new patrilineal ancestors.
DISCOVER YOUR Y-DNA HAPLOGROUP
Follow the path of your direct male ancestors
Males can use Y-DNA to determine where their direct paternal ancestors came from, their locations in historic times, and how they migrated throughout the world.
Discover your patrilineal ancestors' ancient migration path out of, or across, Africa.

Find your placement on the world's largest Y-DNA Haplotree.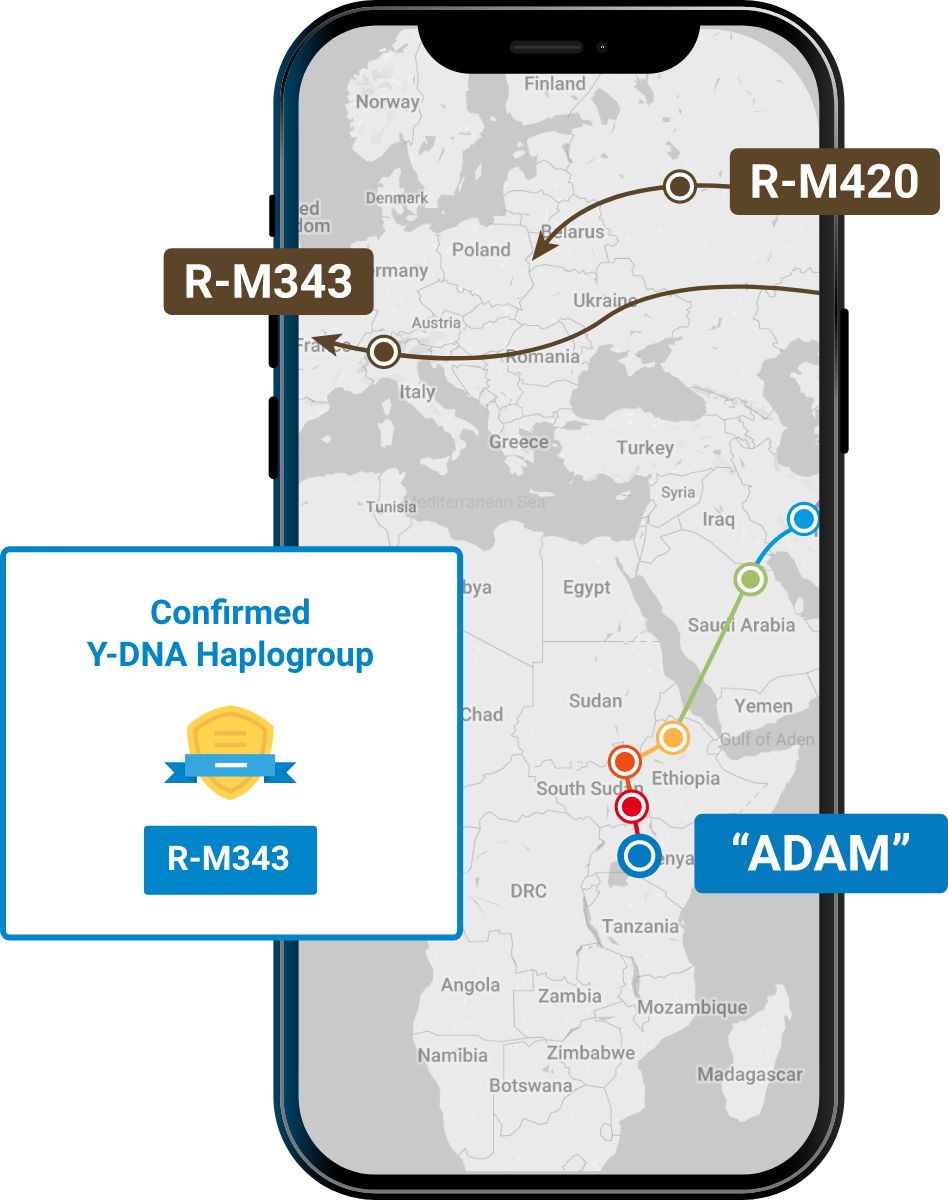 Y-DNA Tests
Our biological male-specific Y-DNA tests check for specific markers on the Y chromosome.
STR Testing
STR download available as a CSV.
Tests STR markers (37 markers plus an additional 74)
Tests STR markers ( markers plus an additional + markers)
Y-DNA Matches / Relatives
Compares 37 STR markers between you and your matches.
Compares STR markers between you and your matches.
Includes SNP matches. With SNP matching, you can compare where you and other families fit on the family tree of mankind.
+ bonus STR markers are not used for matching purposes
SNP Testing
SNP download as a CSV and VCF included.
Confirms your haplogroup and defines your placement on the family tree of mankind.
Sequences K+ known SNPs on the Y chromosome to help you identify your family's unique Y-chromosome mutations.
Deep Patrilineal Ancestry
Predicted haplogroup (distant)
Confirmed haplogroup (more recent)
Updates over time as more evidence is available.
Compare matches and origins on the Big Y block tree.
FREQUENTLY ASKED QUESTIONS
Have questions? We have answers.
Here are the most frequently asked questions about FamilyTreeDNA. If you have additional questions, feel free to visit our Help Center or reach out to our Customer Service team.
Which test should I buy?
If you are looking to begin Y-DNA testing, the Y Marker test allows you to become familiar with Y-DNA results. The Y test is the most beneficial for joining our free Group Projects or for those looking to confirm Y-chromosome matching between two living men. The Big Y is for explorer users, it provides over K SNPs and additional STRs. If you're looking to find your placement on the Y-DNA Haplotree, then the Big Y is the test you will need to purchase.
Each of the Y-DNA levels we offer will test different amounts of the Y chromosome. The more of the Y chromosome that is tested, the more closely related we can tell if someone is to you.
Out of the three levels that we offer, the Y tests the fewest STRs, and so through analysis of your matches, you can only know you share a common patrilineal ancestor within several hundred years for certain.
The Y provides more STR results for a higher-resolution comparison and includes the Y test, so through analysis of your matches you can determine a better timeframe of when your common patrilineal ancestor lived.
The Big Y looks at everything that is genealogically relevant on the Y chromosome, so you'll receive everything that you would with the Y and the Y, plus additional results that allow us to provide more analysis and help you refine even further to determine the best timeframe for when your common patrilineal ancestor lived as well as find your best placement on the world's largest Y-DNA haplotree.
What is Y-DNA?
Y-DNA is what we call the sex chromosome "Y" that is passed from a father to his sons only, women do not receive a Y chromosome. Testing the Y chromosome allows for investigation into a male's paternal family line and can help identify surname lines, living relatives whose Y chromosome is similar to yours, and ancient migration routes your paternal ancestors may have taken.
What is a Haplogroup?
Every male individual who takes one of our Y-DNA tests will also receive their Y-DNA haplogroup. When humans left Africa tens of thousands of years ago, they departed in small groups that migrated into different parts of the world. Over many generations, each group developed distinct mutations allowing us to identify one from the other. We call these groups of mutations haplogroups, and they can tell us which migratory routes our paternal ancestors traveled.
What does SNP stand for?
Single nucleotide polymorphisms, frequently called SNPs (pronounced "snips"), are the most common type of genetic variations. Each SNP is a mutation or new branch on the tree. The number of SNPs on which people match within a database can be used to tell how closely related they are.
What is a Marker or STR?
A marker is what we test in our basic Y-DNA tests. These markers are also referred to as STRs (Short Tandem Repeats) which are a series of repeating nucleotides (A, T, G, C). For example: GACTACTACTACTGG - the STR consists of the three repeated CTA segments. Y-DNA tests look for matching markers or "STRs" between two men, if they match, which would indicate a genetic relationship.
Will I only match people who share the same surname as me?
Nearly % of Y-DNA testers are able to find a match that shares a common surname with them with some specific exceptions.
If your direct paternal line is from a society or culture that did not adopt surnames until recently or from a society that used patronymic surnames that changed every generation, you may see many surnames on your match list.
Many countries and regions did not officially adopt standard surnames as we think of them today until the s, s, and even the s in some cases.
If your matches share a common ancestor with you before the time when surnames were established in your ancestral location, then you may have multiple different surnames on your match list.
There are various different cultural practices that may have existed prior to the standardization of surnames. A last name may have been based on an occupation, patronymics, or on a location where your ancestors lived. A last name may have been taken because your ancestors were part of a specific clan, even though not all men were directly related on the paternal line.
You may also have situations where a different surname than you expected shows up repeatedly in your matches list. This may be because of an undocumented name change or an out-of-wedlock birth somewhere in your direct paternal line.
This rarely means that through the test you discovered that you are adopted and that your birth father is not who you thought he was. The vast majority of the time, this is going to be a situation that is much further back in time.
Every now and then, there are no or very few testers in the database who share your direct paternal line. This is either because few people from your ancestral location or line have tested or because there are not many people available to test on your direct line in general.
The Y-DNA test results will typically provide you with fewer matches than a test like the Family Finder. The Family Finder is looking at all of your ancestral lines. The Y-DNA is focusing on just one of those lines. If your direct paternal line does not have many descendants, or if it was decimated through an event such as the Holocaust or the Armenian Genocide, then you may have limited matches.
Your match list will typically grow over time. As more people test, more people will match you and be added to your list. We'll send you a notification when this happens. There are many other historical and cultural reasons why you may not share the same surname with all of your Y-DNA matches. Joining surname, geographical, and the appropriate haplogroup Group Projects, as well as reaching out to your matches, can help you uncover your connections.
Sours: https://www.familytreedna.com/products/y-dna
242
243
244
245
246