5 Secret Abandoned Places to Explore In Pennsylvania
Michael Schwarz
Follow me on IG: @mikeschwarzthekid
5. Williams Grove Amusement Park
Williams Grove - Cumberland County, Pennsylvania
Opened: 1850

Closed: 2005

Status: Abandoned



Background: The park operated from 1850 until 2005. The Williams family began hosting picnics in 1850 at a small grove located in the village of Williams Grove outside Mechanicsburg, Pennsylvania. Within a few years, the grove was developed into a park. Two decades later, the park became the Mechanicsburg Fairgrounds. After World War I, the park's ownership changed hands several times. The first rides appeared at the park in 1928. The adjacent Williams Grove Speedway half-mile track opened in 1938.[1]

An entrepreneur named Morgan Hughes purchased the park in 1972 for $1.2 million. Several rides were relocated to Williams Grove from the defunct New Jersey Palisades Amusement Park, which closed in 1972. Williams Grove Park was nearly destroyed in the summer of the same year due to Hurricane Agnes, and subsequent flooding from nearby Yellow Breeches Creek. The park was rebuilt and operated through the end of the 2005 season, when the Hughes family decided to focus all of their energies on the Williams Grove Speedway. Hughes, who was in his mid-80s when the park closed, attempted to sell the property in 2006 to a prospective owner who would keep the park intact and operational, but was unable to find a buyer. Several rides were auctioned off the same year. Hughes died in his sleep at his Pennsylvania home on April 12, 2008 at age 88. - Wikipedia Excerpt

Why Visit?: Awesome relic of small-town America. The coaster is in great shape - go while the sun is setting for good light/less risk.



Security Level: High - there are dogs, fences, and a security guard (although I never saw the guard). Park in the trailer park behind the roller coaster and walk through the woods.
4. Lincoln Way
Location: Clairton, PA
Opened: Lincoln Way was home to a vibrant community dating back to the early 1900's

Closed: The last home was vacated in 2012

Initially housing workers from a nearby factory, Lincoln Way faced it's demise after the factory closed, and most of its residents died off. The value of the properties continued to decline, and eventually the entire neighborhood was left abandoned. The entire street was leveled in a redevelopment project in 2018.

Status: Demolished
3. Penn Hills Resort
Location: Clairton, PA
Opened: Lincoln Way was home to a vibrant community dating back to the early 1900's

Closed: The last home was vacated in 2012

Status: Standing

Background: Founded as a tavern in 1944, Penn Hills expanded to over a hundred rooms.[1]

Penn Hills Resort, bubble bath, circa 1970'sView of the Penn Hills Resort pool, shaped like a wedding bell, suffering neglect after the resort was abandoned. August, 2012[2] The 500-acre Penn Hills grew in the 1960s to include a ski resort and a golf course. Guest villas featured floor-to-ceiling carpeting, round beds, and heart-shaped bathtubs.[3] Distinctive, modernist streetlights from the 1964 World's Fair were installed, as well as an ice rink and a wedding bell shaped outdoor swimming pool.[4]

In 2009, Penn Hills co-founder Frances Paolillo died at the age of 102 and the resort closed less than two months later. Monroe County took over the property in lieu of back taxes.[1] Workers' final paychecks were never issued, and the resort owed the county over $1 million in back taxes.[7] Already in serious disrepair, flooding and copper thieves damaged the buildings further, and the resort was abandoned.[8]

By 2012, Monroe County had sold several small parcels of Penn Hills. However, most of the resort remained unsold.[9] A portion of the resort became the Forever green park.[10]

In January 2016, a group of New York investors purchased what remained of Penn Hills for $400,000. As of May 2016, they were still determining how best to develop the property. - Wiki Excerpt

Why Visit?: An absolutely massive property with at least a full 3 hours of risk-free exploring. Everything was left intact including the heart shaped bath tubs, furniture, TVs, marketing material, etc. A relic of prosperity in the Poconos - resorts like this don't really exist anymore. Of the many left abandoned, Penn Hills is perhaps in the best shape/provides the most to explore.



Security Level: Minimal - most of the buildings are wide open, and there is no security on site. There is a main road cutting through the center of the resort - so watch out for cops passing by.
2. Hall Mansion
Location: Clairton, PA
Opened: Lincoln Way was home to a vibrant community dating back to the early 1900's

Closed: The last home was vacated in 2012

Status: Standing


Background: Built by former Silver Spring Twp. businessman John P. Hall in 1981 for 2 million - complete with a 16-story observation tower, 8 bedrooms, 8 bathrooms, 2 kitchens, a game room, racquetball and squash courts, a 25-car garage and a bomb shelter. It also includes 17 fireplaces; a coal, oil and solar heating system; and an electric-generating plant. Hall abandoned construction on the property in 1993 due to bankruptcy proceedings. He was later sentenced to two years in federal prison after being found guilty on several counts of bankruptcy fraud, wire fraud and concealing foreign assets from creditors.

Why Visit?: Outside of the unique architecture, insane background story, and elaborate property layout - this location also happens to be less than a mile from the main highway (which you will likely already be traveling on to get through Pennsyltucky).


Security Level: Low - there is no security on site, although there are reports online of police patrolling the area. I've been twice, and parked on the road right next to the gate both times. Once you pass the gate, walk back on the gravel road (probably about a half mile) until you see the tower. Be sure to check out the smaller abandoned house off to the right of the road walking towards the main house.
1. Undisclosed Location - Pittsburgh, PA
Status: Standing

Why Visit?: If you know how to find it, this is one of Pittsburgh's best abandoned spots to explore. Incredible architecture, beautiful views, and a massive property to explore with no security risk. This is a low-key spot - please keep it that way :)

Security Level: Low - there is no security on site. This location was being turned into apartments last time I checked, but construction has not started (and I'm not sure it ever will). Last time I was in there I met the property manager, but he was super chill, and let me hanf around to take photos. This property is in the city, so be sure to watch out for the random cop passing by. Enter from the back of the building. Park anywhere on the street below.
Sours: https://mschwarzphoto.com/blog-1/2019/12/4/top-5-abandoned-places-to-explore-near-pittsburgh
We Dare You To Take This Road Trip To Some Of Pittsburgh's Most Creepy Abandoned Places
Posted in Pittsburgh June 01, 2020by Beth Price-Williams
When's the last time you hit the road on a good, old-fashioned road trip? Well, there's never a better time than the present, especially if it's been far too long. Today, we'll hit the highway on a road trip to the most abandoned places in Pittsburgh. A few of the places might leave you in awe while others might give you goosebumps. Whatever your reaction, have fun!
Click here for the Google Map for this road trip.
During these uncertain times, please keep safety in mind and consider adding destinations to your bucket list to visit at a later date.
What other abandoned places in Pittsburgh would you add to this road trip? Let us know in the comments! If you're a nature lover, you just might want to check out this ultimate nature bucket list in Pittsburgh.
Address: Rankin, PA 15104, USA
Address: Watkins Rd Trail, Pittsburgh, PA 15216, USA
Address: Piney Fork Rd, South Park Township, PA 15129, USA
Address: 209 5th Ave, Brownsville, PA 15417, USA
Address: Abandoned Pennsylvania Turnpike, Breezewood, PA 15533, USA
Sours: https://www.onlyinyourstate.com/pennsylvania/pittsburgh/abandoned-places-road-trip-pgh/
These 9 Abandoned Places In Pittsburgh Are Absolutely Haunting
Posted in Pittsburgh October 06, 2016by Beth Price-Williams
Alongside the Pittsburgh landscape of modern and historic buildings sit abandoned spots – a former elementary school, a once popular church, and an allegedly haunted tunnel. These abandoned places in Pittsburgh, although neglected and decaying, give a glimpse into their once vibrant pasts.
During these uncertain times, please keep safety in mind and consider adding destinations to your bucket list to visit at a later date.
These are among the most hauntingly beautiful abandoned places in Pittsburgh that gives visitors a peek into now-forgotten pieces of history.
Sours: https://www.onlyinyourstate.com/pennsylvania/pittsburgh/abandoned-places-pittsburgh/
Factory and Tunnel Left Abandoned In Pittsburgh,PA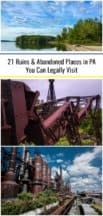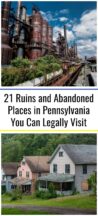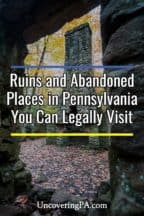 Disclosure: This article may contain affiliate links. We will make a small commission from these links if you order something at no additional cost to you.
Throughout Pennsylvania, there are many historic ruins and abandoned places that remind us of our past. While many of these are on private property and sadly illegal to visit, others are open for the curious to either explore on their own or to take a guided tour through.
Here are a few of my favorite ruins and abandoned places in Pennsylvania you can legally visit.
(Note: While to the best of our knowledge you can legally these abandoned places at the time of publication, access can always change. Make sure to obey any signage you might see, and obtain owner permission or pay the admission fees where required.)
Eastern State Penitentiary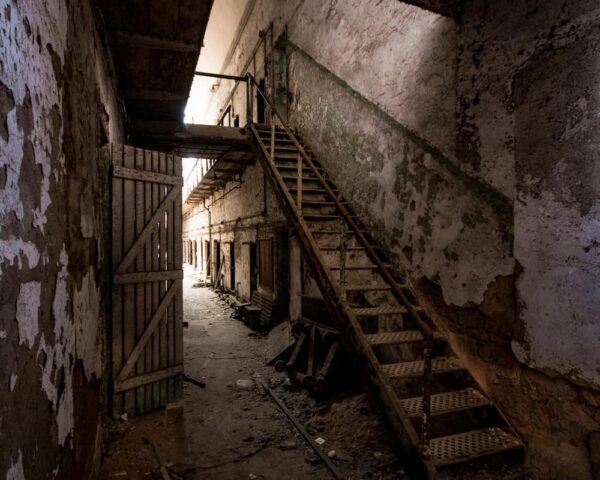 Opened as a state-of-the-art prison in 1829, Eastern State Penitentiary in Philadelphia was the model for many future correctional facilities. The penitentiary was open until 1970 when it was closed in favor of more modern facilities. For the next two decades, the prison set abandoned until it was opened for limited tours in 1988.
Since then, while portions of Eastern State Penitentiary have been cleaned up, the site is managed as a preserved ruin and is a fascinating place to explore.
Abandoned Pennsylvania Turnpike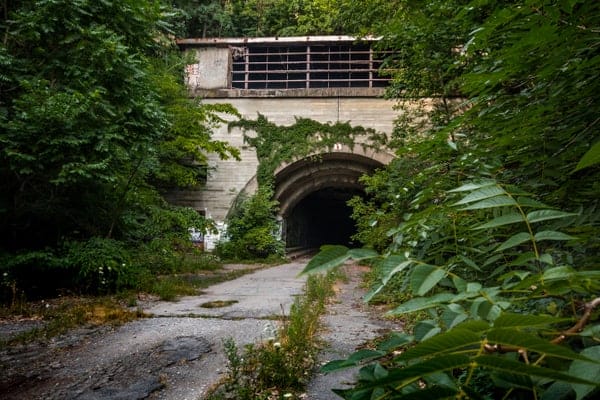 The Abandoned Pennsylvania Turnpike is a 13 mile stretch of roadway that was part of the original alignment of the PA Turnpike. However, when traffic necessitated upgrades to the roadway, this section of road and its two tunnels were bypassed.
Today, visitors can walk or bike this section of roadway, passing through the two mile-long tunnels and exploring this post-apocalyptic site that is one of my favorite abandoned places in Pennsylvania. There are two access points for the turnpike: one near Breezewood and one in Fulton County.
Carrie Furnace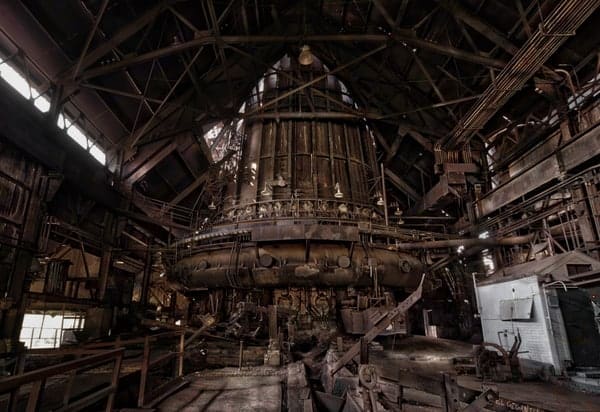 Carrie Furnace in Pittsburgh is nearly all that remains of the once massive Homestead Steel Works on the banks of the Monongahela River. Built in 1907, the two blast furnaces here were in nearly continuous operation until 1978.
In 2010, the furnaces were opened for tours and offer a gritty look into how steel was made. This is a fantastic spot for both history buffs and photographers to tour.
Austin Dam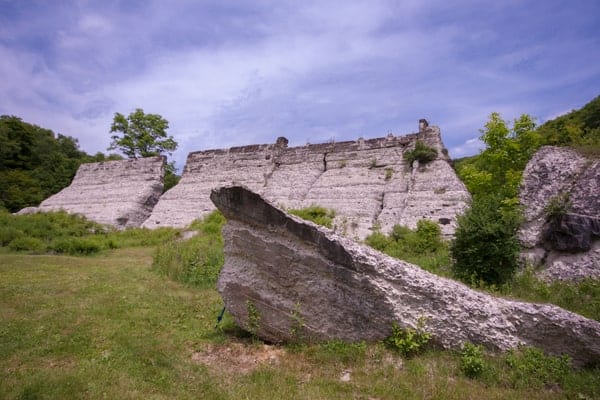 Austin Dam is located in rural Potter County, Pennsylvania. In 1911, the dam failed and the ensuing flood of water killed 78 people. The dam was later rebuilt, but failed again in 1942. Fortunately this time, no one was killed. After this second failure, Austin Dam was abandoned and left to crumble.
Today, visitors can walk through the surrounding park, marvel at the size of Austin Dam and its crumbling ruins, and pay their respects to those killed here.
Jet Bunkers in the Quehanna Wild Area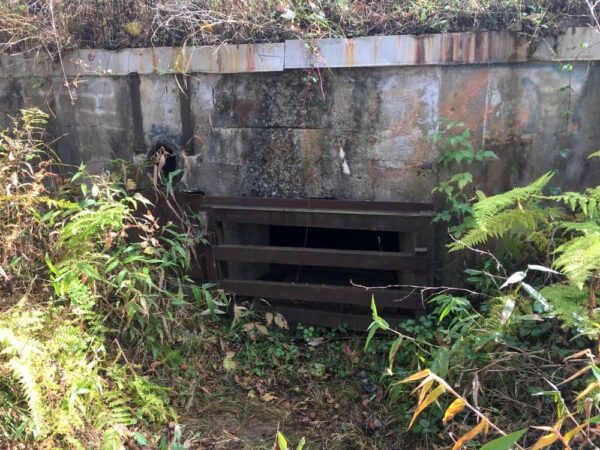 One of the least known places on this list are the jet bunkers in the Quehanna Wild Area. In the 1950s, the Curtiss-Wright Corporation obtained 51,000 acres of land in this remote area of Pennsylvania. They promptly fenced it off and built a nuclear reactor and several bunkers. These bunkers were used to test nuclear-powered jet engines as part of the government's Atoms for Peace program.
While the nuclear reactor was dismantled decades ago, the bunkers remain buried underground. While access is not permitted, it's still possible to see the remnants of the bunkers from above ground and to peer into a few holes to catch a glimpse of these historic structures.
Nearby, you can also explore the ruins of Kunes Camp.
Centralia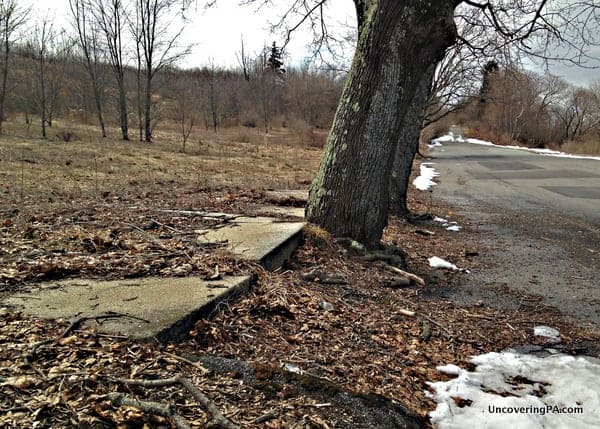 Centralia is possibly the most famous abandoned town in PA. The seam below this coal region town caught on fire in the early 1960s, which marked the beginning of the end for the community.
Today, this once-bustling borough is reduced to fewer than 10 residents. While most of the buildings have been torn down, it's still fascinating to drive around the old streets and see the curbs, gutters, and stone steps that are surrounded by fields of forested land.
The most popular spot at Centralia was Graffiti Highway, but this spot was sadly destroyed recently by the property owner. Despite this, driving on the public roads through town, however, is still fascinating.
Mount Moriah Cemetery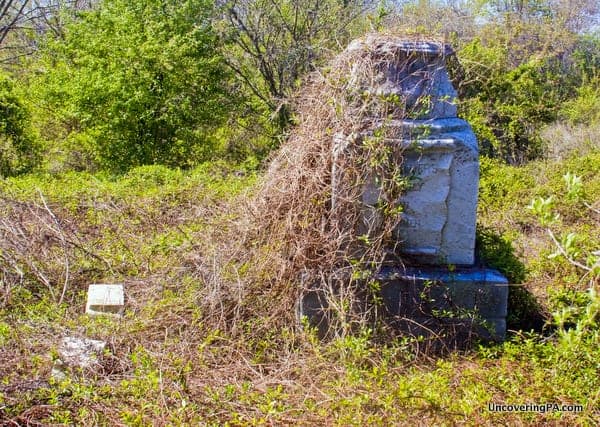 Philadelphia's Mount Moriah Cemetery is one of the largest cemeteries in the country and the final resting place of up to 300,000 people. Sadly, years of neglect left this cemetery, which was first opened in 1855 and was once the site of Betsy Ross' grave, overgrown and nearly unvisitable.
Fortunately, thanks to a group of dedicated volunteers, Mount Moriah Cemetery is returning to its former glory. However, for those interested in abandoned places in Pennsylvania, Mount Moriah Cemetery still has corners that are quite overgrown.
Kinzua Bridge
When it was completed in 1882, the Kinzua Bridge was the largest and tallest bridge in the world. For over 100 years, trains used this viaduct to cross the valley more than 300 feet below. However, during repairs in 2003, a tornado swept through the valley. When it left, 60% of the bridge lay mangled on the valley floor.
Today, the bridge is the central point of Kinzua Bridge State Park. Visitors can walk out onto the remains of the bridge or walk to the valley floor for a close up look at the bridge's remains, which still lay where they fell.
Lackawanna Coal Mine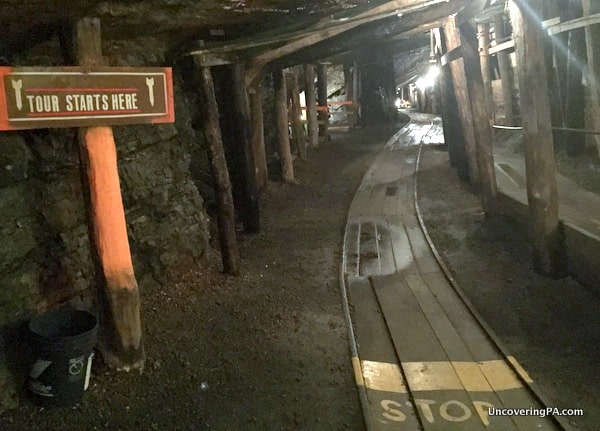 Northeastern Pennsylvania has a rich anthracite coal mining history, and nowhere is that better seen than on a tour of the Lackawanna Coal Mine in Scranton. This mine opened in 1860 and was actively mined until 1966.
After being closed, the mine was abandoned for two decades before it was open for tours in 1985. Today, visitors can go deep underground to see this once-active mine and learn more about coal mining.
SCI Cresson and the Cresson Sanatorium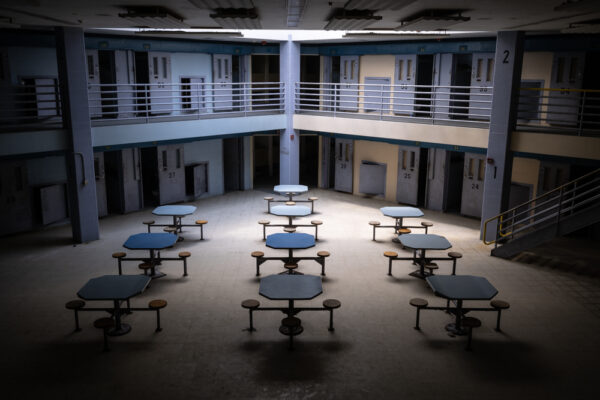 Located in Cresson, PA, just a few miles from Altoona, you'll find the abandoned SCI Cresson.
This site has a 100-year history as a tuberculosis sanatorium, a mental hospital, and a modern prison, meaning that you can explore everything from an old psychiatric ward to modern cell blocks. Without a doubt, this site is easily one of the largest abandoned places in Pennsylvania and one of the most varied.
Camp Michaux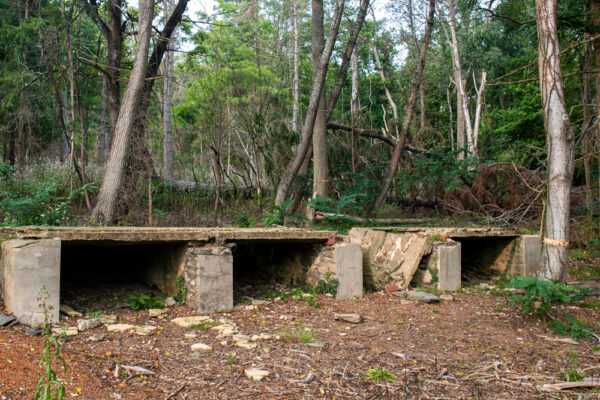 Located in Michaux State Forest, Camp Michaux is a former prison-of-war camp from World War II. Known as Pine Grove Furnace Prisoner of War Interrogation Camp, German and Japanese officers were brought here after being capture and interrogated. After the war, it became a church camp until the early 1970s.
Since then, it's been hidden away in the woods of this state forest. While little remains of the structures, it's a fascinating spot for history lovers looking for great abandoned sites in Pennsylvania.
Oil Creek State Park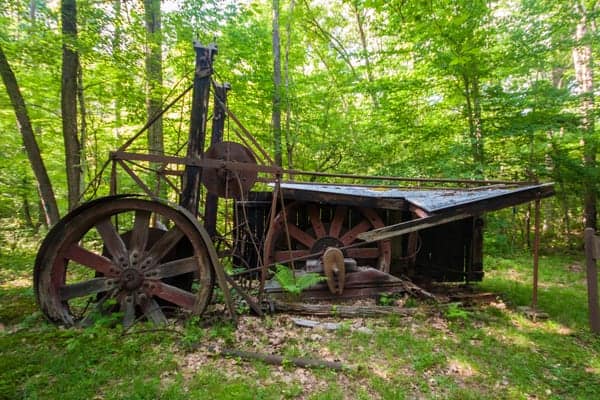 Oil Creek State Park is known as the "Valley that Changed the World" and was the site of the world's first commercial oil well. In the late 1800s, the area around Oil Creek was home to tens of thousands of prospectors hoping to strike it rich. While the industry is (mostly) long gone and natural beauty has once again returned to the park, there are still points of interest for those those that love abandoned spots.
Near the park office once stood the community of Petroleum Centre, though all that remains are a set of steps that once led to the bank. Other points of interest are scattered throughout the park, and it's nearly impossible to hike a trail without seeing old, rusting oil equipment sitting in the forest.
Concrete City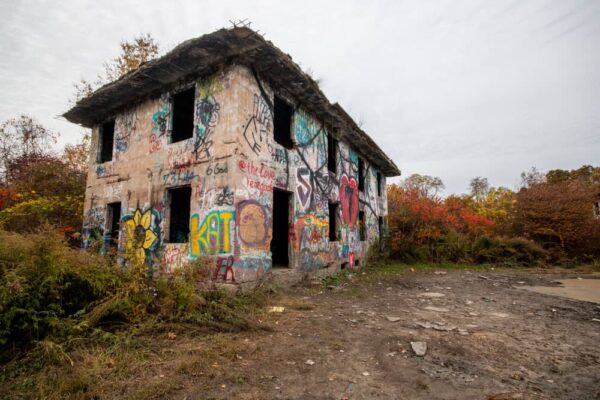 Concrete City is located in Luzerne County near Nanticoke and was once company housing for select employees that worked at the nearby Truesdale Colliery. It opened in 1911 with 20 duplex homes.
By all accounts, this was a pleasant and desirable community to live in, though it was short-lived due to plumping and other issues. By 1924, the community was abandoned.
It would have been torn down then, but the concrete used to build the homes ended up being too difficult for even dynamite to destroy.
Today, the homes sit hidden in the woods on land owned by the city. It's amazing to tour the homes and think about what it would have been like to have lived in this community.
When visiting, make sure to be respectful as this is a historic site and attempts are being made to preserve it.
Coplay Kilns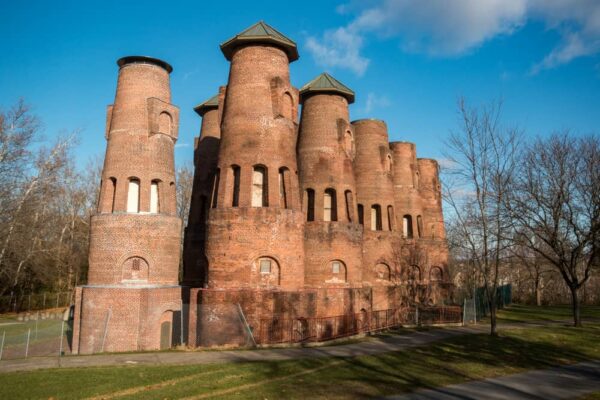 The Coplay Kilns are nine kilns that are the remnants of a large cement factory that was located on the outskirts of town. The Coplay Cement Company built the kilns in the early 1890s, and they were in use until 1904.
Today, the kilns sit in the middle of a park in Lehigh County, Pennsylvania. While access to the kilns is limited by a fence, it's still fun to walk around them and look at these beautiful ruins.
Bunkers of Alvira
Located on state game lands a short distance south of Williamsport are the Alvira Bunkers. These bunkers were built to house explosive munitions as part of the Susquehanna Ordnance Depot. The depot was built on land that was once the town of Alvira before it was seized by the government for the depot.
Today, the bunkers are overgrown and hidden away in the woods of State Game Lands 252. While many are welded shut, a few are open. If you opt to go in, use extreme caution as there's no telling what else might be inside.
Yellow Dog Village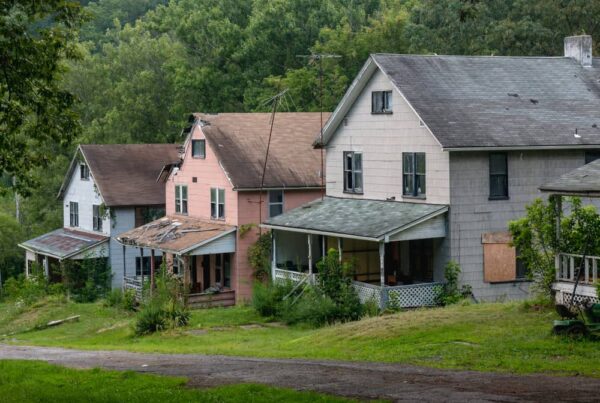 Yellow Dog Village is a former company town in Armstrong County, Pennsylvania. The buildings were built in the 1920s and 1930s for workers at the nearby limestone mine. The homes were lived in continuously until just a few years ago.
Sadly, the homes were left abandoned for over a decade and are now in a state of disrepair. Fortunately, however, the current owner is trying to refurbish the homes and turn them into a period homestay. While the property is typically closed to the public, the owner often lets visitors roam around with prior permission.
Bethlehem Steel Stacks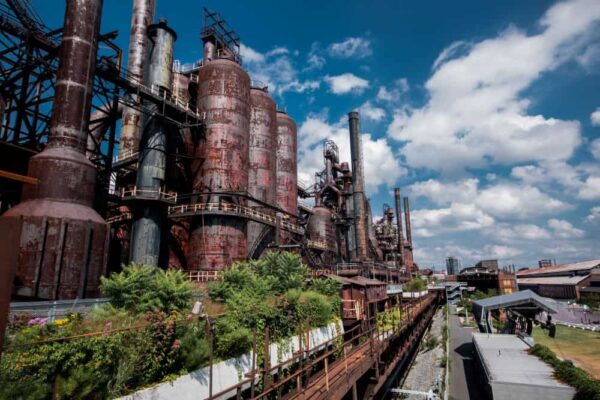 The Bethlehem Steel Stacks in the Lehigh Valley are one of the most impressive abandoned places in Pennsylvania. Constructed in 1915, this series of five blast furnaces was part of the large steel mill here in Bethlehem. After being closed in 1995, the Steel Stacks were abandoned for many years.
Today, they are part of an entertainment complex, but still provide a lot of interest for lovers of abandoned industrial sites. While you can't go into the furnaces, an elevated walkway allows visitors to get a close up look at these blast furnaces and peer inside their rusty confines.
Hunting Lodge in Linn Run State Park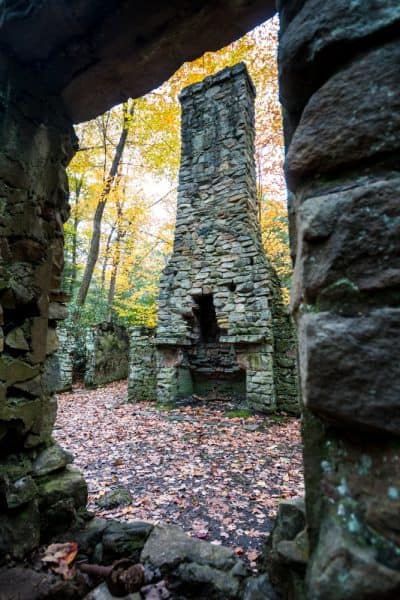 Located in southwestern Pennsylvania, Linn Run State Park is home to the beautiful ruins of a hunting lodge. To be honest, very little is known about the origins of this ruin, but it's still a lot of fun to explore the stone shell of this building.
Reaching the lodge is quite easy along the Flat Rock Trail, which offers a lot of beauty in addition to this abandoned site.
Colonial Springs Bottling Plant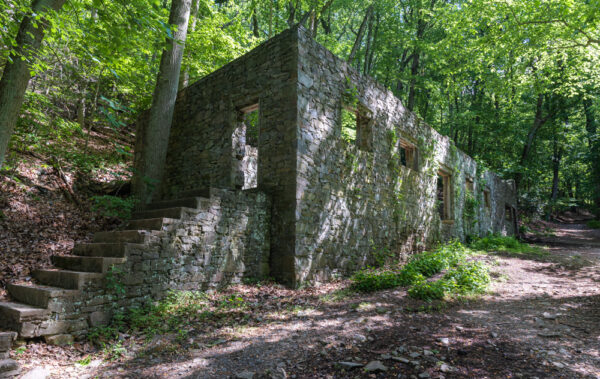 Hidden deep in the woods of Valley Forge National Historical Park near Philadelphia, you'll find the ruins of an early 20th-century bottling plant.
The ruins of the Colonial Springs Bottling Plant are located along the Mount Misery Trails in the little-visited western side of the park. Springwater still runs through this building, creating one of the most unique abandoned places in PA.
While hiking the trails here, don't miss the nearby historic dam and covered bridge along Valley Creek.
Rockland Furnace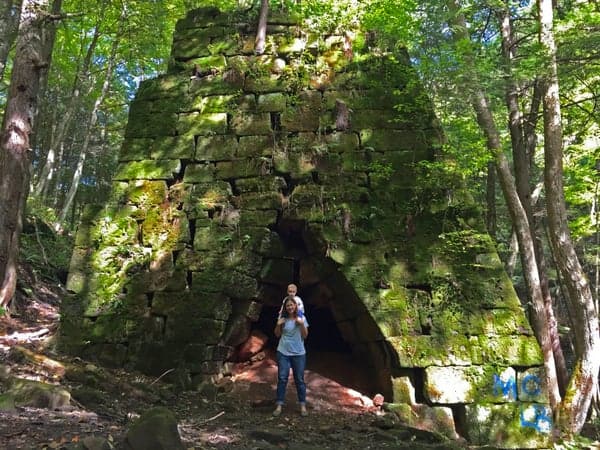 Pennsylvania has dozens of historic iron furnaces. However, few have been left alone in the middle of nature like Rockland Furnace. Located in Venango County, the furnace sits about a hundred yards downstream of Freedom Falls.
Rockland Furnace dates to 1832 and was in operation until 1854. Today, it sits abandoned in the woods just waiting for people to come and explore it.
Pioneer Tunnel Coal Mine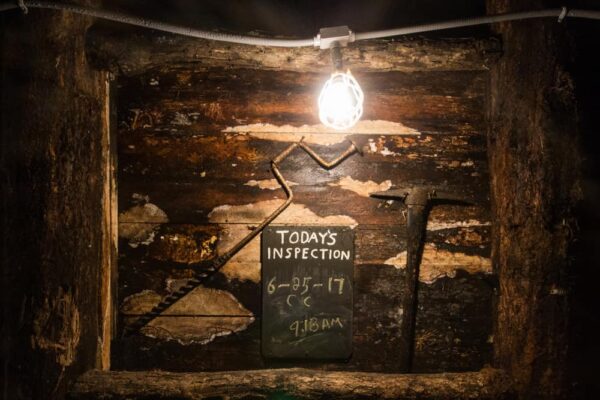 Located just a few miles from Centralia, Pioneer Tunnel Coal Mine is a once-abandoned mine in the heart of Pennsylvania's coal region. From 1911-1931, this mine operated on the outskirts of Ashland, PA.
When the mine closed in the early 1930s, it was thought to be a temporary closure, so all the equipment was placed inside the mine before it was closed. However, the mine never again reopened as an active coal mine.
Fortunately, a group of local residents decided to open this abandoned mine to tours in 1962. Since the mine was closed with the plan of reopening, much of the original mine equipment is still present.
Camp Sideling Hill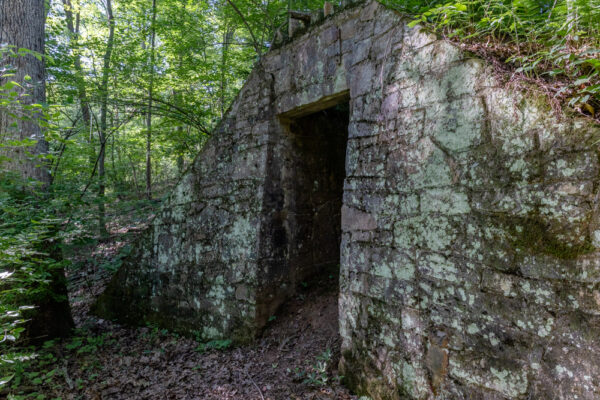 Camp Sideling Hill is the second abandoned POW camp from World War 2 on this list. While it's not quite as well preserved or as well documented as Camp Michaux, it's still a fascinating spot to visit, especially since it's just around the corner from the aforementioned Abandoned PA Turnpike.
This camp was used by four different groups in the 1930s and 1940s, culminating with usage for German POWs in the mid-1940s.
Today, signs offer a self-guided walking tour through the ruins of this camp for visitors wanting to learn more about this unique historic spot.
Scranton Iron Furnaces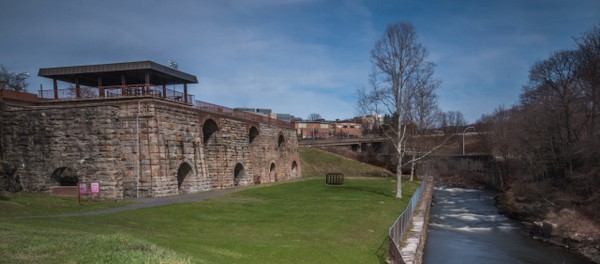 Downtown Scranton is home to four of the best-preserved iron furnaces in Pennsylvania. The Scranton Iron Furnaces were built in the 1850s and in operation until the early 1900s.
While visitors aren't allowed to go inside the iron furnaces, it's fascinating to walk around the outside and to look down into them from above while imagining how they helped shape America.
Do you have a favorite ruin or abandoned place in Pennsylvania that you can legally explore and wasn't on this list? Let us know in the comments below.
(Note: While to the best of our knowledge you can legally these abandoned places at the time of publication, access can always change. Make sure to obey any signage you might see, and obtain owner permission or pay the admission fees where required.)
---
Find a unique place to stay in Pennsylvania on Airbnb!
---
Click the map to see more nearby things to do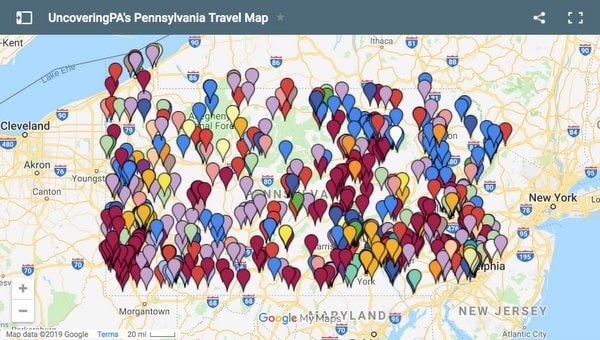 "
---
More great places to visit in Pennsylvania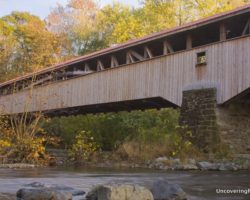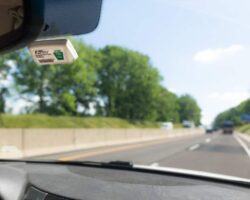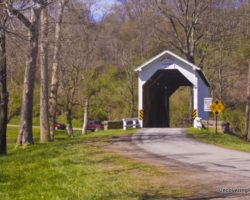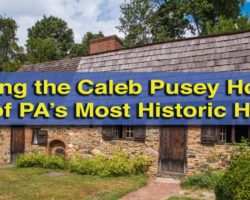 Explore the many regions of Pennsylvania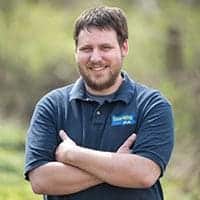 Jim Cheney
Jim Cheney is the creator of UncoveringPA.com. Based in the state capital of Harrisburg, Jim frequently travels around Pennsylvania and has visited, written about, and photographed all 67 counties in the state. He has also traveled to more than 30 different countries around the world.
uncoveringpa.com
Sours: https://uncoveringpa.com/abandoned-places-in-pennsylvania
In abandoned pittsburgh pa places
9 abandoned places in Pa. that you can legally visit
Jim Cheney | Special to PennLive
Abandoned places in Pa. that you can visit
Compiled by Jim Cheney | Special to PennLive
Thanks to Pennsylvania's long history and industrial past, the state is littered with many fantastic abandoned sites just waiting to be discovered. While many of these are off-limits, some are open to the public to either explore on their own or to go on an official tour.
Here are a few of my favorite abandoned places to explore in Pennsylvania.
Jim Cheney | Special to PennLive
Centralia
When the coal seam beneath Centralia caught fire in the early 1960s, it began the process of destroying the community above. Today, only a handful of people and buildings remain in Centralia, but there is still evidence of the town that was once here. While there's a debate about whether or not you can legally visit Centralia's most famous site, Graffiti Highway, visitors can still drive through the streets that once made up the borough. Here, curbs, gutters, and even stone steps lead to now-wooded lots, giving a small glimpse into the town's past.
Jim Cheney | Special to PennLive
Carrie Furnace
Pittsburgh's Carrie Furnace is nearly all that remains of the Homestead Steel Works just east of downtown Pittsburgh. Carrie Furnace operated from 1907 until 1978. While the site set completely abandoned for years, it is open today for tours. The site, which has only marginally been cleaned up from its days of operation, is now a fantastic place to learn how steel was made and, somewhat surprisingly, home to some amazing art.
Jim Cheney | Special to PennLive
Abandoned Pa. Turnpike
Located near Breezewood, the Abandoned Pennsylvania Turnpike is a 13-mile stretch of roadway that was bypassed in the 1960s when the road was expanded. Today, visitors can walk or take bicycles along this roadway to watch as nature reclaims this once busy thoroughfare. There are also two tunnels that visitors can still travel through, though lights are highly recommended as the center of the tunnels have no sunlight.
Jim Cheney | Special to PennLive
Eastern State Penitentiary
When Eastern State Penitentiary opened in Philadelphia in 1829, it was the world's first penitentiary and revolutionized how the world imprisoned inmates. The prison operated until 1971 after which it was abandoned. The prison was nearly torn down before it was opened as a tourist attraction in 1994. Today, visitors can walk through this former prison, parts of which have been left to crumble, and learn about what life was like for those that lived and worked inside these walls.
Jim Cheney | Special to PennLive
Lackawanna Coal Mine Tour
Take a trip underground into the Lackawanna Coal Mine in Scranton. Opened in 1860, this mine was in operation until 1966. After sitting abandoned for nearly two decades, the Lackawanna Coal Mine Tour opened in 1985. Visitors travel 300 feet underground to learn about how anthracite coal was mined and what life was like for the miners that worked in the coal fields around the city.
Photo from Wikipedia and used under the follow license: CC BY-SA 3.0
Alvira Bunkers
During World War II, the government used eminent domain to secure land in Pennsylvania to create a factory for explosives. In addition to the factory, over 100 concrete bunkers were built to house the explosives. The factory here was short-lived however, and it was completely demolished in the 1950s. However, many of the concrete bunkers, known today as the Alvira Bunkers, can still be seen on State Game Lands 252 in both Union and Lycoming Counties.
Jim Cheney | Special to PennLive
W.A. Young and Sons Machine Shop
The W.A. Young and Sons Machine Shop was built in 1900 along the banks of the Monongahela River south of Pittsburgh to repair riverboats. Over time, the shop was upgraded to handle repairs for a variety of types of machinery. When the workers left for the final time in the 1960s, they left their machines in place. When the shop was opened to the public 20 years later, it was still amazingly preserved. Today, the shop offers an amazing glimpse into what a mid-century machine shop was like.
Jim Cheney | Special to PennLive
Pioneer Tunnel Coal Mine
The Pioneer Tunnel Coal Mine is located in Ashland, just a few miles from Centralia. This coal mine was open from 1911 through 1931. When it closed due to the lack of demand during the Depression, mine owners thought it would reopen in a few years and took pains to preserve their investment. However, the next time the mine would be open would be for curious visitors in 1962. Today, visitors can ride a converted coal car into the mine to see what life was like underground.
Jim Cheney | Special to PennLive
Mount Moriah Cemetery
Mount Moriah Cemetery opened on the outskirts of Philadelphia in 1855. Over its history, this nearly 400-acre cemetery became the final resting place for between 80,000 and 300,000 people, including the re-interned Betsy Ross. However, money and management issues caused maintenance to fail and the cemetery to fall into disrepair. While a dedicated group of volunteers has worked tirelessly over the last few years to maintain the cemetery, much of the cemetery is still overgrown and makes for a fascinating place to explore.
Jim Cheney | Special to PennLive.com
Want more cool places in Pennsylvania?
Jim Cheney is the writer behind UncoveringPA, Pennsylvania's most read travel blog. He has traveled to every county in Pennsylvania, and to many countries in North America, Europe, and Asia. He lives in Harrisburg, Pa.
Looking for more travel ideas?
Sours: https://www.pennlive.com/life/2017/11/abandoned_places_pa.html
Abandoned Elementary School at Night! - Pittsburgh, PA
Most Haunted Places in Pittsburgh, PA
Pittsburgh locals will tell you that it is a great place to live and if the number of haunted places across town is anything to go by it seems as though it is so great that some of the residents have decided to stick around even after they are dead!
Let's get up close and personal with the 10 most haunted places in Pittsburgh:
10. Green Man's Tunnel
There is just something that is inherently creepy about tunnels. It is likely the fact that they are dark, enclosed spaces that head underground. It's a little unnatural, not to mention unnerving. Then if you throw a few restless spirits into the mix you end up with somewhere that is truly scary!
Take Green Man's Tunnel for example. This is one of the most haunted locations in Pittsburgh and not without good reason!
If you happen to be passing by the tunnel while driving Piney Fork Road then you will want to keep your eyes peeled for the infamous 'green man' who haunts the area. He is also known by the name 'Charlie No-Face' because the apparition seems to have melted features.
He wanders the road by the mouth of the tunnel shrouded in a strange green light. What is compelling about this story is that there is documented evidence to support it!
A young man named Raymond Robinson was climbing power lines in the area when he was electrocuted leaving him with the appearance of not having a face. Could it be Raymond that people are encountering here?
9. Congelier House aka The House The Devil Built
Congelier House is known locally by a far more sinister name – The House The Devil Built. It is one of the most haunted houses in Pittsburgh and it is stuffed full of some very disturbing stories!
It all began with Charles Congelier who was having an affair with the family maid. When his wife discovered the affair she did not take it well and slaughtered both Charles and his lover with a meat cleaver!
Shortly afterwards a mysterious man called Dr Bunrichter moved into the property. He seemed friendly enough, but was quiet and kept to himself most of the time making it all the more surprising to neighbours when it was revealed that the man was a twisted serial killer who was attempting to keep the severed heads of his victims alive after removing them from their bodies!
It is no surprise that this house is reportedly haunted.
8. Carnegie Library of Homestead
Carnegie Library of Homestead is one of the oldest libraries in Pittsburgh. It has been featured on a number of popular paranormal television shows as investigators attempt to uncover who or what is haunting the library!
Some believe that it could be the founder, Andrew Carnegie while others say it is former millworkers who lost their lives while working for him.
There are even some who say the ghost is a staff member who wasn't quite ready to go off the clock. Whoever is responsible for the activity they seem to be most active in the music room and in the basement.
7. Dead Man's Hollow
With a name like Dead Man's Hollow is it really any surprise that this is one of the most haunted locations in Pittsburgh?
Suicides, murders and a variety of strange disappearances are linked to this spooky spot on the Youghiogheny River.
There are frequent reports of a vengeful spirit of a drowned man who rises from the water and attempts to drag unsuspecting passers-by into the water with him!
There are also reports of a large unidentified creature slithering through the nearby forest in search of its next meal!
6. Chatham University
It seems like lots of University and College campuses have at least one haunted building, but Chatham University in its entirety claims a place in the top ten haunted places in Pittsburgh.
The entire school seems to play host to a variety of spirits including the likes of 'The Blue Lady of Woodland Hall'.
She is thought to be a former mental patient who has remained at her treatment place even after death – yeah, did we mention that the university was once an asylum? She appears to students in a glowing blue dress.
There are also reports of apparitions in Laughlin House which was the site of a murder-suicide and there have also been sightings of Edwin Fickes in Fickes Hall. He is often blamed for moving objects around in the dorm rooms!
5. 13 Bends
Every city seems to have its own urban legend and for Pittsburgh that appears to be the story of the 13 Bends. It has been difficult to pinpoint the exact location of 13 bends as tales have suggested that the road is in a number of different areas including Harmarville, Elizabeth and Burgettstown.
However, the most popular version of the story suggests that the road in question is Campbells Run Road. The legend states that an orphanage once stood by the road and that it burned down claiming the lives of 13 children.
It is said that if you drive up the road you can count 13 bends, but on your way back down you will only have 12!
In addition to this strange anomaly in the number of bends in the road, it has also been said that if you dust your car with talc or flour then you may see some small hand prints from the child ghosts appearing on your vehicle.
4. Pittsburgh Playhouse
These days, Pittsburgh Playhouse is considered to be a respectable cultural center, but it wasn't always that way. In fact, in the past the building has housed a number of morally questionable businesses including social clubs and a brothel! At one point it also served as a church!
With such a colorful history, it is not at all surprising that there are apparently a number of ghosts that call the property home.
One of the ghosts is known as the 'Bouncing Red Meanie'. He is a man dressed all in red who was apparently conjured up by a group of students who held a séance in the building back in the seventies. He is also joined by a couple of female spirits.
The White Lady is said to have committed suicide here after learning of her husband's cheating ways on their wedding day of all days. Meanwhile, Weeping Eleanor can be heard crying and is believed to have perished in a fire.
3. Allegheny County Jail
This next building may be one of the most haunted places in Pittsburgh, but we certainly don't recommend visiting since it is still an operational jail!
The Allegheny County Jail is said to be haunted by the ghost of a prisoner who committed suicide in the early 1900s! It is said that he has remained behind and terrorizes anyone with the misfortune to share his cell!
Prisoners have ended up having to be moved to other cells because of his behavior and the cell is always filled last!
There are also a number of other vengeful spirits who are said to be causing all sorts of paranormal mischief!
2. Frick Mansion
The Frick Family name has long been associated with luxurious living and it only takes a glance at Frick Mansion with its 23 rooms of opulence.
However, the Fricks may have know how to live the high life, but it seems that they did not know how to let it go!
The mansion still contains most of the family's original furnishings and design, along with the spirits of the family members themselves.
There are several entities that still dwell within the mansion including Adelaide Frick and her daughter Helen.
The spirits are said to have retained their uppercrust manners and are described as very polite ghosts!
1. Broughton School
There is something truly unnerving about an abandoned school, isn't there and that is probably why Broughton School tops the list of the most haunted locations in Pittsburgh.
The school was originally built in 1929 and has now sat abandoned for well over a decade. However, the old elementary school is anything but empty!
It is said that the ghost of both children and their teachers are still in the building and they can be heard running, shouting and moving objects around.
A number of paranormal investigators have captured chilling voices telling them to either 'get out of here' or 'don't leave'. It seems like these spirits are not quite sure about what it is they want from the living!
Sours: https://www.hauntedrooms.com/pennsylvania/pittsburgh/haunted-places
Now discussing:
Pasha finally came to life. - Well, how can I tell you, we thought about it for a long time, and decided that this is. A good practice for the future, - Anya answered. - So you agree. - Well, yes, but in our room - Why.
289
290
291
292
293