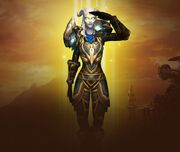 Opposing the Iron Horde are the heroes of Azeroth—at the heights of power they've always been destined for. Even if you're new or returning to the game, Warlords empowers you to boost one of your characters to level 90 and master new abilities at the gateway to Draenor, so that you can charge into grand combat right away. Play the races and classes you've always wanted to try, wage war alongside your friends, and take your place among Warcraft's finest.[1]
The Character Boost (or simply boost) is a paid service that allows any character to be upgraded to a higher level that isn't already on the specified level. Purchasing an expansion grants a single character boost during the time of that expansion:
The Character Boost can be purchased through the in-game shop, currently priced at $60/£40.
Please Note: Purchasing a new boost that provides a higher level than the previous will not replace the lower one that is still unused (e.g. purchasing a level 110 boost will not replace a level 100 boost if that is still unused).
Demon hunters can't be boosted and allied races will not receive their heritage armor set if boosted.
Description
In-Game Store
There comes a time in every hero's quest when they need a little boost to help get them over the hump and back into the action. With a level 110 character boost, you can grant one character a one-time boost to level 110 instantly.
*Boosting an Allied Race will not unlock their heritage armor set.
Included
Level 90 Boost
Level 100 Boost

This section concerns content related to Legion.
Level 110 Boost
Since the release of patch 8.0.1, players who bought a boost before July 19, 2018, but didn't use it til after July 16, 2018, are eligible for a refund through August 12, 2018, due to the removal of the profession boost for characters at or above level 60 that had their existing primary professions and First Aid skill boosted to 800 skill level.[4]
Level 120 Boost
Limitations and Restrictions
Steps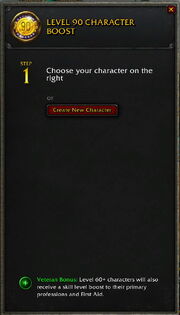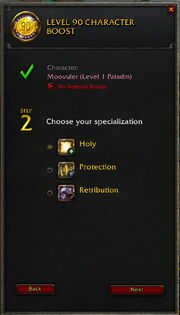 A level icon for the Character Boost will appear on your character selection screen next to the server name once you have the ability to boost a character. Clicking on this will open the two step process to boosting your character to the given level.
Step 1
Choose a character from your list

Or

Create a new character
Step 2
Choose your specialization
Step 3
(Neutral pandaren only)
Choose your faction
Finalization
Click next, confirm your choices, and click Level up!
Clicking "Level Up!" Gives you one final "Are you sure?" message in the center of the screen before the boost is used.
Veteran Bonus
If the selected character is level 60 or higher, it would have had its two primary professions and First Aid increased to skill 800. If the character did not have any professions learned, the game would have provided defaults based on the type of armor the character wears.[5]
Introductory experience
Freshly boosted characters do not immediately have access to all abilities appropriate to their level. Rather, they start out with a basic set of spells and abilities for their class, and must unlock the rest of their spells and abilities a few at a time by advancing through a short introductory experience.
After Patch 6.0.2, but before the release of Warlords of Draenor, boosted characters had to unlock their abilities through the Iron Horde Incursion world event in the Blasted Lands. With the release of Warlords, boosted characters instead acquire their abilities through the Warlords of Draenor intro experience.[6]
Veteran players that want to skip this progression of spells and abilities may either swap specializations or queue for an instance. This will unlock the remaining spells and abilities.[7]
Notes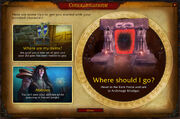 Previously, sometimes the server could be busy, and you would get a notification that it may be a few minutes. This was an issue when the boosts were first introduced.
Boosts do not have to be used immediately. Once obtained, a Boost can be held indefinitely until the player is ready to use it.
Note that the gear granted is specialization-specific. Gear for other specializations will not be supplied, and players should therefore take care to select their preferred specialization. However, obtaining level-appropriate gear for any spec is particularly easy on the Timeless Isle.
Boosted characters are immediately equipped with their new gear. The items that were on the character are mailed back to them. This mail expires after 180 days.[8]
Note that Masterflying (The fastest flying speed) is not provided. This can be purchased from riding trainers for 5000, subject to faction discounts.
Boosted characters will also receive any appropriate level-specific mail, namely A Well-Deserved Accomplishment (from Lorewalker Cho) for reaching level 90, and a  [Magically Wrapped Gift] (from Rhonin) if the character was boosted past level 80.
The What's New button on the Game Menu is replaced with Character Boost until the character unlocks the Garrison.
Boosted characters will not be able to enter dungeons and raids from previous expansions for 24 hours after being boosted.
After completing the tutorial for the level 100 character boost, the player is immediately given  [10-45] The Battle for Broken Shore and placed in the corresponding scenario. However, if you have previously completed the Legion intro experience, it is possible to skip it just like on a normal character: by leaving the scenario or abandoning the quest after completing it, and then talking to Recruiter Lee/Holgar Stormaxe to skip directly to  [10-45] In the Blink of an Eye. This even applies to Class Trial characters.
Any unused Level 90 Character Boosts were converted to Level 100 Character Boosts with the release of the Level 110 Character Boosts.[9]
Trivia
Gear
Main article: Character Boost gear list
When a character is boosted to level 90 or level 100, all gear slots are emptied and filled with new specialization-appropriate ilevel 483 (or ilevel 640 for level 100) uncommon
Sours: https://wowpedia.fandom.com/wiki/Character_Boost
How much does it cost to boost your WoW Character & What do you get?
At the best of times, World of Warcraft can be a grind. Whether you're playing WoW Shadowlands or Wow Classic, you'll need to spend quite a bit of time levelling up your characters if you want to take on the biggest enemies for the biggest rewards. Or... You can pay the price and get a WoW Character Boost to kick-start your adventure. Here's everything you need to know...
WoW Shadowlands Character Boost Price Details
When the Shadowlands expansion came out, Blizzard upped the Max Level Cap for World of Warcraft. It only jumped ten levels between the Battle for Azeroth and Shadowlands, but that's ten extra levels you'd have to climb if you were starting out fresh.
If you wanted to purchase a Character Boost for your WoW Shadowlands character, the price you'd need to pay is USD$60. This equates to about £40.
Don't worry about making sure you pick the right character, you can actually do this an infinite amount of times for WoW Shadowlands. We know this might cost a lot, but it does mean you can afford to make a mistake.
All you need to know is that Demon Hunters cannot be boosted with a Character Boost and you can't earn any Heritage Armor sets with Allied Races if you use a Character Boost on an Allied Race character.
WoW Classic TBC Character Boost Price Details
Things are a little different in WoW Classic: The Burning Crusade, though. If you want to boost your WoW Classic character, you're going to need to purchase the Dark Portal Pass.
This is going to set you back around USD$40; This currently equates to just over £29.
You need to make sure you're aware, though, that you are only limited to one Dark Portal Pass per account. This means you can only boost one WoW Classic character per account. We know they're trying to preserve the feel of the older iterations of World of Warcraft... But is this really necessary?
What Does All This Get You?
You'll be pleased to know, boosting your character in both WoW Shadowlands and WoW Classic does more than just level you up.
In WoW Shadowlands, your chosen character is boosted up to Level 120 and you receive these bonuses...
Flight Master's Whistle;
Adventurer's Footlocker
Champions of Azeroth Survival Kit

500 Gold
Seasoned Loins (Food) x20
Seafoam Coconut Water (Drink) x20
Tome of the Quiet Mind x5
Abyssal Healing Potion (HP) x5
Coastal Rejuvenation Potion (Rejuvenation) x5
However, in WoW Classic your character is boosted up to Level 58 and it comes with the following:
25 Gold
Weapon Skill Level at 290 (All Proficiencies)
Apprentice Riding Skill
All Azeroth Flight Paths unlocked
Reputation for your Race's Faction set to Friendly
Race-Specific Mount (Blue Quality)
Level 58 Magic (Green) Quality Gear
Four Runecloth Bags (14 Inventory Slots each)
RealSport101 is supported by its audience. When you purchase through links on our site, we may earn an affiliate commission. Learn more Sours: https://realsport101.com/wow/wow-character-boost-price-guide-how-much-does-it-cost-to-level-up-your-shadowlands-wow-classic-characters-bonus-gear-gold-equipment-unlocks/
Character Boosting
WoW is a huge game with lots of daily stuff to do at level 60. What exactly are we talking about?
Lots of world quests on the map for anima power, conduits, reputation, and some gear and gold
The Maw dailies and weekly quests
Maw storyline after reaching 60
Unlocking the Torghast for fresh characters
Gearing is a key to all max level content such as mythic+, raids and PvP
Torghast weekly Soul Ash farm
There are several more things to do in WoW outside of Shadowlands like:
Allied races boost
Heritage armor boost for several races
Argent Tournament farm
How to manage time for everything? The answer is Overgear!
Overgear provides a lot of wow character boost services for 4 years for players who value their time very much. With our services, you'll be able to have enough time for the most interesting stuff and don't struggle in WoW. Our services have changed the shape of the WoW boost market with one simple rule: we allow boosters to offer their services directly to customers. We also provide our own world of warcraft services that has the same price and has way more guarantees
Requirements:
Active WoW subscription
Level 60
How it works:
Place an order
We'll contact you in the live chat or by email. All details would be clarified with you and the start time of your character boosting
Discord chat will be created so that you could track the progress of your order
We'll find you a booster who fits in your schedule the best
Demand a stream of your run, if needed
If guarantees of boost were not completed, we will provide extra bonuses for you to satisfy your desires
Enjoy the results! And don't forget to rate our level of services on Overgear and Trustpilot
Your character is everything. The first thing you have to do in wow with your character is getting it to level 60. But apart from that, you need a lot of gear, some currencies, tons of quests, and more, more, more... It takes A LOT of time and can be boring, but there's a way to speed things up, right in this category! Buy the most crucial services for your character.
WoW is not all about PvP arenas, dungeons, raids and other fun things. It's also a grind that becomes a boring everyday routine you want to escape. Not everyone today has enough time to spend in the game and to complete all raids and PvP quests with other players. Well, Overgear is here with all the necessary WoW character services for purchase. Our platform connects professional boosters directly with a client. Here you can find WoW boosting offers from real players. They know everything about WoW character boosts, can predict exactly how much time it will take to fulfill your request, and can give you the best price on the market.
These WoW services are time-savers for busy people who value their personal time. Extremely cool for players who want to keep all alts on the same level as the main characters. Just try to sum up how much time you should spend in WoW to do all activities at max level. 2 wings of torghast for weekly soul ash cap to keep crafting and upgrading legendaries for all specs. Daily and weekly quests at the Maw to farm reputation with Venari or to farm Stygia in the Maw to get buffs for Torghast or to make sockets in your gear to empower your characters even more. Anima power farm at world quests to increase your Covenant Renown or to make your Covenant Hall upgrades. And you might wanna have some time during the week to visit raids, mythic plus or arena, and rated battlegrounds. And as the cherry on top - what if you need to do all those things for 3 or more characters EVERY WEEK or DAY? Overgear gives you an opportunity to save your time and leave all this boring farm to our professional boosters.
Sours: https://overgear.com/games/wow/quests-and-farming
World of Warcraft Character Boost Tutorial
WoW TBC Classic Character Boost
Any type of boosting, any server, 100% safe, lowest prices possible, 24/7 support. Don't waste your time - get a boost! Everyone knows that it takes months to reach level 60. But do you have this amount of free time? Use our Overgear WoW Classic leveling service and get your WoW Classic 60 boost right away! We work only with pro players and provide the best classic power leveling offers on the market. All deals are absolutely safe and there are no middlemen - direct sellers only. You won't regret, we promise! The longest, exhausting and sometimes even difficult part of World of Warcraft Classic is the character leveling. There are thousands of quests, and a big part of them require a group of players to be completed. But finding a party in Classic is not as easy as in BfA. Moreover, you have to be level 60 in order to start the endgame content and enjoy the high-level Dungeons and Raids; and you may spend months reaching the cap. This is surely a long way, but Overgear is able to make it much shorter and less tedious. Just buy WoW Classic character boost or any other WoW Classic character service, such as Dungeon prequests, class quests, or farming and see, how easy and relaxed your in-game life will become! Overgear is always ready to help you with every possible in-game puzzle or difficulty. Visit our Marketplace and find hundreds of hot WoW Classic offers; choose the category and a faction. Our trusted sellers will do the rest!There is a new way of leveling in WoW now apart from questing and dungeons, you can join expeditions which require 3 players. It is extremely fast way of leveling but your character will remain in the same gear you had from 110 level. Do you want to obtain unique gear for allied races? In order to get it you must level a character of a certain allied race from 20 to 120. And you cannot use blizzard store character boost service for that. Do you want to through that path by yourself just for an armor in WoW? Especially in case if you have every class leveled already? Or maybe you are interested in service with the lowest price? Or you prioritize the fastest way of leveling? Choose the best offer for you, contact a seller, discuss service details and character leveling will be done the way you want it with all additional services. Face your enemy fully armed not in gear of old expansions and enjoy such a big and exciting world with intriguing stories and epic battles on maximum level.
Sours: https://overgear.com/games/wow-classic/character-boosting
Boost wow character
I had already finished everything and wanted to go too, when suddenly he threw a sponge for my shoes and ordered me to clean his shoes while he. Was getting dressed. But I could not do this because it would forever break my pride and self-respect.
World of Warcraft Character Boosting: What is it \u0026 why is it popular?
Will you kiss him. I asked. - Sure. She ducked, and the tip of her tongue touched the bare head uncertainly.
You will also like:
What. In Souni and most other estates, you have to take off your shoes when you see someone from the ruling dynasty. - Oh, I didn't know.
315
316
317
318
319