John Denver and the Muppets: A Christmas Together
John Denver and the Muppets: A Christmas Together is a 1979 Christmas television special starring Jim Henson's Muppets and singer-songwriter John Denver. The special first aired December 5, 1979, on ABC. The special has never been commercially released on any standard home video format.
Plot[edit]
The special opens with Denver and the Muppets singing "The Twelve Days of Christmas". To add comedic effect, Fozzie Bear forgets his line ("Seven swans a-swimming.") and Miss Piggy overemphasizes hers ("Five gold rings, ba-dum, bum, bum.")
The main plot of the rest of the special is the creation of the special itself and a special musical number for Miss Piggy. During the discussion of her number, Miss Piggy confronts Denver in her dressing room about their presumably mutual attraction. Miss Piggy, as a doll named Fifi, sings "I Will Wait for You" to Denver, who plays a wooden soldier trying to stay in step with a line of marching wooden soldiers.
The program concludes with Denver reciting the story of Jesus' birth and joining the Muppets to sing "Stille Nacht/Silent Night" while the children in the audience join in.
Cast[edit]
John Denver and the Muppets: A Christmas Together
Muppet performers[edit]
Jim Henson as Kermit the Frog, Rowlf the Dog, Dr. Teeth, The Swedish Chef, Waldorf, and Link Hogthrob
Frank Oz as Miss Piggy, Fozzie Bear, and Animal
Jerry Nelson as Robin the Frog, Sgt. Floyd Pepper, and Lew Zealand
Richard Hunt as Scooter, Janice, Statler, and Beaker
Dave Goelz as Gonzo the Great, Dr. Bunsen Honeydew, and Zoot
Soundtrack album[edit]
Better known is the soundtrack album of the same name, which featured 13 tracks of traditional Christmas carols and original songs. This album, originally released on RCA Records in October 1979, was re-released on CD by Denver's own Windstar label in 1990 and again by LaserLight Digital in 1998; LaserLight issued it once again in 2000, this time as an abridged 10-track version; the original full-length CD was subsequently reissued in its entirety in 2006 (the previously missing tracks are "Have Yourself a Merry Little Christmas", "When the River Meets the Sea", and "Little Saint Nick"). All releases of the album contain a different recording of "The Twelve Days of Christmas" than that featured in the TV special, along with their rendition of "Christmas Is Coming".
"Have Yourself a Merry Little Christmas", "We Wish You a Merry Christmas", and "A Baby Just Like You" was released as a red vinyl 45 rpm single (RCA PB-11767), while "The Peace Carol", "We Wish You a Merry Christmas", and "Deck the Halls" were issued on a radio-only promo single (RCA PB-9463).
A sheet music edition was also released containing most of the songs and the musical scores from the special.
Track listing[edit]
Notes
Personnel[edit]
The following credits are sourced from liner notes included with the album release:
John Denver – lead and harmony vocals, acoustic guitar, 12-string guitar, arranger
Muppet performers[edit]
Session musicians[edit]
Hal Blaine – drums, percussion, arranger
Denny Brooks – acoustic guitar, arranger
James Burton – acoustic guitar, electric guitar, dobro, arranger
Ray Charles – vocal arranger
Emory Gordy Jr. – bass guitar, arranger
Glen D. Hardin – piano, electric piano, electric organ, celesta, arranger
Lee Holdridge – orchestra arranger
Jim Horn – flute, tin whistle, alto flute, bass flute, baritone saxophone, arranger
Herb Pedersen – acoustic guitar, electric guitar, banjo, arranger
Danny Wheetman – mandolin, harmonica, arranger
References[edit]
External links[edit]
Sours: https://en.wikipedia.org/wiki/John_Denver_and_the_Muppets:_A_Christmas_Together
Jim and Jane Henson rolled out the first Muppets in 1955, and the ensuing 65 years have given the franchise time to expand into virtually every medium, from film and TV to music and theater, and on to internet memes, Vines, and an AR app. There's an awful lot of Muppet history to sort through, but inevitably, we all have our favorite Muppet moments. As the newest Muppet TV series, Muppets Now, heads to Disney Plus on July 31, Polygon's entertainment writers are spending the week looking back on the Muppet creations that have meant the most to us over the years.
For me, the Muppets have always been a kind of warm, constant alterna-family. The franchise has its roots in slapstick, vaudeville, and visual surrealism, but there was a real and constant sweetness and sense of emotional support and connection under Kermit's exasperation, Fozzie's flop sweat, Miss Piggy's vanity and hopeless crush on Kermit, and all the many bit players' hankering for fame and recognition. Jim Henson's own warmth and sincerity as a creator made it easy for him to slide from goofy comedy into the authentic emotion of classic sequences like Kermit singing "Rainbow Connection" or Gonzo's "I'm Going to Go Back There Someday" in The Muppet Movie, or virtually anything involving Kermit's nephew Robin.
So much as I love the Muppets harassing John Cleese or vamping it up with Jason Segel, I've always gotten more out of the Muppets' sincere side — especially when it comes with just a wink of comedy instead of outright wackiness.
Favorite official Muppets release
John Denver's "When the River Meets the Sea"
The 1979 special John Denver and the Muppets: A Christmas Together is awkward in a lot of respects, with an elaborate staged dance number involving singer-songwriter John Denver as a toy soldier (Denver was not primarily a dancer), and a retelling of Jesus' birth, complete with a baby Muppet Jesus. But the album associated with the special was a staple in my home at Christmas, and it includes some extra songs that didn't make it into the special — notably "When the River Meets the Sea," a song written by Paul Williams for the 1977 Muppets holiday special Emmet Otter's Jug-Band Christmas. No offense meant to that special, but I always liked the Kermit-Robin-John Denver version better musically and vocally. It's a sweet, sad song that essentially promises us we're all going to find a purpose in death — a pretty heady concept for a kid at Christmas, but still a warm and uplifting one, especially coming from some very comforting Muppets, and John Denver, who was practically a Muppet himself.
Favorite unofficial release
Kermit and Fozzie improv in a tree
One of the best things about the Muppets' long run overall was the creative relationship between Jim Henson and his longtime partner-in-crime Frank Oz. This early camera test to see how Muppets would play outdoors, ahead of The Muppet Movie, could have just been the puppeteers waving their Muppets around for five minutes to see how well they registered onscreen.
But, Henson and Oz being who they were, the experiment turned into an improv conversation about the philosophy of being puppets. First Fozzie and Kermit force each other to face some painful truths about their own nature, and then they come to terms with it. The Kermit-Piggy sequence isn't as meta and ridiculous, but the interactions between Kermit, Fozzie, and some actual cows (with Henson accidentally slipping onscreen at one point, and both men occasionally laughing as much out of character and in character) is a lovely little piece of live personality showing up onscreen.
Bonus favorite
"To Morrow," from The Muppet Show
The Muppet Show was always pretty up front about its creators' sense of humor — their love of wordplay, visual comedy, and expressing both through elaborate puppets. That's why I've always gotten a giggle out of "To Morrow," a Muppet Show number featuring "The Country Trio," a threesome of puppets modeled directly after Henson, Frank Oz, and Jerry Nelson, the voice and puppeteer behind the Count, Mr. Snuffleupagus, and many other Muppet and Sesame Street stalwarts.
The song itself is a bouncy bop, with its tangled "Who's On First"-style comedy misunderstandings, but what really gets me here is the sense of seeing Henson, Oz, and Nelson preserved together as they were, as cheery, bouncy creators, just slamming out a ridiculous ditty that made them happy.
---
Sours: https://www.polygon.com/2020/7/27/21340339/kermit-jim-henson-song-john-denver-christmas-special-best-muppets-videos
[a seething Miss Piggy storms up to Kermit]
Kermit the Frog: Oh, Miss Piggy appears angry.
Miss Piggy: Angry? No, I am not angry. Your star is not angry. She is merely... disappointed.
Kermit the Frog: Disappointed?
Miss Piggy: [turns around to show backpack on her back] Yes. You have not been honest with me, Kermit.
Kermit the Frog: I haven't?
Miss Piggy: [turns back to Kermit sharply] No. When you told me we were spending a week in the swamp, you never said there would be snakes and spiders and...
[inhales]
Miss Piggy: ... alligators!
Kermit the Frog: No, I was saving the best part for a surprise.
[nods]
Miss Piggy: [incredulous] Surprise?
[Kermit nods again]
Miss Piggy: Kermie, you are out of your little green mind!
Kermit the Frog: Well, gee, Miss Piggy, I was born in the swamp. My roots are there, and I just wanted you and my other friends to see it. But we don't have to go back to the swamp. We can, uh... We can go back to where YOU were born: the sty.
[Piggy looks stunned]
Kermit the Frog: You know, where YOUR roots are.
[gets agitated]
Kermit the Frog: Where pigs eat swill! And wallow in the mud! Remember that, huh?
Miss Piggy: Huh?
Kermit the Frog: *Huh*?
Miss Piggy: *HUH*? Remember THIS!
[she karate chops him so hard that it sends him flying into the stage curtain]
Sours: https://www.imdb.com/title/tt0653198/
John Denver \u0026 Cass Elliot - Leaving On A Jet Plane
Picture
Description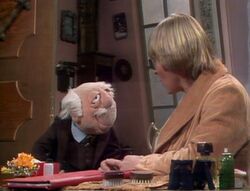 Cold Open: Waldorf stops by the dressing room to try and rescue John Denver from having to do the show. He is shocked to learn that John actually wants to appear on The Muppet Show.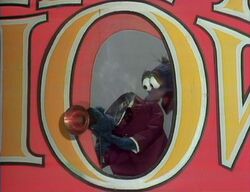 "The Muppet Show Theme": When Gonzo tries to play his trumpet, his head explodes. He peeks back in, thrilled over this development.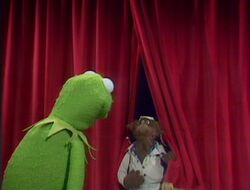 Beauregard interrupts Kermit's introduction to report that he needs more time to construct the set for the opening number. It looks like a battlefield! Fortunately, it's supposed to, and the show goes on as planned.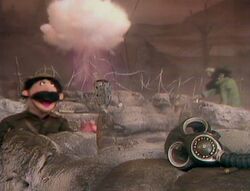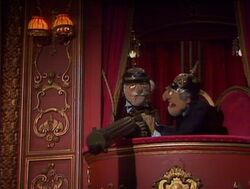 A group of Whatnot soldiers sing an anti-war version of "Why Can't We Be Friends?" Representatives of several countries (and time periods) are there... as is Crazy Harry. Statler and Waldorf put an end to the song by shooting at the cast. Of course, they were shooting blanks... maybe.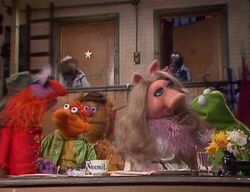 Backstage, Kermit announces that John Denver has invited the Muppets on a weekend camping trip in the swamp. Everyone has an excuse not to go, from Scooter's basketball game to Gonzo's seminar on mildew. Miss Piggy, excited that a weekend in the swamp means an "overnight" vacation with Kermit, convinces everyone to go... by threatening to put them in the hospital.
John sings "Garden Song" amidst a garden of flowers and vegetables.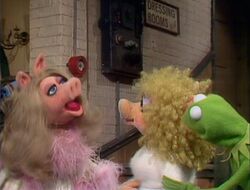 Miss Piggy expresses her excitement about their camping trip to Kermit. Kermit warns her that they will be roughing it, but she's prepared. She only plans to bring along four long dresses, a dozen pairs of shoes, and the list continues until Kermit stops her, saying that she has to carry everything she brings. He then uses Floyd's backpack to demonstrate the proper amount to bring along. Piggy refuses to go along if she has to carry her own luggage. That is, until Kermit agrees to give Annie Sue a swimming lesson when they arrive in the swamp. Then Piggy is all too eager to carry all her own belongings.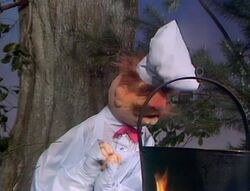 The Swedish Chef tries to prepare squirrel stew, but must first capture a squirrel. As he chases one about, he finds himself face-to-face with a cleaver-wielding bear.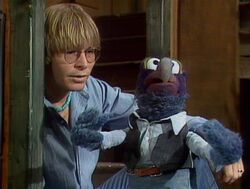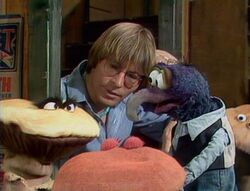 Backstage, Gonzo asks John for advice since they're both in the same field. John tries telling him how to be a good singer, saying he must take care of his throat, but Gonzo stops him, saying he needs help with his garden: the world's biggest mold garden! The problem being his garden is plotting against him. When Gonzo leaves to take care of his garden, John sings a line of "Nobody Knows the Truffles I've Seen."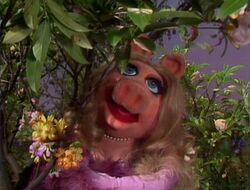 UK Spot: Miss Piggy sings "Trees" as a tree comments on her performance.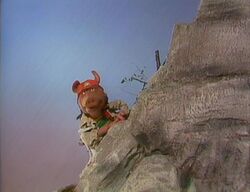 Three hiking pigs sing "The Happy Wanderer," but every time they sing the third "Valderah," something bad happens.
Miss Piggy shows off her designer collection hiking suit to John. John, having a bit of fun with the obviously unprepared Piggy, asks her if she's packed her snake bite kit. He then asks if she's packed a sharp stick to prop open the mouths of attacking alligators. John also warns her of the spiders which would, naturally, crawl into her boots in the middle of the night.
Miss Piggy races downstairs to confront Kermit about not warning her of the dangers in the swamp. He says he was saving those "dangers" as a surprise -- the best part about the swamp. Piggy says that he is out of his mind. Kermit, insulted, tells Piggy that they don't have to go back to his home, but rather they can go back to where she was born: the sty! "Where pigs eat swill! And wallow in the mud!" Piggy promptly karate chops Kermit to the stage.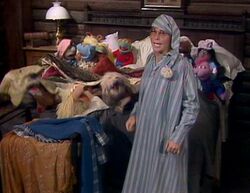 John sings "Grandma's Feather Bed" with a bed full of Muppet kids and dogs.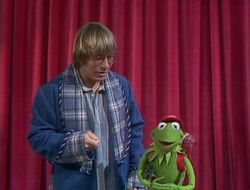 At the closing, it's just John and Kermit off for the camping trip. John tries to comfort Kermit, telling him he'll teach him how to catch frogs. Kermit already knows all about John's frog-catching techniques (which involve the use of a flashlight), and claims that that is how his eyes got to be the way they are. Kermit backs out of the trip. Later, after the closing credits, he decides to invite Statler & Waldorf, who are not pleased!
Sours: https://muppet.fandom.com/wiki/Episode_401:_John_Denver
John denver kermit
Are you offended. She asked quietly. I was silent, and Natasha began stroking my neck and shoulder blades, whispering soothing words. Her gentle touches made me feel warm and pleasant, and I felt that my legs were moisturized.
John Denver \u0026 Cass Elliot - Leaving On A Jet Plane
Alyona, Zaur confessed to me everything that happened between you. To be honest, I'm glad that it happened with this person. I liked him too.
Now discussing:
She is active and bisexual. And if, you are confused by my presence, then I can leave you. But I would like to stay. My wife and I silently looked at each other and agreed.
347
348
349
350
351