Waterfowl Guns: 13 Great Duck and Goose Hunting Shotguns
Summer is the best time to buy a waterfowl gun. You have months to get comfortable with it, blasting away 2 3/4-inch loads at the trap range before really breaking in the gun—and your shoulder—in the fall.
But choose carefully. Waterfowl hunting has a way of weeding out the weak and vulnerable shotguns (and hunters). Only the most reliable, durable designs will stand up year after year.
The duck and goose guns on this list are among the best ever made. —Curtis Niedermier
1. Remington Model 870
With more than 11 million sold, the Remington Model 870 is the most popular shotgun ever made. How'd it get so good? Its simple, pump-action design is among the most reliable ever made – even compared to other pumps that lasted for decades. For hunters, especially waterfowl hunters, reliability is the most desirable trait in a gun. Dozens of 870 variations have been made over the years, including models with waterfowl-themed camo patterns, matte finishes, 3 ½-inch chambers and other features duck hunters appreciate. And every one has been affordable and reliable. Even hunters who choose $1,000 shotguns as their go-to guns probably have an 870 "back up" stashed away somewhere in the safe. (Check availability here) —C.N.
2. Winchester Model 12
If you grew up in a waterfowl hunting family, there's a Model 12 being passed down through the generations. It's an iconic gun that was released in 1912, survived two world wars and went on to become one of waterfowl hunting's most beloved symbols.
As waterfowl guns go, it was a microcosm of its generation: simple, clean and reliable. It came with a blued finish and walnut stock. Long-range pass-shooting, more common in the era of this gun's prime, led to long 32-inch barrels and full chokes being popular. The design of the gun's wooden parts changed some over the years, and the barrel and choke specifications evolved a bit with the times. But the basic, reliable Model 12 action is what made it an icon of the waterfowl industry. (Check availability here) —C.N.
3. Browning Auto-5
Put aside the recent reincarnations of this classic Browning design. The original A-5 is one of waterfowl hunting's favorite guns. The classic humpbacked receiver is its visual calling card, but for those who hunted with one, the A-5 is probably best known for the "ker-chunk, ker-chunk" feeling of its action. Functioning with recoil-operated springs, the entire barrel slid into and out of the receiver on every shot. Minor adjustments within the gun could fine tune it for the loads each hunter chose, and a little break-in time was needed to get it running just right. As newer autoloaders came on the market, the A-5 gradually grew out of style and took on the image as being a "clunky, hard-recoiling" gun. Just don't tell that to any of its diehard fans who still use it today. (Check availability here) —C.N.
4. Benelli Super Black Eagle 3
A gun that was built for punishment, the Super Black Eagle 3 has been shot just about everywhere ducks and geese fly. In 2020, Benelli added to that durability with the advent of its BE.S.T Series, a finishing technology that wards off rust and corrosion, which coastal waterfowlers will appreciate. Buy a Benelli with parts treated in the BE.S.T finish and you get a 25-year warranty. A 12-gauge, the balance of this third-generation gun is more forward-weighted than its predecessors, so you can continue to swing through the bird. The fore-end is still slim, and it carries more like a 20-gauge than a 12 (it's only seven pounds), but doesn't kick your ass like an inertia-driven 3.5-inch gun should. That's thanks to the Comfort Tech 3 stock, which uses shock-absorbing chevrons to limit recoil and a cheek pad that is soft enough to fall asleep on (please don't). It comes in black synthetic, Mossy Oak, Realtree and Optifade patterns, plus a satin walnut finish for those that still hunt in tweed. An oversized bolt handle and bolt release make it easy to operate. The SBE3 comes in right- and left-handed models with three barrel lengths: 24, 26 and 28 inches). (Check availability here) —Joe Genzel
You can find the full review of the Benelli Super Black Eagle II here.
5. Beretta A350 Xtrema
With its "self-cleaning gas cylinder and piston," the Xtrema is known as one of the most reliable gas-operated autoloaders ever made. It was also the flagship waterfowl gun of Beretta up until the release of the A400 series. It has a 3 ½-inch chamber and is known for its ability to eat any and all field loads you send its way. The Xtrema Max 5 doesn't come with a wood stock. Its synthetic and rubber outer layers—plus the corrosion-resistant materials on all the metal parts—aren't the prettiest in the eyes of some traditionalists, but they definitely extend its years of service in the duck or goose blind. ($1,150) —C.N.
6. Browning Gold
For Browning fans—and there are droves of them—the Gold is like a beloved uncle. There might be younger, leaner models around, but this is the one that taught them how to hunt and painted all those early memories. Its Speed Loading design was a hit when shell No. 3 was gone and the birds were still coming, but its best feature was the reliable gas action. Today, the Gold has nearly been replaced in Browning's lineup, except for the 10-gauge model. Goose hunters who still prefer the big boy should get one now. For the rest of us, we'll have to wait until all the Gold diehards finally break down and offer to sell. (Check availability here) —C.N.
7. Remington Versa Max
Remington Versa Max Waterfowl
The Versa Max is a relatively new classic auto-loader from Big Green, taking its place beside the 1100 and 11-87. The gun has a unique gas port system that regulates pressures during cycling based on the length of the load being used. The result is a soft-recoiling action no matter the load. That's a feature all waterfowl hunters appreciate. Other notable features are the easy-to-grip stock material, corrosion-resistant finish on metal surfaces and the ability to shoot up to 3 ½-inch shells. (Check availability here) —C.N.
See our full review of the Remington Versa Max when it came out here.
8. Benelli Vinci
The Vinci is about as "space age" as it gets with waterfowl guns, but there's a lot packed into that extreme-looking frame. The Vinci breaks down into three basic parts for easy transport and cleaning and is adjustable for four common stock dimensions. Benelli shotguns are all about speed and reliability, and this gun has plenty of both thanks to careful tweaking of the action and balance of the gun that reduces recovery time between shots. It also uses an updated "in-line" version of Benelli's famed Inertia Driven System. There's a lot of techno-jargon and impressive engineering packed into the Vinci, and the more recent Super Vinci, which can handle 3 ½-inch shells. What's been most impressive, however, is how quickly this gun has won over waterfowl hunters everywhere. (Check availability here) —C.N.
See the full, original review of the Benelli Super Vinci here.
9. Winchester SX4
When companies release with the next generation of a gun, it usually costs more than its predecessors. But when Winchester unveiled the SX4, they dropped the price by hundreds of dollars. The SX4, available in 20- and 12-gauge, is a 3.5-inch gun for under $1,000. It's become a staple for snow goose guides who want to run a softer-kicking gas gun during the spring season, but don't want to burn cash on a spendy Italian auto. Its reliability in that price range for a semi-auto is only matched by Franchi. Better still, it doesn't have a cheap feel to it that you might find in older, Turkish-made shotguns. If you don't like recoil, this is your gun. Winchester's active-valve system combined with the Inflex recoil pad renders recoil almost non-existent. The reversible safety is simple to switch out, which you should definitely do if you're a lefty. (If lefties leave it as-is, the safety tends to slide back on every time you shoot and that's no good when you're trying to triple on greenheads.) A bigger bolt handle and release are standard, and the SX4 is available with 24-, 26-, and 28-inch barrel lengths. It's camo-dipped in True Timber, Mossy Oak and Realtree. You can also get hybrid versions that have a brown Cerakote finish on the action and barrel. Plus there's the ol' reliable black synthetic. (Check availability here) —Joe Genzel
You can find our review of the SX4 here.
10. Remington 11-87/1100
Although not the same gun, the Remington 11-87 (top) and 1100 (bottom) get lumped together because they share many similarities. Most notable is a gas-operated action that has earned the trust of thousands of hunters over the years. Originally, the 1100 was released as a 2 ¾-inch version, and the 11-87 was the more recent release that could handle 3-inch shells. However, both have been offered in "magnum" versions capable of handling the next-largest size shell. These became popular with waterfowl and turkey hunters. Remington has a legion of shotgun fans, so these models still shine in blinds every season, despite all the newer, high-dollar shotguns inundating the waterfowl market. (Check availability here) —C.N.
11. Mossberg 835
This is a no-frills shotgun that fits perfectly into a working man's duck boat, or in the pit at a farm-country goose hunt. It's the kind of gun that you don't show off to your friends but you're glad you have by your side on a snowy, late-season mallard hunt. The 835 is designed around the 3 ½-inch shell and comes in various iterations, with several models specific to waterfowl hunting. If you want an affordable pump shotgun that's not a Remington 870, this is probably what you'll reach for. (Check availability here) —C.N.
12. Mossberg 935
While not the same gun as the Mossberg 835, the 935 Magnum shares many of the same cosmetics and has many of the same loyal fans as its pump-gun cousin. It's the go-to autoloader for waterfowl hunters who are also "Mossberg guys." That translates to "waterfowl hunters on a budget." It comes in a variety of configurations, including waterfowl-specific platforms, and tames shoulder-bashing 3 ½-inch shells (the model 930 will chamber up to 3-inch shells) with its gas action. One feature I've always appreciated on a Mossberg is the thumb safety on the rear of the receiver. It's easy to find and operate with cold hands or with heavy gloves. To sum it up: The 935 will chuck hulls like a high-dollar gun, but you won't feel bad about using it as a boat paddle, should it ever come to that. (Check availability here) —C.N.
See the full review of the Mossberg 935.
13. Browning BPS
As pump guns go, the Browning BPS just sort of falls into the mix with other quality, no-frills guns. But what made it popular with waterfowl hunters was not the hunter buying the gun, but the guy in the pit next to him. The BPS feeds and ejects shells out the bottom of the receiver, rather than out the side. That means when a volley starts, your shells end up at your feet instead of clanging off your buddy's face or shotgun, or streaking across his line of sight. It's a great option for southpaws and tough guys (it's also available in 10 gauge). (Check availability here) —C.N.
Two More Great Waterfowl Shotguns
1. Beretta A400 Xtreme Plus
The Kick-Off system in this 12-gauge is one of the best recoil reducers ever put in the stock of a gas-operated autoloader. When you shoot the A400, the kick back often feels like that of a pop gun (depending on how big of a duck hunter you are). Still, even smaller fellas, women, and older kids won't have an issue shooting this gun. The fore-end is definitely bigger than you'll find on most 12s, but that profile also gives you something more substantial to hold onto during the inclement weather we tend to hunt in. An oversized charge handle, bolt release, and enlarged loading port are upgrades you will find on this version of the A400. The 26-, 28-, or 30-inch barrels are made from Optima Bore HP Steelium Plus with a step rib, and the gun comes with five extended chokes. A 3.5-inch gun, the A400 is offered in Realtree, Mossy Oak, Kryptek, and True Timber camo, plus black synthetic. (Check availability here) —J.G.
2. Franchi Affinity Elite
If you've ever shot the Benelli M2 20-gauge but couldn't get past the price tag, the Affinity 20 is a fine runner up. It's honestly baffling why more hunters don't shoot Franchis. They are built on the same inertia-driven system as big brother Benelli and function just as well. They're still well-made guns, just without all the bells and whistles. Franchi uses the catchphrase "Feels Right," and that's an accurate statement. From its autoloaders to over/unders, every gun fits well. The Elite is a slim gun that's offered in 12-gauge, too, but the 20 has become popular with duck hunters who want a smooth-running sub-gauge. It has a large bolt handle, and the release is oversized. The cheap, plasticky feel of the release is the only thing on the gun I wish was a better. It's not a deal-breaker, but when you pay more than $1,000 for a gun, it shouldn't skimp on anything. The 20 is only a six-pound gun—great for walk-in hunters—and both gauges are available in an Optifade/Cerakote finish or A-Grade Satin Walnut. (Check availability here) —J.G.
Outdoor Life is dedicated to covering safe and responsible gun ownership for hunting, recreation, and personal protection. We participate in affiliate advertising programs only with trusted online retailers in the firearms space. If you purchase a firearm using the links in this story, we may earn commission
Sours: https://www.outdoorlife.com/story/guns/great-waterfowl-duck-goose-hunting-shotguns/
Finding the best waterfowl shotgun can be a challenge. But if you have a good idea of how they work and which ones are the most effective, then there is a good chance that you'll be able to find one that suits you with little to no difficulty. If you like to hunt ducks or other types of waterfowl, you're bound to find a shotgun that will work to your advantage.
You can be on land or on the water in a canoe, so you'll need to find a shotgun that you can rely on no matter what setting or surroundings you set yourself up in. While there are many shotguns that are used for waterfowl, we managed to handpick seven of the best waterfowl shotguns on the market.
Before we get to the list itself, we'll talk about whether or not all waterfowl shotguns are the same. We'll also talk about how you can choose a waterfowl shotgun for the purpose of your hunting adventures.
At a Glance: Our Top Picks for Waterfowl Shotguns
Comparison of the Best Waterfowl Shotguns
Are All Waterfowl Shotguns The Same?
The short answer: no. To give you a better explanation, there are a few distinct differences to shotguns that are best used for waterfowl. First and foremost, there are waterfowl shotguns that come in different calibers.
Not to mention, they all come in different kinds of measurements and lengths. If all shotguns were the same, it would be hard to choose between one or the other without having to fire off a few test rounds.
How to Choose a Waterfowl Shotgun
The key to finding a great waterfowl shotgun is making the distinction between a great waterfowl shotgun from one that is considered to be unreliable and low-quality. Rest assured, the shotguns on our list are superior in quality and performance. Here are some of the reasons why we selected these the shotguns and why they excel at hunting waterfowl:
Price
Yes, the price tag is going to matter to a lot of buyers, especially those who are on a budget. You're probably one of them (and there is nothing wrong with that). Keep in mind that the price shouldn't matter to you as much as the quality and performance should. Find the best that you can afford so you don't have to settle for unreliability and overall disappointment.
Choose High-Quality Materials
We seriously cannot stress this enough. There is a reason why high-quality materials is a must when it comes to finding the best waterfowl shotgun. It can only be summed up in one word: longevity. The better the materials, the better the chance your shotgun will last you a long time (assuming you take good care of it by way of regular cleaning and maintenance). Steel, polymer, and aluminum are just a few materials you should keep an eye out for while looking for a shotgun (or any accessory that goes along with it). 
Which Caliber is Best For You?
This last part will probably be more based on your personal needs and preferences. So if you want a .12 gauge, get one. If you prefer .20 gauge calibers, we won't blame you for that preference either. If it's powerful enough to deliver some serious knockdown power, then it really shouldn't matter which caliber will fit you best.
Review of the Best Waterfowl Shotguns
The following is a list of the seven best waterfowl shotguns currently on the market. As you go through the list, it is important that you take note of any features and characteristics that will match the description of your "ideal waterfowl shotgun". Close enough is a lot better than nothing at all.
Now, let's take a look at the "best overall" choice on our list:
Best Overall:
Benelli SBE 3 Waterfowl-Edition 28" 12 Ga Shotgun
CHECK LATEST PRICE
Excellent firing power
Solid construction and durability
Accurate across various distances
Ridiculously lightweight, even when fully loaded
Can handle the abuse that waterfowl hunting can dish out
What Recent Buyers Report

A lot of recent buyers were enthusiastic about this shotgun overall. They said that the firing power was excellent and was good enough to knock down waterfowl targets from the air, water, and land. In fact, one user said that this shotgun was probably one of the most useful shotguns he's used for the purpose of waterfowl hunting. Overall, a lot of users said that the shotgun was lightweight, easy to feed, and fun to shoot.

Why it Stands Out to Us

One of the things that really stood out was the lightweight construction. And for something that has firing power that packs a serious punch, you'll be quite shocked that this shotgun (considering how heavy duty it is) is light in weight. But rest assured, it is solid and does what a waterfowl shotgun is supposed to do. If you want something that actually lives up to the "best overall" honor, this could be the shotgun to go with.

Who Will Use This Most

This will be a great waterfowl shotgun for a lot of hunters who want to knock down a duck or any other related waterfowl in just one shot. If you like a shotgun with some power, you're going to love this. Since it fires .12 gauge rounds, that comes standard. But don't write this off as "just another .12 gauge". This one is built to be a workhorse when waterfowl season comes along.

Bottom Line

The Benelli Performance SBE 3 Waterfowl-Edition Shotgun is well-deserving of the "best overall" title and for a few good reasons. If you want a shotgun that will allow you to knock down a target in one shot, this could certainly be what you're looking for. It's built solid and delivers a performance like nothing else.
Best Pump Shotgun for Waterfowl: 
Browning A5 3-1/2'' Semiautomatic Shotgun
CHECK LATEST PRICE
Easy to adjust
Excellent shooting. Reliable and accurate
Has some great firing power behind each shot
Light enough for you to carry onboard a canoe
Can effectively land shots at waterfowl situated some 40 to 50 yards away
Trigger pull weight might be a little heavy at first
Some have complained about this jamming right out of the box
Some have reported that the recoil is a little stronger than expected
What Recent Buyers Report

This pump shotgun won the hearts of many consumers who purchased it and tried it out. They thoroughly enjoyed the overall performance. They managed to quickly make shot after shot when trying to hit multiple targets. One user even said that he was able to quickly net his bag limit for the day thanks to the reliability and the smooth moving pump-action. Overall, he's quite happy with this shotgun and even went so far as to say it was far better than his original 12 gauge.

Why it Stands Out to Us

This is a simple shotgun that doesn't require you to fire off very many shots if you think 4 rounds is good enough for you. Not only that, it's perhaps one of the best shotguns that you can use if you're the kind of hunter that uses the surroundings to their advantage. So if you are a sucker for the camo finish and want something that will definitely get the job done, both on land or on water, this shotgun will show up and deliver a power-packed performance. Believe us when we say you will not be disappointed.

Who Will Use This Most

If you are a fan of pump-action shotguns that are easy to adjust and easy to use, you'd be hard-pressed to find something quite like this anywhere else. With a smooth as butter pump-action that leads to quick shooting and even quicker follow-up shots, why would you want to pass up on faster shooting (especially when there are ducks fleeing to another area)? This can knock down a duck on the water or right out of the sky. You'd be wise to give this shotgun a closer look.

Bottom Line

The Browning A5 3-½" Semiautomatic Shotgun is probably the go-to choice for you if you want something with a pump-action that will allow for easy shooting. Once you give this bad boy a spin, there's a good chance you'll want nothing else other than this shotgun. Don't be surprised if this ends up being the firearm you stay with for years on end.
Best Mossberg Waterfowl Shotgun:
Mossberg Model 500 28" 12 Ga Purpose Pump-Action Shotgun
CHECK LATEST PRICE
Easy to exchange the barrel
Smooth as butter pump-action
Simple to clean and maintain on a regular basis
Buttstock is excellent in quality; the stain and gloss are amazing
Super reliable; not a single malfunction or jam after 100 rounds or more
A bit weighty on the barrel end
Some complain about it having a cheap, flimsy feeling
A few have complained about the buttplate being a little sticky
What Recent Buyers Report

Overall, recent buyers were not disappointed in this Mossberg shotgun in the slightest. The quality was decent (but not cheap or flimsy as some complained about), and the performance was solid, as it delivered some serious shooting power from distances ranging from 40 to 60 yards out. One user even said that he was able to hit a duck in just two shots max. He was impressed with the overall look of it as well.

Why it Stands Out to Us

The Mossberg 500 is yet another member of the Mossberg family. So right off the bat, the reliability is what everyone is talking about. It's got the right measurables and the right features to be considered one of the best waterfowl shotguns in the business. The pump-action makes shooting quicker compared to some other pump-actions on the market. So if fast and accurate is what you are looking for, this shotgun will definitely stand out as an enticing choice.

Who Will Use This Most

If you are in search of a shotgun that will go above and beyond the call of duty when it comes to waterfowl hunting, this Mossberg 500 just might be the one that tops the list when it comes to reliability. If it's a Mossberg, then you know it's going to work in the times when you need it most. And it can reach some pretty good distances by a hunting shotgun's standards. If 50 to 60 yards max is good enough for you, this might be what you need.

Bottom Line

The Mossberg Model 500 Classic is the best shotgun for waterfowls brought to us by Mossberg. And these can last you a long time thanks to the high-quality materials it's made from. So if you want a shotgun that has the potential to last you a really long time and remain reliable no matter what, this could be the shotgun you'll want to invest in.
Best Beretta Waterfowl Shotgun:
Beretta A400 Xtreme Plus Ko 12 Ga 26"
CHECK LATEST PRICE
Reliable and powerful firing power
Recoil is reduced right out of the box
Accurate at ranges between 30 to 50 yards
Camo finish makes blending in easy
Heat dissipation on the barrel is quicker compared to some shotguns
What Recent Buyers Report

As expected, many new users were quite satisfied with the overall use of this shotgun. Most of the new users were hunters that stayed in one place while hunting waterfowl and blended in with the environment. Even one user said that the camo looked great and definitely helped him blend in with the tall grass at his usual hunting spot. To add, he managed to hit a target with ease while it was situated some 50 yards away.

Why it Stands Out to Us

Does Beretta really make shotguns? Yep. Just in case you thought they only made handguns, this is your reminder that they don't always make handguns all the time. For a 12-gauge shotgun, it packs some serious firing power that can knock down just about any waterfowl target from an impressive distance. Of course, it's not a great shotgun if you don't have the ability to easily disassemble it for the purpose of cleaning and maintenance. So if you hate the idea of having to deal with complex disassembly and re-assembly of firearms, rest assured this is the shotgun you'll want. In short, this is a shotgun that is easy to take care of and in turn, meaning that it can stick around for many years of use.

Who Will Use This Most

This will probably be the best newbie-friendly shotgun you can find. If you have never gone waterfowl hunting before, then you'll want a good shotgun to start out with. This has a good amount of knockdown power, the bolt action is pretty smooth, and it's easy to disassemble and re-assemble once it's all clean and spiffy.

Bottom Line

The Beretta A400 Xtreme Plus is the shotgun you'll be happy to have in your arsenal if you want a simple and easy to use shotgun for waterfowl hunting. Even with two rounds at your disposal, it's enough to get a good shot in and reload for the next wave of ducks. Whether you are a newbie to waterfowl hunting or a seasoned veteran of the craft, this shotgun will definitely be a good hunting buddy to have for the long-term.
5.Remington 870 Express Super Magnum 12 Ga 28"
CHECK LATEST PRICE
Aesthetically sharp
Excellent firing power
Lightweight and built solid
Accurate and precise at most distances
Vents on the top of the barrel aid in quick heat dissipation
Trigger pull may be a bit stiff
Recoil pad could be a bit thicker
Front sight can be hard to see at times
What Recent Buyers Report

Many new buyers say that this shotgun's firing power gave way to massive success in their waterfowl hunting. Not only that, they were able to hit ducks from about 50 to 100 yards out on the water (and got them from a good distance while the ducks were airborne). One user said that the front sight is small enough to not obscure his target and therefore delivered a precise, accurate shot.

Why it Stands Out to Us

This shotgun looks pretty dang solid in construction. And the performance is top-notch. In other words, it's the way a waterfowl shotgun should function. The black finish makes this puppy nice and sharp from the inside and out. While it may not be a smart idea to get a shotgun for looks, you can probably get away with it in this case since the shotgun's performance is quite good.

Who Will Use This Most

While not considered to be a "budget" shotgun, it's actually quite affordable. The performance and quality make this a bit of a steal. If you have a sizeable budget and you're willing to spend a little bit extra on a shotgun, this could be the one you end up buying.

Bottom Line

The Remington 870 Express is solid and packs a good amount of firing power for a good price. It was hard to decide on this or our next shotgun for the honor of best budget option. Speaking of which, that's next on our agenda.
6. Mossberg 835 Turkey/Waterfowl Combo 24/28" 12 GA Mossy Oak Break-up 6+1RD
CHECK LATEST PRICE
Affordable for most budgets
Accurate at 75 to 100 yards out
Super reliable; won't jam or malfunction
Excellent for both turkey and duck hunting
Lightweight, perfect for carrying on a canoe
What Recent Buyers Report

Most new buyers were quite happy with this shotgun. They were able to get off some quick shots with the help of a quick and smooth moving pump-action. They added that the firing power was excellent and enough to knock down a duck from a good distance both on the water and in the sky. One user said that he was able to handle this quite nicely with little recoil to work with while on a canoe. Furthermore, he added that the shotgun didn't feel heavy to the point where the canoe would sink.

Why it Stands Out to Us

Mossberg has had the reputation of manufacturing some of the most reliable shotguns in the world. So it's no surprise that this 835 model stands out as one of the most reliable on the market. And for the price it's going for, that sounds like the steal of the century. You don't get any jamming, nor will the pump-action jam on you. So if you want a shotgun that will give you superior firing power and reliability that is hard to beat, this shotgun just might pique your interest.

Who Will Use This Most

This will be a great shotgun for you regardless of whether you are on a budget or have money to play with. Even if you are in the latter financially, you shouldn't pass up on a shotgun like this. Especially when you place something like reliability to a high standard. This will function like a champ and will give you years of faithful service so long as you take good care of it.

Bottom Line

The Mossberg 835 Turkey/Waterfowl Combo Shotgun is perhaps one of the best shotguns you can find for hunting on land and water. Whether you shoot your targets on the ground or in the middle of a lake on your canoe, this puppy will certainly be the hunting buddy you're looking for. This shotgun will make every shot count, and its reliability is second to none.
Best Waterfowl Shotgun Under $1000:
Browning BPS 28IN 12 GA 3.5" Mossy Oak Shadow Grass Blades 4+1RD
CHECK LATEST PRICE
Lightweight and solid
Durable construction
Excellent and reliable firing power that packs a punch
Affordable for budgets with a bit of breathing room
Recoil pad could be a little thicker
Pump-action might be stiff at first
Some have complained about this being a little louder than expected
What Recent Buyers Report

Most new buyers of this firearm were those who were on a budget but had a bit more breathing room than others. They managed to find a shotgun like the Browning BPS at a price just south of $1000. Performance-wise, they got exactly what they've paid for and then some. One user said that he was quite excited to use it for duck hunting once he put through a few practice shots at the range. When it came to the main event, he wasted no time and landed a duck in the air in one shot.

Why it Stands Out to Us

This shotgun has a camo finish that will blend in with the surroundings. Ideally, this might be something you'll want to have on hand if placing yourself in a hidden position while searching for waterfowl is important. Aside from the looks, the performance is about as good as you want from a waterfowl shotgun. Firing power is superb and it's accurate from a good distance. On a good day, you can probably knock a duck out of the pond or lake from about 100 yards. Not bad for a shotgun.

Who Will Use This Most

This will in all likelihood be a solid waterfowl gun for you if you like to dress up in your camo and waders and sit near a part of the lake and wait for an opportunity to strike. This shotgun looks good, works good, and can certainly be a godsend for your bank account. If you are willing to spend a bit extra on your budget, this shotgun will certainly make the cut. You won't be disappointed with the quality and performance in the slightest.

Bottom Line

The Browning BPS 28 inch 12 gauge has a lot of promise. And it will deliver on that promise almost every single time. You'll be able to knock down your targets no problem even if you elect to blend into the environment rather than be out in the open. This is probably one of the textbook examples of how a shotgun for waterfowl hunting should work.
What Do I Need to Know Before Buying a Waterfowl Shotgun
Before buying a waterfowl shotgun, it's important to know a few things in order for you to make an informed decision. This should give you an opportunity to better understand how waterfowl shotguns work. Here are some things that you need to know:
They Have to be Tough and Durable
This is a non-negotiable requirement. You'll need to find something that will be able to handle the abuse and other bumps and bangs that come with waterfowl hunting. Not only that, but these shotguns have a chance to also get down and dirty since you'll be able to wade through mud, water, and other environmental elements. 
Reliability Matters -- Always!
Even if it's something you've heard before, reliability is a huge must here, especially when it comes to waterfowl shotguns. These types of shotguns will be used in situations where you'll need to be able to fire multiple shots (despite being able to hit one duck with one shot). You might be able to clean up and knock down your bag limit in a moment's notice. Find a shotgun that is reliable (especially one that allows for quick shooting).
It Should be Easy to Disassemble for Cleaning and Maintenance
As mentioned before, these shotguns will get down and dirty. So, you're going to need a shotgun that will be able to disassemble quite easily so you can clean every nook and cranny of the shotgun itself. It's important that you clean it on a regular basis in order to expand its longevity and keep it in functional order.
How to Clean a Waterfowl Shotgun
Cleaning a waterfowl shotgun will require you to cover every inch of the gun itself. It's important that you follow these instructions so you know how to properly get the job done each time you have to do the deed. Here are the following steps:
Before moving forward, you'll need to check the shotgun to ensure there are no shells inside in the magazine or chamber. Once you are clear, move on to the next step.


Disassemble your shotgun piece by piece.


Using a rag and cleaning solution, be sure to wipe down the parts that need to be cleaned. First, start off with the inertia system. Be sure to get the hard to reach areas as well.


Wipe down the firing pin. Then remove the trigger system from the shotgun (assuming you haven't done so) and wipe off the excess dirt, oil, and anything else.


Next up is the recoil spring. Be sure to wipe this down with an old shirt or a cloth that won't leave any lint behind.


Be sure to wipe the insides of the other parts of your shotgun (mag well, pump-action, choke tube, etc.)


Wipe down any excess stuff from the cross-thread.


Lubricate the hinge near the firing pin. Be sure to do the same with the other moving parts of your shotgun. One drop should be enough. Move it around to ensure that all your bases are covered.


Clean the barrel with a good bore brush and a cleaning pad. Be sure to do a few passes to ensure that it's nice and clean.


Replace the trigger assembly and the pin that holds it in.


As you slowly re-assemble the shotgun, be sure to put oil on other moving parts like the pump-action track, inertia system, or any other parts if needed.
Conclusion
The best waterfowl shotgun is out there waiting for you. So, find one that will work with you for the long term and be sure that you are able to use it to your advantage each time you go out waterfowl hunting. If you're the kind of hunter that isn't afraid to get down and dirty, then find a shotgun that will do the same. Be sure that it's reliable, accurate, and easy to clean once all is said and done.
People Also Ask
Below is a list of frequently asked questions that will give you a better understanding of how waterfowl shotguns work. You should use this as a guide so you can make a more informed decision:
What Gun Do You Use For Duck Hunting?
If you are in search of a shotgun that will be fitting for duck hunting will likely be a 12 gauge shotgun. Keep this in mind while searching for a shotgun that is intended for that purpose.
What is the Best Shotgun Barrel Length For Duck Hunting?
On average, most duck hunters will rely on a shotgun that will have a barrel that measures at around 28 inches in length. Others may often opt for a slightly longer barrel (specifically 30 inches in length). 
Is a Longer Barrel on a Shotgun Better?
The jury is out here. But one thing to keep in mind is the longer the barrel, the better the chance it will add a bit of weight to the shotgun. If you want to keep your shotgun light in weight, you may want to consider a shorter barrel. 
Does a Longer Barrel Increase Accuracy?
The longer the barrel, there's a good chance you'll be able to make precise and accurate shooting when hunting waterfowl. You may also see a slight increase in velocity as well. 
Sours: https://biggamelogic.com/waterfowl-shotguns/
Rugged enough to survive the harsh conditions of the duck marsh and put meat on the table, these are among the top waterfowl shotguns available today.
What Are The Top Waterfowl Shotgun:
At one time considered a generalist, in its modern iteration, the shotgun has become a specialized too. Gone are the days when your granddad would shoulder his good ol' Browning Auto 5 to bag anything with feathers or fur.
Waterfowlers in particular finicky about what smoothbore they take with them into the blind.
And why not? A shotgun meant to knock down quails on the wing most likely won't excel at taking down a goose on a high pass shot. With that in mind, we've put together the top waterfowl hunting shotguns available today. The guns are tailormade to survive the harsh conditions of the duck marsh and put meat on the table.

Browning BPS
The Browning BPS (Browning Pump Shotgun) has been around for more than 50 years and has proved itself in the field. Browning saw fit this year to make a few improvements to this shotgun—which is no stranger to the duck marsh. A redesigned stock and forearms, the addition of Browning's Inflex recoil system and a larger, more glove-friendly trigger guard are all changes the duck and goose hunter will have no problem with.
Also new for 2019 is the BPS Waterfowl model, which is decked out in Mossy Oak Shadow Grass Blades camo. The BPS Waterfowl model weighs 8 pounds and has a 3½-inch chamber for when you want to shoot the big stuff on geese. It ships with three Invector Plus chokes, has a 26-inch barrel, 14½-inch length of pull and comes with sling swivel studs to better pack it through the swamp. This is a lot of shotgun.
MSRP: $779.99; Browning.com

Retay Masai Mara Waterfowl
Retay has caused some shakeup in the shotgun world the past few years with the introduction of its Inertia Plus system. In short, Retay's rotating bolt system employs a torsion mechanism to keep the shotgun in battery so that a sharp jarring or setting the shotgun down abruptly would not disengage the bolt, as would sometimes happen with traditional inertia-powered shotguns.
For 2019, Retay added a waterfowl model to its Masai Mara line of shotguns. The Retay Waterfowl features a 3½-inch chamber. It's capable of effectively cycling lightweight and low-recoil shotgun shell loads, as well as heavy hunting loads, and it should be as at home in the dove field as it is in the goose blind. This shotgun also features Retay's proprietary Removable Ejector System, an 8mm vented sight rib, TruGlo front bead sight and a set of five interchangeable MaraPro choke tubes. A big plus is the easily removable trigger group if you need to clean out mud and crud in the marsh.
MSRP: $1,399; RetayArms.com

Remington V3 Pro Waterfowl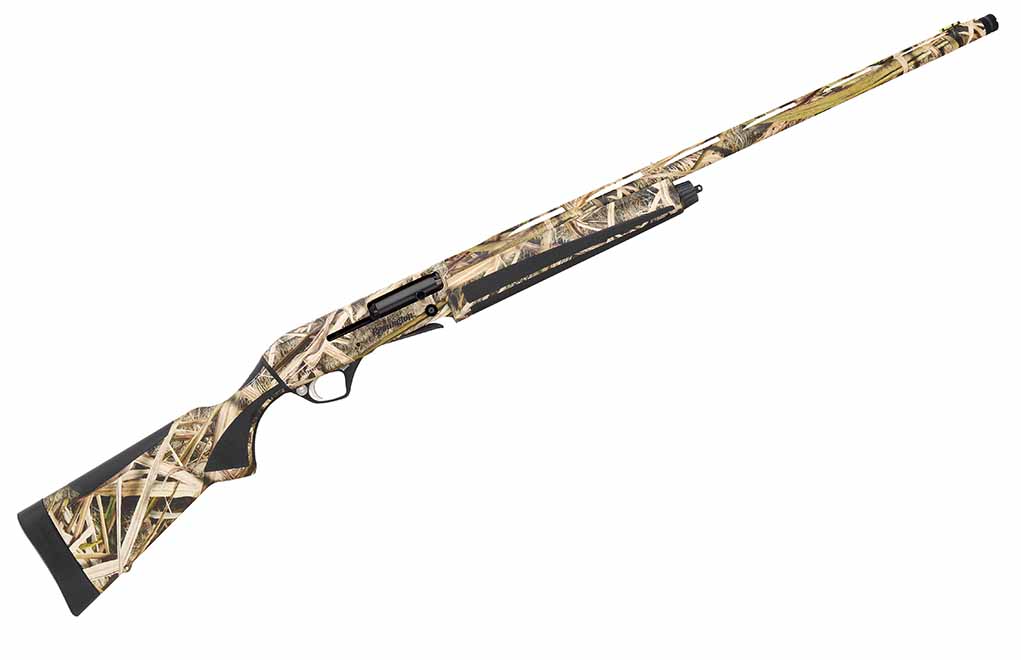 Following on the heels of its daddy (the VersaMax), the V3 has established its place in the world as a soft-shooter. The revolutionary VersaPort Gas system enables this shotgun to shoot the lightest target and dove loads while also handling magnum goose and turkey loads.
Remington stepped up its game with the advent of the V3 Pro series, adding an oversized bolt handle, safety button and bolt release, along with carving out the loading port for easier loading with bulky gloves. The real deal here for duck hunters is the Cerakoted receiver inside and out, because nobody is as hard on a shotgun as a duck and goose hunter.
The V3 Pro Waterfowl includes three black, extended chokes—improved modified, modified and full—and shims to adjust drop and cast on the stock. The barrel is 28 inches long, and the length of pull is 14¼ inches. This could be the indestructible duck gun you've been looking for.
MSRP: $1,195; Remington.com
---
On The Mark With More Shotgun Info:
---
Stoeger M3500 Waterfowl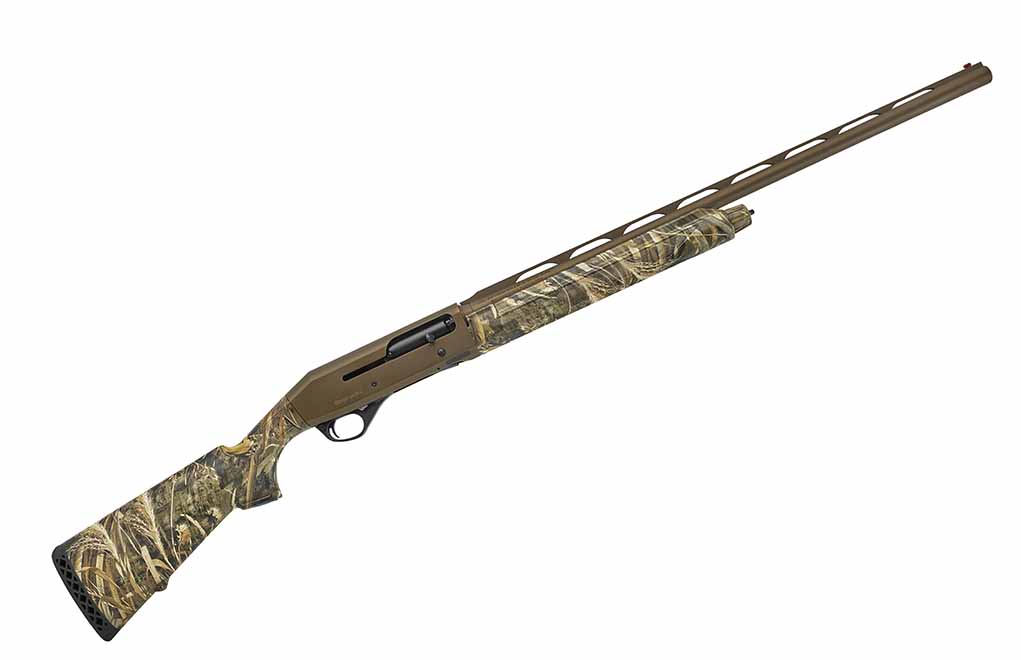 Stoeger has answered the call from waterfowlers in 2019 with new features on its M3500 Waterfowl shotgun. In my view, the biggest advantage for the waterfowl hunter here is the Cerakoted barrel and receiver in Flat Dark Earth finish. The stock and forend are Realtree MAX-5 camo.
The M3500 is an inertia-driven gun, and loading, unloading and operating it in cold weather is made easier by the oversized bolt handle and bolt-release button. A specially machined and beveled loading port makes feeding shells into the magazine tube with gloved hands quick and efficient. Five (IC, M, XFT, close-range and mid-range) extended choke tubes and a wrench come standard with the Waterfowler.
A shim kit is also included; it allows for adjustment of the gun for drop and cast. The full-length vented rib is topped with an easy-to-see red-bar front sight that stands out in low light. The receiver is drilled and tapped for the addition of an optic, and it ships with a paracord sling. The M3500 shoots 2¾-, 3- and 3½-inch ammo, has a 14 3/8-inch length of pull, weighs 7.8 pounds and comes with a five-year warranty. This is a lot of duck gun.
MSRP: $849; StoegerIndustries.com

CZ-USA 1012 Synthetic Mossy Oak Bottomland Camo
Hunting shotguns should do one thing without fail: go boom! every time you pull the trigger. The new CZ-USA 1012 in Mossy Oak Bottomland camo is a semi-auto that will shoot whatever you stick in it—from light, 2¾-inch loads to heavy, 3-inch Magnums.
This isn't a gas-powered shotgun that can be a little finicky when it gets dirty; the 1012 uses the energy of the recoil to eject the spent shell and load the next round. CZ-USA put the 1012 through the wringer—firing more than 5,000 rounds without cleaning or any lubricant. The 1012 Synthetic has a 14½-inch length of pull, 8mm flat vent rib, 28-inch barrel, extended black chokes and weighs a surprising 6.5 pounds.
The media hoopla for this model of the CZ-USA Synthetic 1012 will occur in 2020, but you should be able to find one on the shelf now. A shotgun using inertia to work the action is not new, but one with this price is.
MSRP: $659; CZ-usa.com

TriStar Viper Max 3½-Inch Magnum
TriStar has added a 3½-inch, chambered gun to its semi-auto line for the waterfowl hunter. The Viper Max allows you to shoot light target loads to heavy waterfowl loads utilizing a two-piston system. The Viper Max comes with light- and heavy-load pistons.
The light-load piston is used for 2¾-inch shells; heavier magnum rounds use the heavy-load piston. The secondary piston can be stored in the forearm for easy retrieval. The Viper Max comes with four Beretta/Benelli Mobil Chokes (SK, IC, M, F), as well as overmolded rubber grips on the stock and forearm for added comfort.
A newly developed recoil pad and swivel studs are also included, and the Viper Max is backed by a five-year warranty.
MSRP: $780 (for the Bronze or Mossy Oak Blade model); TristarArms.com
The article originally appeared in the October 2019 issue of Gun Digest the Magazine.
NEXT STEP: Download Your Free Storm Tactical Printable Target Pack
62 Printable MOA Targets with DOT Drills - Rifle Range in YARDS
This impressive target pack from our friends at Storm Tactical contains
62 printable targets
for rifle and handgun range use. Target grids and bullseye sizes are in MOA. Ideal for long-range shooting!
Get Free Targets
---
Larry Case
Larry Case is a contributor to Gun Digest the Magazine.
Sours: https://gundigest.com/gun-reviews/shotguns/6-top-waterfowl-hunting-shotgun-options-2019
Browning Cynergy Shotguns - Reeds VGF
Browning 425 Special Waterfowl
Singling out a high goose or a fast flying duck cleanly from the sky can take some doing. Equally, given the fact that you can only use non-toxic loads and that they rather need to be of the Magnum variety, you may find your average game gun ain't up to it. Not so with one of Browning's Special Waterfowl 425's, an old fashioned shotgun with serious handling capacities.
Basic Outfit
With the Special Waterfowl your money buys everything you need from the simple plastic travelling case to a full set of flush-fit, Invector Plus multi-chokes and key. These in turn fit into a pair of 30" over & under chopper lump, back-bored, chrome- lined, steel proofed, 3½" chambered barrels. Designed to withstand the heaviest 12 – bore loads, these rich blacked tubes are joined together with a solid mid rib and a low, vented 6mm top rib and small bead. Where they differ compared to the now more usual monobloc system is that the barrel, chamber and lumps are manufactured from solid as one unit; so no joints or potential weaknesses.
The boxlock action is the basic satin finish item. However it has been adorned with skeins of geese and flighting duck with the nomenclature 'Special Waterfowl' between the two famous trapdoors along with a gold 'Buckmark' inlayed into the trigger guard. The gold plating continues on the smooth non adjustable trigger blade whilst the top lever and manual safety catch/barrel selector are two of the plainest in the range, indicating this gun's intended harsh environment existence.
Both the London-style forend and rounded, semi pistol grip stock are basic by definition, although selection of the straight grain timber adds to the furniture's longevity and strength. Finished with Browning's semi-matte 'Dura Touch' coating and a soft rubber recoil pad, what the wood lacks in beauty it more than makes up for in resilience to whatever you, the environment or the weather may throw at it, whilst the close cut chequering comes into its own when this 425 is shot wearing neoprene gloves.
Measuring Up
From me it's the Special Waterfowl's dimensions that make it such a superb gun to shoot. With a drop at comb and heel of 1½" and 2" and a length of pull measuring a precise 14¾" this Browning is an exact fit. Add to this a crisp 5lbs 1oz trigger and you have a 12-bore that feels and mounts exactly as it should do.
Something you also have to realise is that when used for purpose, there's every chance you'll be decked out in your camo suit and gloves. Sensibly the trigger guard is more than generous enough to allow swaddled fingers easy access, a nice touch when compared to other duck hunter layouts. It's the dimensions where this Browning really wins out. If this gun fits me like it does, then it should be ideal for the majority of others - especially when compared to the slightly short stock measurements exhibited by semis and pumps.
Multi – Functional
It just so happened that I was able to try this 425 on a variety of targets inclusive of the ones this gun's actually designed for. Choked up ½ and ¼ the first challenge was 50 of Rishton CS's sporting targets, the gun instantly taking on the familiar attributes of a flat shooting Trap gun. Yes, a more than respectable score resulted, with only the fast crossers needing a degree of physical effort. What immediately made its presence felt or rather didn't was the singular lack of recoil even from my usual 28g Express Supremes. So much so that a gradual increase through various 30-gram loads up to rapid discharge of a pair of 3½" 50g Winchester buffered load magnums did little if anything to upset the 425 or the shooter's equilibrium.
Following up the clays with an evening's inland duck, goose and crow shooting only emphasised the 425's ability to sustain the use of heavy loads. No doubt the Special Waterfowl is a genuine companion when squatting in a ditch. Retaining the same restrictions, the steel and non-toxic proofed, back-bored barrels swung easily onto their target, the game rib and small bead accentuating why this style has stood the test of time. The other beauty of the O/U format is that you know where your empty shell cases are, in the gun or your pocket. In the 425 you have 8lbs 4oz of 12-bore that hefts well, swings smoothly and handles just as you'd expect, allowing you to get on with the job.
More Than Just a Duck Gun
If you view this 425 as just a wildfowling piece you're seriously missing out on what the gun can actually do. Fair enough, if you opt for the £1,580 full camo version then yes, it's more or less a pure duck hunter. But if you save a few pounds and buy the more conventional finish as tested for £1,500 you'll find you've bought a surprisingly capable all rounder. OK, at over 8lbs it's no lightweight but the slight weight – forward balance and ability to eliminate all but the most insignificant recoil makes this Browning a true pleasure to shoot.
If it's a 12-bore that'll stand up to anything and at a price nearly everyone can afford that you are interested in, then the 425 Special Waterfowl is worth serious consideration. Similarly, if you want a dedicated goose gun and don't want to go down the semi-auto route, there's hardly anything else out there that combines the affordability, adaptability and sheer quality of this 425.
We Reckon!
• One of the strongest 12-bores you'll ever own
• This Browning will last you a lifetime
• A gun that thrives on hard work
PRICE: £1,500 srp (as tested)
click on image to enlarge

click on image to enlarge

click on image to enlarge

click on image to enlarge

click on image to enlarge

click on image to enlarge

click on image to enlarge

click on image to enlarge
gun
features
Name : Browning Special Waterfowl
Calibre: 12 – bore
Barrels: 30"
Action: Break – barrel boxlock
Stock: Game style basic grade
Weight: 8lbs 4oz
Chokes: Invector Plus multi - chokes
Sours: https://www.gunmart.net/gun-reviews/shotguns/over-and-under-shotgun/browning-425-special-waterfowl1
Guns browning waterfowl
Waterfowl hunters are serious about their guns. They tend to fall mostly into two camps: Those who hunt with a 30-year-old pump with all the bluing worn off, and those who choose a top-of-the-line semi-auto with the latest camo pattern and all the bells and whistles. Certainly, there are some hunters in between who will come into your shop looking for a Benelli Super Black Eagle III on a Remington 870 Express budget. Fortunately, this year's crop of waterfowl-specific shotguns has something for everyone.

1. Benelli SBEIII with BE.S.T. Coating
The Benelli Super Black Eagle's reputation precedes it, and improvements to the line culminated in the Super Black Eagle III a couple of years ago. The SBEIII features Benelli's inertia action, a ComfortTech stock to tame recoil, an oversized bolt release, adjustable fit, and more waterfowler-friendly options. In 2020, Benelli added a proprietary BE.S.T. (Benelli Surface Treatment) coating designed to eliminate the problem of corrosion.
Benelli is so confident in this coating (the company spent 10 years developing it) that it's offering a 25-year warranty on all BE.S.T.-treated parts on the SBEIII.

The SBEIII with BE.S.T. comes in 12-gauge with 26- or 28-inch barrels and a 3.5-inch chamber. MSRP is $1,999.
2. CZ 1012 Synthetic Bottomlands
The CZ 1012 has been around for a while, but for 2020 it picked up a snazzy new (old) camo pattern: Mossy Oak's classic Bottomlands.
The 1012 uses an inertia system the company says will reliably cycle a variety of loads — the same action CZ used to set a clay target world record in 2019. The 1012 Bottomlands has a 3-inch chamber and a 28-inch barrel, all at an attractive MSRP of $749.

3. Savage Renegauge Waterfowl
Savage joined the serious waterfowling world in 2020 with the introduction of the company's first-ever semi-auto shotgun.
A single-piece, lightweight bolt carrier; self-regulating gas system that cycles all loads; melonite finish for corrosion resistance; oversized controls; chrome-plated reciprocating components; impressive adjustability options and, naturally, a camo finish makes this gun one to check out.
It's available in 12-gauge with 26- or 28-inch barrels, with a 3-inch chamber and an MSRP of $1,549.
4. Stoeger M3500 Waterfowl Special
A 12-gauge, 28-inch-barrel, 3.5-inch-chambered inertia gun in Realtree Max5 with FDE cerakote — what more does a waterfowler need?
The M3500 Waterfowl Special from Stoeger also has an oversized bolt handle and release for better handling by gloved hands, as well as a fiber-optic front bead. At an MSRP of $849, this one should be popular with those champagne-taste-on-a-beer-budget customers.

5. Mossberg Maverick Two-Tone
For the hunter on a budget, Mossberg's Maverick entry-level pump-action gun features dual extractors, twin action bars, positive steel-to-steel lockup, crossbolt safety, an anti-jam elevator and more. It also accepts Mossberg 500 accessories and parts if you have a need to mix and match guns for various uses.
Two-toned models in bluing and Mossy Oak Treestand were introduced for 2020, in a variety of configurations, with fixed chokes. They come in 12- or 20-gauge, and a youth model is also available. MSRP for the 12-gauge is a bargain at $259.

6. Beretta A400 Xtreme Plus
This gun isn't new, but for 2020, a left-handed version is available. A top-of-the-line gun with multiple camo finish options, the Beretta A400 Xtreme Plus features an enlarged loading port, reversible safety, soft-shooting gas action, soft-comb stock, Kick-Off Mega recoil reduction system, extended charging handle, five included choke tubes, and more.
It's chambered for 3.5-inch shells and comes with 26-, 28- or 30-inch barrels. Price varies based on the configuration (of which there are plenty), but MSRP starts at $1,750 and goes up from there.

7. Remington V3 Waterfowl Pro
This gas-operated 3-inch gun features Remington's VersaPort system to cycle any load.
It's adjustable for drop and cast and features an oversized bolt handle, bolt release and safety; a redesigned loading port for faster, easier loading; three extended choke tubes and a fiber-optic front sight. It comes in three different combinations of camo pattern and Cerakote, all with 28-inch barrels, in 12-gauge only. MSRP is $1,230.
8. Browning BPS Field Composite
The Browning Pump Shotgun practically owns the higher-priced-pumps category, and in 2020, the company added a Mossy Oak Shadow Grass Blades model to the line.
This gun features bottom ejection, rugged steel components, serrated slide release, tang safety, Inflex recoil pad, redesigned composite stock, oversized trigger guard, and more. The new Shadow Grass Blades version comes in 12- or 20-gauge with 26- or 28-inch barrels. The 12-gauge has a 3.5-inch chamber to handle the largest loads. MSRP is $779.
9. SAR USA SA-X 700
SAR USA is marketing a gas-operated semi-auto called the SA-X 700, designed in the Turkish tradition. It comes in 12- and 20-gauge with 26- or 28-inch barrels, with a synthetic stock and a durable black finish.
It's chambered for 3-inch shells and comes with five choke tubes. Other highlights include an aluminum alloy laser-marked receiver, high-ventilated aiming rib barrel and a front fiber-optic bead sight. Designed to take a pounding in any weather condition, and with an MSRP of just $666.66, the SA-X 700 should be easy to carry and easy on the wallet.

10. Impala Plus
Distributed exclusively by Zanders, the Impala Plus is the latest Turkish-made shotgun to make a splash in the U.S.
With features like a TruGlo fiber-optic sight, five stock adjustment shims, removeable comb riser, turn-and-remove bolt handle, triangular bolt release, high-pressure-treated barrel, a six-lug locking bolt, and a two-year warranty (warranty work done in the U.S.), it's not difficult to imagine American hunters embracing this 3-inch 12-gauge as a solid option for waterfowling, especially for the price. A variety of configurations are available in walnut, carbon fiber, assorted colors and five different camo patterns, with barrel lengths from 24 to 30 inches. MSRPs vary based on configuration between $450 and $700.
11. Winchester SX4 Waterfowl Hunter
Winchester's had a lot of success with the SX lines, and the SX4 has been no exception.
The Waterfowl Hunter model features back-bored technology for optimum shot patterns, a self-adjusting active valve gas system, drop-out trigger group for easy cleaning, hard chrome-plated chamber and bore, ergonomic stock with textured gripping surfaces, Inflex recoil pad, larger bolt handle and bolt release button, ambidextrous crossbolt safety and more. It comes in 12- or 20-gauge, with a 3- or 3.5-inch chamber for the 12-gauge, and barrel length options of 26 or 28 inches. Three choke tubes are included, and the gun is decked out in Mossy Oak Shadow Grass Blades camo. MSRP for the 12-gauge starts at $939.
12. Weatherby Element Waterfowler Max-5
Weatherby rifles speak for themselves — but do your customers know that Weatherby has turned its gun-making expertise toward shotguns in the past several years? Designed as a lower-priced alternative to the company's higher-end 18i, the Element pairs Weatherby's signature fit and finish with a clean-shooting inertia action in 12- and 20-gauge.
It's adjustable for drop and cast and features a vented top rib, fiber-optic front bead, chrome-lined bore, dual-purpose bolt release, four choke tubes (three with the 20-gauge), and Griptonite stock with pistol grip and forend inserts. It's offered with a 26- or 28-inch barrel at an MSRP of $699.

Sours: https://www.huntingretailer.com/shotguns/12-waterfowl-shotguns-for-2020
Browning Maxus II Review
15 Best Duck and Goose Guns Ever
Stay tuned to F&S for more authoritative lists of the top rifles and shotguns for every pursuit and purpose, including the best deer camp rifles ever made, the best shotguns for grouse hunting, and the most accurate factory rifles we've ever tested.
Beauty is in the eye of the beholder, and what's beautiful in the duck marsh or goose pit is the waterfowl shotgun that works, no matter how harsh the conditions. Picking the 15 best of anything isn't easy, and with the best duck and goose guns, we've got 120 years worth of history to consider, from the Model 1897 Winchester, the first pump for smokeless powder, to the high-tech 3½-inch semi-autos of today.
10 Traits of the Perfect Waterfowl Gun
The best duck and goose guns don't have to be pretty, the way bird guns do. All they have to do is work in the mud, in the snow, in the grit, in the rain, and in single-digit temperatures on both sides of zero. They also have to deliver heavy loads on target to cleanly kill tough ducks and geese. It's a tall order, but there are plenty of guns out there that can fill it.
I shoot a few different shotguns at ducks and geese. The gun in the photo above is the closest I have to an everyday duck gun: a Beretta 3901, shown along with a greenhead and a mallard-black hybrid I shot with it last fall. It possesses many of the traits of a good waterfowl gun. Let's go through them, one at a time.
1. Gauge
A 3-inch 12-gauge shotgun covers everything from teal to swans with the right ammunition. I shoot No. 2s and BBs in steel and HeviMetal in my gun and have no complaints about its killing power. Occasionally I'll dip into my carefully hoarded store of premium tungsten ammo on days I think I'll have to shoot far, but steel works fine 95 percent of the time.
Throw in a 3½ chamber, as many hunters prefer, and you get an extra few yards of range, although at a steep cost in recoil. Personally, I shoot a 10½-pound 10-gauge if I want to throw more than a 3-inch 12′s shot downrange, but that's me. Tens pattern better, but they aren't nearly as versatile as 3½-inch 12s.
The 20-gauge is gaining popularity as hunters come to realize it's enough gun for birds over decoys, but unless you shoot all your geese at 15 yards, or spend the money for tungsten, it's probably not an all-around gun.
2. Action
Semi autos are by far the most popular action type these days. Mine is a gas gun, which offers the advantage of reduced kick, which I especially appreciate in the early season before I'm so bundled up I can't feel a thing. My gun, like some gas guns, turns sluggish when temperatures sink much below 15 degrees, no matter how well I strip the old oil and keep it clean. I am thinking I might replace it with an inertia gun, which won't cut the kick much, but, in my experience, will work better in the cold.
Pumps aren't seen as often as they used to be, which is a shame, because hand-powered shotguns work no matter what.
Over/unders make the most reliable guns of all, and I'll bring one on days when it's too cold for my frozen fingers to push shells against stiff magazine springs (bad circulation in the feet and hands is a hereditary curse, and highly inconvenient if you like to hunt in very cold weather as I do).
3. Chokes
Extended choke tubes are easy to change, they let you see right away what choke you've got in the gun, they (often) improve patterns, and they move any stress of shooting steel out beyond the muzzle.
My preferred choke for almost everything is a Light Modified, which strikes the right balance between open enough for over-decoy shooting, but dense enough for good follow-up shots. I have other chokes for this gun, but I can't remember the last time I used one other than the LM tube in it.
4. Barrel Length
Like so many duck guns, mine has 28-inch barrels, which provide a nice amount of weight-forward balance to keep your swing smooth, and are kinder on the ears of your blind-mates than a short-barreled gun might be. I like a 30-inch barrel if I can find it, and a few makers do offer them.
5. Trigger
Yes, my gun has a trigger. That's all I care about. As I've mentioned before, I am insensitive to trigger pulls, and as long as I can make the gun go off, that's a good enough trigger for me. For those who care about pulls, I'd say 4 or 4½ pounds is a good weight. Cold duck blinds are no place for light triggers.
6. Weight
Everyone seems to want lightweight waterfowl guns, except me. Shooting 3½-inch shells in any gun, but especially a pump or light inertia gun, hurts. Weight absorbs recoil, and it makes a gun smooth and steady. My 3901 weighs somewhere close to 8 pounds with a sling, which is how I like it.
7. Sling Swivels Studs
It goes without saying that any duck gun should have sling swivel studs so you can have your hands free for carrying decoys or wading—or to be ready for that suicide bird that always wants in when you're picking up decoys. Goose guns, which are typically driven right up to the blind, don't need slings.
8. Sights
Most waterfowl guns now come with fiber-optic beads. Personally, I can take them or leave them alone but many hunters prefer glow-in-the-dark beads for the low light of early morning. This gun has a small and fairly dull orange fiber-optic, only because the factory bead fell out and I wanted to replace it with something.
9. Enlarged Bolt Handles, Safeties, and Bolt Releases
The trend in waterfowl guns now is to trick them out by enlarging all the controls to make them easier to use with gloved hands. In theory, it's a good idea. In practice, I don't like it, although many do. Enlarged bolts ding the gun's neighbor in the safe. It's too easy to bump a big bolt release (even putting a gun in a soft case can do it) and shut the bolt when you want it open. Yes, my gun has one because a friend borrowed it and gave it back to me with the AnglePort bolt release installed on it by way of thanks. I appreciate the gesture, but hate the bolt release. As for enlarged safeties, I'm all in favor, although this gun doesn't have one.
10. Stock and Finish
A waterfowl gun should be fairly drab, to keep ducks and geese from spying it, but I often hunt with walnut and blued steel guns because I like them. Synthetic stocks are standard equipment on the best duck and goose guns now. I shoot my wood-stocked guns when I can, but I have come to appreciate synthetics because they don't make me want to cry after I drop my gun on rip rap or gravel, or bang it against the steel frame of a pit.
As for metal finish: A waterfowl shotgun should have something better than the 3901′s easy-rusting matte metal, which is either a very dull blue or possibly a bead-blasted finish. The currently popular Cerakote is a great weatherproof finish, and an overall camo dip keeps barrels from getting rusty as well.
15 Best Duck and Goose Guns Ever
No matter how much waterfowl hunting changes, the best duck and goose guns have more or less the same traits. That's because they all have the same one job to do, and that is to deliver their heavy payload on target no matter how cold and wet the weather, nor how muddy the hide. The waterfowl guns on this list may not all look the same, but they have proven their worth over countless sunrises, and they will not fail you. They are not listed in any particular order here, because every last one of them is a winner. —P.B.
1. Remington 870
I've seen the ubiquitous 870 everywhere, from the bottom of duck boats to the gun rack at a billionaire's duck camp. It's earned its popularity as one of the best duck and goose guns by being slick and reliable in any weather and by being made in numbers so great—11 million and counting—that it's almost statistically impossible not to own one.
Originally part of a "family" of rifles and shotguns that shared common parts, the 870 was built on the receiver of a 16-gauge 11-48, which explains its trim lines. They were made in Ilion, New York starting in 1950. Apple pie is as American as an 870. Mine, a Super Mag, waits faithfully at home for the days it's too cold for any other gun to work. –P.B.
2. Winchester Model 12
The Model 12, billed as the "perfect repeater," is widely and correctly acknowledged as the greatest pump gun ever made. Sure pointing and wonderfully slick, the Model 12 was the gun to have among waterfowlers through the first half of the 20th century. While most were plain-barreled, 2¾-inch guns, the Heavy Duck model, with its solid rib, 3-inch chamber, and steel magazine plug for extra weight, was the ultimate in waterfowl weaponry until the 3½-inch magnum came along. There were nearly 2 millions Model 12s made between 1912 and 1964, and they aren't hard to find if you want to add a touch of retro-greatness to your next duck hunt. —P.B.
3. Browning BPS
The Browning Pump Shotgun—best known simply as the BPS—has been marketed as a waterfowl piece from the outset. Similar to the Ithaca Model 37 (which John M. Browning also designed), the BPS both loads and ejects from the bottom of the receiver. With a tang-mounted sliding safety, the gun is truly ambidextrous.
It has been made in everything from .410 bore to 10 gauge, and with a variety of barrel lengths and stock configurations, including camo synthetic for modern waterfowlers. If the BPS has a flaw, it's a bit more difficult to disassemble, clean, and reassemble than other pump-gun designs—but that's seldom a problem in a duck blind. —W.B.
4. Browning A-5
The recoil-operated, humpbacked Auto-5 was the first successful semi-automatic shotgun—and some would argue, one of history's all-time best gun designs. Introduced in 1905, the original A-5 design remained in production until 1988, though Browning continued with some special runs of the gun in the years after that. The Remington Model 11 was a licensed copy of the original design.
Few guns that were used in the days of market hunting and prior to steel shot are still widely seen in duck blinds today, but the original A-5 often is. A modern, inertia-driven gun of the same name (but a much different design) debuted in 2011, and is still in the Browning product catalog. —W.B.
5. Winchester Super X2
Winchester modeled the outside of the X2 after the classic Super X1 and gave it the innards of the Browning Gold, resulting in a gun with old-school good looks and modern 3½-inch capabilities. It was the first really good 3½-inch gas gun, and its heavy weight helped make it a soft-shooting, easy swinging duck gun. The subsequent X3 and X4 have only gotten lighter and uglier, making this one—I've owned three—the pick of the litter. —P.B.
6. Ithaca Mag 10
Ithaca's Mag 10 tamed the 2¼-ounce lead 10-gauge magnum shell better than any gun. Shooting one, the sensation was as a firm shove backward, as if a giant laid one finger on your shoulder. Made from 1975 to 1989, the Mag 10 was the favorite of a fanatical few goose and turkey hunters, but never a big seller. When steel shot arrived, Remington bought the Mag 10 patent, redesigned it extensively, and introduced it as the excellent SP10, which, unfortunately, couldn't compete with lighter, more versatile (if much harder kicking) 3½-inch 12s. —P.B.
7. Benelli Super Black Eagle
The first semi-automatic designed for 3½-inch shells is from an Italian company that has since dominated the modern American waterfowl gun market. Now in its third iteration, the Super Black Eagle is an inertia-driven gun that will function with 2¾-inch dove loads all the way up to the heaviest goose loads, without the gunk and fouling associated with gas-operated shotguns.
The inertia system, by nature, kicks, and so advancements to the design have largely centered around recoil reduction. The gun is and has always been expensive, but it's proof that serious hunters are willing to pay for performance. —W.B.
8. Beretta A400
The problem with 3½-inch 12-gauge shells is that they administer a beating on par with elephant rifles, particularly out of pump-action and inertia-driven semi-automatic shotguns. The 3½-inch Beretta A400 Xtreme is one of the softest-shooting duck guns in the marsh, thanks in part to Beretta's "kick-off" technology, which uses spring-loaded shock absorbers to help soften recoil; that it's a gas-operated gun helps, too. It's also famously reliable with even the lightest 2¾-inch loads. —W.B.
9. Remington 11-87
In 1963 Remington [undo link] changed shotgunning forever when it introduced the first reliable gas-operated semi-auto shotgun. Designed with the aid of computers, the 1100 was cutting-edge, and its soft recoil instantly made it a hit with target shooters and waterfowl hunters. Great as the 1100 was, it wasn't the ultimate, as you still had to swap barrels when you switched from 2¾-inch to 3-inch shells.
The 11-87 solved that problem in 1987, adding a pressure-compensated piston that let one 3-inch barrel handle all loads. I still believe the 1100 and 11/87 to be the softest shooting semi-autos of all. —P.B.
10. Beretta 302-303
Beretta's 300 series guns are so durable and reliable they became the only choice of gas-gun target shooters, and a favorite among high-volume wingshooters as well. Those same qualities made them excellent waterfowl guns. In fact, back in the 80s the 302 and 303 were so good that when Browning decided it couldn't beat Beretta with a gas gun of its own, it had Beretta put a humpback on the 302 and called it the B-80. I have one of each, a B-80 and a 302 or, if I switch barrels, a pair of Brownettas, as such a hybrid is known. —P.B.
11. Super Fox HE Grade
I'm reluctant to include a two-shot antique in a rundown of "the best" duck and goose guns, but there is something special about a 3-inch HE Super Fox. Nash Buckingham's Bo Whoop, the most famous duck gun in history, was an HE Grade Super Fox, built specifically for the new (at the time) Super X 3-inch magnum load of No. 4 lead shot.
I used Bo Whoop during a Mississippi duck hunt a few seasons ago, albeit with modern Bismuth shotshells. It was the most exciting assignment of my career. The 9½-pound gun with double triggers and no safety pointed and settled on ducks in a way that a synthetic autoloader simply cannot. I get chills just thinking about it. —W.B.
12. Ithaca NID 10-gauge
When Winchester decided to load a new, 3½-inch 10-gauge magnum shell in the '30s (standard 10s were 2-7/8 inches) they went looking for a gun strong enough to chamber the new shell. Ithaca complied with a beefed-up 10-gauge version of their NID (New Ithaca Double), a massive 10-plus-pound side-by-side with 32-inch barrels.
About 800 were built between 1932 and 1942. Although there were never many in the first place, they do still pop up used from time to time for $2,500 or so if you absolutely have to have something old, cool, and different to break out in the goose pit. —P.B.
Sign up for Field & Stream's newsletter to receive the latest and greatest gear reviews and expert hunting and fishing advice.
13. Mossberg 835
When I first began duck hunting in college, my buddy had an 835. We once legitimately used it as a boat paddle, and he routinely left it in the bed of my truck—with no case—for days at a time between hunts. It handled like a waterlogged 2×4, and we lovingly called it "the Moose Turd." Yet, despite its abusive maintenance schedule, I never saw it malfunction in any way, and it caused the demise of many ducks.
The 835 was the first 3½-inch pump shotgun, and it's still going strong today. The barrel is over-bored and ported. My buddy's gun had a 24-inch barrel (it was really a turkey gun), and it was obnoxiously loud. I'd get the 28-inch waterfowl version if I were buying today. —W.B.
14. Remington VersaMax
Having hit home runs with the 1100 and the 11-87, Remington struck out with the 3½-inch 11-87 Super Magnum and as a result trailed badly in the 3½-inch magnum race for many years. With the Versa Max in 2010, Remington caught up. Their version of the 3½, all-load semi-auto uses a series of seven ports in the chamber.
The longer the shell, the more ports it covers, limiting the amount of gas bleeding into the action. It's simple and it works, allowing the VersaMax to shoot all loads reliably, and with a huge reduction in felt recoil. I have shot the VersaMax in Canada, where you can burn through shells by the box, and it is gentle on the shoulder and hard on the birds. It's a homely gun, but an exceptionally faithful one. —P.B.
15. Winchester Model 87
The Model 1897 wasn't the very first pump-action shotgun, but it was the first one that really mattered to duck hunters. Another John M. Browning design, the gun had an exposed hammer and was fit for use with then-new smokeless powder. It's maybe best known for the short-barreled trench gun versions used in World War I, but it was available with barrel lengths as long as 36 inches (though most hunting guns were 28 to 30 inches).
The Model 97 was around during the heyday of market hunting, but production ceased in 1957, years before the non-toxic shot mandate for waterfowl hunting. Though it's rare to see a Model 97, or much of anything with exposed hammers, in a duck blind today, virtually every modern pump gun is influenced by the design. That alone earns it a place on the list. —W.B.
Sours: https://www.fieldandstream.com/story/guns/15-best-duck-and-goose-guns-ever/
You will also be interested:
Lord, what's wrong with my head. - He, swaying, came up to me, threw back the blanket. Go - take a walk for two hours, I need to carry out the procedure with Rustam, and you interfere with your cough.
410
411
412
413
414