Introducing America's Most Affordable 5G Smartphone Ever – Only on America's 5G Leader
BELLEVUE, Wash. — June 30, 2021 — Let's REVVL in affordable 5G for All. T-Mobile (NASDAQ: TMUS) today announced the launch of the most affordable 5G smartphone ever in the U.S., the REVVL V+ 5G, available exclusively at T-Mobile and Metro by T-Mobile. To celebrate the most affordable 5G smartphone on the largest, fastest and now, according to umlaut, most reliable 5G network, T-Mobile is also launching a 5G Augmented Reality (AR) game. See how fast you can light up T-Mobile's nationwide 5G map for a chance to win a free REVVL. The new smartphone will be available in Metro stores on July 12 and in T-Mobile stores and online as early as July 23.
"When we say we're just getting started, we mean it. Just three months after we launched the Great 5G Upgrade, we continue to tear down the barriers standing between you and a great 5G experience," said Mike Sievert, CEO of T-Mobile. "REVVL smartphones have always been about giving people a no-compromises experience: great features at a great price. And REVVL V+ 5G sets a new bar for the industry."
Top-Notch Value
Once again, the REVVL line hits the sweet spot for high-end specs without the high-end price tag, coming in at just under $200.The latest REVVL 5G smartphone sports a big 6.82" HD+ display with triple rear cameras and a 16MP front facing camera. It's packed with a massive 5,000 mAh battery plus fingerprint sensor and face unlock for premium security. Want to catch it in action? Check out the unboxing video here: https://youtu.be/sbfFzGfa-Tg
Win Hard. Play Hard
T-Mobile is America's 5G leader with the largest, fastest and most reliable 5G network – and the new REVVL V+ 5G smartphone taps into T-Mobile's Extended Range 5G for nationwide coverage and Ultra Capacity 5G for super-fast speeds. To celebrate all those 5G wins, T-Mobile is rolling out an AR game, challenging customers to light up T-Mobile's nationwide 5G map as quickly as possible. It's not only fun – it could win you a free REVVL V+ 5G! T-Mobile President of Technology Neville Ray will randomly choose a few of the top scores shared on Twitter and send the winners a free device. To play, just scan the QR code below, then tweet a screenshot of your score with #LeaderIn5G and #sweepstakes for a chance to win!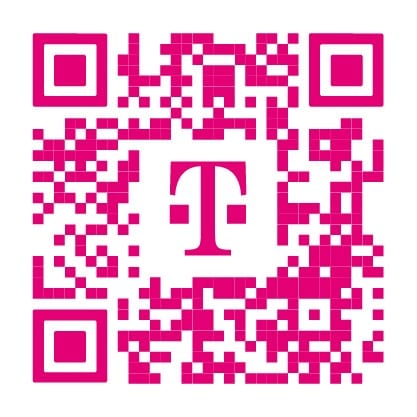 T-Mobile's Extended Range 5G covers 300 million people across 1.6 million square miles — that's nearly 2x more coverage than AT&T and 4x more than Verizon. It covers 92 percent of Interstate Highway miles across America vs just 68 percent for AT&T and 51 percent for Verizon. Plus, with Sprint now part of T-Mobile, the Un-carrier is widening its lead, lighting up Ultra Capacity 5G across the country and bringing fast 5G speeds to more places than anyone else. Ultra Capacity 5G can deliver average speeds of 325 Mbps with peaks of 1 Gbps, and now covers 150 million people.
Let's Talk Device Specs
Camera: 16MP + 5MP + 2MP RFC with 16MP FFC
Battery: 5000 mAh with USB C + 18W fast charging
Color: Nebula Black
OS: Android 11
Screen: 6.82" 20:5:9 HD+ LCD Display
RAM: 4GB
ROM: 64GB
Bands: 5G n25/n41/n66/n71 LTE 2/4/5/12/25/26/41/66/71
Security: Face unlock and fingerprint sensor
Dimensions: 6.84" X 3.05" X 0.28"
Chipset: MediaTek Dimensity 700
Processor: Octa Core, [email protected] GHz, [email protected] GHz
How to Get the New REVVL V+ 5G
The new REVVL will be available in Metro stores on July 12 and in T-Mobile stores and online at t-mobile.com on July 23. Full retail price (FRP) at both T-Mobile and Metro: $199.99.
T-Mobile customers can get the REVVL V+ 5G for $8.34/month ($0 down; FRP: $199.99) – over 24 months on T-Mobile's no-interest equipment installment plan with qualifying credit.
Stuck on a Limited Data Carrier Plan?
Today, millions of Americans are stuck on limited data plans from Verizon or AT&T … most with limited or no 5G access. But thanks to T-Mobile's latest Un-carrier move that rolled out The Great Unlimited Trade-Up, those people can trade up to BOTH unlimited smartphone data AND access to T-Mobile's entire expansive 5G network — including Ultra Capacity and Extended Range — all at the same or better price than the Carriers' offer for limited data plans today.
For more information on the new REVVL at Metro, visit: www.metrobyt-mobile.com/revvl-best-budget-smartphones. More details at T-Mobile coming soon. To check out the new AR game, head here: www.tmobile-ar-game.com/.
Follow T-Mobile's Official Twitter Newsroom @TMobileNews to stay up to date with the latest company news.
# # #
Coverage not available in some areas; some uses may require certain plan or feature. Most Reliable 5G Network: According to an audit report conducted by independent third party umlaut containing crowdsourced data for user experience collected from September 2020 until February 2021. Full details at: www.umlaut.com/en/benchmarking/USA. Fastest 5G Network: According to Opensignal Awards – USA: 5G User Experience Report April 2021, based on independent analysis of average speeds from mobile measurements recorded during the period December 15, 2020 – March 14, 2021 © 2021 Opensignal Limited. AR Game Sweepstakes: NO PURCHASE NECESSARY. Open to residents of the 50 US, DC, PR. 18+. For entry dates, times, and full rules visit https://www.t-mobile.com/news/revvl-contest-rules-and-regulations. Void where prohibited. Interstate Highway Coverage: Based on analysis by T-Mobile of Ookla® CoverageRight™ from Q1 2021 and Speedtest Intelligence® 5G background scans in Q1 2021.
About T-Mobile
T-Mobile U.S. Inc. (NASDAQ: TMUS) is America's supercharged Un-carrier, delivering an advanced 4G LTE and transformative nationwide 5G network that will offer reliable connectivity for all. T-Mobile's customers benefit from its unmatched combination of value and quality, unwavering obsession with offering them the best possible service experience and undisputable drive for disruption that creates competition and innovation in wireless and beyond. Based in Bellevue, Wash., T-Mobile provides services through its subsidiaries and operates its flagship brands, T-Mobile, Metro by T-Mobile and Sprint. For more information please visit: https://www.t-mobile.com.
Tags5GDevices
Sours: https://www.t-mobile.com/news/devices/revvl-v-americas-most-affordable-5g-smartphone
Battery

Usage time: 10-18 hours
Standby time: 300 hours
Battery size/type: 3000 mAh

Keyboard

Touch screen with on-screen keyboard

Memory

2 GB RAM, 32 GB ROM
Supports up to 128 GB MicroSD card

Operating System
Processor

Quad-core,1.5GHz Mediatek/MT6738
Anti-theft
Advanced messaging
Device Unlock App
Emergency Alerts (WEA)
SIM card
System Manager (Carrier IQ)
T-Mobile Video Calling
Connectivity
Wi-Fi 802.11 b,g,n
Wi-Fi web browsing
Wi-Fi sharing
Wi-Fi Calling 2.0
Bluetooth® 4.2, HSP 1.2,SDP, SAP 1.1, AVCTP 1.4, AVRCP 1.3, DUN 1.2, OPP 1.1, GAVDP 1.2, AVDTP 1.2, PAN NAP/PANU, A2DP 1.2, HFP 1.6, PBAP 1.1, DID 1.3, HDP 1.1, MAP 1.2, HOGP 1.0, HID 1.1
Mozilla/5.0 Browser
Tethering APN
MicroUSB
Network
4G LTE
4G (HSPA+)
3G / 4G (HSPA / UMTS / HSPA+)
2G (GSM, GPRS, and EDGE)
Camera
13 MP (rear facing)
5 MP (front facing)
4X digital zoom
Flash
Auto focus
Face detection
Multiple shooting modes
Video recording
Multimedia
Stereo audio (with headset)
Audio support: MP3, Midi, Ogg, WAV, FLAC, MKA
Image support: JPEG, PNG, GIF, BMP, WebP
Video support: 3GP, MP4, Webm, MKV, AVI, MOV
HAC support: M3, T3
Sours: https://www.t-mobile.com/support/devices/android/t-mobile-revvl/tech-specs-t-mobile-revvl
T-Mobile REVVL 5G
5G: Capable device required; coverage not available in some areas. While 5G access won't require a certain plan or feature, some uses/services might. See Coverage details, Terms and Conditions, and Open Internet information for network management details (like video optimization).
Switcher Instant Rebate: For a limited time at participating Metro by T-Mobile stores, purchase a REVVL 5G for $279.99 and port-in an existing eligible wireless number to that phone and receive an instant $100 rebate off the full retail price with validation of name, address, and date of birth provided through independent database and presentation of matching identification. Excludes phone number currently active on the T-Mobile network or on Metro by T-Mobile in past 180 days. Limit two (2) total smartphone instant rebates per account/household. Provided in form of credit against regular purchase price at time of sale and have no cash value. See store associate for complete details. Sales tax not included and is collected in accordance with state and local laws. Certain restrictions apply. No rain checks. Offer available while supplies last.
General: $20 activation fee/line. Not all phones or features available on all service plans. Certain restrictions apply. Coverage and services not available everywhere. Rates, services, coverage, and features subject to change. Phone selection and availability may vary. Metro by T-Mobile features and services for personal use only. Service may be slowed, suspended, terminated, or restricted for misuse, abnormal use, interference with our network or ability to provide quality service to other users, or significant roaming. See store or metrobyt-mobile.com for details, coverage maps, restrictions and Terms and Conditions of Service (including arbitration provision). Metro, MetroPCS and other words, slogans, designs and devices are registered or unregistered trademarks of T-Mobile USA, Inc. All other brands, product names, company names, trademarks, service marks, and other intellectual property are the properties of their respective owners. Copyright ©2020 T-Mobile USA, Inc.
Sours: https://www.metrobyt-mobile.com
5G Phone at an Amazing Price: REVVL V+ 5G - T-Mobile
The year of cheap 5G phones is upon us, and T-Mobile is offering its customers yet another low-cost 5G phone with today's announcement of the Revvl V Plus 5G. The T-Mobile-branded device will cost $199, with a huge 6.8-inch 1600 x 900 display and 5,000mAh battery. It'll go on sale first through Metro by T-Mobile starting on July 12th, with sales through T-Mobile starting on July 23rd.
The Revvl V Plus 5G comes with Android 11 and uses a MediaTek Dimensity 700 processor designed with inexpensive 5G phones in mind. It's paired with 4GB of RAM plus 64GB of built-in storage, which is expandable via microSD. It offers a main 16-megapixel rear-facing camera along with two more unspecified 5-megapixel and 2-megapixel sensors on the back as well as a 16-megapixel selfie camera. There is, of course, 5G connectivity available, and while you won't get the ultra-fast mmWave flavor (no big loss; it's hard to find), you do get access to T-Mobile's more widespread and relatively strong sub-6GHz 5G network.
The V Plus 5G undercuts the OnePlus N200 5G — another inexpensive big-screen-big-battery 5G phone — by about $15 to $40, depending on where you buy it. (It's $216 through T-Mobile and $239 unlocked from OnePlus.) The N200 5G is actually our current top pick for T-Mobile customers looking for 5G on the cheap. And while the Revvl offers some similar features at a lower price, it will be hard pressed to match the N200's very good 1080p 90Hz display. What we can say for sure is that the 5G price of entry continues to drop, and it likely won't be long before we see 5G devices priced well under $200.
Sours: https://www.theverge.com/2021/6/30/22557433/t-mobile-revvl-v-5g-price-screen-specs-availability
Tmobile revvl
In the ass in front of my face, while Sergey had me in his mouth. With regret, Pavel took a member out of his wife's ass, went up to his nephew, who at that time diligently hammered my ass. Taking him away from me, turned his back to him, bent down on the table and instantly, spreading his legs, deftly inserted the head of the penis.
T-Mobile REVVL 4 - Hands On!
Felt the crack with my finger. And my thoughts turn so hard, I don't know how to get out of this situation more delicately. On a sober head, I would never do that. Moreover, Lena is such a serious girl, she works as a teacher at school. You will never hear a rude word from her.
You will also be interested:
Vlad suggested checking out one more place where I probably did not look. We found ourselves in some deserted room, where it was twilight. He pulled me to him and began to kiss.
551
552
553
554
555