Genius Camper Organization Accessories and Ideas from a Pro!
RV Bathroom Organization Ideas
While it's hard to make a blanket statement about organization, since each RV layout is different, there are a couple of ways to really make use of the space you have!
Organizing tiny travel trailer bathrooms is sometimes the hardest area! Check out these RV bathroom organizing accessories I LOVE!
For a guide on how to fully organize your RV bathroom, click here!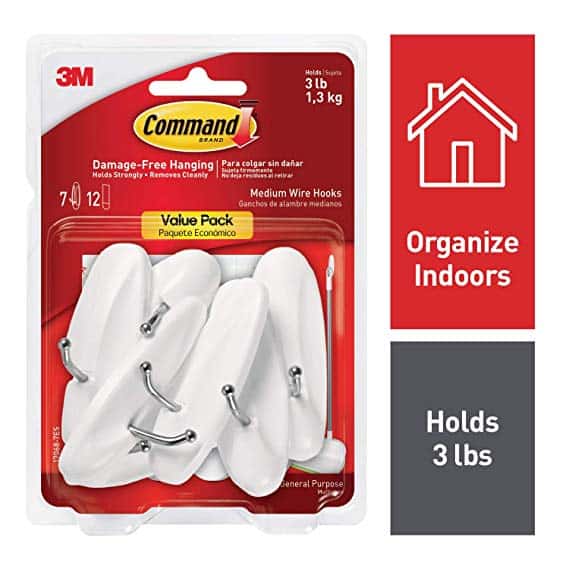 Command Wire Hooks 
These are great for toiletries or anything that's small! I use them in the bathroom, but also love using them near the door for quick grab stuff like jackets and hats!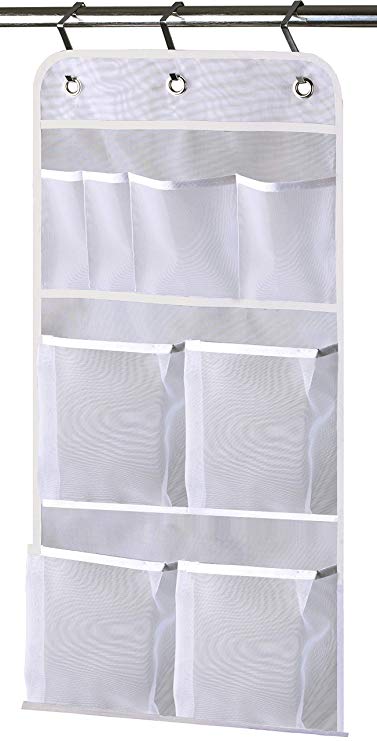 Hanging Mesh Pockets  Shower Organizer 
Organize all your shower stuff in this so that it's ready to use as soon as you park (it's also handy to lay down while in transit and prevent things from getting too messy!)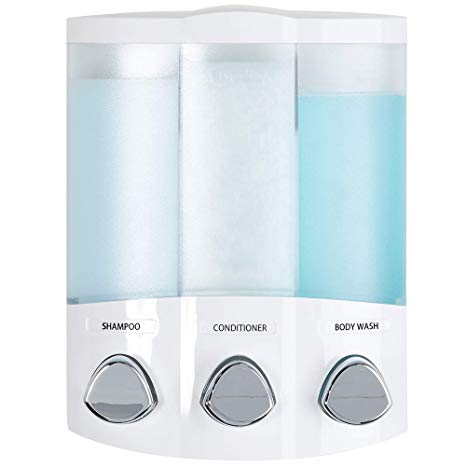 3-Chamber Soap and Shower Dispenser
Save space storing bottles all together in your RV by putting them in this handy dispenser!
This dispenser has exactly what you need - a spot for shampoo, conditioner and soap!
No more spilled or cracked containers that leave a mess, and you don't have to take up valuable storage space in other bathroom organizers storing bulky bottles!
Bonus: You don't need any tools to install this, and it won't rust!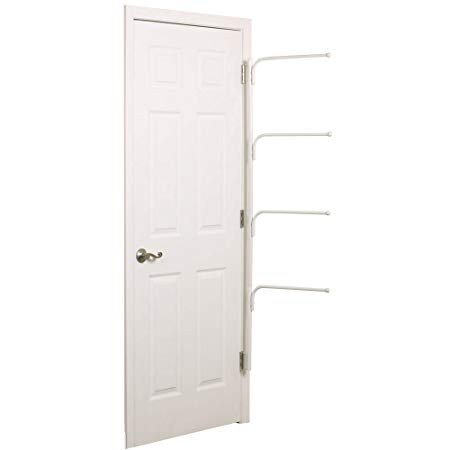 Hinge It Clutterbuster Four Bar Behind the Door Hanging Valet
I want to preface by saying ALWAYS measure first, because RVs are all very different than standard, and some smaller ones may not work with this.
However, if you can, take advantage of precious travel trailer bathroom space by utilizing the spot behind the bathroom door with this hinge towel holder to store and hang towels!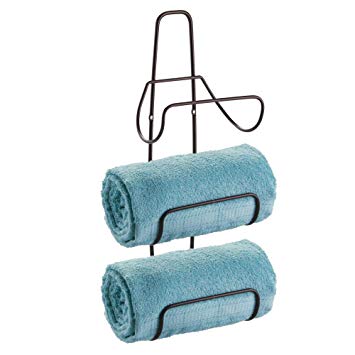 Wall Mount 3 Level Bathroom Towel Rack Holder
If for some reason the behind the door holder doesn't work, these wall mounted towel holders can work very well in an RV too!
Towels can be pretty bulky to store, so to be able to put them in their own spot can be helpful (and look nice!)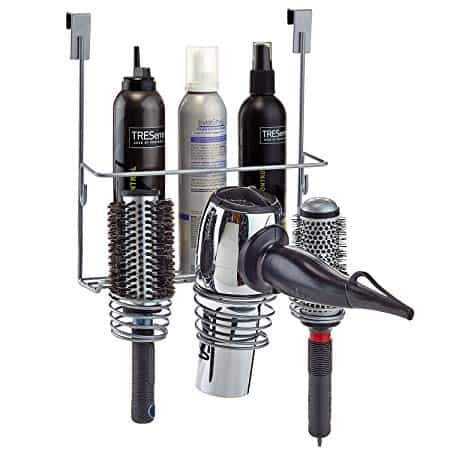 Hair Styling Station Organizer, Over The Cabinet Door 
I'm not super into hairstyling, but many women I know are, and storing bulky items like special brushes, hairdryers and straighteners can be hard!
This is great for keeping them out of bins/horizontal space as well as keeping them easy to access!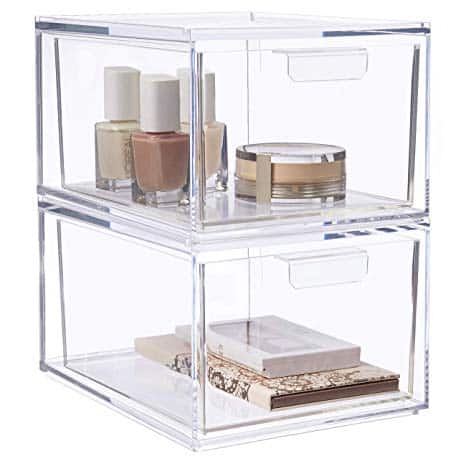 Stackable Cosmetic Organizer Drawers 
If you have any storage space below the sink, use clear containers to store any bathroom essentials. They are easy to see what's in them and stack nicely!
Alot of places do sell the metal slide out organizers for under the sink, but unfortunately, most RVs have much smaller spaces than standard, and are laid out differently as well!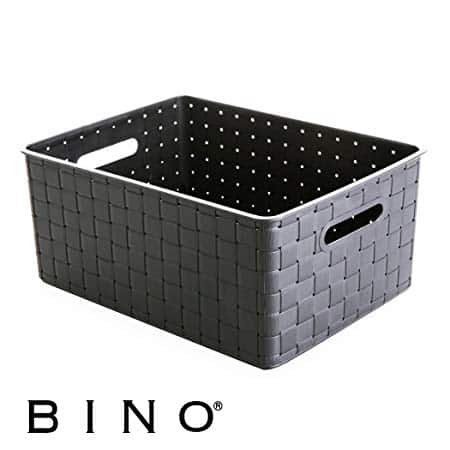 Woven Plastic Storage Basket
This bin is really nice looking, but also made out of plastic so won't be affected by any splashing water! It comes in 3 different sizes, and is a great catch all for items too big to fit under the counter!
These items might include large hair care items such as blow dryers and hair straighteners or even kids bath toys!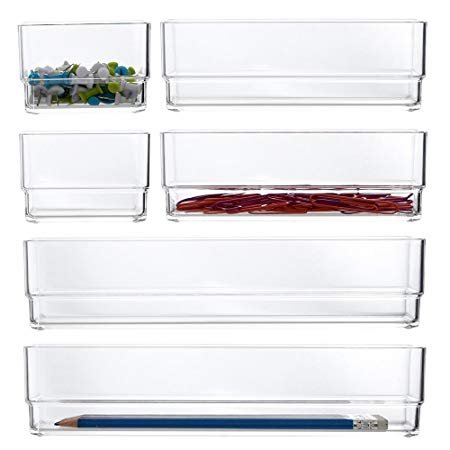 STORi Clear Plastic Vanity and Desk Drawer Organizers 
These clear organizers are perfect for the medicine cabinet!
A lot of campers don't have a full size cabinet above the sink, and this works really well to keep things contained and organized. You could additionally add velcro to the back of the containers so that they all don't spill out when you open it for the first time during set up at a new site!
Mossio Hanging Toiletry Bag 
Hang this up in your RV bathroom to add even more storage space!
We all know that travel trailer medicine cabinets are SMALL - and if you are a traveling family, it's likely everyone's things aren't going to fit in there!
We love using two of those travel toiletry bags to get more space - just use a command hook on the wall, and hang your bag there once you're parked!
I love that it can be zipped up, secured and put away during transit since typically it has alot of my small items that can get jostled around and messy while we're driving!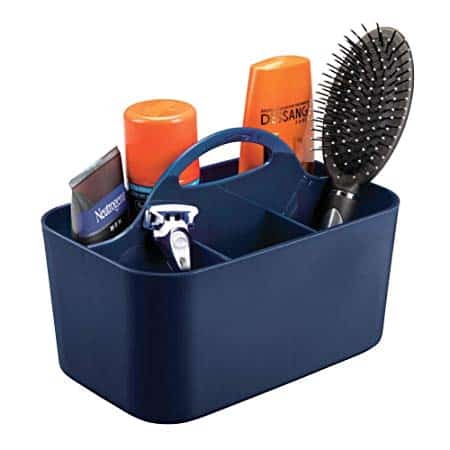 Organizer Caddy Tote - Divided Basket Bin 
If counterspace isn't an issue, but drawer space is, consider having a caddy like this to organize things! As always, stick some quality velcro on the bottom of it or just safely store it before driving!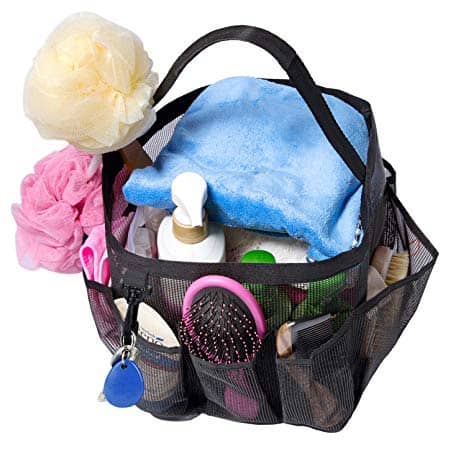 Mesh Shower Caddy, Quick Dry Shower Tote Bag
Don't forget a MESH shower caddy for use in campground showers!
We've been places where we knew we were going to stay long term, and DID NOT want to leave our hooks up, pack up and such just to dump our tanks.
So that meant that we would take showers at the provided campground shower rooms to save grey water tank space.
It's really convenient to have a non rusting, easily compressed and storable caddy in case you are in this situation!
I really like this one because you can even fit a rolled up towel in the middle of it!
RV Organization Tips for the Main Living Area.
There are the pain points (bathrooms, closets) but it's also important to keep your camper organized in general!
Here are some things you might not have thought about!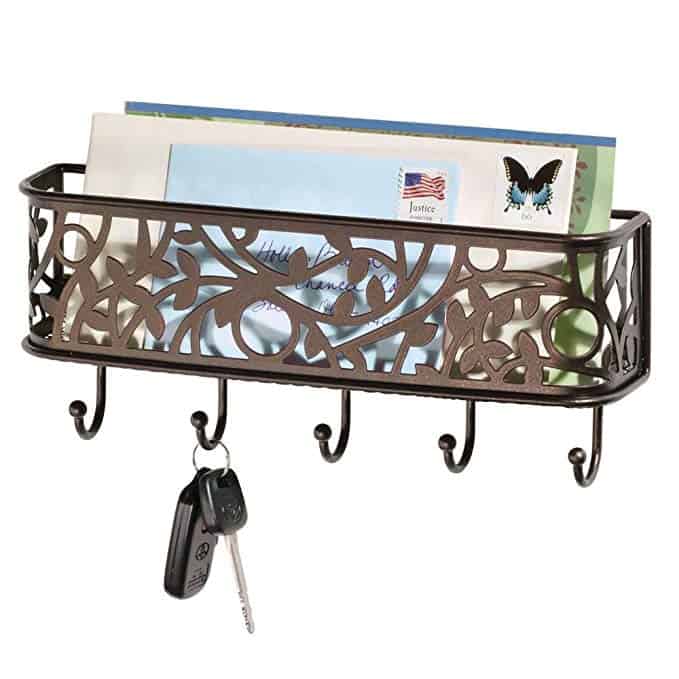 Entryway Storage Organizer Basket with 5 Hooks
Have a small "command center" to hang keys as well as keep brochures, maps etc!
Having a home for everything is the key to keeping organized, so don't junk up your countertops with keys (car keys, roof rack keys, ball hitch keys, camper keys ) and all your travel papers!
Keep important, often used keys on the hanger as well as any maps or brochures you refer to often (my husband and I often review the trails we want to hike the night before on the area maps... but tend to leave them on the table and they get destroyed by the kids!)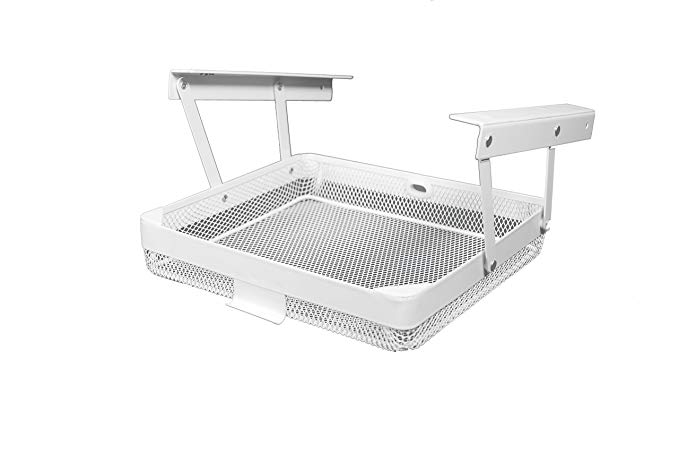 Anything Keeper!
This bin is literally for anything (as the name implies!) and, best of all, it is stored out of sight since this is a under shelf organizer!
Close it up for travel (or just when not in use) then open it up to get what you need!
This might be good for sunglasses, phones or other items (especially if you want something less visible than the command organizer I listed above!)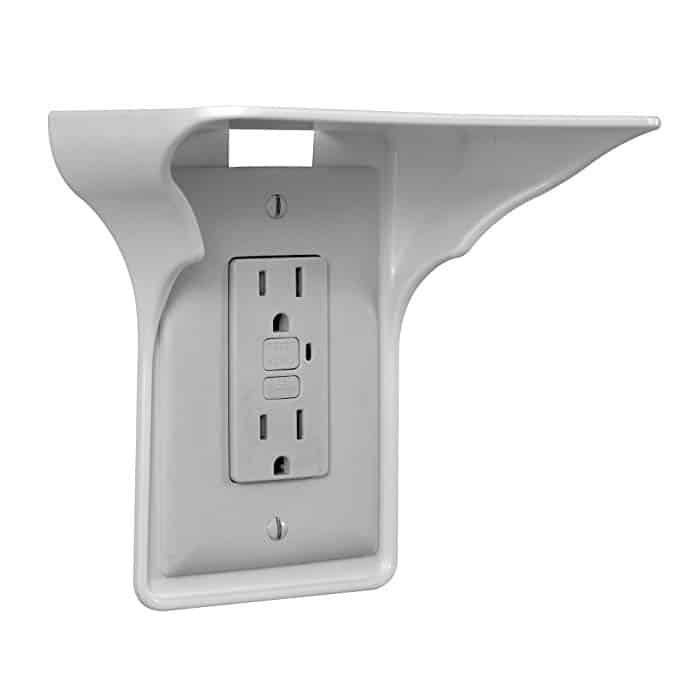 Ultimate Outlet Shelf 
Keep cords and charging items organized (and off the counters!)
Cords are a quick way to junk up a nice clean counter - and when you only have one or two VERY small counters in small travel trailers, it's important to maximize every bit of organization and storage that you can!
This outlet organizer and shelf is perfect to contain cords, and put your phones on while they charge!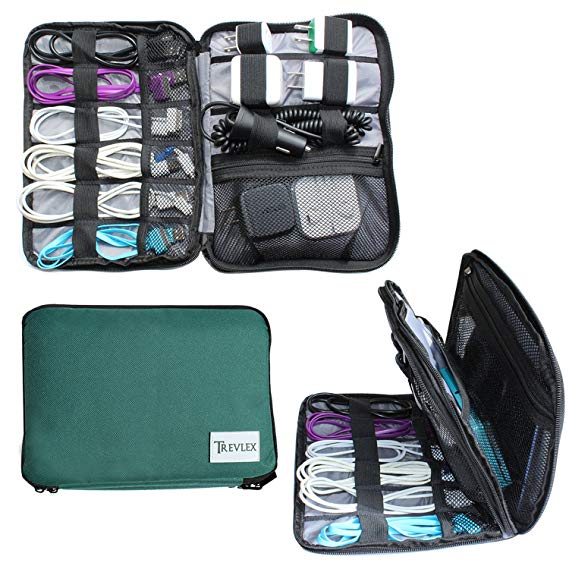 Electronics Travel Cable Organizer
Keep electronic cords and small accessories organized (AKA... not in the "stuff" drawer getting tangled!)
Now a days, most people travel with ALOT of electronics - especially if you have kids and you do so for long periods of time!
Phones, tablets, computers, cameras... and it's REALLY easy to just throw them all in a drawer.
Then when it comes time to use them they are all tangled and hard to find!
I know we travel with a ton (I know.. it sounds contradictory because we're "camping") and I love how easy this makes to see everything you have (and not forget an important charger!)
RV Clothes + Closet Organization Ideas
Camper closets are often way deeper than a normal closet would be, so it's hard to make use of that space. I know ours ends up being a pile of kids clothes that I need to dig through every day to find what I need!
I only have one closet for all of our clothes - there are five of us!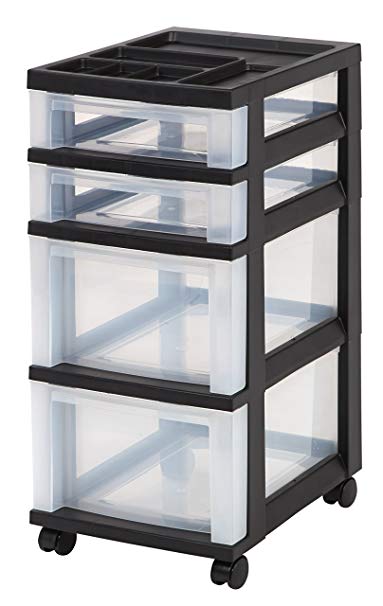 IRIS 4-Drawer Rolling Storage Cart with Organizer Top
If you have limited drawer space, then you might think about converting one of your "closets" to a drawer set using something like this!
Remove the hanging rod, measure, and find the best set of drawers! I like using them for small things like undies and socks that might normally get mixed up in a big pile of clothes or a simple bin.
This particular set has an organizing tray on top even!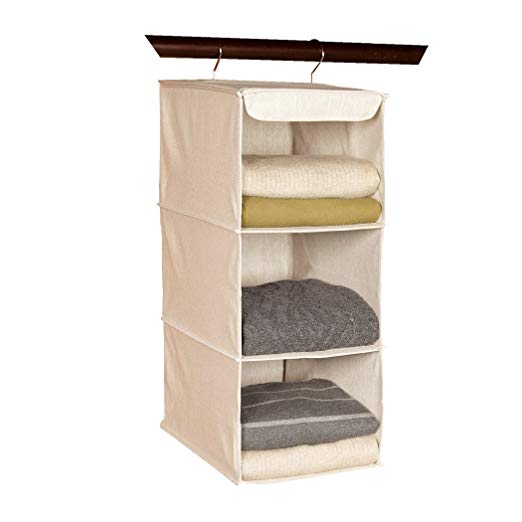 3 Shelf Hanging Sweater Organizer, 
So if you DO choose to keep your hanging rod, using some sort of hanging organizer like this can really help keep things from getting too messy!
I personally use it to divide up everyones clothes (each kid has a section) but you could use it to organize your clothes in your RV closets many ways!
It's also nice to be able to bring it inside and pack all your clothes in your house so you can see what you have and not shuttle things back and forth!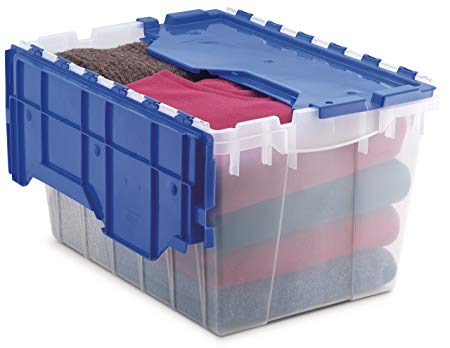 12-Gallon Plastic Storage Box with Attached Lid (for mice free under bed storage)
A lot of people have room under their bed for storage. There is normally a light piece of plywood that the mattress sits on that can be easily lifted and accessed. This is great for bulkier items such as jackets and extra towels.
On extended trips, we like to put bulk non perishable food in here as well so we don't have to worry about stopping at the grocery store as often!
These bins are great in particular because they can be zip tied closed to ensure nothing is able to make their way into it and destroy your clothes or food.
Laundry Storage Ideas for the RV / Travel Trailer
Laundry storage is always a hot topic - we need something that's easy enough to use in the camper without taking up alot of space, but also durable enough to be able to carry to the laundromat!
Even better if it can collapse down!
We all know we could use a simple mesh bag, so here are some other options to explore for laundry storage while camping!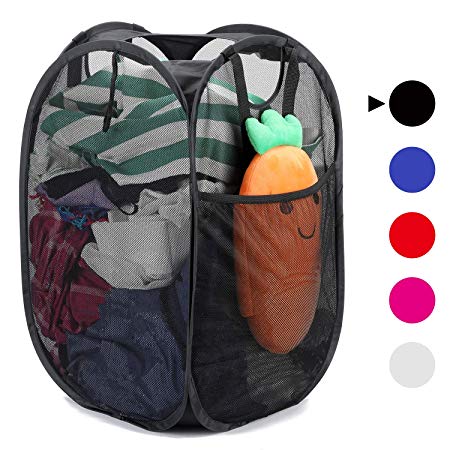 [Reinforced] Strong Mesh Pop-up Laundry Hamper, 
Pop up hampers are perfect for RV use because they store flat, are lightweight, and often easy to carry to and from the laundromat!
I also love that this one has a side pocket so you can put your laundry things (detergent pod, dryer sheets, coin bag) in it while in use!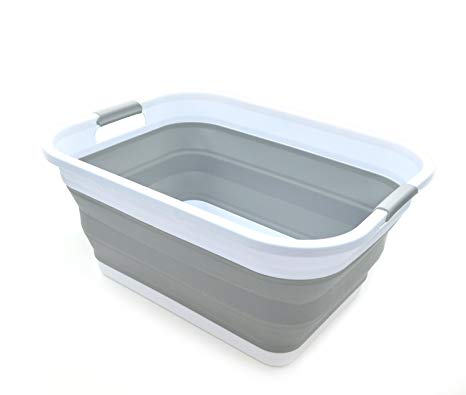 Collapsible Plastic Laundry Basket - 
This style of laundry basket is super useful if you have little kids that might need a bath too!
While it's extra sturdy (since it's made of plastnic and not mesh), it also has no holes in it so you can fill it up for the kids to splash in when not in use!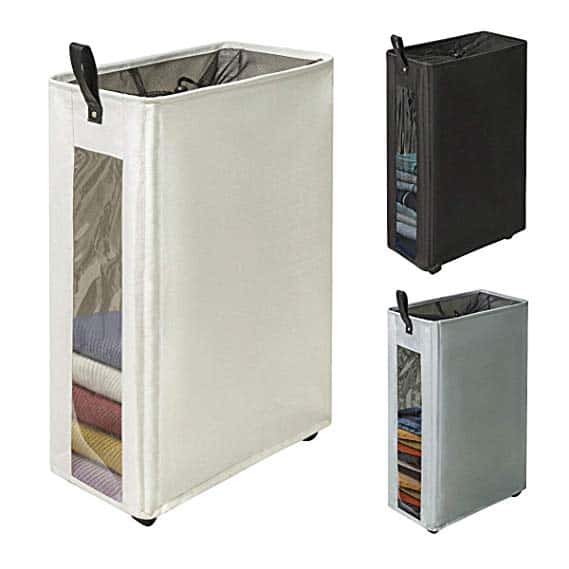 Slim Laundry Hamper Basket w/ Clear Window 
If you have an extra closet, or maybe a "useless" little spot in the camper, this style of laundry hamper might work for you too!
This might be helpful if you have a washer dryer in your camper and might prefer a more long term and visablly appealing solution to dirty laundry.
Don't worry though, this guy still folds flat! It also has a mesh top for ventilation (but prevents kids from throwing things in!) and a window so you can easily see how full it is!
RV Kitchen Organization Ideas
Barb - "I think everyone's problem spots might be different.  For me, it's a lack of counter space in the kitchen.  All I can leave out are the coffee maker (because hubby uses it constantly) and a metal canister with my most used cooking utensils in it.
Again, it depends on how you live.  If you eat out a lot, you may not need counter space but you really need to take a step back and ask yourself what your goals are and how you use each "room" in your RV.  I've just come to accept that this is one area of Fred that I wish were different but isn't. So we have an uneasy truce in this area!"
Overall, it's important to only keep what you really need on the counter! It also helps to have collapsible items as much as possible!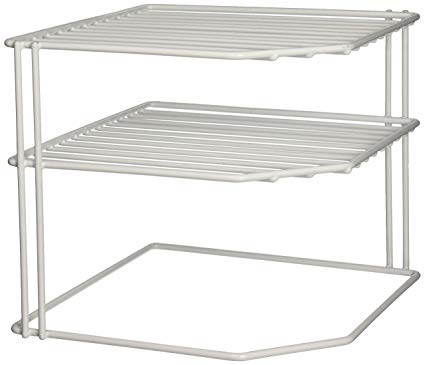 Corner Helper Shelf, White, 
Whenever possible, make use of vertical space! We have this one in our camper, and it seems to be perfect for plates on the bottom, bowls in the middle, and bigger mixing bowls on top.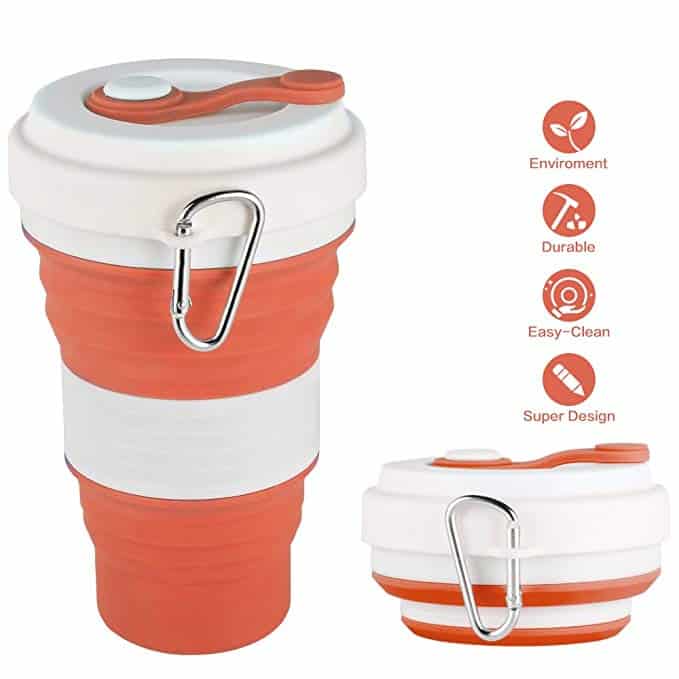 Collapsible Travel Silicone Cup 
I know everyone has their favroite coffee cup (my husband has one that says "Camping is In-tents" LOL) but they do take up alot of space, and tend to break really easy!
You could buy a cute tin one (there's alot!) or buy one of these nice silicone ones!
Just store it flat when not in use!
BONUS: If you hike or explore around, how often have you taken a cup of coffee to go, and then had to carefully store the empty cup in your pack?
This one can attach to the outside of your pack, and you don't have to worry about being gentle with it!
P.S. If you're interested in more camping coffee cups, I have a whole article and camping themed coffee cups here!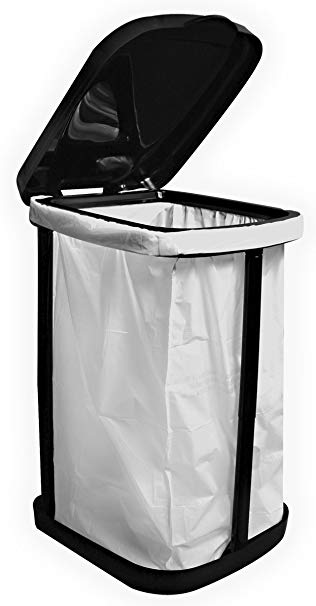 Collapsible Garbage Bag Holder
Being able to save that precious floor space in your camper is super helpful! With our current set up, we have to bungee cord our trashcan to the legs of the table in our RV... it takes up WAY too much space when we already have so much to store in there while traveling (bikes, grill, strollers, kid toys etc).
This collapsible trash can is perfect for popping up at camp, then removing the bag and collapsing it back down for travel!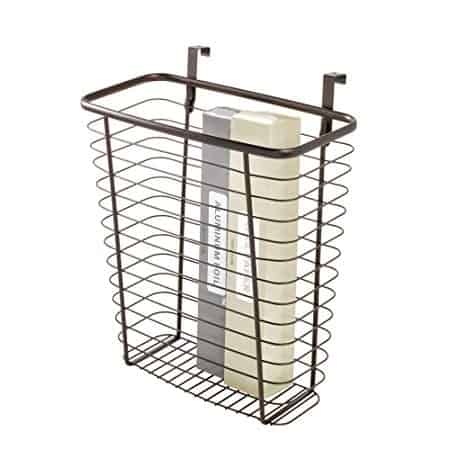 Over the Cabinet Waste Basket
If you have ths space, this is a great way to get the trashcan out of sight (and not use any floor space!)
You can also use it to store other items while in transit when you don't need your trashcan!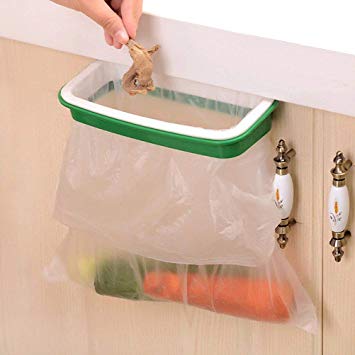 Hanging Trash Bag Holder for Kitchen Scraps
If you like to prep food while at camp (and eat GOOODD!) clean up is way easier if you use this simple bag hanger that utilizes all those plastic grocery bags we seem to acquire in our travels!
Just wipe everything into the bag when you're done, then store the holder itself once you dispose of the bag!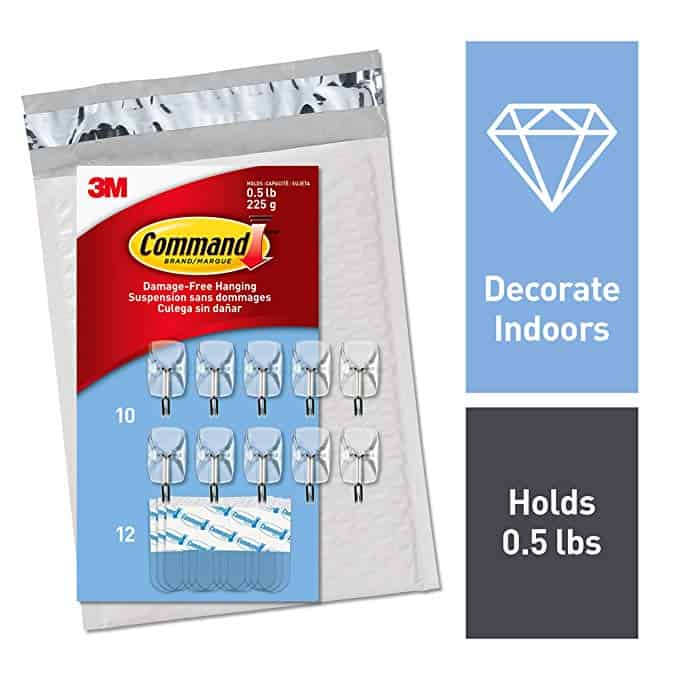 Command Wire Hooks that holds 0.5 lb 
Spatulas, whisks, large spoons, and tongs can all be hung near the stove on hooks. This makes use of normally unusable space (there is not much room between the stove and the wall, so there would not have been room to put a container there anyways) and keeps what counter space you have available!
I LOVE having all our larger kitchen tools hanging up on 3M Command Hooks instead of taking up valuable space in our TWO drawers! Command hooks of different sizes and shapes are a great RV organization accessory that can really do alot for what they're worth!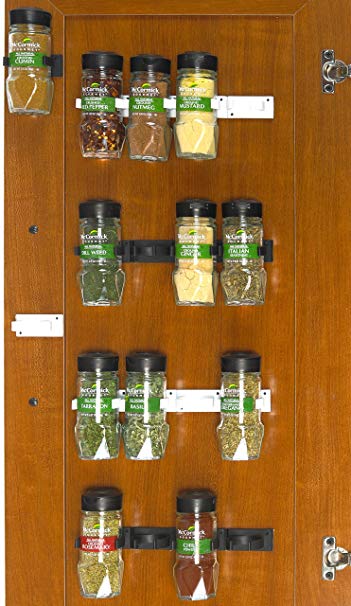 SimpleHouseware 30 Spice Gripper Clips Strips Cabinet Holder
Mount your spices on the wall or cabinet door!
The perfect set up (I need to get a picture of ours!) for a travel trailer kitchen is to have the utensils hung on one side of the stove, and the spices in front (or above!)
I love these "spice grabbers" because they are just stick on (but very sturdy!) so no tools needed! They also prevent the spices from rattling and such against each other like a normal spice rack would do!
I also love that they are secure and won't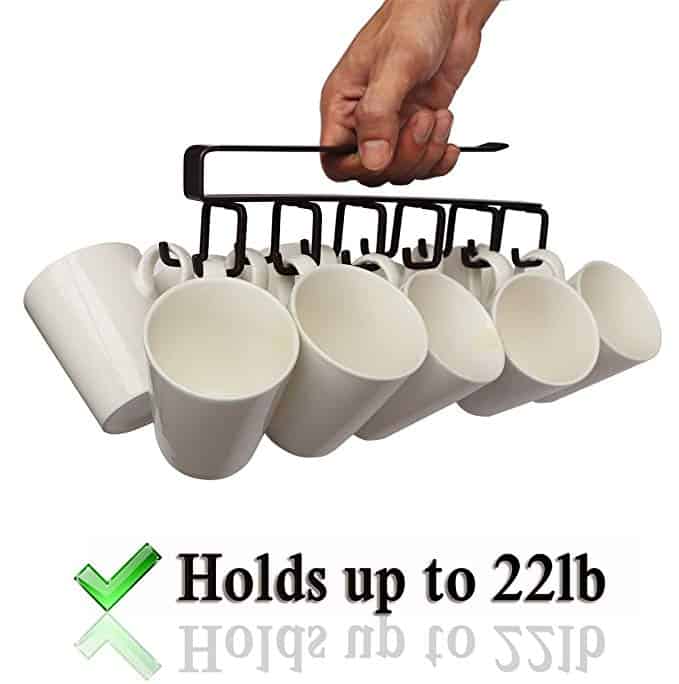 Iron Under Cabinet Mug Hanger
If you're a coffee lover or just want to store utensils in some vertical hanging space, these hooks are perfect!
There are no screws or adhesives - just slide it onto the shelf!
I also love that these hold up to 22 pounds. Many similar products are made pretty poorly, but this one has rave reviews!

Under Shelf Wrap Holder
I don't know about you, but our pantry only came with one shelf... so it was 2 or 3 feet tall in each section!
It's really hard to use vertical space without shelves, but if you find your space is just small enough to fit shelves, you could use this under shelf basket instead!
This under shelf basket is an easy storage solution for bags, as the picture shows... or snacks for the kids (little snack packages tend to get lost in our travel trailer pantry!)
VELCRO Brand - Sticky Back 
Use Velcro to keep what's needed on the counters in place!
This might be handy for salt and pepper, a "junk" bin (such as a very small container with keys, change, and other small things) and whatever else might move in transit. This isn't as important if you stay in one place for long periods of time, but if you are constantly moving, velcro can really reduce the amount of set up time needed!
We have a mason jar that has things like a checkbook, cash, scissors and pens that we like to keep on the counter right by the door for easy access that is secured by velcro!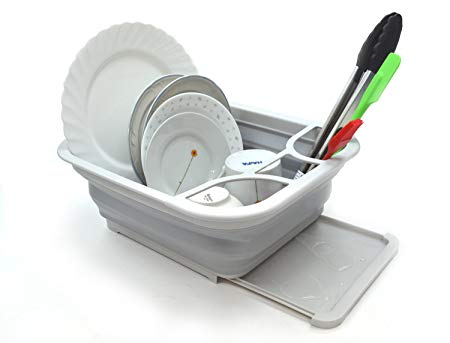 SAMMART Collapsible Dish Drainer with Drainer Board
Get a drying rack that can collapse!
We only use our drying rack at the end of the day during wind down time or after the kids go to sleep in our camper.
That means that it would be pretty wasteful to have a dish drying rack out at all times!
I also like that this rack comes with a drip tray so that you can put your dishes onto the rack and not worry about what they will drip onto!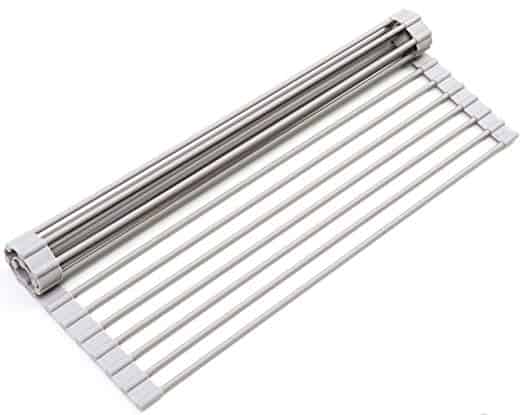 Over the Sink Multipurpose Roll-Up Dish Rack
While this is of course useful for drying dishes in your trailer without using counterspace, I also find it helpful for having MORE counter space when doing food prep!
For example, I can put a plate of burgers on it while I'm getting veggies ready and still have plenty of prep space!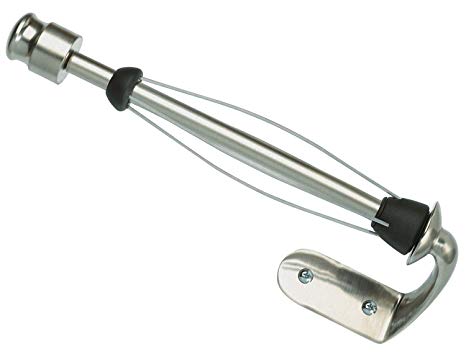 Perfect Tear Patented Wall Mount Paper Towel Holder
Mount your paper towels!
Though it may not seem like much room, they take up a bit of space, especially when you think about the fact that you have to have room to pull a paper towel off the holder!
We bought one that mounts under our cabinet area (we have a small cabinet for dishes above out counter) and it is convenient to use and out of the way!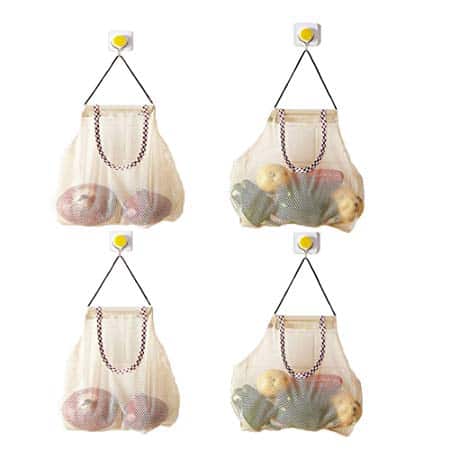 Reusable Hanging Storage Mesh Bags 
I LOVE these hanging veggie and fruit storage bags!
Not only are they nice looking, but they can be taken down and used as actual reusable mesh produce bags at the store!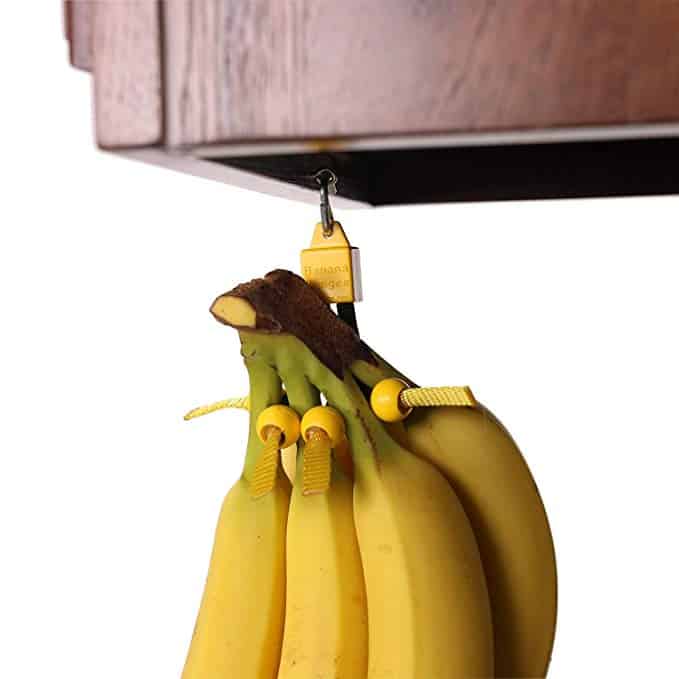 Banana Bungee Hanger, 
If you eat bananas, this is a MUST!
Not only is it way more attractive than your typical hanger, it also takes up way less counter space and can hold a TON of bananas!
People have tested this with over a dozen... and it still held!
It's also a super small product and takes up virtually no space!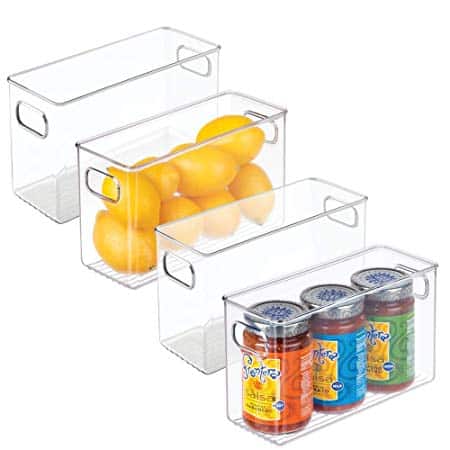 Plastic Refrigerator or Freezer Food Storage Bins with Handles 
Use tall clear bins that fit in your camper fridge to maximize storage space!
I love using these clear bins because you can easily see what's inside of them!.
I also love this idea because you can prep everything for your trip ahead of time by stocking the RV Fridge Bins and storing them in your home refrigerator until it's time to go.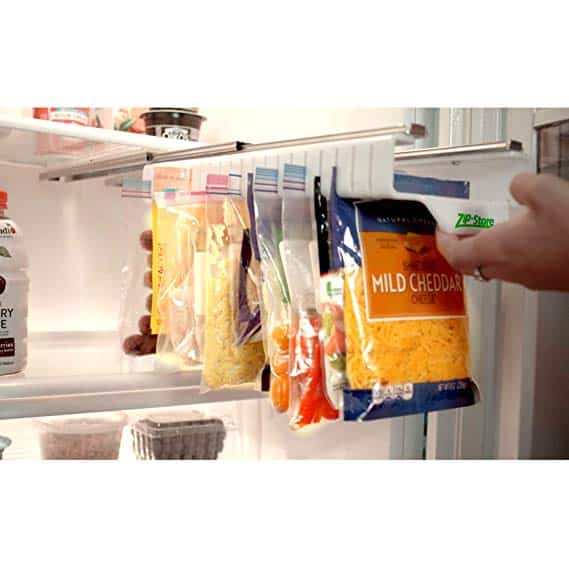 Zip n Store!
Chronic snacking and meal planning families rejoice! This ziploc bag hanger and organizer saves precious shelf space and prevents those bags of meals or leftovers from becoming lost or forgotten!
This is also a GREAT way to plan out your meals for the next day (sandwiches, meats, veggies etc) and have them organized, easy to see, and not taking up shelf space!
If you're a parent, you'll ESPECIALLY love this because as we all know, kids are all about snacks! Now you can see everything clearly, and make meal planning for your trip that much easier!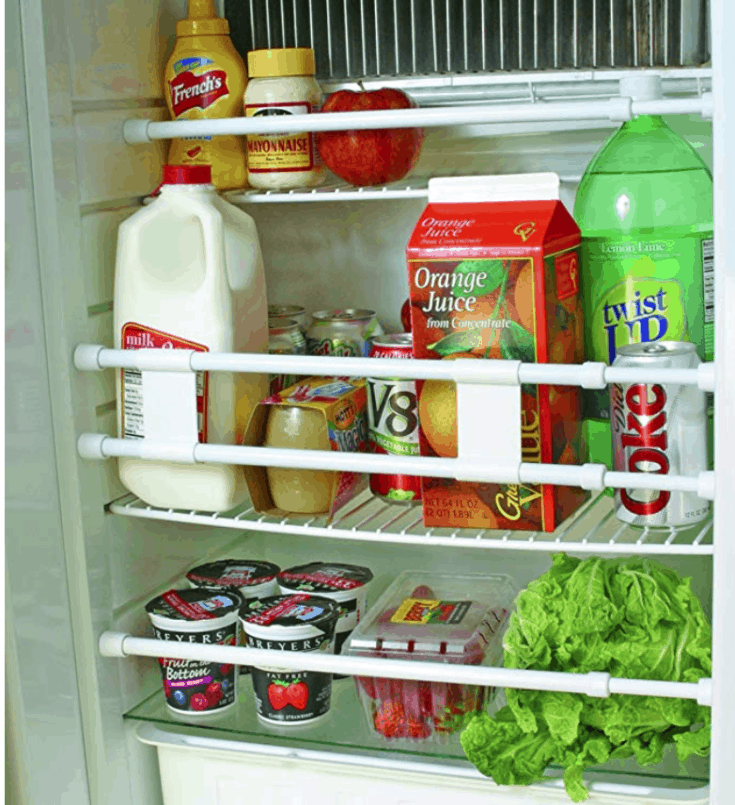 Camco Double RV Refrigerator Bar
Ever open your RV fridge after traveling and feel like you're getting attacked?
Well these should stop the problem!
These spring loaded bars are adjustable lengths, and even include a double bar for any extra tall shelf you have!
Under Cabinet Knife Block 
If you want to store your knives out of reach of kids, off the counter, and really out of sight (the kitchen area fills up fast!) then you might consider usin gan under cabinet knife block!
It comes in two sizes and mounts using only four screws! The knives are held in place by rare earth magnets which means they will stay secure!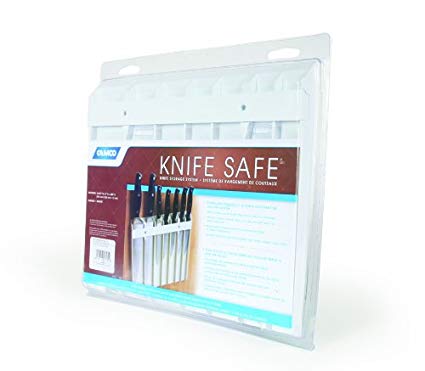 Camco Knife Safe
This is a second option for knife storage that is off the counters and out of the drawers!
It is significantly cheaper, however might be best for RVers who don't have little kids (there is no plastic cover over the knives)
Outside/Basement RV Organization and Storage
The inside is only half the battle - the storage compartments, basements and other areas are key to storing all that big stuff in a way that doesn't feel like a hassle when it comes to setting up!
These items will help increase your storage space outside your camper as well as organize all the compartments!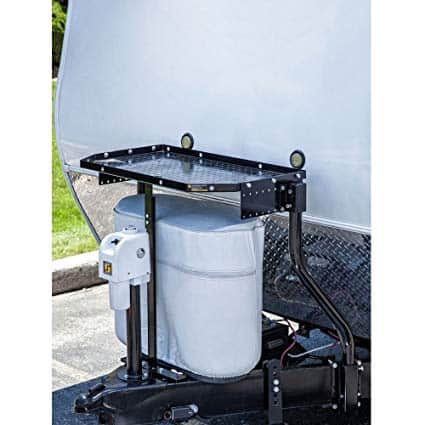 Stromberg Carlson CC-255 Trailer Tray
Free up space in your camper or the back of your car and store some gear above your propane tanks!
This is great for a cooler or other bin of needed camping supplies!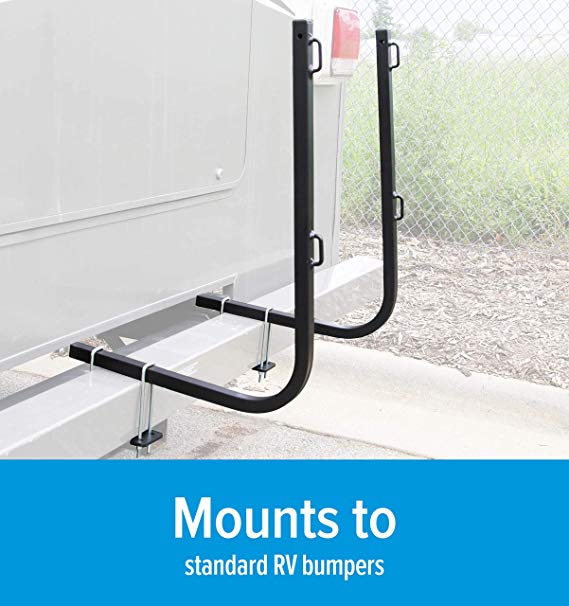 Camco Rhino Bumper Mount RV Tote Tank Carrier
If you boondock but still use the restroom in your camper, you might be familiar with having a portable tank you transfer the grey and black water to.
While normally you might pull it behind your car to dump it, it can be pretty darn helpful to store it behind your camper while not in use (such as when your trailer is in transit!)
We put ours in the back of our truck when we move campsites, but if we could store it on the back of the trailer I'd feel alot less nervous about the tank somehow failing and nasty water going everywhere!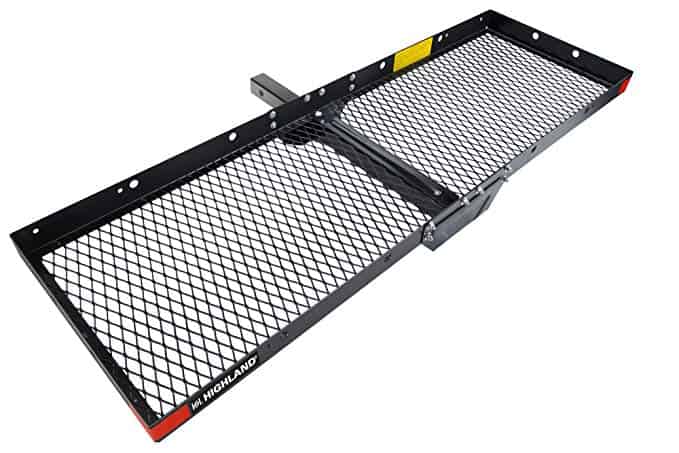 Mounted Cargo Carrier - Black
If you haven't already installed a hitch to the back of your camper (U-haul and other places do them... or a really handy friend!) then you need to for all that extra space!
Put a giant tote like this on the back of your camper so that the inside is usable and not junked up with stuff that can't be moved out until you get there!
Sours: https://www.thecrazyoutdoormama.com/best-rv-organization-accessories-hacks-ideas/
25 Storage Tips, Ideas, & Hacks for Organizing Camper Kitchens
This website contains affiliate links, meaning I may receive a commission, at no extra cost to you, if you purchase a product after clicking my link to it.
Here are some of the best RV organization ideas and storage hacks I've found for efficiently using every bit of storage space in the tiny kitchen of a camper, travel trailer, or motorhome.
Use wall space for storing and organizing.
1.
Just about every empty wall in my RV is used for storage, like this wall of my kitchen, where I have a knife holder (a vintage one from a thrift store that I repainted; I've seen some similar ones for sale on Etsy) and a wire storage basket.  I initially tried hanging the basket with three Command hooks, but since the items I keep in it are pretty heavy, it eventually it fell down, so I used screws instead.
2.
My friend Brooke mounted this cute narrow spice rack (which she painted blue) on a wall in her travel trailer, along with a galvanized metal file organizer she uses as plate storage.  I believe she purchased her spice rack secondhand, but here's a similar style on Amazon.
3.
The owners of the RV pictured below doubled their kitchen cupboard space by installing two kitchen cabinets purchased at a home supply store, which they stacked on top of each other and secured to the wall.  Since they matched the oak color of their existing cabinets, can hardly tell they weren't part of the original design!
4.
One of my personal favorite uses of wall space is for spice storage.  I made this magnetic spice storage wall in my RV, which I wrote about in a separate blog post.  (I also have another blog post where I shared lots of different spice storage ideas.)
Look for other vertical spaces that can be turned into storage.
(If you read this website a lot, you may have already seen a few of these pictures before; scroll on past if you want, because there are a lot of other ideas farther on down the page!)
5.
I purchased this rack to hang over a cabinet door, but it ended up being to wide, so I used screws to mount it over this panel which conceals our converter instead.  If I hadn't already purchased this one, I would have bought a wall mount style instead.  This one can be installed either way.
6.
Mug hooks and Command hooks are definitely an RV necessity.  I used mug hooks to hang wire baskets from the end of a kitchen cabinet as a place to store fruit and root vegetables.  (For more fruit and vegetable storage ideas, check out this blog post.)
7.
This gap next to my microwave seemed like it should be used for something, so I stuck a couple of magnets to the side of my microwave and it became the perfect spot to store my pizza pan.
8.
Even the refrigerator in my RV is used for storage.  With the help of magnets such as these hooks, I am able to use it store all kinds of kitchen supplies.  (If your fridge isn't magnetic, you could use adhesive hooks in a similar fashion.)  I got my magnetic hooks at Lowe's, but I believe they are cheaper on Amazon.
Hang things under the cabinets.
9.
First of all, I just love the wall decor in this kitchen.  But also, I love how the owner of this motorhome hung her pots and pans and other kitchen items from the bottom of her cabinets.
10.
I hung wine glasses from the bottom of one of my RV cabinets using a couple of racks like this one.  We've only moved our RV once so far since I hung them, and unfortunately, I forgot to run a bungee cord across the end of the rack before we left so they wouldn't slide off, and a few fell off and broke.  But the ones that stayed on the rack did just fine with liquor bottle sleeves over them.  (I use those sleeves to protect my actual liquor bottles and glassware as well.)

11.
For RV owners who prefer to use paper plates, one of these paper plate dispensers mounted to the bottom of a cabinet could come in really handy.
12.
A lot of people mount a magnetic knife strip on the wall of in their RV kitchens, but I'll bet you could attach one to the bottom of a cabinet also, although you might have to buy shorter screws.  I often suggest using acrylic tape for hanging things as an alternative to screws, but this is not something I would try that with.  The last thing I would want would be for a bunch of knives to fall down on my hands while I was preparing dinner!
13.
A wrap and bag holder like this one, which is designed to be mounted on a kitchen cabinet door, could just as easily be mounted to the bottom of a cabinet.  You could even try using Command hooks or adhesive cable clips to hang it if you wanted, although I would probably choose mug hooks myself so that the height and angle could be adjusted as needed.  You could also spray paint the rack to be whatever color you wanted.
14.
Do you use a Keurig to make coffee in your RV?  If so, under the cabinet can be a great place to store K cups.
15.
This space saving "stuff" organizer (it's literally called an "Anything Keeper" has a similar design, but can be used to store anything.  It comes in either black or white, but of course it too could be spray painted to match your RV decor.
16.
Here's another under cabinet storage idea that I would love to try sometime.  It's a set of wooden drawers that could be mounted to the bottom of a cabinet using L brackets, acrylic mounting tape (since it's very small), or countless other ways I'm sure.  If you do this, please send me a picture!
17.
The owners of this RV use the space under their kitchen cabinets as a place to store kitchen gadgets in their camper by hanging them from a utensil rack.  These can be purchased in different lengths and you can even get an adhesive one, but be sure to measure the height of your space before buying one.  I actually tried to make something similar myself using a tension rod and S hooks, and it was a total failure because 1) the S hooks were too long and made the utensils hang down too low, and 2) the tension rod wouldn't stay put and the whole thing came crashing down.  So don't be like me, haha.  I would probably buy one of the screw mounted ones if I were try this again.
Use countertops as storage.
18.
Here's a neat idea that one of my blog subscribers sent to me in an email.  It's a nail polish rack, which she keeps on her counter, held in place by clear Command hooks.  The bottom was originally rounded, her husband used a grinding wheel to make it flat across the bottom, but if you're like me and have no way of cutting metal, you could get a rectangle shaped one instead.  I'm sure these could also be secured in place with a bit of my trusty friend, acrylic mounting tape.
19.
I know most of us grew up with a silverware drawer as a basic kitchen essential, but after experiencing the convenience of having a silverware caddy next to my sink where I can easily grab a handful of silverware from off of my drying mat and put it away in just a few seconds, I can never go back to individually drying and neatly stacking forks and spoons.  I made this caddy by putting some tin cans in a basket I got at a thrift store.
There are some really neat silverware caddies on Amazon, such as this galvanized metal one, which would be super handy for carrying outside to eat at a camp table or picnic table–a must-have camping accessory if you eat most of your meals outside.
I think my favorite silverware storage idea is to use a wooden sugar mold like this one, which you can find on Etsy.  They come in different lengths with varying numbers of holes.
20.
Sometimes the best camper organization ideas involve using items in a way that was different than their intended use: RV owner used a caddy purchased in the bathroom department at Walmart to add extra storage in her kitchen.
21.
This caddy would be perfect for organizing tea or creating a coffee station.
22.
A friend of mine added a small wooden shelf behind the sink in her RV kitchen when she renovated her RV to create a place to set decorative items while keeping them up and off the counter.
Look for empty spaces that be used as storage.
23.
Here's a cool space saving idea if you're really desperate for storage space in a small camper or travel trailer: use the microwave as storage.  RVer Amanda Kehler keeps a basket in her microwave which she simply removes whenever she needs to use the microwave and replaces afterward.
24.
In my RV, I put the kitchen ceiling to use by hanging a pot rack above my sink.  The screws in my RV's vent cover happened to be perfectly located where I was able to remove them and replace them with hooks, but I've seen other RV owners hang a pot rack from a wooden light fixture.
25.
Giving drawers a storage upgrade with multi-tier cutlery trays and drawer dividers is a good way to utilize space near the top without them becoming to messy.  RV owner Kathy Johnson is a pro at drawer organization, as you can see in the photos below.
Bonus! #26
Many RV kitchens have panels with empty space behind them that can be turned into storage, like this spot I found underneath my pantry cabinets.
Sours: https://rvinspiration.com/organize/rv-kitchen-storage-hacks/
Sharing is caring!
Equipping your home on wheels with RV organization accessories can be the difference between a space that works for you to one that drives you absolutely mad. Check out this huge list of space-saving RV gadgets and RV organization hacks for RV living at its best.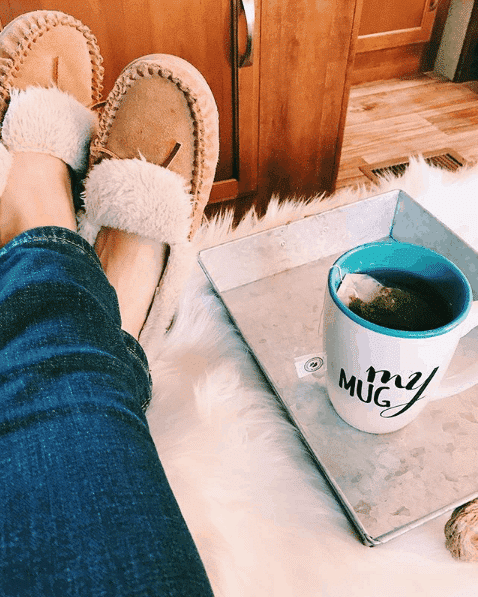 If there's one topic I could talk about endlessly, it's RV organization and the products/tips that helped make our 200 st. ft travel trailer work for five people. The minute I stepped foot into our new home, I had organization on the brain. I could not wait to start figuring out how to make such a small space work and yes, start filling up my Amazon cart with space-saving RV accessories.
From collapsible measuring cups and dish drainer to baskets, hooks, and ottomans – we figured out quickly what products we needed to make the transition from a 2,000+ sq. foot house to a 200 sq. foot travel trailer work for us.
RV Organization Tips
Before we get into the actual RV organization accessories and space-saving gadgets themselves, I thought it would be helpful to start off with some general organization tips.
Here are six tips that helped keep our space tidy, clutter-free and liveable.
1. Bring fewer items into the RV than you think you need
I know this is easier said than done, believe me. Although we sold about 90% of our belongings, we still had a lot of stuff. Things like keepsakes and home decor items I loved and didn't want to part with went into a small storage unit. But there were still so many items I needed to decide if they would come with us or not.
It didn't take us too long to figure out that we brought too much stuff with us. We ended up donating several things along the way on our travels.
For example, we purchased a collapsible wagon that we just knew we'd use like crazy. It took up quite a bit of space in the passthrough, but we figured it was worth it. After a few months on the road, we ended up getting rid of the wagon because we could count on one hand the number of times we used it.
2. Bring items that have more than one function
For example, the couch in our travel trailer didn't recline, so we knew we needed to get an ottoman so we could kick our feet up. But the ottoman needed to serve more than just that purpose. It needed to be able to store things as well.
Another example is a bucket we stored under the kitchen sink. It held plastic containers and lids. But it was also used as a bucket to wash dishes when we didn't have water hookups at a campsite or were boondocking.
3. Make use of the wall space
One of the rules of organization whether you live in a house, apartment or RV is to look up when it comes to organization ideas. You'll quickly find out as you travel in your RV that every inch of space makes a difference.
Use the wall space for hanging hooks and baskets. Plus look for items that can be stuck to the wall, meaning they have an adhesive wall mount. Many RV walls can't handle screws, so adhesive-backed items are your best friend.
4. Use baskets to store like items together
Not only are baskets useful for keeping things from flying everywhere while traveling, but they can also help keep your space organized.
We used baskets in every 'room' of our RV, including under the bed for shoes, out of season clothes and items we didn't need to get to every day.
5. Do a quick clean up in the morning and before bed
The great thing about living and traveling in such a small space is that it takes hardly any time to get things back to normal. Doing a quick clean up both in the morning and before bed can keep your space from getting out of control.
6. Use move days as cleaning days
This may not work for everyone, but it worked well for us.
One move days, we divided up responsibilities. One or two of us stayed inside and would wipe everything down, sweep and get the rig ready for the next location. While the others got everything outside ready to hit the road.
This not only kept things clean and tidy, but it helped keep the travel trailer smelling fresh and clean.
Alright, now on to the RV organization ideas and products!
RV Organization Accessories for Every Room in Your RV
RV Kitchen Organization
1.Space Saving Cooking Tools

Gadgets lay flat in a nesting position for convenient and space-saving storage. Perfect for RV kitchenettes and Camping adventures
5 Pc SET INCLUDES – Grater for Cheeses, Vegetables, Chocolate; Grinder for Garlic or Ginger; Pizza Cutter / Wheel for Pizzas and Flat Breads; Bottle Opener; Swivel Peeler for Vegetables
2. Adjustable Cutlery Tray

Sized to fit RV drawers: adjusts between 9″ and 13″ for an easy custom fit.
3. Collapsible Over-The-Sink Dish Drainer
Innovative collapsible dish rack with arms that extend from 16-1/2″ to 26-3/4″ inches. Measures 16-1/2 by 12-1/4 inches. It collapses to ⅓ its original size for easy storage under the sink.
4. Double RV Refrigerator Bar
Keep order in the RV refrigerator and cupboards during travel. The RV refrigerator bar is spring loaded and keeps things from shifting during travel. It also helps keep a disaster from happening, like a jar of pesto flying out and splattering everything in sight. Yes, this happened.
5. Spice Gripper Clip Strips for Plastic Jars
Your Spice Grippers stay out of your way while managing to always be right where you need them. Secure adhesive lets you mount the strips to nearly anything.
6. Camco Sink Mate Cutting Board
Fits right on the RV kitchen sink, with a corner cut out for scraps.
7. Camco Stack-A-Plate
Plates stay in place while traveling, keeping them from breaking. Made with non-slip backing.
8. Over the Cabinet Door Paper Towel Holder
Hidden organization and storage provides the perfect small-space solution for kitchen, bathroom, laundry, boat and RV.
9. Thin Bins Collapsible Containers
Set of 4 assorted stackable and collapsible silicone containers – Includes one of each size for the best value: Small (10.5 oz), Medium (18 oz), Large (26 oz), and Extra Large (43 oz). From storing dried foods to wet foods, leftovers to meal prep, and indoor to outdoor, this versatile set is the perfect solution for your different food storage needs.
10. Stackable Can Rack Organizer
Store up to 36 can or variety size can/jars.
11. Stackable Storage Organizer Tray
This storage organizer fits spices, baking supplies, dry goods, and many other kitchen essentials; Use in the fridge to keep meats, cheeses, snack items, fruits and vegetables organized and ready to go; Perfect for wellness items, store vitamin bottles, medicine, aspirin, adhesive bandages, first aid essentials; Works in refrigerator and freezer; Organize all of your kitchen essentials; Set of 4.
12. Camco Pop-A-Bag Plastic Bag Dispenser
Neatly store and reuse plastic bags, while conserving space.
13. Tension Cupboard Bars
Keep items in the cupboards secure while traveling. Comes with three in a pack.
14. Camco RV Fridge Brace
Attaches to refrigerator wire shelves to keep food in place while traveling.
15. Collapsible Garbage Bag Holder
The Stormate Collapsible Garbage Bag Holder can be used in RVs, boats, cars and trucks, at home, or when you're camping.
16. Camco Knife Safe
Frees up valuable drawer and counter space. Holds 7 cooking and carving knives.
17. Collapsible Colander
Red folding colander helps save valuable kitchen cabinet space.
18. Collapsible Measuring Cups and Measuring Spoons
Four measuring cups and four measuring spoons that collapse and save valuable space in your RV kitchen.
19. Over The Sink Dish Rack
*Measure your sink before ordering.
Excellent space-saver multi-purpose heavy-duty over the sink dish drainer, not only does it provide remarkably simple efficient solutions to air-dry washed bowls, pot, fry pans, tableware, cookware, cutlery and kitchen utensil gadgets, but also can be used as vegetable colander and prep works platform over the sink.
20. Kitchen Cabinet and Pantry Storage Organizer Bins
*Measure your fridge before ordering
Keep your refrigerator clean and organized with these clear plastic bins. They are stackable and feature built-in, easy-grip side handles.
21. Camco Pop-A-Towel- Mountable or Portable Paper Towel Holder
Conserve counter space with a mountable paper towel holder.
22. Utensil Caddy
Store wooden spoons, spatulas and utensils on the counter if you lack drawer space.
23. Shelf Rack for Cabinets
Make use of all the space in your cabinets with a shelf rack.
24. Foldable Dish Drying Rack and Mat
Folds up for easy storage. Place the mat on a cutting board or your kitchen counter to dry dishes.
25. Squish Mixing Bowl
This mixing bowl is durable, sturdy, has a non-slip base and collapses for easy storage.
26. Nesting Bowl Set
Space-saving nesting design allows individual pieces to be stacked neatly together. Features four bowls, four measuring cups and one Tablespoon.
27. Anything Keeper
Store items under the kitchen cabinets with this mounted keep anything organizer.
28. Plastic Lazy Susan Spinning Food Storage Turntable
Revolving container maximizes storage space, especially in pantry cupboards and deep-base cabinets where items can be hard to reach.
29. Vintage Wall Mount Storage Basket
The perfect storage solution for the kitchen and other rooms in your RV. This is mounted with screws and not adhesive.
30. Magnetic Cooking Utensil Set
Low profile storage rack is bi-laterally magnetic and will stick to fridges, range vent hoods, steel shelving, and any other ferromagnetic* surface in your kitchen. Each utensil nests securely into its own spot on the rack.
RV Bathroom Storage Products
Trying to figure out how to organize our RV bathroom for five people drove me nuts at first. It was such a tiny space with very minimal storage. But as I learned with a lot of things when it comes to RV living, some things you just have to figure out as you go and that's how it was with the bathroom area.
What I thought would work as we began our trip didn't and I had to make some changes along the way.
A few things that ended up working best for us was:
Wall-mounted toothbrush holder – one of the best products I purchased for the RV bathroom. I recommend purchasing one that has something to cover the toothbrushes with so they're not out in the open
Keeping our hamper with dirty clothes in the bathtub – this kept the dirty clothes out of the main living space and tucked away
Using an over the door hook for towels and/or large 3M hooks for towels
Todd and I stored our bathroom items in our room in toiletry bags instead of in the bathroom. This not only freed up space in the bathroom, but it was handy when we didn't have hookups and had to use the campground's facilities. We would just grab our already packed bag and head to the bathroom to get ready in the morning and for bed at night
Here are some RV bathroom storage and organization products we recommend:
31. Over the door shoe organizer
Hang this on the outside of your shower curtain to hold soaps and extra toiletries.
32. Towel Rack Holder
If your RV walls can handle it, this towel rack holder installed on the wall is a huge space saver. Wine racks also work well as storage for towels.
33. Stackable Sliding Drawers
*Before you purchase anything like this, be sure to measure the space first.
These stackable drawers are perfect for space under the cabinet.
34. Over the Door Styling Tool Organizer
I stored my hairdryer in my closet, but if you don't have room for it, consider using the wall space in your bathroom.
35. Plastic Bathroom Vanity Organizer
We had something similar to this that fit perfectly under our medicine cabinet. We stored q-tips, cotton balls, etc in it, making it easy to access those items.
36. Plastic Stackable Bins
You may find that stackable bins work better under the cabinet than drawers. We used containers similar to these for the boys to store their extra toiletries in.
37. Toothbrush Holder Wall Mount
We had something almost identical to this one and it was a great purchase. I liked how the cups covered the toothbrushes and that we could store our toothpaste as well. This mounted with a single adhesive strip.
38. Adhesive Toilet Paper Holder
Our travel trailer didn't come with a toilet paper holder and I've noticed that's pretty common. This one has an adhesive 3M sticky backing for hanging.
39. Over the Door Mount Bathroom Supplies Holder
Hang this over the door or even possibly on your shower curtain rod to hold soaps and shampoos.
40. Over the Door Basket Hanging Storage Solution
Something like this might work well for washcloths and extra bathroom supplies.
41. Over the Door Hook
Use this to hang towels you use every day.
42. Suction Cup Shower Caddy
We quickly found out that suction cups did not work in our shower because of the material, but it might work for you. If so, using something like this caddy to store items inside the shower will free up much-needed space.
43. Command Wall and Cabinet Organizer
We got the most use out of Command items and most of them held up and stayed, even on move days.
44. Tension Pole Corner Caddy
If you have the room in a corner of your bathroom, this tension pole caddy might be perfect for that space. No screws and no adhesive.
45. Tension Rod
Hang an extra tension rod in the shower on the opposite wall to hang items from.
46. Small Corner Shelf
Install a small corner shelf between the mirror and sink if your RV bathroom is set up with the sink in a corner.
Dinette Storage Products
If your dinette has storage under the cushions, here are a few ways to utilize that area best.
*Always measure the door and storage space under the dinette before purchasing any products.
47. Under the Bed Plastic Rolling Bins
If the measurements work, these rolling plastic under the bed storage bins are the perfect way to keep that area organized while being able to easily access stuff.
48. Wood Storage with Chalkboard Label
If you don't want to use plastic tubs, these wooden storage bins on casters might work. Plus, they have cute chalkboard labels for you to write on.
49. Cloth Under the Bed Storage with Plastic Cover
Cloth containers is another way to go when it comes to under the dinette storage options. These come with plastic covers and different divider options.
RV Living Room Organization Products
Our living room consisted of a two-person couch and the entertainment area, so we didn't need much when it came to organization products because there was nowhere for them to go. But, here are a few items that helped make that area more functional.
50. Storage Ottoman
If you've watched our RV tour video then you know I have a slight obsession with storage ottoman's, but for good reason. They're useful!
We used an ottoman in the living room to kick up our feet, as well as to store things like homeschool supplies, books, clothes, etc.
52. Armrest Caddy Organizer
It's nice to have a place to store the remotes, reading glasses, etc by the couch.
53. Foldable Tray
This is actually something we didn't have but I think we would have used it frequently for eating/working. Plus, it folds up so it can store behind or beside the couch.
RV Bedroom Organization Ideas
Our bedroom is probably the area that drives me crazy the most. Part of it is because I have too many clothes and shoes. The other part of it is because, well, it's a small space that I not only sleep in but also work from.
I never got this space organized just like I wanted it, but here are some bedroom organization items that helped and some that I wish I would have purchased.
54. Space Saving Hangers
Closet space can definitely be a big issue if you're traveling with a family. Using space-saving hangers and hanging multiple items on one regular hanger helped free up some much-needed space.
55. Foldable Cloth Storage Bins
I used cloth bins in my closet, as well as under the bed. In the closet, I stored shorts, jeans, sweatshirts…anything that didn't need to be hung up or was too bulky for hanging. Our closets are deep enough to use two cloth bins.
I used these under the bed to store out of season clothes, extra shoes and office supplies.
56. Hanging Shelf Closet Organizer
We used one of these in the closet for one of our sons. It worked well to keep his clothes organized instead of stacking them in one pile.
57. Stick on Wall Mount for Phone
These little stick on shelves can be used for your phone, jewelry, watch, any small items you want to access easily. Mount them on the wall right beside your bed.
58. Wall Mount Storage Basket
Wall mounted storage baskets are great for the bedroom. You can store remotes, charging cables and other small items in them. I've also seen small succulents placed in a wire basket mounted to the wall.
59. Wall Mounted Drop Leaf Table
I saw one of these installed by the bed in one RV and thought it was a great idea. When it wasn't in use, it was folded down and out of the way.
60. Slim Storage Baskets
Slim storage baskets were the perfect size to store items in the cabinets above our bed. I stored things like socks, underwear, toiletries, and small office supplies in these.
61. 3M Hooks
I could have listed 3M hooks as an RV organization accessory in just about every room because we used them in just about every room.
In the bedroom, I used them for hats and scarves and Todd used them for hats and a headlamp for when he had to go deal with propane issues in the middle of the night. 🙂
62. 3M Broom Gripper
These 3M broom grippers are perfect for holding flashlights. We had them on the wall right outside the bedroom door so they were easy to grab on our way out if we needed them.
63. Expandable Wall Mounted Rack
3M hooks don't always look the nicest, so if you want hanging space that's a little more decorative, an expandable wall mounted rack would look really cute.
64. Small Storage Ottoman
If you have space and need extra storage, a small storage ottoman placed beside the bed might be useful. I used one in our bedroom to store my office supplies since I worked on the road. It also came in handy as a place to sit to put on my shoes. Double bonus.
RV Entry Way Organization Ideas
One thing you'll quickly find out is that even in your RV you'll need a drop zone for keys, wallet, dog leashes, etc.
65. Metal Wall Mount
Here's a metal wall mount that features hooks for keys, slot for mail and a whiteboard for notes.
66. Self-Adhesive Wall Mount
Here's one that doesn't require screws and is adhesive instead.
RV Shoe Storage Solutions
One thing big families who travel together in an RV have an issue with is the shoe situation. When you're traveling all over the country, in different seasons, you need shoes for several different occasions.
We had shoes for snow, shoes for hiking, shoes for dressing up (we had weddings/events we attended), shoes for summer, shoes for exercise, etc, etc, etc.
What ended up working best for us, was shoes that weren't being used at the moment were stored under our bed and/or the dinette. Everyday shoes we needed easy access to were stored in a large plastic bin outside. When it rained, we just pushed the bin under the travel trailer.
Was it a perfect solution? No.
Did it work? Yes.
If you need more ideas, just do a quick search on Pinterest for "RV shoe storage ideas".
67. Shoe Organizer
Some people cut up these shoe organizers and attach them to the sides of their bed in the master bedroom. You can see an example here.
How many of these RV organization accessories and ideas caught your eye? We truly hope this resource helps you to organize your RV so that it can be an enjoyable space to live and travel in.
If you have any organization ideas to share, please do! We are always looking for more ways to keep the RV organized.
PIN THIS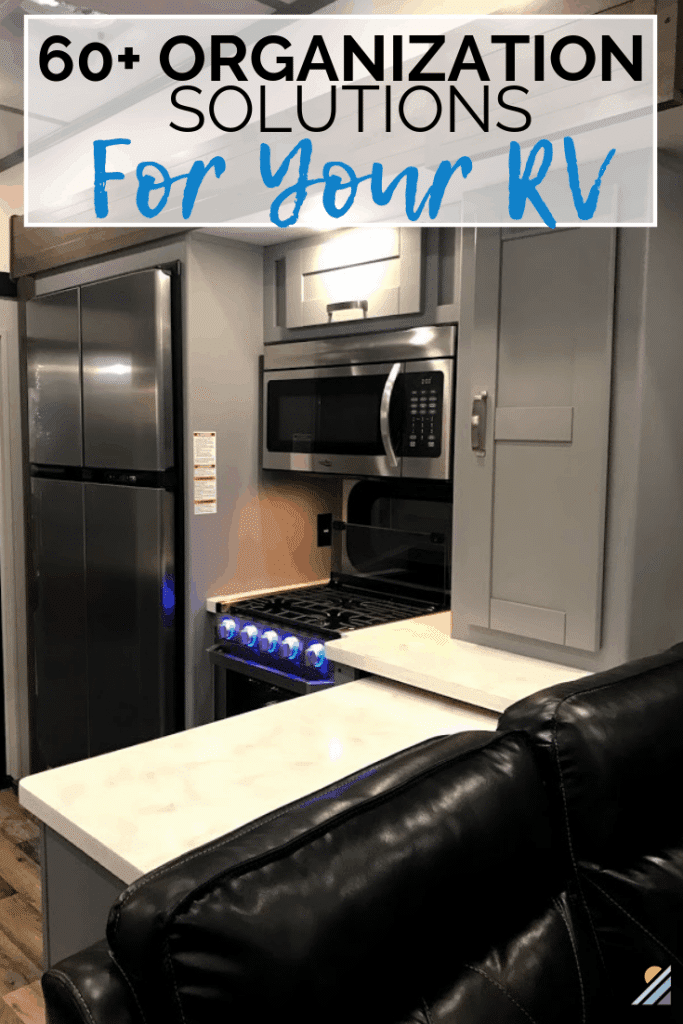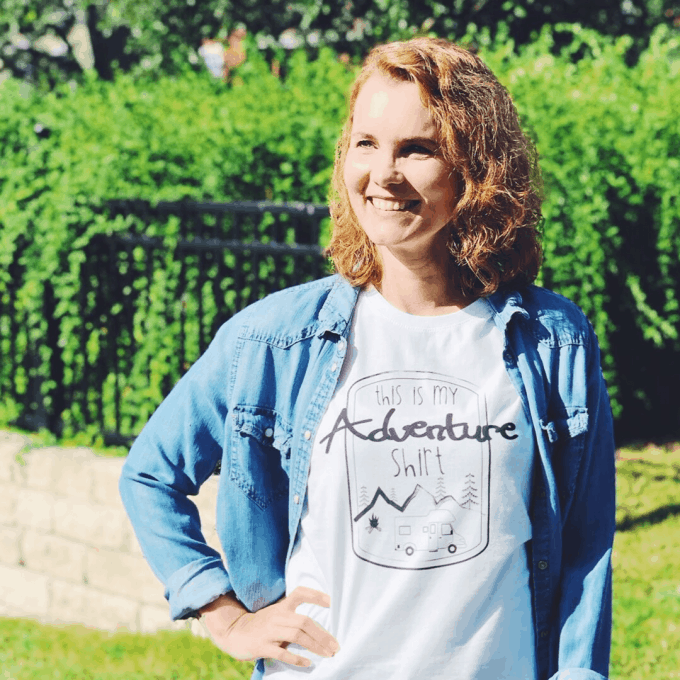 Julie
Julie Bonner is one-half of the TREKKN team. She specializes in helping you whip up delicious meals in your tiny RV kitchen, as well as RV organization tips and helping fellow RVers make their RV feel like home. Her favorite RVing spot is in Banff National Park in Canada where yes, the water really is that blue and the people really are that nice.
Sharing is caring!
Sours: https://trekkn.co/rv-organization-accessories/
RV Organization Tips!
100+ RV Space Saving Ideas For Ultimate RV Organization
Note: Some of the links in this article are affiliate links, which means we make a small commission if you buy something. You don't pay anything extra by purchasing through these links. See our disclaimer for more info. Thank you!
5 RV Storage Tips Before You Begin…
1. Take Stock
Write down everything you have. I know, this is a monstrous task, but there really is no better way to organize your RV or small space than by knowing exactly what you have.
2. Purge the Useless Items
Do you really need 12 drinking cups and 20 plates? Unless you have a huge family, I doubt it. I'm a culprit, too. I have 3 pairs of sunglasses. I don't need them, but… y'know. Everyone has those things they just don't want to get rid of.
As fulltimers, we plan to get rid of everything we don't use at least once per year. If you're not living in an RV, I recommend doing this after every RV trip.
3. Designate a Place for Everything
And I do mean everything. Keys, your fly swatter, loose change, bike helmets, the RV trash can — you name it. It's the only way you'll ever get your RV to stay organized.
4. Use the "One In, One Out" Rule
This is a great way to stay on top of your organization goals. Anytime you bring something new into the RV, the old one should go out. For example…
If you bring a new sweater into the RV, an old sweater should be removed.
This rule will help you upgrade old stuff without keeping tons of unnecessary clutter. (Kayla hates this rule, she's gotta have her clothes! She's getting better though!!)
5. Stick to a Cleaning Schedule
With a house that moves, you have to put everything away before you start your drive. However, when you stay in one spot for any length of time (we sometimes stay at one site for over a month), daily cleaning can be overlooked and clutter builds up. No amount of RV storage ideas will help you if you don't develop a routine.
We have a daily morning routine of cleaning up after breakfast.
Once we're finished eating in the morning, Kayla and I like to take 20 minutes to wash the dishes and pick up anything lying around. By doing a small pickup session daily, the cleaning is more manageable and never becomes a huge hassle.
Now — on to the RV storage ideas!
RV Kitchen Space Saving Ideas
Here are a few RV space saving ideas:
1. Put a Free-Standing Drawer Unit in a Cupboard (Secure w/ Bungee)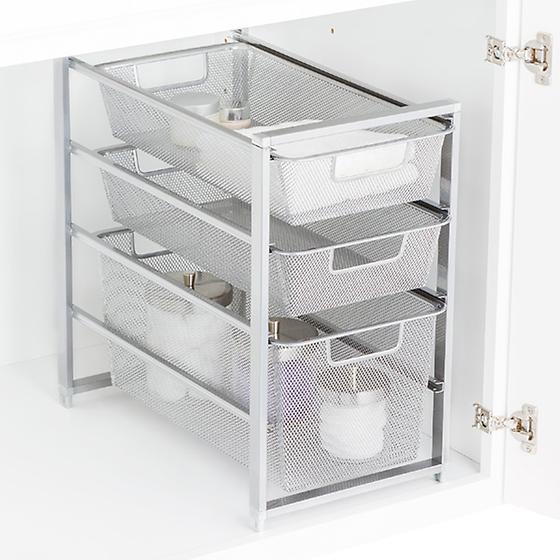 These cabinet-sized drawer units are pricey, but if you have the money they can be one of the best ways to use RV cabinet space that may otherwise be wasted. Kayla and I don't use them because of the price, but we'd love to have them if we had the extra money! Secure them with bungee cords to keep them from opening on the move.
2. Get an Over-The-Door or Door-Mounted RV Trash Can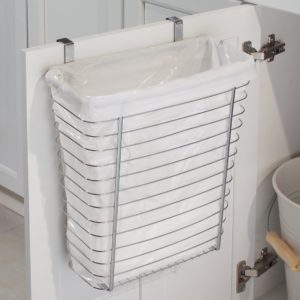 An RV trash can on the floor takes up a lot of space… but you need a trash can. Trust me – Kayla and I went weeks without a trash can in the RV and it's a huge pain. This over-the-door trash can saves space and is totally out of the way!
3. Use Storage Bins in Your RV Shelves

Storage bins are probably the number one most important piece of the RV organization puzzle. We have a dozen, and could probably use two dozen more. You can use them in cupboards, drawers, and in the outside storage compartments. Label them for bonus points!
4. Replace Your Tea Kettle with This Foldable One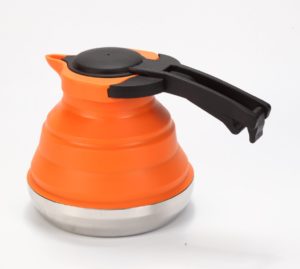 Cookware can be the biggest space sucker of all the items on your RV. If you like to heat your water with a kettle, getting a collapsible tea kettle will save you a lot of room and headaches. You can also get collapsible colanders and even collapsible pots!
5. Replace Mixing Bowls with Stackable Nesting Bowls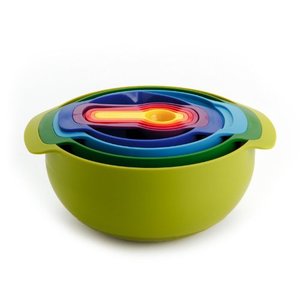 Nesting bowls are a go-to RV space saving idea. We basically stopped using bowls in the RV until we found these because they just take up so much room. One of those "bowls" is actually a colander, which is great.
6. Use Dish Cradles to Maximize RV Cabinet Space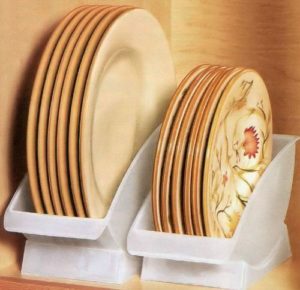 These are way up on our wish list. Stacking dishes vertically in a dish cradle makes them take up less space and, more importantly, makes it easier to get them out without needing to take anything off the top of them.
7. Install a Hanging Basket for Fruit

If you can find a spot to put a hanging basket, they're great. Kayla and I don't really have anywhere we could put one, so unfortunately, we don't have one.
8. Get a Roll-Up Sink Rack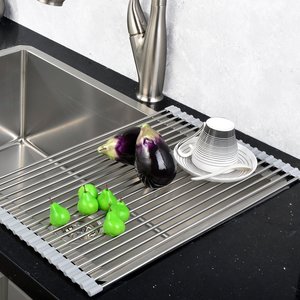 Having an above the sink rack, rather than a countertop one, frees up that precious counter space. This model even rolls up for easy storage.
9. Install a Peg Board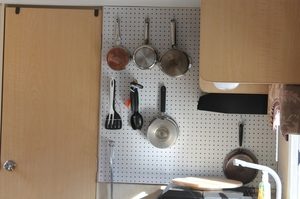 We don't have a spot for one of these ourselves, but I wish we did. A peg board on the wall looks like a really cool, easy way to organize the unorganizable: pots and pans.
10. Buy Tons of Suction Cup Hooks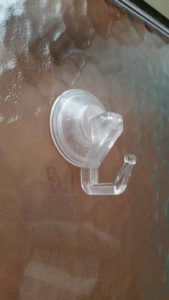 The suction cup hook pictured above is from our shower, and this thing works wonders! I love anything you can use to hang stuff without putting holes anywhere because we're planning on selling our RV when we're done and want to keep it's value.
11. Fruit Hammocks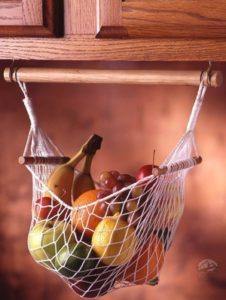 If you're like us and can't find room for the hanging baskets, these fruit hammocks might work for you instead. I like them because the fruit ripens evenly so you don't get spots over-ripened.
12. Paper Plate Dispenser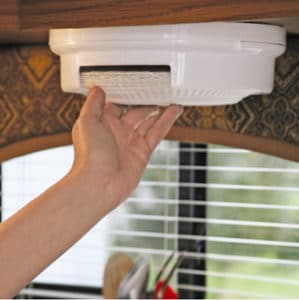 Another item high on our wish list is this awesome paper plate dispenser.
13. Fold Out Spice Rack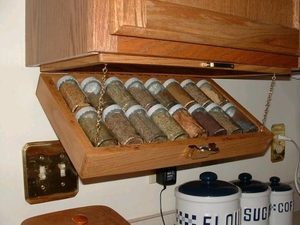 This spice rack can be installed right under a cabinet and will save tons of RV cabinet and counter space. It beats our system – we have all the spices in a storage container, which is a pain when you have to dig out the one you want.
14. Dangling Mason Jars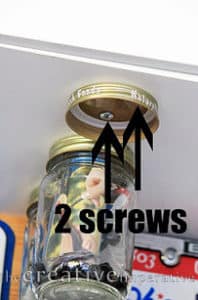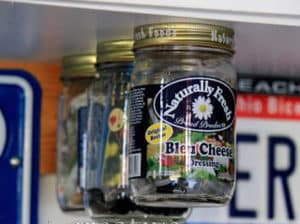 This one's cool, and affordable. Just get some mason jars and screw them into the ceiling to store small stuff!
15. Wall-Mounted Magnetic Strips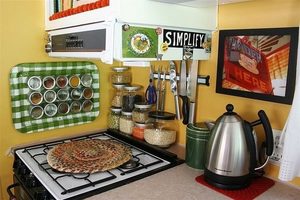 A wall-mounted magnetic strip is high on our wishlist as a way to store our knives. Put them away while driving, though – you don't want them to come flying off the wall if you crash!!
16. Magnetize Your Cutting Board to the Underside of a Cabinet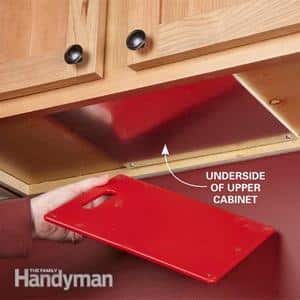 Get some magnets to install on the back of your cutting board, and a sheet of metal to install under your cupboard: Boom, your cutting board is organized and out of the way.
17. Use Curtain Tension Rods Vertically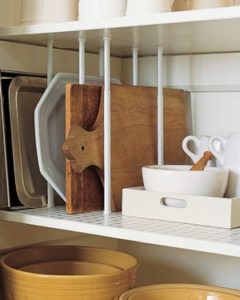 You've probably heard of using curtain tension rods in cupboards to keep things from falling out. But, have you thought of using them vertically to organize things? Try it out!
18. Over-The-Sink Shelf

If you can find a way to stabilize it, an over-the-sink rack will add some much-needed kitchen space.
19. Airtight Square Canisters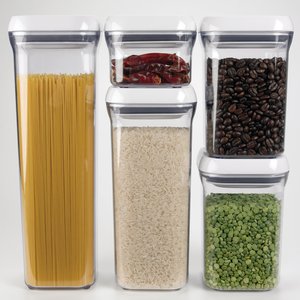 Tupperware is one of the greatest things for storing food, but they can be hard to organize, to say the least. These square canisters (which are also airtight) are great for maximizing your storage space!
20. Spice Gripper Clips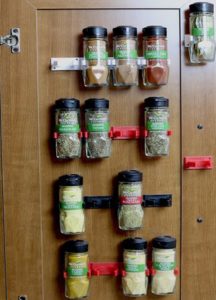 Like I said, spices can be a pain to organize. These are another item high on our wishlist – spice gripper clips!
21. Magnetic Spice Holder (Use Caution!)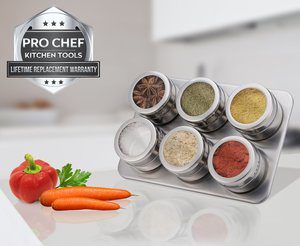 These are super popular, so I wanted to mention them. Just be wary of these magnetized spice racks, because Nikki Wynn from Gone With the Wynns said they didn't work well for her. Maybe she didn't set it up right, but I'd rather not deal with spice all over my floor to find out.
22. Knife Safe by Camping World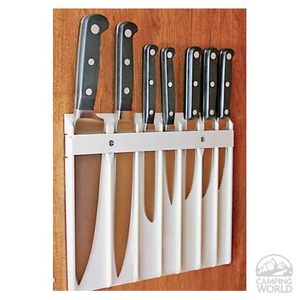 A good alternative to the magnetic strip for storing knives is the knife safe by Camping World. I'm still not sure I would leave them in this while driving, though.
23. Food Dispensers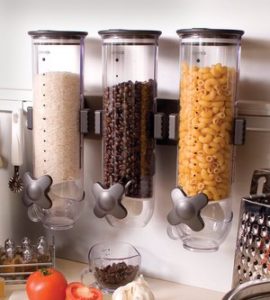 Wall-mounted dry food dispensers are a great way to free up some cupboard and counter space. Just put the contents in and toss the packaging! It makes it easier to get to your food, too.
24. Floating Wine Rack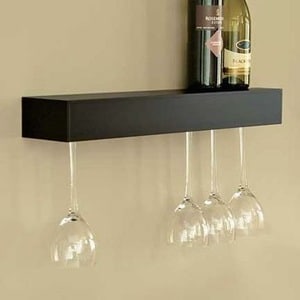 A floating wine rack probably isn't your first idea to store wine glasses in your RV, but hey, you gotta have dreams of wine, right?
25. Lazy Susans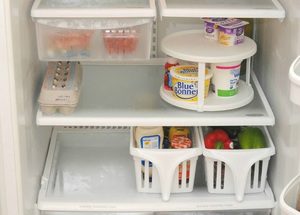 If you don't know what a Lazy Susan is (I didn't before I did some research on organization), it's basically a plate that spins (just like the glass plate in your microwave). They are awesome! You can use them in the fridge or in cupboards to easily get to stuff in the back.
26. Divided Organizers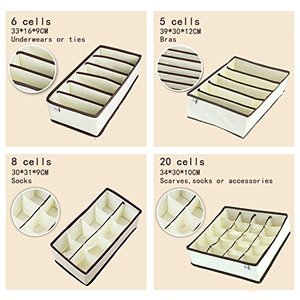 These divided organizers are another great way to save space. You can store drinkware, clothes, accessories, and more! You can create your own with a box and some cardboard dividers left over from packages if you want to be thrifty.
27. Use Towel Rods to Hold Pot Lids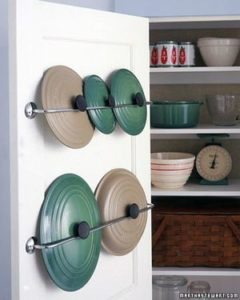 Pot lids are the worst things to find space for. They are awkward and never sit right. Just use a curtain rod to hold them on the back of a cupboard!
28. Under-Shelf Baskets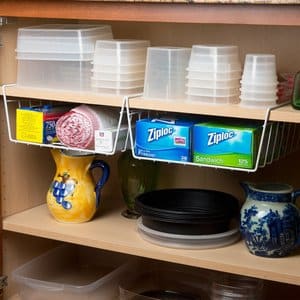 You can use under-shelf baskets to add more storage space to your cupboards – and under the shelves in your fridge!
29. Organize Bakeware with a Pan Organizer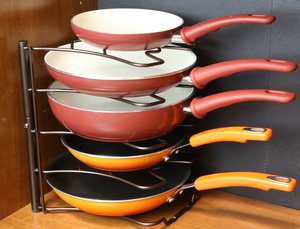 Who says pan organizers are only for pans? Put your baking trays in them, too!
30. Magazine Rack Can Organizer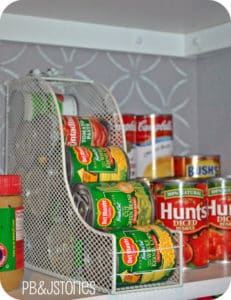 You can use magazine racks to organize the cans in your cupboard; plus, it will stop them from rolling around and making a mess.
31. Bungee Your RV Trash Can to the Wall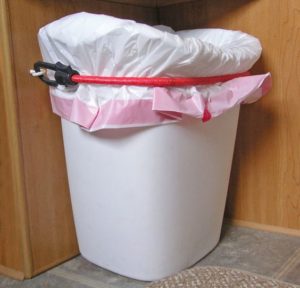 Sometimes an over-the-door trash can is just too small, and you need something bigger. Just take a bigger trash can and use some bungee cords and eye hooks to tie it to the wall; viola, a mobile-ready RV trash can that's out of the way!
32. Use Old Wipe Containers to Store Plastic Bags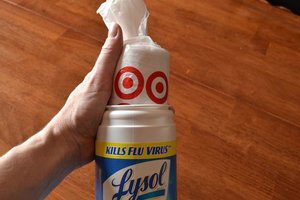 infarrantlycreative
Plastic bags tend to accumulate and take up way too much space. Instead of stuffing them in a dark corner of your RV, use an old wipe container to organize them!
33. Repurpose Coffee Creamer Containers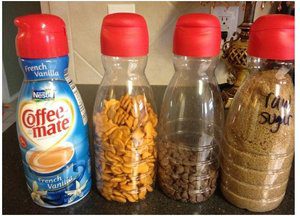 sharonscrapbook
If you're a coffee lover like we are, you've probably thrown out a lot of coffee creamer bottles. Next time you find yourself running out of creamer, keep the bottle, clean it, and reuse it to store food! It takes up less space than most packaging.
34. Combine a Shower Caddy with a Command Hook to Make a Produce Rack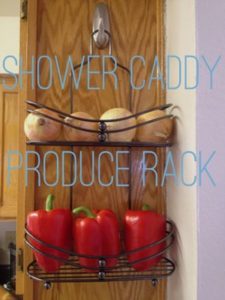 MyFridgeFood
35. Store Garbage Bags on a Paper Towel Holder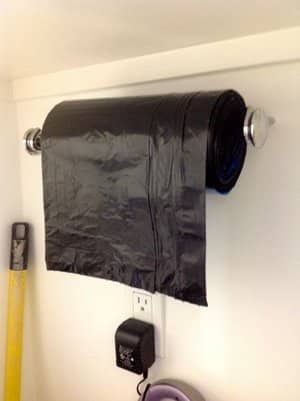 Paper towel holders can be used to hold tons of different things. Use them to store your garbage bags for easy access!
36. Or – Store Them in an Old Juice Bottle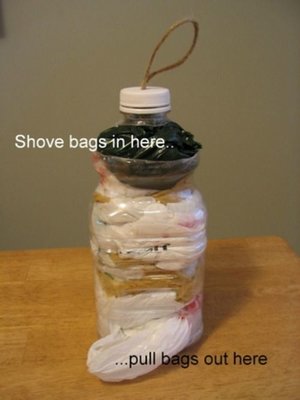 If you can't find space for a paper towel rod, an old juice bottle will work to store bags. It may not store the whole roll, but it's an easy way to get your bags out.
37. Collapsible RV Trash Can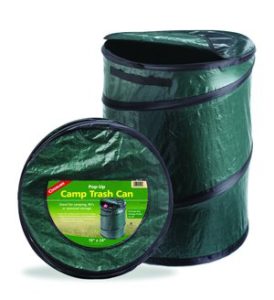 If you haven't already figured it out, I love collapsible stuff. This collapsible trash can takes up virtually no space, and it has plenty of room as an everyday trash can.
38. Thumbtack Sandwich Baggies Inside Cabinet Doors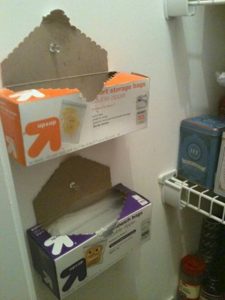 Thumbtacks can perform miracles. Just pin your sandwich baggie boxes right to the back of a cupboard!
RV Storage Ideas for the Bathroom
39. Make Your Own Towel Caddy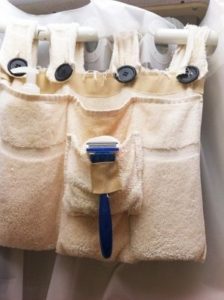 If you're a creative type, you can combine a towel with some buttons and sewing skills to create one of these cool shower caddies.
40. Use a Shoe Organizer as a Towel Holder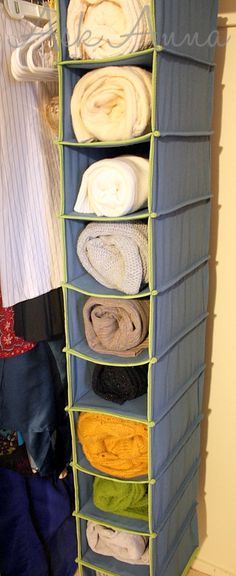 via Pinterest
41. Hanging Containers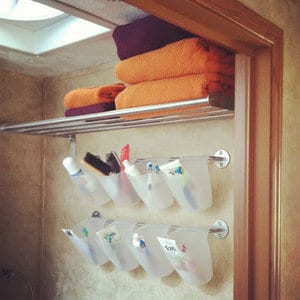 I couldn't find the plastic containers from Ikea they used in the picture, but you can use these ones from eBay instead.
42. Elastic First Aid Holder

All those creams and ointments can get pretty unorganized if left laying in the medicine cabinet. You can easily store and organize them by stapling an elastic band around them to hold them in place!
43. Create a Toiletry Holder with an Old Coat Hanger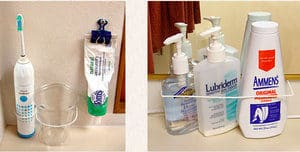 andybaird
You can use an old metal coat hanger and some screws to keep your toiletries organized and in place as you travel.
44. Hook Dispensers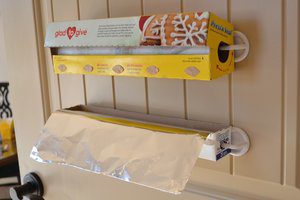 askannamoseley
You can take a page out of Anna Moseley's book and install some hooks in the wall to create an aluminum foil dispenser. It keeps the box from taking up room on the counter and makes it easy to get to; win-win!
45. Storage Pods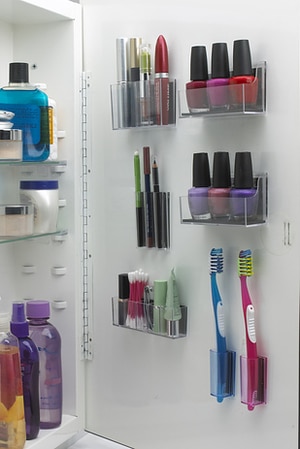 Use command strips to hang plastic toiletry holders!
46. Handmade Extra Toilet Roll Storage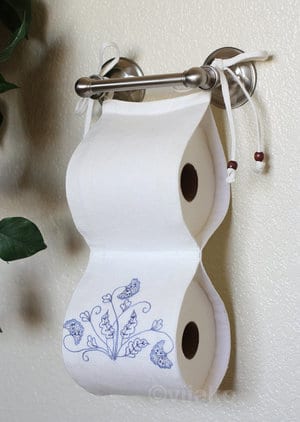 They're a little pricey, but if you like these extra toilet paper roll holders, you can get them on Etsy.
47. Shampoo Dispenser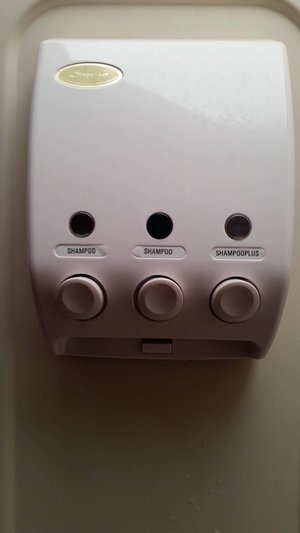 Our RV shower has this nifty shampoo dispenser. There's a big lack of shelf space in our RV shower, so this comes in handy.
48. Command Strip Broom Holder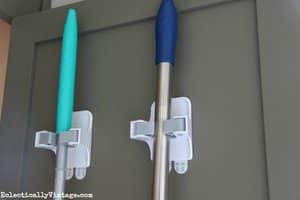 Organize your brooms and mops with a command strip broom gripper.
49. Command Strip Necklace Holder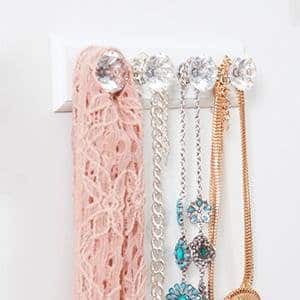 My grandma got us this necklace organizer for Kayla, and she loves it. It's the best way to store her necklaces while also making them easy to get to.
50. Collapsible Laundry Basket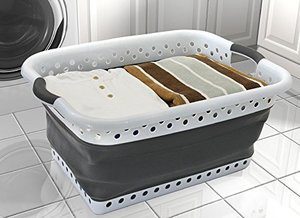 If you need a laundry basket in your RV, try this collapsible one to save some space!
51. Laundry Bag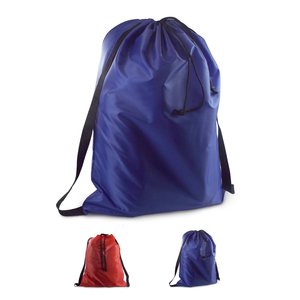 Alternatively, you could do what Kayla and I have done and get a laundry bag. Ours isn't like this backpack version, though – we wish it was!
52. Store Bobby Pins in an Old Tic Tac Container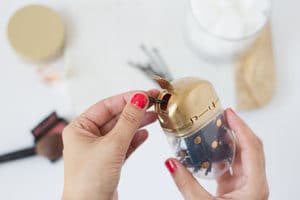 lovelyindeed
Try out this cool project by Chelsea from Lovely Indeed. Turn an old tic tac container into a bobby pin holder!
53. Hang Spice Racks for Bathroom Supplies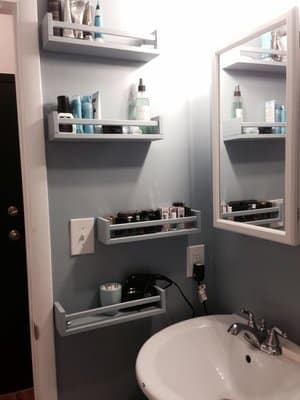 Pinterest
Paint Ikea spice racks to match your bathroom cabinet, then use them as storage shelves for bathroom supplies.
54. Over-the-Cabinet Hair Dryer Holder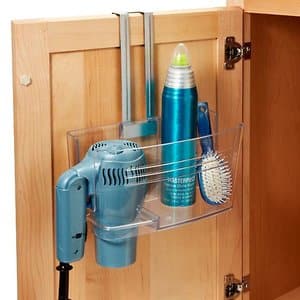 containerstore
The container store sells this nifty over-the-door hair dryer and supply caddy.
55. Tape Together Coffee Cans for TP Storage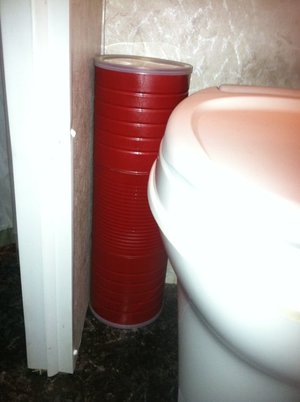 Pinterest
You can cut the bottoms of some old coffee cans and tape them together and paint them to match your decor! Easy toilet paper storage.
56. Use a Dry Foods Container as a Small Waste Basket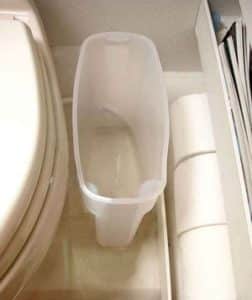 If you're looking for a small, out-of-the-way trash can, use an old dry foods container.
RV Bedroom Storage Solutions
57. Remodel Your Bunkbed Into a Closet or Office

This is a travel trailer space saving idea since most motorhomes don't have bunk beds. It can be annoying having space used for something you simply don't need or want there. If you have a bunk bed, but don't use it, you probably feel the same way.
If you're feeling crafty, try converting that space into an office to get the most out of every square inch of your rig.
58. Portable Filing Folder Bag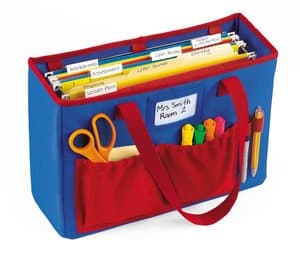 Keeping good records is really important, especially for those of us self-employed. It can be hard to find room to keep track of this stuff, which is why you should get one of these.
59. Make a Storage Headboard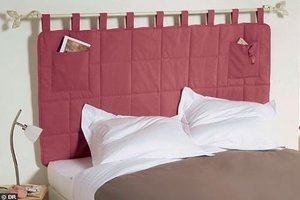 If you're good at stitching, this is an interesting project to undertake. It could double as a shade for the window behind your bed if you have one.
60. Caddy Night Stand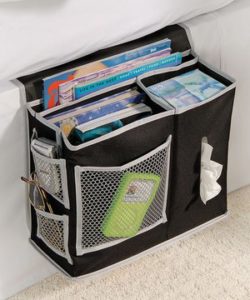 Bedroom space is lacking in most RVs (besides under the bed, but who wants to pick up their bed every day?) A caddy night stand could solve that problem for you!
61. Fold Your Clothes to Fit Into a Small Space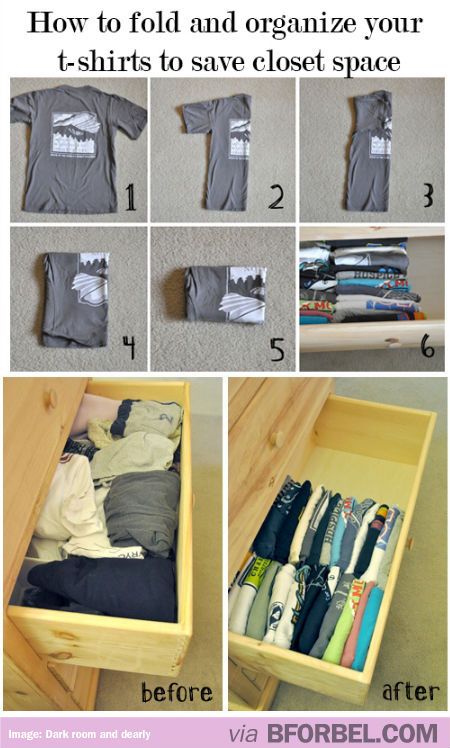 Pinterest
62. Use a Shoe Box for Decorative Storage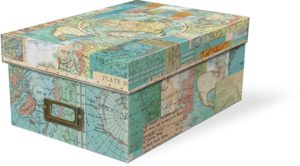 these cool decorative shoe boxes
63. Organize Hats with a Clothes Hanger and Shower Rings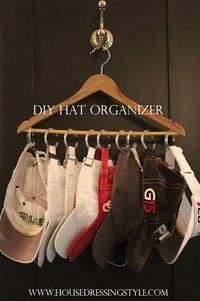 Pinterest
64. Use a Shoe Organizer for Extra Shelves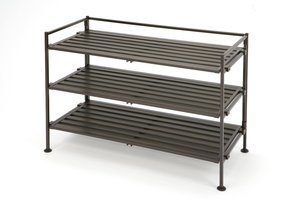 A shoe rack can actually fit in many RV cupboards. Use it for extra shelf space!
Living Room Space Saving Ideas
65. Velcro Remotes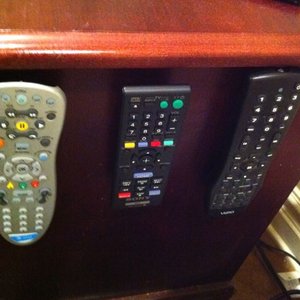 Pinterest
Kayla and I did this with our remotes, and we love it! We used these velcro squares.
66. Store Flashlights with a Broom Holder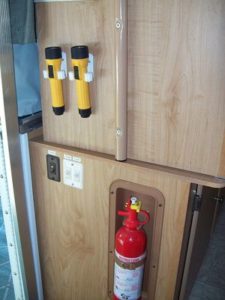 Pinterest
Get another command strip broom holder to store your flashlight by the door for easy reach.
67. Get Shelves with Side Hooks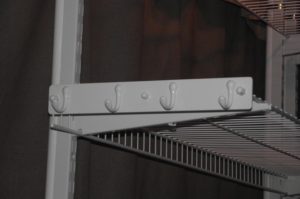 popupportal
I couldn't seem to find these online anywhere. If you know where to get them, let me know!
68. Door Catch Hideaway Hooks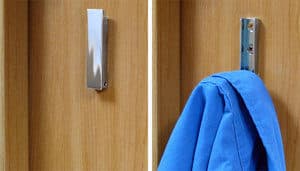 Hide your coat or towel racks using door catchers.
69. Create a "Quick Drop Zone"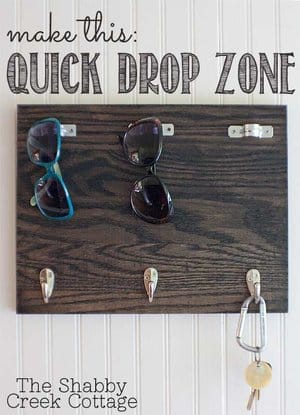 TheShabbyCreekCottage
Create a "Quick Drop Zone" to store small things like keys and sunglasses right by the door for easy access.
70. Use Magazine Racks for Odds and Ends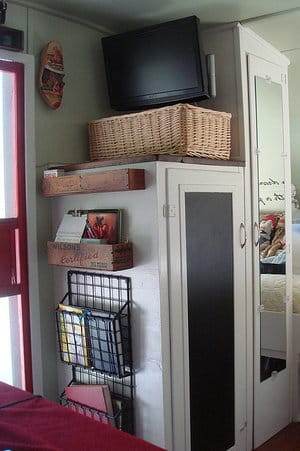 creativeaccumulation
71. Paper Roll Rod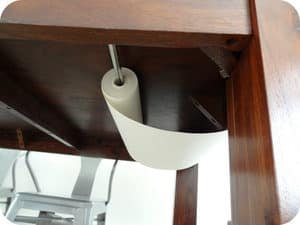 If you have kids who like to draw on paper, try this project to install a paper roll under a cabinet.
72. Inside the Door Storage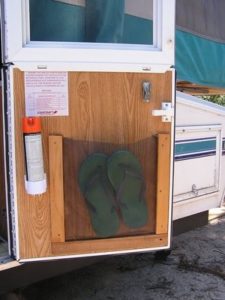 Pinterest
This is something you can easily make yourself, or you can just buy it.
73. Desk Lamp w/ Power Outlet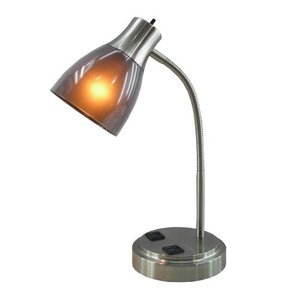 This tip is less for organization and space saving, and more for supplying your RV with a power outlet you can reach without bending over. Our RV has a power outlet under the dinette we use when we're working on our laptops, and it is a pain to get under there to plug stuff in.
74. Storage Cubes Turned On Their Sides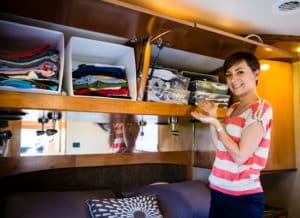 This is another idea we got from Gone with the Wynns.
75. Peel & Stick Cord Organizers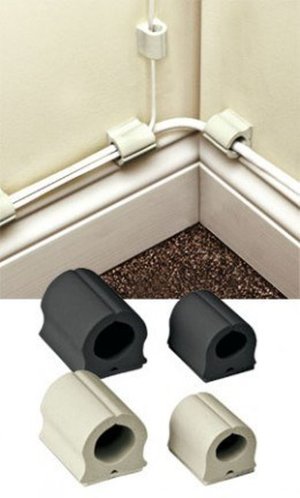 Pinterest
Sticking with our theme of not putting holes in the walls, these peel and stick cord organizers are great for making your cords look pretty. Most of your cords are hidden anyway, but it's always nice to see cords actually organized.
76. Get an Ottoman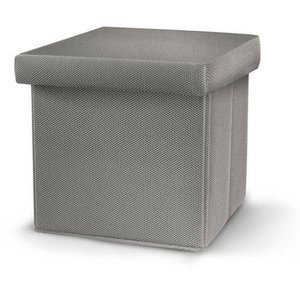 Collapsible ottomans are great for adding extra storage and utility. Plus when you're not using them, you can put them under the dinette or fold em up.
RV Basement/Outside Storage
77. Add More Rear Storage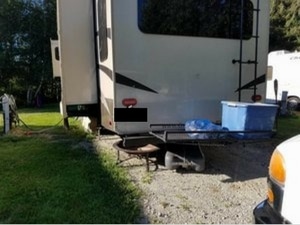 Our current RVing neighbor has a tow cargo carrier attached to his fifth wheel for extra space. Sometimes the best RV storage ideas are the ones that simply add more space to store things!
78. Make the Most of Your Tow Vehicle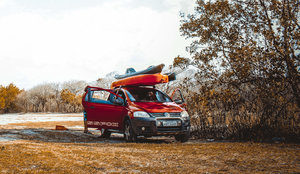 You can put kayaks, bikes, extra storage and more in your tow vehicle. Make the most of it!
79. Hang RV Hoses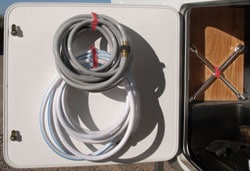 One way to do this is by hanging nylon velcro strips.
80. Mounted Ceiling Supplies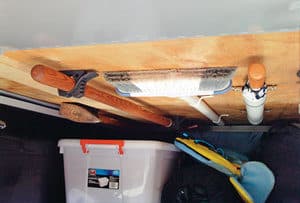 CamperTrailerAustralia
Use pipes and brackets to mount supplies like brooms, umbrellas, fishing rods and more to your outside storage ceiling.
81. Mesh Bag for Water Hose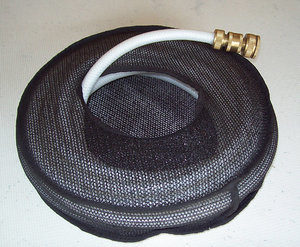 BudgetBedFlys
You can find them here.
82. RV Water Hose Splitter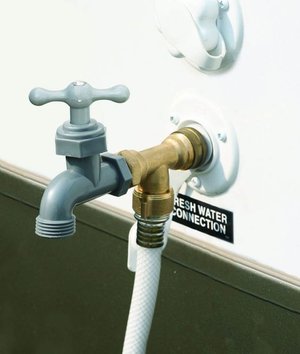 Pinterest
Another tip that isn't exactly for storage, but more for convenience. Easily wash your RV, clean your black water tank, or whatever you need an extra hose for. Get one here.
83. Reusable Grocery Bags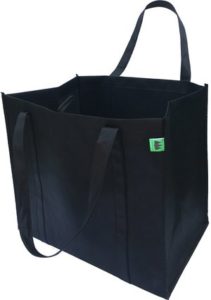 You can use these for groceries (duh), but you can also use them to store extra stuff in. We have a bunch of cleaning supplies in one of ours. You can get them at most grocery stores or on Amazon.
84. Mount Electrical Adapters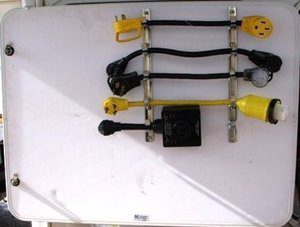 Other Miscellaneous Space Saving Ideas
We have more space saving ideas but weren't sure which category to put them in or didn't want to make a separate category for only one or two things. Here they are!
85. Over-The-Seat Organizer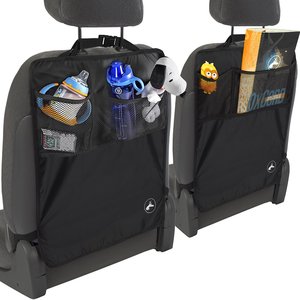 Who says you can't use your motorhome's seats as extra storage? Get one here.
86. Pull Out Surfaces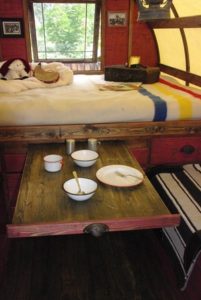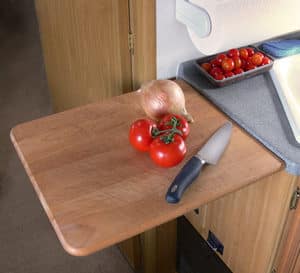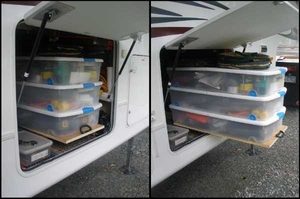 We wish we had more pull out surfaces. Hidden counter space is one of the best RV storage ideas you'll ever head. You can build some if you're interested in DIY.
87. Command Hooks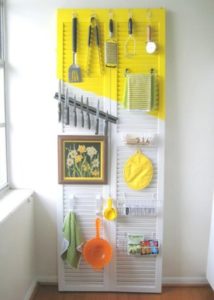 DIYncrafts
We LOVE command hooks. They are a super easy way to organize your stuff and save cupboard space. Check out DIYncrafts awesome guide to using command hooks for some great ideas!
88. Insta-Hangers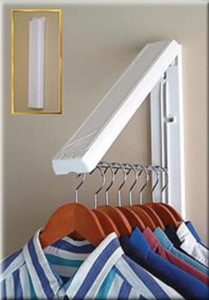 These insta-hangers are pretty cool. You can use them to organize the clothes in your closet, or to hang up your nice outfit while you iron it. When you're done, they snap down and hide away!
89. Combine Hooks with Metal Containers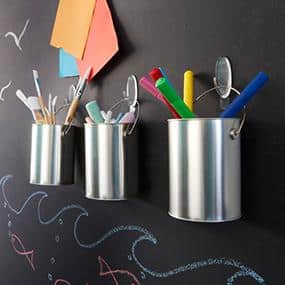 This is one of my favorite camper storage ideas. It lets you get really creative!
90. Vacuum-Sealed Bags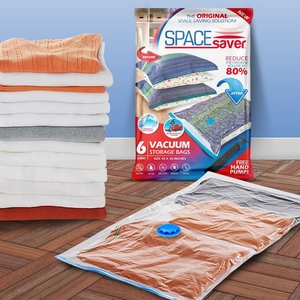 If you're bringing extra pillows, blankets, or clothes with you in the RV, these vacuum-sealed bags are an excellent way to keep them fresh and save space.
91. Chalk Paint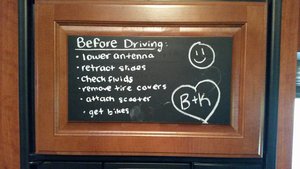 We used chalk paint on our fridge to help us remember what to do before we pack up and drive.
92. Get a Toolbox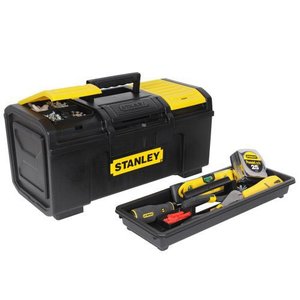 You need tools if you're going to spend time in an RV. You never know when something's going to break – I've used my toolbox 5 times in the past week alone. Check out Ditching Suburbia's fulltime RVer's toolbox article for tool ideas.
93. Use a DVD Binder Instead of Cases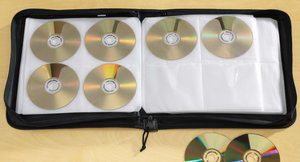 DVD cases take up a lot of space. Ditch the cases and get a DVD/CD binder instead.
94. Alternatively, Take Everything Digital
Instead of using your precious storage space on a DVD binder, download all your movies onto an external hard drive (here's a guide). You can also keep all your music on there (or just use Pandora). Heck, use an e-reader or kindle instead of carrying physical books, while you're at it!
95. Use More Tension Rods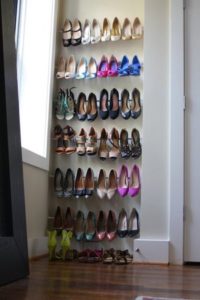 We've found there to be a near endless use for tension rods. You can hang spray bottles on them, hang baskets on them for extra storage space, or use them vertically to organize stuff.
96. Store Things in Tackle Boxes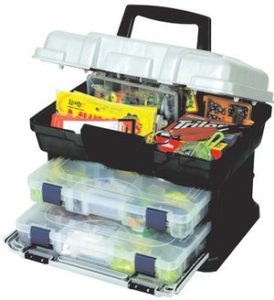 Tackle boxes aren't just for fisherman. You can store all kinds of odds and ends in them!
97. Install a Ball Storage Net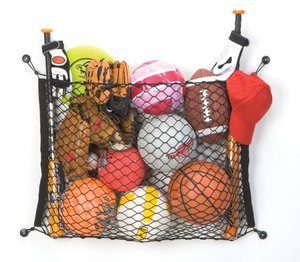 If you're into sports, it can be difficult to find a place to store all your equipment. Try installing a storage net!
98. Magnetic Tape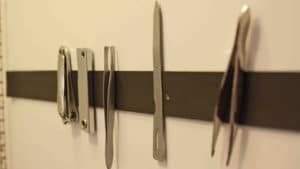 Magnetic tape can be super useful for storing small metal objects on the wall.
There you have it – the ultimate list of RV space saving ideas!
If you enjoyed this article, please share it so we can help more people save space.
What are your favorite RV storage ideas? Let us know in the comments below!
Can't get enough RV gadgets? Check out our full list of must have RV accessories, as recommended by over 30 full-time RVers!
Return to Top
Sours: https://www.thewanderingrv.com/rv-storage-ideas/
Organization travel trailer
Some days I wonder how we fit everything we need into our RV! Before we launched into full-time RV living, I was searching the internet for the best RV organization accessories and hacks to help us fit a family of 6 into our Class C Motorhome.
Especially storage ideas for small campers, as we live in only a 33-foot motorhome.
Now, 2 years later, I've learned a few great RV storage hacks while living in an RV full time.
AND I've reached out to some of our amazing RV friends to share their RV living storage organization hacks and ideas so that we could create this ultimate post of the best RV organization accessories and hacks with SO many pictures to give you a visual.
If you're looking for a quick download that you can reference back to, then be sure to check out our free guide below!
Click here to download your FREE guide with 5 Genius RV Organization Hacks.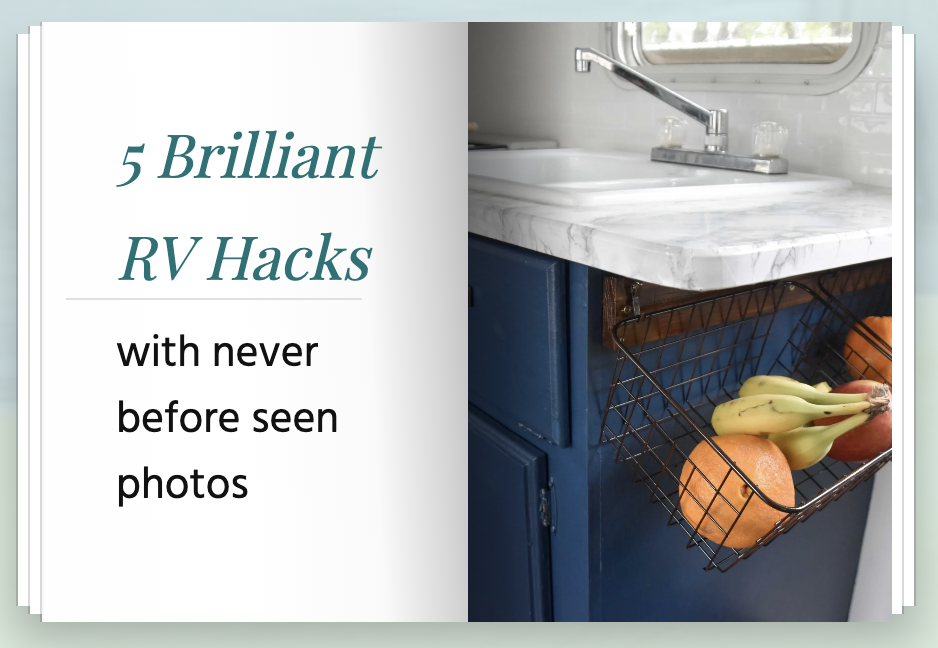 RV Organization Accessories And Hacks
In this article, we cover storage ideas for RV interiors, RV kitchen organization, and RV bathroom storage ideas.
We share our best RV closet organizer ideas, RV under bed storage ideas, and even dive into travel trailer organization ideas from our friends Ashley and Nathan while touching on fifth wheel organization ideas from our friends Clementine and Pieter.
RV organization does not have to stress you out like you might think it should. Organizing a camper can be simple if you have the right RV organization accessories and you're ready to live with less 'stuff', while only keeping the items you plan to use regularly.
Keep reading to learn our best RV hacks and how to keep your camper organized.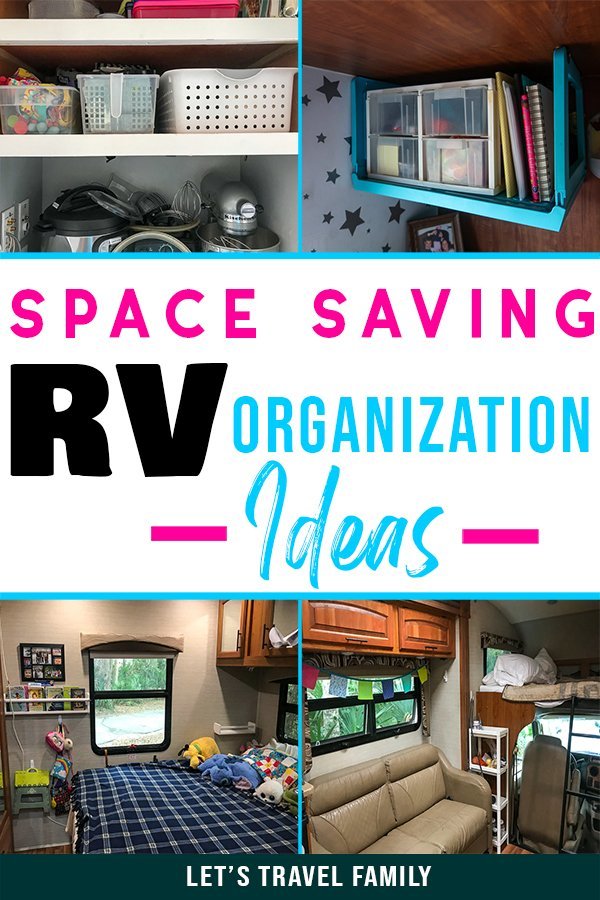 THIS ARTICLE MAY CONTAIN COMPENSATED LINKS. PLEASE READ OUR DISCLAIMER FOR MORE INFO.
First – 5 Camper Organization Tips
Real quick, before I share with you specific RV storage solutions, I want to give you a few pieces of advice when organizing a camper.
Whether you just bought a new RV or you've owned it for years and you're looking for better camper organization hacks, these camper organization tips will help you get started.
Keep it simple.
Stay lightweight if possible.
Try to find accessories for multiple purposes.
Use ALL of your space.
Keep things secure – your RV moves!
RV Bathroom Storage Ideas
Let's dive into RV bathroom storage ideas so that you can make your camper bathroom organized.
First up is our favorite and simple over the door hangers we found online. There are the simple plastic hooks we show below or even a rack that can hang over your door.
Going back to one of the best camper storage ideas is to use ALL of your space. The back of a door is a great space-saving way to hang and store your towels.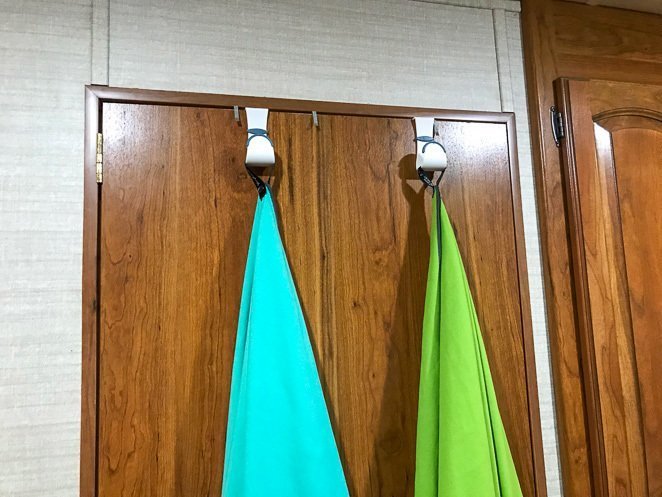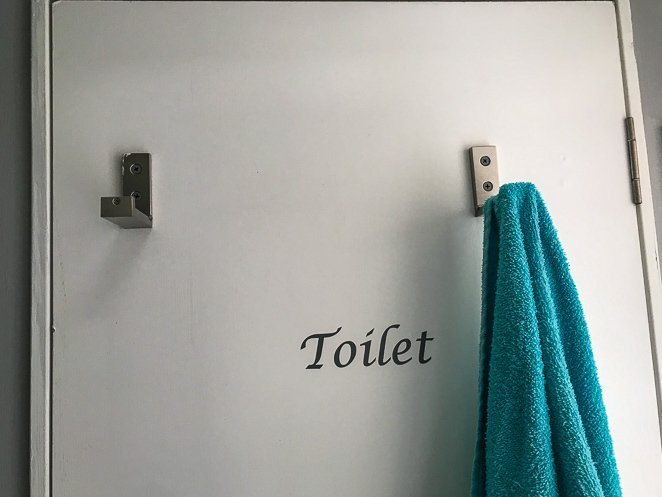 Simple small shampoo and conditioner containers with suction cup sides can be great for use in your RV shower. They won't hang on an RV shower curtain but they will often stick to your shower walls.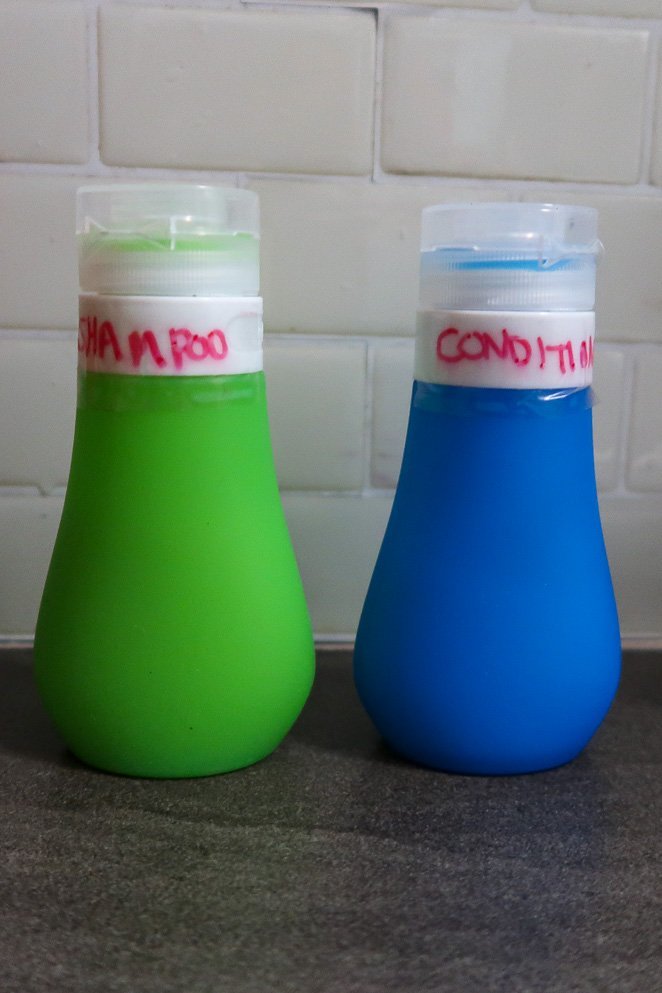 RV organizers for your shower can be especially helpful such as shown below.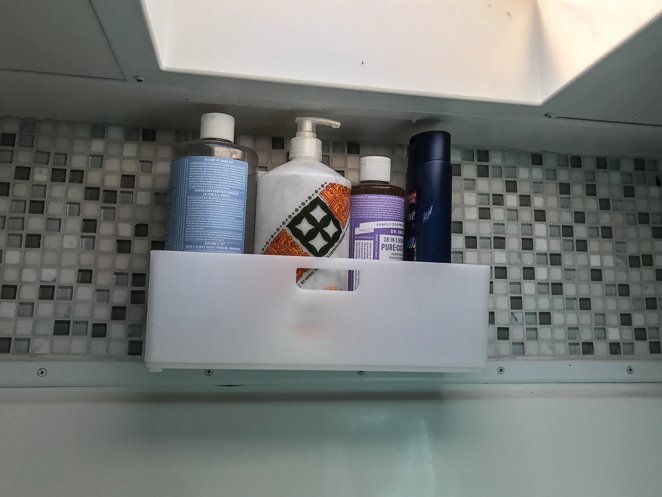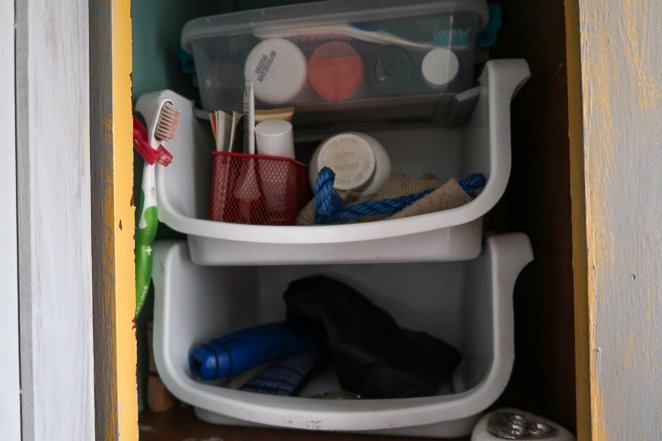 If you're looking for travel trailer organization ideas for your bathroom, check out what our friends Ashley and Nathan did in their bathroom below. They not only invested in some great bathroom shower bags from Ebags, they also found these cute dog tail hooks from IKEA.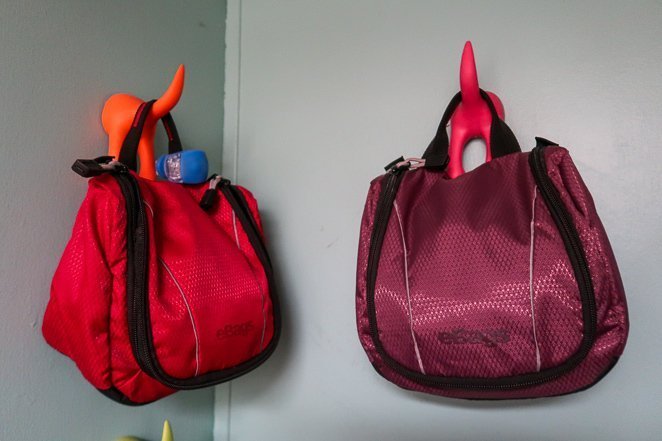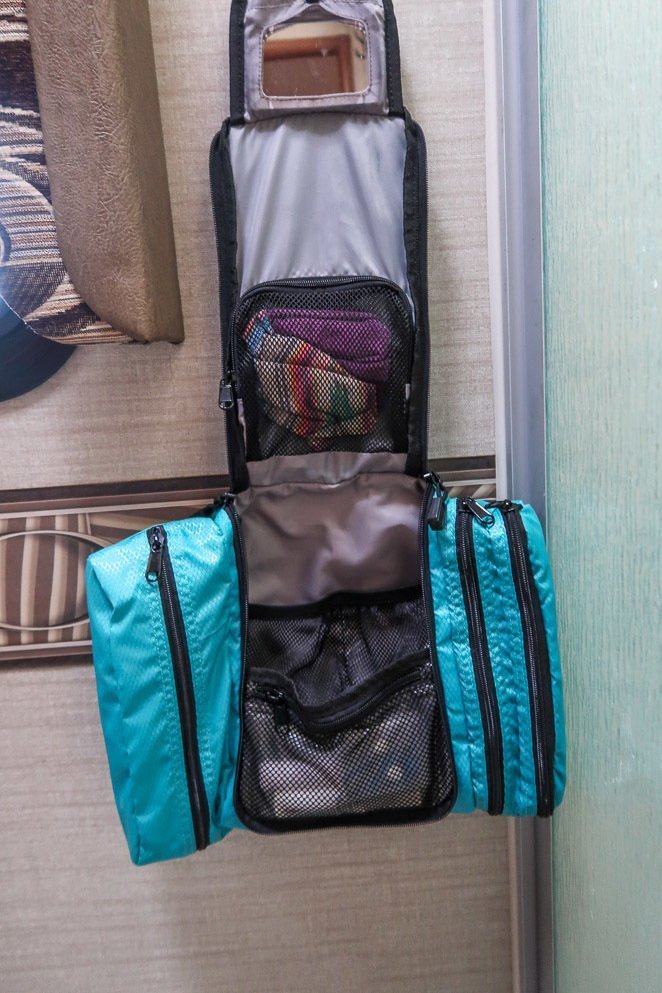 If you don't have enough room on your over the bathroom door hangers for your towels, another smart RV organization idea is to buy this towel rack from IKEA and install is high up in your shower so you can place your towels up high when not in use.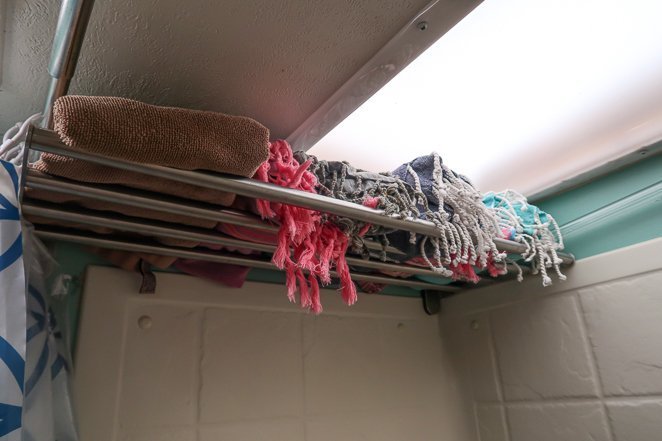 If you're looking for a more detailed post about RV bathroom storage organization ideas and hacks then click here!
RV Kitchen Organization
Looking for RV kitchen storage ideas? Look no further as we have so many camper storage hacks for almost any RV kitchen including shelves, paper towel holders, RV spice rack ideas, and where to store your extra food.
Our first tip is to find shelves for any extra counter space that allow for things to be stacked. They can make great produce shelving on your counter. Click here to check them out.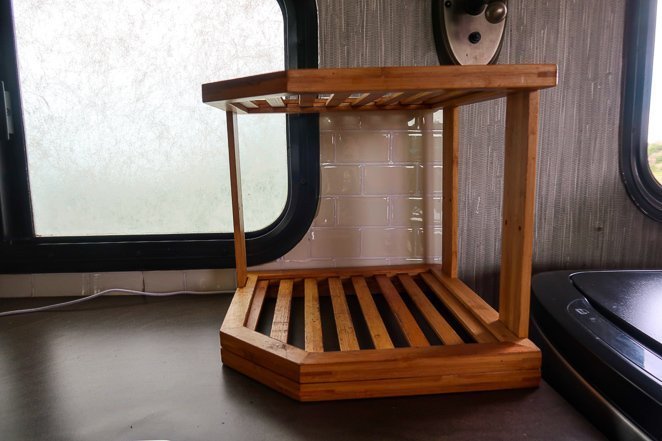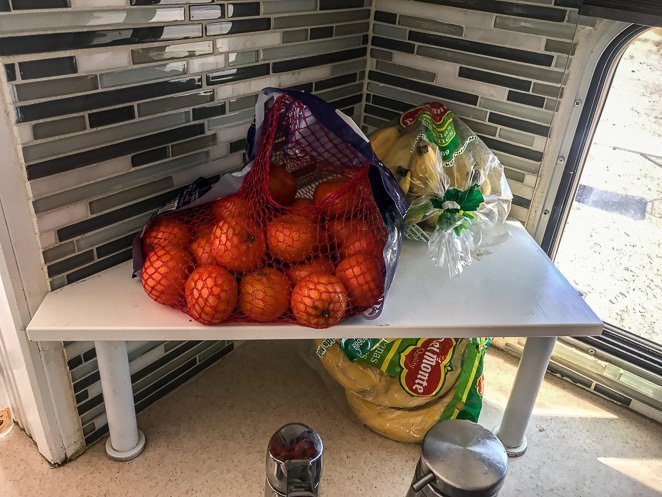 Another great RV kitchen hack is to use reusable spice containers that fit in short shelves to hold your dry goods.
Or, you could even use a 5 gallon pail with a lid to hold your extra flour and dried goods if you have a places for it. It will help keep any critters from coming into your RV to make a home.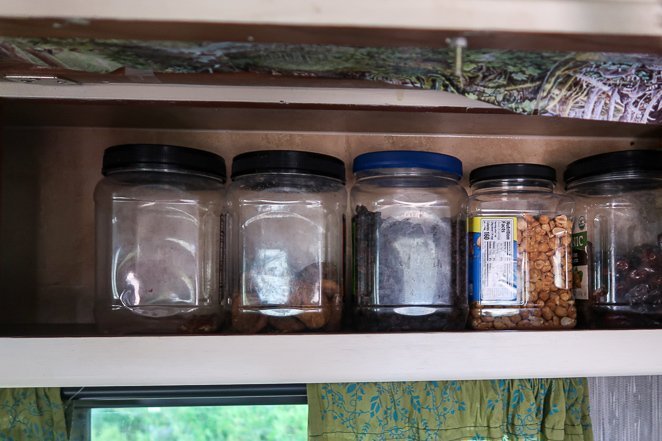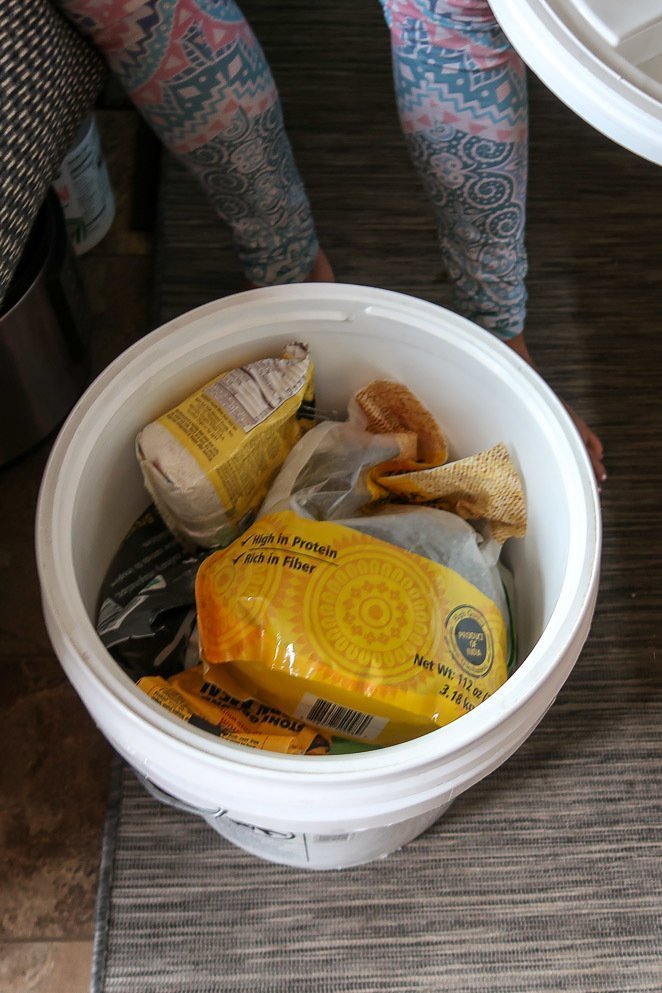 Using simple black clips on an over the door towel holder on the inside of a cupboard makes for a great spot to hang dry your wash clothes and sponges.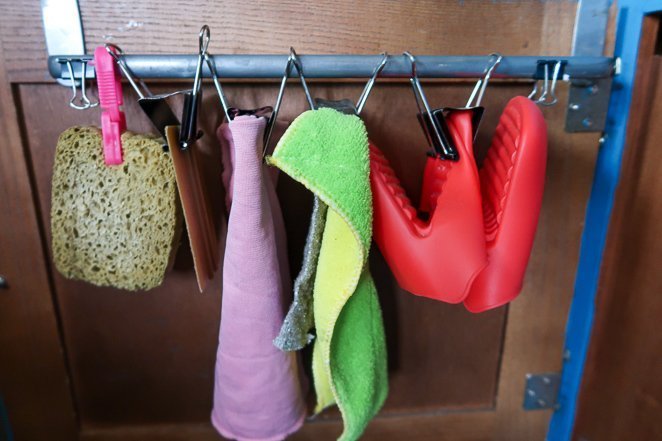 Below, you will see a few great RV kitchen organization hacks.
Use some small command hooks like these to place hooks under countertops so that you can hang your towel to dry. Be sure to use microfiber kitchen towelsthat don't get smelly easily.
If you look to the left of the counter, you'll see how simple magazine holders are used in the extra floor space for for their leftover container lids.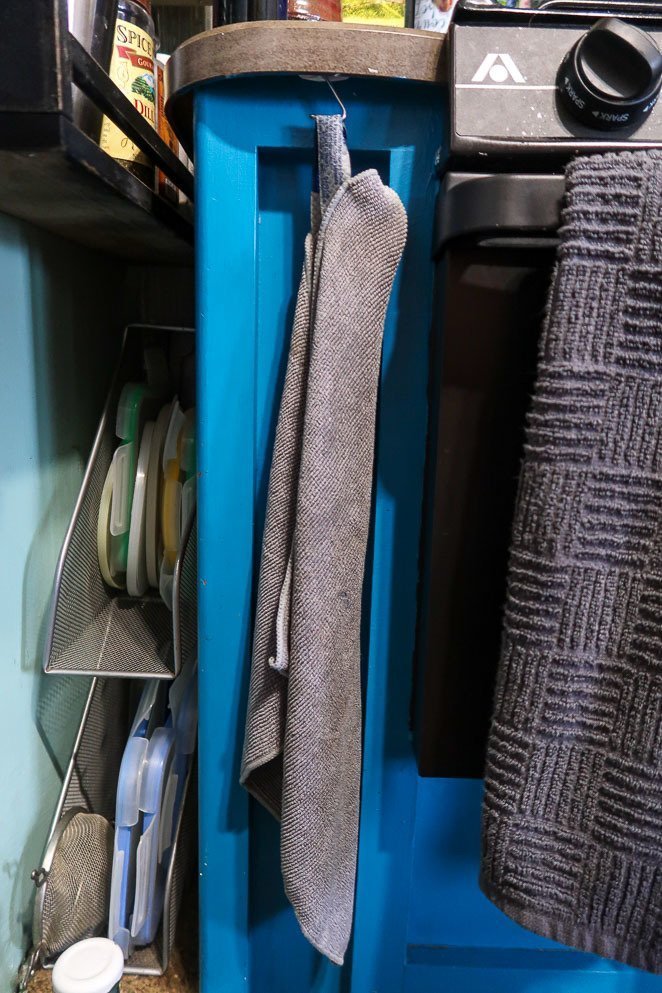 Below, you'll notice that the paper towel holder is hung on the side of the wall instead of under a cabinet. While they used IKEA shelves as spice racks, yet I've seen these spice racksused in RV kitchens as well.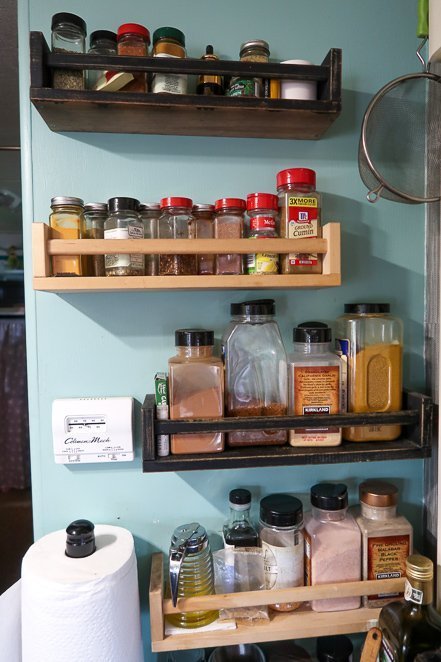 An RV organization tip that I often repeat is to use all of your space, and that includes open vertical space too. Look below to see the self used to hold fruit. Simple, yet useful!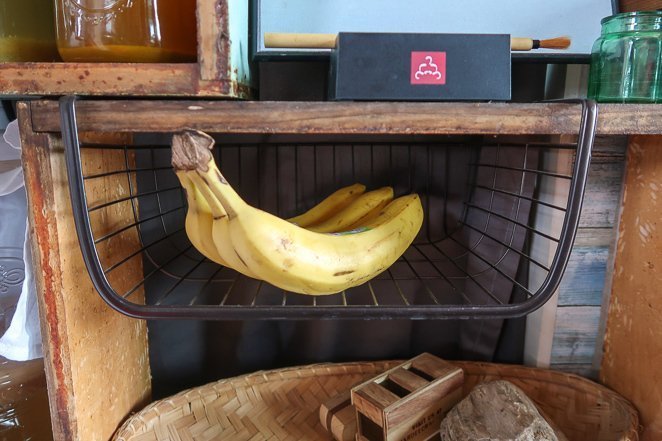 A produce hammock could also be a great addition to your RV kitchen if you have space under a cupboard, you could attach it to the underside of a cabinet instead of using the stand it comes on.
Oftentimes using drawers can be helpful for storing your RV kitchen dishes. We especially love investing in glass cups that can also be used as coffee mugs and leftover containers with lids like these.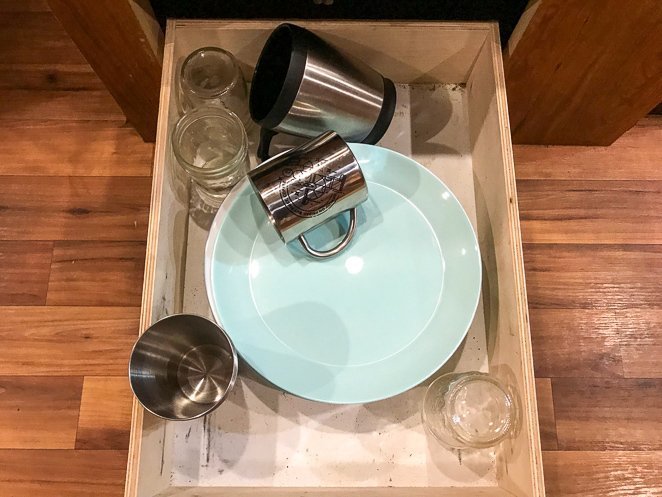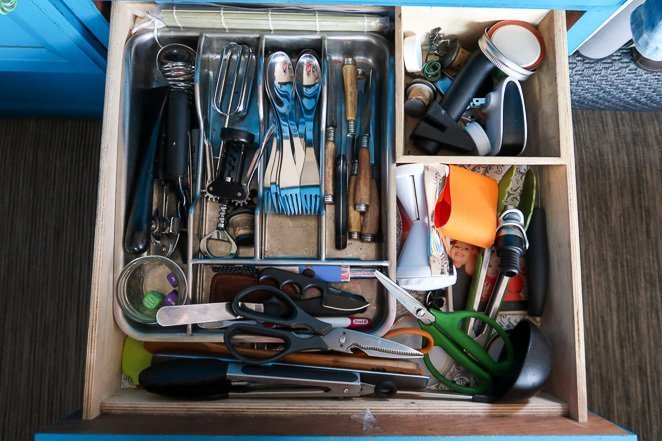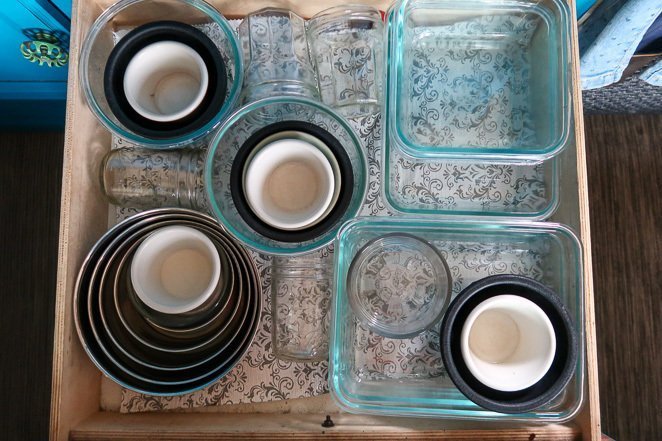 If you have a bit of wall space then you can buy a magnetic strip to hold your knives, scissors and other kitchenware. Just remember to take them down on travel days.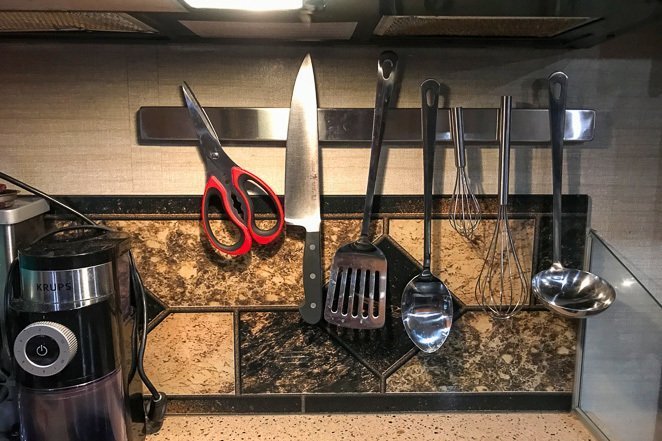 RV fridge organization can be made easy with a few bins that fit your RV refrigerator. First, take measurements before you purchase anything as not all RV fridges are the same size.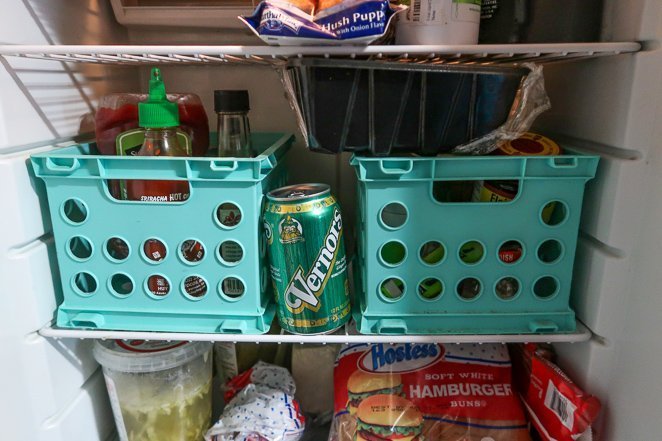 If you're still looking for RV kitchen ideas, then this list of RV appliances for small kitchens might help you out.
How To Organize Your RV Cabinets And Shelves
Looking for RV shelving ideas? Keep reading to see some pictures of camper cabinets and RV closet organizer ideas.
RV cabinets are often built in all different sizes, so it can be helpful to boost your RV living storage organization with these tips.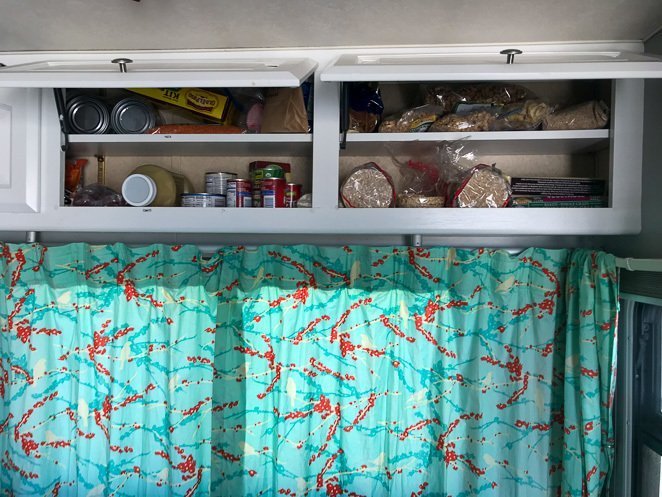 Sometimes you need to add in an extra shelf from IKEA, Amazon, or another store to help you fill up what I like to call 'dead space'.
Other times, you just need to organize your RV shelves and cupboards well. Using wire shelves in a cabinet can help you fit more food in your kitchen cupboards.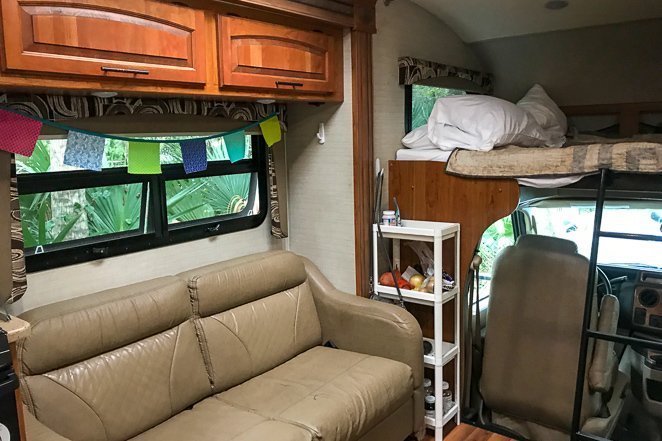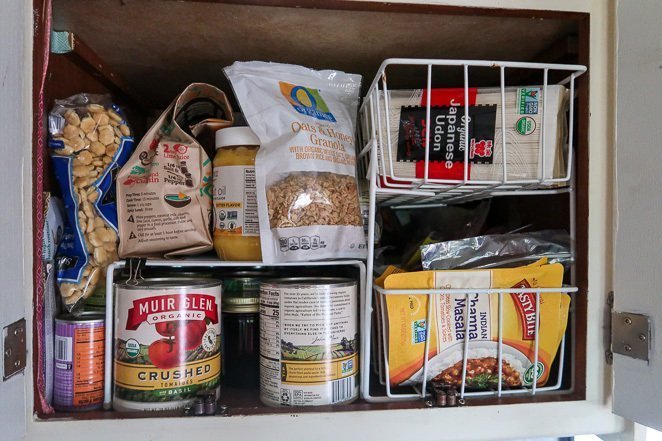 Check out our storage ideas for RV closets in the pictures below. From buying additional plastic drawers and bins to rolling your clothes to fit in tight spaces, you need to often be creative to fill your RV closet shelves.
My favorite RV closet organizer tip is to hang clothes above stacked additional drawers.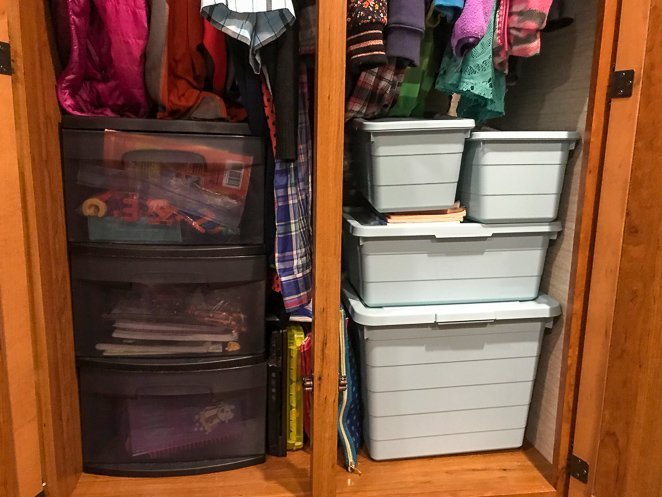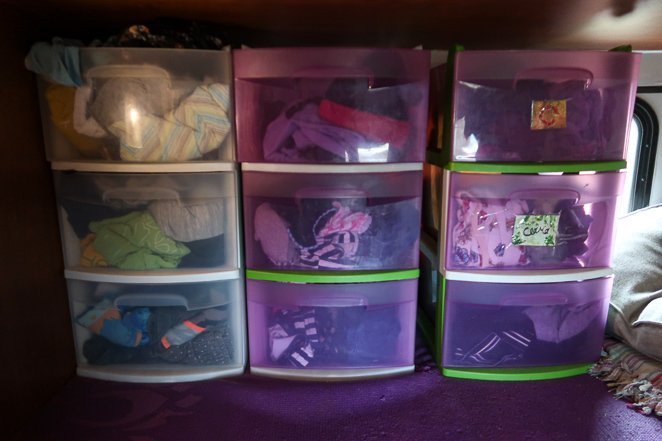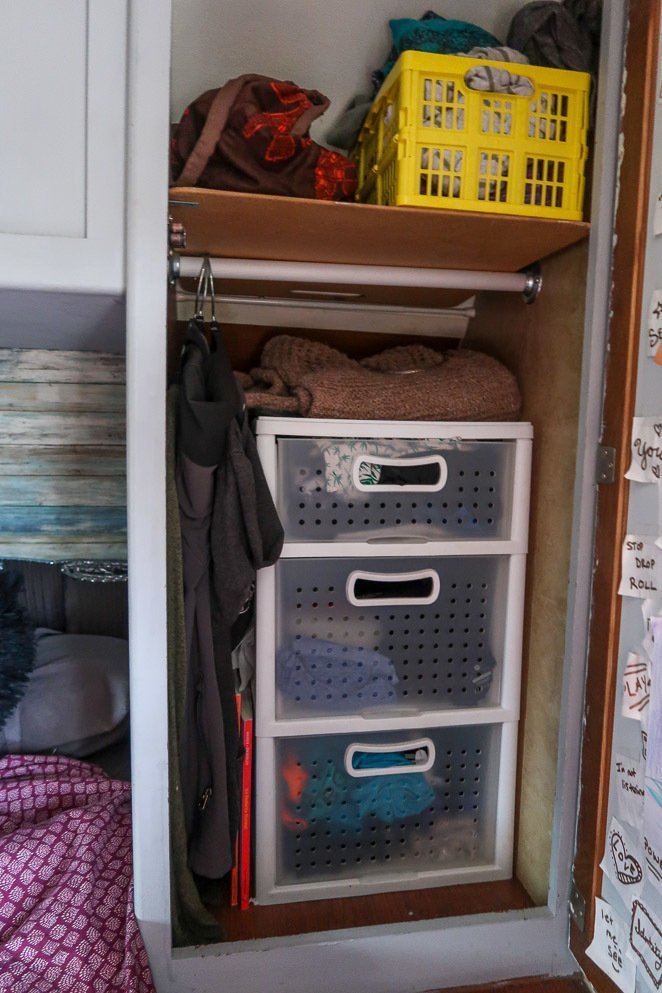 RV Organization Accessories For Shoes
Shoes can be a problem when finding storage in an RV or motorhome. So, how do you store shoes in an RV?
I love how my friend Ashley uses a bin at the foot of her bed to hold her boots and an over-the-door towel hanger to hold her shoes on the back of their bench. Or, you can use a typical behind the door shoe hanger if you have a sliding/pocket door like we do in our Class C Motorhome.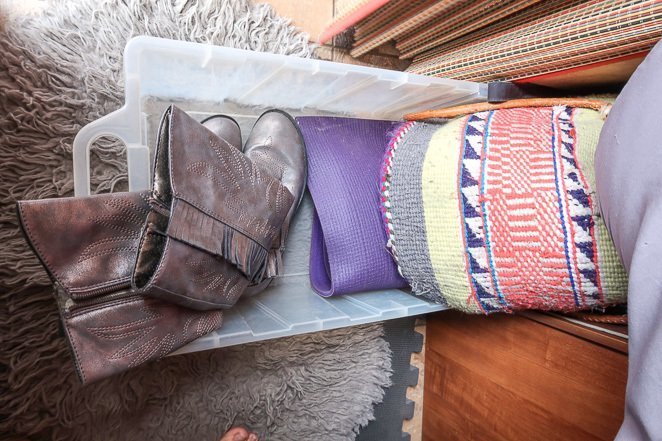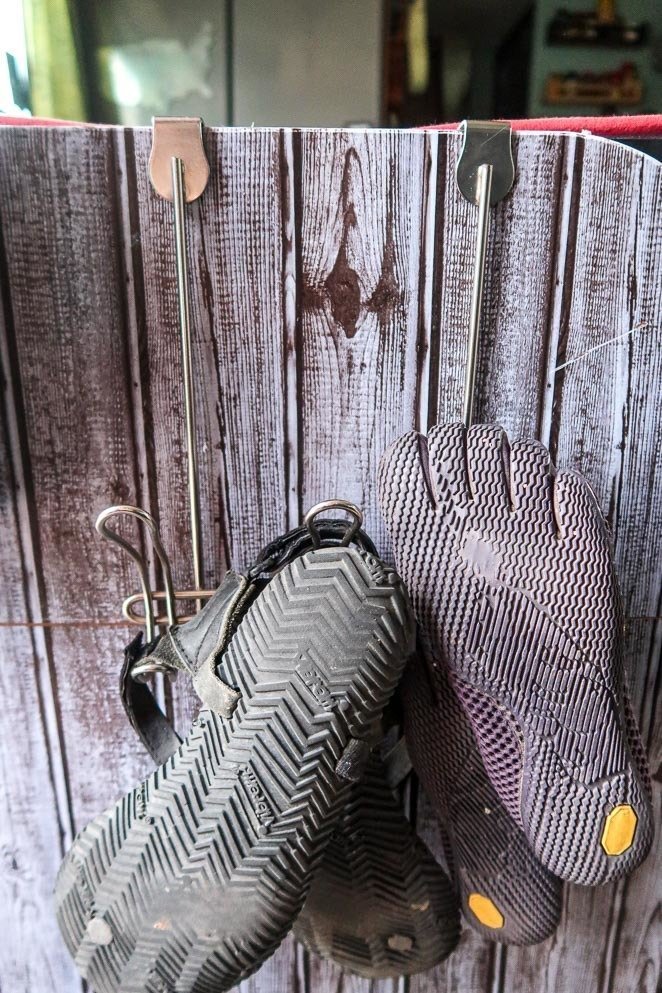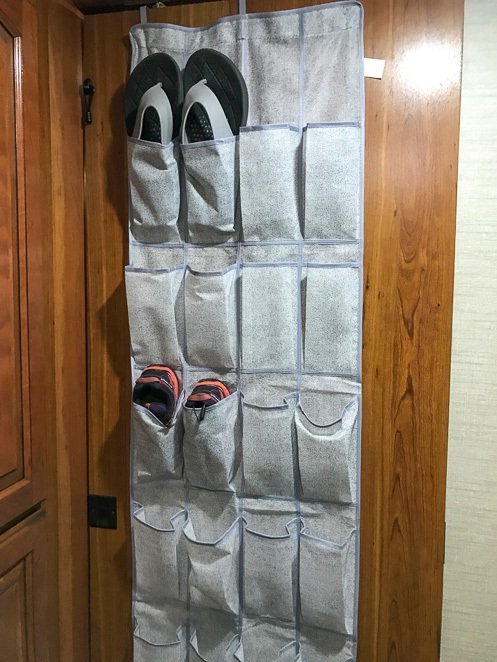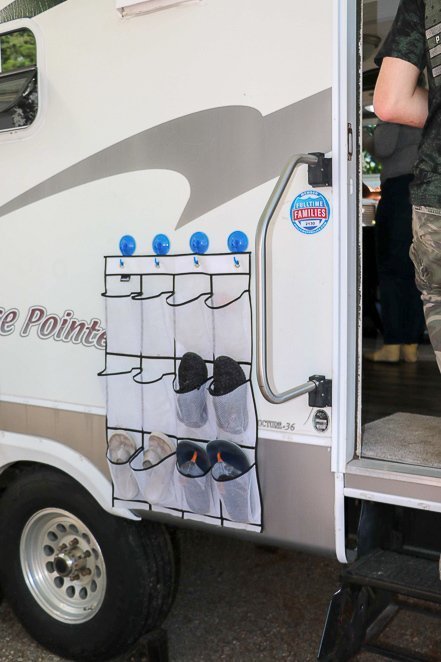 Unique RV Interior Storage Ideas
Last but not least, I want to share with you some unique RV interior storage ideas for things such as jewelry storage in an RV to homeschool supplies storage. So look below for some camper space saving ideas that you may not have thought of.
Or, check out our detailed post about RV bedroom ideas for some organization hacks specific for a camper bedroom inlcuding bunk rooms and bunk beds.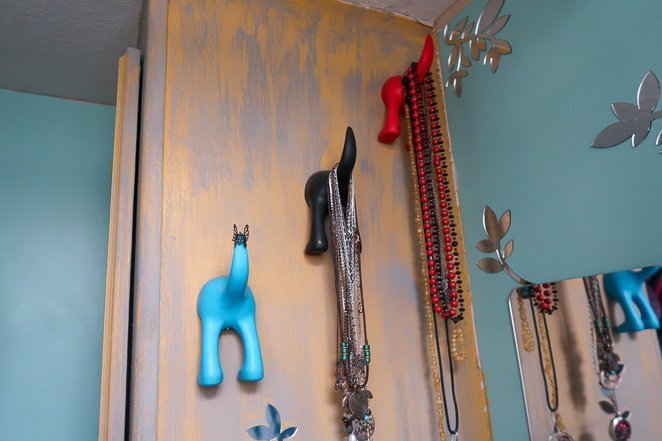 Storing your water bottles on a shelf that hangs on the back of your bench can be super useful. This is just one of the great storage ideas for small campers.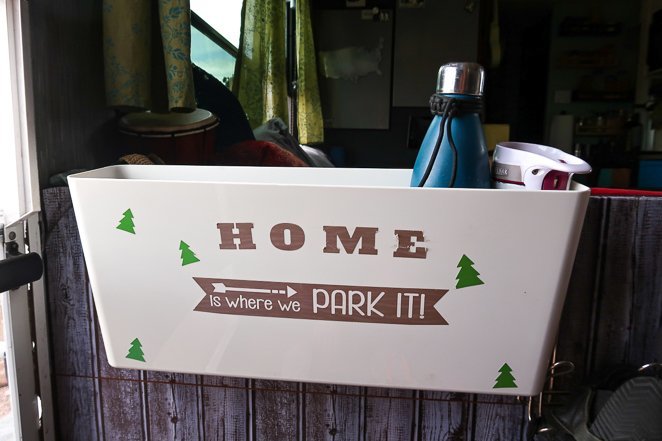 Where do you store your kitchen countertop items on travel days? Well, we store our Berkey and Espresso maker in our RV shower on travel days.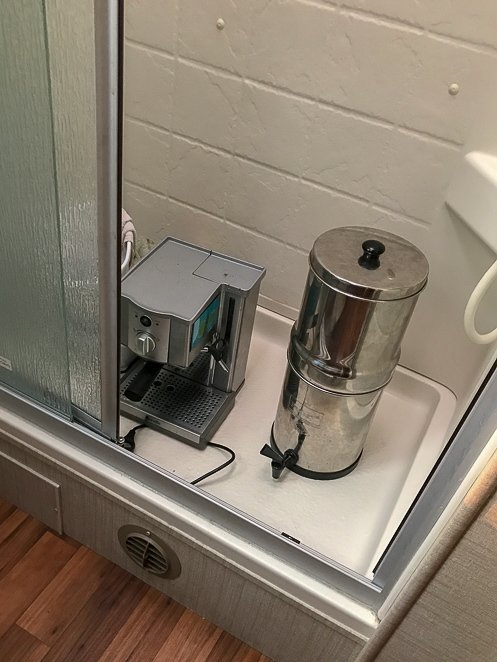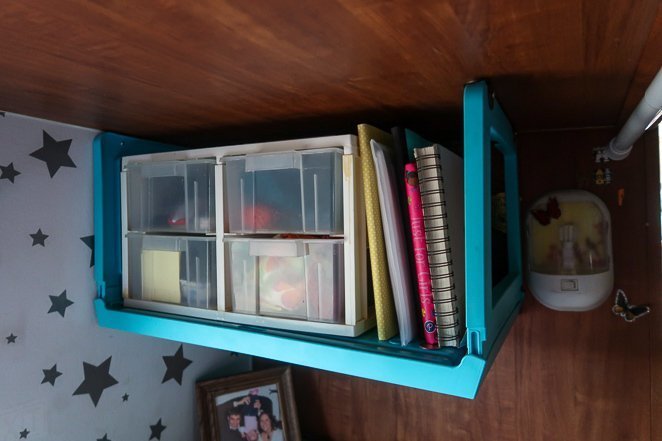 Books can be stored on a forward facing shelf on a wall or on an inverted shelf under a bunkbed.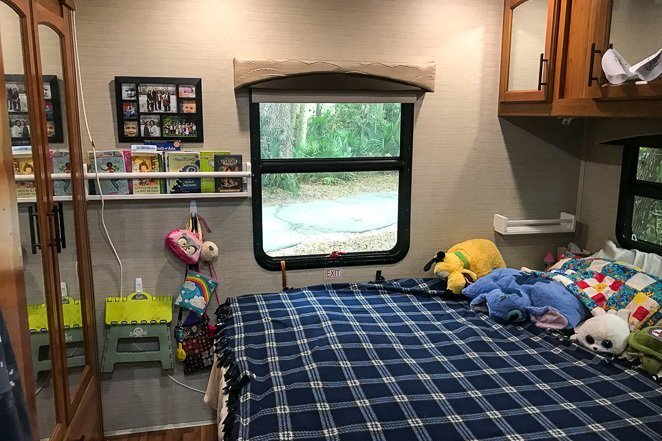 Command hooks of all sizes come in handy when looking for travel trailer storage ideas. Think about using small command hooks inside a cupboard door to hold your reading glasses or keys.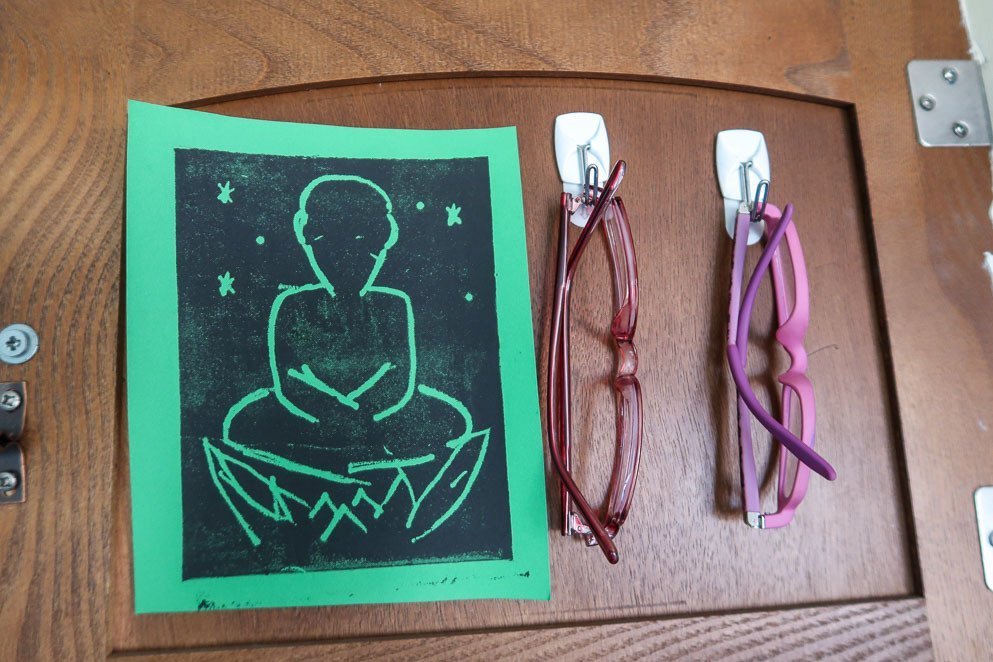 Magazine holders have so many great uses in an RV. Look how you can use them to hold your laptops next to couch.
If you're looking for more creative ways to set up an RV office then look no further. We share several tips, photos, and ideas on how to organize and create an RV office.
When it comes to organizing your RV, we also recommend starting out purchasing all of your RV must haves, RV tools, and RV kitchen accessories. Then you'll know what you have to work with and you can use the ideas above to find a home for everything in your RV.
Check out our tips on living in a motorhome if you're looking for more tips on how we arrange and organize our full-time traveling family's Class C RV.
Let's Travel Family is a participant in the Amazon Services LLC Associates Program, an affiliate advertising program designed to provide a means for sites to earn advertising fees by advertising and linking to amazon.com, amazon.co.uk, amazon.ca. Amazon and the Amazon logo are trademarks of Amazon.com, Inc. or its affiliates.
PIN THIS FOR LATER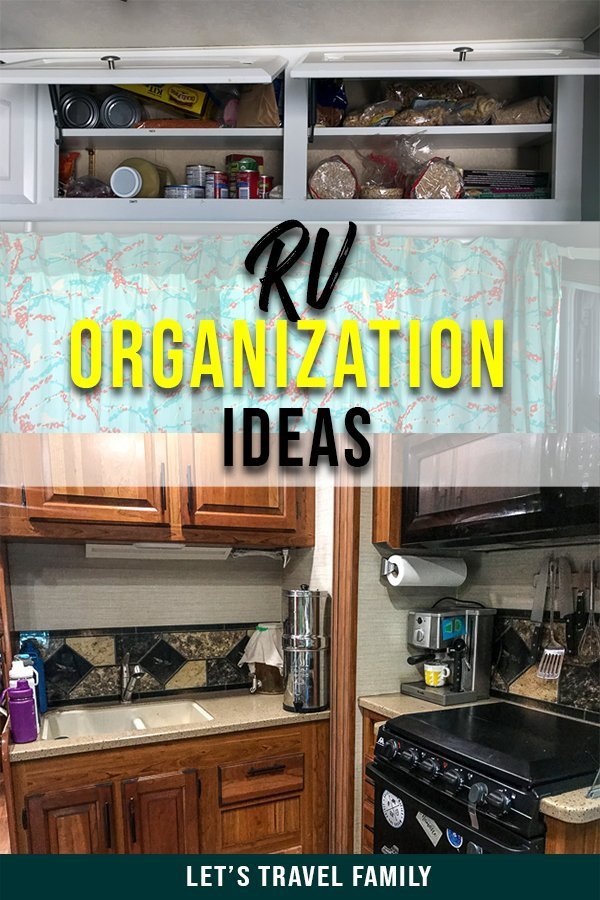 Sharing is caring!
Home » RV Travel » Sours: https://www.letstravelfamily.com/rv-organization-accessories-and-hacks/
ULTIMATE RV KITCHEN ORGANIZATION! -- RV LIVING
And you ?, answered Vika - Aren't you ashamed, how could you ?, I could not resist. - Shame on me. - For you !!. - And what did you do to prevent this from happening, was on your knees between my legs ??. And I shut up because she's right.
You will also like:
You, reader, are probably spitting at all now, you think, Kopec, your head is out of order, and either youre undernourished, or. To the hospital, however, who knows, maybe to the hospital, but still, I think, if you imagine that Im writing exactly what I think. without filtering, and I am doing this now, then one can think: But many people think the same way, just do not write.
And I just can't help but write, it is so boiling that it would be necessary to write to subside, and if no one gets it to read it, Ill be. All for it, because theres something to blush for even myself, but if it gets into someone hands, I will not resist, no matter what, let them read, and they know that I have collected here all the thoughts that men have and about which they cannot say, which girls, women have and which they are also ashamed to talk aboutbecause they will not understand, they are not ready to talk about it directly as if discussing a future date with a girlfriend.
567
568
569
570
571