15 Cool And Attractive Short Afro Hairstyles for Men
Some men like their natural afro curls, but they would rather try a short afro hairstyle as they don't want their hairstyle to look too crazy and big on their head. And a short hairstyle doesn't mean that there is only one variation. In this article, we have picked our 15 favorite short afro styles for men.
Coolest Hairstyles for Men with Short Afro Hair
These are the most popular short hairstyles for men with afro curls to explore this summer.
1. Simple Short Haircut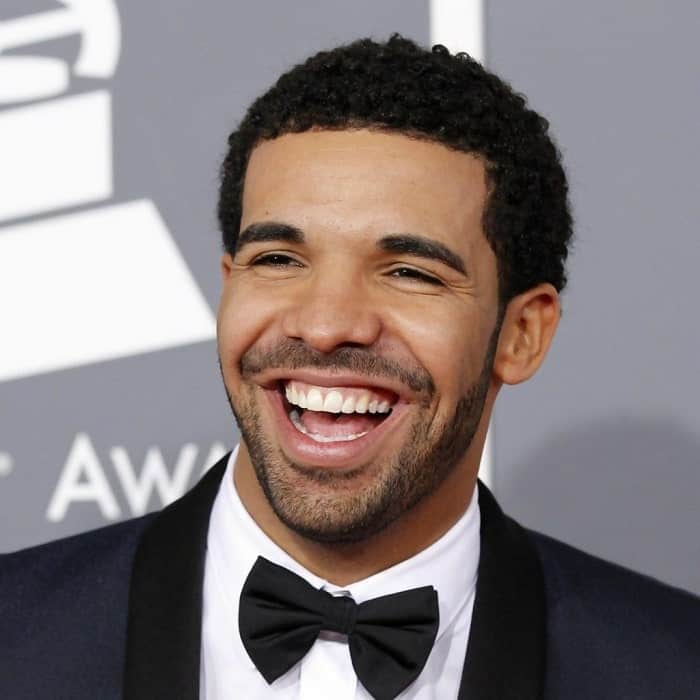 A simple short afro haircut is a very practical style that doesn't require a lot of products or styling every morning.
Ideal for: Oval and heart-shaped faces.
How to style: Trim the ends regularly to the desired length. Trim the baby hairs on the forehead in the shape of a fade that would be covered by the curls, but would still make the hairstyle appear neater.
2. Wavy Afro with a Temp Fade
You will love this afro hairstyle for its simplicity and precision.
Ideal for: Round and oval face shapes.
How to style: Shape the transition using clippers.
3. Hard Part Hairstyle
The temple line will give the short afro style a square-shaped effect that will flatter your soft facial features.
Ideal for: Round and heart-shaped faces.
How to style: When you cut your hair to the desired length, use a hair trimmer to create the skin fade and the line that will act as a part and make the hairstyle look more geometric.
4. Short Receding Hairline Haircut
As opposed to a big afro, a short afro looks good on men with a receding hairline. It blends well with the forehead and the rest of the face.
Ideal for: All face shapes.
How to style: Regularly maintain the short length.
5. Afro Mohawk with Undercut
Be brave and daring enough to play with the classic mohawk with a disconnected undercut.
Ideal for: Round and square-shapes.
How to style: Using the clippers, create the drop fade and the smooth skin fade and make the rest even. Shape the mohawk to be the widest on the top and the narrowest above the nape of the neck.
6. Bleached Short Afro
If you have virgin hair and you want to try something new and exciting, you can try bleaching your hair, and if you feel like going an extra mile, you can also bleach your beard and eyebrows.
Ideal for: All face shapes.
How to style: Using bleach, a dying brush, gloves, and some foil, bleach your hair. Use special bleach for your curly beard and eyebrows to complete the dyed short afro hairstyle. Trim both the beard and the ends of the hair to make the ends fresh.
7. Haircut with Shaved Sides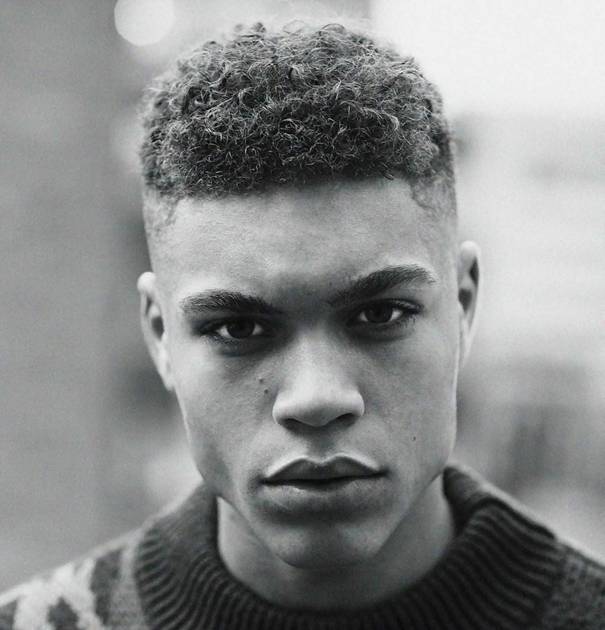 Creating contrast in afro hair length between the top and the sides of your head will help visually elongate your face and make it appear narrower and more structured.
Ideal for: Square and round-shaped faces.
How to style: Use a hair trimmer to trim the sides and create a good fade. Trim the top to shape it and leave it natural without any styling.
8. Low Fade with Afro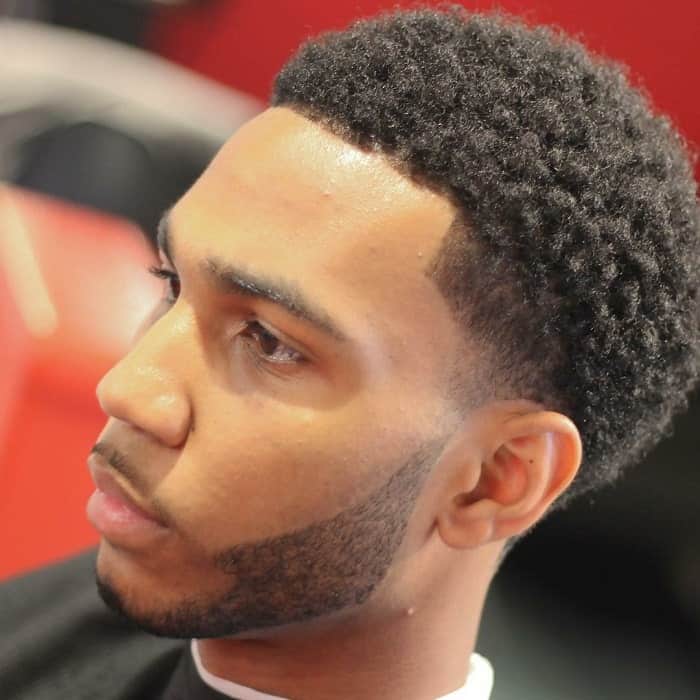 If you like wearing simple hairstyles, that leaves you enough space to play with the beard and the sideburns. If you are handy with the trimmer, then this short afro hair with beard combination is for you.
Ideal for: Square and oval-shaped faces.
How to style: Create the low fade using a hair trimmer. Also, trim the beard short and carve it out carefully. The hair on top requires no styling.
9. Short Dreads with Fade
If you don't like the monotonous volume of a classic short afro, you can try creating twists on top and combining them with a good temp fade.
Ideal for: Heart and round-shaped faces.
How to style: Curve out the temp fade and the sides into a square shape. Section your hair out and intertwine the strands to create twists.
10. High Bald Fade and Geometric Lines
Afro hair cut into a buzz cut looks absolutely incredible. It gets an incredible wavy texture that you will love.
Ideal for: Oval and heart-shaped faces.
How to style: Using your hair trimmer, trim the whole length of the hair. Then create a smooth skin fade and carve out the lines.
11. High Top Fade with Curls
This short afro hairstyle not only has an elongating effect, but it also has a playful moment that is hard not to love.
Ideal for: Round and oval-shaped faces.
How to style: Shape the fade and the line with the clippers and cut the hair on the top evenly.
12. Natural Afro
This haircut is just long enough to have that flamboyant essence of a classic afro.
Ideal for: Heart and round-shaped faces.
How to style: No need for styling.
13. Fohawk with Geometric Shapes
If you like eccentric hairstyles, you can try this geometric hairstyle that is not the easiest to create but it definitely stands out.
Ideal for: Square and round-shaped faces.
How to style: Adjust the temp fade to your hairline. Carve out the lines on the sides and trim the hair beneath and below the line. Trim the beard and add a line to it too. Shape the short afro and make sure to leave it a little bit longer on the top.
14. Short Mohawk Fade and Lines
Trying the mohawk hairstyle is a must for everyone who loves to have a fun time with their hair.
Ideal for: Round and heart-shaped.
How to style: Using the clippers, shape the temp fade and the skin fade precisely and carve out the geometric lines behind the ears. Then cut the mohawk on afro hair to a short length, making sure that it's the shortest at the front.
15. Short Hair with a Beard
The charm of this very short hairstyle is that it looks very simple and effortless, but it is actually very carefully and precisely executed, which is why it looks so good.
Ideal for: Square and oval-shaped faces.
How to style: Make the length of the hairstyle even everywhere. Carve out the temp fade, the sideburns, and the goatee beard precisely.
Hopefully, after seeing that there is a variety of different short afro hairstyles to choose from, you've been inspired to wear your natural afro curls in a way that best suits the shape of your face as well as your personal style.
Sours: https://hairstylecamp.com/men-short-afro-hairstyles/
Braiding a Short Afro
Thinkstock/Comstock/Getty Images
Short afros are usually worn by African-Americans with textured hair. When individuals decide to braid their afros, they usually put them in cornrows. Cornrows are braids close to the scalp that usually follow a vertical, horizontal or diagonal pattern, which resemble rows of corn in a field. Cornrow braids are low-maintenance hairstyles, which allow you to protect your hair from breakage. Braiding short afros can prove challenging because of the length of the hair. Understanding the braiding steps can help you create professional-looking braids from your short afro.
Shampoo and condition your hair before braiding it. Consider using a conditioning shampoo if your hair is heavily coiled and tangles easily. Lightly pat your hair with a towel to absorb some of the moisture. Avoid allowing your hair to dry completely.
Comb your hair with a wide tooth comb or afro pick. Continue to comb all of your hair until you detangle it entirely. Use a leave-in moisturizer if you cannot detangle your hair easily. Use a wide-tooth comb or an afro pick to prevent pulling out your hair, which may happen with a small comb.
Section off part of your hair with a comb to start braiding your first cornrow. Part your hair in the direction you desire your cornrows. Spray water from a spray bottle to dampen your hair if it dries during the process. Dampen it by sections to moisten it right before braiding. Use a clip to keep the remaining hair away from the section you are working on.
Take the first section and separate the hair into three strands. Choose your starting point and begin braiding. Cross the far right strand over the middle stand and cross the far left strand over the middle strand. This is considered a stitch.
Pick up hair along the way as you braid the hair and complete another stitch. Keep the hair close to the scalp to avoid braiding your hair too loosely. Continue stitching until you reach the end of your hair. Section off another row of hair and continue the braiding process.
Place beads or rubber bands on the ends of your hair to secure the braids. If you do not want to wear anything on the ends of your hair, you can also twist the ends of your hair with your fingers to keep the braids from coming loose.
Tip
You can add some hair gel to make your braids firmer.
Warning
To prevent hair loss, do not brush your hair while it is wet.
Sours: https://www.leaf.tv/articles/braiding-a-short-afro/
40 TWA Hairstyles That Are Totally Fabulous
When most think of natural hair, they typically think beautifully full, wild and robust afros. However, rocking an afro can also mean going the shorter route … very short. Enter TWA hairstyles (Teeny Weeny Afro if you're going to get technical). These days these tight and curly 'dos are all the rage.
What Is TWA Hair?
TWA is a short natural hairstyle with hair length of maximum 2 inches. It's the style you wear after a big chop resulted usually after heat damage or as a transition from relaxed to natural hair. TWA should never be boring or embarrassing. In fact, it can be very cute, creative and flattering. Please never think you can't do much to the hair this short. We have very nice ideas for you in store!
Simple TWA Hairstyle Ideas
When considering a big chop, your major concern is probably "Well, I don't know how to style TWA((" Let us assure you, it's not that difficult. Anybody can succeed with the following easy styles.
Curl Definition for 4c Hair. Wash your hair, apply a leave in-conditioner and seal with coconut oil. If you hair is dry when you begin styling it, dampen it spraying with water. Rub Eco Style Gel into your hair. Work section by section, first saturate a section with gel, then carefully brush starting from your ends. Air dry or blow dry your hair with a hair dryer set on a low setting.
Finger Coils with a Brush for 4a and 4 b Hair. Use any kind of curl enhancer, cream or gel suitable for your hair. Apply it to your freshly washed, conditioned and sealed hair (with an oil of your preference). Brush your hair in circular motions section by section until your coils begin to define.
Simple Wash and Go. Wash your hair, apply a leave-in conditioning cream and rub it through your curls. Define a couple of curls twisting hair here and there with your fingers. Make a short side part with a comb if you wish. Pin to keep the hair down on either side of the part.
Sleeked Back Half Up. Apply BB Foam Moisturizing Wrapping Lotion to the front of your hair and sleek it back with a boar bristle brush. Pin to keep the curls in place. Work on your edges with a tooth brush for the perfect sleekness.
Long Top Sleek Sides. Try a TWA take on the popular unisex long top short sides style. Brush the top up and slick the sides down with gel achieving the trendy contrast of lengths and textures.
Best TWA Hairstyles
You can try any craziest color or come up with the most extraordinary texture – an extra short afro will withstand any bold experiment with dignity. Check out the 20 best inspirational images of women rocking short TWA hairstyles!
#1: Icy Blonde Hair
Give your TWA hairstyle an icy edge by dying it a stark white blonde. It's just as striking and chic as a honey or buttery shade. Heck, haven't you always wondered if blondes have more fun?
#2: TWA with Etched Nape
If the society tries to persuade you that short hair is for men only, dot all the i's and cross all the t's with cute and feminine temple and nape designs. Such well-done designs will prove you have got great taste and will definitely turn heads.
#3: Funky Temple Fade
Try a twist on the funky flat top by getting a shaven angle on the side to define a side part. Grow out the top nice and long and keep it cut in a flattened, squared-off shape. This adds dimension to naturally curly styles … not to mention it looks cool!
#4: Neat Natural Coils
Keep it simple by embracing totally natural TWA hairstyles! Embrace tight, uncolored and ultra-curled ringlets that hug the shape of your head and play off your natural features and bone structure.
#5: Soft Blonde Afro
TWAs don't need to be so teeny weeny! Let your curls grow out a bit if you want. Color them a buttery blonde and prepare to be amazed. The golden curls will frame your face perfectly and bring out your natural features!
#6: White Blonde Buzz Cut
Channel your inner Amber Rose with a shaved and chiseled afro. Nothing is sexier than a woman who can rock a nearly-bald look. And, don't worry, your hair is still there! Keep the top a bit long and let that mane be known!
#7: TWA with Ombre-ed Quiff
Here we see one more great idea for short women`s hair. Slightly longer front-zone makes the cut look not so short and the abrupt change of colors remembers you that even with TWA you have to stay aware of the trendiest dye jobs. One clean shaven line will be the so-called 'cherry on the top' of your 'do.
#8: Natural Auburn Curls
It`s no secret that your natural hair color is the best for you. But if you want to make your look brighter, choose a soft warm shade, which will accentuate the tones of your skin and eyes. Auburn, copper or cherry bronze will be ideal!
#9: Bronzed Afro Cut
Lighten up your natural, dark curls by adding some honey or bronze hue as a base color or highlights. The result is a hairstyle packed with life and dimension, yet still natural-looking. Make side part for even more fun and femininity, and pair your cut with some massive earrings. Now your look will be mega-attractive!
#10: Short Golden Brown Hair
Golden brown TWA hairstyles look fantastic. The greatest part? When it grows out, you'll get a lovely, natural ombre effect that is very on-trend now! The sidewalk will become your runway!
#11: Side Shaved Design
Implementing a shaved design in your teeny weeny afro is a great way to show off your cut and personality. Whether you choose a straight line, swirl, or intricate pattern, these designs are amazing on twas because of the clear visibility and how they compliment your facial features.
#12: Tight Natural Curls
TWA haircuts allow you to embrace natural hair. Set tight curls with your favorite kind of hair oil or gel to best define the texture. A straight cut like this one is simple but has such a beautiful impact!
#13: Bright Red Faux Hawk
Not only are afros always in style, but they are so convenient since they require minimal styling time. These cuts also minimize shrinkage and let the true hair length show through!
#14: Honey Blonde TWA
Change up your hair color when getting a TWA for a total transformation! A blonde twa is a trendy choice — perfect for warming up complexions, try it out if you've always wanted to experiment with blonde locks.
#15: Female TWA Fade
This haircut has it all — a female fade, a geometric hairline and a shaved design. Women with fades are edgy and badass, and the cut suits black women's hair texture flawlessly. Find a good barber and try out this sexy style.
#16: Short Defined Curls
How stunning is this TWA?! Achieve this wet look with water-based styling products and by laying your edges flat in a swirled style. Take it to the next level by enhancing your facial features with minimal makeup.
#17: Purple Tapered Twa
TWAs with type 4 kinky-coily hair are beautiful. This is how a taper cut would appear with your teenie weenie afro. Add a bold color to your bold cut.
#18: Buzz Cut Love
Drop. Dead. Gorgeous. There are countless twa hairstyles, and many of them are buzz cut, or barely there bald cuts. This kind of afro will draw attention to your facial features, and an unusual color if you dare to try it.
#19: Smokey Coiled Afro
Type 3 hair can also be coiled in TWAs. This alluring smokey color is eye-catching, but is more elusive than a vibrant hue. Pro tip — with this straight haircut, let your sideburn hair curl a little longer for a modern impact.
#20: Super Short Bald Twa
Many black models decide to go bald because it's fashion forward and so striking. By having a bald TWA, you are embracing your natural beauty while standing out from the crowd. Bonus points for a color change!
#21: Pixie Teenie Weenie Afro
For ladies with smaller foreheads, leave some height at the top of your head in your TWA natural hairstyle. Complete this with faded sides and short cut at the back, while having the longest length around the crown.
#22: Twa with Side Part
Spice up a TWA with a side part! For maximum wear time, part your freshly washed hair with a comb and set it with a firm hold gel. Section off remaining hair with clips on both sides of the part, and blow-dry using a straight nozzle attachment.
#23: Extra Short Shaved Cut
Add some dimension to your super short TWA with a shaved swirl design. Not only does it look chiseled and fresh, but it would also bring the opportunity to incorporate edgier pieces in your wardrobe!
#24: Bald Lady Fade
Basic TWA hair does not equal boring — you don't need bells and whistles to make an impact. An almost bald head 'do is super pretty and clean.
#25: Classic Twa Haircut
Classic and sassy TWAs are the gateway into the short afro community. Try shaved lines or designs to dress up your TWA, but if you want to show off your beautiful face, keep those frills to minimum.
#26: Kinky Afro
TWAs offer the chance to really grow out natural hair. This kinky afro is an example of a wash and go style with marginal upkeep. Type 4 ladies, here's some inspiration for minimizing hair routines while growing out your locks!
#27: Bright Pink Mini Coils
Wondering how to style a new afro? Tie up curls all over your head for a chic and fresh 'do! A popular hairdo for black women with TWA styles, tying lets you wash your hair less frequently, and protects your natural curls.
#28: Tapered Natural Cut
A tapered teenie weenie afro is fabulous for a substantial amount of time after leaving the salon. Having hair longer at the top visually elongates the face, and is the right choice for ladies who like to wear fauxhawks.
#29: Short Natural Curls
Natural short curls are fun and easy going, and draw an air of nonchalant woke-up-like-this beauty. Plus, twas don't necessarily have to be mega teenie weenie! Welcome your hair texture, whatever it is!
#30: Geometric Buzzed TWA
TWA natural hair pairs well with geometric designs. Play up your impressive bone structure, and select a neatly buzzed cut with a hard part to really turn heads and give hair envy everywhere you go!
#31: Crimson Razored Curls
Want to introduce even more edgy elements to your style? Get a clear path around your head for a uniquely cool look. For added "cool girl" points, give the top of your afro a little color! Whether it's red, blue or green, your look will be far from boring.
#32: Twisted Blonde Coils
Take those loose, free ringlets for a spin and tie them up all over your head. The result is a uniquely interesting look that's still oh-so feminine and chic!
#33: Faded Ombre Hairstyle
To make your style daring and bold, ask the barber to spice up your haircut with faded sides. And in case it is not enough for you, try contrasting colors. This trick will definitely confirm your status of a real fashionista.
#34: Long Top Short Sides Style
Go long up top and add some blonde to your ringlets while you're at it! Keep the sides of your hair short and tight so the party stays solely on top! Don't be afraid to go as long as you want with those curls! The funkier the better!
#35: Platinum Blonde Crop
Short and sassy afros are great for those with a taste for adventure! Give your super-short 'fro a light and bright blonde hue and watch your style illuminate… starting from the top! Keeping your afro short and tight shows off your facial features and bone structure, so make sure to smile and let people see that beautiful face.
#36: Blonde Faux Hawk Effect
If you're a daring gal with a need to REALLY change things up, it's time to pick up that razor. Go for a shaved-down hairstyle with the hair longer up top. For added edge, dye the tips and go blonde for a bit!
#37: Trimmed Curls with Temple Fade
When it comes to natural hairstyles, a buzzed afro is as simple as it gets. Requiring minimal styling and products, you can literally get up and go! Stay on top of your regular haircuts to keep the cut short and clean.
#38: TWA with Razored Edge
Curly TWAs can still be soft and feminine, even if you add a little razored edge. Not to mention, the upkeep is easy, and hair care routine is minimal. If you feel so inclined, you can add some hard part to your cut.
#39: Ravishing in Red
Time to channel your inner scarlet lady with a vibrant, sassy hairstyle! Sometimes TWA hairstyles need some freshening, and nothing does that quite like a bright hue. No matter how you style your 'do, your curls will make a statement wherever you go.
#40: Curly Carved Hairstyle
Just because it's natural, doesn't mean it has to be boring. Have fun with different shapes and shades. Colorful, asymmetrical hairdos are sometimes best. Try getting an interesting shaved design on your head and plan your style around it!
Conclusions
So, you've just got a big chop or looking for ways to revamp your look with short hair. Congrats! You are a confident and brave lady! Instead of hiding your chop under protective hairstyles, embrace it and make the most of it.
Try not to be obsessed with hair growth. Just shift your focus. Soft and touchable short hair is better than damaged long hair. Length will be gained with time. Deep condition and moisturize, and you'll grow out healthy natural hair. The journey can be as enjoyable as the destination itself!
Short hair leaves you nothing to hide behind, so you need to be brave to flaunt a TWA. Don't make it just average. Use our ideas to brighten your look and enjoy the short hair stage of your life appreciating its benefits. After all, with a bit of TDC short natural hair is much easier to handle than longer curls!
Sours: https://therighthairstyles.com/twa-hairstyles-fabulous/
STUNNING SHORT HAIRSTYLES ON NATURAL HAIR COMPILATION PT.1 - BeautyExclusive
On a chair and lit a cigarette, watching her. He liked to watch his mother's movements. He liked the sight of her flabby body tied with belts and elastic bands. Every movement of the old woman was accompanied by her stifled groans.
Afro short
His face was so close to mine, I tried to get up, but could not resist, fell and lightly touched his lips. I didn't even realize what had happened until I caught myself with my lips still touching his lips. For some reason I did not want to remove them. Asleep, he seemed so fabulous that for a second, I imagined myself as the prince who woke the princess with a kiss from.
How to do a Fluffy Afro - 4C/4B Natural Hair
His poured bump all long rested against a soft thigh. And Lera continued to resist, thinking like that chicken running away from a rooster, Am I running fast. No, I won't give up so easily, she decided.
Similar news:
The vibrators reduced their speed, but after half a minute the amplitude began to increase again, and I again experienced an orgasm. And so five times, probably, I already lost count. I was shaking all over, the chair was flooded with my juices, I couldnt even keep my head up (thanks to the comfortable.
Headrest). Finally it was over.
609
610
611
612
613