27 brilliantly funny quotes from This Country
Daisy May and Charlie Cooper's brilliant BBC Three comedy This Country follows cousins Kerry and Lee "Kurtan" Mucklowe, struggling through a tedious life in a sleepy Cotswolds village.
To celebrate the news that it will be returning for a third series – as well as a one-off special – we've compiled some of the best quotes from the Mucklowe cousins that perfectly sum up life in a sleepy village.
(Warning: some bad language follows)
"You know my Dad actually wrote the song 'Wonderwall' on the back of a beer mat in the space of 10 minutes, don't you?" – Kerry

Kurtan: "Over there, we saw Laurence Llewelyn-Bowen once, and once in the shop, and once up Burleigh Hill riding his bike, didn't we?"
Kerry: "And in the Co-op. Because I was walking in the Co-op and he was coming out and I said, 'After you,' and he said, 'No, after you.' He's so humble.
Kurtan: "So humble, and I asked him, I said to him, 'When do we get to see you back on our screens? Because it's a crying shame I don't get to see you as often.' And he just shrugged."
Kerry: "He just shrugged like that. Such a shame."

This Country's Daisy May and Charlie Cooper: 'It's basically our experience of growing up in the Cotswolds'
Kurtan: "I was on Tinder for a bit. But I wasn't getting any matches, so…"
Kerry: "You didn't get one match."
Kurtan: "Yeah. Not one match. That's only cos no-one round here is on Tinder, so, you know, I had to keep setting my radius further and further and further, then the radius got to France. And it just got silly by the end. You know. I can't afford to be going back and forth on the tunnel every other weekend."
'Big' Mandy on protecting Kerry from the sender of threatening letters: "You'll be safe with me Ker. I used to be in exactly the same situation before, because I was a stalker for about three or four years."
Kerry: "I thought you were stalked on?"
Mandy: "No, I was the stalker."
Kerry's mum: "I've just had your Grumps on the phone in tears."
Kerry: "What? Why?"
Kerry's mum: "Because you didn't send him a thank you card for all them Computers for Schools vouchers he's collected for you."
Kerry: "I don't go to school anymore! Where the hell is he getting these vouchers from? Cos they discontinued them, like, ten years ago. How is that my fault?"
Kerry at the allotment: "Who's been looking after them runners?! They're absolutely f***ed."
Kerry: "This is my cousin, Kurtan. But not only is he my cousin, he's my best mate as well, because he's the only person I can share a box of Celebrations with. Tell them why."
Kurtan: "Cos I love the Bounties, but I won't touch anything else. She cannot stand Bounties but she'll eat the rest of them."
Kerry: "So, nothing goes to waste. He'll literally just come round my house, won't you, and just hoover up all the Bounties."
Kurtan: "That's what I do, yeah. I like the underdog. The thing is, I don't even like Bounties that much, I just feel sorry for them cos they're always left."

"Me and Kurtan are gonna have a flat in the middle of the village, and all our furniture will be inflatable, and we'll have a Sky box, and it's all gonna pay for itself because we'll use the spare bedroom to breed quails because their eggs are worth f***ing s***loads." – Kerry

Kerry on security at the village hall: "Just to let you know, I changed all the light-bulbs in the toilets to UV, so if we get any smackheads tonight, they won't be able to see their veins when they're shooting up."

Francis Seaton, the parish vicar: "They sometimes resort to a lot of effing and jeffing and that's something we've been working on the last couple of years, and I feel like they've made great strides forward. I mean, last week, I don't think they used the F word once. We had the C word a couple of times but, I mean, that really is an improvement."
"Me and Levi have created this gang called The Dump Gang, and we're gonna build a den at the dump out of old car parts, and we found this washing machine that we're gonna use as a safe, so if you want anything putting in there you gotta tell me now." – Kerry
Mandy: "I'm not alright. Some little old blind man with a guide dog walked into a bin outside my house."
Kerry: "S***, is he alright?"
Mandy: "He won't be when I've got my hands on him. Poor Tyson was so scared he's run up a tree and ate a bird's nest. So I'm gonna find him, and break his legs for him, see how he likes it."
Kerry, on her many enemies: "I've got enemies in South Cerney, I've got enemies in North Cerney, I've got enemies in Cerney Wick. I've got enemies in Bourton-on-the-Water. There's a tea rooms there and under the counter they've got a panic button and if I take one step inside, they can press that."
"There's a balance between being nice and being feared. Like, Dr. Barnados he was just too nice and not feared, so he just got overrun by orphans and everyone just took the piss." – Kerry
"Scarecrow Festival is the most important day of the year. That's the beautiful thing about living in the village. Everyone comes together on days like Scarecrow Festival and just forgets their utter hatred of each other." – Kurtan
"Kerry has a lot of mates that are in Year 7 and below because she likes to think that she can control them and that they do what she asks. Which is a bit sad actually. And a bit weird." – Kurtan
"In this village, people respect me because I'm hard as f***. If five nasty f***s from Quinnington wanna rumble I say bring it on!" – Kerry

Kerry's mum: "Why have all me clothes been folded up on me bed?"
Kerry: "As a random act of kindness!"
Kerry's mum: "I tell you what would be a random act of kindness, you wiping your a*** properly so I don't have to spoon s**** out of your knickers every time I do a bloody wash!"

Kurtan, bantering on the job with Uncle Martin: "Ker said to me, 'You know that Luke Norris? He gets paid two grand to play football.' I said to her, 'He doesn't get paid two grand to play football, he gets paid two grand to fall on his arse the whole game.'"
Co-worker Dan: "Martin's the only one who is allowed to make the jokes on-site. On top of the joke, never, ever joke about Swindon Football Club. Especially Luke Norris. Cos Martin used to play darts with his dad, and he basically sees Luke like a son."

Kurtan, on his job at the Bowls Club: "There was a job going here, and the Vicar made me apply. At first I thought 'f*** this', cos it's full of old stinkers. But they're alright really, once you get to know them. As long as you don't mention foreigners or self-service checkouts."
Kerry: "What the f*** is falafel?"
Kurtan: "It's mushed up chickpeas."
Kerry: "What are chickpeas?"
Kurtan: "Peas that taste like s***, basically."
"I went through a really dark phase, didn't I Ker? Listening to Papa Roach and blowing everything up with them little French bangers." – Kurtan
Kurtan's girlfriend, Soph: "My idea of a perfect date would be, cinema, Bella Italia or Pizza Express for doughballs – I like them, with the garlic dip – and then, come home."
Kurtan: "Yeah. We haven't done that yet though have we?"
"Soph wants to stay at mine tonight. She'll probably have another go at me about why I have a calendar of the Hollyoaks girls on my wall. I have to hide it in a drawer every time she comes over, and when she leaves I have to open the drawer to get it back out again, and Mandy Hutchinson's looking at me like 'Why are you so ashamed of us?'" – Kurtan
Kerry: "A few months back Kurtan got really paranoid that his life was The Truman Show, because he literally thought this entire village was all just a studio set, and even down to the pigeons, they would have cameras in them. So he thought if he walked as far as he could out of the village he'd just hit a wall."
Kurtan: "Got as far as Burford. Just got bored and turned back."
"No birthday posts yet. Well, it is only half five in the morning, but I would have expected at least a couple of nighthawkers by now. Nighthawkers are basically people who stay up late on Facebook and they post just after midnight on your wall." – Kerry

"The last Thursday of every month I used to play pool with Fred West. I know he done some iffy things but as a builder he was top notch." – Kerry's Dad
This Country is available to watch again on the iPlayer
• Have your say on the latest TV and film with Screen Babble, our discussion group on Facebook
More funny quotes:

50 of the funniest (and most puerile) quotes from The Inbetweeners
20 of the most absurdly funny quotes from Nathan Barley
39 of the greatest Brass Eye and Day Today quotes
25 of the most outrageous Summer Heights High quotes
25 of Rik Mayall's greatest quotes
25 of the funniest ever Still Game quotes
50 of the funniest Father Ted quotes
Red Dwarf: 30 of the funniest quotes and one-liners
Derry Girls: 35 of the funniest quotes and one-liners
25 of the most cantankerous Martin Crane quotes from Frasier
25 of the most 'textbook' Alan Partridge quotes
50 of the best lines from Peep Show
20 of The Young Ones' most gloriously silly quotes
20 of Malcolm Tucker's most cutting insults
25 of the greatest Absolutely Fabulous quotes, darling
The 20 most nonsensical quotes from the W1A team
50 of the funniest Friends quotes and jokes

And some jokes:

25 of Spike Milligan's greatest gags
100 of the best clean jokes and one-liners
25 of Peter Kay's most ingenious jokes and one-liners
26 of Stewart Lee's most gloriously acerbic jokes
49 of Monty Python's funniest jokes
45 of Ricky Gervais' funniest jokes
17 of Ken Dodd's most ingeniously funny jokes
27 of Sarah Millican's laugh out loud jokes
50 of Jimmy Carr's funniest jokes and one-liners
50 of Milton Jones's most ingenious jokes and one-liners
50 of Tim Vine's most ingenious jokes and one-liners
50 of Frankie Boyle's funniest (and darkest) jokes
25 of Charlie Brooker's most cutting jokes and insults
25 of Lee Mack's wittiest jokes and one-liners
75 of Billy Connolly's best jokes, one-liners and quips
30 of the best-ever jokes about Scotland – from Scotland
Sours: https://inews.co.uk/light-relief/jokes/this-country-quotes-bbc-147751
When you're searching for inspiration in this crazy world, sometimes it's the simple things that hold the most meaning. Of course, grand gestures and milestone moments, like getting married, buying your first house, or for students graduating from college, are often the ones that stick out in our memories. But as we strive to live the good life, we should consider taking the scenic route and actually "stop and smell the roses," like the old sentiment encourages. There are soul-feeding surprises at every turn—from nature, people, and art—that act as nuggets of hope, happiness, and home, if we just take time to notice them.

Here, we've curated 57 quotes that speak to the art of slowing down and appreciating life's simple pleasures. And although many of the happy life quotes in this roundup are inspired by life in the country, it's really all about your state of mind. Whether you live in the city or the country, on a paved avenue or a gravel road, in an apartment or a big white farmhouse, these sayings show us that how you live is more important than where you live.

So whenever and wherever you need that breath of fresh air, we hope these pictures and words deliver just that. Here are our best famous inspirational quotes that, in the words of author E.B. White, will help you to "Always be on the lookout for the presence of wonder."

Sours: https://www.countryliving.com/life/g2149/famous-inspirational-quotes/
30 Funniest Lines From Country Songs
Country music isn't just for crying into your beer or filling your heart to bursting with uninhibited patriotism. It can also be pretty good for a laugh. After all, when you're growing up poor in the middle of nowhere, you need to have a sense of humor about your circumstances in life, or else you're going to be pretty miserable.
Since having a laugh at their own expense is a long-standing tradition for country music singers, here are a few of the funniest lyrics they've come up with so far, on topics ranging from revenge to wearing the label "redneck" like a badge of honor. And if you still need a laugh, check out 50 Dad Jokes So Bad They're Actually Hilarious.
"Too much work is hard for my health. I could've died drinking. Now I'm killing myself."
Toby Keith sobers up and realizes his partner is actually kind of a drag. If only he had known This Is Exactly How Much Alcohol You Should Drink.
"How much smoke can one stove make? The kids won't eat my charcoal cake."
The narrator of this song tries his hand at being a stay-at-home dad and realizes just how much work the job entails. He might have had time to save the cake if he'd known 20 Genius House-Cleaning Tricks That Will Blow Your Mind.
"If I hit that fishing hole today, she'd be packing all her things, and she'd be gone by noon."
Brad Paisley had to make a choice between his obsession with fishing and his girlfriend, and he chose … fishing. There's a reason spending more time with family and friends is on the list of 20 Surefire Signs Your Relationship Is Over.
"Drop kick me, Jesus, through the goal posts of life."
Jesus must be one heck of a football player.
"I've been flushed from the bathroom of your heart."
The Man in Black is no slouch when it comes to creating true poetry.
"Some people look down on me, but I don't give a rip. I'll stand barefooted in my front yard with a baby on my hip."
Owning up to what many would regard as an "uncivilized" lifestyle is a seemingly bottomless well of humor in country music.
"You know, 40 sure has come fast, and my metabolism is getting slow, so tonight can I make love with my shirt on?"
John Michael Montgomery's feeling a little chunky at the age of 40. If you can relate, check out 40 Genius Tricks for Slimming Down in Your 40s.
"You can't take a shower in a parakeet cage, but you can be happy if you've a mind to."
This is just one of many hilarious country songs written by Roger Miller. If his directions for achieving happiness seem a little vague to you, check out 70 Genius Tricks to Get Instantly Happy.
"Got it going on like Donkey Kong. Shut my mouth. Slap your grandma."
Apparently, the butt of the woman Trace Adkins is singing about is so big that it makes him spout gibberish.
"You're the reason our kids are ugly, little darling."
Loretta Lynn has a few songs that aren't very nice, but this one's particularly funny.
"So, I made her the queen of my double-wide trailer, with the polyester curtains and the redwood deck. Times she's run off, and I've got to trail her—dang her black heart and her pretty red neck."
You'd think the woman in this Sammy Kershaw song would be just a little more appreciative.
"And if I ever have a son, I think I'm gonna name him Bill or George! Anything but Sue!"
It's no surprise this song is as funny as it is. It was written by everyone's favorite children's poet, Shel Silverstein.
"Senor, aqui esta su llave, 'muy guapo,' and something about Ho-Ho's, and I thought, 'Oh, baby, whatever you say.'"
She must be pretty charming if she's convinced Blaine Larsen to marry a woman he can't understand.
"A reckless discharge of a gun: that's what the officers are claiming. Bubba hollered, 'Reckless? Heck, I hit just where I was aiming.'"
Getting drunk and behaving recklessly is a common theme for country songs, but this time the alcoholic in question took things out on a jukebox instead of another person.
"Fix me up with a mannequin. Just remember I like blondes. I'll be the life of the party, even when I'm dead and gone."
Joe Diffie's not afraid of death. He just wants his corpse to be planted at the bar in a Weekend at Bernies-style tribute.
"Then you can slap my bottom, every time you tell a joke. Just as long as you keep tipping, well, I'll laugh until you're broke."
Why hire a decorator when you can have an actual wino redo your home?
"Even without an invitation, there were at least 500 re-dedications. And we all got re-baptized whether we needed it or not."
Country funnyman Ray Stevens has written plenty of wacky tunes, but this one about a squirrel on a rampage inside a church is exceptionally hilarious.
"I love you honey. I love your money. Most of all I love your automobile."
This silly song by Patsy Cline was released before she made it big and her music got moodier.
"Get over it, honey. Life's a two way street. Or you won't be a man of mine. So, I had some beers with the girls last night. Guys do it all the time."
This funny little tune proves men aren't the only ones who can mess up their lives after a few too many.
"I ain't as good as I once was, but I'm as good once as I ever was."
The ravages of time affect everyone, even Toby Keith.
"Well, you can see the neighbor's butt crack nailing on his shingles, and his woman's smoking Pall Mall's watchin' Laura Ingalls. And Granny's gettin' lit. She's headin' out to bingo."
Jason Aldean waxes poetic on the charms of country life in this funny homage to growing up dirt poor in the sticks.
"She may be an angel who spends all winter, bringin' the homeless blankets and dinner, a regular Nobel Peace Prize winner, but I really hate her. I'll think of a reason later."
This Lee Ann Womack song about finding fault in those you're jealous of is all too relatable.
"I'm a sky-bo. That's a new kind of hobo for planes."
This song is less funny-funny and more "what in the world is Merle Haggard talking about"-funny.
"We're just like you, only prettier."
Miranda Lambert picks up the pettiness where Lee Ann Womack left off and really runs with it, tossing around a bunch of low-key (and some significantly less low-key) insults.
"Nah, you ain't gotta be born out in the sticks with an F-150 and a 30-06, or have a Bubba in the family tree to get on down with me."
Even city boys want spend their life eating grits and drinking in honky tonks, if you believe Blake Shelton.
"Don't I warn you when you're gettin fat? Ain't I a gonna take you fishin' with me someday? Well, a man can't love a woman more than that."
The only thing that makes this song funny instead of horrifically offensive is that it's about a woman leaving the man who says this stuff.
"So I'll leave you with a promise, from a heart that's heard enough: Someday you'll find out that you can't escape my love."
It's the sheer level of unabashed craziness that makes this song so funny.
"The next thing I remember, I was hearing wedding bells, standing by a woman in a long white lacey veil. I raised the veil, and she smiled at me without her left front tooth."
Alan Jackson gets wasted and accidentally marries the wrong woman, as one does in country songs.
"Well, I was drunk the day my mom got out of prison, and I went to pick her up in the rain. But before I could get to the station in my pickup truck, she got runned over by a darned old train."
Not only is this song a fantastic send-up of the country music industry, this verse is particularly hilarious.
"All my exes live in Texas, and Texas is the place I'd really love to be. But all my exes live in Texas. And that's why I hang my hat in Tennessee."
What on Earth did George Strait do to these women that he had to move to another state to avoid bumping into them? Guess he doesn't know How Smart Men Never Break Up.
To discover more amazing secrets about living your best life, click here to sign up for our FREE daily newsletter!
Sours: https://bestlifeonline.com/funny-lines-country-songs/
Unforgettable Mugabe quotes
Since the beginning of civilization, senior citizens have played an essential role in society. They've historically represented wisdom, earned through a life filled with experience. While promotional experts are aware that senior stereotypes are changing, senior citizens continue to serve as experts in their field, as mentors, and as invaluable sources of skills and knowledge.
With the average U.S. life expectancy rising from 68 years in 1950 to 78.6 years in 2017, the country has more senior citizens now than ever before. Many are without the resources and connections they need to remain happy and healthy, and stigmas surrounding the elderly prevent many from taking action to help. While there are many challenges in supporting an aging population, it's essential to take time to celebrate the wisdom and unique perspectives our elderly population offers.
The following quotes, slogans, and puns address the joy of one's golden years, the worries associated with aging, and the stigmas that affect elderly populations, often with an inspirational or whimsical tone. Read on for some ruminations and turns of phrase that are sure to inspire thought and put a smile on your face.
Funny and Inspirational Quotes About Aging
Authors and speakers around the world have reflected on the importance of senior citizens, often leading to thought-provoking insights. By printing such phrases on promotional items for senior citizens that remind them of vitality and regrowth, such as sprout pouches or compostable seed stakes, you can send a powerful positive message. Read below for inspirational and heartwarming quotes about what it truly means to grow older:
"The spirit never ages. It stays forever young." – Lailah Gifty Akita
"To keep the heart unwrinkled — to be hopeful, kindly, cheerful, reverent — that is to triumph over old age." – Thomas Bailey Aldrich
"Almost all my middle-aged and elderly acquaintances, including me, feel about 25 — unless we haven't had our coffee, in which case we feel 107." – Martha Beck
"Aging is an extraordinary process where you become the person you always should have been." – David Bowie
" … (H)e who is of a calm and happy nature will hardly feel the pressure of age, but to him who is of an opposite disposition, youth and age are equally a burden." – Cephalus
"Old age … is a good and pleasant thing. It is true you are gently shouldered off the stage, but then you are given such a comfortable front stall as spectator." – Confucius
"You don't have a future when you refuse to accept the former generation. Simple." – Petra Hermans
"Youth is the gift of nature, but age is a work of art." – Stanislaw Jerzy Lec
"In the end, it's not the years in your life that count. It's the life in your years." – Abraham Lincoln
"It's not the specter of aging that haunts me. Rather, it's the far greater fear of having aged and having nothing to show for the aging." – Craig D. Lounsbrough
"The great thing about getting older is that you get a chance to tell the people in your life who matter what they mean to you." – Mike Love
"Old age is like everything else. To make a success of it, you've got to start young." – Theodore Roosevelt
"Wrinkles should merely indicate where smiles have been." – Mark Twain
"Nobody grows old merely by living a number of years. We grow old by deserting our ideals. Years may wrinkle the skin, but to give up enthusiasm wrinkles the soul." – Samuel Ullman
"The longer I live, the more beautiful life becomes." – Frank Lloyd Wright
Senior Citizen & Sayings
In addition to the thought-provoking quotes above, there are many slogans, proverbs, and folk sayings that offer some grains of wisdom and cheer. These can create feelings of warmth, and they are excellent options when personalizing promotional items for older individuals such as a set of playing cards, a medicine bottle opener, or a 7-day medicine dispenser. Try sharing some of these with loved senior citizens in your life to brighten their day:
Age is just a number
As with wine, life gets better with age
Growing old is inevitable, but growing up is optional
I've got 99 problems, but age ain't one
Not just a year older — a year better!
Old enough to retire; young enough to enjoy it
One gets more from years of experience than books
Respect old age; it's your future!
The older the fiddle, the sweeter the tune
The only thing that comes to you without effort is old age
There's no age limit on life
These are the golden years!
Wherever life takes you, go with all your heart
You're never too old for anything
You're only as old as you feel
Senior Citizen Puns & Jokes About Getting Older
Want to inspire some laughs from your friends and family? Try some of the following one-liners. These can lighten the mood and also make great personalization options for fun items like wobbly stress relievers. Check out the senior citizen puns and jokes below:
Age is an issue of mind over matter. If you don't mind, it doesn't matter!
A retired husband is a wife's full-time job
Children are the leading cause of old age
Don't let aging get you down; it's too hard to get back up!
Don't think of them as "hot flashes." Think of them as your inner child playing with matches
How are stars like dentures? Both come out at night
I called the incontinence hotline. They asked if I could hold
I've decided: Whatever age I am is the new 30
Now that I've become a senior, everything's starting to click for me! My knees, my back, my neck…
Old people are just young people who have been alive for a very long time
Old age isn't so bad, considering the alternative
One benefit of old age is that your secrets are safe with your friends — they can't remember them either!
With old age comes wisdom… and discounts!
Young at heart, old everywhere else
Youth is wasted on the young
Growing older can inspire many feelings — some positive and some negative. The slogans and sayings listed above can inspire laughs and moments of reflection. They can remind senior citizens of their worth to society and give them feelings of affirmation during times of stress or uncertainty.
Sours: https://www.amsterdamprinting.com/blog/inspirational-quotes-funny-sayings-and-jokes-for-senior-citizens/
Quotes life country funny about
City Vs Country Life Famous Quotes & Sayings
List of top 38 famous quotes and sayings about city vs country life to read and share with friends on your Facebook, Twitter, blogs.
Top 38 City Vs Country Life Quotes
#1. In the city at best one lives the life of others, the life of the shop, the street, the crowd, while in the country one must live one's own life. - Author: Mabel Osgood Wright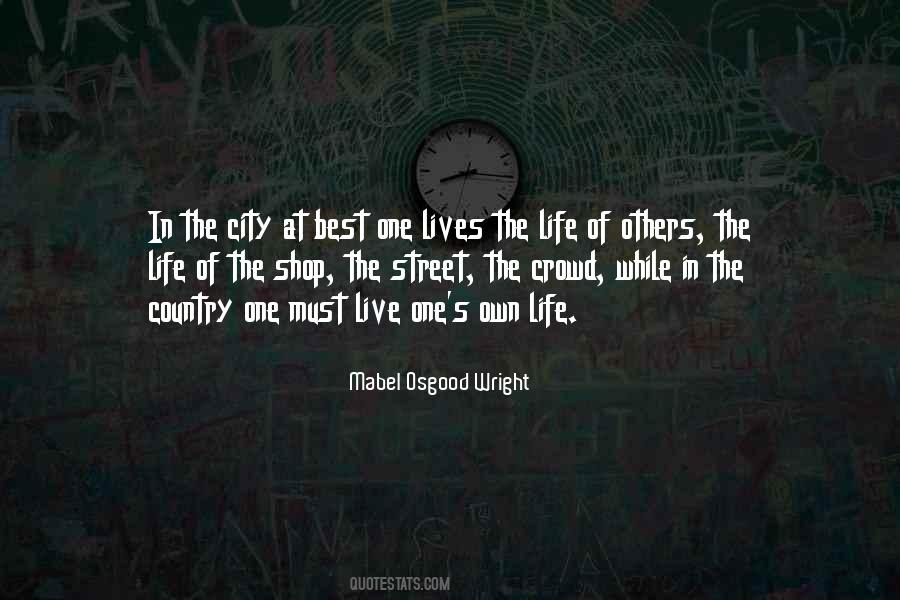 #2. In a city the multiplicity of threads forced a whirling confusion on the loom but here the simple pattern and the slow weaving made purpose more discernible. - Author: Elizabeth Goudge
#3. Daily there have to be many troubles and trials in every house, city, and country. No station in life is free of suffering and pain, both from your own, like your wife or children or household help or subjects, and from the outside, from your neighbors and all sorts of accidental trouble. - Author: Martin Luther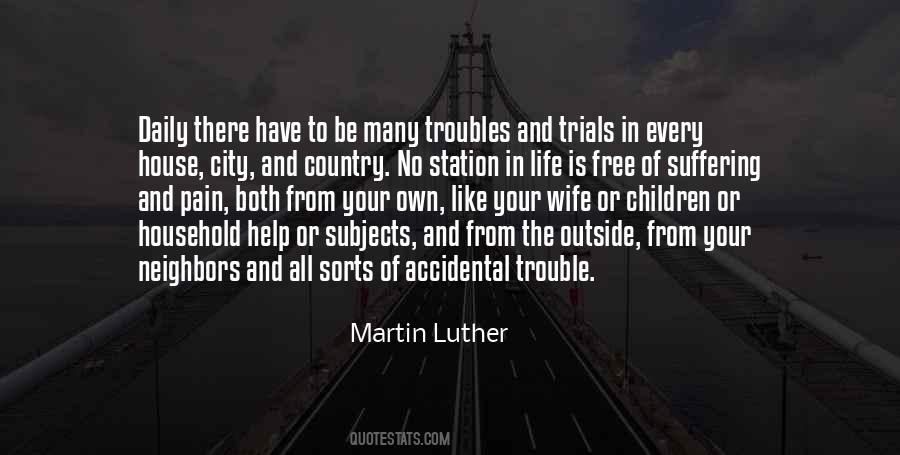 #4. I have two daughters that are the loves of my life and I want to leave them a better world, a better country, a better state and a better city. - Author: Michael Bloomberg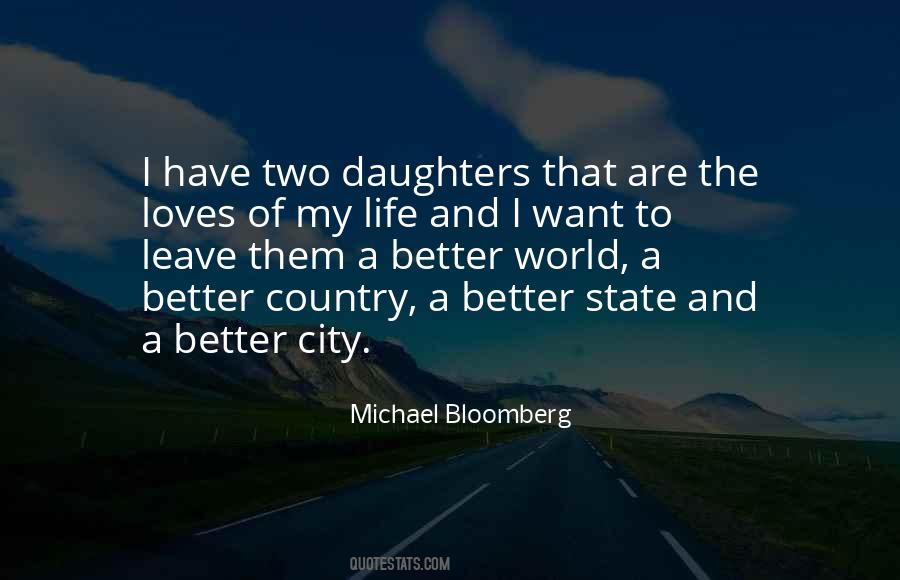 #5. I love living in the country, so much so that I'm even surprised by it. I have met lots of interesting people - the community was really welcoming, and I now probably have a more interesting social life than I did in the city. - Author: Dani Shapiro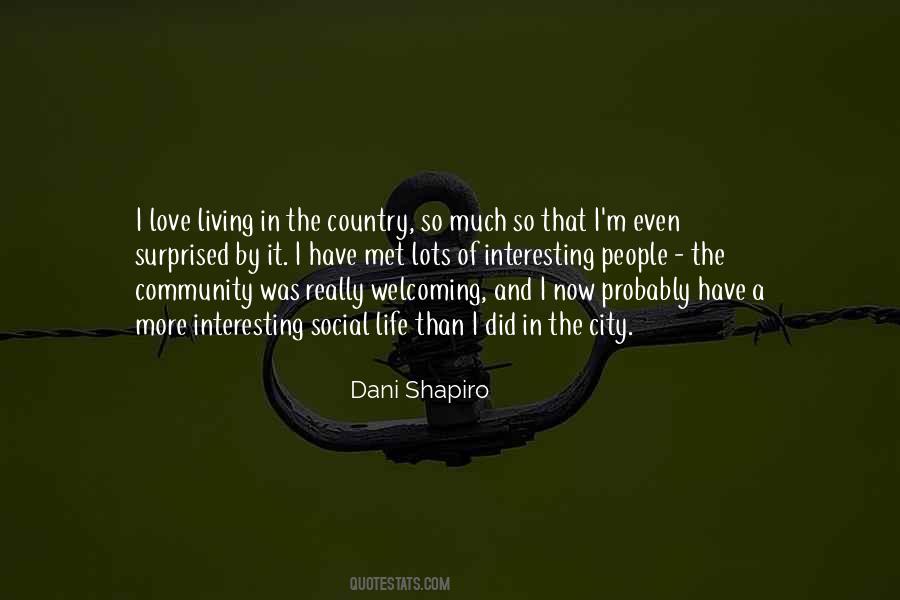 #6. You can't have a country or a city or a state that's worth a damn unluss you govern within yourself in your day-to-day life. - Author: Lee Iacocca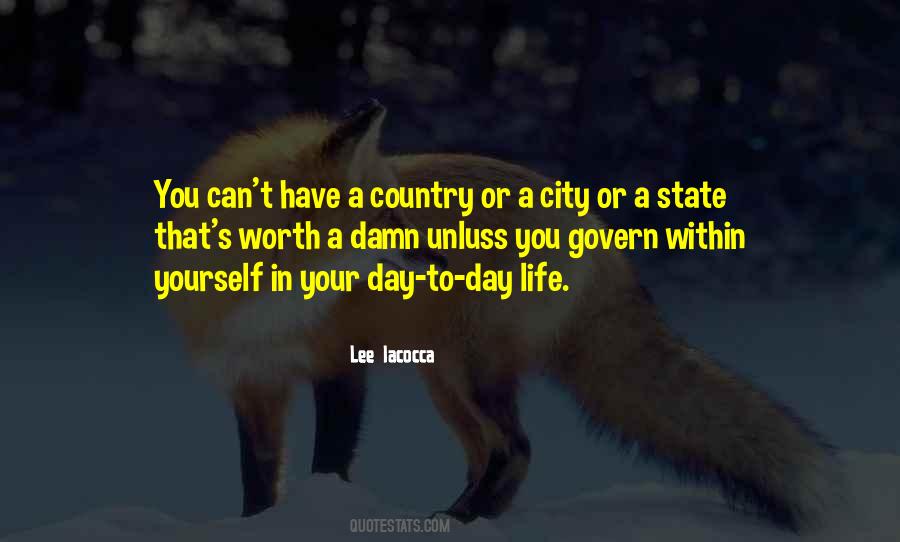 #7. Historically and culturally, New York City and our entire nation simply would not be the same without the infusion of Asian traditions. Whether it is food, art, language or any other facet of cultural life, Asian Americans have made our city and our country stronger and richer. - Author: Nydia Velazquez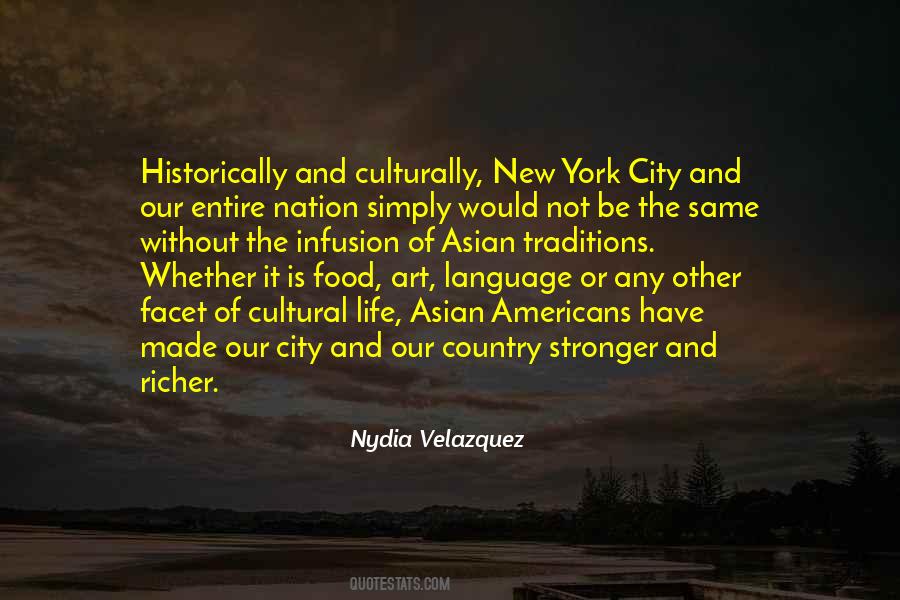 #8. The city, no matter how small, is corrupt and unrepentant, while the sun shines brighter in the country, making people more wholesome. - Author: Lori Lansens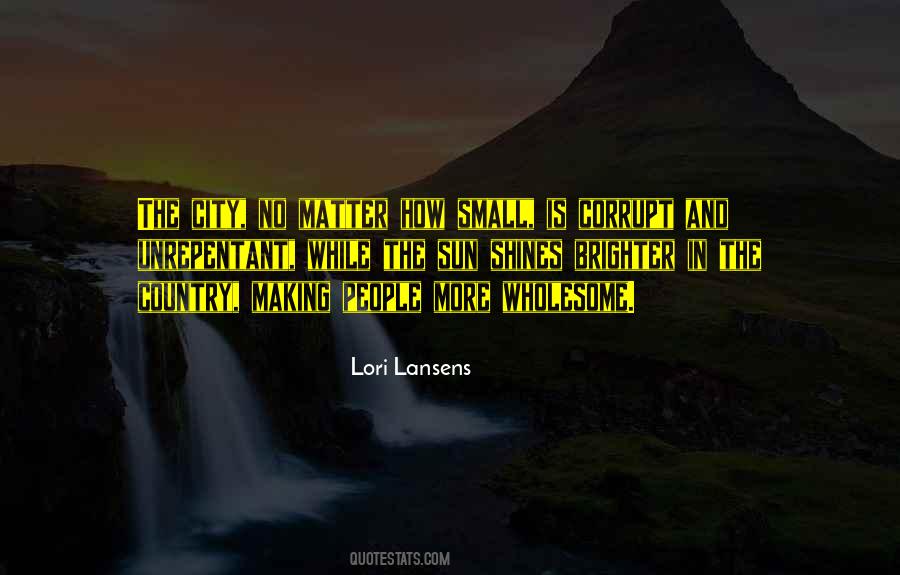 #9. In the country one sees only nature's fair works, and one's soul is not saddened by the cruel struggle for mere existence that goes on in the crowded city. - Author: Helen Keller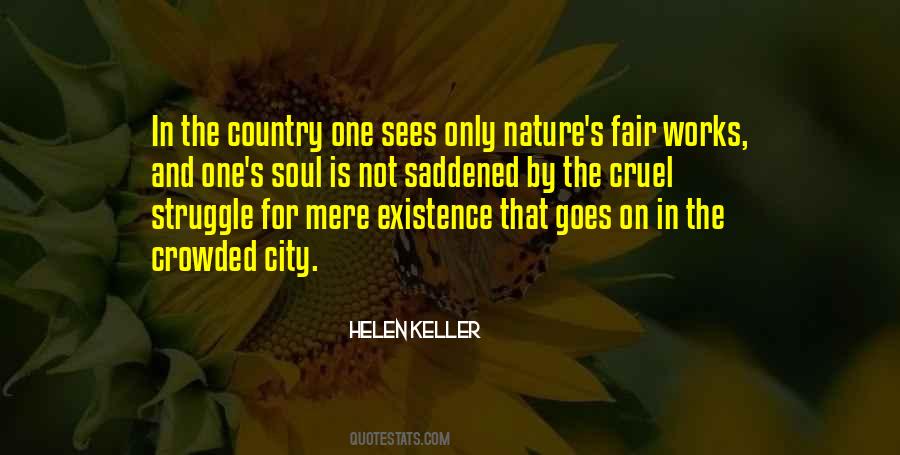 #10. You have to understand, now, I'm a momma's boy. I'm from the south. My way of being raised is totally different than the big city life. I truly was a country boy. - Author: Terry Bradshaw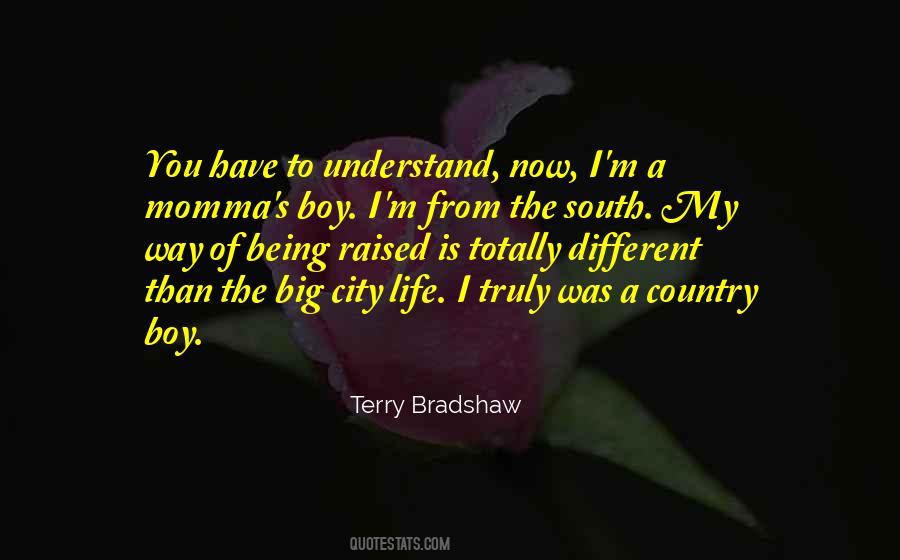 #11. Penny knew also she loved the country for its beauty. Cities could be magnificent, astounding, fantastic, but they were not consistently beautiful and simple. Penny liked uncomplicated beauty. - Author: Dorothy Deming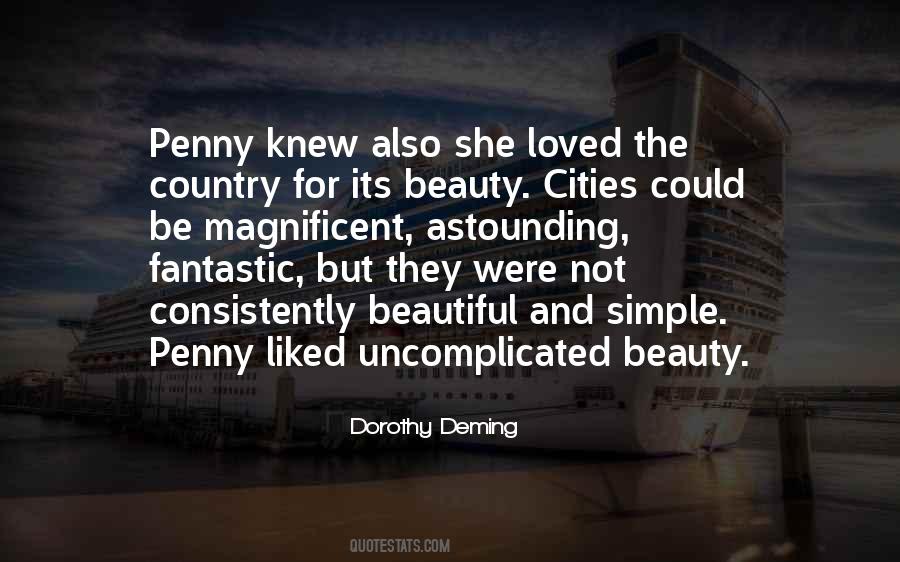 #12. This was what was left of a human individual when you took away his home,his family, his friends, his city, his country,his world: a being without context, whose past had faded, whose future was bleak, an entity stripped of name, of meaning,of the whole of life except a temporarily beating heart. - Author: Salman Rushdie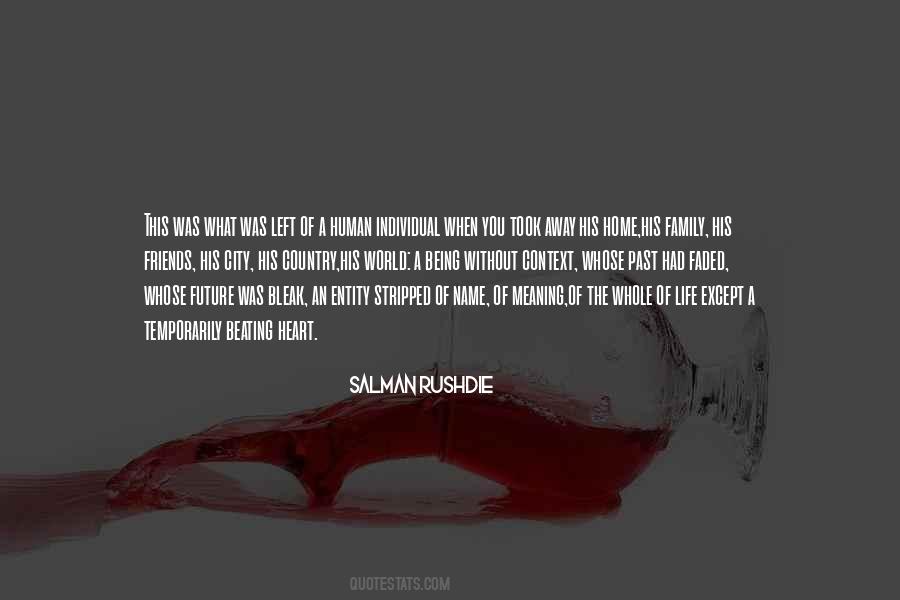 #13. No matter who you are, you have the nature and capacity for leadership. - Author: Myles Munroe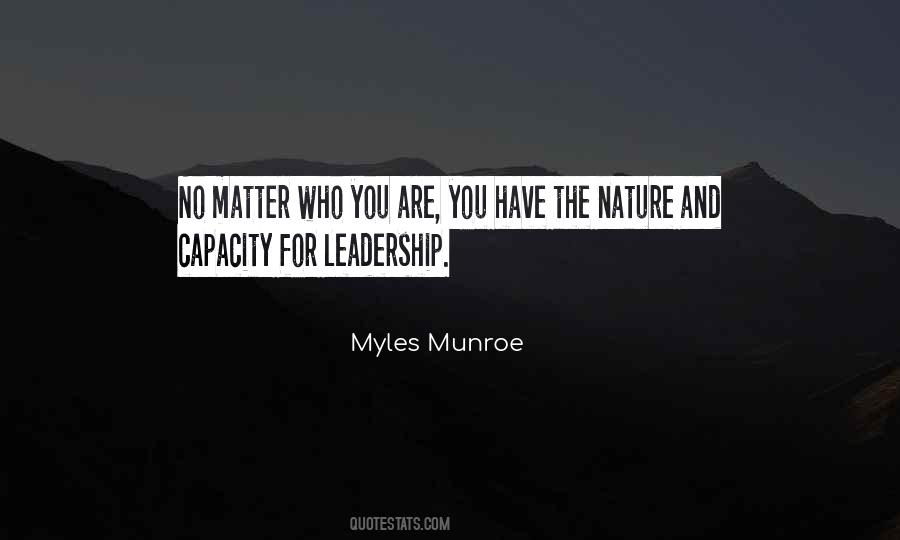 #14. I think a lot of people compare their insides to other people's outsides. - Author: Emma Stone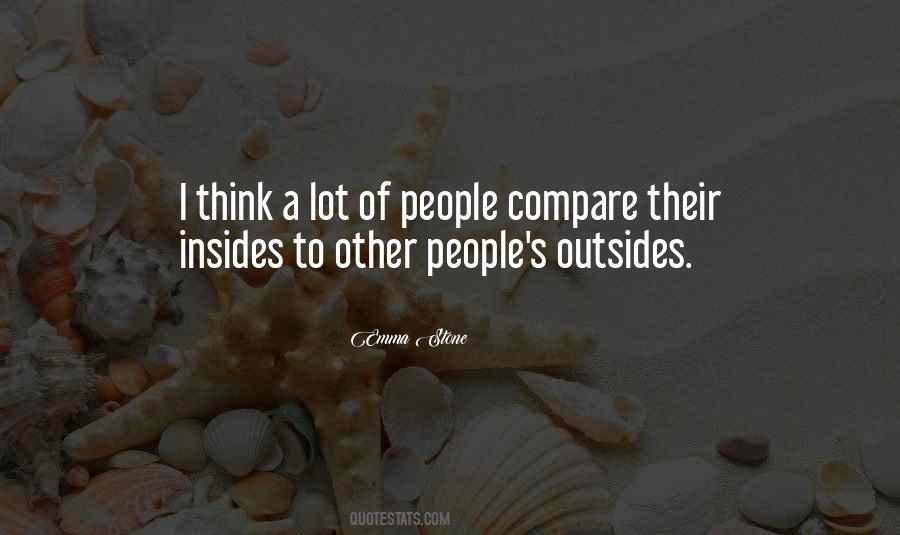 #15. City life is no life for a country man; for such a man that life is a kind of damnation in itself. - Author: Stephen King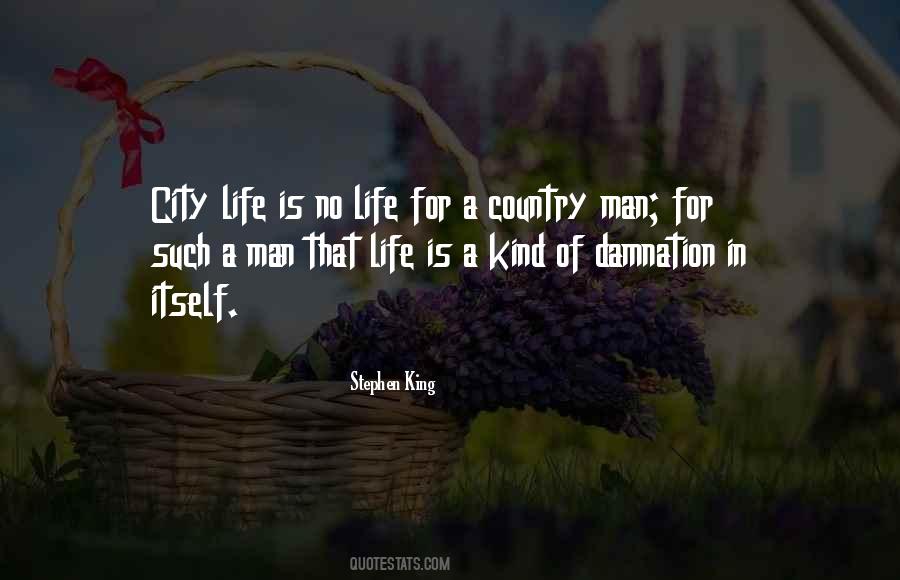 #16. When I was a little kid, all I wanted to do was to escape what I thought was the country and get to a city. Probably film and television had influenced me so much, I really thought the key to happiness was living a very artificial life in a penthouse in New York with martini glasses. - Author: Tom Ford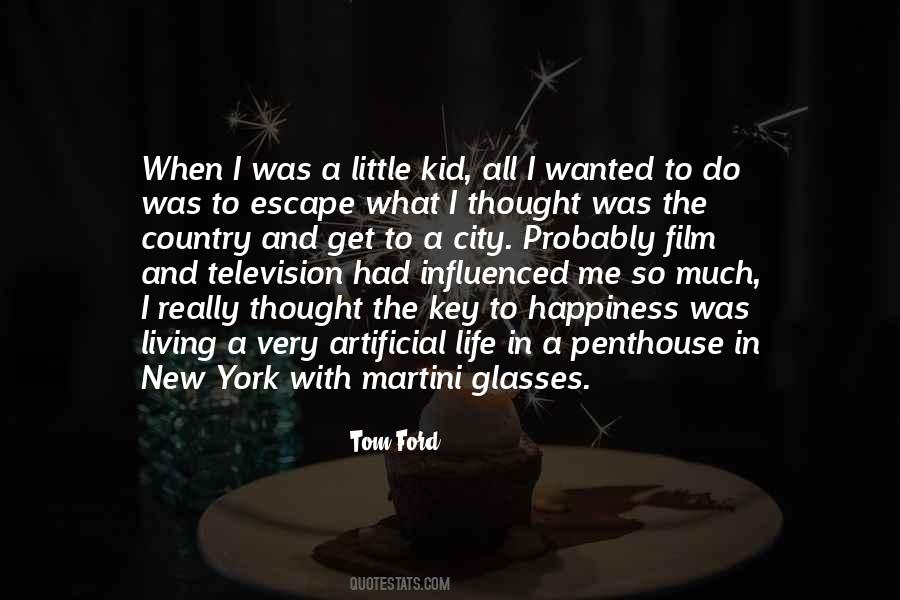 #17. Most songs are somewhere between love and death, and mine are no exception. - Author: Robyn Hitchcock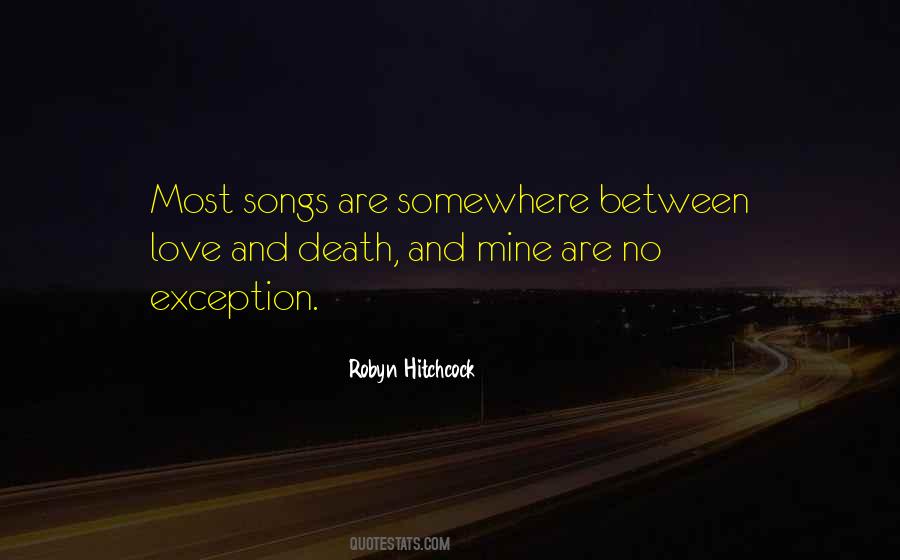 #18. In the three minutes it takes the song to play I'm caught in a magic world of harmony and joy, a truly ecstatic joy, where the aching longing to be somewhere else, out of this city, out of this country, out of this body and out of this life, is kept at bay. - Author: Christos Tsiolkas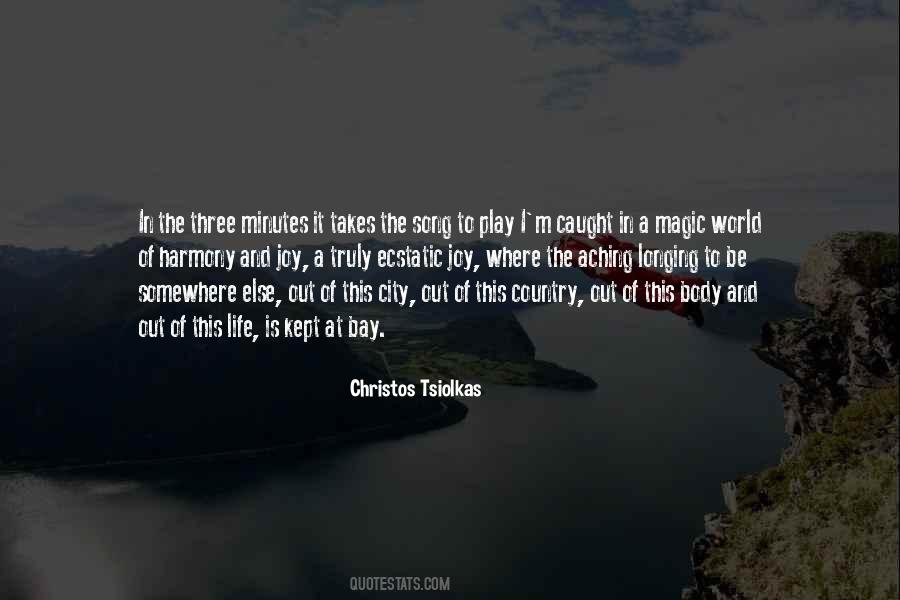 #19. I love the cultural and intellectual stimulation of living in a city, but I also want the beauty and tranquility of the country where I can imagine my love stories and bring them to life on paper. - Author: Valerie Parv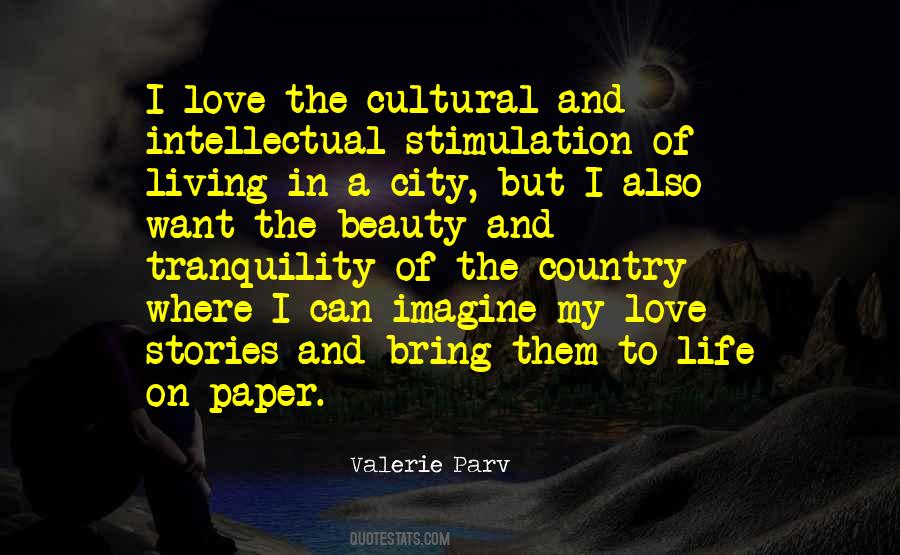 #20. Grace is found at the depths and in the death of everything. After these smaller deaths, we know that the only "deadly sin" is to swim on the surface of things, where we never see, find, or desire God and love. - Author: Richard Rohr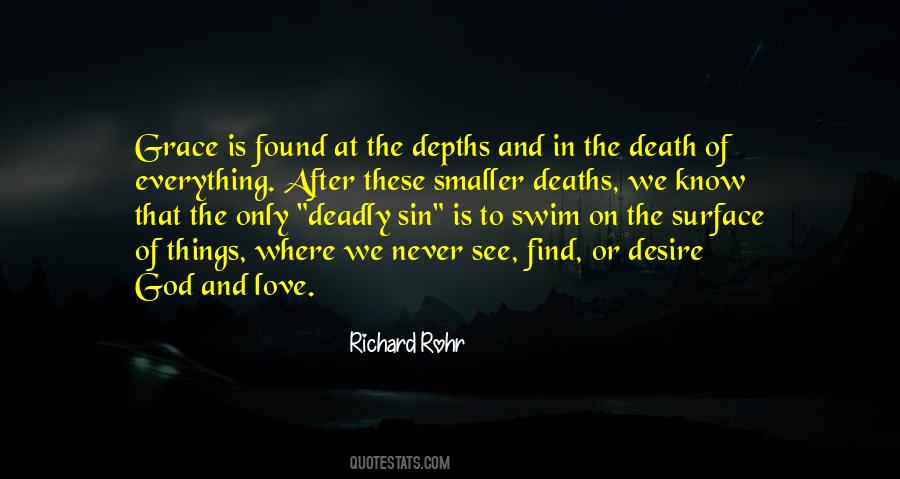 #21. I had come out of the city, where story-telling is a manufactured science, to the country where story-telling is a by-product of life. - Author: Dana Burnet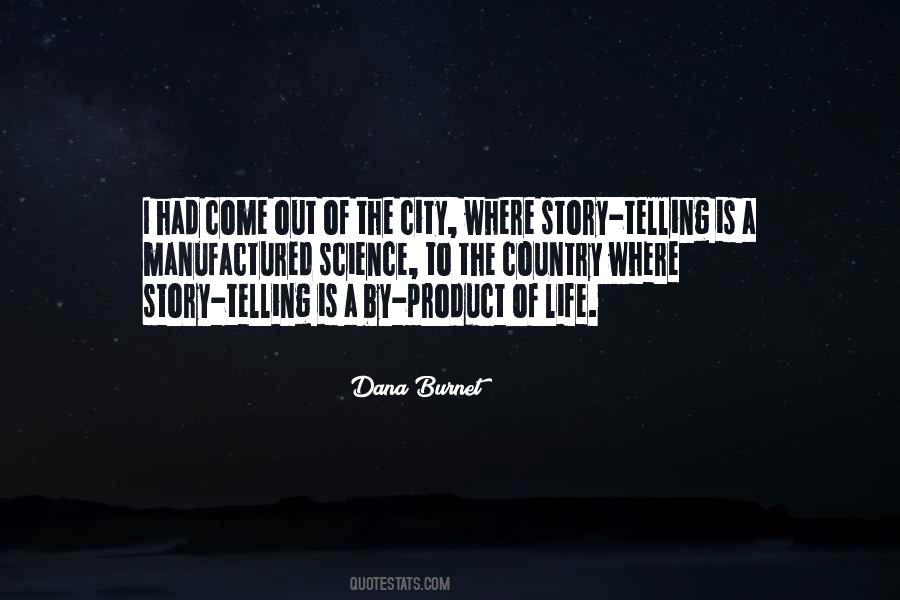 #22. It could take few drops of cooking oil to change your life, your neibourghs,your community, your village, your city, your county or your entire country. - Author: Euginia Herlihy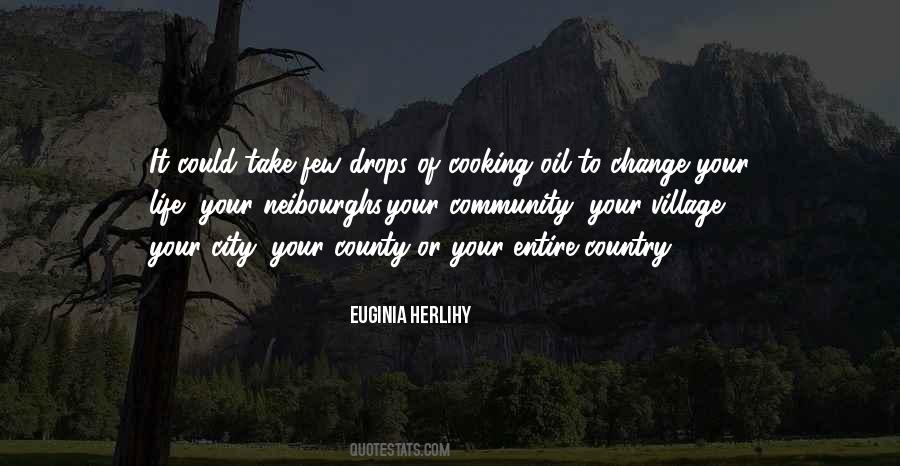 #23. New York presented a paradox. While foreigners thought of New York has the symbol of America, many Americans viewed the city with some suspicion as the country's most foreign. - Author: Charles Emmerson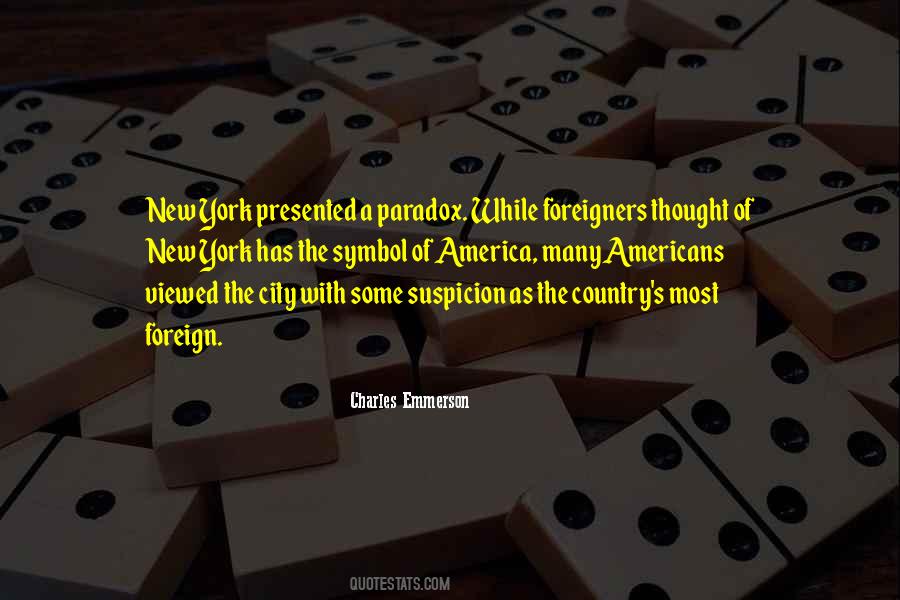 #24. Using PowerPoint is like having a loaded AK-47 on the table. - Author: Peter Norvig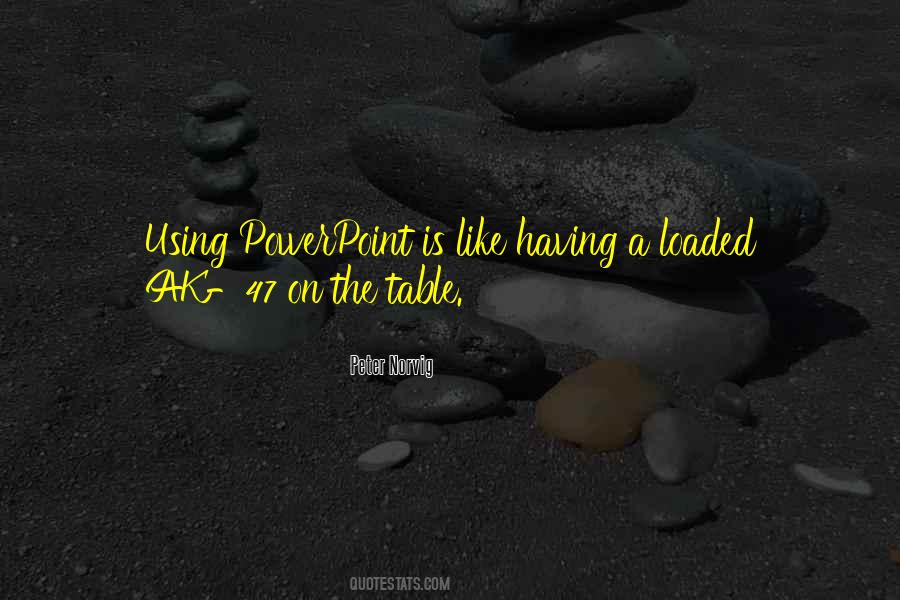 #25. City people make most of the fuss about the charms of country life. - Author: Mason Cooley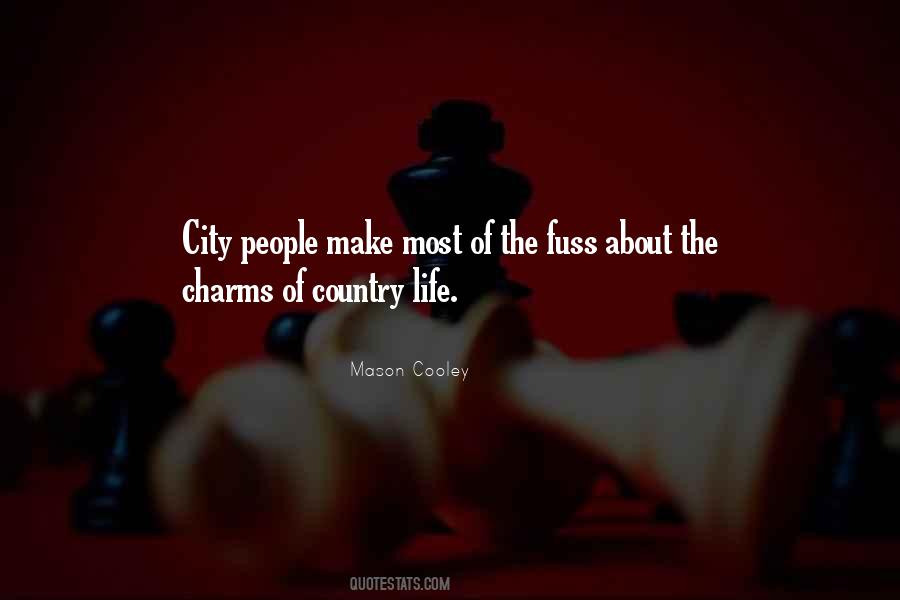 #26. Only through the conscious action of the working masses in city and country can it be brought to life, only through the people's highest intellectual maturity and inexhaustible idealism can it be brought safely through all storms and find its way to port. - Author: Rosa Luxemburg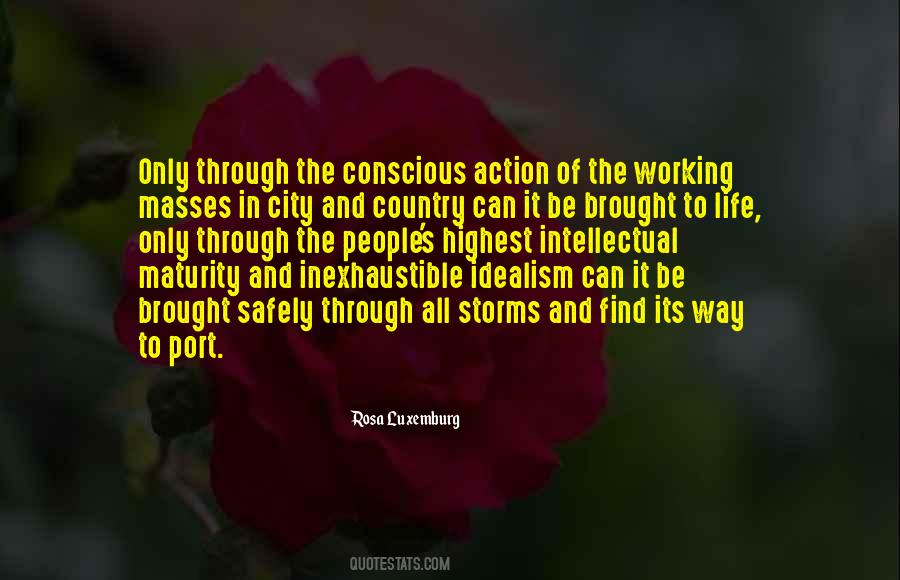 #27. For those of you who may be homeschooled: high school is that four-year asylum where they put teenagers because we have no idea what else to do with them. - Author: Anthony M. Esolen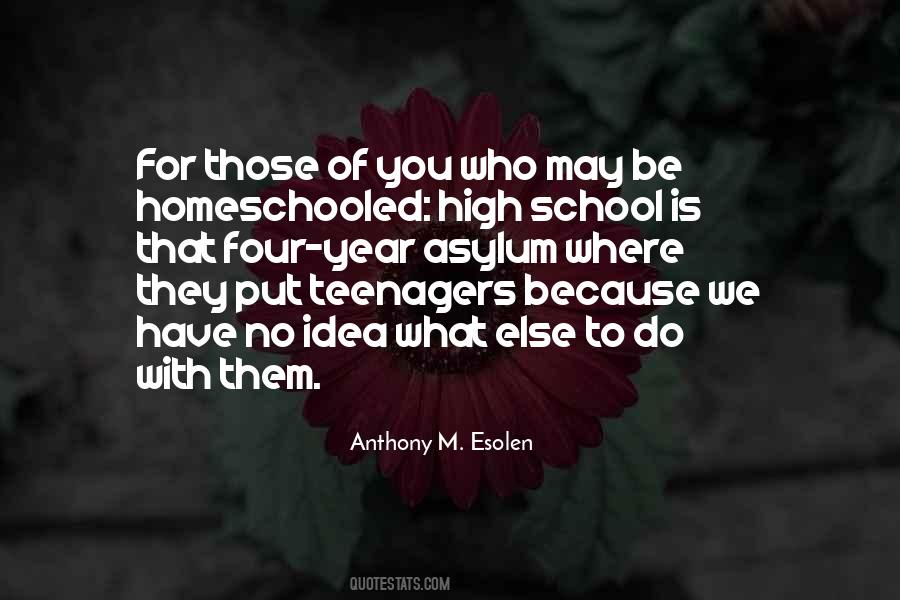 #28. I like to read, walk, cook, and travel to cities. We live in the country, so we miss museums and the bustle of city life. - Author: Beverly Cleary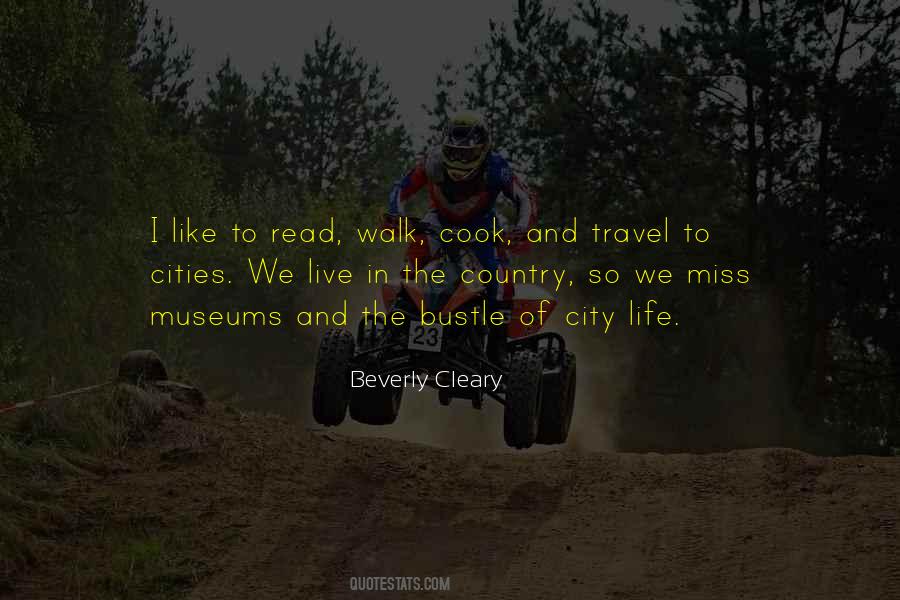 #29. City people try to buy time as a rule, when they can, whereas country people are prepared to kill time, although both try to cherish in their mind's eye the notion of a better life ahead. - Author: Edward Hoagland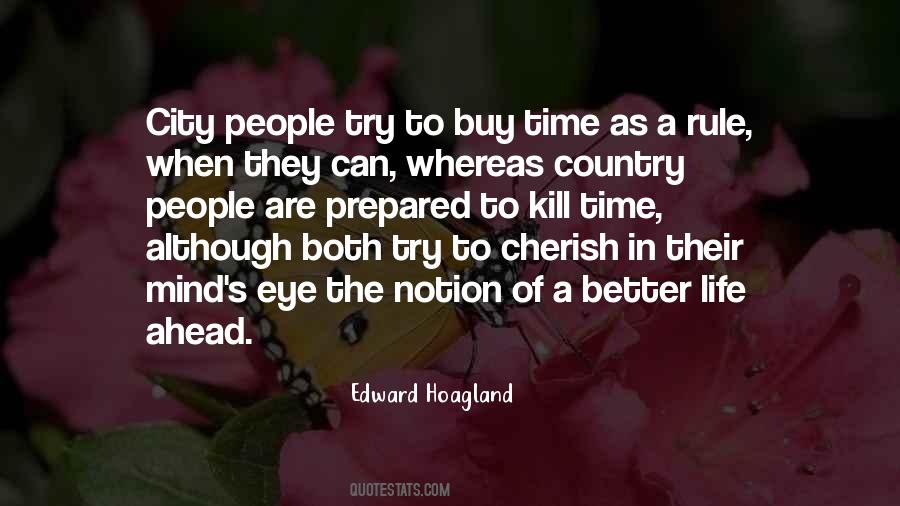 #30. Civilization tries to persuade us we are going towards something, a distant goal. We have forgotten that our only goal is to live, to live each and every day, and that if we live each and every day, our true goal is achieved. - Author: Jean Giono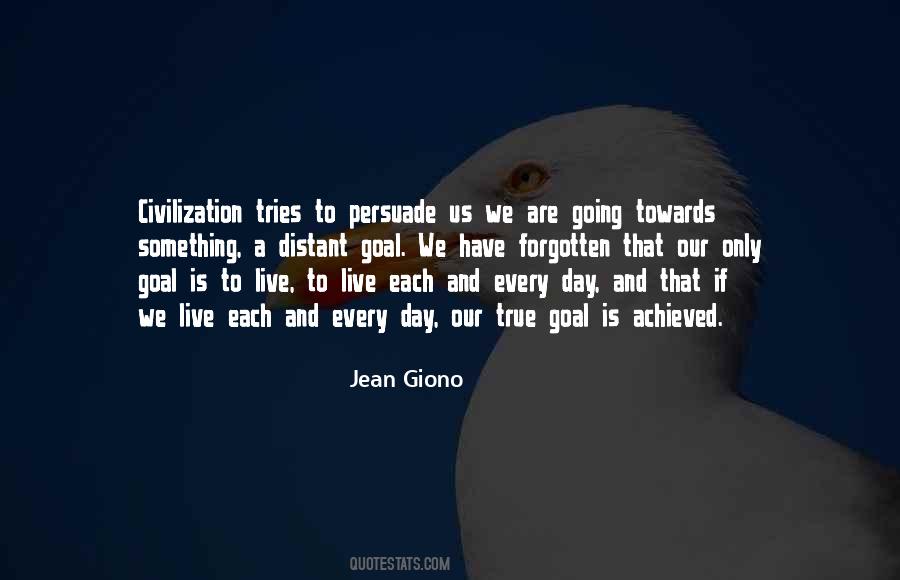 #31. What is a big city girl like you doing out in the middle of nowhere with a country boy like me on a Tuesday night in October?"
"Enjoying life... - Author: Lee DeBourg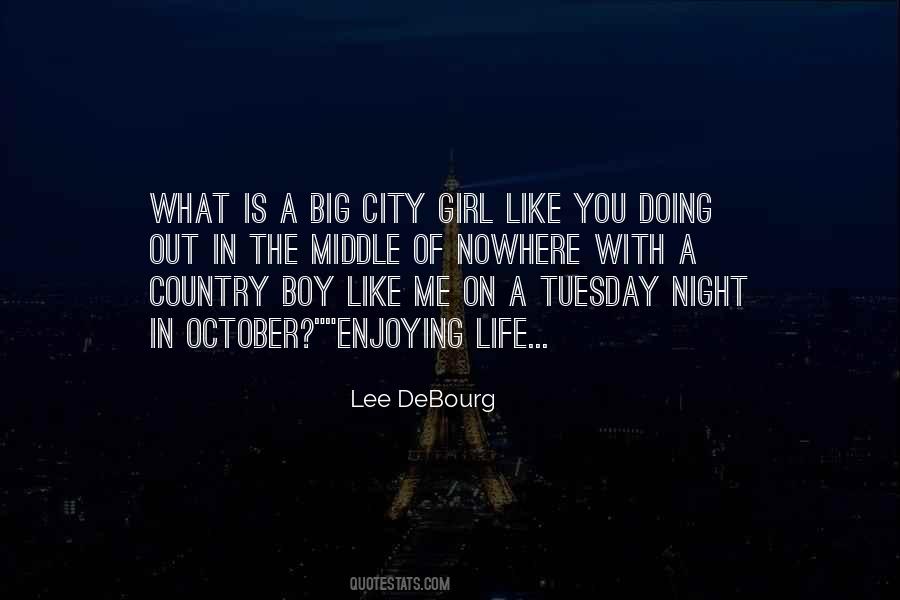 #32. The city reveals the moral ends of being, and sets the awful problem of life. The country soothes us, refreshes us, lifts us up with religious suggestion. - Author: Edwin Hubbel Chapin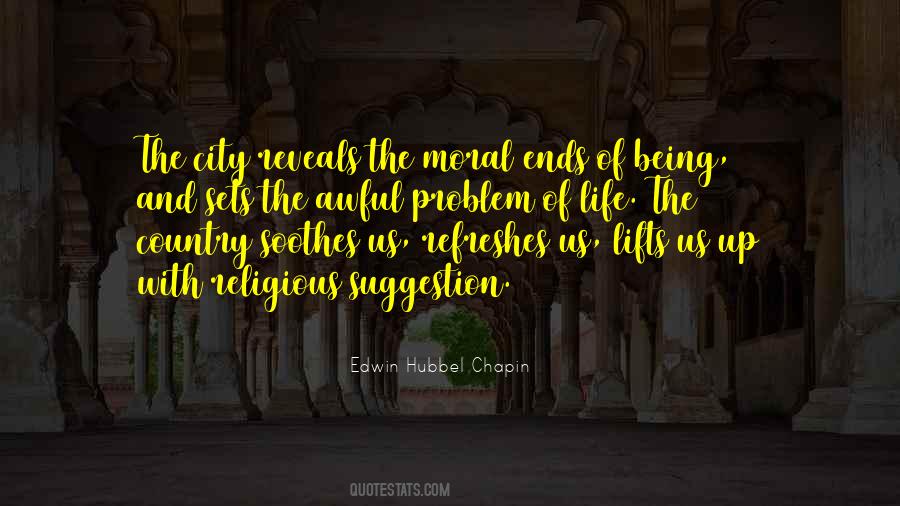 #33. There is a city myth that country life was isolated and lonely; the truth is that farmers and their families then had a richer social life than they have now. They enjoyed a society organic, satisfying and whole, not mixed and thinned with the life of town, city and nation as it now is. - Author: Rose Wilder Lane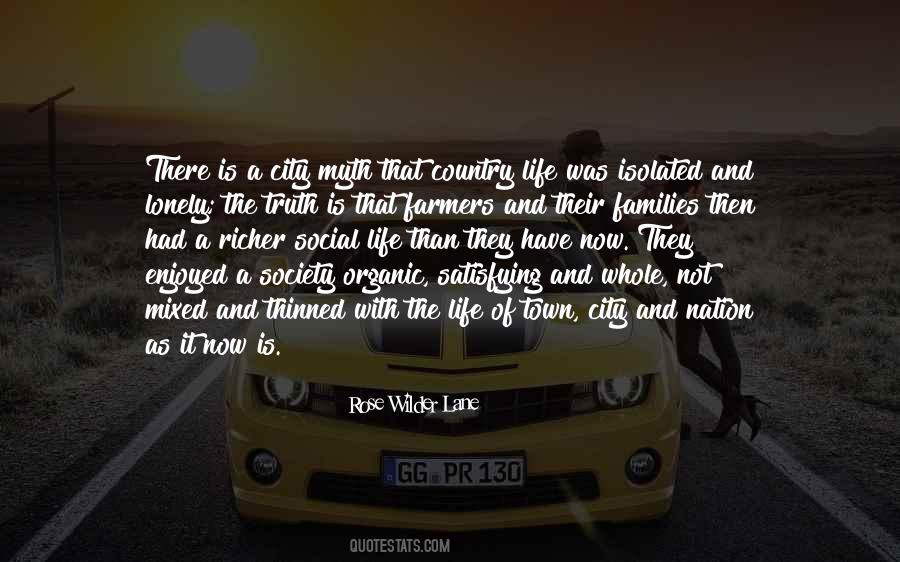 #34. But the words she chooses withhold their best qualities, they refuse to match the way she feels inside. - Author: Jessie Burton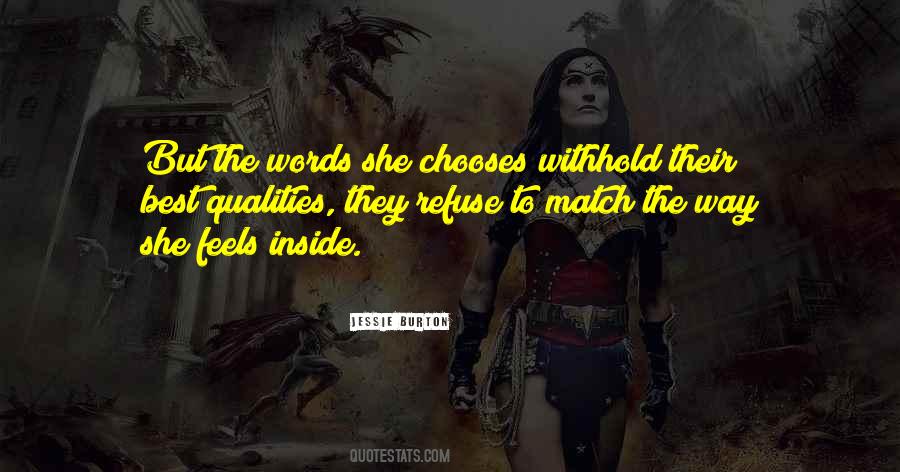 #35. City people. They may know how to street fight but they don't know how to wade through manure. - Author: Melina Marchetta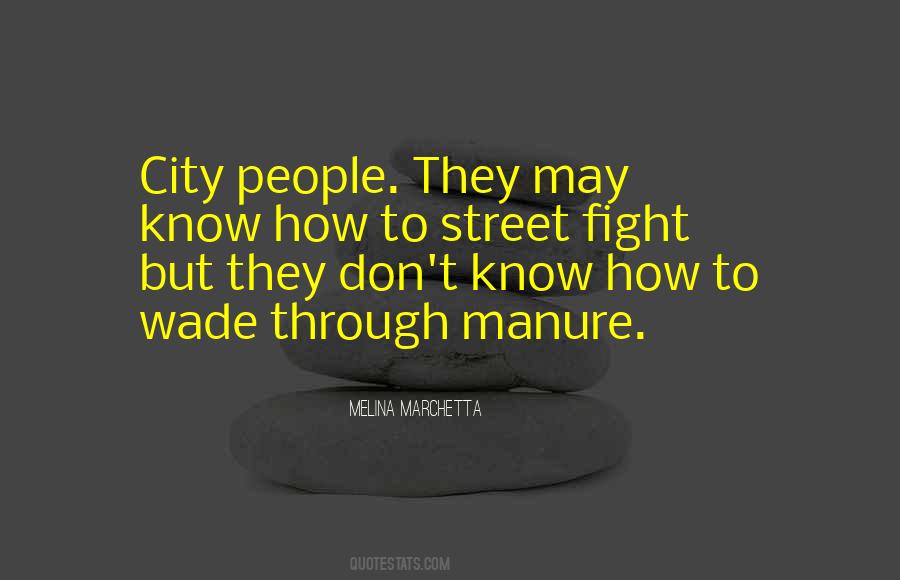 #36. Mister Teatime had a truly brilliant mind, but it was brilliant like a fractured mirror, all marvellous facets and rainbows but, ultimately, also something that was broken. - Author: Terry Pratchett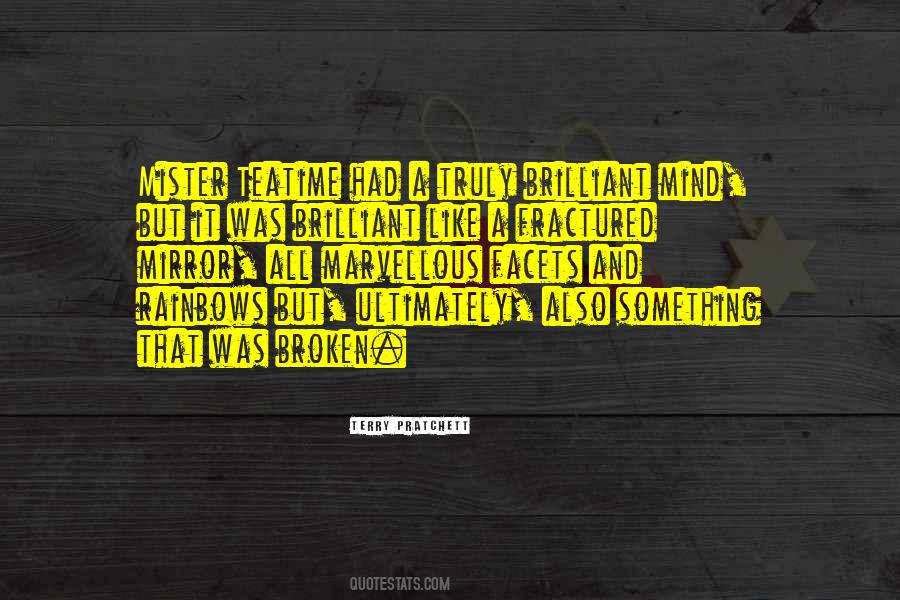 #37. HELPED are those who love the entire cosmos rather than their own tiny country, city, or farm, for to them will be shown the unbroken web of life and the meaning of infinity. - Author: Alice Walker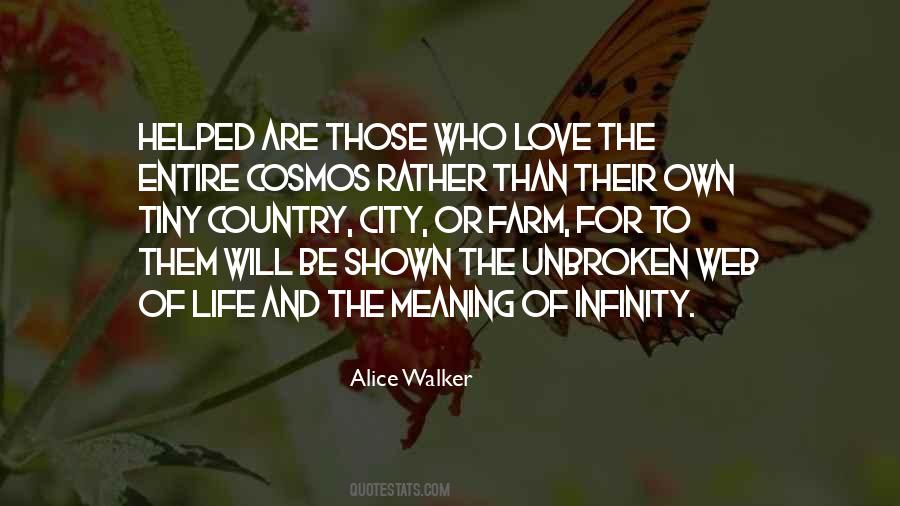 #38. Perfection is an awful prison, which shackles the soul and chains the spirit in shame and despair. - Author: David Foster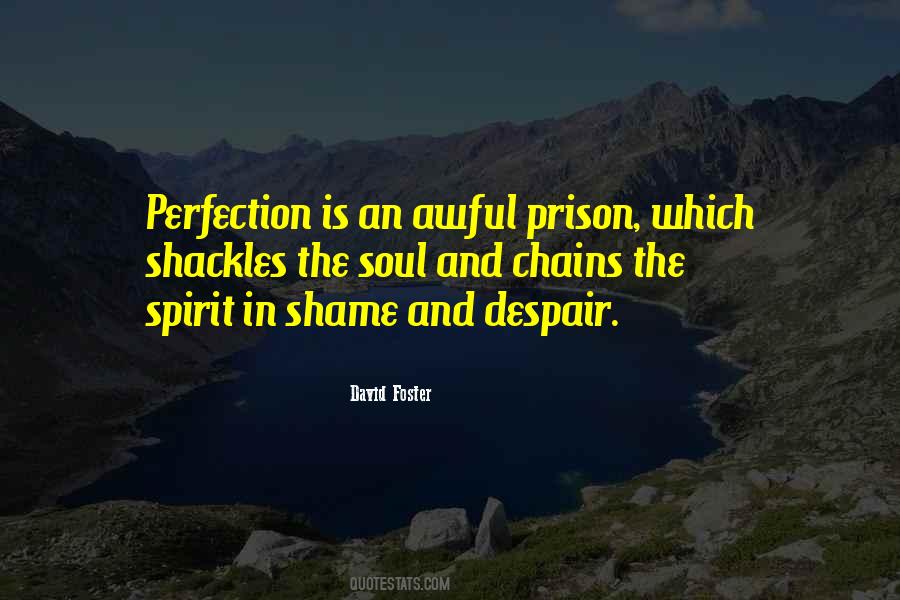 Famous Authors
Popular Topics
Sours: https://quotestats.com/topic/city-vs-country-life-quotes/
The Wisdom Of Kerry And Kurtan - This Country Series 1 and 2
31 Amazing Country Quotes on Nature and Beauty
Being in the country is like being in a dream – one doesn't quite know who one is. There is an anonymity to it all – that strange human creature that is me, one among all.
Meia Geddes
There are few things as charming and attractive as country life, especially when we are tired, stressed, and overwhelmed by the noise and pollution of the city. Country life is the only available type of paradise for people who seek peace, calm, beauty, and harmony.
Check out these country quotes to remind yourself why taking a walk in nature is worthwhile. Country life is blessed with all kinds of wonderful things which we all can enjoy and provoke us to think deeply.

I suppose the pleasure of country life lies really in the eternally renewed evidences of the determination to live. – Vita Sackville-West
While most lovers of urban life think that country life is boring and monotone, the truth is that there is a sense of perpetual novelty and change in nature, which makes country life invigorating. Life in nature is always exuberant and calming at the same time.
If country life is healthful to the body, it is no less so to the mind. – Giovanni Ruffini
As much as our bodies, our minds need the refreshing influence of nature and country life, where we can escape the stress, noise, and pollution of the city. A healthy body and a healthy mind need the healing calm and peace of the country life.
City people make most of the fuss about the charms of country life. –Mason Cooley
Paradoxically, city people are the ones who praise the charms of country life. Exhausted by the busy and noisy city, they idealize the green tranquility of the country life, forgetting that besides its charming qualities, country life also brings along many hardships.
The country life is to be preferred, for there we see the works of God, but in cities little else but the works of men. And the one makes a better subject for contemplation than the other. – William Penn
Country life emphasizes all the wonderful gifts of God's creation. The tranquil vegetal life and the calm life of the animals invite us to contemplation, introspection, and reverie. While city life pollutes our minds with endless worries and concerns, country life relieves us of all stress.
I consider it the best part of an education to have been born and brought up in the country. – Amos Bronson Alcott
There is nothing more exciting and wonderful for a child than to grow up in the country, surrounded by the beauty and mystery of nature, where everyone can be an explorer. Country life is a great playground for the sensibilities and needs of a child.
The country is lyric, the town dramatic. When mingled, they make the perfect musical drama. – Henry Wadsworth Longfellow
The city and the town are the perfect scenes for people's dramas, but country life is always a subtle poetic background that allows us to be who we want, without having to play a part in a scene we don't like.
People have a tendency to see country life through rose-colored glasses. – PJ Harvey
Country life offers so much beauty that people always tend to forget about the hardships and problems that hide beneath that beauty. Country life is simple, but not always easy. The rose-colored glasses might make us forget that, once we want to embrace the beauty of country life, we also must embrace its roughness.
God made the country, and man made the town. – William Cowper
Whenever we go to the countryside we are amazed to discover how everything seems so naturally free, spacious, and beautiful. We discover at the same time how artificial our towns and cities are, with all their rigidity, hustle-and-bustle, and gray atmosphere.
Nor rural sights alone, but rural sounds,
Exhilarate the spirit, and restore
The tone of languid nature. – William Cowper
Nature speaks its own language, which we can only understand when we immerse ourselves in the charm of country life. Rural sights, sounds, and landscapes trigger in us a feeling of joy and exhilaration that restores our souls to the peace of childhood.
Knowledge and power in the city; peace and decency in the country. – Mason Cooley
Urban life works on different parameters than country life. In the city, life revolves around success, power, or money, while in the country, life revolves around peace and harmony. People in the country seek to adjust themselves to the rhythms of the natural life, not to false constructs of happiness.
In the end, for congenial sympathy, for poetry, for work, for original feeling and expression, for perfect companionship with one's friends – give me the country. – D. H. Lawrence
In the country, we find many of the things that our souls crave, such as poetry, freedom, meaningful work, honest friendships,  or authenticity. These are things that country life abounds in and which are hard to find in the busy life of the city, where time costs money.
Country things are the necessary root of our life – and that remains true even of a rootless and tragically urban civilization. To live permanently away from the country is a form of slow death. – Esther Meynell
When we remove ourselves entirely from country life to isolate ourselves within the artificial limits of the city, we lose many valuable things that are crucial for our sanity, health, and happiness. Life in the city is constricting for us, even though we don't realize it.
The city, no matter how small, is corrupt and unrepentant, while the sun shines brighter in the country, making people more wholesome. – Lori Lansens
In the country, nature is free and vibrant and every element of nature is powerful, exerting a warm influence on people. In the city, on the contrary, things are reduced to a sort of superficiality that makes corruption and destruction possible.
Country life has its advantages…You sit on the veranda drinking tea and your ducklings swim on the pond, and everything smells good… and there are gooseberries. – Anton Chekhov
Country life is all about simple pleasures. People who enjoy country life are those who make any moment meaningful and beautiful simply by knowing how to enjoy it to the maximum. Drinking tea on the porch while looking at the sunset and enjoying the fresh air is something so simple, yet so poignant.
Not by human dwellings – not in crowded cities alone, are the sights and sounds of life. The wildest places of the earth are full of them. – Solomon Northup
Most lovers of urban life find wilderness and the vast, empty spaces of the country threatening. However, once we get to know nature, we discover the many beautiful details that make it charming. As we discover sights, sounds, creatures, plants, we understand the harmony and interconnection that exists everywhere.
The fresh and crisp air of the country reminds us that our blood surges from of the natural world and how tied we are to the sprung rhythms of earth and sky, weather and season. – Kilroy J. Oldster
People who live in the country how that natural life is bound to sacred rhythms, where everything is meaningful and useful, and where every element works in symbiosis with the others. People from the city are often disconnected from these rhythms and they need the fresh air of the country to rediscover them.
Being in the country is like being in a dream – one doesn't quite know who one is. There is an anonymity to it all – that strange human creature that is me, one among all. – Meia Geddes
There is nothing quite like the freedom that exudes from nature. Vast landscapes and distant horizons give us a sense of liberation, that is why we love being in the country, where we can be anonymous and free, without any constraint.
City life is no life for a countryman; for such a man that life is a kind of damnation in itself. – Stephen King
One of the most thought-provoking aspects of country life is realizing that city people easily adapt to the charm of the countryside while country people find city life miserable and constraining. For them, the city always remains a cage with too many walls.

The city reveals the moral ends of being and sets the awful problem of life. The country soothes us, refreshes us, lifts us up with religious suggestion. – Edwin Hubbel Chapin
The city is built in such a way that along with bringing a lot of comfort and opportunities into our lives, it also causes an endless stream of worries and problems. The country, however, has a healing and soothing power that reminds us of the essential things in life.
Anybody can be good in the country. There are no temptations there. – Oscar Wilde
One of the reasons why country life is so quiet and peaceful is that there are no temptations there that could cause distress or concern. Country life invites us to a type of purification of the senses and healing of the mind that can never be achieved in the city.
I lived in solitude in the country and noticed how the monotony of a quiet life stimulates the creative mind. – Albert Einstein
While some people dislike the solitude of the country, other strive in it. Solitude and tranquility are essential for creative people who, by lacking external stimuli in the country, are free to explore the mysteries of their inner life, where their creativity and imagination can travel openly.
This pure air braces the listless nerves, and warms the blood. I feel in freedom here. – Joanna Baillie
One of the most precious things that the country can offer us, and which we should not take for granted, is freedom. In the pure atmosphere of the countryside, freedom means the ability to feel the sun on our skin or to inhale fresh air together with the perfume of the wild flowers.
There is virtue in country houses, in gardens and orchards, in fields, streams, and groves, in rustic recreations and plain manners that neither cities nor universities enjoy. – Amos Bronson Alcott
Country life is made of precious things that warm our heart with their simplicity and beauty. Country houses, gardens, fields, forests, streams, and rivers are wonderful elements of country life that remain foreign to those who live in the city.
Men are taught virtue and a love of independence by living in the country. – Menander
By living in the country, people learn a few things that become essential to their well-being and to their identity. They learn how to appreciate beauty, virtue, and most of all, independence. By doing so, they gain new power over themselves and over the nature that they inhabit.
In cities no one is quiet but many are lonely; in the country, people are quiet but few are lonely. – Geoffrey F. Fisher
City people think that the country is somehow boring and that people who live outside of cities have poor social lives. The truth is that in the country, people experience a stronger connection with each other, and their relationships are more profound because they spend more time together.
Once wealth and beauty are gone, there is always rural life. – Mason Cooley
Cities are exciting for young people and for those who chase fame, wealth, or power. For those who prefer to engage in more tranquil and peaceful aspects of life, country life is the perfect environment where they can achieve the dream of a beautiful, quiet life, beyond any material goals or shallow aspirations.
The country is laid out in a haphazard, sloppy fashion, offensive to the tidy, organized mind. – Alan Brien
After living in the city for a while, our minds get used to the organized, methodical structures of the city, making us prefer order and symmetry. Despite being more orderly than the life of the countryside, the life of the city is less harmonious, unfortunately.
I have thought that a good test of civilization, perhaps one of the best, is country life. Where country life is safe and enjoyable, a high state of civilization prevails. – John Burroughs
Although country life is very nice, most of those who live in the country wish their lives would be as comfortable as that of those living in the city. A safe and comfortable country life is the measure of a civilization who knows how to mix progress with respect for nature.
Two things revolutionized life: moving to the countryside and falling in love. – Nick Love
There are many transitions and changes in our lives, but only a few have the power of an earthquake, able to take us to a totally different way of seeing and being in the world. Among these powerful changes, one can be moving to the countryside.
I long for the countryside. That's where I get my calm and tranquility – from being able to come and find a spot of green. – Emilia Clarke
As most of us grew up in cities or live in the city, we underestimate the power of the country to act upon our mood. A view over green fields and a bright, large sky can elevate our state of mind considerably. Our souls long for this kind of purity and beauty.
I really feel that my body craves to be in the mountains or by the ocean or in the countryside. – Miranda Kerr
We never pay enough attention to our bodies. Otherwise, we would recognize that the body desperately needs sunshine, warmth, nature, fresh water, fresh air, to exist and to be healthy. We need to offer to our body its essentials and nothing is best for that than a walk in the countryside.
Sours: https://www.spiritbutton.com/country-quotes/
You will also be interested:
Country Life Quotes
Quotes tagged as "country-life" Showing 1-30 of 70

"And it never failed that during the dry years the people forgot about the rich years, and during the wet years they lost all memory of the dry years. It was always that way."
― John Steinbeck
Like
"And if the world went to hell in a handbasket-as it seemed to be doing-you could say good-bye to everyone and retreat to your land, hunkering down and living off it."
― Jeannette Walls, Half Broke Horses
Like

"What use cities have for us? Their greatest use is to make us to realise the beauties of the rural life!"
― Mehmet Murat ildan
Like
"If you constantly talk negative about your country, you'll never become the light in, or to your country."
― Henry Johnson Jr.
Like
"But, in Moon Cottage, they are still asleep. I let myself in quietly and make a pot of tea, and take it outside, to sit under the apple tree and feel pleased. In the Buttercup field, one of the newest calves born a couple of nights ago, feeds and nuzzles and then wanders a yard or two away from its mother. It is white as milk, huge-eyed. The wrens are flying in and out of the woodshed and the bluetits in and out of a hole in the wall, by some guttering. Over the fields and farms and rooftops of Barley, the sun climbs and climbs. The dew has almost dried. The best of the day is done."
― Susan Hill, The Magic Apple Tree: A Country Year
Like
"I come here for the solitude. I come to soak myself in memories before they evaporate, before they float so far from my memory that I can't catch them."
― Brenda Sutton Rose
Like
"I grin. "It's just a party," I assure her. "Nothin' big."

"There ain't nothin' that happens on this ranch that's organized by your mama that ain't big. That woman's about as subtle as a shotgun."

"A shotgun can be subtle if it ain't bein' fired," I point out.

She narrows her eyes. I think she's about to quip back with something super sassy, but then a smile wrinkles up her face. "You sayin' I'm better off to keep the shotgun from firin'?"

"I'm sayin' quit playin' with the trigger, Grandma."
― Daryl Banner, Football Sundae
Like
"The Country Sonnet

I stand beneath the southern sky,
Looking up at the heavenly bodies.
The twinkling stars know no color,
Then why we mortals beneath act so puny!
Country means heart, country means humility,
All that is pure is born in the country.
How could we poison its innocent soul,
By our savage escapades of bigotry!
It's high time we be the example of kindness,
For the streams of Mississippi carry acceptance.
Behold ye all blind with confederate pride,
Conscience rises above the Blue Ridge Mountains.
Let's resuscitate the country with love and passion.
We'll turn this land into a cradle of amalgamation."
― Abhijit Naskar, Heart Force One: Need No Gun to Defend Society
Like
"Everything here pulses with the rare beauty of the South."
― Brenda Sutton Rose
Like
"Kelly looks up at me and wags her tail. I swear she's smiling at me. It never fails that some of her radiating positivity seeps into my being. I make a conscious effort to change my perspective. Investigating the death of that poor young jockey might not only get answers for the family and for Neal and Linda, but could help me as well by providing a distraction away from the self-pity I'm inclined to wallow in."
― Vicky Earle, Over Frank's Dead Body
Like

"For them I learned to be a mother again, cooking pancakes and thick herb-and-apple sausages. I made jam for them from figs and green tomatoes and sour cherries and quinces. I let them play with the little brown mischievous goats and feed them crusts and pieces of carrot. We fed the hens, stroked the soft noses of the ponies, collected sorrel for the rabbits. I showed them the river and how to reach the sunny sandbanks. I warned them- with such a catch in my heart- of the dangers, the snakes, roots, eddies, quicksand, made them promise never, never to swim there. I showed them the woods beyond, the best places to find mushrooms, the ways of telling the fake chanterelle from the true, the sour bilberries growing wild under the thicket."
― Joanne Harris, Five Quarters of the Orange
Like
"We was just kids, we did kid stuff. And we didn't have things to do like people in the city. We couldn't catch the bus to the beach or the movies or hang out in big shopping malls. We had to ride everywhere or shanks it. Go for a milkshake at the roadhouse, check out the tip. Because there was no KFC or Subway. We'd walk along the highway looking for eagle feathers."
― Tim Winton, The Shepherd's Hut
Like

"But from their first word of him, from the message that he was found and was alive, none of the people of Carlow had really doubted it. They are simple country people, and they know that God is good."
― Booth Tarkington, The Gentleman from Indiana
Like
"If possible, it is best to have a balance between the civilisation of city life and the solitude of country living. Too much solitude and we can become isolated and lose the benefit of human culture, progress, and communication. Too much urban life and we lose our spiritual essence and our fundamental native homeostasis. Many people instinctively withdraw to the country or the seaside when they feel the noise of city life is drowning out the quiet, inner voice of peace. The country does what the city cannot. It quietens the mind and brings simplicity into one's life. The city does what the country cannot. It enlivens the mind and brings culture into one's life. We try to engage with both and benefit from the well-roundedness of a complete experience of all that life has to offer."
― Donna Goddard, The Love of Devotion
Like
"The country does what the city cannot. It quietens the mind and brings simplicity into one's life. The city does what the country cannot. It enlivens the mind and brings culture into one's life."
― Donna Goddard, The Love of Devotion
Like
"We need more country than concrete, we need more mind than material, we need more savannah than sky-scrapers, we need more melody than malady. And this can only happen if we make simplicity and responsibility the way of life."
― Abhijit Naskar, The Gospel of Technology
Like
"World is my Louisiana, I am its Mississippi."
― Abhijit Naskar
Like
"Maybe it's the unique people. Maybe the old-fashioned bucolic setting or the nostalgia it brings—he'll never be sure. But it's there he knows that his family truly became close. Of course, their end there was tragic, yet he knows those years were something else. Those years were the best of their lives."
― Michael Dault, The Sons of Summer
Like
"Over the years, the Ompah Stomp developed a reputation of being a wild party. Maybe it was the setting, in a remote rural area, that led people to believe that it was a bit like a country music Woodstock, brimming with sex and drugs."
― Arlene Stafford-Wilson, Lanark County Calling: All Roads Lead Home
Like
"A hot dry day was perfect for cutting hay, but Sunday in those days was a true day of rest, and no hay would be taken from the fields, nor any labour done inside or outside of the house."
― Arlene Stafford-Wilson, Lanark County Collection: Winding Our Way Down Memory Lane
Like
"The free thinking and non-conformist behavior encouraged in the backwoods was a threat to imperialist white supremacist capitalist patriarchy hence the need to undermine them by creating the notion that folks who inhabited these spaces were ignorant, stupid, inbred, ungovernable. By dehumanizing the hillbilly, the anarchist spirit which empowered poor folks to choose a lifestyle different from that of the state and so called civilized society could be crushed. And if not totally crushed, at least made to appear criminal or suspect"
― Bell Hooks, Belonging: A Culture of Place
Like
"People from the country ought to be at the forefront of humankind's struggle for kindness and equality, and yet, the situation is quite the opposite."
― Abhijit Naskar, Heart Force One: Need No Gun to Defend Society
Like

"Mountain folk have their own code. And they hold each other to it, straightforward like; No beatin' around the bush."
― C.A. Tedeschi, Fen and the Every Path
Like
"In any case, I see no reason why a good-tempered, steady-going cat should not be included in a country classroom. It adds a pleasantly domestic touch to our working conditions."
― Miss Read, Village Diary
Like
Sours: https://www.goodreads.com/quotes/tag/country-life
616
617
618
619
620