Pride Month Spotlight: Klaus Hargreeves of 'The Umbrella Academy'
Welcome to another of our 2021 Pride Month Series! Each day in the month of June, we will be highlighting a different member of the LGBTQ+ community who we think is a great example of representation and dynamic characterization. We will focus on fictional characters, celebrities, and activists alike — the positive voices within the LGBTQ+ community and in mainstream media.
When it comes to representation in today's media, few are doing it as well as Netflix's The Umbrella Academy. Based on the Dark Horse Comics series written by Gerard Way, The Umbrella Academy follows the seven Hargreeves siblings collected by Sir Reginald Hargreeves to become the superhero team he'd always wanted. Except, they aren't …
In this team of merry screw-ups is Number 4, Klaus, who is by all definitions, an absolute dumpster fire. But for all of his flaws and his chaos, he is above all else, endearing and lovable, even if he doesn't think so.
- Advertisement -
When we meet Klaus in season 1, he's a flamboyant drug addict, wearing tight leather pants and feathered jacket, then a pink boa and his sister's skirt holding his pink bordered umbrella with a cigarette hanging out of his mouth at his father's funeral. But the confirmation of his LGBTQ identity isn't revealed until later in the season, when he falls in love with a young soldier in Vietnam, Dave.
Dave is ultimately lost in the war, and Klaus makes it back from his little step back in time, but Klaus is forever changed.
The beauty of Klaus' season 1 arc, however, was that his sexual identity was never the main focus of him as a character. It was simply just who he was with no spotlight or cliches attached. So often in media, the sexual orientation of a character is so deeply intertwined with their storyline that you can't separate the two, but that was never the case with Klaus.
Klaus' story was always one of lost love and the steps one would take to get them back, and in Klaus' case that meant finally getting sober in hopes of utilizing his medium powers to see Dave once again beyond the veil. Klaus loved, and he lost, he overcame his addictions because of that love, and he was forever changed by it. The tragedy of Klaus and Dave was never a tragedy based upon "gay" love, it was just love, plain and simple.
- Advertisement -
When creating this Klaus, staying true to the character and his journey was important to actor Robert Sheehan, who had a hand in creating Klaus for the screen ahead of season 1, and the showrunners. Keeping true to who Klaus was and why always has and will always be the story's top priority. While Klaus has no official label in the show, although he has been known to have relations with men and women, sometimes at the same time, Sheehan pegs him as pansexual, but also open to other interpretations as the viewer sees him.
In an interview with Digital Spy, Sheehan made it known he didn't want his character to be known only for his sexual orientation, but instead for his truth, his heart, and his growth.
"It's very, very lovely that maybe young people who are embarrassed about the fact that they're gay and they're keeping it to themselves, can feel a little less uncomfortable about it by seeing a character like Klaus who is very out there and very colourful and unashamed about the fact that he is pansexual, or whatever you want to call it. But I just wanted to play the truth of it, man."
While LGBTQ representation is sorely lacking in media, LGBTQ relationships and characters that aren't dependent on their LGBTQ status and subject to stereotypes are even more so. The Umbrella Academy continues to excel showcasing these relationships without falling prey to the mistakes others have made. Their stories and characters are consistently true and authentic, making it a leading force in today's media.
Netflix has renewed The Umbrella Academy for season 3, which is currently in production. Stay tuned for news about the upcoming season and for more Pride spotlights throughout the month!
Sours: https://www.nerdsandbeyond.com/2021/06/06/pride-month-spotlight-klaus-hargreeves-of-the-umbrella-academy-june-6/
idiots to lovers — Klaus + his pink umbrella at his father's funeral...
See more posts like this on Tumblr
#the umbrella academy#klaus hargreeves#robert sheehan#tua#whump blog#whump#my edit
More you might like
See this in the appShow more
Sours: https://mildlyconcerning.tumblr.com/post/182839232855/klaus-his-pink-umbrella-at-his-fathers-funeral
The um­brel­la trans­par­ent and pink Klaus (Robert Shee­han) in The Um­brel­la Acad­e­my S01E01
Tonpop
Ton­pop Flasque Al­cool Aci­er In­oxyd­able, Hip Flask,Flasque Portable avec En­ton­noir Whisky Flasque Vod­ka Aci­er In­oxyd­able Fi­ole Al­cool ,Fi­ole pour Hommes, Couleur Ar­gent (8oz-2pack)
€12.99
Shop product
Unbranded
Col­lier Starfish - Bi­joux de plage - Dou­ble Strand Neck­lace - Se­mi Pre­cious Neck­lace - Ama­zonite- Jer­sey Shore Neck­lace - Col­lier Bo­ho
$50.00
Shop product
A-pro
A-pro Pan­talon Cuir Lacets Mo­to Mo­tard Chop­per Tour­ing Mod­ele 5 Poches noir 34
€81.95
Shop product
La chaise longue
La chaise longue 36-1E-004P Para­pluie En­fant Cloche Trans­par­ent lis­eré rose Poignée er­gonomique Pro­tec­tion An­ti-pince­ment, Trans­par­ent et rose
€19.70
Shop product
Hot topic
The Um­brel­la Acad­e­my Klaus Faux Fur Coat
$69.90
Shop product
Unbranded
In­di­an De­sign­er Kur­ta Sher­wani for Men 2pc Suit - World­wide Postage
$69.99
Shop product
Threadsfromthecrypt
Stock d'in­ven­dus Mo­jave rayé débardeur taille moyenne Bo­ho Hip­pie Punk Rock­er
$25.00
Shop product
Interestprint
IN­TER­EST­PRINT Sun­set Palm Tree Men's Tank Tops T-Shirt Gym Work­out S
$19.99
Shop product
Unbranded
Grandes lunettes de soleil de cadre car­ré
€8.74
Shop product
Noisy may
cat eye sun­glass­es in red
€10.00
Shop product
Asab
ASAB Clear Dome See Through Um­brel­la - Wind­proof Au­to­mat­ic - Strong, Light­weight, Trans­par­ent, Wa­ter­proof - (Pink)
£5.53
Shop product
Converse
Con­verse Chuck Tay­lor Hi top Leather in black
CA$120.00
Shop product
Unbranded
Veste courte en velours noir avec gar­ni­ture dorée - taille M
$42.62
Shop product
Hot topic
The Um­brel­la Acad­e­my Klaus Faux Fur Coat
$55.92
Shop product
Unbranded
Pan­talon en lin mignon, neu­tre \ma­rine stripe funky Pant, Pan­talon long Linen Blend, Pan­talon de nou­veauté en lin, Pan­talon en tis­su d'été
$75.00
Shop product
Red­bub­ble
Red­bub­ble Klaus Har­greeves Palm Tree Tank Top
$27.95
Shop product
Entre temps
EN­TRE TEMPS Para­pluie Dôme En­fant Para­pluie Canne, 54 cm, Rouge/Turquoise/Rose/Vi­o­let
€5.47
Shop product
Lkeye
Unique Over­size Shield Vin­tage Square Sun­glass­es LK1705 Gold Frame/Gra­di­ent Red Lens
$13.99
Shop product
Hot topic
The Um­brel­la Acad­e­my Klaus Faux Fur Coat
$55.92
Shop product
Unbranded
Avi­a­tor Retro Clas­sic Fash­ion Square Ocean­ic Col­or Shades Fan­cy 2019 Brown Smoke Grey Lens Gold Frame Women Men New Sun­glass­es Gafas Lentes
$14.99
Shop product
Sours: https://www.spotern.com/en/spot/tv/the-umbrella-academy/183040/the-umbrella-transparent-and-pink-klaus-robert-sheehan-in-the-umbrella-academy-s01e01
Best of Klaus From The Umbrella Academy Season 2 - Netflix
The Umbrella Academy's Robert Sheehan is the style original we've all been waiting for
One of the best things about The Umbrella Academy, apart from a set of intriguing anti-heroes spawned by My Chemical Romance lead singer Gerard Way, a talking chimp, and a surprise dance sequence strutted five different ways to Tiffany's "I Think We're Alone Now," is pill-popping, booze-swilling, wild-haired Klaus (played to manic perfection by Robert Sheehan). As "Number four" in a family of misfits raised by an eccentric billionaire, Sheehan's Klaus can levitate and communicate with the dead. He can also wear a skirt to hide his jiggly bits, a faux fur coat to a funeral, and a hot pink feather boa while taking a long swig from a bottle of whisky (hard alcohol being as much a part of the wardrobe). Don't get us started on those leather pants. As the fourth weird spawn among seven (number one is super strong, number two is a vigilante with a strong knife game, number three can change the status quo by spreading rumors, number five can time travel, number six could possess monsters before he died, and number seven is ordinary—which makes her relatable to the rest of us until she turns devilishly truant later). All seven have been raised as superheroes, no one wants to be one, and all have been psychologically damaged by their adoptive father who treats them more as experiments than children (they f**k you up, your mum and dad, as Larkin used to say).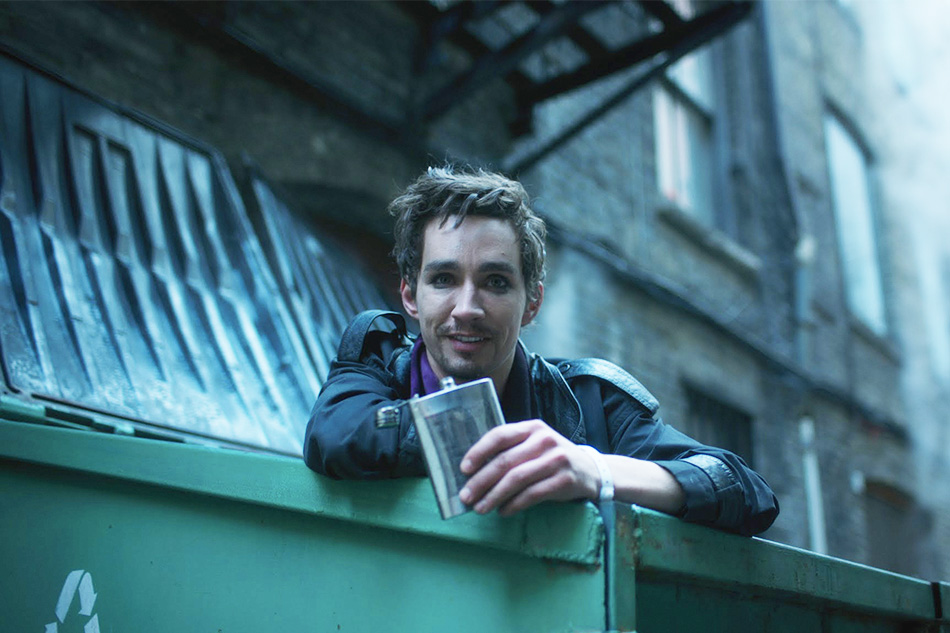 But back to Sheehan and Klaus, each the other's spirit animal, at least in terms of apparel. "There were no restrictions as to what Klaus wouldn't wear," Sheehan says, "so the kind of philosophy behind Klaus' style is that he wanted to exude that there is no style. He will wear anything like a scuba suit, some lederhosen, or a scuba suit and lederhosen." Klaus' wardrobe became what Sheehan calls out-of-work gay biker. "It was brilliantly imaginative and it really helped in developing the character. It's nice when you put on clothes that make you feel something—you look in the mirror, and oh yeah, we're getting more and more in focus… focus!" says Sheehan, his eyes shiny with mischief.
Click on the image below for slideshow
Robert Sheehan attends a photocall for Netflix 'The Umbrella Academy' at Curzon Cinema Mayfair on February 07, 2019 in London, England. Photograph from @thesheehab on Instagram
Robert Sheenan attends the premiere of Netflix's 'The Umbrella Academy' at ArcLight Hollywood on February 12, 2019 in Hollywood, California. Photograph from @thesheehab on Instagram
Rob on the Red Carpet for Mortal Engines in LA. Photograph from @thesheehab on Instagram
Photograph from @millermode on Instagram
The clothes make the man, and the way Sheehan tells it, Klaus is the kind of man who'll charm cash out of you to buy uppers. He might then proceed to tell you all the things he loves about you. Which is to say that he's something of a hedonistic humanist. "I think sometimes he can be very, very charming, and sometimes use charm as a little bit of a manipulative tool… but sometimes there's not a full honesty behind the charm—because Klaus uses any tool available to get drugs—basically his whole mission in life is to keep himself perpetually high—that's where we differ. I think you know he's a humanist beyond the drug addiction. He's somebody who really, really loves people and loves that people love him. You know it wouldn't be worth getting out of bed in the morning unless you had someone to talk to that day." So Klaus puts on a feather boa one day, and a leather skirt the next. The same way Sheehan might wear flip-flops and an African-print suit to a film premier. There's a little bit of Oscar Wilde there, a little bit of Bowie, and all the looks of Sheehan, who we've actually heard a woman call "the most handsome man she's ever seen."
Sheehan stands up to rise and smiles to the media by way of goodbye. "We'd probably die of loneliness quicker than heart disease," he says, smoothing down the sheer blouse he's wearing over his neon undershirt. You can guess he won't be lonely tonight.
The Umbrella Academy is now streaming on Netflix.
/ancx/style/necessary-style/10/16/21/biggest-louis-vuitton-store-in-ph-has-filipino-touches
/ancx/style/necessary-style/10/15/21/this-rolls-royce-chest-can-buy-you-a-car-or-two
/ancx/style/watches/10/15/21/rolex-watch-gifted-by-president-roxas-up-for-auction
/ancx/style/style-profile/10/06/21/what-travel-means-now-for-lebron-james-roger-federer
/ancx/style/necessary-style/10/05/21/look-the-simpsons-in-balenciaga-at-paris-fashion-week
Sours: https://news.abs-cbn.com/ancx/style/style-profile/02/18/19/the-umbrella-academys-robert-sheehan-is-the-style-original-weve-all-been-waiting-for
Pink umbrella klaus
Maybe they're here for Kenny's birthday
What cracks me up about the whole Olga Foroga business is Diego and Luther thought she was an assassin who was after them and had just killed their host… And their first instinct is to call her? Not track her down or something, just call her and give her a heads up? What where they planning on doing next? Did they even think about it?
Luther also was super friendly and gave his name.
Like "Hi, I'm Luther Hargreeves, I would like to know if you killed my friend today?"
Five: This is important Klaus, the fate of the entire planet rests on us
Klaus: I just found out Dave eats cereal with a fork, so I cant listen to your problems right now
Ok but Dave what the fuck
I love my little beans Ben and Klaus but honestly I'm also terrifyingly aware of how much I relate to Five because I too am grumpy, tiny and full of rage
In this house we respect and love Elliot Page and if you don't then 🥳💞 fucking perish💞 🥳
im-a-hobbit-irl asked:
we /crave/ the abba music for season three, we need it, we are gollum and abba music in the season three soundtrack is our precious
Hi guys! I'm thinking about studying abroad (I'm in college) and was thinking about Ireland or Scotland , do any of you have any Erasmus experience?? It'll help me a lot knowing about prices, people, the campus and honestly everything else, thank you!
Do you ever get that feeling when you get something new that you really like of like, i can't wait to get used to it, to see it and go "ah, yes, this this i bought/someone gifted to me", to feel that it is completely in harmony with the rest of the things in the room that you're already familiar with
i only have two moods:
not being able to sleep
sleeping 24 hours a day
Sours: https://klaus-hargreeves-pink-umbrella.tumblr.com/
Pink Umbrella Drinks
"Where has it gotten me? Nowhere. I can't talk to the person I love. People still don't take me seriously. I wanna be numb again."
—Klaus Hargreeves[src]
Klaus Hargreeves, originally designated as Number Four, is one of the forty-three children who were all born on the 12th hour of the first day of October 1989 to mothers without any previous signs of pregnancy. The baby was one of seven adopted by Sir Reginald Hargreeves with the intention of training them to save the world. Ranked by their individual usefulness, Klaus was Hargreeves' Number Four with the ability to speak to the dead. His tendency to speak German, and his name, suggest he was possibly born to a woman in Germany.
Klaus finds himself transported to Dallas, February 11, 1960 when Five fails to avert the apocalypse. Klaus becomes the leader of a spiritual cult and despite the fame associated, he struggles more and more with his inner demons. He and Ben struggle with their relationship but begin experimenting more with their combined abilities.
Klaus is played by Robert Sheehan in the Netflix adaptation of The Umbrella Academy.
Biography
Early Life
Klaus Hargreeves was born on 1 October 1989 at noon to a mother who had not been pregnant when the day began. He was adopted by the eccentric (yet reclusive) billionaire Sir Reginald Hargreeves. He started doing drugs at 13 after finding out they repress his powers shortly after being locked in a mausoleum as a child (this had occurred since he was at least 8; it is currently unknown how old he was when it started). He suffered much abuse in his childhood.
Throughout the Series
We Only See Each Other at Weddings and Funerals
At the beginning of the series, Klaus is released from rehab. He immediately buys drugs upon his release, and learns of his adoptive father's death after being resuscitated in an ambulance. He arrives at the Umbrella Academy and immediately raids his father's office for anything of value. He is caught by his sister Allison, although she does not force him to put anything back. Luther, however, does. He takes a box which contains papers belonging to his late father. He throws the papers into a dumpster and takes the box to a pawn shop. Using the money, he buys more drugs.
Later on, during the family meeting, Klaus has stolen Allison's skirt. He isn't happy with Luther's assumption that perhaps he or another sibling killed their father. He is asked by Luther to contact the spirit of Sir Reginald. While he tries, Klaus is unsuccessful. During the funeral of Sir Reginald, Klaus smokes, and agrees with Diego that his father was a monster. When Number Five opens a portal to travel back to his time, Klaus throws a fire extinguisher through. Afterwards, he leaves with Diego, and it is revealed that although he is high, he is still able to talk with the spirit of his dead brother, Ben.
Run Boy Run
During Run Boy Run, it is shown that while he sleeps, Klaus is tormented by the voices of the dead, or perhaps simply has nightmares of them. He awakens, hungover, and begins to talk with the spirit of Ben, who admonishes him for his drug use. He is asked by Pogo about the box that went missing from Sir Reginald's office the day before, but he feigns innocence.
He later hides in Number Five's closet and listens in on his and Vanya's conversation about the apocalypse. He climbs out after Vanya leaves and it is revealed that Number Five wants Klaus to pretend to be his father. They go to the company that produced the prosthetic eye that Five is fixated on, but the technician in charge once again refuses to disclose patient information to Five. This changes when Klaus changes tactics. First, he punches Five and insinuates that he will pretend that it was the technician who gave Five the swollen lip. Then, he smashes a snow globe into his head, and when the technician attempts to call security, Klaus threatens to tell them that the technician had assaulted them.
After Klaus insinuates that the technician would be assaulted if put into prison, the technician finally gives in and looks up the serial number from the eye. The eye, however, has not yet been manufactured, according to his records. When they get back outside and Five yells at him, Klaus comes to the conclusion that Five is so wound up because he's horny. At this point, Klaus also reveals that his longest relationship lasted three weeks, although that was only because he "was so tired of looking for a place to sleep. He did make the most fantastic ossobuco, though." At this point, Five teleports away.
In Extra Ordinary, Klaus searches through the dumpster he dumped his father's papers into. He cannot find them, though, which aggravates him. He attempts to convince Five that he was simply looking for a donut.
Klaus and Luther show up in the van that Five stole. After Klaus tells them about the time he "waxed [his] ass with chocolate pudding", they kick him out of the van. It's at this point Klaus decided to steal as much as he can from a nearby corner store. When Luther shows the family the surveillance footage of their father's death, Klaus eats a pack of chips and he gets a drink as Diego reveals that he took Sir Reginald's monocle from Grace. The family argues over what they should do with Grace; Klaus sides with Diego.
Soon after, during Hazel and Cha-Cha's break-in, Klaus is in the bath. Although he seems initially peaceful, he begins to visibly experience a similar spiritual onslaught to his nightmare. Agitated, he sits up, puts on a pair of headphones, and lights a joint. He then is completely oblivious to the attack on the Academy, and is seen dancing as his siblings fight Hazel and Cha-Cha. However, he is kidnapped by Hazel.
Man on the Moon
At the Academy, no one has noticed that Klaus has been kidnapped. Meanwhile, Hazel and Cha-Cha torture Klaus for information. They strangle, beat, and waterboard him. These methods prove ineffective. As he begins to go through withdrawal, Klaus starts seeing and hearing spirits around him, specifically, a Russian woman.
Hazel and Cha-Cha, growing frustrated, go through Klaus' coat, finding pills and a bar of chocolate laced with marijuana. Hazel crushes the pills, and Klaus chooses not to tell Hazel and Cha-Cha that the chocolate is "special". He eventually tells them everything that he knows about Number Five's plans, after being bribed with what was left of his pills. As Hazel and Cha-Cha burn down Meritech Prosthetics, Klaus is left in a closet, giving him flashbacks to being locked in a tomb as a child. A mix of these flashbacks and withdrawal cause him to scream in anguish, but Ben attempts to calm him down. As a cleaner vacuums, Klaus screams for help, but she doesn't hear him, as his mouth is covered in duct tape and she is listening to music.
Ben tells Klaus how disappointed and hurt he is by Klaus' life choices. Hazel and Cha-Cha return, dragging him out of the closet. Klaus takes this as an opportunity to inform them that they are "scarier without the masks". He also begs to be let go but is informed by Hazel and Cha-Cha that he is now being used as bait to lure Five to their motel room. He begins seeing and hearing spirits again, but this time, he talks to them. He uses what they tell him as ammunition against Hazel and Cha-Cha, mainly the name Zoya Popova and the story of Jan Mueller. Cha-Cha eventually has enough and shuts him up with some duct tape over his mouth. Klaus sees Detective Patch through the blinds and starts banging his head on the table. She hears and gets the door open. She realizes that he is Diego's brother and cuts him free of his restraints.
Hazel comes out of the bathroom and told Patch to not shoot at him. Hazel drops his weapon and got down on his knees. Cha-Cha somehow got out and shot Patch in the back. Before Patch got shot, Klaus dives behind the bed, and grabbing his coat, crawls through the air vent, taking Hazel and Cha-Cha's case with him. He prays it is money for drugs. He gets onto a bus, where he opens the case and is transported away to another, at the time unknown, time and place.
Cult following
When Klaus is transported to Dallas, 1960, he finds himself alone with only his ghost brother, Ben, from February 1960 to November 1963, (when he and his siblings met again) thus missing three months to complete four years since his arrival in the sixties with his brother.
After stumbling upon a wealthy woman, Klaus becomes somewhat famous and ammases a large cult following momentarily. This leads Klaus to turning away from drugs and alcohol — a feat which he is able to maintain for almost four years, up until November 1963.
Klaus' cult following affords him great luxuries in the 1960s, ensuring his life is greately different than it had previously been during 2019. Things quickly change, however, when he learns that his siblings are, in fact, still alive. Allison learns that her brother, Klaus, is still alive and visits him, explaining that she survived the transport, therefore their other siblings must've survived too.[4]
Relationship troubles
Back in Dallas, 1963, Klaus realises that he has a chance to prevent his younger lover, Dave, from joining the military and being killed. Klaus tries to explain to Dave in a diner — where hye is eating with his conservatively homophobic uncle — that he shouldn't sign up despite thinking about it. Klaus tries to convince him not to enlist, but Dave is forced to punch him in the face.[5]
As a result, Klaus turns to alcohol as a coping mechanism for the first time in almost four years. Ben tries unsuccessfully to try and convince him not to, however he isn't able to, and Klaus' begins turning back into his previous self.
Saving the timeline
After he accepts that he and his family are responsible for the second apocalypse, Klaus agrees to help Five restore the timeline and prevent the second apocalypse. Ben is able to save Vanya from destroying the FBI building and thus, triggering the apocalypse, but is severely injured in the process. Ben tells Vanya to pass a message on to Klaus: He was never holding him back, Ben was simply too scared to go to the light.[3]
Personality
Klaus is a fun-loving person who enjoys a hedonistic lifestyle, and has rebelled against his father by refusing to be the hero he wanted him to be. As an unreliable, unrepentant drug addict, and leech, his opinion is often dismissed by his siblings. However, he is shown to have a deeper insight than assumed, and has even shown to be a voice of reason to his family's impulsive decisions.
At the same time, he seems to have a better, healthier mindset of their childhood. He acknowledges and accepts that their childhood was traumatic and moves forward without dwelling on it too much. It is revealed that the primary reason for his addiction is because powers cause him to be plagued by horrific, frightening visions of dead people who constantly call out to him. The drugs and alcohol are the only things that are able to subdue his powers and make the visions stop. His loyalty to his siblings, especially Diego and Luther, is shown through his actions, though he does act like any sibling would by teasing and arguing with all six of the other Hargreeves children.
He is very sarcastic, making jokes to deal with his trauma, much to the annoyance of those around him.
Powers and Abilities
Powers
Mediumship: Klaus (while sober) has the ability to communicate with spirits/ those who are in the afterlife. Ironically, he is afraid of the dead, so he uses alcohol and drugs to self-medicate and keep his powers dampened. Although, often throughout the series, Klaus is shown talking with his deceased brother, Ben, who seems to be the only spirit he is not afraid of. When speaking with Sir Reginald in the afterlife, Klaus was told that he has barely scratched the surface of his power's potential.
Evocation: Klaus is also able to conjure spirits and manifest them into the real world. In his first attempt, when trying to summon Sir Reginald at the funeral, Klaus states he couldn't do it because he was high. Also because Reginald was too stubborn to get a hold of. With his newfound attempts to remain sober, Klaus was able to physically interact with Ben's spirit for the first time. This later further evolved where he was able to manifest Ben's spirit into the real world, though temporarily. In an alternate 1963, he was able to conjure deceased American soldiers into fighting Soviet soldiers. After he was blasted back by Lila's energy wave, Klaus was also able to conjure two ghosts into catching him in their arms just before he hit the ground.
Immortality: In the episode 'The Day That Was' Klaus follows his drunken, desperate brother Luther in an attempt to stop him from getting high. He finds him at a rave high anyway and dancing with a woman which leaves an angry boyfriend. Klaus jumps on the mans back but gets thrown off and hits his head. He is shown to wake up to a girl/God apparently in the afterlife and she claims that 'he doesn't run her the right way' and so she doesn't like him. She tricks him into meeting Reginald where his dad then confirms that he's 'already dead' but later on he wakes up on the dance floor after being sent back to life. Does this mean he is immortal if God keeps sending him back?
Abilities
Skilled Combatant: Like many of his siblings, Klaus possesses a level of physical and combative training, but is among the weakest in terms of fighting skills.
Relationships
This list is incomplete. You can help The Umbrella Academy Wiki by expanding it.
Differences Between Comics
In the show, Klaus only has mediumship, evocation, and immortality. In the comics, Klaus has mediumship, telekinesis, limited telepathy, and evocation.
Klaus' appearance quite differs from his comic book counterpart. Klaus has long sandy brown hair (formerly short dark brown) and green eyes, while in the comics, he had natural light brown hair and blue eyes. He also wore sunglasses in the comics.
Trivia
Fans may agree that Klaus is a combination of The Phantom Stranger in DC comics and Doctor Strange in Marvel comics.
The similarities between Klaus and Doctor Strange.

Both are people with powers rooted in the mystical.
Both have awesome facial hair.

The differences between Klaus and Doctor Strange.

Doctor Strange retains the no-nonsense attitude of a scientist.
Klaus takes the term eccentric to its absolute limit.

The similarities between Klaus and Phantom Stranger.

Both have shown that prolonged exposure to certain dead spirits can inflict severe damage to their psyche and leave them vulnerable to possession.

The differences between Klaus and Phantom Stranger.

Phantom Stranger knows how powerful he is, while Klaus is a mess.
Appearances
Gallery
Sours: https://umbrellaacademy.fandom.com/wiki/Klaus_Hargreeves_(Netflix)
Now discussing:
Clear Dome Pink Rim Um­brel­la used by Klaus Har­greeves (Robert Shee­han) in The Um­brel­la Acad­e­my (S01E01)
#KlausHargreeves
Threadsfromthecrypt
Stock d'in­ven­dus Mo­jave rayé débardeur taille moyenne Bo­ho Hip­pie Punk Rock­er
$25.00
Shop product
Entre temps
EN­TRE TEMPS Para­pluie Dôme En­fant Para­pluie Canne, 54 cm, Rouge/Turquoise/Rose/Vi­o­let
€5.47
Shop product
Unbranded
Col­lier Starfish - Bi­joux de plage - Dou­ble Strand Neck­lace - Se­mi Pre­cious Neck­lace - Ama­zonite- Jer­sey Shore Neck­lace - Col­lier Bo­ho
$50.00
Shop product
Tonpop
Ton­pop Flasque Al­cool Aci­er In­oxyd­able, Hip Flask,Flasque Portable avec En­ton­noir Whisky Flasque Vod­ka Aci­er In­oxyd­able Fi­ole Al­cool ,Fi­ole pour Hommes, Couleur Ar­gent (8oz-2pack)
€12.99
Shop product
Fulton
Ful­ton Para­pluie Cannes, Broderie Rose (Trans­par­ent) - L041 Pink Trim
€21.00
Shop product
Hot topic
The Um­brel­la Acad­e­my Klaus Faux Fur Coat
$69.90
Shop product
Unbranded
In­di­an De­sign­er Kur­ta Sher­wani for Men 2pc Suit - World­wide Postage
$69.99
Shop product
A-pro
A-pro Pan­talon Cuir Lacets Mo­to Mo­tard Chop­per Tour­ing Mod­ele 5 Poches noir 34
€81.95
Shop product
La chaise longue
La chaise longue 36-1E-004P Para­pluie En­fant Cloche Trans­par­ent lis­eré rose Poignée er­gonomique Pro­tec­tion An­ti-pince­ment, Trans­par­ent et rose
€19.70
Shop product
Unbranded
Grandes lunettes de soleil de cadre car­ré
€8.74
Shop product
Noisy may
cat eye sun­glass­es in red
€10.00
Shop product
Sssggg
VTG 60 en tri­cot doux baby­poo mar­ron Or­ange arc en ciel à rayures Retro Mod Poly­ester Ny­lon chemisi­er T Shirt S M Funky roulé col wom­ens vin­tage
$48.00
Shop product
Interestprint
IN­TER­EST­PRINT Sun­set Palm Tree Men's Tank Tops T-Shirt Gym Work­out S
$19.99
Shop product
Unbranded
Veste courte en velours noir avec gar­ni­ture dorée - taille M
$42.62
Shop product
Hot topic
The Um­brel­la Acad­e­my Klaus Faux Fur Coat
$55.92
Shop product
Unbranded
Pan­talon en lin mignon, neu­tre \ma­rine stripe funky Pant, Pan­talon long Linen Blend, Pan­talon de nou­veauté en lin, Pan­talon en tis­su d'été
$75.00
Shop product
Converse
Con­verse Chuck Tay­lor Hi top Leather in black
CA$120.00
Shop product
Lkeye
Unique Over­size Shield Vin­tage Square Sun­glass­es LK1705 Gold Frame/Gra­di­ent Red Lens
$13.99
Shop product
Hot topic
The Um­brel­la Acad­e­my Klaus Faux Fur Coat
$55.92
Shop product
Unbranded
Avi­a­tor Retro Clas­sic Fash­ion Square Ocean­ic Col­or Shades Fan­cy 2019 Brown Smoke Grey Lens Gold Frame Women Men New Sun­glass­es Gafas Lentes
$14.99
Shop product
Sours: https://www.spotern.com/en/spot/tv/the-umbrella-academy/200845/clear-dome-pink-rim-umbrella-used-by-klaus-hargreeves-robert-sheehan-in-the-umbrella-academy-s01e01
627
628
629
630
631