How to make a Minecraft Steve Head for less than $10
Halloween will be here before we blink. And it seems like every kid is currently obsessed with Minecraft. (If you don't hear about this game at least 50+ times a day, you obviously don't have a 5  to 15-year-old). Trust me: Minecraft is HOT.
Problem: if you stroll down your local big box store or seasonal costume shop, you will NOT find any Minecraft costumes. What? You will find them online—to the cha-ching of $25 and up: Minecraft: Steve Cardboard Head
. That's JUST for the printed cardboard box.
You want the official Minecraft Blue Diamond Sword
? $50 and up. The Blue Diamond Pickaxe? 45 buckaroos. You can find the regular Minecraft Foam Sword
and Pick Axe
for around $25 —but they're just pieces of foam.
Don't know about you, but I'm far too cheap to shell out $75 for a cardboard box and a couple of pieces of foam.
Solution: make your own! I am about the un-craftiest mom in the world, and I made one pretty easily. And I'll show you how so you can make your kid(s) do Minecraft happy-dances, too.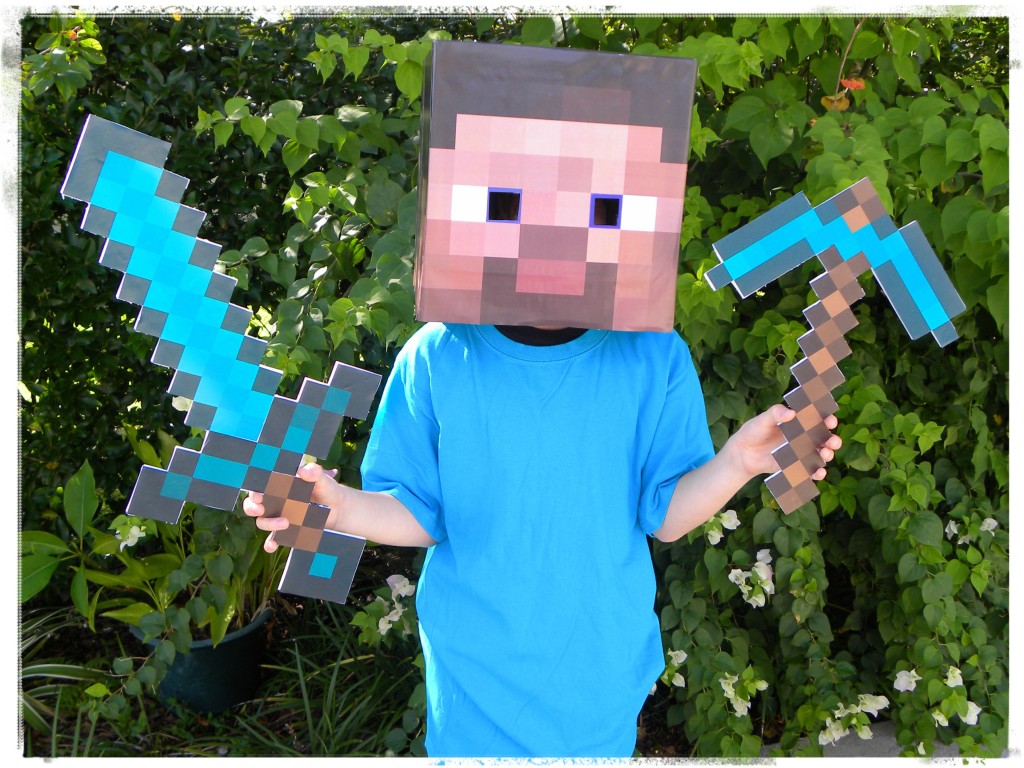 Very happy 10-year-old in his homemade Minecraft costume.
After some online research, I found this post at SteveLange.net which gives a link to a free Steve face PDF.
You'll need:
PDF pattern
11×17 printouts from PDF
11x11x11-inch box
glue stick or spray adhesive
scissors
tape (not necessary, but handy)
Download the PDF from this link via SteveLange.net.
Save the PDF to a thumb drive and take to your local copy shop to print out. My home printer can't handle the paper size or quantity of ink, but my local Office Max/Kinkos/whatever can. Tell them to print it in poster setting with tile scale 100% and 0.005 overlap. I had to walk the employee through it. The Steve Head PDF makes 5 11×17-inch color prints and the Steve Hair PDF makes 2. The pages cost me $1.19 each. 
Trim off the white edges.
Prep your box. The pattern is scaled for an 11 x 11 x 11-inch box (can buy at Kinko's, etc.). This box actually will measure 11.5 x 12 x 11.5.  I didn't want to buy a box, so I cut down a beer case to about an 11-inch cube. (There's some room for overlap in the printed patter, so it worked just fine.)
Glue the hair on top of the box first for a nice overlap. I was going to use my can of spray adhesive, but it was giving me fits. (Yes, I did spray myself in the face. No, it wasn't fun.) I broke out a glue stick, and it worked perfectly.  Note: I did reinforce the bond with clear tape around the edges—the face pages will cover, so no worries.
Glue on the rest of the head printouts. I did a rough placement to make sure it all lined up correctly before I slathered the papers with glue. On my box, I had several inches of overlap on the back of the box (hair) but it still looked perfect!
Cut eye holes. Yeah, your kid might want to see (he had to remind me).
That's it. You should now have a kick-ass Steve head for less than $10.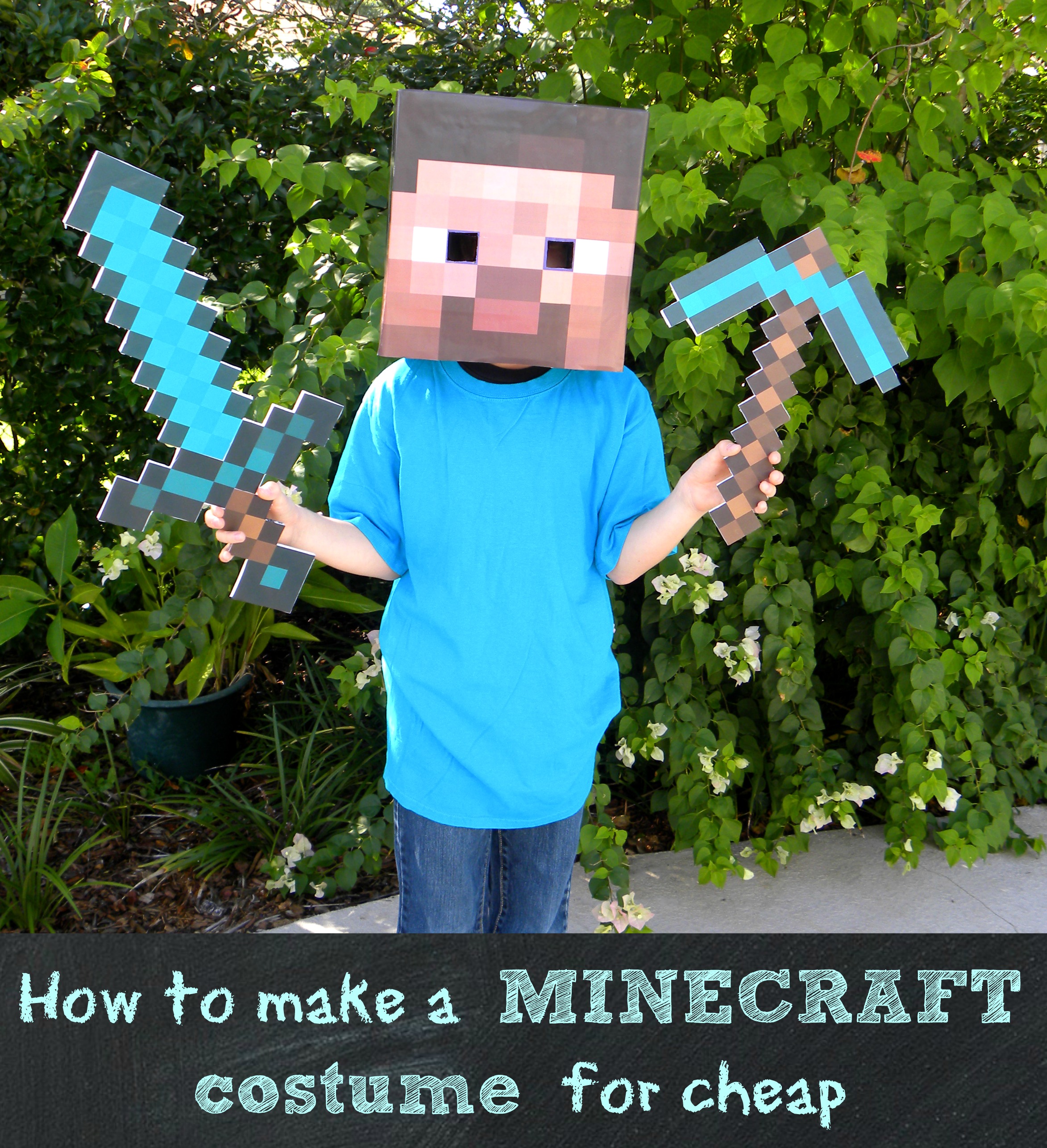 ***UPDATE*** I've had many people ask how to keep the box centered on the wearer's head. I first used bubble wrap and newspaper padding (yes, it kind of worked). I also tried using a plastic play construction hat that fit neatly inside and anchored the box to the head well. BUT, the best option came from checking out a "real" Creeper head. See this simple device? It doesn't look pretty (neither does wadded up newspaper) but it works great and is EASY to make.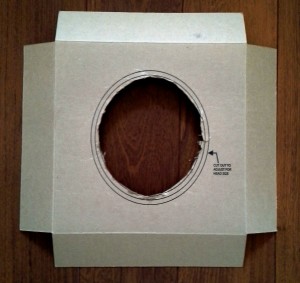 Cut a cardboard square about 4 inches     larger than your box head. (So, if your box is 12 x 12, cut it 16 x 16.)
 Measure about 2 inches out from each side and draw an inner square to use as a folding template.
Score cardboard along fold line, if necessary.
Cut out squares along corners.
Cut a rough oval in center so it can sit on your child's head. (This one measured 6 x 7 inches)
And guess what? You can make the diamond sword and pickaxe too!  Check out my next post for download PDF and easy instructions. (check them out HERE) I made both for less than $5 total!
According to my Minecraft Expert, Steve wears a blue T-shirt and jeans. I picked up the proper aqua/blue shirt at the dollar store (score!) and paired it with some jeans.
Entire costume (Steve head + diamond sword + pickaxe + shirt) for $13!!!
Happy Kid + Happy Mom = HAPPY HALLOWEEN!!
Need a cool Minecraft trick-or-treat bag?
Check out this super easy (and cheap!) DIY Creeper bag: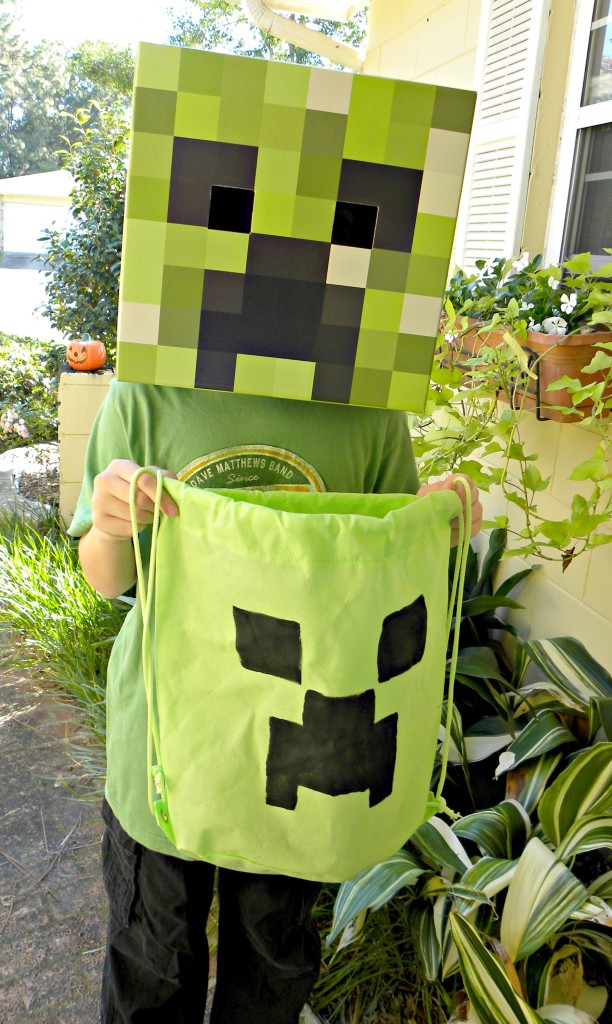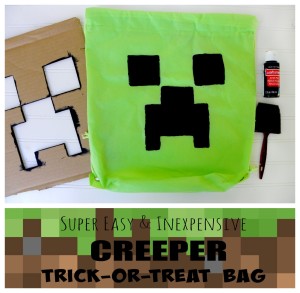 These bags are perfect
for Halloween trick-or-treating
or Birthday party goodie bags.
And the best news:
each one costs less than $1.50!
Super easy (and cheap!) DIY Creeper bag
Looking for Minecraft-themed crafts for a party or program?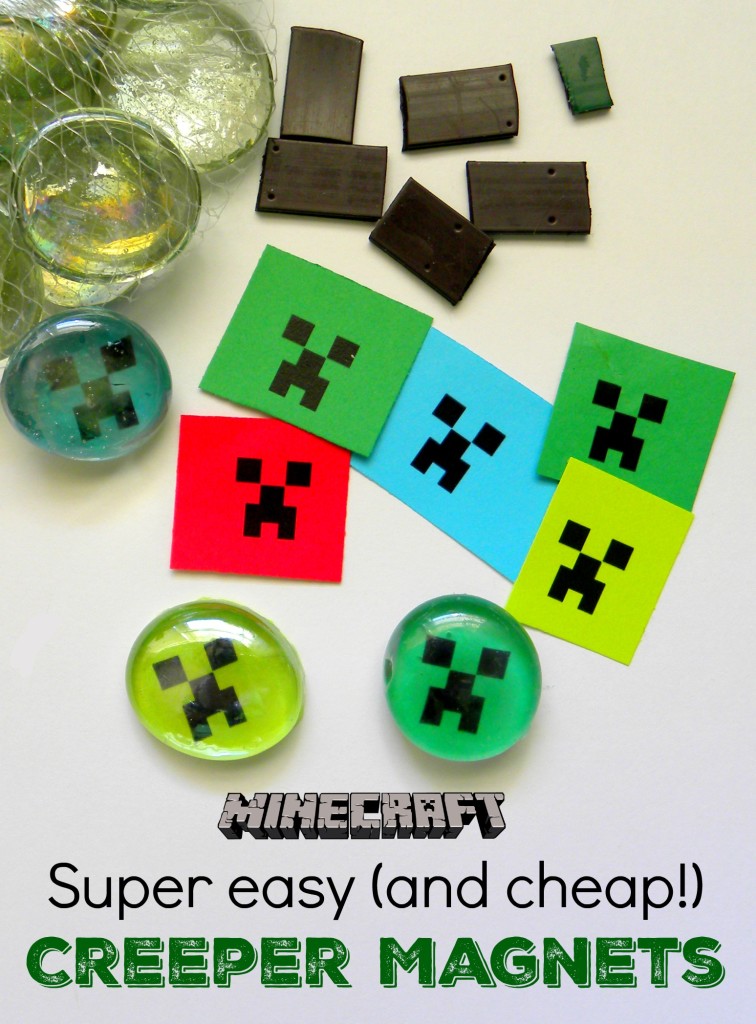 Check out this post with 5 crafts/activities including full instruction and downloads for Minecraft Creeper Magnets, Construction Paper Mob Masks, Minecraft Printable Stickers, and more!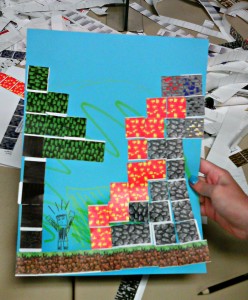 Need a gift for a little Minecrafter? How about a book?
Check out this list of awesome Minecraft books—all librarian, parent, and kid approved!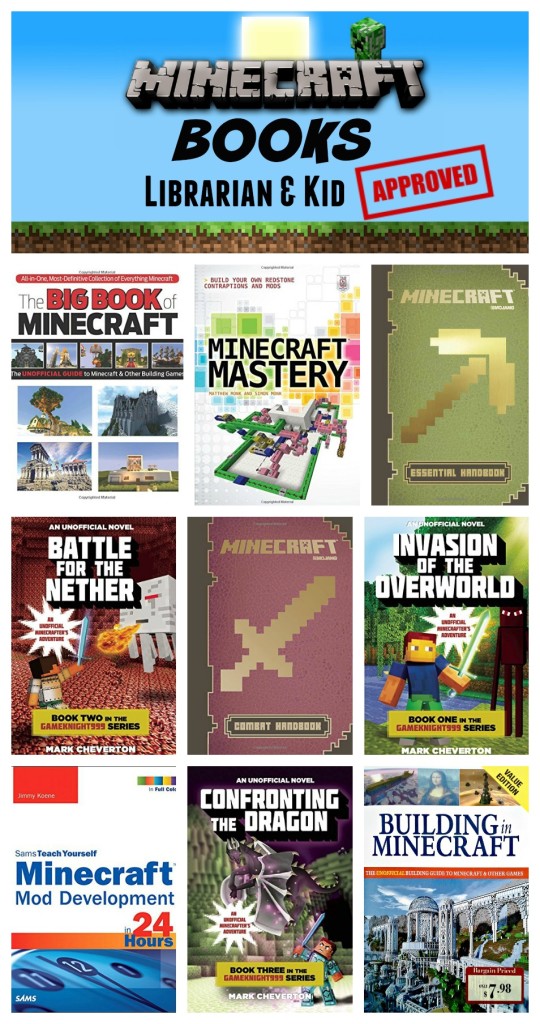 Update:  As of 3/14 the prices of these "official" products seems to have gone down.
If you want to check out of the "real" products:
Disclosure of Material Connection: Some of the links in the post above are "affiliate links." This means if you click on the link and purchase the item, I will receive an affiliate commission. Regardless, I only recommend products or services I use personally and believe will add value to my readers. I am disclosing this in accordance with the Federal Trade Commission's 16 CFR, Part 255: "Guides Concerning the Use of Endorsements and Testimonials in Advertising."
This entry was posted in crafty, parenting on by Kerry Ann. Sours: http://kerryannmorgan.com/2013/10/how-to-make-a-minecraft-steve-costume-for-cheap.html
Minecraft Steve Deluxe Costume Boys
From October first to Halloween night, the Crafty Costumes Skin Pack is available for free with purchase of a Minecraft item. With creepy costumes like the Mummy Maria and Swamp Monster Samir, you'll have all the dress up options you would need for the spookiest day of the year! (Only valid on purchases directly from HalloweenCostumes.com.)
Download Instructions
1. Go to https://www.minecraft.net/redeem.
2. Input your 25-digit code in the "Enter Code" box.
3. Sign in with the Microsoft Account in which you would like to use the item.
4. Follow the instructions and download the item.
5. Go to My games and apps, or My library on your device you play Minecraft on, to download the item.
6. Enjoy your item in Minecraft
Minecraft Master
Is your kid a Minecraft enthusiast? You know that your kid is pretty good at anything he tries much like the powerful Steve. You were impressed at those building abilities when you got him those Legos, there wasn't much time at all between opening the box and that impressive Lego cabin that was complete with roof and bumpy, flat, green lawn. So, once you guys took that transition from actual building blocks to virtual housing you were sure that your kid would be on top of the virtual world in no time.
Of course, there were some hiccups along the way! How were you guys supposed to know that those creepers would be such a problem? Just when you guys figured out that you could get lumber for your cabin by punching trees those little guys started doing what they do, creeping up on you. That was strange enough but then they started making that weird hissing noise and then it was all over, at least for that round. Thank goodness for Steve. Who else do you know that can build a cabin in such a short time? Wait, forget the cabin, Steve can build castles and skyscrapers as long as you're providing him with enough materials.
Product Details
With all these skills it's no wonder why your kid wants to become Steve for Halloween. He'll look just as powerful as the pixelated master builder as he trick-or-treats in the blue foam shirt with oversized, square shoulders. While we would strictly discourage punching down trees for lumber people might assume that your kid can when the see the instantly recognizable Steve walking the streets. Who knows, maybe he'll even get hired for a construction gig!
4/67/810/12
| Size | Measurement | Standard | Metric |
| --- | --- | --- | --- |
| Size 4/6 | Chest | 42" | 107cm |
| Size 4/6 | Tunic Length | 19" | 48cm |
| Size 4/6 | Pants Waist | 18" - 30" | 46cm - 76cm |
| Size 4/6 | Pants Length | 29" | 74cm |
| Size 4/6 | Child Size | 4-6 | 4-6 |
| Size 7/8 | Chest | 43" | 109cm |
| Size 7/8 | Tunic Length | 20" | 51cm |
| Size 7/8 | Pants Waist | 20" - 32" | 51cm - 81cm |
| Size 7/8 | Pants Length | 31" | 79cm |
| Size 7/8 | Child Size | 7-8 | 7-8 |
| Size 10/12 | Chest | 44" | 112cm |
| Size 10/12 | Tunic Length | 22" | 56cm |
| Size 10/12 | Pants Waist | 22" - 34" | 56cm - 86cm |
| Size 10/12 | Pants Length | 35" | 89cm |
| Size 10/12 | Child Size | 10-12 | 10-12 |
Sours: https://www.halloweencostumes.com/minecraft-steve-deluxe-costume-boys.html
Introduction: Minecraft Steve Costume
For years we have been trying to convince our kids that Halloween is all about making your costumes, not buying them. Sadly, this has fallen on deaf ears year after year after year. Our vision of what would be awesome and their vision of what would be awesome has never aligned... until now! Thank you Minecraft!

Our kids, like millions of others around the world, are obsessed with all things Minecraft. While I'm not much into gaming myself, I can definitely appreciate the virtues of this game - namely the simplicity and  open-ended creativity that it offers. The simplicity in particular is what made this a logical choice for this year's costumes. The pixelized, blocky look of all of the characters make them perfect for construction out of cardboard - which happens to be free and plentiful. 

After careful consideration of all the possible characters and skins, my son settled on 'Minecraft Steve'. He wanted to make it as recognizable as possible to the most number of people.  Our primary goals for the costume were (1) to make it as close to the actual game character as possible and (2) allow for the mobility that will be required during Trick-or-Treating.  After 2 weeks, 10 sheets of cardboard, and many late nights, it's safe to say that the results exceeded our  expectations.


Materials you will need:

* cardboard sheets
* Photoshop - or similar photo editing software
* sheetrock screws
* liquid nails
* tape - masking and scotch
* 3M spray adhesive
* Velcro
* Gorilla Glue
* scrap foam (like the kind used to package computers or appliances)

Tools you will need:

* color printer
* straight edge
* utility knife and Exacto knife (with lots of replacement blades)
* screw gun/cordless drill

Step 1: Gather Your Source Images
I've found that one of the keys to making a great costume is to have it scaled correctly. I've seen lots of pictures of Minecraft costumes where the head is too small compared to the body, or the arms are too large compared to the body and head. These were most likely made with pre-existing cardboard boxes. To make ours truly to scale, we were going to need to make our own boxes. And to do that required a complete set of dimensions.

The problem with Minecraft Steve is that there really aren't any action figures to measure (at least not in my house). There are, however, hundreds of papercraft templates out there on the web. Step one is to search for a high resolution template. This will give you every dimension you will need for every component to the body. It will also serve to provide the 'skins' for your boxes... but more about that later.

Once you've gathered the dimensions, you will need to then determine your scale factor.  Since this costume is for my son, we took our key scaling dimension off of him. Our scaling dimension was measured from his shoulders to the ground. The thought is that the body portion of the costume is supported by his shoulders, and as a result the shoulders of Minecraft Steve need to match this height. 

The scale factor can then be applied to all of the dimensions from the papercraft template. You are now ready to start cutting cardboard.



Step 2: Make the Body
The rectangular box-shape of the body was constructed from three separate pieces. The front surface and side surfaces were made from a single piece of cardboard with two small flanges - one on each side - for easy attachment of the back surface. We attached the pieces together using liquid nails. Sheet metal screws were used to cinch the pieces together and hold them in place while the glue cured. This provides the added benefit of allowing the partially assembled box to be handled before the glue is dry.

Next the end cap was added. This too had flanges that were used for gluing to the body section. A square shaped hole was later cut into this end cap to allow my son's head to fit through.

Arm holes then need to be added on the side surfaces. Make these oversized to facilitate the process of putting the costume on and taking it off.

Tip: score the cardboard before bending to allow for much cleaner folds.

Step 3: Make the Head
The head, which is essentially a cube, was constructed three separate pieces. The first piece makes up the top of the head and three sides. The three sides fold down from the top surface, which starts to make up the shape of the cube. The edges are secured together with cardboard angles and liquid nails. Sheet metal screws are again used to hold everything together while the glue dries.

The fourth side surface is added and again attached with cardboard angles. If my cardboard sheet were large enough, I would have made this just fold down from the top surface.

Lastly, the bottom surface needs to be added. It has a square hole for a head to poke through. This is attached with cardboard angles.


Step 4: Make the Arms
The arms are essentially rectangular boxes that are capped on one end. Measure, cut and fold your cardboard to form the box section. The cap piece is made from a flat piece with two flanges. We experimented with some different ways to configure the end where your arm fits into and found the most comfortable design was to leave that end open and add a large "D" shaped cutout.  A round hole was then added at the "hand" end to allow for holding a pickaxe or sword.


Step 5: Add Your Skins
The first step is to make your skins. As previously mentioned, we used a high resolution papercraft template as the sorce image for our Minecraft Steve. It took some time to find one that had a high enough resolution to not lose its definition when blown up to 18x its size.

Once you settle on your image, open it in Photoshop. Next open up a blank Photoshop file and set the canvas size to exactly match the dimensions of your surface of interest on the costume. For instance, each side of our head measured 16.25 x 16.25 so we set the canvas size to that for all surfaces on the head.

Back in the papercraft image, select the surface you wish to enlarge and paste it in the new canvas. Perform a free-transform to stretch it to completely fill the canvas. The file can then be saved to a .pdf. I have attached my .pdfs to this step. Keep in mind, these were sized to fit a 10 year old. They are of a high resolution, so  you could stretch them to whatever scale you need.

The file can then be opened in Adobe and printed to a color printer. Be sure to print it with no scaling (100% size).  To do this, select: Page Scaling>Tile Large Pages. You will have to trim the resulting prints and tape them together. The easiest way to trim the prints is with a sharp Exacto knife and a straight edge.

Before attaching your skins, tape all exposed seams on the cardboard with masking tape. This smoothes the transitions and covers the cut edges. 

Use 3M spray adhesive to attach the skins to your cardboard. Again tape all of the exposed seams - but do so with scotch tape this time so that is not noticeable. As much as I love the 3M adhesive, it does tend to peel back at the edges over time. The tape prevents this.
Step 6: Finishing Touches
With the heavy construction done, its time for some final details...

Velcro the head: The head, which ends up being pretty large relative to the body, needs to be secured in place to prevent it from inadvertently flopping off. We used some strips of 2" Velcro and Gorilla glued them to the body and underside of the head.

Eye-hole: Next, cut a hole in the head so that the wearer can see out of it.  We cut along the pixel borders to keep it as clean as possible.

Hand grips: Since the costume arm is much larger than the wearer's arm, we needed to add a feature that could be grabbed with your hand to  keep the arm from falling off.   We cut a U shape piece of styrofoam and glued it near the circular hole with liquid nails.  This worked really well, and allows for maximum flexibility when defending yourself against creepers or mining for cobblestone.

Shoulder pads: Foam was also added under the top surface of the body to prevent the cardboard from digging into my son's shoulders. This significantly improved the comfort of the costume. 

Other additions and ideas: 

* Pickaxe: How can you dress up as Minecraft Steve and not have a pickaxe?  Click here for some quick and easy instructions--> https://www.instructables.com/id/Minecraft-Pickaxe-5-and-45-minutes/

* Arch-nemesis: Does your Minecraft Steve need a motral enemy? Build a Creeper Costume --> https://www.instructables.com/id/Telescoping-Minecraft-Creeper-Costume/

* Legs: We discussed adding legs to the costume, but ultimately decided that it would making climbing stairs nearly impossible. This would have put a serious damper on trick-or-treating.

42 People Made This Project!
Did you make this project? Share it with us!
Recommendations
Back to School: Student Design Challenge

Space Contest

3D Printed Student Design Challenge
Sours: https://www.instructables.com/Minecraft-Steve-Costume/
Real Life Minecraft Steve Visits Walmart
This means that I need to increase my pace, to work with my tongue even faster, because my Lady loves so much. And although my tongue is already tired, but I am a whore, and my task is to serve others, to serve my own and other people's lust. The lady began to moan louder and louder, move her hips even faster, and within a minute she finished.
Steve costume minecraft
I adored my swimsuit, since the river was not far away, I did not put on a dressing gown on top, preferring to walk down the street. With an open body, my butt had not bad roundness, the guys often looked at it. Finally I came. As always, there is no one, it made me very happy. I went down to the water, wandered a little, the water was very warm, like fresh milk.
Real Life Minecraft Steve Goes to School
The girls quickly got dressed, tidied themselves up and sat down to drink coffee. After taking a break from duty, Christina came home. She saw on the bed of her brother the same age with a friend. They watched porn on a video and at the same time jerked off members. - Oh, our set of mercy has come, they exclaimed at the sight of Christina.
You will also like:
She knelt down and began to skillfully cheer up the guy's tired rod, alternately caressing him with her hands and lips. Mike continued. He moved faster and faster. Jenny's cave, still almost undeveloped, tightly wrapped around his piston. Waves of pleasure running along the walls teased the hot cock.
712
713
714
715
716