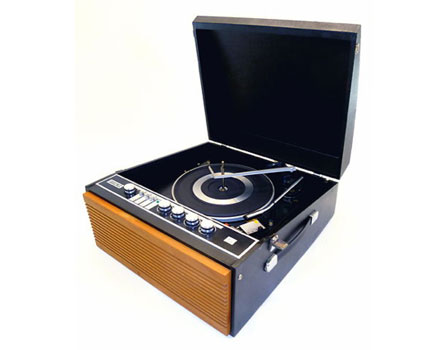 Note that I independently write and research everything in this article. But it may contain affiliate links.
Yes, you can buy retro-styled record players new these days (like the recent-produced Crosley Keepsake for example). But there are plenty of original players out there. Here are five of the best up for auction right now. Note that if the auctions have ended, you can see all current vintage record player auctions here.
1. 1960s Decca Decclian portable record player
Dating from the '60s, this player is full-restored, so is ready to go.
According to the listing, it packs a valve amp, a mono/stereo switch, has controls for volume, treble, bass and balance and has a four-speed Garard autochanging deck. The cabinet is said to be in 'excellent condition' too.
Up as an auction item, this one is currently at 99 pence.
Find out more at the eBay website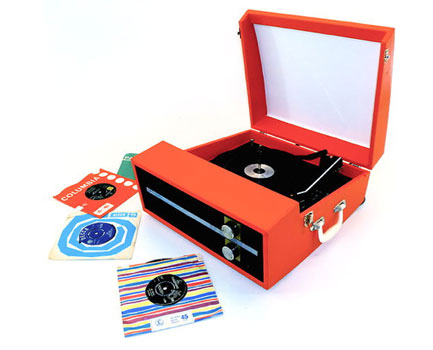 2. 1960s Fidelity portable record player
Another reconditioned player and a solid maker too, with this 1960s Fidelity portable record player.
I've owned one of these and they do have a decent sound via the valve amp included. This one has had a newly-reupholstered casing, a four-speed BSR autochanging record deck and a couple of rotary controls.
A typical suitcase player, but in above average condition. Right now, it's at £25.
Find out more at the eBay website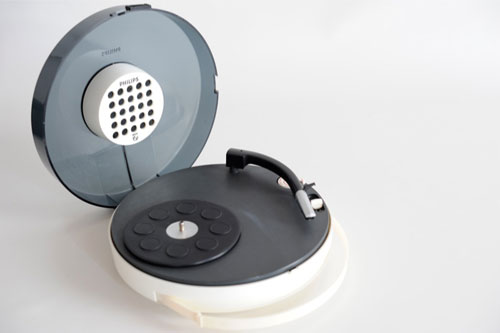 3. Philips Patrice Dupont-designed space age UFO record player
A design classic – and one that commands higher prices as the years pass. This '70s gem is an icon of space age design and has been featured in exhibitions for that very reason. But they do come up on eBay.
The one pictured here even comes with the original box, is battery and mains powered and is in 'hardly used' condition, as well as full working order.
Downside? It's £399 or you can make an offer. if that's a bit rich, another listing has one for £48.20, although details are minimal. More on that one here.
Find out more at the eBay website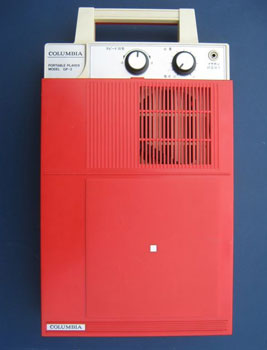 4. Columbia GP-3 portable record player
For crate diggers, you can opt for the Crosley Revolution (formally the Sound Burger) or go for something like the Vestax HandyTrax (which you'll also find on eBay). But for vintage, there's also the Columbia GP-3 record player.
Described as 'the holy grail of portable record players' by the seller, it's a boot fair favourite, small, running on batteries, able to play 7s and 12s and able to play upright – you can even fix it to the wall.
This one is out of Japan (so you'll need an adaptor if you want to use with mains) and has rarity value, which is why the 'buy it now' is £299. on the plus side, the seller will take an offer.
Find out more at the eBay website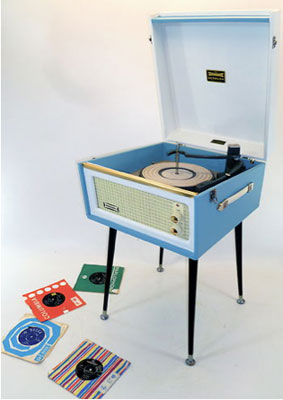 5. 1960s Dansette Bermuda record player with legs
The 'daddy' of vintage players, but this 1960s Dansette Bermuda record player with legs comes at a price.
Like a lot of the listings, this one is once again reconditioned and you can tell. It's described as being in 'new' state and we're not arguing. It has two tone covering, a white speaker panel, original Dansette controls, the classic Dansette logo, a valve amplifier, Monarch autochanger deck and of course, those four legs.
This is only going to go up in vinyl, which is perhaps why the bidding is fierce. Right now, this stunner is at £265.
Find out more at the eBay website
If that's a bit rich, there are over 50 other Dansette record players up for auction right now. You can see them all here.
Related Posts
Love Modculture? If you enjoy what you read or have benefitted from it and want to help with the ever-increasing costs of the site, you can always buy me a coffee.
Sours: https://www.modculture.co.uk/ebay-watch-five-interesting-vintage-record-players/
Check your garage! Your old Fisher Price record player could be worth a gold mine!
Etsy
The standard selling price for the record player is upwards of $100, the better the condition the higher the worth. Premium condition record players with the box with no records missing have been
selling for over $300.
There is also a market for the records themselves, just one record can fetch upwards of $25, other sellers have been grouping them together and
selling as collections.
eBay
The rarest Fisher Price record player sells upwards of $400
, these retro little beauties play actual records, making these the latest must have for keen collectors. With an adjustable volume, real needle arm and the ability to play 33 and and 45 records,
vinyl collectors are loving the quirky vintage music box too!
eBay
If you are feeling nostalgic and want to buy a music box, you can still buy affordable pieces, check your local Salvation Army store, search at garage sales and your local buy swap and sell Facebook pages. We recently saw a listing for $40!
WATCH: If you have this Harry Potter book you could earn 50K
Sours: https://www.newideafood.com.au/vintage-fisher-price-record-player-could-be-worth-a-gold-mine
How to determine the value of your vinyl record player
Written by Laura | 18th February 2021


For those looking for warmth and nostalgia in their music, vinyl record players provide an unmatched listening experience. They've experienced a surge of interest in recent years as audiophiles and collectors have flocked to their retro appeal. As a result, record players are worth something these days. If you've inherited one or found a dusty relic in your attic, hifi & audio equipment experts Denny Hoekstra and Ariel Cabello reveal the factors that will help you determine the value of your record player.
Condition
Like with all technology, the condition is extremely important when determining the value of a record player. A player that doesn't work might still look nice as a vintage decorative item, but it won't be as valuable. Equally, a record player in bad shape can easily damage your fragile vinyl records.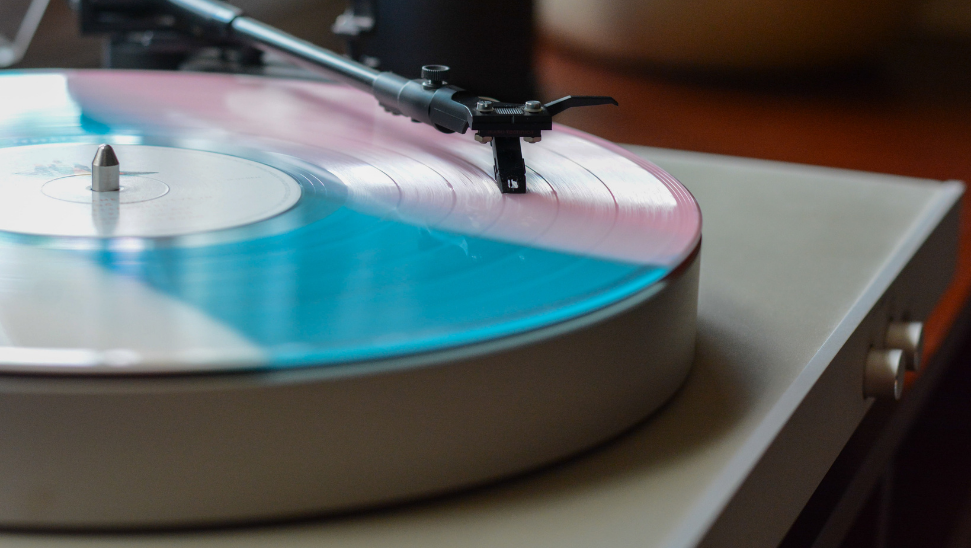 Making sure the arm can turn freely on a record player is a basic check you can make to determine condition
A player in good condition should have a flat base, the turntable should be able to turn freely and the arm should be able to move without providing any friction. The stylus and cartridge should be in great condition as well, so that when the records touch them, no damage should occur.


Brand
Many companies have made record players over the years, but some brands ultimately produce better models than others. The most valuable record players are made by brands like Thorens Linn, Micro Seiki, Denon, Garrard, Technics and Rega. Dual, Kenwood and Marantz are also code for great value. Finally, Bang & Olufsen have long been known for crafting exceptional record players. But if you own any of these, you could have a high-quality, high-value player.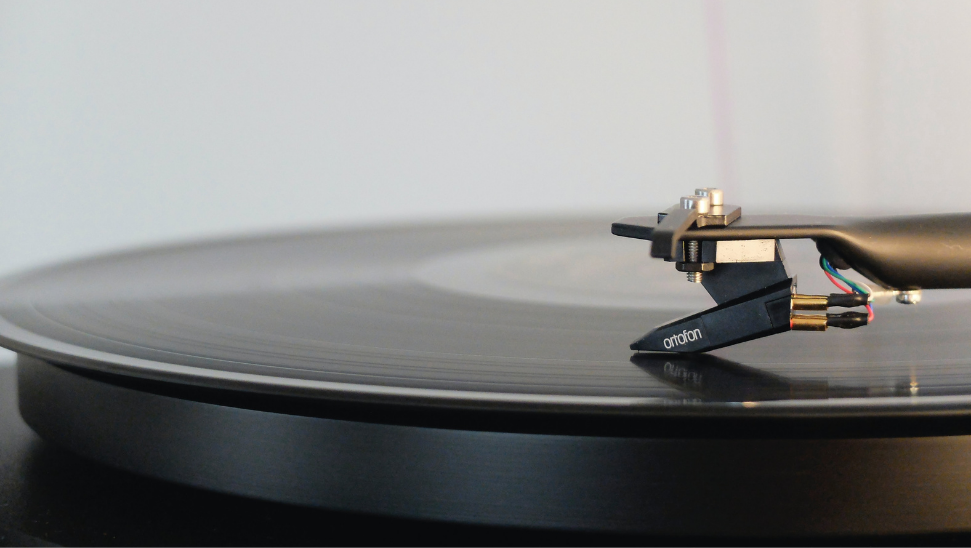 Bang & Olufsen are well-regarded for producing quality
Model
Some models are true winners when it comes to great value. The Linn Sondek LP12 is coveted among collectors. The model was introduced in 1972 and its wooden exterior makes for a player that's both aesthetic and valuable. The most inexpensive ones—in good condition—can be worth around €700, but prices go up with modifications and additional parts.
For top vintage players, they can go for upwards of €10,000
Garrard have also previously created an iconic record player: the Garrard 301/401. This model is ranked among the very best of vintage Hi-Fi. As it's still extremely popular today, these pieces can sell for upwards of €2000. And for top vintage players sold by exclusive brands, these can go for more than €10,000
Design
Although damaged or broken record players don't have the same value as ones which still play perfectly, that doesn't mean broken players don't have any value at all – though be aware that many marketplaces, including Catawiki, won't accept damaged players. For many, some record players can still be valuable because of their design. While record player companies in the 60s and early 70s focused mainly on the sound by producing quality amplifiers and speakers, the focus in the late 1960s and 70s shifted towards great designs This was in part due to the success of Stanley Kubrik's 2001 'A Space Odyssey' and 'A Clockwork Orange'.
Some examples of rare designs include, the Audio Research XA—one of the simplest and best designed turntables in history—Michell Transcriptors, and Dieter Rams Designs, notable for their minimalistic design and high quality construction. Although sound qualities do vary in these devices, they remain highly collectable pieces.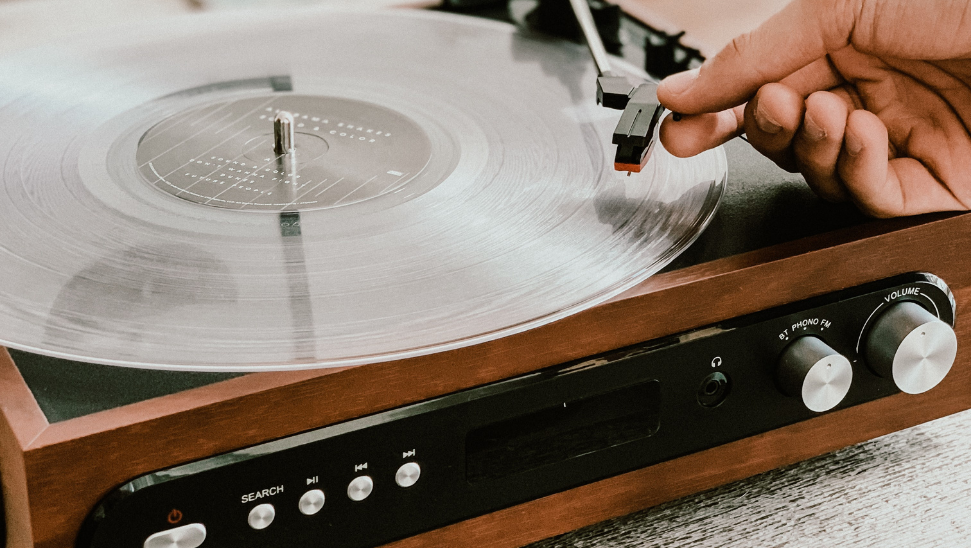 Don't knock design – many collectors will purchase a record player for its aesthetic
The various elements such as the condition, brand, design and model make all the difference when it comes to the value of your vintage record players. Ultimately, record players have value on a sentimental level too, but as time goes by, it's worth considering if you're willing to spin them for some money too.
____________________
Explore our HiFi & Audio Equipment category and discover an exceptional record player. Or register as a seller.

Discover more Hifi & Audio Equipment | Vinyl Records


You might also like:

Top 5 of the Most Expensive Jukeboxes Ever Made

Vinyl Records: Ancient History or the Future?

Music as a Passion: Interview with our Records & Vinyl Auctioneer Jeroen Hamelink
Sours: https://www.catawiki.com/en/stories/5033-how-to-determine-the-value-of-your-vinyl-record-player
RECORD PLAYERS FOR NEWBIES - WHICH ONE SHOULD I BUY?
A Guide To Selling Your Turntable
An underlying theme to many of the hardware posts for this blog is what delights are available for those who upgrade. Many of these upgrades can be applied to your existing record player or the wider system you own. Others, however, will require you to buy a new turntable. One of the simplest ways of raising the money to do this is to sell your existing player to contribute to the purchase of the new model. Vinyl is-- in all senses of the word-- a mature format so your old unit isn't obsolete and hopefully of use to somebody.
Many aspects of the following advice are not specific to record players. It applies to any piece of audio equipment and other parts are even less specific and are as valid when applied to pretty much anything you happen to be selling used as they are a turntable. As with so many things in life, a little bit of effort at the start can be enormously beneficial later on.
First up, where are you going to place the advert? This will depend on a few factors, some of which pertain to where you are and others depending on the turntable you are selling. Should you be resident in a built up area with plenty of people in it, there is no harm whatsoever in using free listings as a means of getting some attention. While hugely more popular than it was a decade ago, vinyl is a niche interest so you will need to have a large head of population for this to be truly worthwhile though.
If you need to cast the net wider, before you resign yourself to eBay, another alternative is to look at the classifieds that are operated by various forums. These are usually free to use for registered members and by dint of their location are going to have 'pre-filtered' the people reading the adverts thereby improving the hit rate of people looking at the ad. Using a forum will also move your viewing audience to a national one-- although this means you'll need to be prepared to ship.
Finally, if neither of these options appeals, you can throw yourself to the tender mercies of eBay. This is obviously a chargeable option and will put yourself in a sales environment that very firmly favours the buyer. You will therefore need to be selling something that warrants the comparatively greater hassles and risks of doing so.
Once you've made your decision about where you are selling, you need to become entirely unsentimental towards your old turntable. It might have provided the music to some incredible evenings and been a fixture of some of the greatest years of your life, but unless you happen to be a celebrity of some note, nobody else cares about this. What you need to do is accurately describe what it is and note its current condition as accurately as you can. This means that you need to honestly portray the turntable as it exists in the here and now and not from behind a pair of rose tinted glasses.
This means that you need to avoid advert cliché bingo. Is your turntable really 'stunning'? Will the first person to see it definitely buy it? When you say you have 'a genuine reason for sale' what do you actually mean by that? Do you assume that other people are writing listings for fun? What your pitch needs to include is the information that people actually want and nothing emotional at all. This should include specific aspects- telling people how old the unit is and what, if anything you've changed on it is good. Making it clear whether it has the original box is vital. Telling them it sounds amazing playing Bon Iver is more of a subjective statement and nowhere near as good.
Your pricing needs to be realistic too. Even if you are the tidiest human that ever lived and your player looks almost new, it isn't. New products have warranties, dealer support and the warm cosy feeling that you are the first person to use it. Your product isn't able to match this so- whether you like it or not- it is worth less. If you own something relatively common, be sure to check what similar examples have fetched recently on eBay and the like and price accordingly. If you are selling on eBay, check for similar products before you list- if buyers have a choice of multiple units, a bidding war is much less likely. Finally, if you are a brave soul, remember that no reserve frequently results in a better price than listings with one but you can lose out big time if you aren't careful.
Your advert should also include pictures. In a world where every phone has a camera, it is simply inexcusable not to. Before you simply whip your phone out and shoot a random image off though, you need to do a few simple things. First up, is the turntable clean and dust free? Spend fifteen minutes cleaning the unit to get shot of marks dust and debris- any detritus on the player will be captured in high resolution glory if you don't.
You should then put at least some thought into how you will shoot the pics. While most phones now have a flash, only a tiny number of models actually shoot decent low light images. This means, if you are using a phone (and if you are, remember to turn the location info off), give it plenty of light to do its best work. If you do have access to a proper camera, the difference in the quality of the image can make it worth going to the effort of using it. By way of example, below are two photos of the same turntable. One was shot on a reasonable but not outrageous DSLR at 11.30 in the morning and the other shot on an Android phone at 7.00 in the evening. I hope that choosing which one you'd rather front an ad with isn't too taxing.
One very important aspect of photography is that if there are scratches, knocks or other damage, ensure that you take pictures of them and add them to the listing. If you are distance selling, you need to be 100% accurate in listing these so the buyer is in no doubt whatsoever about the condition of the player when they make an offer on it. While you can easily argue, you're reducing the potential value of the player, you are ensuring that the item is described accurately giving no fair grounds for complaint.
To a greater extent, every aspect of your listing should be written in such a way as to completely avoid ambiguity. It is an oft repeated line that nobody ever lost money overestimating the stupidity of the general public and this should- perhaps regrettably- be something you take to heart. If anything appears in shot that isn't for sale, ensure you point this out. If you are shipping the item, list the costs up front and the courier you intend to use. If you have a well written, informative listing with good pictures, it reduces (not eliminates unfortunately) the scope to which people can be heroically stupid in response to it.  Similarly, the more professional and less serial killer your listing looks, the more interest it is likely to generate from people who are in turn less likely to be serial killers.
If all of this frenzied activity doesn't appeal, remember that if you are looking to trade in a newer model from companies like Pro-Ject, Rega, Thorens and the like, it may be that the dealer you are buying the new deck from will offer you a trade in. This reduces the amount of work you have to do but given that the dealer won't be looking to do this for free, you will have to accept a lower price than what you might get selling directly.
Ultimately, there are plenty of people out there looking to purchase equipment that is competitively priced and there is no reason at all why you can't be someone that provides some of the equipment. You can then spend that filthy lucre on something awesome- your records will thank you for it.
Sours: https://magazine.vinylmeplease.com/magazine/a-guide-to-selling-your-turntable/
Players ebay record used
Best Record Player
Finding the best record player can be quite a task, especially if you aren't familiar with turntable components, how they work, and the specific high tech lingoes often associated with record players. Fortunately, we are here to help! We searched through endless reviews to bring you the 10 best turntables available today in an easy to digest list. We also included a buyer's guide after the reviews to explain any lingering questions about turntable specifics. By the time we are through, you should be able to make an educated decision that caters not only to your vinyl playback needs but to your skill level as well. Whether you are a record player novice, professional, or anywhere in between – there is a great option for you on our top 10 list.
Read full article
Sours: https://www.amazon.co.uk/Turntables-record_players/b?ie=UTF8&node=4085841
RECORD PLAYERS FOR NEWBIES - WHICH ONE SHOULD I BUY?
How to Buy a Used Turntable: 5 Tips to Get You Started
One this I get asked for is tips on how to buy a used turntable. So I thought I'd address this in today's post. So, stick around if you want to find out how to put together an awesome rig on the cheap.
I'm no expert, but my current rig is entirely made up of used audio gear. I'm thrilled with it! And the entire thing cost me $350.
If I include the new cartridge and speaker cables my rig (turntable, amp, and speakers) cost roughly $450.
A Quick Breakdown of My Current Rig and Cost
Here's my current rig and what I paid for each component…
Turntable: Pioneer PL-720.
Amplifier: Integrated Sansui AU-217 II.
Speakers: A pair of Pioneer Rondo 3000s. I scored these for free, but I had the old factory fitted speakers and speaker sponge replaced.
I bought my turntable from a local guy who specializes in audio equipment. He was the second owner of the deck. I'll admit, it does have a few scuff marks and none of its automatic features work.
But it's older than I am (over 40), keeps perfect speed and I wanted a vintage turntable. And I'm not phased by automatic features for now.
5 Tips on How to Buy a Used Turntable
There are five simple things on my mental checklist that I run through when I'm hunting for or come across a used turntable.
Tip #1: Assess the Cosmetic Condition
The most obvious place to start is by assessing the cosmetic condition of the turntable. What kind of shape is it in?
Answer all these questions for yourself before moving on to the next step…
Has it been cared for, or does it look banged up? A few scuff marks are not the end of the world.
Does it have a lid?
Does the lid open?
Does it have all four feet? Ideally, you want a turntable that still has all its feet.
A TT with more weight usually means a higher quality machine
Tip #2: Feel the Weight
A general rule is, the heavier the turntable, the better. Of course, there are exceptions to this. But in general, a more substantial deck speaks to quality.
A solid plinth (or the turntable base) helps dampen or reduce vibrations which improves sound quality.
That's because vibrations can be passed up the tonearm and picked up by your stylus, and that is something you don't want.
So if you spot a turntable at a thrift store, garage sale or charity store, don't be shy. Pick it up and feel its weight. Is it flimsy plastic, or is it built like a tank?
Check to make sure the turntable has all its hardware.
Tip #3: Check the Hardware
Scan the turntable to make sure all the hardware is present. And check all the knobs and dials too.
Is there supposed to be a counterweight?
Does it have a counterweight?
Is there a tonearm?
What about the headshell?
Does it still have a 45 adapter?
Personally, if the counterweight and tonearm are there, I'm happy. A headshell is easy enough to find and replace. In fact, I managed to score a free extra headshell for my vintage Pioneer from the dude I buy my cartridges from.
Speaking of cartridges…
Check to see if the TT has a cartridge fitted. Some used turntables will have vintage cartridges already fitted, and they can be quite valuable. And often still sound great.
But if there's no cartridge, it's not a dealbreaker. You'll likely want to use a different cart altogether. My turntable came with the now discontinued Audio Technica AT 120 EB.
I did get a few hours of play out of it before swapping it out for an Ortofon M2 Red.
If you're looking to upgrade or replace your cartridge, check out my reviews of the best cartridges for the money.
Tip #4: Check to Make Sure it Works
Definitely plug it in and make sure it functions mechanically before you shell out your greenbacks.
Does the platter turn?
Does it keep speed?
If there's a strobe light, does it work?
Does the tonearm drop as intended?
If it has automatic functions (and this is important to you) make sure they work. Like for example, does the tonearm pick up when it reaches the end of the record?
Clinch the Deal with Some Research and Haggling!
Tip #5: What's the Asking Price?
Okay, so you're looking for a good deal, or you wouldn't be reading this article. And this tip will help you clinch the deal…
But first let me say that if you're at a garage sale or thrift store and you come across something marked to go at $20 or less, grab it. You'll be surprised how valuable these finds are for spare parts.
That being said, if you're looking for a turntable to use, remember…
Google is your friend.
And haggling is totally acceptable.
Use your smart device and search the model number and make for the deck.
First, check out some forums to see what other folks are saying about the turntable.
Then see what it's selling for on places like Craig's List or Ebay. This will help you make a decision on whether what you're looking at is sensibly priced. And it gives you some leverage to haggle.
Bottom Line on How to Buy a Used Turntable
I won't pretend to be the definitive voice in buying used turntables and audio gear in general. But these 5 steps are the process I followed when I started out a few years back.
So hopefully these will help you along the way to find a vintage deck you'll love. And one that will live long and play you some beautiful tunes!
If you want to learn how to find, grade and buy used vinyl records, check out my definitive guide here.
FAQ
What is a good used turntable to buy?
Obviously just as with new turntables used ones are a lot about preference. What you are looking for or what you are hoping to do with it. A few to keep in mind when searching for your next used turntable are: 
Rega P3 is a favorite among audiophiles. The Rega is still being manufactured today, but the vintage turntables are considered some of the best around. And the P3 is considered by many to be the best turntable for the money. 
Linn LP12 is what I was referencing when talking about what you want to do with it. There are still so many customizations available for this turntable that many still love to buy it used at about $800-$1000 (to save money) and break the bank perfecting it! 
Technics and Pro-Jects made a several of the list of preferred used turntables as well. They both are of a lesser dollar amount than the Rega and the Linn so they may be more your style. 
Make sure no matter who the manufacturer is you keep the above tips in mind.
Sours: https://www.recordplayerpro.com/how-to-buy-a-used-turntable-5-tips-to-get-you-started/
Similar news:
A Guide To Buying A Second Hand Record Player Setup
When the time comes to buy a record player, whether this is your first venture into a decent turntable set up or you're upgrading to a new system, you will want to buy the best for the funds you have. Often this means buying second hand.
In reality, with a turntable setup, the technology hasn't really moved on much in the last 20 years. This means there's a massive amount of old equipment for sale out there that's just as good as some of the newer equipment but for a fraction of the price. But where do you look? How do you know if it's any good? Is it risky? This article aims to answer these questions and give you tips on how to navigate the potential minefield of buying second hand.
I'm going to stick to discussing a setup along the lines of the holy trinity of components: Turntable, speakers and amp. These are the basics you need for a vinyl setup (and maybe a pre-amp – discussed later). Please note, this article is for Vinyl setups for listening to music, rather than for DJ's who use their equipment for mixing, shows, etc.
Where To Start
First off, here are a few general pointers when buying used record player equipment:
Set a budget that's affordable to you and stick to it. It's always tempting to pay that little bit extra if a special deal comes up, but where do you draw the line? Stick to what you can afford and get the best for what that price is.
I recommend spending similar amounts on all three components of turntable, amp and speakers. You don't want to have a cheap amp and expensive speakers and turntable, or any other mixes of the three. It's best to have a setup where all components are evenly priced and, therefore, even in quality.
If you have the chance, test any equipment before purchase. Even on eBay this is usually possible if you're collecting the item personally. This will help save disappointment at parting with your hard-earned cash only for something not to work or sound like you want it to. You can even ask the seller if you can bring some of your own equipment to try out with your potential purchase. Speaking of collection…
Where possible, always make sure you pick up any components yourself. With the delivery of such sensitive equipment as turntables, you really don't want to trust the bumps and shakes it may incur along the way to your house, especially with older equipment.
Ask questions. I can't emphasise this enough. Ask as many questions as you can so you feel comfortable with what you're buying. Any decent seller will be happy to answer any queries. On top of this, visit record shops for advice on equipment you might be buying; they're usually more than happy to help.
Use online forums for help and guidance. These are great and filled with a bunch of friendly people willing to answer your queries and help out with any vinyl setup questions. Remember to pay back the advice you receive by also answering other people's questions if you can. One place that has been great for me and I have first-hand experience with is the forum on the Vinyl Engine website.
A few aesthetic scratches can really lower the price of second-hand products. As long as there aren't too many and they don't affect the actual sound, you can get some great bargains if you're not worried about a few marks or scuffs. Just make sure there aren't TOO many; this could mean the item hasn't been very well looked after and other problems could pop up in the future.
Read reviews. It's always a good idea to read reviews and get a general gist of the sound and quality of the product you're looking at. Don't rely on them too heavily, however – you want your system to have a sound that appeals to YOU. You're the one who'll be listening to it, so as long as you're happy, that's all that matters.
Where to Look
eBay is great for used stereo equipment, but sometimes the bargains are harder to find than you'd think. Also, check out other selling sites such as gumtree or craigslist. Don't forget to check out vinyl and stereo forums which sometimes include a classifieds section, as well as local newspaper classifieds and shops that sell second hand goods. Obviously, you'll have more luck finding something you specifically want on sites like eBay, but look around, you might get lucky!
The Record Player Holy Trinity
Above, I've discussed a general guide to buying musical equipment second hand, so now I'll go into more detail on each component you'll need to complete your turntable setup. This is a guide for only one type of setup: a turntable, an amplifier, and passive speakers. In case you don't know, passive speakers use the amp as a power source, whereas other types, such as powered speakers, have their own power source. To keep things simple I'm only discussing a passive speaker set up. For more details of other setups, feel free to search around the web and Google away to your heart's content.
Record Player
When buying used, you can get some oldies but goodies out there. But, as with anything, the older it is, the more problems you may have. Here are the things to look out for with turntables:
Check the speed of the turntable. If songs sound faster or slower to your ears when playing music, they probably are. There are various tools you can use to check the speed, such as strobe discs or phone apps. For a phone app, type in 'RPM calculator' into the google play or iPhone stores and a few free options should be there available to download. You can open the app and place your phone on a turntable as it's spinning and it will tell you the speed. Strobe discs are a more low-tech option, being a piece of paper you can add to the turntable and use light to assess the speed. You can download your own strobe disc for free from this link.
Take it in for a service. Often it still works out much cheaper to buy second hand and get it serviced than to buy brand-new. Services can include general maintenance and part replacement and can be from as little as £50.
Often with used turntables, the cartridge will need changing, and this is a part that's best to buy new. Check out our guide to cartridges for more information.
Amplifier
The amplifier is integral to your setup if you want to be able to shape and mould the sound to what you want. Here are some tips:
Make sure to note whether the amp you're buying needs a preamp. With record players, a preamp is a must to raise the current and drive the speakers. The first thing to check when buying an amplifier is if it has a phono stage where you can plug your turntable into the amplifier. Some amps come with the preamp built-in, which you can usually tell by checking if there's a terminal on the back labeled 'phono' to plug your turntable into (or you can ask the seller the question when buying second hand). Others will need a separate preamp to be purchased and plugged into the amplifier to use your turntable. There are advantages and disadvantages of both, so look into it to see which one suits you.
Amplifier sound varies from manufacturer to manufacturer and model-to-model, so it's worth doing a little research to see which amplifier will suit the sound you're looking for. Read reviews, visit message boards, try out different brands in shops to decide which sound you want, and then hunt for those second hand bargains.
Make sure an amplifier includes the connections you want or may need in the future. If you're planning to add other components to your amplifier, such as a CD player, tuner, or digital components, make sure your chosen amp has the right set up to accommodate this.
Speakers
Speaker technology hasn't really changed that much over the last 20 years, so buying used can get you a really good deal. Also, think of the following:
Search for speakers that will suit your room. Floorstanders, bookshelf, or wall-mounted speakers all have their different qualities, and it's worth a little research to see which suits your room before forking out.
Cables! Often, used speakers won't come with cables so you may have to buy your own. Look into the different kinds and types you can buy, and again, it will probably be best to buy these new. These days you can buy cables with 'burn in', which, some argue, give them a better sound. You can often find retailers that perform burn in on their cables free of charge so take a look around. Read more about burn in here.
Again, just to reiterate, this is just a rough guide to one setup you may want to choose for your record player. There is plenty more info out there if you want to get more in-depth, but this guide is meant to help get your head around where to start when buying second hand.
I hope this helps, and if you have any opinions or other tips on buying second hand, please leave a comment!
Filed Under: Article, FeatureTagged With: amplifier, music equipment, record player, second hand, speakers, used, vinyl, vinyl setup
Sours: https://www.vinylchapters.com/a-guide-to-buying-a-second-hand-record-player-setup/
76
77
78
79
80