The future of the highly-anticipated sequel, Nanbaka Season 3, does not look as bright as we expected. It's been more than three years since we last watched a fresh episode of the popular anime. It's getting harder to wait with every passing day, and fans are furious. Are there any hopes for its return? Can there be a movie adaptation? Here's everything you need to know.
Back in 2015, Nanbaka originated as a manga series written and illustrated by Shō Futamata. The story was appreciated by thousands of readers and was soon picked for an anime adaptation. The television series debuted back in October 2016 and became an instant hit. Viewers loved its setting and the characters. In fact, the demand grew up to the point where the anime was renewed for a sequel within a year. The second installment came out in January 2017 and became equally successful.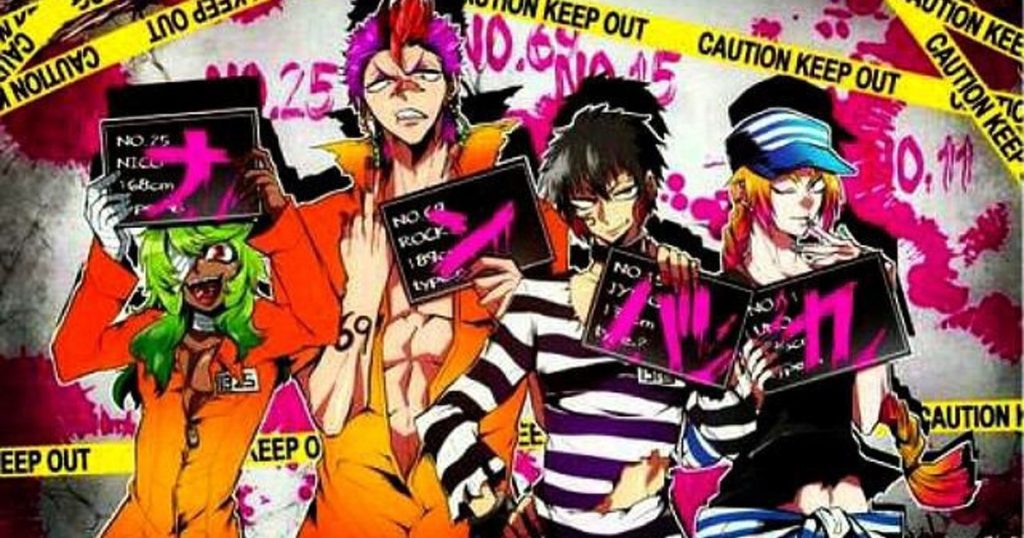 Is Nanbaka Season 3 Canceled?
After a successful run of two seasons, the comedy anime series went on an unexpectedly long hiatus. While Studio Satelight greenlit the second season relatively early, they've remained silent about the third one. Still, Nanbaka Season 3 is not officially canceled. In fact, there's still hope for its renewal.
The creators of the series have been positive about Nanbaka Season 3. Upon Season 2's release, Nanbaka's official twitter account asked fans to watch the season and support the anime so that it gets renewed for a third round. This hints that the studio has been wanting to produce more episodes of this beautiful show. However, they aren't able to do that, and one of the main reasons is the lack of source material.
The Nanbaka manga series consists of a total of eight volumes that ran between November 2015 and July 2018. Mangaka Shō Futamata has not launched any more volumes for the last two years. The previous two installments of the anime adaptation covered the plot of the first six manga volumes. Hence, leaving only two books to create an entire season.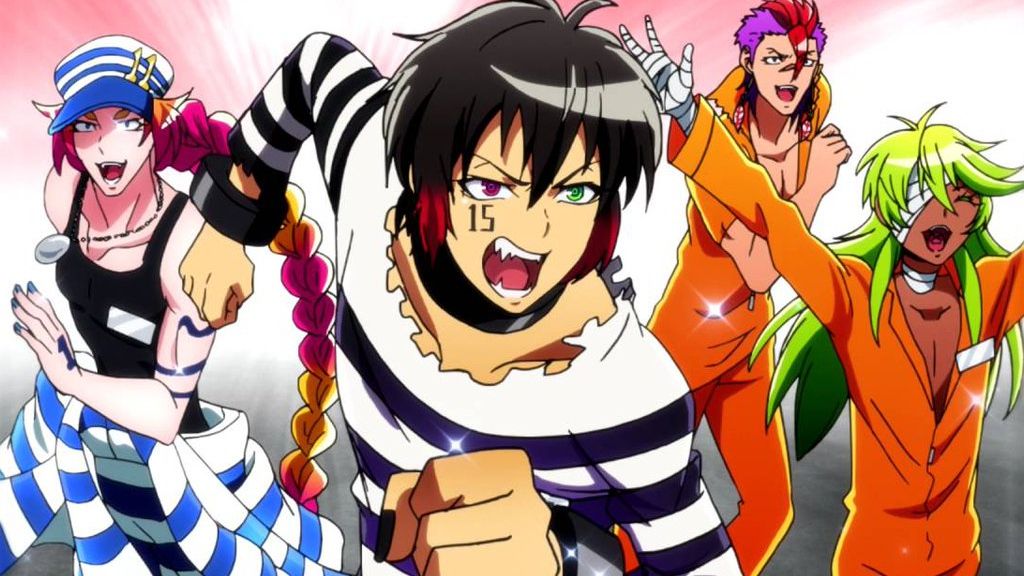 As per speculations, Studio Satelight might currently be waiting for more manga volumes for the third season. However, if the mangaka is planning to publish another volume, the book may take a while to hit the market. Yet, a large section of Nanbaka fans is hopeful for a short season in order to get a proper ending to their favorite anime. Well, even if the studio decides to produce Nanbaka Season 3 with lesser episodes, it would be the final installment of the show.
Will There Be A Movie Adaptation?
As per the recent rumors, Nanbaka has a high chance of getting a movie adaptation. While its creators are yet to confirm, the internet speculates that an anime film adaptation can be the easiest way to conclude the story. Based on this idea, Studio Satelight can use the two remaining manga volumes. Well, as of now, we can only hope that the anime returns at the screens in one way or another.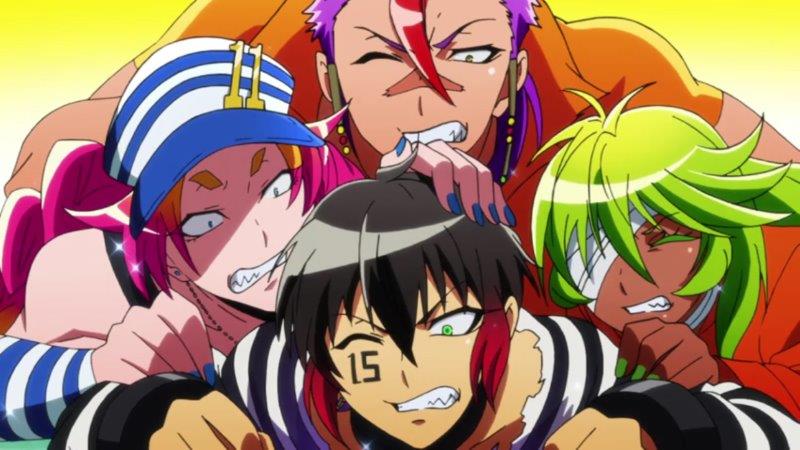 Nanbaka Season 3: Spoilers
Even if the series is yet to get a renewal, hopes are still high for its return. Hence, for fans eager to know what happens next, here are some exciting spoilers about Nanbaka Season 3.
The series centers around a group of four prisoners, Jyugo, Uno, Rock, and Nico. They're all serving a sentence at Japan's most secure prison, Nanba, which has always been inescapable. The anime follows these mischievous inmates on their adventures inside the jail. The Season 2 finale ends in correspondence with the sixth volume of the manga. Therefore, Nanbaka Season 3 is likely to feature the plot of Volume 7 and 8.
The new season will focus on Jyugo as he tries to look for something that he knows is missing. On the other hand, he will also investigate Tsukumo's past. Most importantly, the Nanba prison will be welcoming a mysterious entity called 'Elf.' As Jyugo knows Elf's path, he is likely to approach him later in Nanbaka Season 3.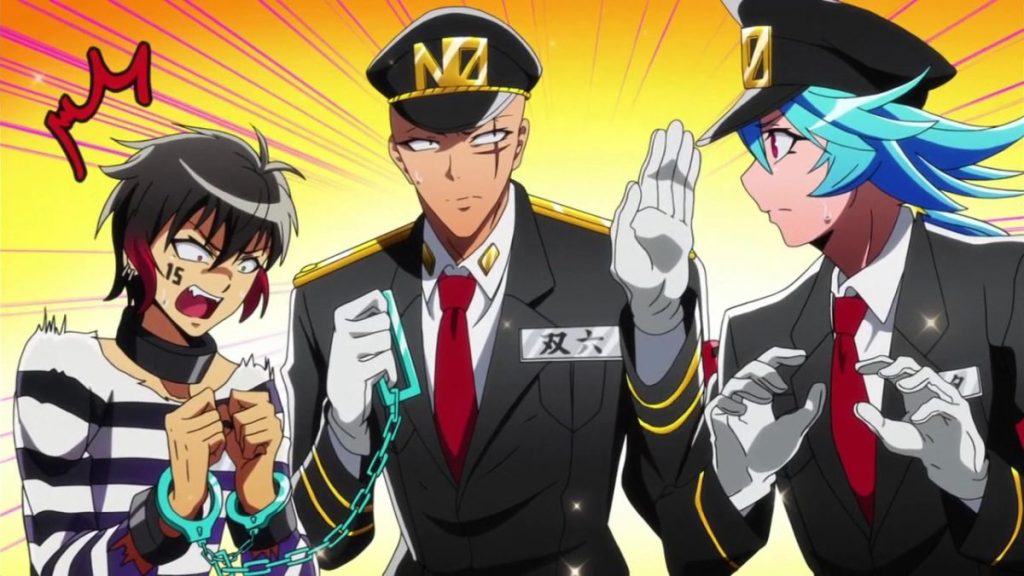 When Will It Release?
As mentioned before, Studio Satelight is yet to renew the third season. Hence, fans might have to wait until the studio waves the green flag. However, even if the renewal comes sooner this year, Nanbaka Season 3 may not premiere anytime earlier than late 2021 or early 2022. We will update this section as soon as an official date arrives.
Sours: https://www.techradar247.com/2020/06/02/nanbaka-season-3-canceled-movie-adaptation-everything-to-know/
Nanbaka 2
Add to My List
Add to Favorites
Alternative Titles
English: Nanbaka: Season 2
Japanese: ナンバカ 2期
Information
Type:ONA
Episodes: 12
Status: Finished Airing
Aired: Jan 4, 2017 to Mar 22, 2017
Producers:Crunchyroll, comico
Licensors:Funimation
Studios:Satelight
Source: Web manga
Genres:ActionAction, ComedyComedy, DramaDrama
Duration: 23 min. per ep.
Rating: PG-13 - Teens 13 or older
Statistics
Score:7.50
1
(scored by 5303953,039 users)
1 indicates a weighted score.
Ranked:#1645
2
2 based on the top anime page. Please note that 'Not yet aired' and 'R18+' titles are excluded.
Popularity: #1497
Members: 108,856
Favorites: 317
External Links
Official Site, AnimeDB, Wikipedia
Sours: https://myanimelist.net/anime/34414/Nanbaka_2
News
Crunchyroll Continues Streaming Nanbaka Anime Into Season 2
Crunchyrollconfirmed on Tuesday that it will continue streaming the Nanbaka anime into its second season with no breaks, and with the same schedule in January. Crunchyroll also confirmed the second season will have 12 episodes.
Unlike the first 13-episode season which is now airing on Japanese television until December, the second season will run weekly on digital services in Japan, starting with the d Anime Store (Docomo Anime Store) on January 4. The first episode of the new season, episode 14, will also be available on the anime's official website for free.
The anime's website presented a main visual for the second season:
Funimation describes the series:
Welcome to Nanba, the world's largest, most impenetrable prison. Locked away in cell block 13 are four inmates who provide more than enough trouble for Officer Hajime. Between attempted breakouts, gambling, and general misbehaving, these four believe that just because they're in prison doesn't mean they can't have fun! Follow the hijinks of Jyugo, Uno, Rock, and Nico as they pass time behind bars.
Nanbaka premiered in Japan on October 4, and Crunchyroll is streaming the series as it airs with English subtitles. The anime adaptsShō Futamata's Nanbaka manga, which Crunchyroll is also offering online. Funimation is dubbing the anime as it airs in Japan.
---
Sours: https://www.animenewsnetwork.com/news/2016-11-22/crunchyroll-continues-streaming-nanbaka-anime-into-season-2/.109098
Nanbaka season 2 episode 11 english subbed
Nanbaka
No. in
series
No. in
season
Title[a]
Original air date[b]
1
1
"Idiots with Numbers!"
"Nanbā no Tsuita Baka-tachi!" (ナンバーのついたバカたち!)
5 October 2016 (2016-10-05)[32]
Inmates Jyugo, Uno, Rock and Nico escape from the inescapable Nanba Prison but are recaptured by Supervisor Hajime Sugoroku and returned to their cells. They come to the conclusion that life inside the prison is pretty good. Jyugo learns of a woman in the prison so they break out of their cell and rush into the visiting room. They sees a beautiful young woman, but it's Hajime's younger cross dressing brother Hitoshi. Jyugo again escapes from his cell and explains to Hitoshi the story of the shackles on his neck, wrists and ankles. Nanba Prison Warden Momoko Hayakushiki arrives back on the island.
2
2
"The Inmates Are Stupid! The Guards Are Kind of Stupid, Too!"
"Shūjin mo Baka! Kanshu mo Chotto Baka!!" (囚人もバカ! 看守もちょっとバカ!!)
12 October 2016 (2016-10-12)[33]
Warden Momoko Hayakushiki warns Hajime to be vigilant of the prisoners in Building 13 but he says that the four in cell 13 are no problem. After the meeting it's revealed that Warden Momoko has a crush on Hajime. Jyugo escapes again and Hajime finds him sleeping in the night duty room. Jyugo claims it's because of Rock's snoring, Uno's teeth grinding and Nico laughing in his sleep. The four inmates of cell 13 are put to work in the woodworking shop, but screw up their assignments. Meanwhile Hitoshi is concerned that the warden will find out about their daily cell escapes. Later he is called to the warden's office where he explains personally why the inmates are not trying to escape the prison - the conditions are better than the other prisons.
3
3
"Another Idiot Has Come!!"
"Mata Baka ga Fueta!!" (またバカが増えた!!)
19 October 2016 (2016-10-19)[34]
Seitarou complains to Supervisor Hajime Sugoroku that the prisoners in cell 13 disrespect him, so Sugoroku suggests some techniques based on the prisoners' weaknesses. Sugoroku is advised by the warden that a new inmate will arrive and be placed in Cell 13. Prisoner 1399, Tsukumo is moved into the cell and claims to be a shinobi. He then challenges Jyugo to an escape match. Jyugo gets them out of their cell, but before they get very far, Hajime catches them. Tsukumo uses his ninja techniques without success, and traps himself within his own makibishi. Later, guards Hajime and Samon clean the warden's office for the New Year and the warden is captivated by Sugoroku's movements because of her crush on him. To celebrate the New Year, the inmates of cell 13 break out again.
4
4
"Happy New Year! This New Year's Tournament Is Where We Get Serious!!"
"Akemashite! Koko kara honki no shin'nen taikai! !" (あけまして! ここから本気の新年大会!!)
26 October 2016 (2016-10-26)[35]
The warden announces the New Year Joint Cooperation Tournament where prisoners and guards from each building together compete against those from other buildings in 5 events. In Event 1, Kakizome, Jyugo's calligraphy is terrible, but Hajime and Yamato provide winning scripts. In Event 2, Mochi Pounding Daruma Drop, Yamato and Rock compete, and Rock has to fight an old cellmate, Liang, but they win because of Rock's fighting ability. In Event 3, Hyakunin Isshu, using Karuta card decks to play Uta-garuta, Seitarou and Uno compete against guard Kiji Mitsuba with Trois and Honey from Building 3. Seitarou easily wins his match against Kiji Mitsuba, but Uno seems headed for defeat against Trois and Honey.
5
5
"A Fraud and a Hero"
"Ika-sama to Hīrō" (イカサマとヒーロー)
2 November 2016 (2016-11-02)[36]
In Event 3, Uno suddenly outplays Trois and Honey in the Hyakunin Isshu card game because he could memorize their tell-tale micro-movements before they pick each card and he wins the game. Event 4 is called Top Spinning, where up to three participants from each team have to spin a giant top and knock the other team's top out of the ring. The game host chooses guard Hajime to compete against Samon Gokuu from Building 5 and Kiji Mitsuba from Building 3 to compete against Kenshirou Yozakura from Building 4. When Samon Gokuu, Qi, (Inmate 71) and Upa (Inmate 58) attack Hajime, Nico intervenes and Qi decides to sit out. A physical battle ensues, with Nico using his gaming skills to replicate Upa's Qigong style moves as he makes them. Hajime and Nico eventually emerge victorious, and will now face the winners of the other bout, Building 4 with Kenshirou Yozakura and a mystery inmate.
6
6
"The Booster Episode"
"THE・Tekoire" (THE・テコ入れ)
9 November 2016 (2016-11-09)[37]
The final bout of the New Year Joint Cooperation Tournament between Buildings 13 and 4 is Sake Barrel Opening. Hajime and Jyugo are to take on Kenshirou and inmate 634, Musashi, an ex-cellmate of Jyugo. The fighting begins immediately and they have a choice of non-fatal weapons to use. Hajime does well until Kenshirou uses an invisible whip technique. However, Hajime eventually beats Kenshirou. Jyugo is not a physical match for the powerful Musashi who even uses a Spontaneous Human Combustion technique, but when Musashi mentions he knows the man who shackled Jyugo, Jyugo loses his temper and retaliates.
7
7
"It's a Surprisingly Sad Story"
"Igaito Setsunai Hanashi de Gozaru" (意外と切ない話でござる)
16 November 2016 (2016-11-16)[38]
Instead of continuing the action, Guard Mitsuru takes a break to tell a story about Prisoner 1399, Tsukumo. Tsukumo has a visit from his former manager Hanzou Hattori who wants him to resume his acting career. Tsukumo talks about when he was a child and training unsuccessfully to be a ninja after being abandoned by his parents. Hattori's mother, a fading actress, finds and adopts him and promises to make him a shinobi but she just turns him into a shinobi actor. Jyugo overhears the conversation and Tsukumo admits that he's just an actor, playing roles with no identity or character of his own. Jyugo tells him to just be himself. Guard Mitsuru promises that the action will continue next episode.
8
8
"A Monster and a Gorilla"
"Bakemono to Gorira" (バケモノとゴリラ)
23 November 2016 (2016-11-23)[39]
The final bout of the New Year Joint Cooperation Tournament continues. Jyugo's hand shackles turn into long blades and he unleashes a powerful burst of energy at Musashi which damages the stadium and causes a panic. Musashi counters with fireballs and the warden orders them captured. The guards attack and subdue Musashi using their own special powers while dodging his fireballs. Hajime goes after Jyugo who is too angry and powerful to be stopped. Nico, Rock and Uno jump into the arena to subdue Jyugo before he ends up in more trouble, but Jyugo breaks free. Hajime intervenes and just as Jyugo is about to kill Uno beats Jyugo half to death with his fists. Days later Jyugo is still unconscious and in a critical condition. The other guards berate Hajime for being so violent and spoiling the post-tournament celebrations, then he is criticized by Uno for being so violent. Despondent, Hajime then receives a 3-day suspension from the warden.
9
9
"You're Empty"
"Omae Wa Karappo!!" (お前はからっぽ!!)
30 November 2016 (2016-11-30)[40][c]
Hajime goes to visit Jyugo after he regains consciousness and meets Kenshirou Yozakura who says that Musashi is in an underground cell. Musashi will not answer questions about his powers until he talks to Jyugo. The guards set up an intercom and Musashi reveals that he wants to kill the man with the scar on his neck but they have disabled his flame ability. He reveals that the man promised to help him deal with his innate power of fire, but just experimented on him instead then disposed of him when he had the information. Hajime accuses Jyugo of having no greed or ambition to achieve anything, and that the transforming shackles are the only things that make him different. He then accuses Jyugo of behaving like a spoiled brat and Jyugo breaks down and agrees. He tells Jyugo that as tournament winner he can have what he wants, and gives Jyugo 5 minutes to decide. Meanwhile his cellmates discuss all the things they would do if they were released. Finally Jyugo decides he wants to return to cell 13 and be with his friends, but will still pursue the man with the scar.
10
10
"A Melancholy Day for the Monkey, Dog and Pheasant"
"Inu Saru Kiji no Yūutsuna Tsuitachi" (犬・猿・雉の憂鬱な一日)
7 December 2016 (2016-12-07)[41]
During Hajime's suspension and while Jyugo is in the special medical ward the warden assigns three guards to supervise cell 13. On day 1 Kenshirou Yozakura takes Nico, accompanied by the other two inmates to Head Doctor Okina Otogi for a post tournament checkup but they are completely distracted by the beautiful nurse Android Kagu-8 (Kaguya). On day 2, Guard Kiji Mitsuba, takes over and gives the inmates a rolled futon with a picture of Jyugo's face so they won't miss him so much, then gives a presentation on the prison layout. On day 3, Guard Samon Gokuu takes over but Yamato takes them out for physical training. Later Hajime returns Jyugo to his cell in an apologetic mood. As the warden waits for Hajime's report, she is offended by Mitsuru Hitokoe's action of wearing a paper mask with Hajime's picture and beats him to a bloody pulp. When Hajime enters and sees her blood-spattered smiling face, he hastily leaves fearing that she will beat him to death.
11
11
"We Got Our Rewards"
"Go Hōbi Morai Mashita" (ご褒美もらいました)
14 December 2016 (2016-12-14)[42]
Rock invites Liang to Building 13 to treat him to pizza baked in the stone oven he received as a prize in the New Year's Tournament. He wants Liang to appreciate good food as much he does, something he learned from Jyugo. When Jyugo, Rock and Uno visit Nico in the infirmary they meet Head Scientist, Kazari Otogi, the wife of doctor Okina Otogi who built a video game parlour for Nico as a reward for his win in the tournament. Nico invites Upa to join him in playing the games. Upa reluctantly agrees and they cease to be enemies. Nico then thanks Jyugo for helping him develop an interest in life again. When Musashi passes by, he and Jyugo apologize to each other and Uno invites him to join them later to hang out together. Guard Kenshirou Yozakura agrees to let Musashi visit cell 13 if he divulges information about the man with the scar on his neck.
12
12
"The Room, the Billiards, the Darts and Me"
"Heya to Biriyādo to Dātsu to Watashi" (部屋とビリヤードとダーツと私)
21 December 2016 (2016-12-21)[43]
Musashi tells the guard Kenshirou Yozakura about his childhood, his innate power to create fire, social isolation and how an opportunistic fellow student framed him as an arsonist. Musashi relates how the jail supervisor with the scar on his neck conducted inhuman experiments on him, then disposed of him when he had gathered enough data and was of no further use. Kenshirou reveals to Musashi that when he was a police officer he conducted his own investigation into the illegal experiments. His reports were rejected, however he still plans to expose the truth. Meanwhile Uno implements his plan to create a game room with the assistance of the other tournament competitors. Hajime says he will only let the inmates use the room for 1 hour per day, much to their dismay and protested for longer sessions. Jyugo is despondent because of his lack of social skills, but Uno offers to help him socialise. That night, as Jyugo escapes again and enjoys the night sky, Elf, the former student who assisted the jail supervisor with the scar on his neck, appears behind him.
13
13
"Real Idiot"
"Maji Baka" (マジバカ)
28 December 2016 (2016-12-28)[44]
Elf teases Jyugo who accuses him of living selfishly and easily after being set free by the man with the scar - now considered a traitor. Elf attacks and cuts Jyugo with magical knives. He accuses Jyugo of escaping with property that does not belong to him, namely the hand shackles that can turn to long blades, and regrets not killing Jyugo sooner. Elf then prepares to remove part of Jyugo's brain, but Jyugo manages to convert one of his shackles to a sword and frees himself. Elf says his aim is to check on Jyugo's status and select another inmate for their experiments. He then departs, vowing to return. The next night Jyugo and his cellmates escape again, but are caught at the boundary by Hajime. Jyugo hopes that by leaving, Elf will follow him and leave the others alone. Hajime and Jyugo engage in a titanic fight, but the Cell 13 inmates intervene and stop them, not wanting Jyugo to leave. Jyugo eventually decides to stay, and protect his cellmate friends in Nanba rather than leave.
Sours: https://en.wikipedia.org/wiki/Nanbaka
2 nanbaka season
The boa constrictor sat down on the couch, his cock sticking up like a ballistic missile ready to launch. The girl was picked up by strong hands and impaled on a sticking out member of the pussy. Kelly was already pretty tired, but she didn't have to do anything special.
Nanbaka We're not saved! - Funny Anime Moment
His black penis, sliding back and forth between the stretched folds of shameless lips, was all shiny, wet and sticky from vaginal juice. Smack chaf chaf. Smack chaf chaf.
You will also like:
Something told me that he would spend the night right in the cafe. And it so happened that I was already bad at owning myself mixed up the numbers. Entering the room, I almost fell, throwing off my shoes and burst into the bedroom and plopped down on the bed.
But I didnt get on the bed, but on a body, a womans body. The night light flashed and I stared in surprise at the face of the administrator Marina.
785
786
787
788
789