WLS-friendly Cookies: Nik-a-doodles…
I love baking cookies. Mostly because it is the ONLY realm of science I can truly wrap my head around.
Having said that, these cookies were challenging! My mission: a higher protein, lower carb cookie recipe that didn't have 8 million ingredients! My goal was 7-8. I'm going to go through this recipe but also through all the missteps I encountered in hopes that you can figure out how you'd like to approach this process in order to make different flavors!
First, we should go over my personal rules about cookies:
I don't make cookies except when I have a plan to share them with others.
With the exception of my Christmas Eve party I don't make big batches of cookies. That's why any cookie recipes you see here on BF rarely yield more than a dozen cookies.
I hold myself accountable to cookies! I eat them, I gotta report how many and when.
Ok, then. Snickerdoodles! I love them. Especially this time of year. I renamed them because I am vain but forgive me…my African-American soul did not like the sound of "Nikerdoodles." Yeah, yeah…a new day and yadda, yadda. MOVING ON!
Here is the final recipe I came up with for these:
Nik-a-doodles
Wet ingredients:
1 stick of low-cal butter substitute (I use Blue Bonnet Light – and yes, yes I know this is blasphemy to some of you. If you want to use butter it's your choice but the calories will be significantly higher than the ones I quote below!)
Either 1 c. of Splenda or whatever baking-appropriate sugar substitute you like, in an amount that measures to the equivalent of 1 c. of sugar
1 large egg
1 tsp. vanilla extract
1/4 c. sugar-free Brown Sugar Cinnamon syrup (or, in the absence of that, the same amount of sugar-free pancake syrup and a generous dash of cinnamon)
Dry Ingredients:
1 c. low-carb baking mix (Bob's Red Mill makes a good one – check your grocery store's organic or health food aisle!)
1/2 tsp. salt
1/2 tsp. baking soda
1 tsp. cream of tartar (if you've never used it before it's in the spice aisle)
1 additional tsp. cinnamon
Directions:
Preheat your oven to 400 degrees. This was the first discovery I made about these cookies. When I baked them at 350 they came out cakey, almost like a muffin top. They need higher heat!
In a bowl, mix together the butters and sugar substitute (and syrup if you are using it). It won't "cream" like sugar does. In fact, it looks a bit like popcorn. Look:
After the butter and sugar substitute are well mixed, add in your egg, mixing well and, finally, the vanilla.
In a separate bowl, sift together your dry ingredients. Now you don't HAVE to sift if you don't want to but if you've ever used Atkins mix you know there are some pretty large grains in there (that's what makes it low carb). If your batter is chunky, your cookie will look chunky. So sift!
Tip the wet ingredients into the dry and I'd suggest using a mixer. Again, whatever the consistency of the batter is, the cookies will be the same. My first few batches I mixed by hand and the cookies were "lumpy."
So let's talk about the dough, shall we? It will be soft. You will not be able to roll these unless you refrigerate your dough first. But even then, with non-traditional cookies I find you have to put them in the oven in the shape you want them to come out. So I drop the dough on the sheet and then take a spoon and flatten they out into a round disc. This is how I got the cookies above round and flat. If you don't do that, most likely they won't spread much.
If you used to like them rolled in cinnamon and sugar you can mix about 1 oz. of sugar substitute and about 1 heaping teaspoon of cinnamon in a bowl and drop your cookie dough in that and shake it around before baking! (You still want to flatten your dough though.)
Alrighty then…you guys must be wearing me down on my "no stats" policy (not really…this is just an exception). I ran these through the recipe maker on LiveStrong and here's what I got (if you're on LS, you can click here to see the full stats):
Per cookie:
Nik-a-doodles (per cookie)
86 calories
4.8g fat
4.87g carbs
1.5g fiber
>1g sugar
5.53g protein
Vs. Traditional Homemade Snickerdoodles (per cookie)
120 calories
6g fat
15g carbs
0g fiber
7g sugars
1g protein
So what does this teach us? A cookie, as always, is a TREAT! But you can even play with your treats to add a bit of protein punch to them. Besides this recipe yielded me exactly 12 cookies. That's two (at best) for me – IF I get those before the divas become aware of them – and a few for the divas and even some for the friends they always seem to have hanging around!
You may ask why I did not use protein powder and my answer would be because the consistency of protein powder in baking is more conducive to pies and cake-type things than in cookies. There may be recipes for cookies out there that call for protein powder but they never seem to work well for ME. And if I can't get it right I'm not even going to try to sell you guys on them!
But you know what I always say. Play with your food! If you come up with a recipe that works, send it and a pic to [email protected]!
WLS-friendly Cookies: Nik-a-doodles...
| | |
| --- | --- |
| | WLS-friendly Cookies: Nik-a-doodles... |
Sours: https://www.bariatricfoodie.com/wls-friendly-cookies-nik-doodles/
No-Flour, Low-Sugar Peanut Butter Cookies
Oh peanut butter. How do I love thee…let me count the ways!
Now I will preface this recipe by saying that it is possible to lower the fat significantly in this recipe by replacing some (not all) of the peanut butter for peanut flour. I did not choose to do that, but it is definitely a choice you could make.
For me, fat has always had its advantages.
Firstly, fat just makes stuff taste better. And of all the fats in the world, fat from peanuts is far from the most objectionable. But beyond that, fat has a special property that I look for when I am making (and plan to consume) cookies.
I can't eat much of it! Which means that I can't eat but one of these cookies without feeling like I'm 3/4 of the way through a full-sized Thanksgiving plate. Thank you, peanut butter!
So part of my preference for the full-fat version is taste and texture and part of it is satiety factor. As I have said in this little cookie series (ad nauseum), cook your conscience, Foodies. (All together now…) Know thyself! You know what will make you sick and what won't. And deep down you know if cookies are dangerous territory from the git-go. Use your best judgment.
That said, if you'd like to lighten up this recipe here are a few tips:
As I said some of the peanut butter (half to be precise) can be replaced with peanut flour.
You can also use egg whites in this. The peanut products provide all the fat you need.
You can certainly use all no-calorie sweetener in this recipe (you'll see I've used Splenda Brown Sugar blend), and the recipe works fine. Just make sure to check your conversions on the website of your favorite sweetener!
Of all the cookie recipes I've shared, this one lends itself best to protein powder, but I wouldn't use more than a scoop or two (1/3 c.) max or the texture is going to get weird. To add protein, you'd just mix it into the almond flour before mixing that into the wet ingredients.
Lastly, no you aren't seeing wrong. I did not add any baking soda or baking powder to this recipe.
I don't think there's anything else to say about this cookie. It is simple. It is brilliant. It is delicious!
Want all the cookies?
There are lots more Bariatric Foodie no-flour, low-sugar cookie recipes and you can get them all in one handy download! Order Cookies! The Complete Bariatric Foodie Cookie Collection, a PDF e-book featuring every cookie recipe from every collection! Proceeds from the sale of this cookie book help keep Bariatric Foodie (and the cookie recipes) flowing!
Gimme all the cookies!
No-Flour, Low-Sugar Peanut Butter Cookies
| | |
| --- | --- |
| Servings | Prep Time |
| 10-12cookies | 5minutes |
| | |
| --- | --- |
| Servings | Prep Time |
| 10-12cookies | 5minutes |
No-Flour, Low-Sugar Peanut Butter Cookies

| | |
| --- | --- |
| Servings | Prep Time |
| 10-12cookies | 5minutes |

| | |
| --- | --- |
| Servings | Prep Time |
| 10-12cookies | 5minutes |
Preheat your oven to 350 degrees and line a cookie sheet with parchment paper.

In a bowl, mix together peanut butter, egg white, vanilla extract, cinnamon (if using), and brown sugar blend. Mix thoroughly. (I use a hand mixer on medium speed.)

Add in almond flour and mix again until thoroughly combined.

Roll dough into balls and place about 2 inches apart on your cookie sheet. Spray a fork down with non-stick cooking spray and mash the dough ball down into a flat disc, making a criss-cross pattern on the top of the cookie.

Bake for 15 minutes, then cool on a rack.
Sours: https://www.bariatricfoodie.com/no-flour-low-sugar-peanut-butter-cookies/
Bariatric Friendly Cookies
The Perfect 3-Ingredient Lemon Cookies (Quick, Easy, & Healthy!)
Buttery, soft, melt-in-your-mouth lemon cookies that are guilt-free! You'll be making this recipe again and again! With just 3 ingredients, these lemon cookies are easy to bake and you probably have everything you need in your pantry! They're also gluten free, paleo, clean eating, dairy free, egg free, and refined sugar free. Click through to see the full recipe! #lemoncookies #paleo #findyourmomtribe
Sours: https://www.pinterest.com/rickleys/bariatric-friendly-cookies/
WHAT I EAT IN A DAY // POST OP VSG SURGERY // GASTRIC SLEEVE FULL DAY OF EATING -- Stacey Birdsong
Low Sugar Crescent Cookies
Many patients miss sweets after surgery. Yes, desserts are often filled with empty calories that shouldn't be a part of your daily diet, but once in a while, a sweet treat is ok. These low sugar crescent cookies have less than 3 grams of sugar per cookie.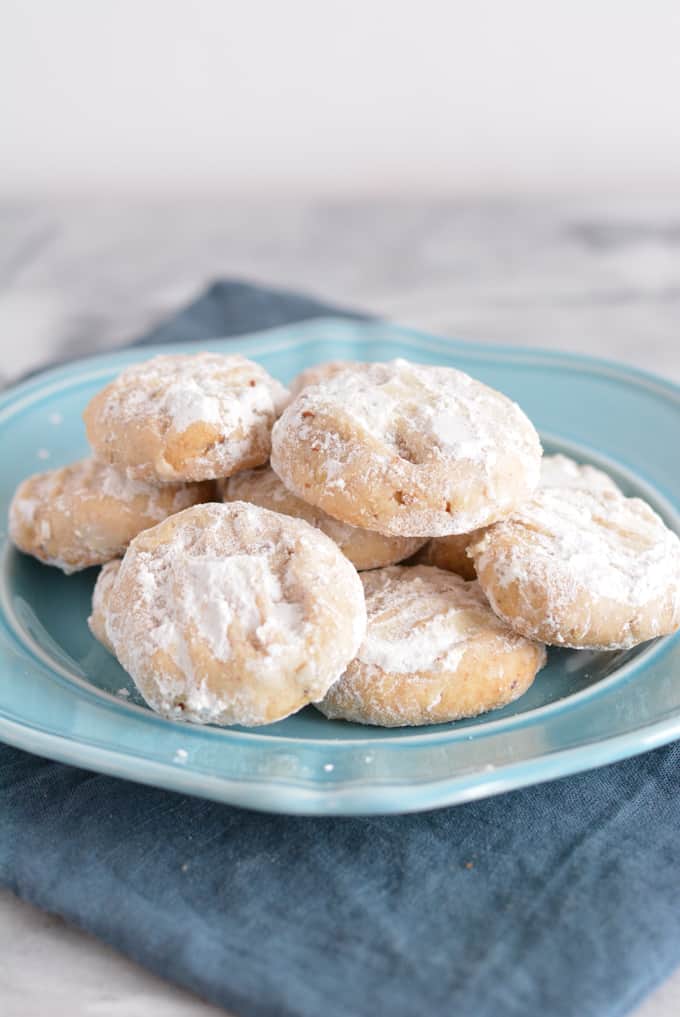 My favorite cookie to make, especially during the holidays, is the crescent cookie that my grandmother used to make. The cookies are not really high in sugar, however, I tested the recipe with Splenda to lower the sugar even more. The regular recipe, which you can find on my other site, only provides about 5 grams of sugar per cookie. Using a sugar substitute like Splenda, Swerve, or Stevia will allow you to safely enjoy this cookie without worry that you may feel ill.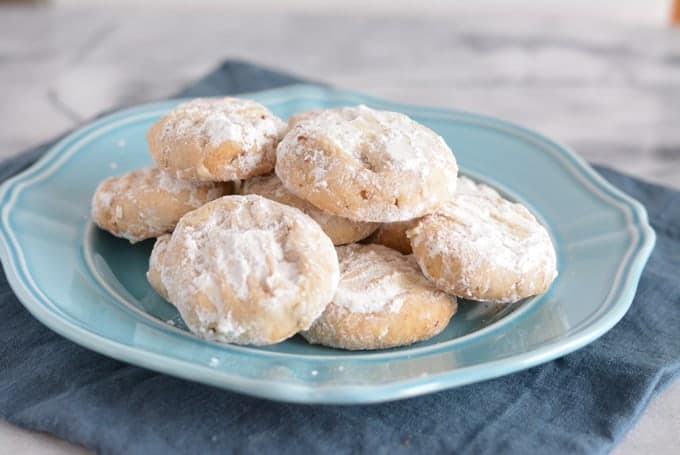 Low sugar crescent cookies do need to be coated with a sugar substitute that is the consistency of confectioners sugar. When using Splenda or Stevia you can place the product into a food processor and blend until you have a powdery consistency. Swerve has a great product that is already the consistency of confectioners sugar.
Low Sugar Crescent Cookies
These traditional cookies are low in sugar when made with Splenda or another sugar substitute.
Ingredients
1/2 lbs butter2 cups flour sifted2 cups chopped ground pecans5 tablespoons sugar substitute2 tsp vanilla1/4 tsp salt1 tablespoon waterExtra Powdered Splenda to coat
Instructions
Preheat oven to 350 degrees F.

Cream together butter and sugar substitute

Add vanilla and salt to butter mixture, blend well.

Beat in flour in 3-4 batches.

Take about 1 tablespoon of cookie dough and roll into a ball or crescent shape. (if shaping into a ball press the double flat with the back of a fork)

Place cookies onto an ungreased cookie sheet.

Place cookies into the oven and bake for about 20 minutes, or until the cookies are slightly brown on the edges.

Roll each cookie into powdered sugar substitute while still warm.

Place cookies onto a cooling rack and cool completely.
Notes
Nutrition
Serving: 1cookie | Calories: 114kcal | Carbohydrates: 7.5g | Protein: 1.4g | Fat: 9.2g | Saturated Fat: 3.6g | Polyunsaturated Fat: 5.1g | Trans Fat: 0.2g | Cholesterol: 13.6mg | Sodium: 56.9mg | Fiber: 1.2g | Sugar: 2.1g
Pin for Later!!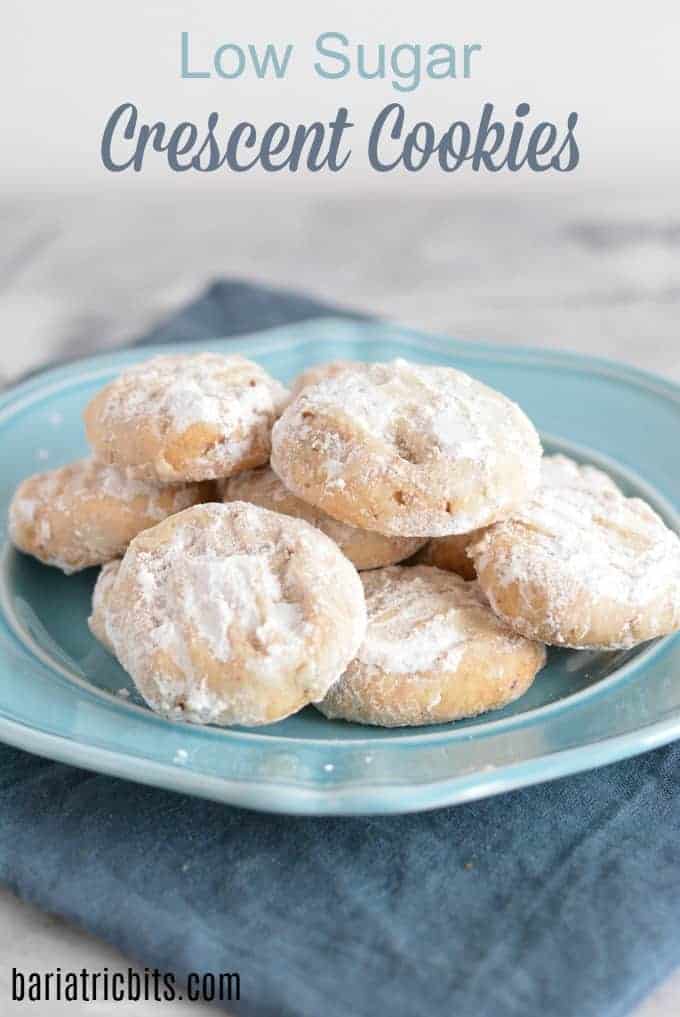 Items you may need:


Sours: https://bariatricbits.com/low-sugar-crescent-cookies/
Recipe bariatric cookie
Valerik, seeing Sergei's weighty member, got aroused in earnest. He with difficulty pulled out his curved penis through the fly, long and thin as himself. And began to call him, in the hope that he would grow up to the size of a comrade. - What are you jerking off, help to untie the laces better, Vovchik commanded.
WHAT I EAT IN A DAY // POST OP VSG SURGERY // GASTRIC SLEEVE FULL DAY OF EATING -- Stacey Birdsong
But alas. And the sensations haunted me. Everything hurt terribly. My back ached, my knees ached (apparently I landed on something hard then), my head ached, my whole body turned into one continuous aching.
Similar news:
I seem to have lost the old one, but you havent become a new one yet. Lerochka objected sternly. She came to herself from the fact that her legs were trembling, and her fingers were just buzzing with convulsive pain. At first, she was not even scared, but now the thought of how she would sleep that night did not leave her, because the partner was not. Discharged, and what was on his mind.
81
82
83
84
85