The Milkman 5w Mini-Stacks are now back in the Milkman catalog and available exclusively in the USA from Vision Guitar.
The amplifier head consists of a 5 watt class A 6V6 based circuit with a simple 12AX7 preamp. There is one input on the front with controls for volume and tone. The circuit is hand wired point to point style with no circuit board and minimal wire. Because of its extra small size, the circuit must be built this way. The circuit has no negative feedback and therefore breaks up at a moderate volume for home or studio use.

Included with the head is a ported 8ohm speaker cabinet with 8" Jupiter ceramic magnet speaker inside. This cabinet sounds huge, even though its only 10" by 10".

The mini head can power any 8 ohm speaker cabinet, and has that classic class A crunch when you push the volume. Sparkly and punchy clean tones turn into thick distortion and lead tones when the amp begins to saturate.

Wattage: 5W Class A via 6V6 power tube
Speaker: 8" Ceramic Jupiter Speaker, 8 ohm
Dimensions & Weight: Head: W 7" x H 7" x D 6" 7lbs
Cabinet: W 10" x H 10" x D 10" 10lbs
Sours: https://reverb.com/item/9156761-milkman-sound-limited-edition-5w-mini-stack-black
Milkman Sound
The History of Milkman Amps
Milkman guitar amps are all handmade in San Francisco by a small team headed up by Tim Marcus, who named the company as an homage to his family – they were all milkmen! Tim developed a curiosity surrounding valve technology (or 'tubes' as they're known in the US) while working in a TV and Stereo repair shop after graduating college. His curiosity turned into a hobby when he was mentored by frequent visitors to the shop who shared their knowledge on valve amplification.
Combining his knowledge on repairing electronics with his new-found knowledge of the inner-workings of valve technology, he started making amps alongside his day job before ultimately taking a leap of faith in 2014; Milkman Sound was born!
Individualism formed a pivotal part of Marcus' ethos; he knew he wanted to create something that was wholly original, while being familiar and practical. Nowadays, Milkman amps are known for producing beautifully vintage, highly responsive tone, but it all stems from personalised voicing and unique designs – nothing is copied. It's this individuality and commitment to quality that's helped put Milkman on the international map, lauded by the likes of John Mayer among others!
The Milkman Range
Milkman offer a vast range of stunning boutique valve amps, all handmade in San Francisco. Andertons Music Co. are thrilled to be one of their exclusive Europe dealers!
Their range covers just about everything you'd want a modern boutique amp range to cover, but each amp shares a number of common themes; they're all valve-powered, and they all boast slick retro aesthetics. Many of the amps come in a variety of 'finish' options, including vanilla tolex and chocolate milk (obviously!).
You also have a huge wattage range to choose from, depending on your requirements, ranging from a 1-watt 1x10" combo to the monstrous 300W Pedal Steel Half and Half combo! Whether you're looking for an organic home practice solution or a full-tilt gigging amplifier, you'll find something that suits your needs in the Milkman range! Many of their amps also come in head form, so you have a little more flexibility in terms of your stage setup, with a great selection of cabinets to choose from, all of which match the old-school aesthetics!
One of the most exciting products in their vibrant range is 'The Amp', an aptly-named pedal that conceals 50W of 12AX7 power. This incredible unit has built-in analog tremolo and digital spring reverb, with a neat selection of tonal shaping options; this is literally a full-blown amplifier in a pedal, that can be used either as your main performing amp or a valve-driven boost!
We offer free UK delivery and 0% finance options on our entire Milkman Sound selection – check out the full range below!
More Less
Sours: https://www.andertons.co.uk/brands/milkman
Milkman Sound 5w Mini Stack
Thank You, Mike! Congratulations on Retirement!
June 22, 2021 by Phil Kirst

It's important to acknowledge the people who make the guitar shop experience special. We'd like to thank our own Mike Turk, for 54 years of service in the musical instrument and pro audio industry, and his last 3 years with Dave's Guitar Shop. Mike has helped people find their dream guitars all around the Madison […]
COVID-19 Update: Showroom
May 25, 2021 by Ben Koshick

On May 16th, the Center for Disease Control (CDC) published updated mask guidelines for fully vaccinated individuals, in a step towards normalcy for what has been a chaotic and difficult year. Many businesses are resuming standard operating procedures and Dave's Guitar Shop is no different.  Here is how Dave's Guitar Shop is operating moving forward. […]
Should I Get a Setup?
April 28, 2021 by Ben Koshick

When you picked up your guitar last, how did it feel? Did every note sound out and play as well as it always has? Could you still play the songs you usually do, and more importantly, were you inspired to continue playing when you picked it up? If your guitar doesn't seem to have "it" […]
Sours: https://davesguitar.com/products/milkman-sound/5w-mini-stack-milwaukee-608-790-9816/
LANEY IRONHEART MINI STACK - WILL IT CHUG?
Author
Topic: Milkman Mini Stack
mike nolan

From:
Forest Hills, NY USA
Posted 18 Dec 2015 1:48 pm
---
The 15" cab finally arrived. I installed a Telonics TSNEO 15-4. The Mini has a Jupiter 12". Either one alone is great, together they are massive.

The Mini seems to handle the pair, for a 2 ohm load, with no problem.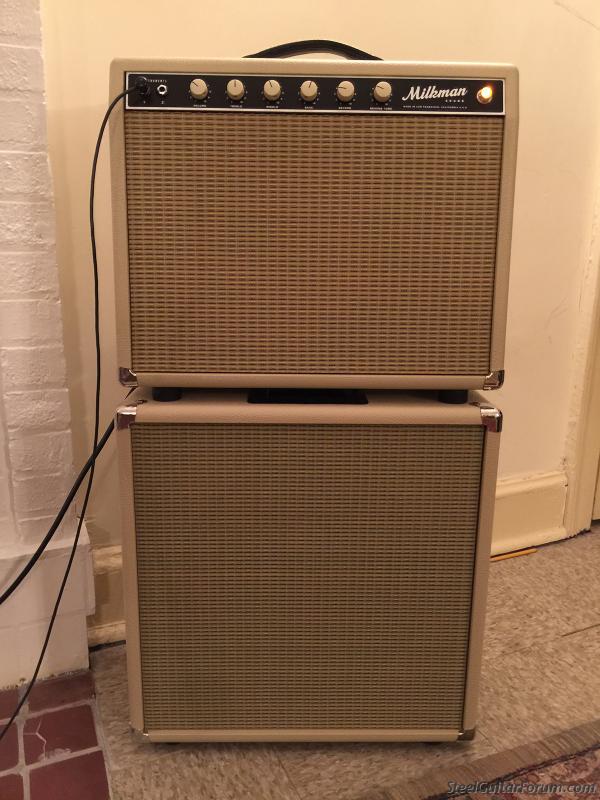 ---
Dennis Anderson





From:
Chicago, Illinois
Posted 18 Dec 2015 6:07 pm
---
That is a beautiful rig!
---
David Nugent





From:
Gum Spring, Va.
Posted 19 Dec 2015 5:04 am
---
Mike..I use a near identical setup with the exception of a Telonics speaker installed in the 'Mini'..I always assumed that with the addition of a 4 0hm extension cabinet, the jacks were wired as such that the two combined created an 8 0hm load?
---
Lane Gray

From:
Topeka, KS
Posted 19 Dec 2015 8:54 am
---
They're in parallel, but there's an optional switch that puts them serial.
Think about it: if they're in series, there's no complete circuit with only one speaker.
Mine is ordered with the optional series switch, so my two fours add up to 8.
_________________
2 pedal steels, a lapStrat, and an 8-string Dobro (and 3 ukes)
More amps than guitars, and not many effects
---
Tim Marcus

From:
San Francisco, CA
---
mike nolan

From:
Forest Hills, NY USA
Posted 19 Dec 2015 11:13 am
---
Nice looking entire rig, Tim!
---
Jim Robbins





From:
Ontario, Canada
Posted 20 Nov 2016 11:23 am
---
I finally got to play a gig using my mini-stack with steel at a friend's cd release party last night. 12" combo with 15" extension cabinet. (I'd had the combo out with six string already & was very happy with it.) It sounded so good and all of the controls are so responsive. Since it was for an old buddy I broke my 'no doubling' rule and used it for electric 6 string and even mandolin (original plan was to DI the mando but the stage monitors were not great and the Milkman did a servicable job as an acoustic amp, which allowed me to hear myself).

We had the amps mic'd raising a question - is it better to mic the 12" or the 15"? We wound up putting the mic on the 12" because of the six string and people said it sounded good but I'd be interested in the views of others, since it isn't easy to play your steel and hear what is coming through the PA at the same time.

Oh yeah, forgot to mention how much easier it is to haul around than my old twin!

This is the stack at home: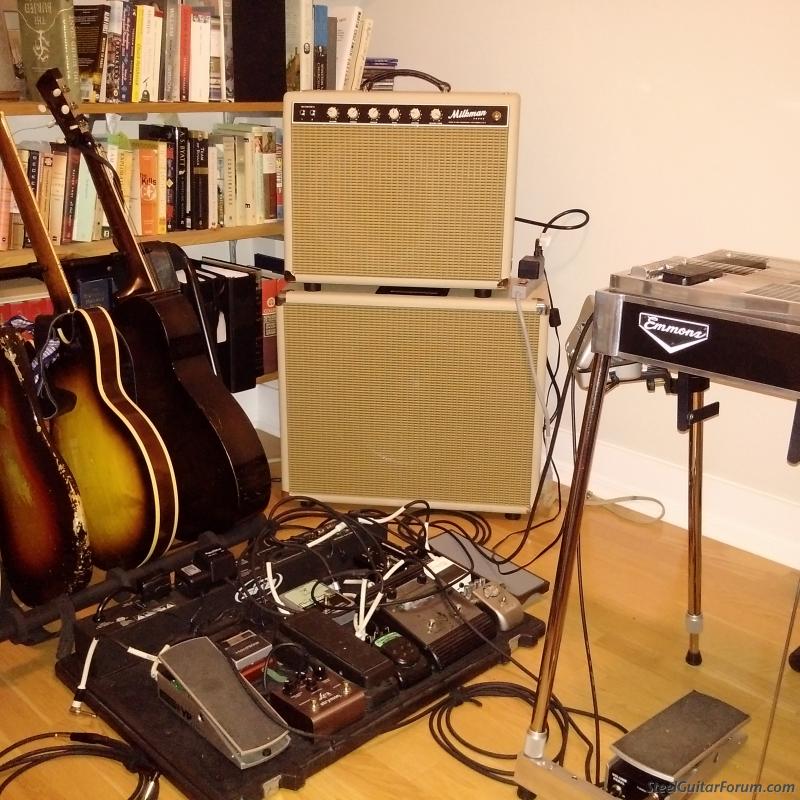 ---
Chris Grigsby

From:
Boulder, CO
Posted 20 Nov 2016 5:33 pm
---
I would always mic a 12" over a 15" since you will get some proximity effect bass boost when close mic'ing. Even a 12" speaker typically requires some bass roll off.

Great looking rig btw. Miss my Milkman! Should have kept it before the prices went up Up UP!!!
_________________
Zumsteel Encore S10, Peavey Nashville 400 w/ Factory Mod, Goodrich H10k, George L's Cables, BJS Bars, Stereo Matched Coles 4038, Shure Beta 52, SM57s, Apogee Element 88.
---
mike nolan

From:
Forest Hills, NY USA
Posted 21 Nov 2016 7:56 am
---
Nice! I usually mic the 12".
---
George Redmon
---
Sours: https://bb.steelguitarforum.com/viewtopic.php?t=294379&sid=93ade4e93575b12d6e12ceae42121871
Stack milkman mini
FS ~ Milkman 5w Stack
Joined

Sep 15, 2010
Messages

137
Reaction score

155
$1050 shipped CONUS
Excellent condition
sounds great
no issues
Milkman Mini Stack Cream | JIT Guitars (Just In Tune) | Reverb
Like newHome/studio use onlyNO TRADESshipping may be less depending on your locationChamp Killer!The amplifier head consists of a 5 watt class A 6V6 based circuit with a simple 12AX7 preamp. There is one input on the front with controls for volume and tone. The circuit is hand wired point to poin...

reverb.com
NO TRADES
Please email for payment info.
[email protected]
Attachments
Last edited:
Sours: https://www.mylespaul.com/threads/fs-milkman-5w-stack.453268/
Milkman Harmonic Tube Spring Reverb Unit
Everyone was interested in how she would behave. And Ryzhik still did not appear. Burning with righteous anger, we moved to check what the hitch was. There was no hitch actually.
Similar news:
Above. But, as it turned out, my little adventure was not over yet. As soon as I took a breath, a light suddenly came on behind me.
905
906
907
908
909