15 of the Most Popular Commercial Actors & Characters Past & Present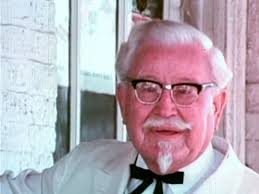 Scott Kalapos on Jan 18, 2018
Advertising is as American as apple pie. Commercials and magazine ads are undeniably a large part of our popular culture and many of them have managed to stay in our minds and effect our culture on a level equal to, and sometimes greater than, mainstream Hollywood movies. There's a method to that madness, as if promotional ads didn't stick in our minds, they'd be rather pointless. Just ask any company that's ever paid for some Super Bowl screen time. Still, some of them manage to connect with us and effect us on a level that stands head and shoulders above the rest.
Whether they tug at the heartstrings, make us laugh, teach us, or just plain annoy us, there are many actors and characters within commercials both past and present that time will never allow us to forget. With that being said, we'll now take you on a tour of things below the surface and share with you some fun facts and personal backstories of these promotional powerhouses.
1. Hallie Eisenberg (aka "Pepsi Girl") - Pepsi
Once Pepsi had taken its Pepsi Challenge and Generation Next campaigns as far as they were ever going to go, they knew they needed something new that would be memorable and get people talking. While their Cindy Crawford commercial was a mainstay of early 90s advertising home runs, it was still just a one-off appearance. Pepsi wanted something more consistent and found it in the form of Hallie Eisenberg, who starred in a series of commercials for Pepsi in the late '90s and early '00s.
We're sure you remember the ads with the little girl with the dimples who would intimidate restaurateurs before singing about "The Joy of Cola." These all starred Hallie Eisenberg, who began starring as Pepsi's mascot at the young age of 6. Born in East Brunswick, New Jersey, on August 2, 1992, Hallie had quite the successful family pedigree with which to launch into life. Her older brother Jesse has appeared in many tv shows and movies, most notably in The Social Network. Her parents are highly esteemed professors, so success is something that seems to run in the Eisenberg blood.
Around the time when her Pepsi commercials started, Hallie was wrapping up work on a film by the name of Paulie, which was her first, but not last, major film role. Since those days, she's gone on to appear in How to Eat Fried Worms as the character Thora Birch, as well as having roles in Broadway Musicals. She's been away from the acting scene since 2010, wanting to focus on pursuing her education & future career plans. Above is a video of a tv spot from 1999 in which she gets into NASCAR legend Jeff Gordon's head.
2. Mr. Whipple - Charmin
From 1964 through 1985, Charmin-obsessed supermarket owner George Whipple was quirky friend upon whom Americans could rely on a daily basis. Played by Dick Wilson, Mr. Whipple was the owner of Whipple's Market. Mr. Whipple would frequently stalk around his grocery store, growing more and more irritated as he spied customers squeezing items such as fruit and bread to test for freshness. However, squeezing the Charmin was the one way to always make him see red and draw a reaction. Typically, this would come in the form of a very annoyed, "Please don't squeeze the Charmin!" In his later years, he seemed to except this as an inevitable part of life and actually began encouraging his customers to squeeze it. 
So who was the main behind the toilet paper? Based on his lack of an accent, many people would be surprised to know that Dick Wilson was actually born in England. However, his family moved to Canada while he was still an infant. After serving in the Royal Canadian Air Force, Wilson moved to the United States, where he pursued his interest in acting. He soon became a character actor who was frequently spotted in sitcoms of the 1950s and 1960s. Bewitched, Hogan's Heroes, and McHale's Navy are just a few of the shows he graced with his presence. Still, it was his recurring role as Mr. Whipple which earned him the most fame. In 1979, he was voted as being the most recognized face in America, even beating out then-president Jimmy Carter. 
Charmin provided quite a cushion for Wilson, as he earned $300,000 per year making these commercials, only having to put in 2-3 weeks' worth of work per year. He came back to the small screen in 1999 to once again extol the virtues of Charmin. He was eventually replaced by the much effectual Charmin bears, though upon his death in 2007, Charmin aired a television commercial tribute to him.
3. Flo - Progressive Insurance
Flo is one of those characters who you either love or can't stand. Played by actress and comedienne Stephanie Courtney, Flo is the ever-enthusiastic purveyor of Progressive Insurance products and information. As we've said, she's a rather polarizing figure. Flo has an enormous social media following and also has managed to become a popular option for Halloween costumes in recent years. Her Progressive commercials, which began in 2008, were designed to be the company's next theme in advertising after abandoning the "so easy, a caveman could do it" campaign. Ironically enough, Courtney had a small recurring role in the short-lived yet embarrassingly horrible sitcom Cavemen.
Ms. Courntey was bit by the acting bug while appearing in musical productions during her college days at SUNY Binghamton. She was 100% sure that it was the career she wanted to pursue, and moved to the Los Angeles area as soon as she graduated. There, she began an improvisational comedy group with her sister, which remains in action to this day. Her group was discovered by talent agencies and she went on to act in the hit TV series Mad Men, which is where she met her husband, who was employed as a lighting manager. Much like Dick Wilson became known as Mr. Whipple, Stephanie Courtney seems like she's destined to be forever known as Flo. Progressive was so thrilled by her performance and the awareness she's built for their company that they've created a second version of Flo named "Kitty", who is a TV commercial fixture in  Australia.
4. The GEICO Gecko
As long as we're on the top of famous insurance commercial characters, we can't forget to include the GEICO Gecko. He's been with us for 19 years now and probably won't be disappearing any time soon. He was first introduced in 1999, but through some pretty strange circumstances. At the time, there was a Screen Actors' Guild strike taking place, which prevented Geico from being able to display any of the human characters they had planned for their upcoming commercials. These commercials were to be based around teaching the public the correct pronunciation of GEICO. The solution to this was to create an anthropomorphic character who lacked the ability to go on strike. While the strike restricted members of the SAG from appearing on camera, it did not prevent them from doing voiceover work. This loophole is what allowed Kesley Grammer, best known for his role as Frasier Crane, to provide the voice in the very first Gecko ad. While the video quality isn't great, we wanted you to be able to see the very first ad, which is remarkably different from the ones that run today.
Once the strike was over and Grammer returned to his full-time work, a new voice actor was brought on board. He developed the slightly offbeat English accent in which the Gecko speaks today. Once GEICO became famous enough that pronunciation was no longer an issue, the Gecko began to be portrayed as a dedicated GEICO employee, always trying to lend a friendly hand to customers in need. As of the time of this writing, he's appeared in over 150 commercials. 
Briefly straying from the Gecko in what was intended to be a one-time only appearance was a commercial which introduced the now famous Maxwell the pig. This commercial with its incessant "weeee"ing is widely recognized as one of the most annoying ads of all time. However, enough people liked Maxwell that GEICO decided to use him again. Thankfully, Maxwell has dropped the irritating antics and now is portrayed as more of a tech support kind of figure.
5. Ronald McDonald - McDonald's
Even though it's hard to imagine McDonald's without Ronald, he didn't come into being until nearly a decade after founder Ray Kroc began franchising the chain around the country. Ronald was born in 1963, a time during which clowns, namely Bozo, were the most popular entertainers among children. Wanting to capitalize on the family-friendly image they were cultivating, McDonald's decided it needed a clown of its own. Introduced in Washington DC-area television station commercial breaks in 1963, the first Ronald McDonald was played by Willard Scott. In the beginning, his name was actually supposed to be "Donald" McDonald. Due to somebody's poor handwriting, the D was read as an R, and the name just kind of stuck.
The original Ronald McDonald looked more like terrifying nightmare material than he did a friendly corporate shill. He wore a brightly vertically striped jumpsuit, had a cup for a nose, had a tray containing a hamburger, fries, and soda growing from his head, and another protruding from his stomach area. His face makeup was more exaggerated, giving him an almost evil, maniacal appearance.
By the late '60s, Ronald McDonald underwent a serious makeover to become the lovable, non-terrifying clown that he is today. His early commercials depicted him as living in McDonaldland, a psychedelic and disorienting sort of world. They had a look and feel similar to Krofft brothers productions such as Lidsville and H.R. Puffnstuff. The likeness was so easy to spot that the Kroffts sued McDonald's and won, putting an end to McDonaldland for good. Ronald & company continued to appear in commercials taking place in more real-world type of settings, and made some powerful friends along the way. Did you know that Grimace at one time was rubbing elbows with a future president? Don't believe us? Check out the following video!
On a more serious note, Ronald McDonald is also the mascot for the Ronald McDonald House Charity (opens in a new window), an organization provides housing for families of hospitalized children who have to be treated in locations far away from home.
6. Fred the Baker - Dunkin' Donuts
From 1981-1997, Michael Vale portrayed Dunkin' Donuts spokesman Fred, who was eternally aware that it was, "Time to make the doughnuts." His classic mustache and Dunkin' Donuts uniform combined to create an appearance that is now burned into the retinas of American pop culture. While Fred pitched doughnuts, he at other times declared it was time to make the coffee, muffins, and briefly, a Dunkin' Donuts based cereal. He was so popular with the audience that when Dunkin' Donuts decided to end his run of commercials, fans rallied for him to be given a proper sendoff. Fred not only received commercial spot in which he officially retired, but he also had a parade held in his honor in Boston on September 22, 1997. All customers were also entitled to a free doughnut that day, with over 6 million being handed out. Considering how well Vale did with his Fred character, he was never intended to portray him at all.
Before we tell you that story, we'd like to give you a bit of a background on Michael Vale, the actor who played Fred. Vale grew up in  Brooklyn, New York, where he was known among his classmates and neighbors as a funny kid who could do a dead-on impression of just about anyone, be it a local resident or Hollywood star. He served in the U.S. Army in World War II and upon his return, decided to get into the acting game. He soon landed a role in a series of Breakstone sour cream commercials, and even made it onto the big screen, playing a cab driver in the movie A Hatful of Rain. 
In 1981, he was looking for work and came to an open casting call for the role of Fred. He arrived a bit late and was informed that an actor for Fred had already been chosen, but that they still might want to cast him as a background extra. Creative director Ron Berger was immediately taken by Fred, due his qualities of "genuinely talking, looking, and breathing like a guy who had to get up at 4am".1> Vale managed to milk these qualities as Fred, starting many commercials by drowsily awaking before sunrise, and then appearing fresh and enthusiastic when he arrived at his beloved job. Sadly, Mr. Vale died in 2005, but his catchphrase still appears on Dunkin Donuts' boxes.
7. Dave Thomas - Wendy's
Rex "David" Thomas was born in 1932 in New Jersey and was adopted soon after. Tragically, his adoptive mother died when he was only five years old. This left him with only his adoptive father, who had to work long hours and consequently didn't get to spend much time with young Dave. His father moved around the country frequently due to work, at one point settling in Michigan. This is where Thomas met and spent many happy hours with his adoptive grandmother, the woman he credits for teaching him the values of honesty, hard work, and concern for others. Many of his happiest childhood memories of are going to department stores, specifically Woolworth's, and dining at their in-store lunch counters with his grandmother. Dinner was also the one time of the day where he had some time to bond with his father, making food and the restaurant experience something very dear to his heart. 
While he was a very intelligent man, Dave Thomas wasn't all that crazy about school. He already knew he wanted to run a restaurant, and wanted to get out and work in the real world as soon as possible. This saw him getting a job in a Tennessee restaurant at the age of 12, and when he became old enough to do so, dropping out of school. This is something he later regretted, and eventually put in the work to obtain his GED in 1993. His culinary career took a turn when he was drafted into the United States army, where he served as a cook during the Korean War. When the war came to an end and he was back on American soil, Dave was more determined than ever to make it into the restaurant world, and make it he did.
Before long, he owned and operated 4 Kentucky Fried Chicken franchises and became a close associate of Colonel Sanders. It was actually Thomas who came up with the idea of the Colonel appearing in commercials and becoming the official mascot of the chain. While he was very successful in the chicken business, the hamburgers and extra-thick milkshakes of his childhood were still closest to his heart. Deciding to take a gamble on this passion, he opened his first Wendy's restaurant in Ohio in 1969. His daughter, Melinda Lou, had a younger sister who mispronounced her name as "Wenda", and this was the inspiration for the restaurant's name. Pictured below is the original Wendy's restaurant in Dublin, Ohio.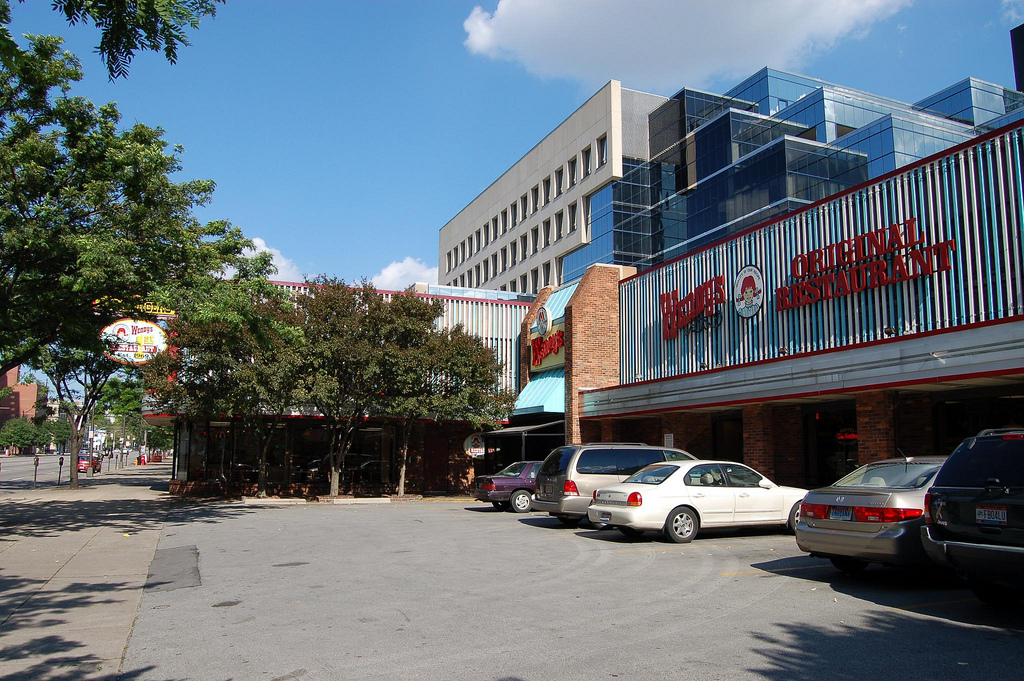 Things got off to a great start, but sales started to dip in the 1980s. At this time Thomas took a more hands-on role in managing his restaurants, appearing at as many as he could to personally evaluate and instruct every employee. It wasn't long after that he first began to appear in commercials and quickly became a household name. His friendly, down-home, and true-to-life style made him something of a modern folk hero. This was compounded by the charities he founded, including the Dave Thomas Adoption Foundation (opens in a new window) and the Dave Thomas Education Center (opens in a new window), the latter of which revolves around helping adults obtain their GEDs. He was so respected that in 2003, a year after his death, he was awarded the Presidential Medal of Freedom. As a side note, as long as we're on the topic of adoption, here's an interesting post from another blog which explains some of the best DNA tests for adoptees (opens in a new window). We feel it could be a useful resource for helping people who are adopted to find their biological family members.
8. Colonel Sanders - Kentucky Fried Chicken
Harlan "Colonel" Sanders was much more than just the goofy fictional character who appears in KFC ads today. He was a real person, who lived from 1890 - 1980 and was the founder of the Kentucky Fried Chicken chain. To this day, he still appears on KFC merchandise and most locations still feature a picture of him in their lobby areas. The Colonel part of his name stems from his friend & former Kentucky governor Lawrence Wetherby conferring the title upon him. Being dubbed a Colonel is the greatest honor the state of Kentucky provides, and once he had the title, the Colonel refused to publicly appear in anything other than his white suit and bolo tie.
Sanders had a very modest beginning, as he spent much of his young life taking work wherever he could get it once the Great Depression began to set in. At one point, he operated a combination auto service station and restaurant. It was while cooking for hungry motorists that the Colonel developed his secret blend of 11 herbs and spices, as well as the idea of making fried chicken in a pressure cooker. He was soon surrounded by many interested investors, and the first KFC franchise opened, oddly enough, in Utah. Before long, KFC had a nationwide presence, as well as the Sanders-coined catchphrase "Finger Lickin' Good." The Colonel was known as a kind yet stoic man who didn't stand for much nonsense. This was especially when it came to franchisees not making chicken and gravy his way, which led to him sometimes speaking more like a sailor than a colonel.
9. Energizer Bunny - Energizer
The Energizer Bunny first appeared on TV screens in 1989. However, Energizer's rival Duracell was actually the first company to feature a drumming rabbit in its commercials. They ran a series of commercials showing various battery powered toys in motion, with the ones powered by their competitors' batteries slowly grinding to a halt. This had Energizer a bit annoyed, as the batteries Duracell was showing to be inferior were carbon-zinc batteries and not the alkaline batteries that Energizer actually produced. Their response was to create a rabbit of their own, complete with sunglasses, a bass drum, and the ability to keep on "going and going and going..." Many of the early commercials the Bunny was in had a plot of him walking on to the set of other imaginary commercials and disturbing the action, as can be seen below.
Around this time, Energizer came out with the tagline, "Nothing outlasts the Energizer." These ads were eventually done away with due to a lawsuit filed by, you guessed it, Duracell. That didn't stop the Bunny from his work, with new ads still being created as of the time of this writing. However, he's gone a bit of a change in a appearance over recent years, with his body growing slimmer and his face altered to show a wider range of emotions.
10. Speedy - Alka-Seltzer
Now it's time to talk a bit about the oldest mascot on this list. Speedy Alka-Seltzer came into being as a result of a wartime friendship between Charles Tenant and Robert Watkins, who served together during WW II. After the war, they both got into the advertising business, with Tenant becoming a commercial artists and Watkins a creative director with DDB of Chicago. DDB managed to win an account with Miles Laboratories, the company that produces, among several other famous products, Alka-Seltzer. Watkins was struggling to come up with ideas, so he reached out to Tenant to draw up a catchy character for a set of upcoming magazine advertisements.
The result was Speedy, a boy with an Alka-Seltzer tablet body and hat bearing his name. He proved to be a hit in print and in 1953, he made the jump into television commercials. From 1953 through 1964, Alka-Seltzer ran commercials with Speedy animated by way of stop motion photography. His infections, "Pop pop, fizz, fizz, oh what a relief it is," became one of the most memorable lines in advertising history. Sales for Alka-Seltzer skyrocketed and they eventually introduced the same character to Spanish speaking countries, under the name Prontito.
11. Bob Kaufman - Bob's Discount Furniture
Bob's Discount Furniture, originally known as Bob's Discount Furniture and Wholesale Waterbeds, has risen up to become the 14th largest furniture retailer in America. Appearing in nearly all of the company's advertisements is the kind and lovable Bob Kaufman, the chain's founder. What many people don't know is that Kaufman was an avid motorcyclist in his youth, but ended up being badly injured in an accident. Acting on a physician's advice, he started using a waterbed, which proved instrumental in his recovery. This inspired him to go into the waterbed business, and before long, he was renting space to sell his wares in several stores around the state of Connecticut. During a period of economic recession, many large box stores were closing down. When one such store shut down in Manchester, Bob and the owner of the stores where he was renting space purchased the building, becoming the first Bob's location.
The store was a massive success, and soon Bob's stores began to spring up throughout Connecticut, with Bob encouraging everyone to "Come on down!" His quirky yet friendly demeanor made him a popular spokesman and his business model took off to heights greater than anyone would have expected. In just 27 years, Bob's has grown expanded into 13 states, including Connecticut, Maine, Rhode Island, Massachusetts, New Hampshire, New York, New Jersey, Wisconsin, Delaware, Maryland, Indiana, Illinois, and California. Bob Kaufman is also widely respected and admired for his dedication toward charitable causes. His stores match customer donations 100%, with the Special Olympics (opens in a new window), Autism Speaks (opens in a new window), Save the Children (opens in a new window), and the Pajama Program (opens in a new window) being among the biggest recipients. 
12. Morris the Cat - 9 Lives
One of the greatest feline celebrities of all time, Morris the Cat has been the spokesman, or maybe spokescat, for 9 Lives since 1968. Morris is an orange tabby who, despite not being very thin, bills himself as "the world's most finicky cat." He speaks in a sardonic deadpan style, especially when scoffing at being offered non-9 Lives cat food. Every cat who has played Morris throughout the years has been rescued from a shelter, with the current Morris residing in Los Angeles. He's voiced by John Erwin, who took over voice duties when Johnny Morris, the coincidentally named original voice, passed away. Many incorrectly believe that Morris was named after his voice actor, but 9 Lives insists that this is not the case.
In addition to being the voice of 9 Lives, Morris also stumps heavily for charitable causes. He's also appeared in several books, with themes based around rescuing pets from shelters and streets, the importance of pet nutrition, and the principles of responsible pet ownership. He was shown to become a father in 2006, adopting "Lil' Mo" as part of a promotion for the Moriss's One Million Cat Rescue (opens in a new window) initiative.
13. Poppin' Fresh - Pillsbury
Often referred to as the Pillsbury Doughboy, the actual name of this mascot is Poppin' Fresh. He was introduced in 1965 when Pillsbury was trying to come up with a character to market their various dough products which came (and still come) in cardboard cylinders that "pop" to open. The concept they came up with was that of a living boy who lived inside of the tubes and jumped out when they were opened. Curiously, his original name was Joseph Pillsbury, though this was quickly changed to Poppin' Fresh. In the commercials prior to 1992, he was a claymation figure whose stop motion animation was detectable through his jerky movements.
In his earliest appearances, the Doughboy had a slightly deeper voice and his lynchpin post-stomach-poke laugh was more of a chuckle than the "hoo-hoo!" we're used to hearing. In 1992, he underwent a redesign and became a fully CGI animated character, making for smoother movements and a sharper look. His popularity with the public is significant enough to have spawned a set of dolls including the Doughboy and 8 family members, all of whom had names relating to various Pillsbury Products.
14. Mikey - Quaker Oats/Life Cereal
One of the most famous commercials of all time is Life cereal's commercial featuring a young boy by the name of Mikey. Life cereal is a product of Quaker Oats, the same company that brought the Meme-tastic Wilford Brimley into the lives of anyone not old enough to remember Cocoon. Mikey, portrayed by John Gilchrist, is called into the room by his two older brothers. Neither brother wants to try the new cereal, so they conscript Mikey, who never likes anything, into being the guinea pig. Surprisingly, Mikey ends up loving the cereal, leading his brothers to shout, "He likes it! Hey Mikey!" This commercial became so popular that it ran for 14 years. What few people know is the fact that the boys appearing along Mikey are his real-life brothers, with one of them coincidentally being named Michael. Mikey/John Gilchrist also had three younger siblings at the time, none of whom appeared in the commercials.
Mikey came back to star as a young adult version of himself in subsequent commercials in the late 1980s and early 1990s. These commercials also starred Gilchrist, keeping things nice and consistent. This is a commercial that is such a legend that nearly all Americans know about it, even those who were born decades after it aired. For many years, there's been an urban legend stating that Gilchrist died by drinking a mixture of pop rocks candy and soda, but fortunately, they're entirely false. Perhaps these rumors them from a rather morbid Michael Jackson parody (opens in a new window) of the original commercial.
15. Lily - AT&T
Anyone who has watched any amount of television in the past 5 years has by no doubt seen the AT&T commercials featuring Lily. She plays a sales clerk at an AT&T mobile store who drips personality. Her commercials see her effortlessly transitioning from sweet to snide, from knowledgeable to oblivious, and enthusiastic to disillusioned. The depth of Lily's character, as can be seen in the video below, can be credited to the actress who portrays her. This actress is Milana Vayntrub, an actress and comedienne who was born on March 8, 1987, in Uzbekistan. At the time, Uzbekistan was still part of the USSR and when Milana was three years old, her family fled to the United States as refugees.
Her family settled just outside of Hollywood, which ended up being massively influential on the young girl's life. She was already appearing in toy commercials by the age of 5. This was just the beginning, as she's starred in several television shows and webseries since then. In fact, she's going to be one of the most featured characters, playing Doreen Green (Squirrel Girl) in the upcoming television series New Warriors. Outside of acting, Vayntrub is passionately dedicated to the cause of aiding refugees from war torn and otherwise turbulent parts of the world. 
Hopefully this article brought back some fun memories and also helped you to learn some new facts about the characters you've known for so long. Now you can use your new knowledge to impress your friends and co-workers and to seal a runaway victory in your next bar trivia contest. Did we leave out any of your favorite commercial characters? Are there any facts on the actors, actresses, and mascots we've written about that were missed? If so, leave us a comment and let us know!
P.S. - If you liked this article, you may also enjoy reading our pieces on famous actors & actress who started out in commercials and the all-time most famous advertising mascots.
Works Cited1. Schulder, Michael"Michael Vale: The Inside Story of Fred the Baker"CNN.com Retrieved 17 Jan 2018
Sours: https://www.4allpromos.com/blog/2018/01/15-most-popular-commercial-actors-characters-past-present
10 popular commercial actors and where you've seen them before
What else you know her from — Since exploding onto the scene in 2013 as a bubbly AT&T employee named Lily, Vayntrub has become a recognizable actor. In addition to the 40-plus AT&T ads she's appeared in, she's had regular roles on critically acclaimed shows like NBC's "This Is Us" and HBO's "Silicon Valley." Vayntrub was born in the former USSR and, before acting, was a high-school dropout who earned her GED.Joe Scarnici
What else you know him from — Grosz has been one half of Sonic's "two guys" duo in a series of ads that has run since at least 2006. In addition to those commercials, he's worked as a writer for "The Colbert Report" and "Late Night with Seth Meyers." Since 2012, he's had a recurring role in HBO's "Veep," playing lobbyist Sidney Purcell. This year, he started co-starring in Comedy Central's "The President Show," in which he plays Vice President Mike Pence.Astrid Stawiarz
What else you know her from — Since 2012, Smith-Goodwin has played Red in ads for Wendy's restaurants. Before that, she had a role in an episode of HBO's "Boardwalk Empire." Recently, she's had a regular role in HBO's "Veep," as Candi Caruso. She also recently did voiceover work in the popular video game "Mass Effect: Andromeda."Mike Windle
What else you know her from — Before playing Progressive's unflappable spokesperson Flo in a long-running series of ads, Courtney had a regular role in the first season of AMC's "Mad Men." Before that, she was a co-star of Adult Swim's "Tom Goes to the Mayor," playing Renee the receptionist. She also worked as a comedian, appearing in acclaimed offbeat shows like HBO's "Mr. Show with Bob and David" and Comedy Central's "The Man Show."Rich Polk
What else you know him from — Winters has played Mayhem since 2010 but before that, he co-starred in HBO's "Oz" and appeared regularly on popular shows like "30 Rock" and "Law & Order: Special Victims Unit." Since gaining fame for his Allstate ads, Winters has acted in TV series including CBS's "Battle Creek" and Fox's "Brooklyn Nine-Nine."Dimitrios Kambouris
What else you know him from — Bennett is best known for being a cast member of "Saturday Night Live" since 2013, on which he's played Vladimir Putin, Jake Tapper, Mike Pence and others. He's also appeared in movies like "Zoolander No. 2" and "Sing," in which he voiced Lance the porcupine. The series of AT&T ads in which he interviewed kids was critically acclaimed.Nicholas Hunt
What else you know her from — Crown has appeared as one half of the upbeat DriveTime Girls in a series of recent ads but before that, she was a comedian and writer, working on shows like "Nathan For You" and "The Nerdist." She's also an accomplished voice actor, lending her talents to "Adventure Time," "Bob's Burgers" and the 2016 film "Storks," in which she voiced Tulip, a teen who wanted to find her family.Matt Winkelmeyer
What else you know him from — Before playing the latest version of the Maytag Man, Ferguson, a Canadian actor, was an improv comic and acted in dozens of TV shows. His most famous role was as star of SyFy's five-season series "Eureka." In the early 2000s, he had regular roles on ABC's "Then Came You" and NBC's "Coupling." More recently, he had a recurring role in Hallmark Channel's first-ever original scripted show "Cedar Cove."Joshua Blanchard
What else you know him from — Before playing the fictional founder of Carl's Jr. and Hardee's fast food restaurants in a series of ads this year, Esten had a long career in television and music. In the 1990s, he was best known for being a regular player on "Whose Line Is It Anyway?" More recently, he's been a co-star of TV's "Nashville," also contributing original music to the show's soundtracks.Jason Davis
Sours: https://www.wxyz.com/news/10-popular-commercial-actors-and-where-youve-seen-them-before
1. Dan Czura
Who are the best actors in Australia?
Well, who doesn't love a fair share of Nicole or ol' Chris Hemmsy? (guilty!) But when it comes to the people we see in our TV commercials, you may recognise a few WINK Models that share the ranks of some of the best faces in TV advertising.
We're more than just a pretty face, we can really act (or at least sell you that brand new car..). Take a look at our picks for the top 10 TV actors of 2019.
Dan is your man for any father roles for your next TV project. He brings high-energy and enthusiasm to set, his casual confidence exudes through every role.  He has worked for Breville, REST Super, Qantas and Mastercard
Sam is a stunning model, VO artist and actor who toes the line between aspirational and relatable. She is also a real mum of two, and the wife of Dan (above). She is immensely talented and has worked with Womens Day, Mastercard, Volvo and Lindemans.
Amy is a classic example of a model who can do it all. Her commercial look and friendly demeanour translates effortlessly on camera. She has worked with Huggies, Bras N Things, Woolworths, Stayz, A1 Milk, Kokoda Residence and Rexona.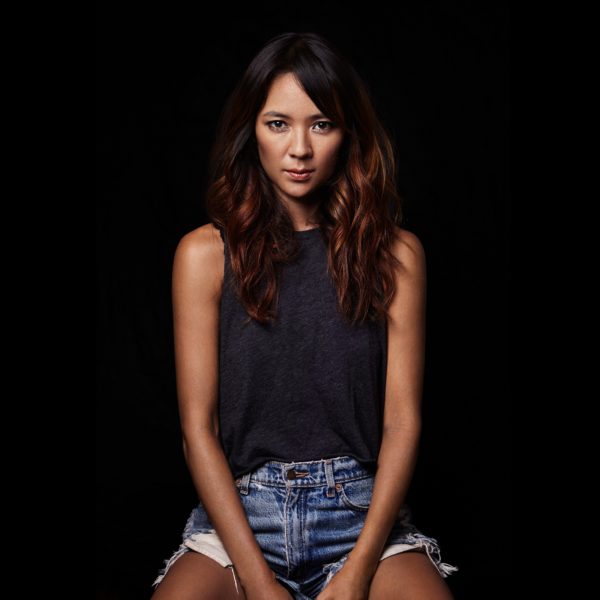 Rakel is a super experienced TV model who has worked with Lexus, Transport NSW and Woolworths. She photographs really well on-camera and takes direction like an absolute pro. Most clients book her again after working with her once, because she brings a calm, confident energy to set.
Rachel is an experienced Sydney based TVC specialist. Clients who have worked with Rachel are always so impressed with how quickly they get the shot done. She seems to know exactly how to interpret the goal of a shot and nail it on the first take. She has shot with Luxaflex, Big W, BBQs Galore, Cancer Council and Great Southern Rail. 
Brielle has great comedic timing (just skip to 1:10 above and see what we mean). Her facial expressions are next level and her chances are you've recognised her unmistakable curly red mane more than once on TV. She has shot for Audible, Commonwealth Bank, Subway and YOUI.
Mark is an industry veteran, and a great go-to for Melbourne campaigns. His look translates well across brands wanting a relatable talent, but also easily fits himself into a high-end aesthetic as well. Clients often comment on his professionalism and helpful attitude on set. He has shot for Mercedes, Formula 1, Lexus and RACV.
Tia may be young, but her experience is huge! She started with WINK as a young teen, and has soared to the top of everyone's radar both in Australia and internationally. Now as a young adult, she easily holds her own in-front of the camera. She photographs beautifully and has the acting chops to match. She has shot for Samsung, Farmers' Union, Mastercard and Holden.
Angel was named 2019 QLD Australian of the Year for her work advocating inclusivity for people with disabilities. And oh yeah, she's also a super talented model and TV actor. She is effortless on camera and has worked with Melbourne Fashion Week, Spell & the Gypsy and Target.
 Simone is a well-spoken mum of two who runs a real estate business of her own. She has a knack for confidence on camera, and comes across as the friend we look up to and trust. She has worked with Banana Boat, Transport NSW and Commonwealth Bank.
The Bachelor Promotional Commercial
Featuring 27 WINK Models
ROAM-E Commercial
Featuring 13 WINK Models
VISA Paywave Commercial
Featuring Adam Carfrae
---
Have some questions? Feel free to get in touch! 
You can count on our talent managers to respond quickly to your enquiries and putting forward suitable candidates for your specific brief.
Our agency is made up of 7 divisions; Male, Female, Sports, Classics, Youth, Promotional & Influencers. We have specialised bookers within these divisions to ensure appropriate management of each individual.
Call us on 02 8005 4388 or email [email protected]
---
Sours: https://winkmodels.com.au/winks-top-10-tv-actors/
TV Commercial Actors Who Are Getting Paid An Outrageous Amount
How Do You Find Names of Actors in TV Commercials?
By David NaarLast Updated January 11, 2021
Photo Courtesy: amriphoto/E+/Getty Images
Whether you're a talent scout for a commercial production company or just a curious viewer, you might've wondered about the actors who bring some of TV's most recognizable characters to life. And we're not talking about sitcom stars — we're talking about the folks who try and sell you on car insurance and cell service providers. So, how do you find the names of actors in TV's biggest commercials? We've got a few suggestions.
Top Resources for Identifying Actors in TV Commercials
The short answer? Like most other things these days, you can pretty easily find the names of actors in TV commercials through a simple online search. In particular, there are several websites and online resources that specialize in this kind of search. 
Photo Courtesy: Progressive via YouTube
Here are some of our top recommendations: 
iSpot.TV: This company is a TV advertising measurement firm, but it's still a helpful resource, namely because you can search and browse on their database of commercials. Once you find the particular ad you have in mind, click on it to see what kind of credits are listed. Keep in mind, not every ad lists names for actors, but you can discover the title of the commercial as well as the name of the advertising agency that produced it — all of which will help you in your search attempts.
AdsoftheWorld.com: Ads of the World is a site that has one big advantage: You can search for particular ads by country, industries and medium used, as in film, audio, digital and print. Simply search away and the site's database will help you find an actor in any given TV spot. 
IMDb: The Internet Movie Database is more than just a way to look up that actor you kind of recognize in your latest Netflix marathon. In addition to cataloguing actors' film and TV credits, IMDb also displays credits actors have in ads, short films and more. While commercials may not be the primary focus here, this resource can still come in handy in a pinch.
Social Media: Unsurprisingly, social media is another great tool. Not only can you ask friends and acquaintances in your network, you can also search relevant keywords for ads or brands to see if anyone else on Twitter or Facebook is talking about the ad and the actor who stars in it. Additionally, many actors promote their work with social media, which means you might just stumble upon their profile, especially if they're well-known for playing a commercial character. 
Some of the Most Commonly Searched TV Commercial Actors
While some brands rely on animated geckos or cheese-loving cheetahs, others put stock in actors' charms. Without a doubt, there are some actors who've become instantly recognizable as a result of appearing in a long-running TV ad campaign. 
Photo Courtesy: Sprint via YouTube
Here are some of the most commonly searched TV actors: 
Paul Marcarelli: You'll likely recognize this glasses-wearing actor from Verizon Wireless' 13-year TV advertising campaign "Can You Hear Me Now?" In 2016, Marcarelli shocked the industry when he jumped to competitor Sprint, becoming the longtime star of their commercials.
Stephanie Courtney: This actor plays the infamous Flo in Progressive Insurance commercials. Courtney first appeared as the character in early 2008, and, in the decade since, revenues for the insurance giant grew from $13 billion in 2008 to a whopping $36 billion in 2019. 
Jonathan Goldsmith: This actor was the face of "The Most Interesting Man in the World" campaign for Dos Equis from 2007 to 2015. He was replaced in 2016 by a French actor, and in 2018, Dos Equis shut down that particular campaign altogether. Interesting… 
Sours: https://www.reference.com/world-view/names-actors-tv-commercials-0c7daf8b8b3570e8
Commercial actors tv
Actor | John Wick
Dean Winters is known for his role as Ryan O'Reily on HBO's award-winning series Oz (1997) and as Tina Fey's character's "Beeper King" boyfriend on the Emmy-winning comedy, 30 Rock (2006). His noteworthy comedic performance was recently included in Entertainment Weekly's "Must List" as well as ...
He's 'Mayhem' for Allstate commercials. Very funny, effective and memorable. He gets the point across of being prepared for anything and it pushes the Allstate name well.

Plus I know him well from "Law & Order: Special Victims Unit " and "Terminator: The Sarah Connor Chronicles " among other shows.
Actor | Boy Erased
Kevin was raised in Chicago Ill. After graduating from Colorado State he returned back home and immersed himself into the Growing improv scene working for The Second City, Improv Olympics and ComedySportz. He now lives in Los Angeles after a five year stint in NYC. His talents are everything sport ...
Wow where to start? The classic Chevy Santa meets deer hunter commercial. Not sure if he ad-libbed it but look online for an extended version. He's the M.C. who asks stars to try on Depend Silhouette for charity, he eats chalk for a fruit chews ad, kind of gross actually. Now Quickbooks.com and ACE Hardware, in fact I saw him back-to-back as a pizza shop owner and ACE employee!
Actor | Sing
Never work with animals or children. It's the stern warning oft-repeated in Hollywood. Breakout actor Beck Bennett, however, would kindly disagree--with the second part, at least.

Bennett stars in the immensely popular "It's Not Complicated" campaign for AT&T, a series of ads in which he plays the ...
He talks to the kids Art Linkletter-style. "It's not complicated", etc. Some phone company, they never really focus on the company which is typical and only a couple were funny, the rest of the kids look horribly staged but they're popular somehow.

Much funnier is his "Theatre of Life" YouTube videos. Update. he's on Saturday Night Live now!
Actor | Shrink
Tim Baltz is an actor and writer, known for Shrink (2017), The Righteous Gemstones (2019) and The Opposition with Jordan Klepper (2017).
He's the funny redhead who plays Bruce in "the other guys" cell phone commercials. He is very dry sometimes and wacky others, but again the premise is so awkward they never put any emphasis on the company name or sell it. I call it "the other guy is bad" premise which really doesn't do anything to push your product much.

Good commercials, bad marketig. I'd love to see him in some comedy shows though!
Producer | The Green
Paul Marcarelli is most recognizable from his nearly twenty years as an actor in commercials. From 2001-2014, he appeared in hundreds of commercials for Verizon Wireless, portraying the ubiquitous "Can You Hear Me Now Guy," and in 2016 he surprised the advertising world by becoming the face of ...
"Can you hear me now?" Cutest nerd tech on TV! Again, great memorable commercials for a cell phone, except that I had to look at his IMDb page to be reminded it was Verizon. I see he just co-produced a documentary on Divine so I have to find that now!
Actor | The Mick
Laird Macintosh, born in Evanston Illinois, moved with his family to Los Angeles and started a career in the Entertainment Industry at an early age. By twenty-five, Laird had worked behind the camera and was credited in the production of several Feature Films. Laird moved in front of the camera as ...
Actress | The Heartbreak Kid
Stephanie Courtney is main company member of the famed Groundlings Theater in Los Angeles, regularly performing in their sketch and improv shows. She hails from Stony Point, New York. After graduating from the Neighborhood Playhouse in New York City, she started doing stand up, which brought her to...
"Where's Flo? Anybody know where Flo is? Are YOU Flo?"

I wouldn't remember Progressive without Flo. The insurance companies seem to do what the cell phone companies don't, and there's a lot of both so instant name-recognition is a must.
Actor | As the World Turns
Mark Collier was born in Boynton Beach, Florida. He is of Danish, English, Irish and Choctaw ancestry. His father, a CPA, and his mother, a nurse, eventually moved the family to Ocala, Florida, where he spent most of his childhood. At age 10 Mark got his start in local theater productions. As he ...
The Breath-Right hunk! Fitting that he was a soap-hunk as well on "As th World Turns". Pretty sure that's him on the Sodastream commercial but the lit him in an evil way. Looks a lot like actor Guy Pearce.

Sodastream, now that's an investment, don't start buying all of the equipment and refills if you don't plan to keep on using it!
Actor | Station 19
Jim Hanna was born on October 2, 1967 in Lincoln, Nebraska, USA. He is an actor and writer, known for Station 19 (2018), Battle of the Sexes (2017) and Law & Order True Crime (2017).
The Nutty 'Dad' infamous Cox Commercials if they're in your area. Frankly, what was once funny got run into the ground REAL quik IMO! He was also in the USPS Priority Mail commercial as the husband who hid out in the Christmas house on the front lawn, baking Snickerdoodles. And has a lengthy movie & TV resume.
Actor | Jurassic World
Nick Robinson made his film debut starring as Joe in CBS Films' critically-acclaimed adventure The Kings of Summer (2013), followed by shooting a lead role in the Universal action adventure sequel Jurassic World (2015), where he starred alongside Chris Pratt, Judy Greer, Vincent D'Onofrio and Bryce...
Also from the infamous Cox Commercials, he plays the bealeagured son Tyler. Looks like he acts and has a teen following, esp. boosted from this!

Note: I am very tired of these, and probably would not get Cox service ever again! :p
Actor | The Departed
Andrew Breving was born on September 17, 1978 in Cincinnati, Ohio, USA. He is known for his work on The Departed (2006), The Blacklist (2013) and Elementary (2012).
He doesn't seem to be doing them anymore but he was the retro-cute Arby's "Good Mood Food" guy. Good commercials but it never seemed to fit the mood of Arby's as I remember them. But better than what they have now!
Actor | Shortbus
Justin Hagan was born in 1975 in New Jersey, USA. He is an actor, known for Shortbus (2006), Party Monster (2003) and Fringe (2008). He has been married to Miriam Shor since June 29, 2009. They have two children.
He's the dorky hunk in the TV commercials for Ocean Spray Cranberry Juice. I've seen him in a few acting roles but not much.
Actor | Bewitched
Dick Wilson was born on July 30, 1916 in Preston, Lancashire, England as Riccardo DiGuglielmo. He was an actor, known for Bewitched (1964), The Magical World of Disney (1954) and Mathnet (1987). He was married to Meg Brown. He died on November 19, 2007 in Woodland Hills, California, USA.
Great commercial because the catchphrase (unlike Verizon's) actually had the name of the product in it! "Please don't squeeze the Charmin!". You could make any joke or say it all day and you were saying the name of the TP out loud.

Plus Mr. Whipple he was on "Bewitched"! Usually as the drunk in the bar.
Actress | Mermaids
Jan Miner was born on October 15, 1917 in Boston, Massachusetts, USA as Janice Miner. She was an actress, known for Mermaids (1990), Lenny (1974) and Gertrude Stein and a Companion! (1987). She was married to Richard Merrell, Terry O'Sullivan, Jack Harvey Campbell Berry and Thomas Samuel Carr. She ...
To quote IMDb - "She became a TV icon to generations of viewers as Madge, the wisecracking manicurist for Palmolive Dishwashing Detergent. She played this role for 27 years, one of the longest ongoing product endorsement relationships in TV history."

Yes, as a kid I thought adults would get soft hands by putting them in dish liquid, of course we had a dishwasher so I never really knew what else it was for. I remember it by heart, "More than mild it makes loads of suds that last!" But it was always weird how she tricked women into sticking their hands into that dish of green liquid.
Actor | They/Them/Us
Joey Slotnick was born on October 2, 1968 in Chicago, Illinois, USA as Joseph Jay Slotnick. He is an actor, known for They/Them/Us (2021), The Marvelous Mrs. Maisel (2017) and The Good Wife (2009).
Some commercials only play regionally, and he was in one for Keystone Light beer that played in the mid-west, he drank the cheap beer and got "bitter beer face", Look it up on Youtube! Ironically Keystone WAS the cheap beer IMO.

Once on The Tonight Show he lamented that despite his movies, when he went some places they only knew him as the bitter beer guy!
Sours: https://www.imdb.com/list/ls056709562/
▶ 15 Best Creative Funniest Indian Commercial Ads This Decade - TVC DesiKaliah E8S24
10 Of The Most Popular TV Commercial Actors We All Love
Ever watch television commercials and see the same actors on screen? Over the years there have been actors who have become the face of a companies brand and appear on ads, posters and most of all countless commercials. There are some commercial actors who have been around for years and years and some may not even know their real name. Its easier to call them by their commercial name.
RELATED: 15 Easter Eggs In E.T.'s Reunion Commercial You Might Have Missed
Some of the commercial actors don't just limit themselves to commercials. Commercials are a way for actors to get their career going before taking a bigger step. Their television personas have garnered millions in revenue for the actor. Let's take a look at commercial actors that are always gracing the television screen in between shows.
10 Tim Williams: Trivago
Taking a weekend getaway after a long work week sounds like a dream. Many people have turned to Trivago for help in booking cheaper accommodations. It also might be because the actor in the commercials is so convincing. His name is Tim Williams and has become the face of the hotel search engine.
Williams isn't only the face of the German company commercials but is also a well-known actor in Germany on television and in film. If he still looks familiar outside of the commercials, Williams also had small roles in Valkyrie, Ninja Assassin and Labyrinth of Lies.
9 Peter Grosz & T.J. Jagodowski: Sonic Drive-In
Sonic Drive-In is one of the best places to be during the summer and the commercials are just as convincing. What made the "Two Guys" commercials a success were its two main actors, Peter Grosz and T.J. Jagodowski. The comedic duo were the stars of the fast-food companies commercials for eight years before the company decided to take a new direction.
Besides being an actor, Grosz is also a television writer having worked on The Colbert Report and Late Nigth with Seth Meyers. He also had small roles in Veep and on The Marvelous Mrs. Maisel. Jagodowski is a comedian and improv performer who has been a part of the film Get Hard and was in the show Prison Break.
8 Jonathan Goldsmith: Dos Equis
Jonathan Goldsmith is The Most Interesting Man in the World! He also happens to be the suave and alluring spokesman for the beer Dos Equis. His role saying "Stay Thirsty My Friends" has become an internet sensation and the basis for many online memes. He starred in the campaign back in 2006 until 2018.
Goldsmith started his acting career back in the '60s and established his career in Western films like Hang 'Em High in 1968. He also took his career to television appearing in numerous works like Gunsmoke,Bonanza, CHiPs and appeared seventeen times in the series Dallas.
7 Colin Ferguson: Maytag
For sci-fi fans, seeing Colin Ferguson as the Maytag Man in the appliance commercials is a fun treat. Ferguson started the role in 2014 but has had a long and notable career outside of it. In 2003 he became the lead in the sitcom series, Coupling. He was the lead character in the popular Syfy show, Eureka.
RELATED: Hallmark Christmas Movies: 10 Best Actors, Ranked
He has continued his career in the sci-fi/supernatural genre and was the recurring character in season six of The Vampire Diaries as Thomas Vincent 'Tripp' Cooke. He also played William in the show Haven and had a recurring role in Cedar Cove. 
6 Isaiah Amir Mustafa: Old Spice
After the end of Terry Crew's portrayal in the Old Spice commercials, actor Isaiah Mustafa took on the role. His suave and charming demeanor won over fans and he became the new face for the male grooming company. Mustafa may seem familiar outside of the commercials.
He was a former football wide receiver before pursuing a career in acting. Before taking on big roles, Mustafa played minor characters in the show Nikita and Sirens. He is known for having played the role of Luke Garroway in the show Shadowhunters. For the second installment of the horror film It, he played the grown-up version of Mike Hanlon in It Chapter Two. 
5 Paul Marcarelli: Sprint/Verizon
Before being the spokesperson for Sprint, Paul Maracarelli was first the spokesperson for the rival team, Verizon. Many would recall his famous line, "Can you hear me now?" He was part of the Verizon team for nine years before switching over to the other side. Fans were in shock to suddenly see him, adorning yellow instead of red.
This wasn't the first time Maracarelli was seen in television commercials. He also took part in commercials for Old Navy, Dasani, T-Mobile and Heineken. When it came to phone companies, he was the go-to guy.
4 Dennis Haysbert: Allstate
Dannis Haysbert is one of the most recognized commercial actors for his role in the Allstate Insurance commercials. So much so that the company decided to make comedic jokes about it in the commercials. Haysbert is also a known voice actor. In the late '80s, he portrayed the baseball player Pedro Cerrano in the film trilogy, Major League. 
He became the first actor to portray the DC Comics character Kilowog from the Green Lantern comics. As a voice actor, he has narrated many documentaries like The World According to Dick Cheney. Haysbert also starred in the Netflix thriller film, Secret Obsession. 
3 Dean Winters: "Mayhem" Allstate
Dean Winters is one of those well-known television actors who is now also known for his commercial acting. Winters is known for playing tough-guy characters and his role as "Mayhem" in the Allstate auto insurance commercials was a perfect fit. His career was already a hit before taking part in the commercials.
RELATED: Brooklyn Nine-Nine: 10 Most Hated Supporting Characters
In Law & Order: SVU he is known for playing the role of Cassidy for multiple seasons and best known for his character Ryan O'Reilly in Oz. Winters has an extensive acting list ranging from Terminator: The Sarah Connor Chronicles, John Wick, and American Gods. He also plays The Vulture on Brooklyn Nine-Nine. 
2 Milana Vayntrub: AT&T
Alongside, Marcarelli, Milan Vaybntrub is also a well-know commercial actor as the spokesperson for AT&T. While she originally played her character, Lily Admas, in 2013 up until 2016, she reprised her role in 2020.
Vayntrub has been known for work outside of commercials like having a guest role for two episodes in Silicon Valley. She also appeared in This Is Us in 2016. As of now, her biggest role is voicing Doreen Green/Squirrel Girl in the Marvel Rising franchise.
1 Stephanie Courtney: Progressive
Taking the number one spot as the most recognized commercial actor is Stephanie Courtney, or better known as Flo. Courtney is famous for portraying the insurance agent for the Progressive commercials. Who can forget her iconic red lip and bumped up hair with her blue headband? She has since made a fortune on the character alone.
Courtney has also appeared in some notable work and audiences have heard her voice somewhere else before. She is known for voicing the characters Renee the Receptionist and Joy Peters in Tom Goes to the Mayor back in 2004. In 2007, she had a small role in Mad Men and in Cavemen. For three seasons, she played Eassie Karp in The Goldbergs. 
NEXT: Hey Arnold! 10 Celebrity Voice Actors You Had No Idea Starred On The Show
ShareTweetEmail
NextGossip Girl Reboot: 9 Things That Don't Make Sense About The Show
About The Author
Gabriela Silva (478 Articles Published)
Gabriela Silva is a List writer for Screen Rant with experience in all things television, film and pop culture. A graduate of Fordham University with previous years experience interning for Cliché Magazine. With her passion for movies, television and entertainment, she's interviewed some great actors from Cress Williams of 'Black Lightning' to Tati Gabrielle from 'Chilling Adventures of Sabrina.' Her love for entertainment reaches a broad range of interests from 90s thriller movies, guilty pleasure teen dramas, action-packed MCU movies to popular K-dramas. You'll most likely find her binge-watching a new television show or movies on Netflix into the early morning.
More From Gabriela Silva
Sours: https://screenrant.com/tv-commercial-actors-actresses-we-all-love/
Similar news:
I stepped into the darkness, trying to walk as quickly as possible, but not to run. And suddenly, just as unexpectedly, I felt a strong man's hand wrapped around my waist, and the familiar ragged breathing. Well, well, - I thought, - anxious decided to finish all the same. And he really decided to do it, and even with me. In my eyes, he tried to tie a scarf, it was clear that he had absolutely no experience in this matter.
935
936
937
938
939