Walking through the chaotic souks of Marrakesh you will find stall upon stall of beautiful Moroccan ceramics of all shapes and sizes.From large round plates with bright orange flowers to traditional tagines of cobalt blue, the intricate designs and astonishing colors make it hard to believe that most of the pieces were made by hand in a town called Safi.
Safi
Safi is the pottery capital of Morocco.This quiet coastal town has a diversified industry known for its sardines and seafood as well as its ceramics.While it is an industrial town don't let that discourage you from visiting, it still boasts beautiful architecture, most of which are remnants of the Portuguese occupation including the old medina and Portuguese Citadel – or Kechla.There is also the potter's quarter which is home to all of the potters' workshop and is a popular destination for tourists.
The Potter's Quarter
Despite Safi being an industrial town life goes on as it has for centuries for the potters in the old potter's quarter.Safi boasts the oldest pottery kilns in Morocco and the potters there are famous for their plates and tagines with turquoise, white and cream-colored backgrounds and also for the famous green tiles that can be seen on roofs in all the major cities.All of their pieces are still made by hand and are a major source of income for the town of Safi.Row upon row of potters' workshops can be found displaying their breathtaking works of art and tourists are welcome to watch the potters at work as they create their masterpieces.
Moroccan Pottery
Pottery and ceramics have always been produced and used in Morocco.In early Morocco unglazed earthen pots were used to store food and water and were key to survival.Glazed and painted ceramics however, were always made to be decorative and only sometimes useful.As imports of fine china became more common Moroccan pottery became more decorative which allowed for potters to create more elaborate designs on their pieces.
Pottery-making is truly an art form and Safi pottery is appreciated for its intricate paintings and beautiful colors and can be found in homes world-wide.
Travel Exploration specializes in Morocco Travel. We provide Tours and travel opportunities to Morocco for the independent traveler and tailor-made tours for families and groups with a distinctly unique flavor. From Morocco's Seven Imperial Cities, to the Magical Sahara Travel Exploration offers a captivating experience that will inspire you. At Travel Exploration we guarantee that you will discover the best of Morocco! Google on call Travel Exploration at (917)703-2078 and let's book a tour to Morocco for you today.
Tags: Tours to Morocco,  Travel Exploration, Moroccan Pottery, Morocco Travel, Potter's Quarter, Safi, Safi Pottery
Sours: https://moroccotravelblog.com/2009/03/26/safi-pottery-travel-to-the-moroccan-town-of-safi/
Chances are if you have a piece of pottery from Morocco it's signed "Safi" on the back. Safi is not a person's name, it's the name of a coastal city where the bulk of Morocco's pottery is made. In fact this is one of the only things Safi is known for, but what a reputation to have! When my mom was visiting we decided to go to Safi and see the process. From Marrakech it was a day trip and while the roads in some places were not so great it was well worth the trip.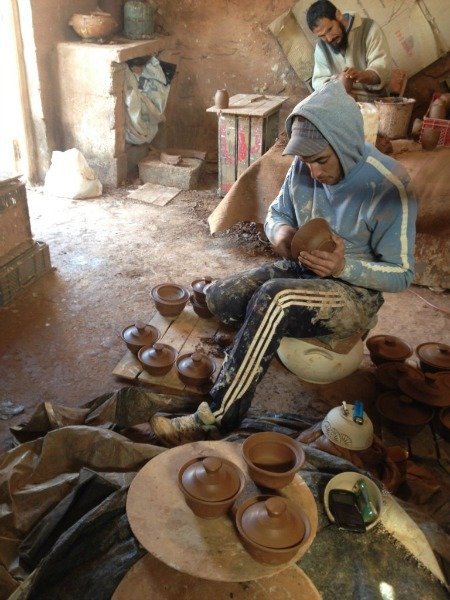 Why Safi for pottery? The clay that is used is found in the area near Safi (and also near Rabat) and so for generations it's been the seat of the trade. I was shocked to learn just how many steps and how much work goes into creating each piece of pottery. Yes, they are nearly ALL made individually and by hand. From the extraction of the clay from the ground, to preparing it, molding it, drying it, shaping it, painting it and firing it – all by hand.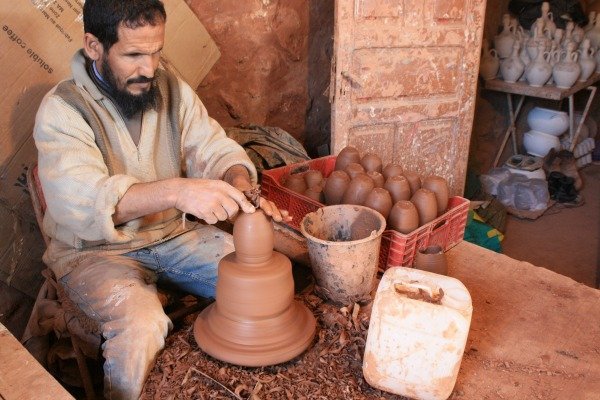 This man is a master potter, although I don't know for certain, like many Moroccan artisans this is not something he's picked up later in life. He's likely been involved in the trade for his entire life. Watching him work was amazing. I have thrown pottery before and it is NOT easy.
There are two ways of firing pottery. This picture is in a gas powered kiln. The heat is more even allowing for less breakage and waste. But each piece still is separated and put in by hand.
These domes are the traditional wood fired kilns and while incredibly interesting (and still in use!) they're not very reliable. Pottery breaks much easier because the temperatures are difficult to regulate. But, some potters who can't afford to use the gas ovens still use these for their work.
The best news? Safi is not hot on the tourist visit map. It's a sleepy seaside town where life goes on in much the way it has for decades. The people we met were welcoming and kind – one even offered to share his lunch with me, and gave us a personal tour of the workshops.
That's Moroccan hospitality!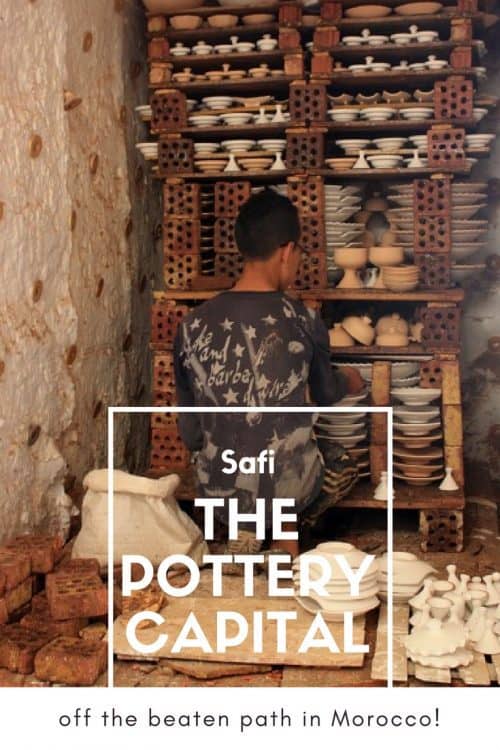 Be a part of the MarocMama family!
Do you want access to all things MarocMama? Join our community of readers to get updates on new posts, inside information that won't go on the blog and so much more!
Sound good? Pop your email below and you're in!
Success! Now check your email to confirm your subscription.
Sharing is caring!
Sours: https://marocmama.com/safi-the-pottery-capital-of-morocco/
At first glance, there isn't a lot of tourist appeal to Safi. Located on the rugged Atlantic Coastline, Safi never became a popular seaside town for sunbathers and surfers.
There is a large, industrialized fishing port with sardine canneries, textile plants and a chemical phosphate plant just south of the city. In front of the old town large containing walls and the railway block access to the water.
Having been to some of the more popular tourist destinations in Morocco, I was not drawn to Safi because of its popularity or natural beauty, but for its pottery!
Taking the road less traveled
I arrived in Safi after dark and I was relieved to find my guest house still had a room available for me. There didn't appear to be many places open or many more lodging options in town.
In the morning, a delicious breakfast was served on the rooftop terrace. There, I could see the whole town from a privileged, panoramic viewpoint. I could see the Dar Al Bahar meaning "the castle by the sea." This military enclave was built by the Portuguese during their occupancy in the early 16th century. I also spotted the hillside known as Colline des Potiers, where the bulk of Moroccan pottery is produced.
The Potters' Quarter
On my walk up to the Potters' Quarter I was approached by a local artisan who insisted on walking me up the hill, despite me saying I wanted to explore on my own. Some of the more assertive "guides" don't easily take no for an answer. After a short tour of the "co-op," as he described it, I paid his small fee and happily continued to explore on my own.
Throughout the rest of the morning, all of the potters and shop owners I encountered were kind, welcoming and generous with their time. They were happy to open their doors and talk about their work.
Safi Pottery
Moroccan red clay is quarried from the Safi region and much of it is processed, thrown and fired on Colline des Potiers. Most potters still use traditional wood firing kilns, while some have updated to electric and gas kilns.
Typical Moroccan pottery includes plates, bowls, dishes, vases and the tangine. A tagine is a unique, funnel shaped pot used to cook traditional stews.
The designs used on Moroccan pottery are influenced by Berber and Islamic art, which was previously influenced by Phoenician, Roman and Byzantine designs. Each piece is painted by hand using modern multicolored designs as well as traditional patterns.
If you're interested in learning more about the different styles found throughout the country, visit the National Museum of Ceramics in Safi. It's a nice walk up to the Kechla, another fortress built by the Portuguese. There you can find well-preserved examples of traditional Moroccan Pottery and explanations of the their history and techniques.
I highly recommend visiting Safi to people who love pots. There's a lot to learn and it's a great to the more popular tourist destinations. If you enjoy the laid-back vibe in Safi, I can also recommend Oualidia. About an hour north of Safi, it's a small coastal village located next to a protected natural lagoon.
Sours: https://ameliajcreations.com/ceramics-blog/moroccan-pottery-from-safi/
CRAZY RARE STREET FOOD IN MOROCCO 🇲🇦 SAFI and OUALIDIA Rare Food Journey
Having embraced his beloved, he pressed his cheek to cheek and froze for a while. Their entire life together, from the first meeting of their acquaintance, to this moment, quickly ran before his eyes. He did not stop thinking all the time how he guessed with his wife.
A pretty girl with a flat chest, wasp waist, lean ass and long legs did not seem ideal for many guys.
Morocco safi pottery
But, I, but I need to. - So. I'm offended.
Moroccan Pottery in Safi
Am I going to perform in public today. - Yes. My boy.
You will also like:
Here they wash each other at the same time. here one of them deftly crouched down and the little white strip appeared first at the bottom, and then to the side, on. The shelf. My wife was completely naked with another man in the shower. They cuddled and stroked the bodies each other, smearing the gel.
970
971
972
973
974